Once a tiny pearling town, Qatar's capital is now a glittering metropolis where resolute tradition meets emulous modernity.
Still a city very much on the rise, Doha's intrigue lies in the contrasts and contradictions found at almost every turn. There are high-tech shopping malls filled with the biggest luxury brands, and mud-walled souks selling spices and traditionally woven robes. There are man-made islands housing futuristic villas and skyscrapers, and sand dunes shaped by centuries of sea breezes. It is radical and conservative; at once ancient and entirely new.
Whether you're here for a stopover or are a resident looking to explore every corner, here's how to spend a perfect day in Doha according to Quintessentially Qatar.
Morning
Start by heading to Doha's spiritual heart: Souq Waqif. To replace this word have been trading livestock, spices, and general goods here for over 250 years and it still looks the 19th-century part, with mud-walled stalls selling all manner of colourful wares.
A general tip for choosing a breakfast spot is to look for locals lining up outside their preferred places. One of our favourites is Abo Shariha – a laidback, no-frills café where you can try a traditional Jordan-Palestinian breakfast of fool, musabaha, falafel, and some of the city's best hummus, which is bathed in olive oil and speckled with chickpeas and pine nuts.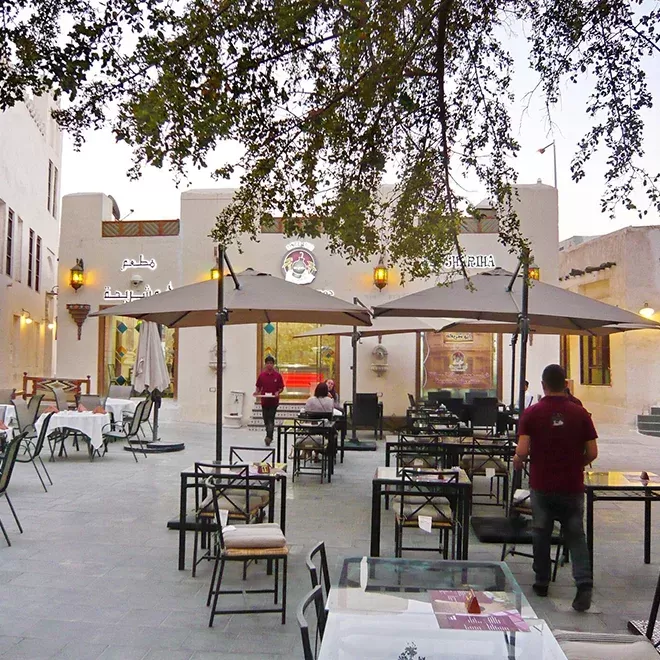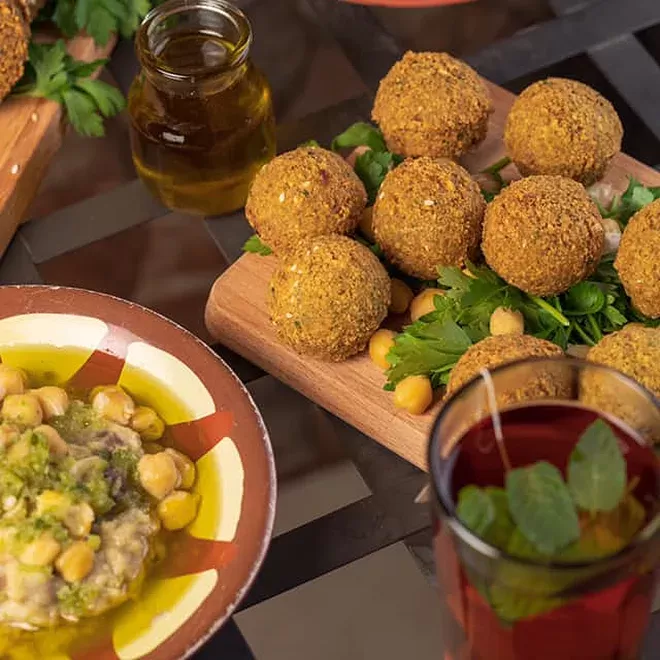 Breakfast at Abo Shariha
Spend the rest of the morning exploring the souk, armed with a paper cup of traditional karak tea. There are over 1,200 stalls stashed amongst the latticed streets, selling everything from spices and sweetbreads to robes and rugs. Falconry is a traditional pastime in Qatar, so make sure to swing by the falcon souq, where prize birds are outfitted in tiny leather hoods and sold for up to £200,000 each.
Afternoon
For a leisurely lunch, book a terrace table at Bayt el Talleh – a sprawling, stone-walled restaurant rising from the hillside like a gastronomic castle. The menu is mostly traditional Middle Eastern cuisine, which is served mezze-style in quaint brown dishes. Order a mix of kebabs, dips, grilled meats, and salads to pick at whilst you take in the views – although if it's seafood you're after, your best bet is L'wzaar, located at the foot of the hill.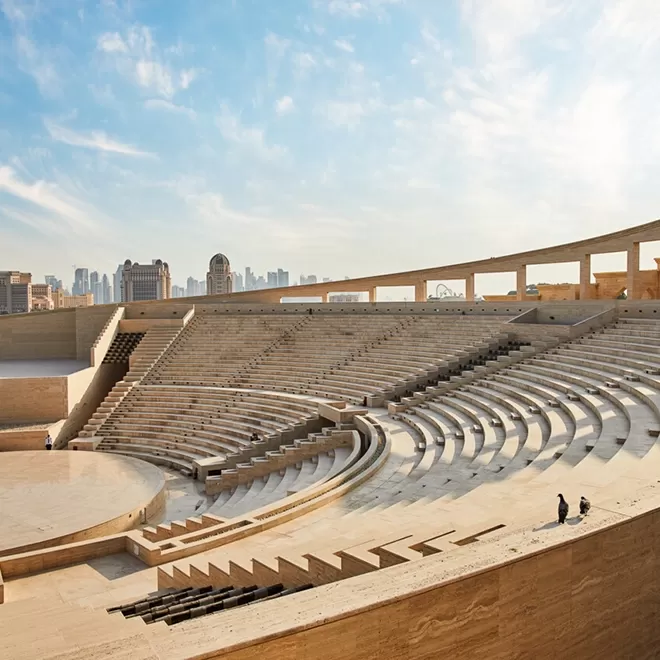 Katara Cultural Village | Source: Visit Qatar
Then, explore the bounty of sights at Katara Cultural Village, which is nestled between lush green hills and a fingernail of soft, white sand. Don't be fooled by the seemingly ancient structures; everything here was built within the last decade, including the Katara Amphitheatre – designed in the traditional Greek style – and the Katara Mosque, adorned with dazzling blue and gold tiles. As you ramble, keep an eye out for street art, including a mural of a giant oryx – Qatar's national animal – bursting out of a mud-clad wall.
Qataris often while away the afternoon sipping tea and smoking shisha; our favourite place for this is Marsa Katara. It's an overwater restaurant perched at the very tip of the peninsula, with soaring pillars and knockout views all the way along the coast.
Evening
As the sun cools, join the locals for a stroll along the Corniche, a seven-kilometre promenade curling along the waterfront. Or – if you prefer to see the world by water – book a sunset boat cruise on one of the traditional wooden dhows bobbing in the harbour. It's also worth making the journey by land or sea to the Corniche's southernmost side, where the pretty pastel houses and charming restaurants of Old Doha Port await.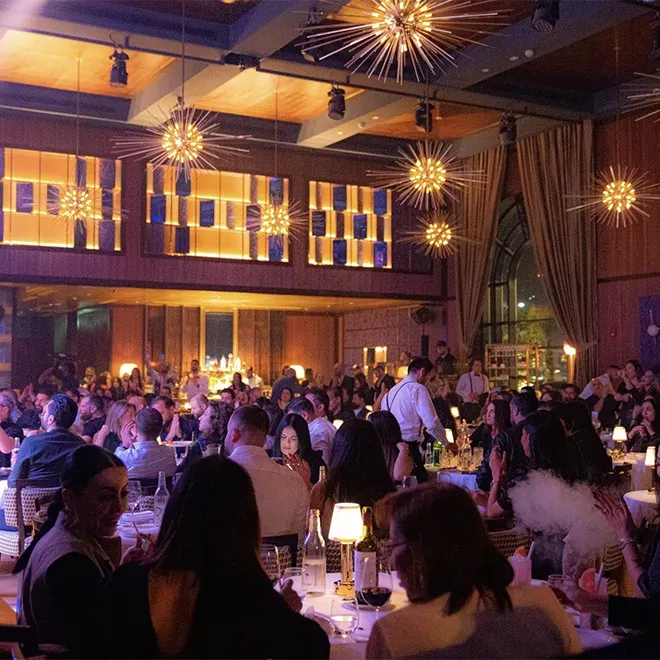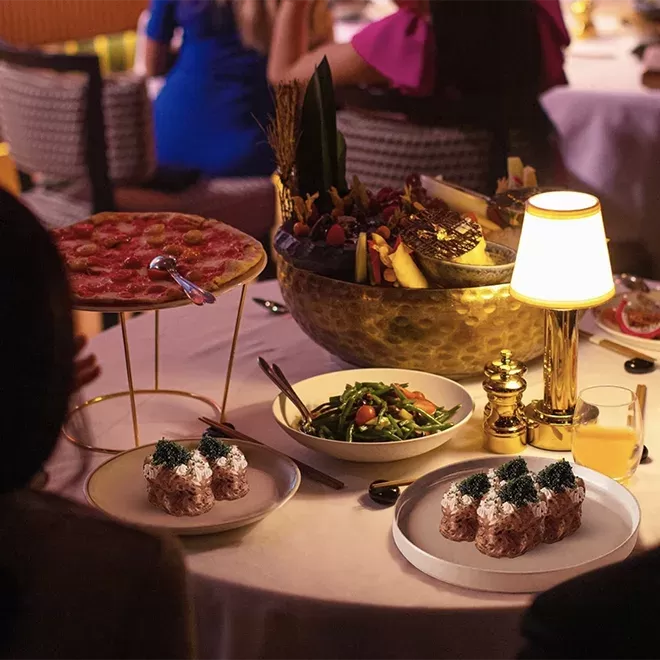 A theatrical dinner experience at Billionaire Doha
Your dinner destination is Al Maha Island, which is packed with a plenitude of luxury dining options. For a showstopping – and, we suppose, show-starting – experience, we recommend Billionaire Doha, where Italian and Asian dishes are served with a side of theatrics. Another good option is the marble-smothered Beefbar, which serves rare meat cuts from inside the South Marina Yacht Club. Whichever you choose, however, arrive with enough time to embark on a tour of Al Maha circuit – the F1 track encircling the island that hosted the inaugural Qatar Grand Prix in 2021.