Dubai is a state of superlatives. This is an Emirate obsessed with the best – whether that's the tallest building, the biggest mall, or, as pertains to this article, the finest cuisine with the best views. We're not just referring to rooftop panoramas, either (although there are plenty of those and excellent ones at that). You can also dine amongst rolling dunes, verdant oases, and turquoise waterways if you know where to look. Below, we've chosen eight such restaurants with brilliant food and even better views. Bon appétit.
*Please note that Ramadan takes place from 22nd March to 21st April. During Ramadan, most of the below will be open during the day, but not all will serve alcohol; check with your lifestyle manager before booking.
Cloud 22, Palm Jumeirah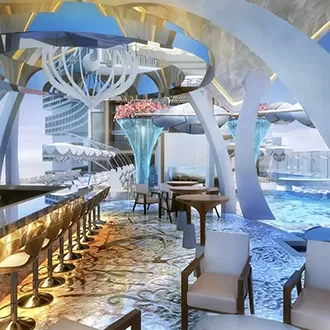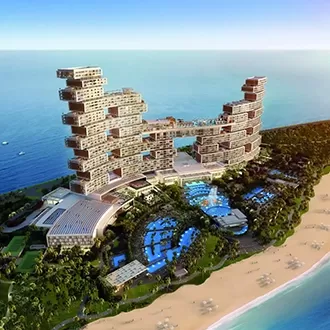 Cloud 22, Palm Jumeirah: French Mediterranean influenced cuisine served sky-high
The view: In case you missed its Beyoncé-heralded arrival, Atlantis The Royal is Palm Jumeirah's glittering new pinnacle – and its just-opened rooftop restaurant is the sky-high icing on the cake. Its whimsical, cloud-inspired design complements the snappable views of both Palm Jumeirah and the azure Arabian Sea, and there are 'VVIP' cabanas with private pools should you want to soak up the scenery – and sun – all day long.
The food: Although you can only eat here if you're a guest of the hotel, the menu charms with its French Mediterranean influences. You can have pretty much anything from land or sea – the smoked salmon and caviar tart sounds good – and vegans, fear not: there are many plant-based options, too.
Atlantis The Royal, Crescent Rd, Palm Jumeirah
The Farm, Al Barari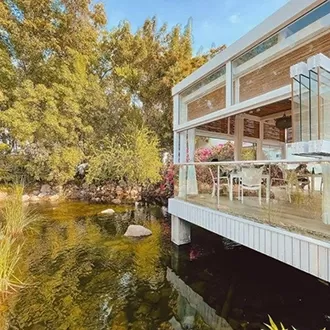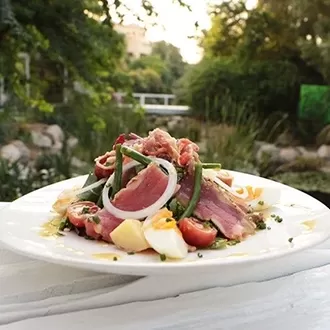 The Farm: organic cooking amongst greenery
The view: It's an oxymoron, but the allure of this greenery-filled restaurant is that it doesn't feel like Dubai at all. Head out of the city to Al Barari, which is quite literally an oasis in the desert. Alfresco tables overlook a network of verdant waterways whilst the Arabian sun winks through palm trees, flowers and shrubs.
The food: Although all dining here is exquisite, we recommend booking a table for breakfast. The Farm has won many awards for its healthy, sustainable cooking; its best dishes exemplify these aspects – like the goji-berry topped acai bowl and the organic shakshuka.
The Farm Restaurant, Al Barari; thefarmdubai.ae
Sea Fu at Four Seasons Resort, Jumeirah Beach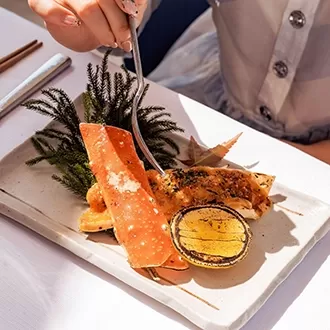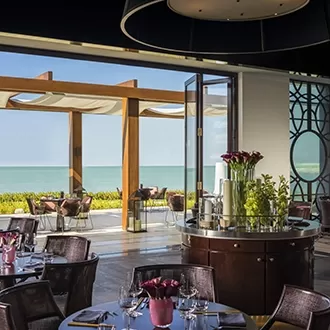 Sea Fu: Asian-inspired seafood on the beach
The view: The Arabian Gulf is the photogenic backdrop for this alfresco restaurant. When it's not too hot – winter and spring are ideal – ask for a table on the outdoor terrace, where an ocean breeze whispers across blue sofas and beachy wicker chairs.
The food: Given its seaside location, it's unsurprising that Sea Fu's speciality is seafood with an Asian twist. Expect plenty of sushi, sashimi and nigiri, but there's an excellent selection of bruschetta and salads, too. We recommend heading here for a long, lazy lunch of freshly-caught fish – perhaps the grilled prawns? – washed down with an ice-cold beverage.
Jumeriah Beach Road 2, Jumeirah; fourseasons.com
At.mosphere, Burj Khalifa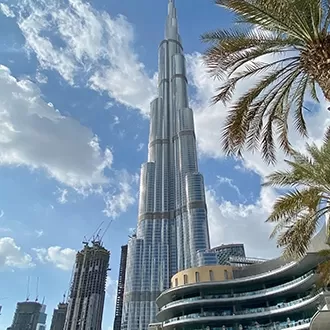 At.mosphere: the world's tallest afternoon tea
The view: Found on the ear-popping 122nd floor of the Burj Khalifa, At.mosphere is the world's tallest restaurant, with the magnetizing views to match. Ask for a table next to the floor-to-ceiling windows – it's well worth the extra fee – to admire every inch of the skyline from high up.
The food: Dishes here are luxurious if a touch overpriced. Caviar, oysters and prime-cut grills are all present on the dinner menu, but we recommend coming here earlier for afternoon tea. Choose the aptly named luxurious menu, which includes a catch of the day main course and a selection of delectable pastries and cakes – as well as a glass of sparkling wine.
Burj Khalifa, 122nd Floor, Downtown Dubai; atmosphereburjkhalifa.com
Shimmers at Jumeirah Mina Al Salam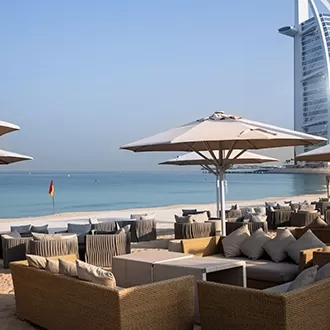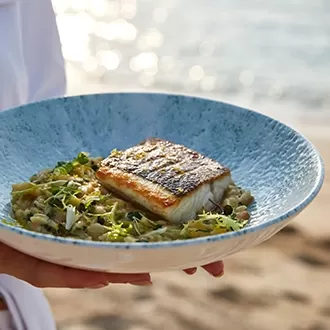 Shimmers: Greek-inspired dishes overlooking the Burj al Arab
The view: It's an easy sell: a Mediterranean restaurant sandwiched between white sand and the turquoise ocean. There's more eye candy in the form of the Burj al Arab, which you can admire – or photograph – from one of the restaurant's sand-set sofas.
The food: Plates are just as photogenic and taste as good as they look. Flavours have a Greek inclination – think oregano-sprinkled halloumi, slow-braised moussaka, and locally-sourced chicken souvlaki – and there's an excellent seafood selection, too. It's also vegan-friendly, with options such as veggie carpaccio and baked artichoke for plant-based patrons.
Madinat Jumeirah, Mina A' Sala; jumeriah.com
SushiSamba, The Palm Jumeriah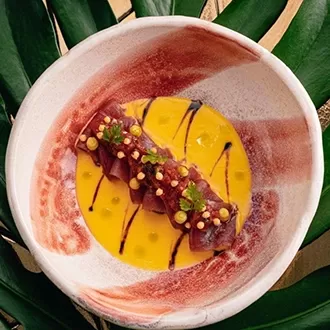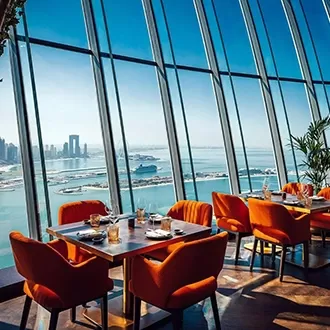 SushiSamba: the Dubai outpost of the world-famous restaurant
The view: The hotly anticipated Dubai outpost of SushiSamba opened on Palm Tower's 51st floor Palm Tower last November. As soon as the elevator dings open, you'll undoubtedly be drawn to the tilted floor-to-ceiling windows to take in the neon toy town below you – although the birdcage-like interior design may tempt your attention.
The food: Not content with sticking to just one cuisine, SushiSamba inventively fuses Japanese, Brazilian and Peruvian delicacies. This translates into special treats like Japanese Wagu taquitos, beautifully fresh seviche (no, that's not a spelling mistake), and plenty of sushi – the clue's in the name, after all.
Level 51, St. Regis, The Palm Jumeirah; sushisamba.com
Pai Thai, Madinat Jumeirah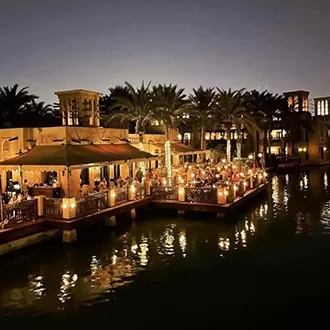 Pai Thai: undoubtedly one of Dubai's most romantic restaurants
The view: This waterside Thai restaurant is undoubtedly one of Dubai's most romantic. As it's found in the Madinat Jumeirah resort – navigated by most-green waterways – you arrive for dinner on an abra (small boat). All tables are situated on a lantern-lit pier jutting out over the canals, offering romantic vistas over the resort's curving bridges and intricately decorated sandstone buildings.
The food: Instead of selecting your favourite flavours, Pai Thai recommends choosing food based on how you feel – lending a new meaning to emotional eating. Native Thai chefs cook everything, so the menu dazzles with traditional Thai dishes; the crispy beef and fiery prawn curry are exceptional. During Ramadan, there's also a sharing set menu, which serves some of the restaurant's best dishes until late.
Jumeirah Al Qasr, Madinat Jumeirah, King Salman bin Abdulaziz Al Saud Street, Umm Suqeim 3; Jumeirah.com
Fi'lia, Business Bay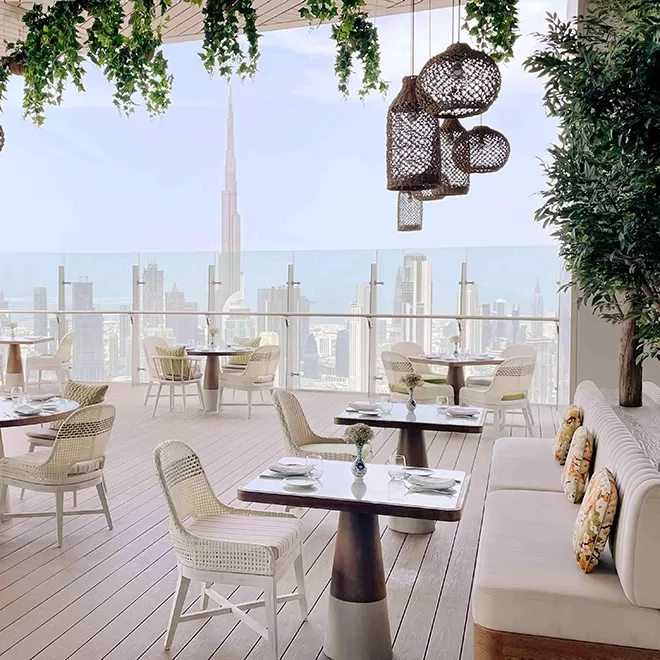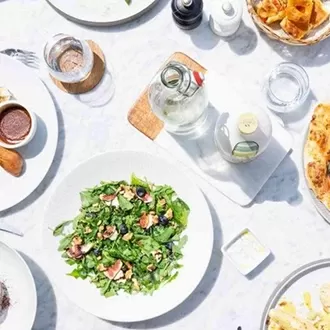 Fi'lia: 70th floor Italian
The view: Located on the 70th floor of the SLS Dubai, this Italian restaurant looks good – and knows it. You can play spot the landmark from its outdoor terrace, and there's a lemon-crusted archway in front of one of the prettier vistas, which practically begs to be photographed.
The food: Everything here is all about women – from the all-female culinary team, headed up by 26-year-old Sara Aqel, to the menu, which is split into three sections: Nonna – traditional Italian flavours à la your grandmother, Mamma – contemporary twists on classic dishes, and Figlia – a daughter's modern approach to generational masterpieces. What this looks like on the table is meatballs and sourdough (Nonna), veal Milanese (Mamma) and a vegan take on parmigiana topped with a soft almond cream (Figlia).
Level 70, SLS Dubai Hotel & Residences, Marasi Dr, Business Bay; sbe.com
Sonara Camp, Dubai Desert Conservation Reserve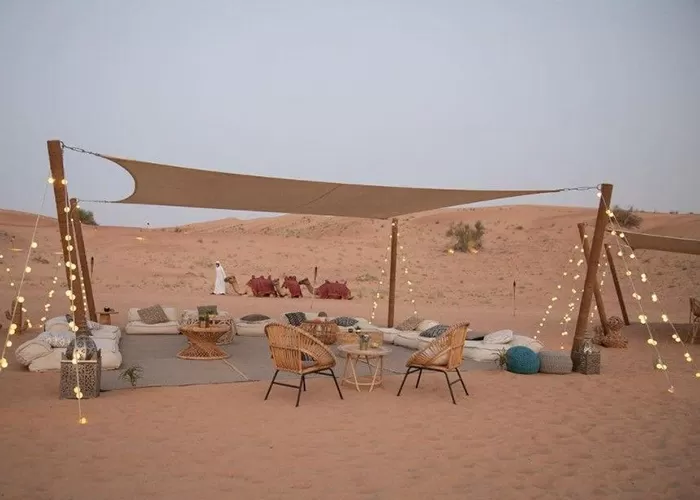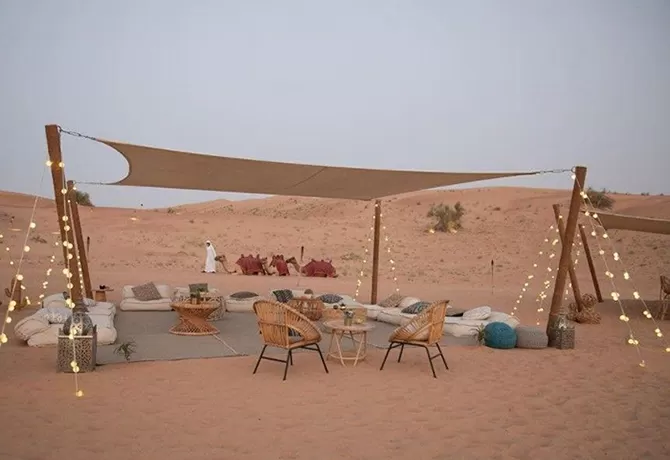 Sonora Camp: dinner in the desert
The view: With all the skyscrapers, gardens and yacht-filled rivers, it's easy to forget that Dubai is actually in the desert. Remind yourself with dinner in the dunes at this luxurious camp. It's at its best at sunset when the fading light casts everything in a warm copper chrome. After dark, you'll be serenaded by a jazz band whilst seated under a marquee of fairy lights.
The food: This is no budget barbecue. You'll be diving into a Mediterranean-inspired feast that zings with spices; think shawarma in taco shells, fire-flamed cauliflower with a rainbow of courgettes, and zesty pavlova topped with a coal-grilled orange.
Dubai Desert Conservation Reserve; nara.ae
To make a booking, please contact your lifestyle manager.