Nestled amid the forested mountains of Oita Prefecture in western Japan's Kyushu region, the scenic town of Yufuin has been synonymous with natural beauty and healing waters since the 17th century. Situated beneath the spectacular, twin-crested Mount Yufu, the area is blessed with a wealth of mineral-rich onsen hot springs. The town boasts some of the country's loveliest ryokan Japanese inns, scattered among small shops and galleries, making Yufuin a fantastic destination for a rejuvenating weekend getaway.
In recent years, new additions have added touches of modern style to the charmingly retro atmosphere. A short walk from the old-timey train station, the lofty and light-filled Yufu City Tourist Information Center, designed by architect Shigeru Ban, houses a library of resources on the region and a casual café.
A path that winds through terraced rice fields reinforced with medieval stone walls leads to the Comico Museum – a striking, minimalist structure by Kengo Kuma, which opened in 2021 and showcases work by modern artists such as Yayoi Kusama, Yoshitomo Nara, and Hiroshi Sugimoto.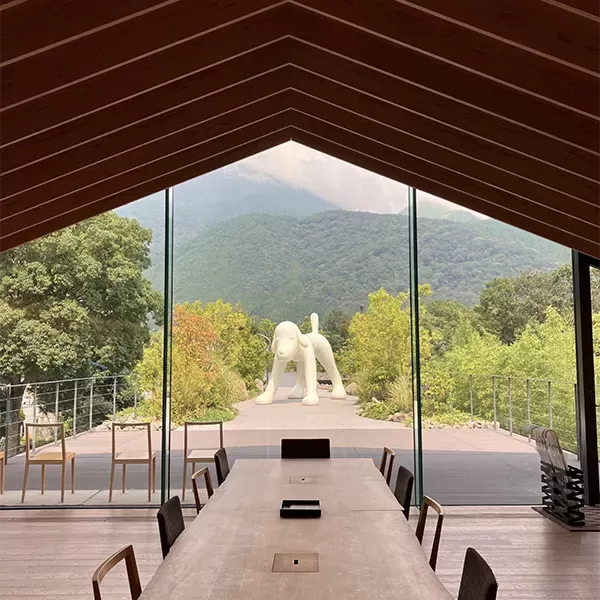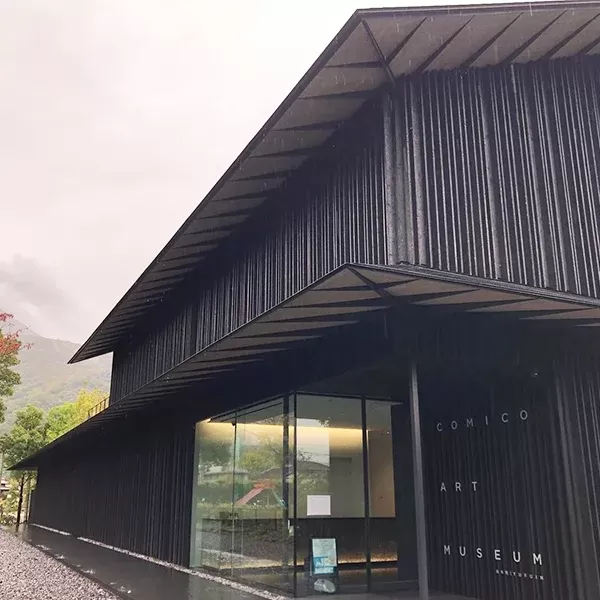 Comico Museum
Enowa, a newly opened hillside resort located a 15-minute drive from the heart of the town, builds on Yufuin's onsen tradition with stunning contemporary architecture that blends seamlessly into the natural terrain. Dubbed a 'botanical retreat', the resort's 44,000 square-meter grounds encompass ten deluxe villas, a hotel with nine guest rooms, a sauna and a restaurant with its own greenhouse.
The garden at the centre of the complex deftly incorporates elevation changes, native plants, and stone benches, providing opportunities for quiet contemplation; inside the spacious villas, stone, wood, and earthen walls create a harmonious interior that reflects the beauty of the raw materials. Each villa has a private outdoor bath and infinity pool, offering tranquil views of the forested landscape.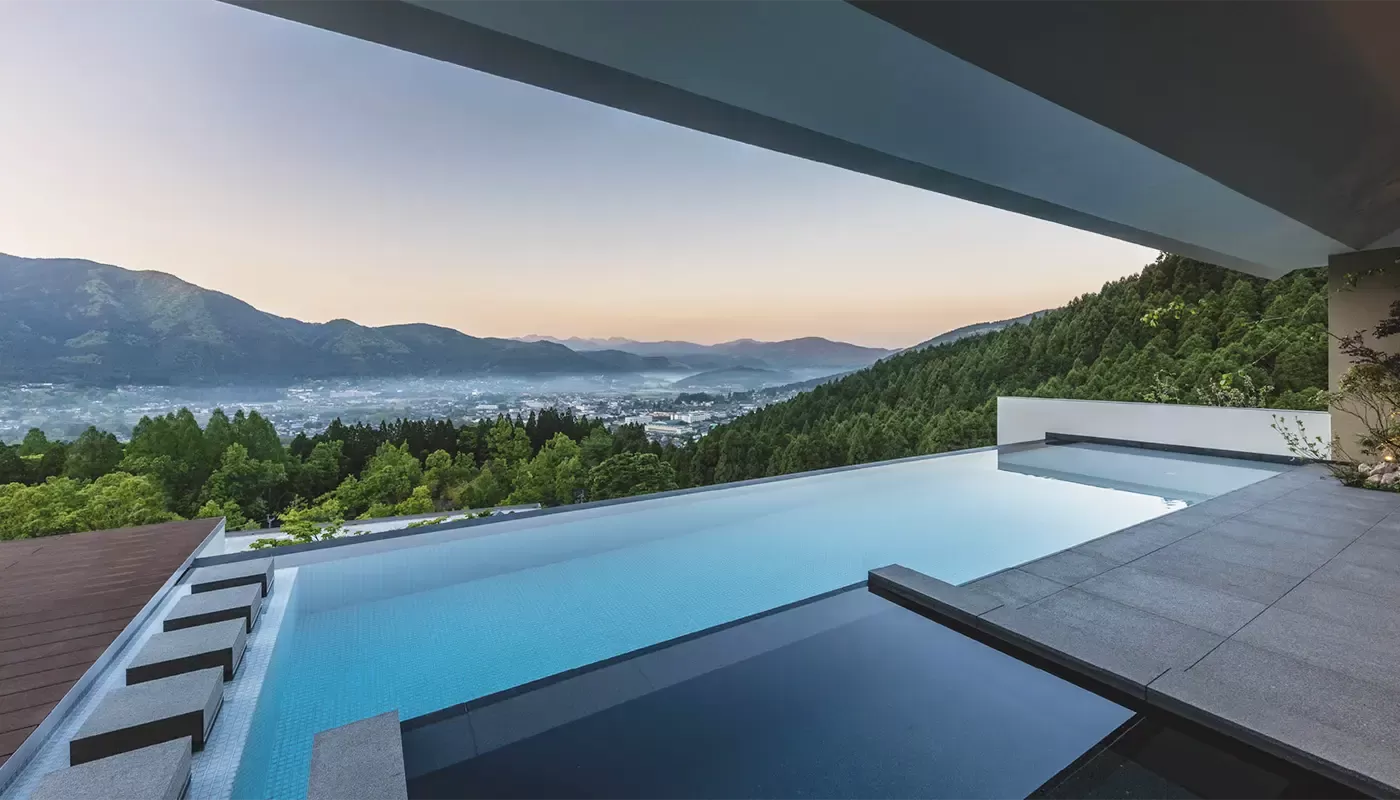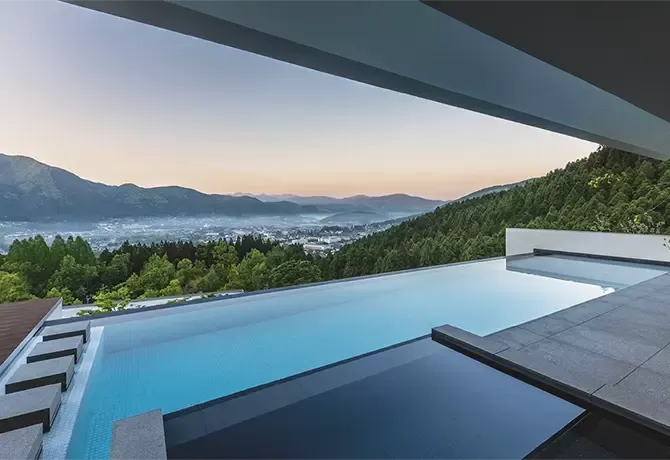 Newly opened resort, Enowa in Yufuin
For a more traditional taste of Japanese luxury, Yufuin's classic ryokan inns offer an immersion into an era of refinement and elegance from times past. Originally a retreat for Zen priests, Yufuin Tamanoyu has transformed into a modern hotel while preserving its essence. Surrounded by 10,000 square meters of forest, the property has 16 Japanese-style guestrooms, each with its own hinoki cypress wood bath. The onsite restaurant serves thoughtfully prepared multi-course meals using local vegetables, rice from Yufuin, and Oita Prefecture's prized Bungo beef.
Enowa's farm-to-table restaurant, Jimgu, is reason enough to visit. Led by the talented young chef Taishi Gyamso, Jimgu takes a hyper-local approach to fine dining, blending international influences with Japanese sensibilities and ingredients. Gyamso, a native of Tibet who immigrated to New York and rose to the rank of sous chef at two-Michelin-starred Blue Hill at Stone Barns, works with master grower Teruhisa Ishiwari to develop the Enowa farm; Jimgu also cultivates vegetables and herbs in the greenhouse that stands in front of the restaurant. The charcuterie is made in-house, along with Gyamso's freshly baked brioche.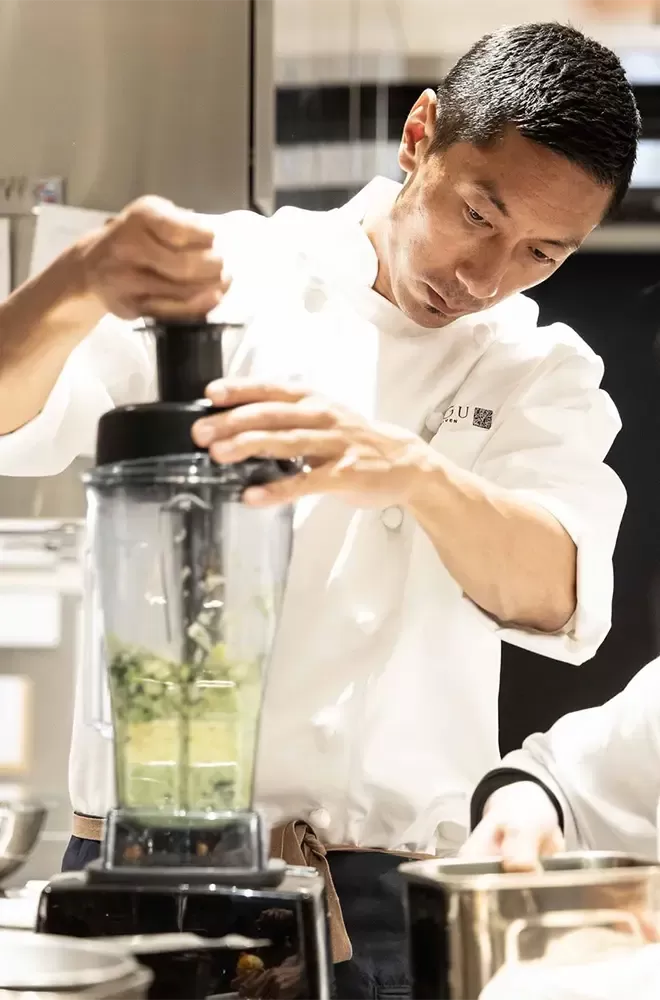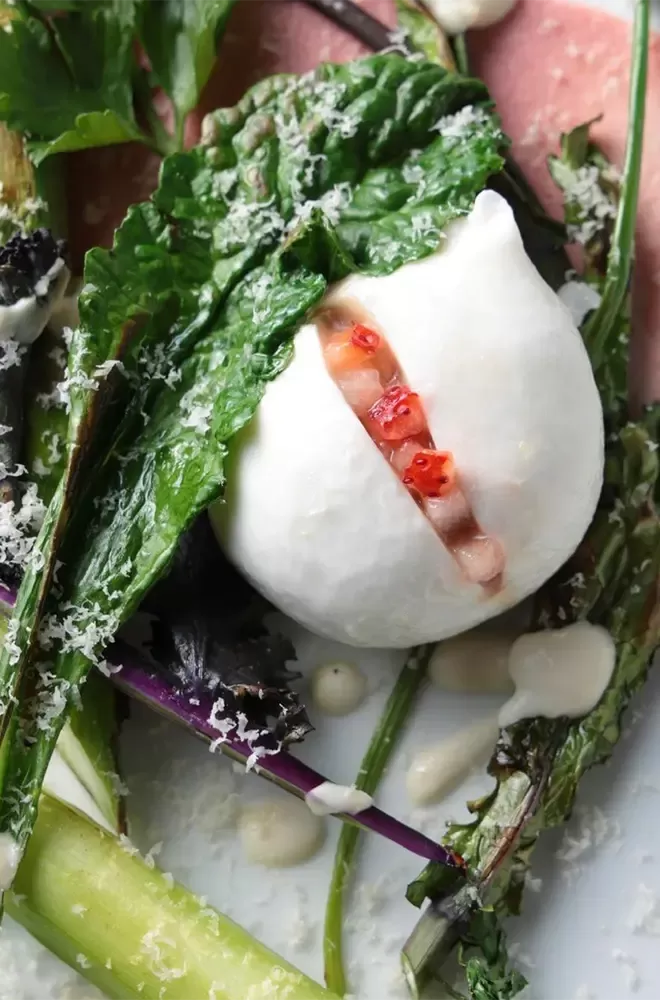 Jimgu at Enowa, led by chef Taishi Gyamso
Dinner opens with a lush bouquet of seasonal produce and edible flowers – ingredients that play starring roles in the plant-forward menu. There's a vibrant puree of green veggies served with crisp snow peas and radishes for dipping, the signature white salad composed of thinly sliced turnips with udo (a wild mountain vegetable) and apples with saffron mayonnaise, and flame-charred greens and homemade burrata drizzled in apple butter and dotted with Japanese balsamic vinegar.
The restaurant's ethos could be described as 'enlightened omnivore' rather than vegetarian: roasted sea bass is bathed in pork reduction and paired with strawberries and fava beans, while grilled pork comes with a sweet-and-tart beet puree. A living ikebana of trees and plants from the region anchors the main dining space.
Just beyond Yufuin's picturesque Lake Kinrin, Kamenoi Besso, a ryokan with a history of more than 100 years, welcomes guests with its soothing hot spring baths, elegantly furnished accommodations and manicured grounds, accessed through a gate covered with straw-thatched roof: the personal baths in each expansive Japanese-style suite features windows that overlook miniature private gardens.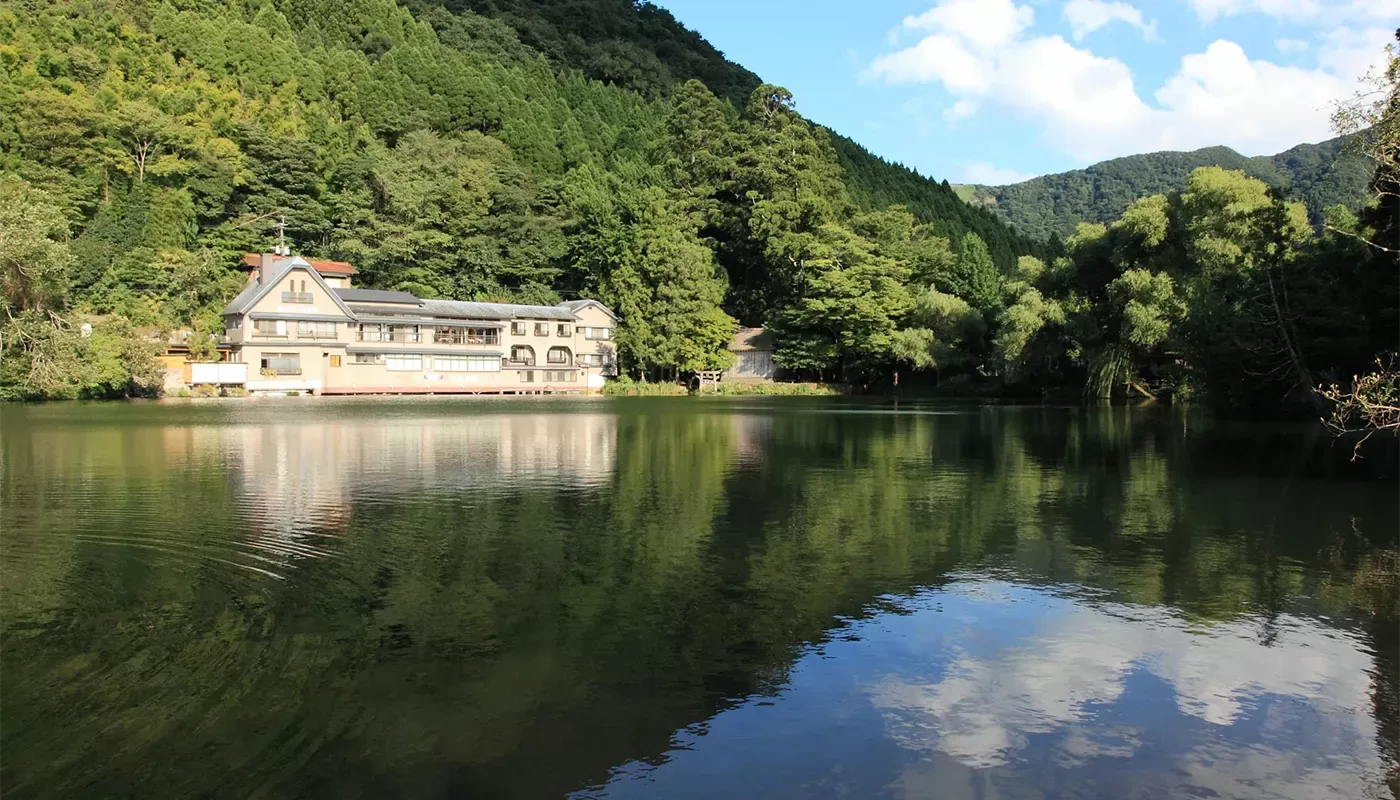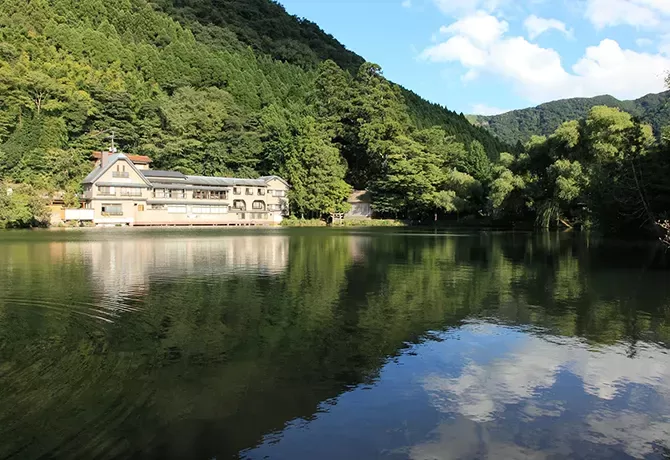 Lake Kinrin | Source: Japan.travel
The inn has also gained a reputation for its excellent Oita-style cuisine. Dinner is a feast of blowfish and red daikon in a sauce flavoured with chrysanthemum petals, the region's famous local Shamo chicken simmered with wild mushrooms and Kujo onions, and Kamenoi Besso's signature dish – perfectly plump grilled shiitake mushrooms that recall the blessings of the forest.
Finish the evening with a cocktail at Bar Yamaneko, a cosy enclave handsomely appointed with wooden fixtures and antique furnishings, and then dip in the outdoor public bath before bed. Soak, relax, and repeat – the best way to experience Yufuin.
Think you've seen it all? Think again. Our global network of dedicated travel specialists plans one-of-a-kind, tailor-made travel experiences to make every trip your best yet. Find out more about Quintessentially Travel here.