Unpredictable summers in the UK are now so predictable that if you haven't got a plan B, C or D of what you can do over the holidays if it rains, you clearly haven't lived here very long. But don't worry, I come with a suggestion: a day trip to Manchester to see the new £210m museum, Factory International.
Having just opened its doors with the largest-ever immersive Yayoi Kusama show, Factory International is a venue specially designed to showcase art, performance, concerts and a host of experimentative events. The space itself has an industrial warehouse aesthetic on the inside, while the outside resembles a massive futuristic bunker. What makes it so perfect for hosting a multidisciplinary programme, however, is that its vast interior walls are moveable. So, the space continues to evolve and transform according to the needs of its artists.
Built on the site of the old Granada TV studios, its colossal scale is immediately impressive as you make your way through The Factory's first exhibition, Yayoi Kusama: You, Me and the Balloons. I can't think of an artist better suited to illustrate the space's capabilities and bring an international audience to this new artistic hub. Kusama is certainly one of the most important contemporary Japanese artists, but her acclaim surpasses that of art circles. She has become an iconic international figure; her style is immediately recognisable (a little bit thanks to major collaborations with the likes of Louis Vuitton). Here, however, the show is specifically dedicated to the artist's inflatable artworks.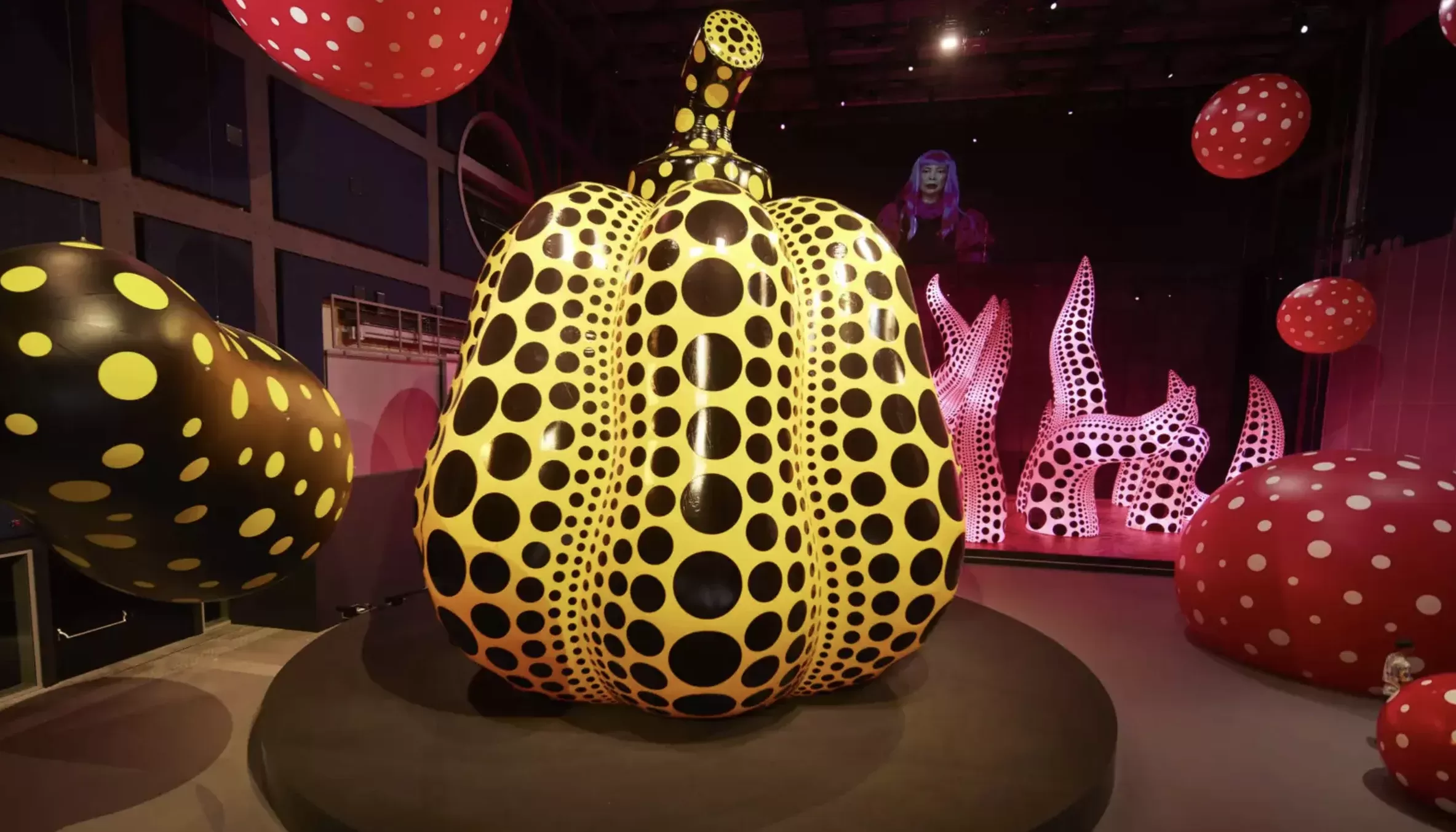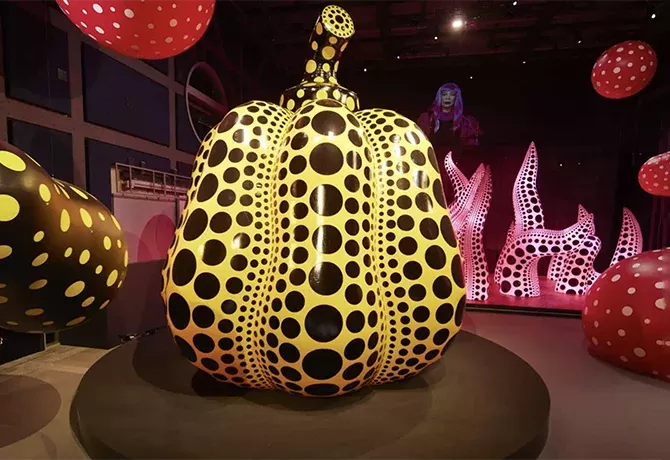 Life of the Pumpkin Recites by Yayoi Kusama
Spanning three decades of her prolific career and brought together for the first time, visitors can peek inside, walk around and look up at her mesmerising giant pumpkins, hallucinogenic pink tentacles and polka-dot levitating spheres. Kusama has always been a pioneer of boundary-defying art and has consistently challenged the restrictions of a medium or space in order to express her philosophical and artistic beliefs. Walking around the main hall, one certainly feels like they've entered a psychedelic Alice in Wonderland landscape: the 10-metre-tall sculptures will undoubtedly make you feel like you've had too much of the shrinking potion. But above all, what is immediately striking and unifying of the space is the consistent repetition of spots, which define her practice.
'Polka dots are a way to infinity. When we obliterate nature and our bodies with polka dots, we become part of the unity of our environment,' stated Kusama.
Since childhood, Kusama has suffered from hallucinations, often recounting visions of spots on the walls and stairs of her home surrounding and engulfing her. An evident influence in her later paintings and sculptures, this sense of absorption and entanglement has remained integral in her practice. Now aged 94 and living in a psychiatric hospital in Japan, she still adds to her world of spotty creations. Stepping inside one of her Infinity Rooms, you too can be immersed in a never-ending skyscape of luminous dots. Though there isn't one at the Factory show, several giant spherical pods offer small viewing points you can peek through or even enter – I won't spoil what magical world is encapsulated within them.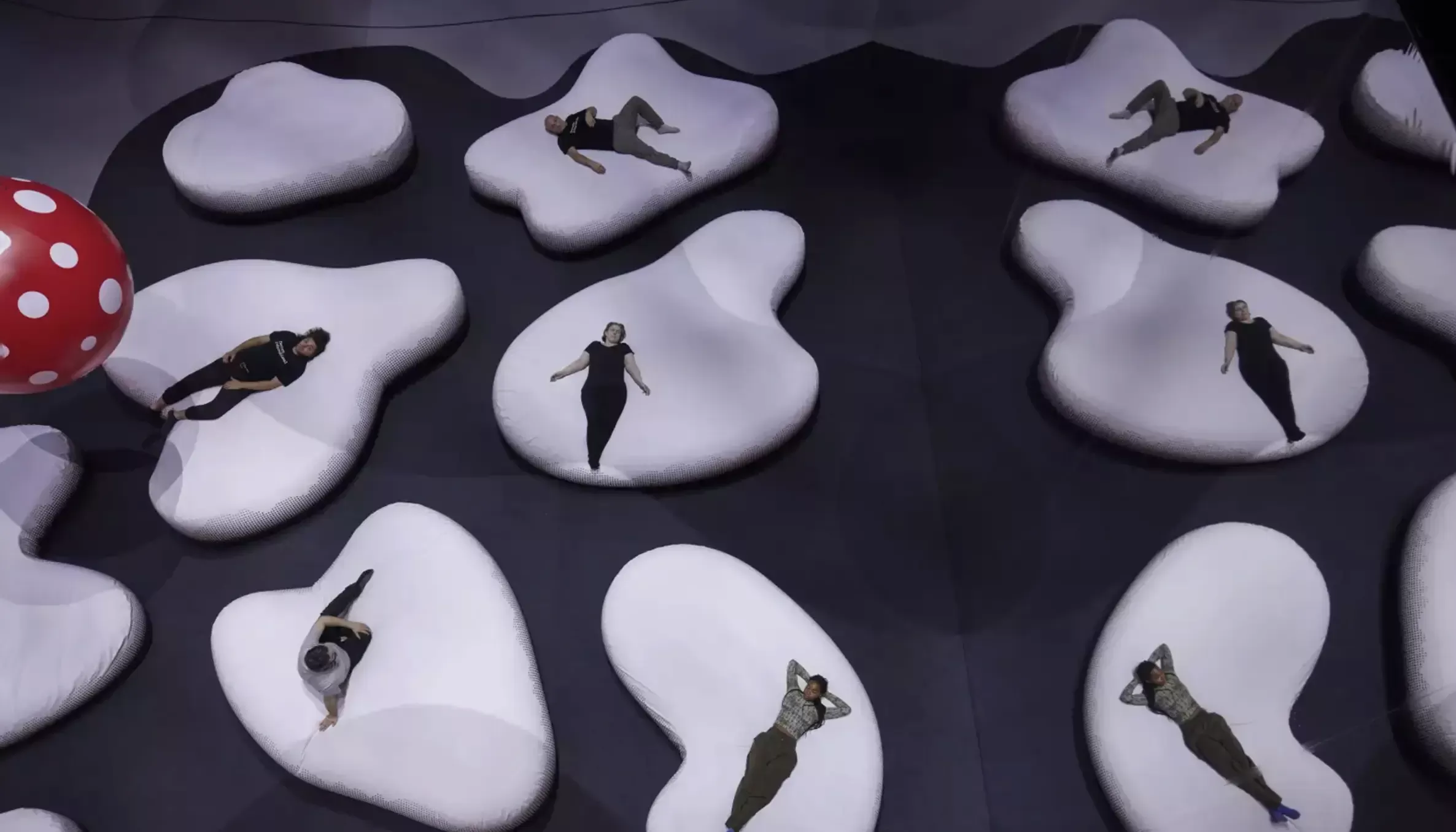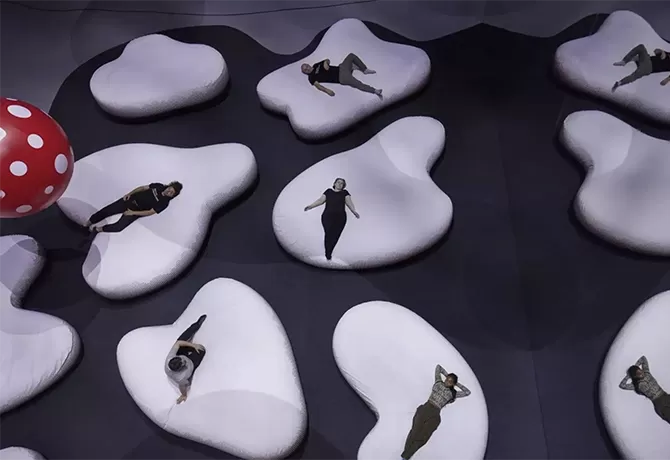 Clouds by Yayoi Kusama
What I found especially inspiring about this exhibition is seeing many generations come and interact within the space; teenagers lying on the cloud-shaped cushions looking up at the glowing floating forms, adults peeking into the mushroom-like red and white pods with child-like curiosity, kids running through the luminous tentacle forest… As far as art goes, I can't think of a more engaging and accessible exhibition to open the museum with. As Maria Balshaw, the director of Tate, said: 'I don't know of another [museum] in the world like it. It has been made with the audiences of the future as well as the art of the future in mind. I think art that none of us have ever encountered before will be made in Manchester.'
Announced as the permanent home of the Manchester International Festival biennial, The Factory will also be home to a vast selection of performances and concerts to enjoy all year round. The production, Free Your Mind, directed by Danny Boyle, will be the building's official opening event in October 2023. Merging dance, music and visual effects inspired by the Matrix films, I can only imagine what that will be like, and I'll certainly be getting myself a ticket!
Want to be invited to private tours, previews, and talks at the most esteemed art and cultural events around the world? To make it happen, we work alongside the most prestigious artists, galleries, museums, auction houses, and art fairs globally. Find out more about a Quintessentially membership here.