As temperatures soar and alfresco living becomes more appealing, you may feel inclined to give your outdoor space a refresh. The current trend within the garden design world is 'bringing the indoors out'; inspired, no doubt, by two years where our gardens, terraces and balconies became so much more than spaces to soak up the sun.
As reflected at this year's RHS Chelsea, outdoor spaces are also for wellness, cooking, working, and entertaining. In design terms, this means at-home spas, outdoor kitchens, upgraded greenhouses, and bright, bold textiles. So, we've asked garden designers and stylists for their tips to embrace outdoor living this summer; a summary of their advice is below.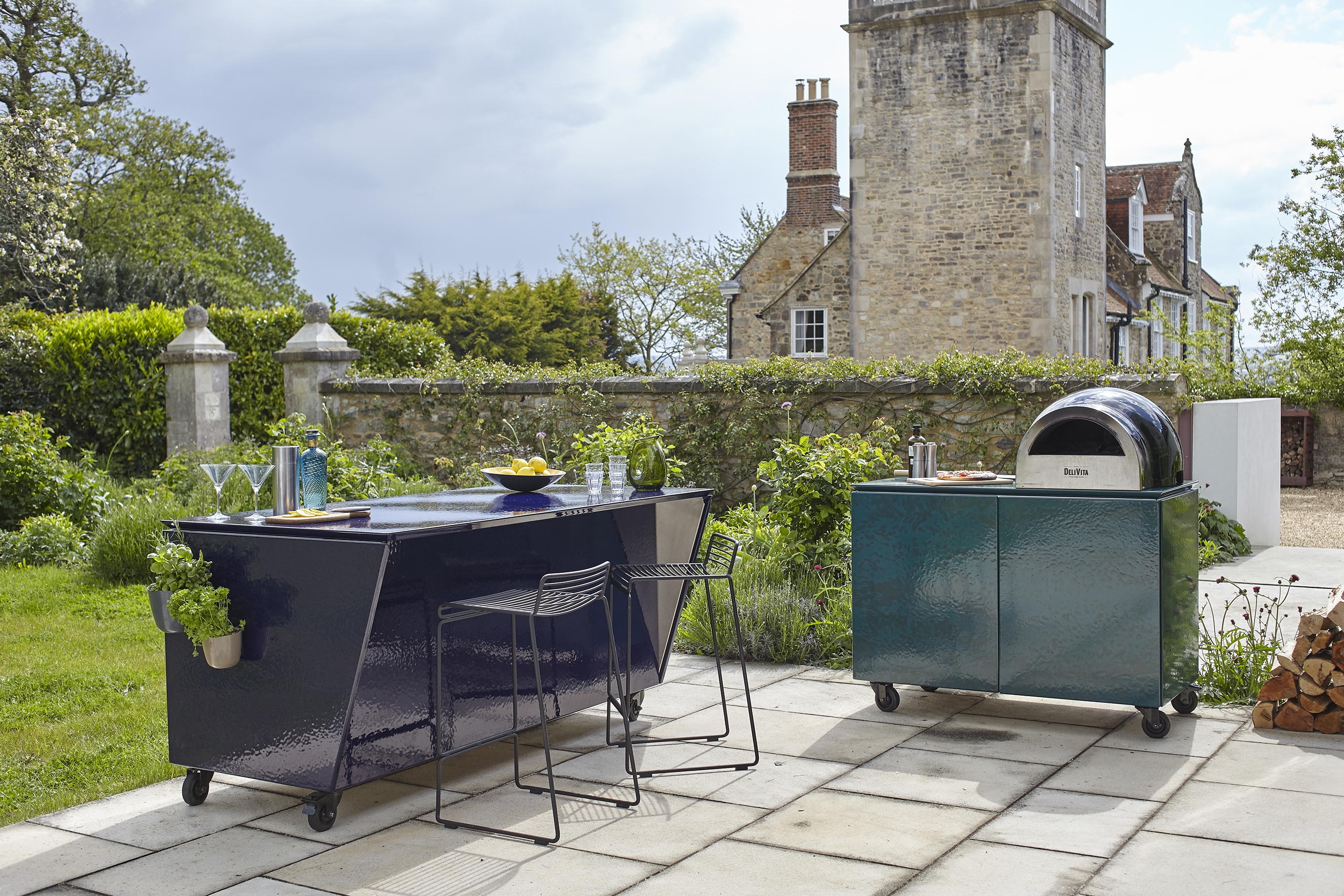 Vlaze Adapt 120
Install an outdoor kitchen
Following 2021's trend for garden bars, an outdoor kitchen is this summer's entertaining must-have. To create one that will last year-in, year-out, begin by thoroughly assessing your available space and mapping out your requirements, says Master Designer at Christopher Peters Kitchens & Interiors, Will Lyne.
"With hot coals and slate ovens gathering heat rather rapidly, it's best to opt for a shady spot", he adds. "One thing we always advise our clients to do is zone the area – one area for food preparation, another for your cooking equipment, and a separate social gathering area where your guests can congregate".
When it comes to the cooking, either go for a full built-in grill, or those with smaller spaces might prefer something more portable like the Vlaze Adapt (a wheelable cooking island), which can be combined with appliances such as the Big Green Egg grill or a pizza oven – or both.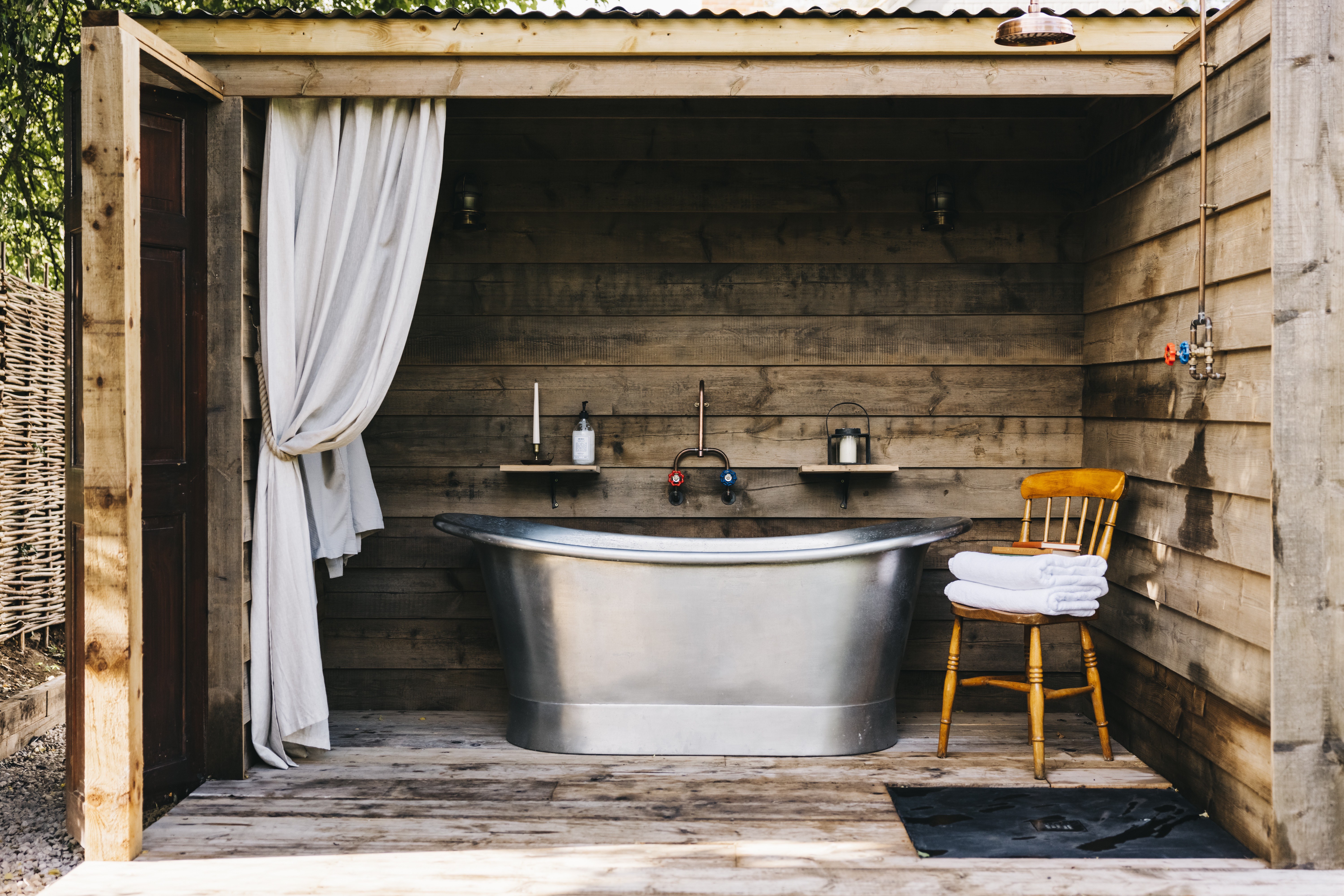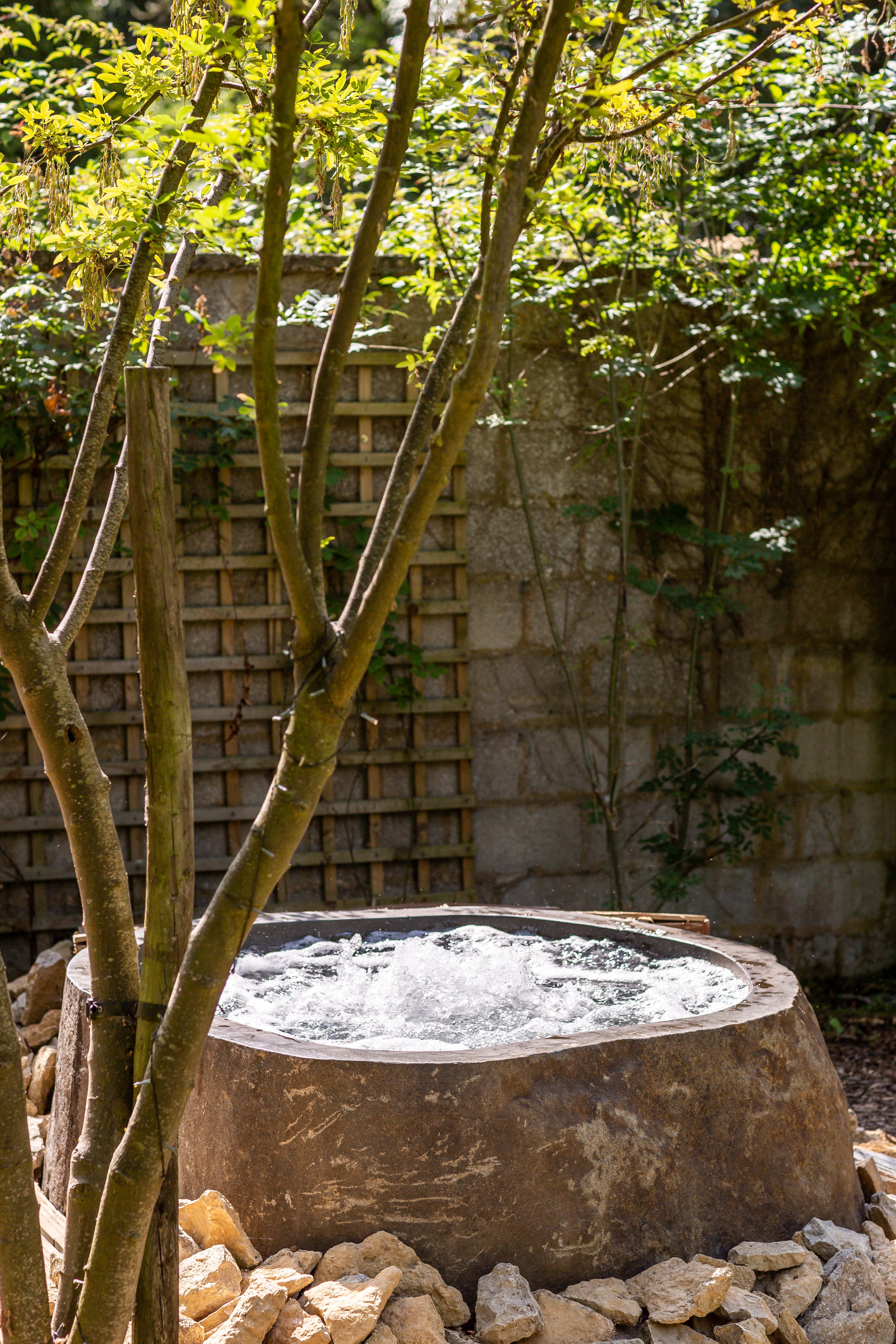 Indigenous Tin Bath Garden Spa | Indigenous Riverstone Hot Tub
Create an outdoor spa
Wellness was of the major themes at RHS Chelsea, with many designers incorporating luxurious swim spas and natural, rugged materials into their gardens. Tap into the trend by creating an outdoor spa at home with either a free-standing bath or a luxe hot tub made from natural materials, such as this one by Indigenous, which is hewn from a volcanic boulder.
"To create the perfect environment for your outdoor spa, don't forget a well-appointed surface for a few essential items", says Joss Thomas, Indigenous's Founder and Designer. "Another essential accessory is a stand, rail or hook. It will keep towels, robes and sunhats dry; especially important if you're creating a family-friendly spa".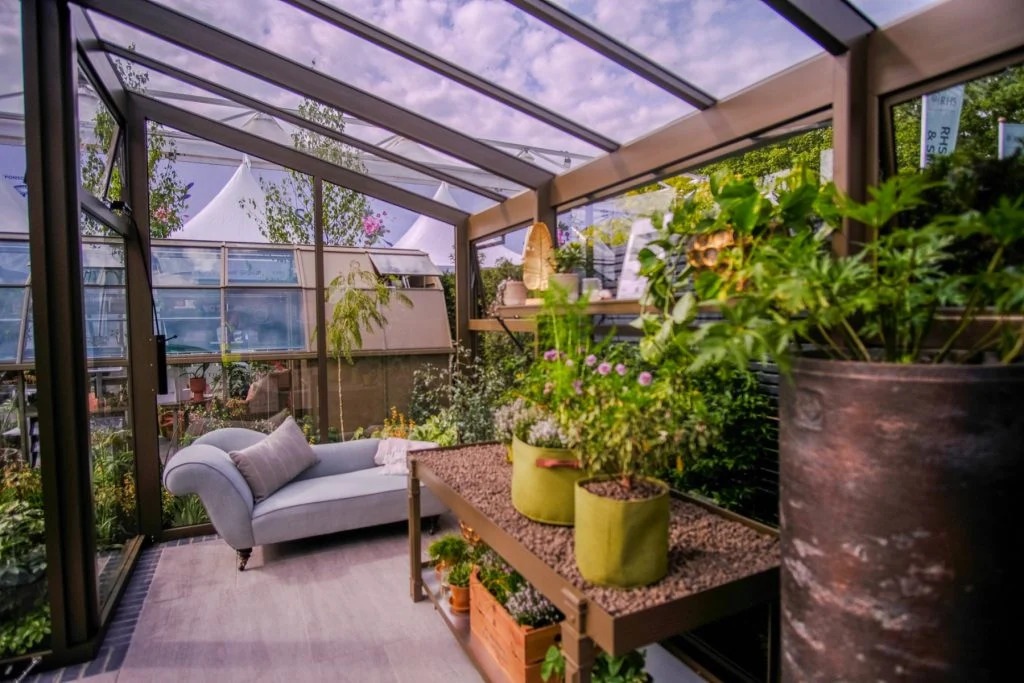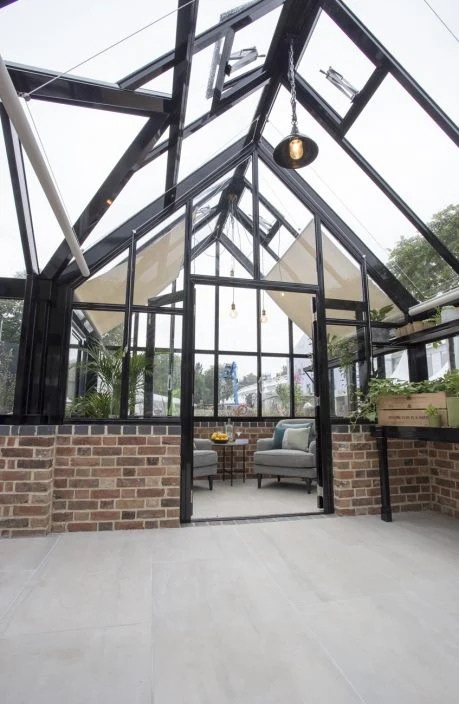 Hartley Botanic Glasshouses
Upgrade your greenhouse
This stylish trend involves elevating a practical greenhouse into an interiors-led sanctuary. Taking inspiration from the glasshouses shown by Hartley Botanic at RHS Chelsea, many architects are now adding partitions to segment out areas within the greenhouse. The result? A beautifully tailored space away from the primary house ideal for working, living and relaxing.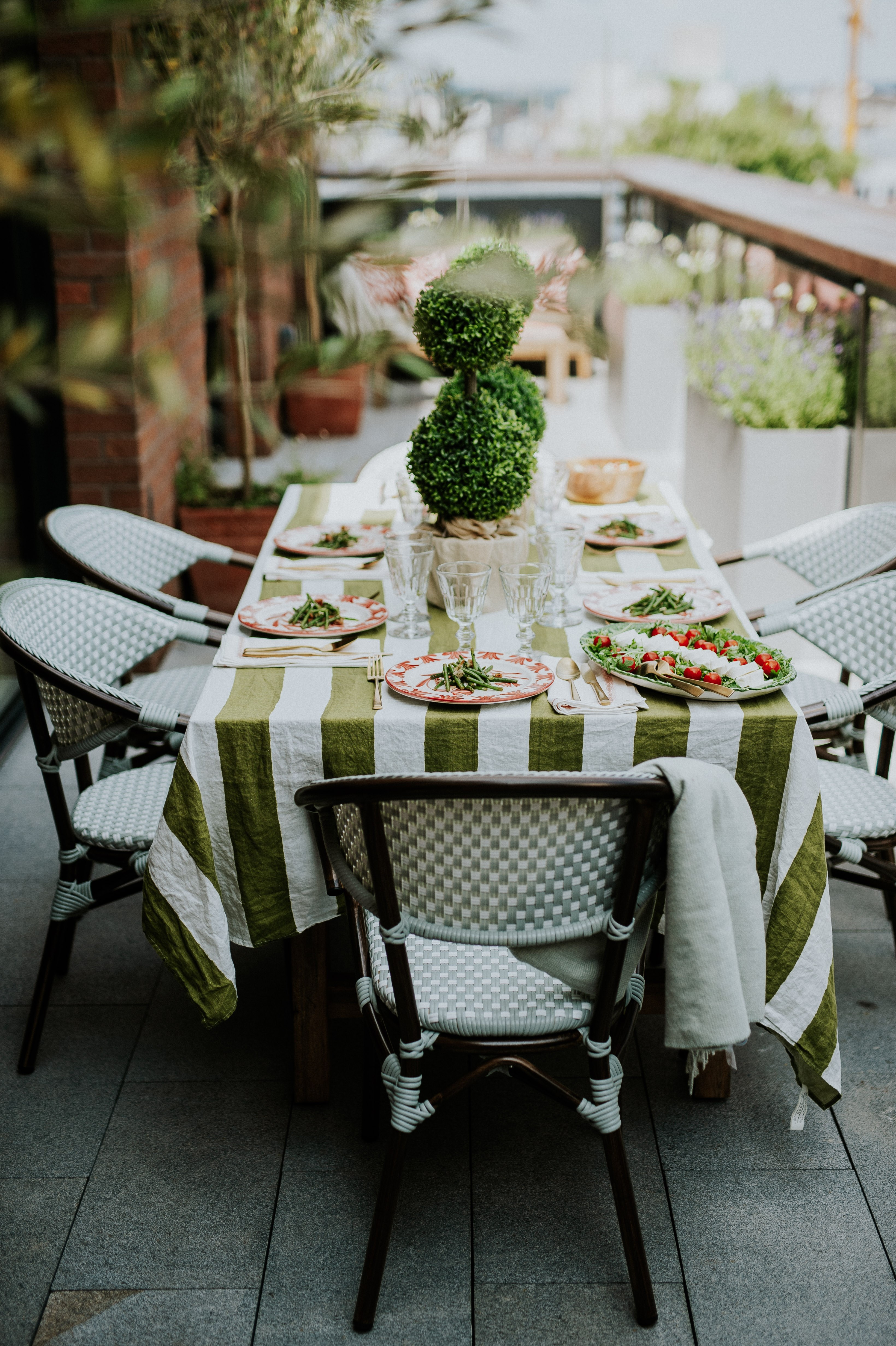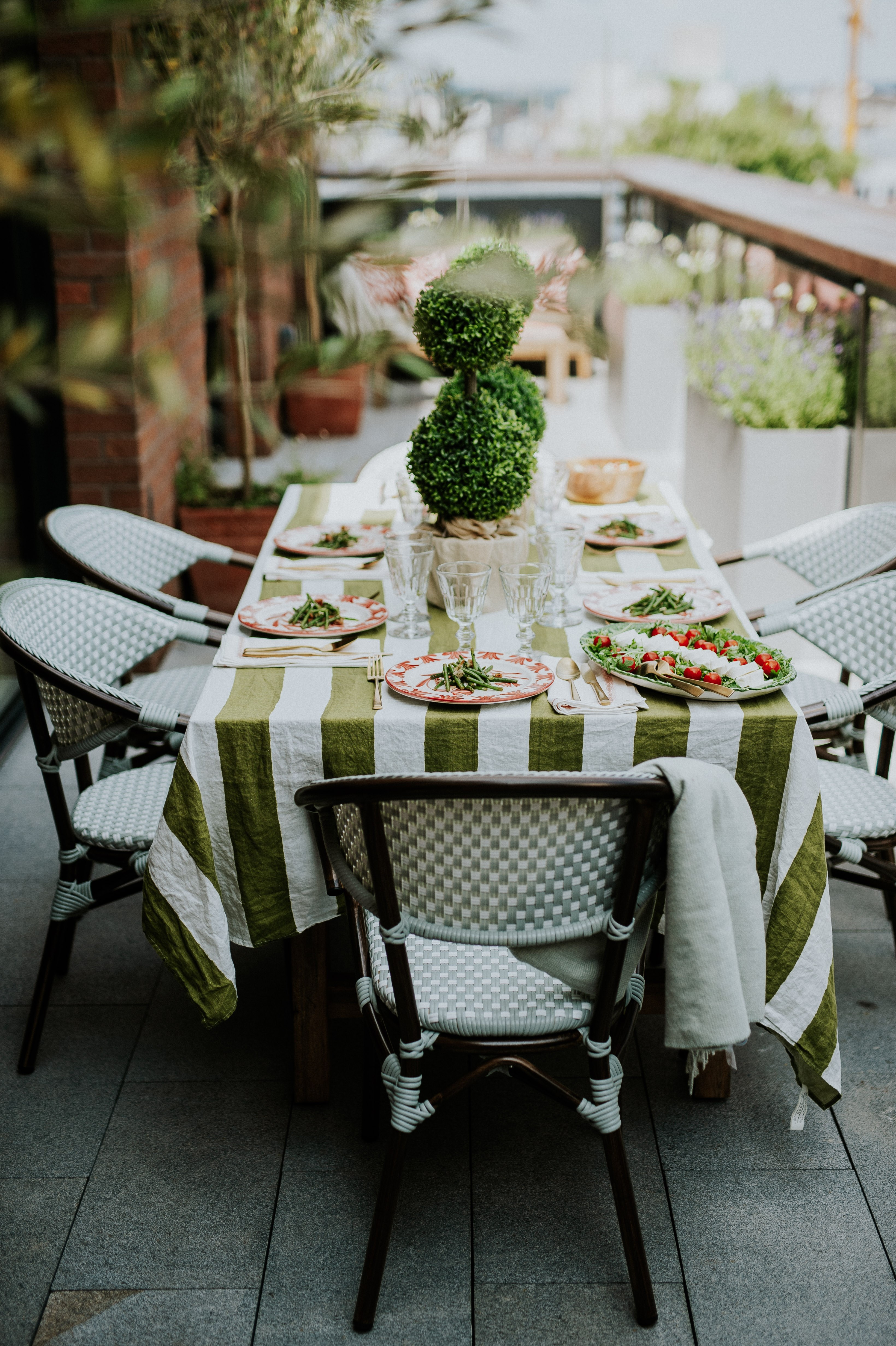 Balcony dinner set up at No. 1 Grosvenor Square
Upgrade your balcony
If your outdoor space is on the smaller side, cleverly placed planters and furnishings can make it feel a lot bigger. Blandine de Navacelle (Head of Interior Design at Lodha UK – the company behind No. 1 Grosvenor Square) suggests using a variety of greenery to revamp – and neighbour-proof – your space.
"Even small outdoor spaces can accommodate a dining table and separate seating area", she says. "Clever techniques we utilise to ensure privacy include lining balconies with large planters. Lavender is beautiful in the summer and feels very wild and natural, while structured topiary lends a more 'formal garden' look. Large, potted trees can also create a sense of grandeur and much-needed shade in the summer heat".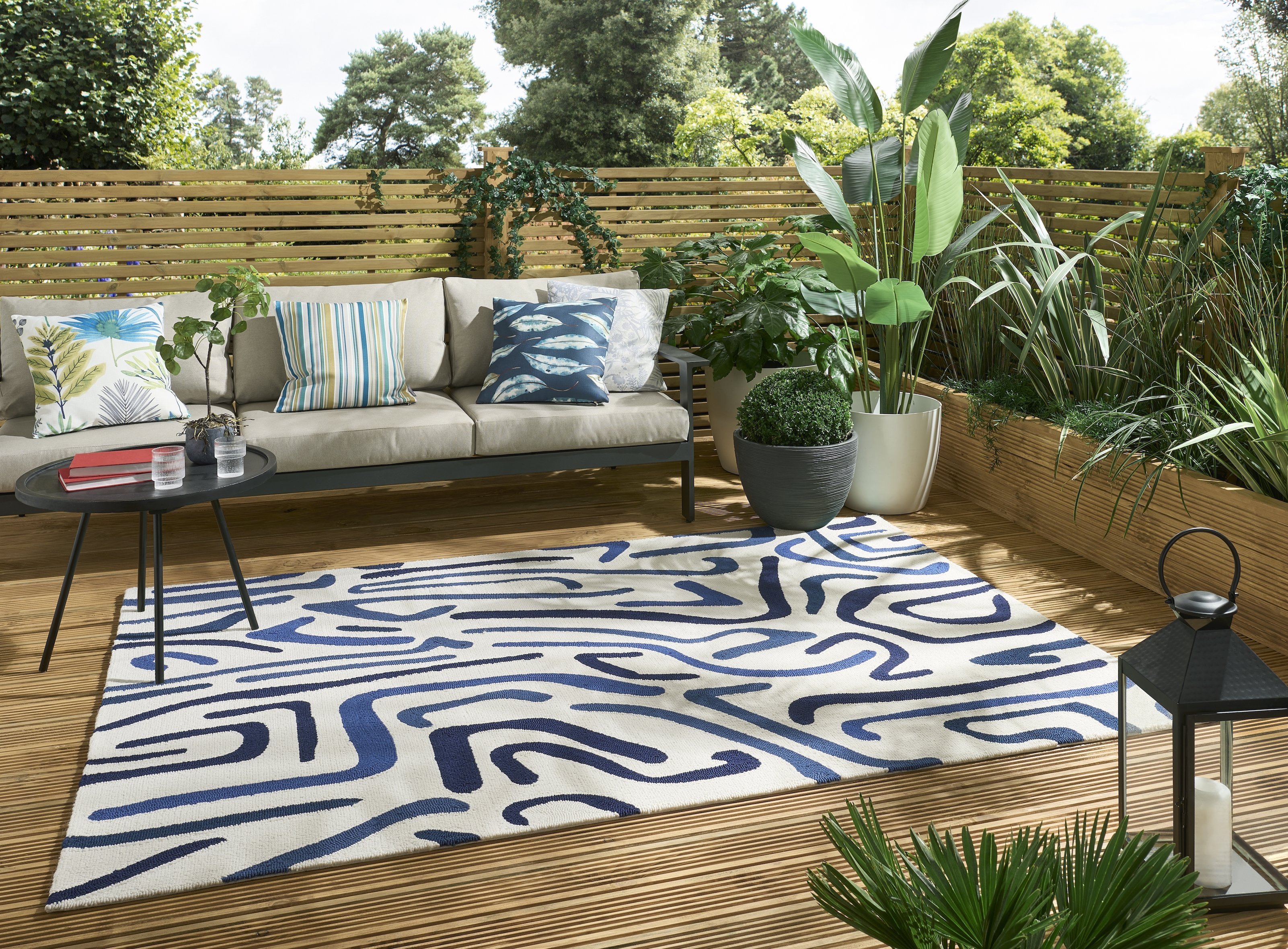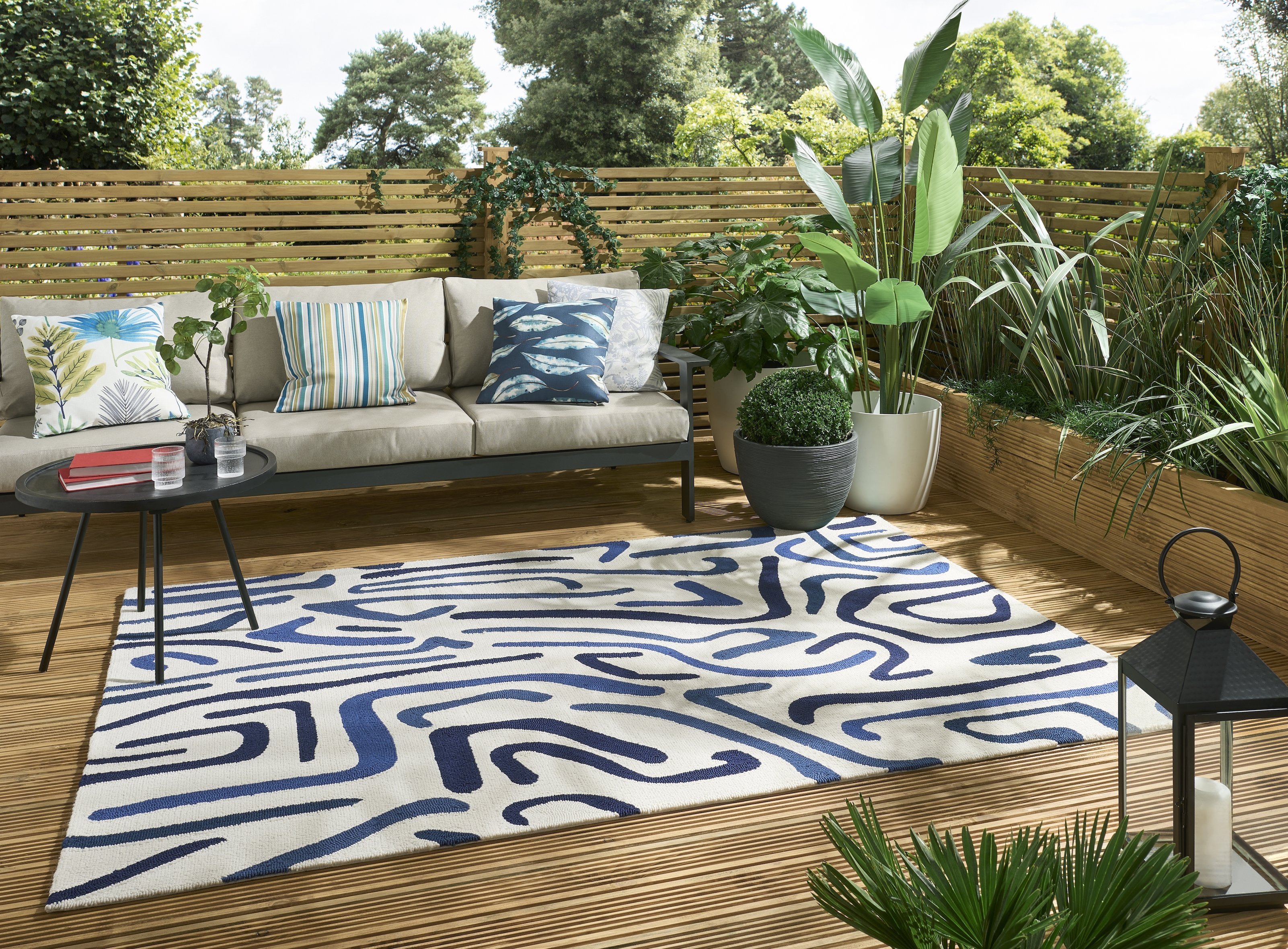 Harlequin Rug
Add outdoor rugs
Outdoor textiles add colour and comfort to an outdoor space, as well as helping to define a sitting or dining area. "A rug brings the indoors outside and softens a patio or decking area", says Sanderson Design Group, experts in luxury interior furnishings. "Arrange your outdoor furniture on and around your rug, using it as the starting point to build up your space". To keep furnishings fresh, they recommend channelling 2022's vogue for big, bold patterns and graphic prints.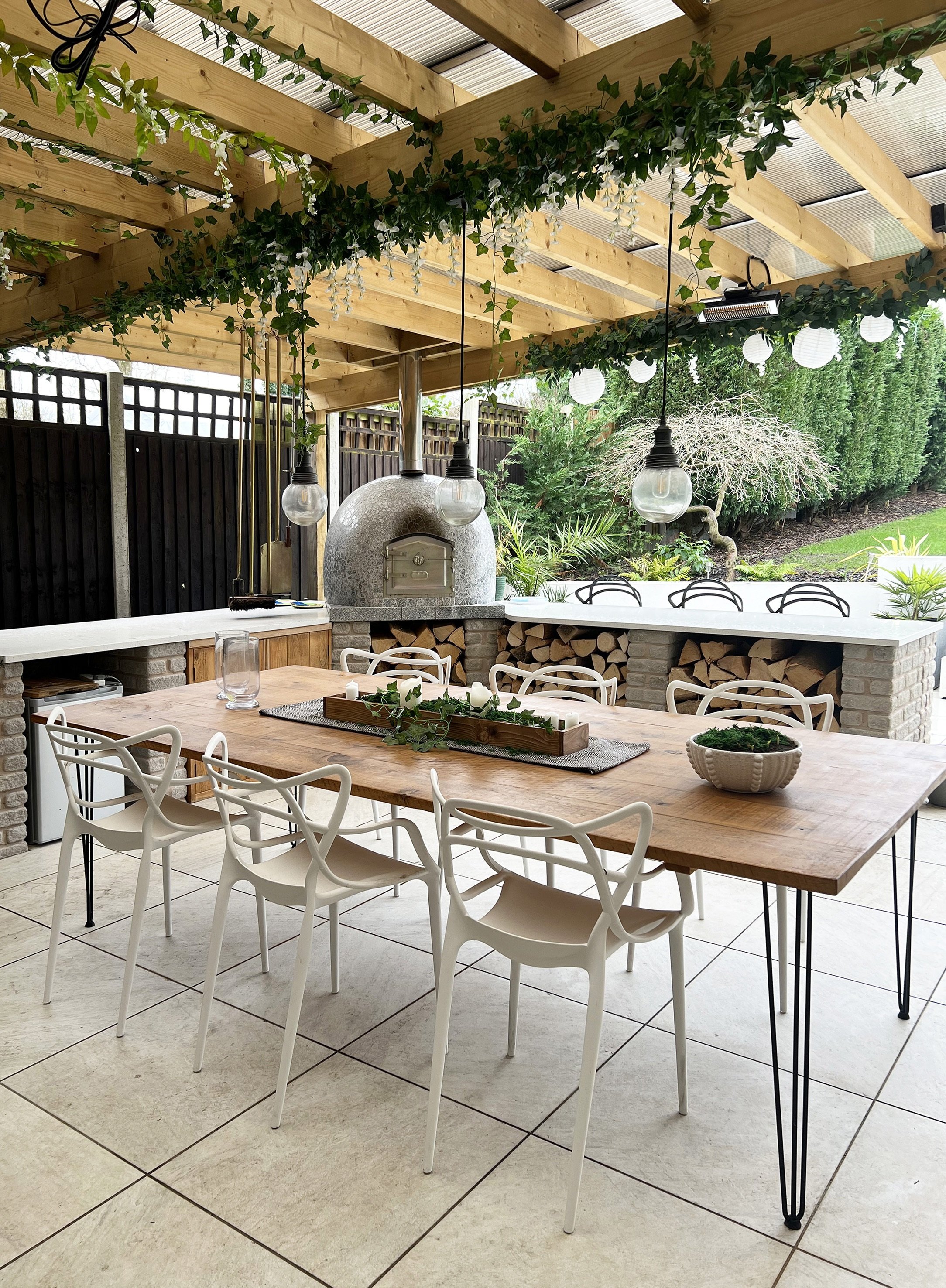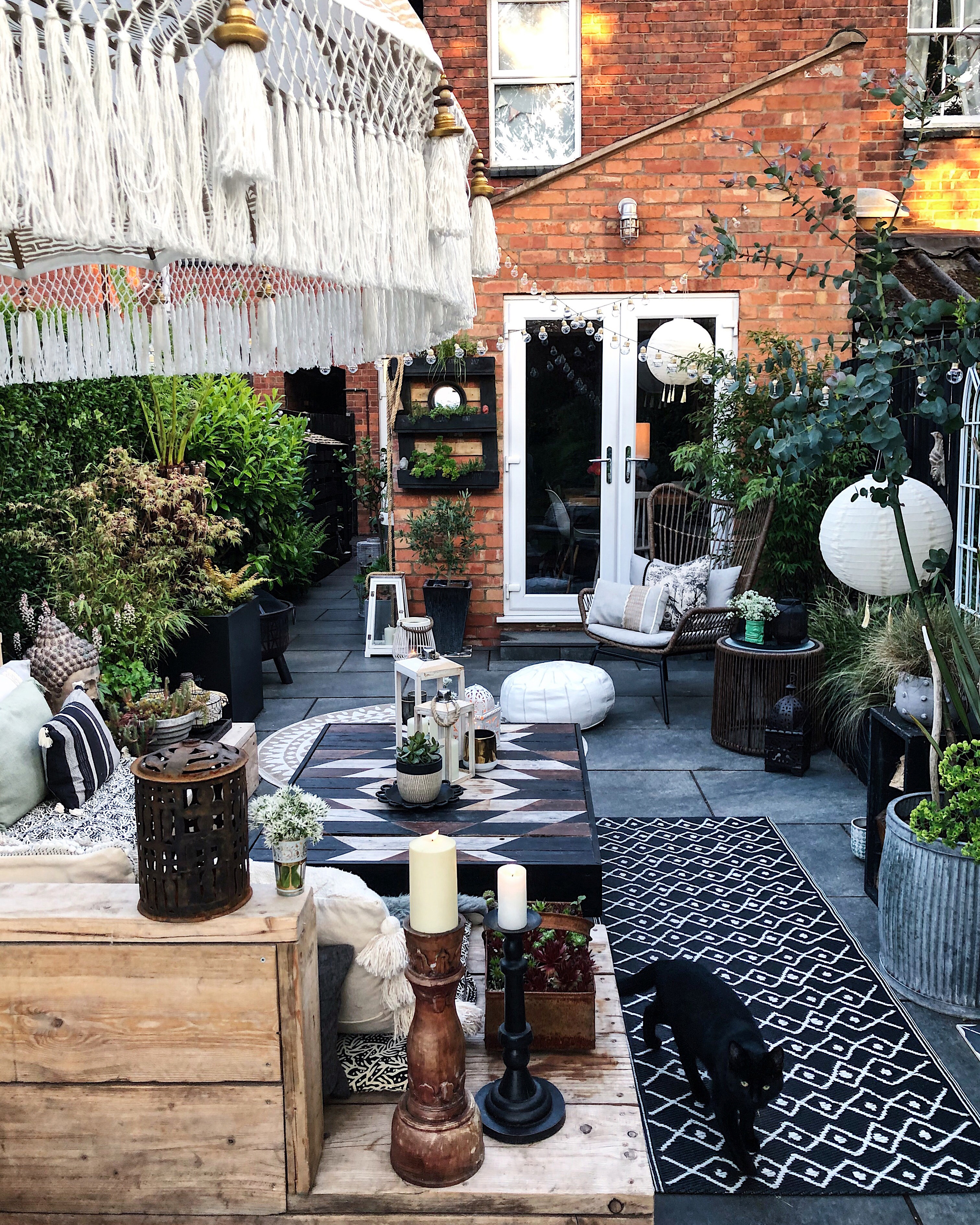 Industville Brooklyn Outdoor & Bathroom Globe Pendant Light, Image by @life.at.the.anvil | Industville Bulkhead Outdoor & Bathroom Sconce Wall Light, Image from @theresa_gromski
Choose metallic lighting
Come sundown; lighting is of utmost importance. Marketa Rypacek, Managing Director of award-winning lighting company Industville, recommends embracing multiple light sources and layering several options to create multi-faceted pools of illumination.
"Metallic finishes on outdoor lighting are a trend that's set to continue", she adds. "As well as adding interest with texture and shine, copper and brass lights will also add a sense of luxury to an outside space".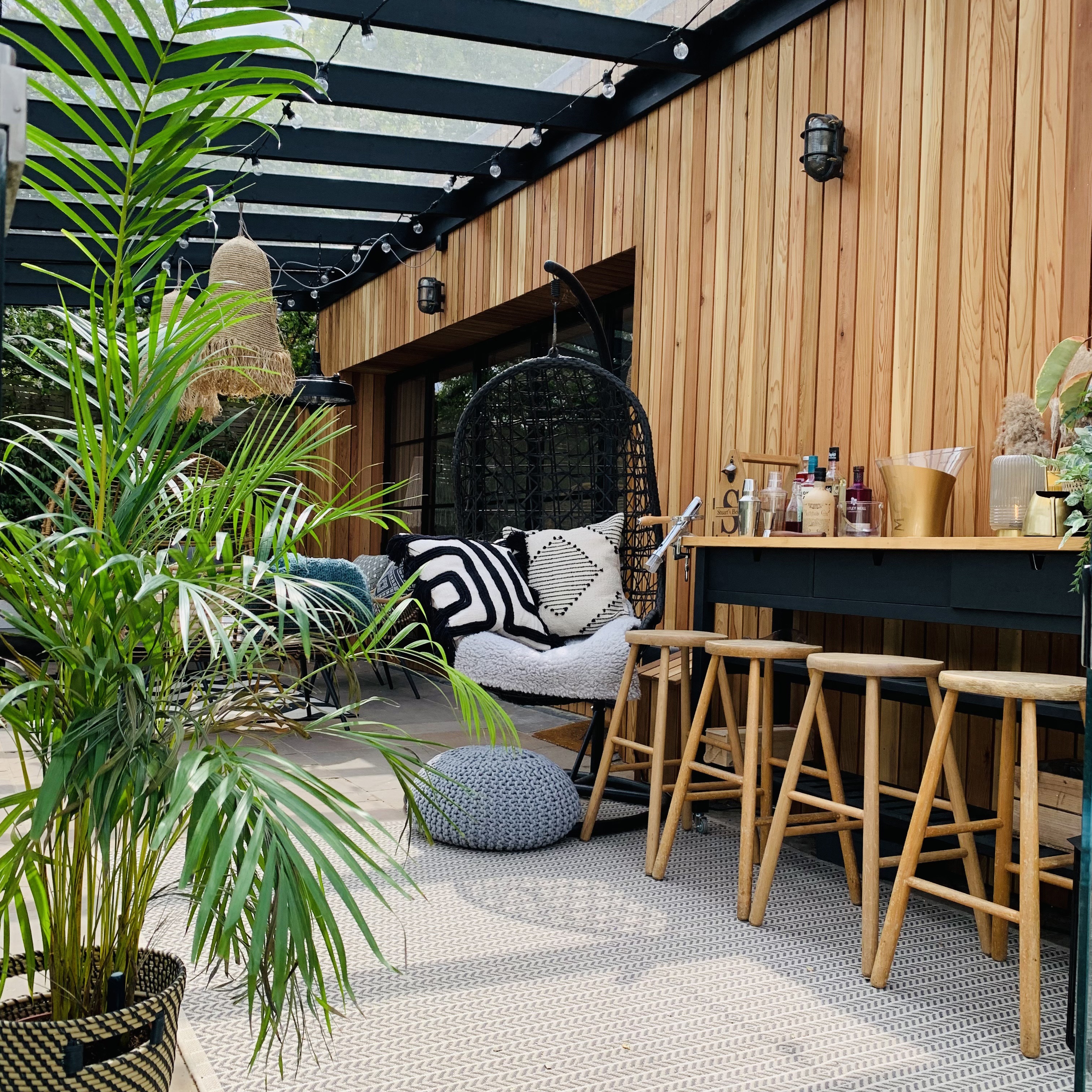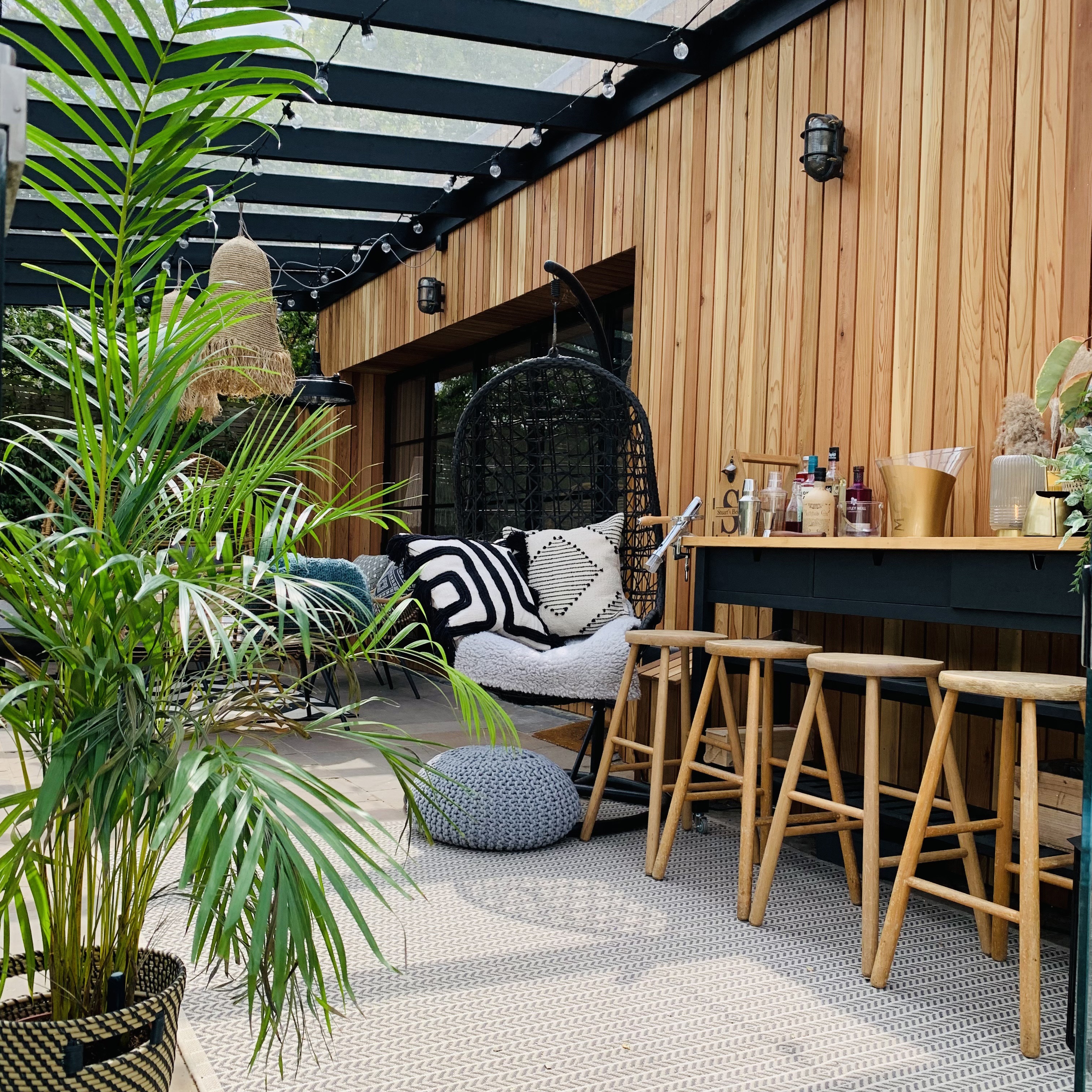 Industville Bulkhead Outdoor & Bathroom Oval Light, Image by @upstyleyourhome
Add the final touches
The final few accessories are where you'll add personality to your outdoor area. "See your garden as an extension of your home and use your walls to express yourself", says luxury interior designer and founder of Interior Kollection, Sanel Konyar. "I love using statement pieces, such as large outdoor clocks and even large and vintage antique mirrors in covered, sheltered locations to give the illusion of doubling the space".
Cushions are another easy way to upgrade the comfort and colour scheme of your space and further blur the line between interior and exterior.
"Think about the colour of your furniture and rug so you can keep an ongoing theme", says Sanderson Design Group. "Again, go big and bold and really make a statement. You can never have too many cushions".
To learn more or for additional suggestions, please contact your lifestyle manager.