'May we live long and share the beauty of the moon together, even if we are hundreds of miles apart,' wrote the Song Dynasty poet Su Shi nearly 1,000 years ago. Embodying the spirit of the Mid-Autumn Festival, the lines speak of the enduring bonds of family. Also known as 'Moon Festival', 'Mooncake Festival' and 'Lantern Festival', the event is celebrated across China, Taiwan, Hong Kong, Vietnam and among a Chinese diaspora scattered from Bangkok to London to Vancouver and San Francisco.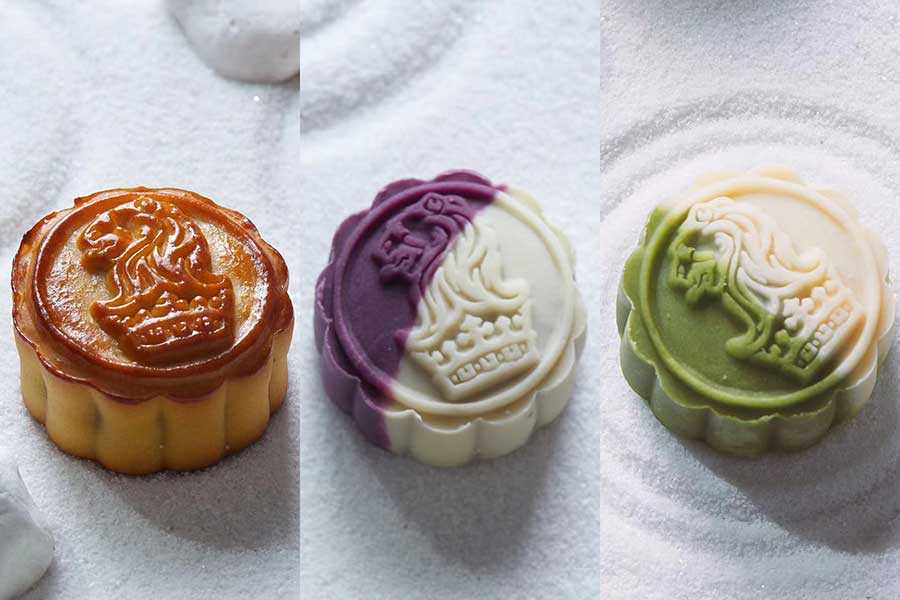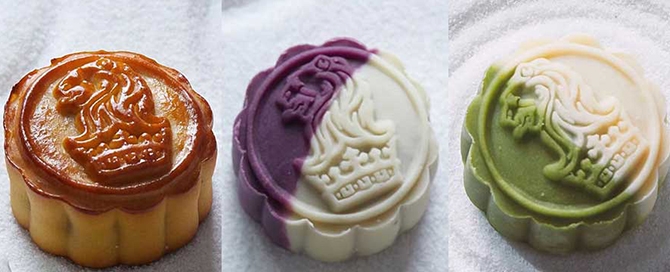 Credit: Ritz-Carlton Shanghai and Beijing
Falling on the 15th day of the eighth month of the lunar calendar (10th September this year), it is the second most important festival on the Chinese calendar (after the Lunar New Year). It is a time when families traditionally try to come together to offer thanks to the moon goddess Chang-An. According to folklore, the goddess swallowed a magic elixir of immortality to protect her husband, the Jade Emperor. On drinking the potion, she floated to the moon, where she would remain forever among the stars. Some versions of the myth say that she was allowed to return to earth once a year at Mid-Autumn Festival to reunite with her husband. More than two thousand years later, the tender love story is still told to children who gather with their families to stare at the moon, burn incense, light lanterns and offer foods in practice, including mooncakes.
An integral part of the festival, mooncakes are traditionally made from a heavy pastry filled with lotus seed paste wrapped around salted egg yolk. Thousands of varieties exist across the different regions, with modern-day versions flavoured with everything from champagne and truffles to chocolate and ice cream, lavishly packaged in keepsake boxes which are gifted to family, friends and business associates. Here are five of this year's most beautiful gift boxes, also available for pre-order.

The Peninsula, Hong Kong
The Peninsula Hong Kong's mini egg custard mooncakes are among the most sought after. First launched at their multi-Michelin award-winning restaurant Spring Moon in 1986, the intricately patterned golden cakes are filled with a velvety cream egg custard reflecting Hong Kong's unique East/West history. Alongside this modern classic, Chef Lam Yuk Ming has also added a new flavour for this year: sesame paste mochi.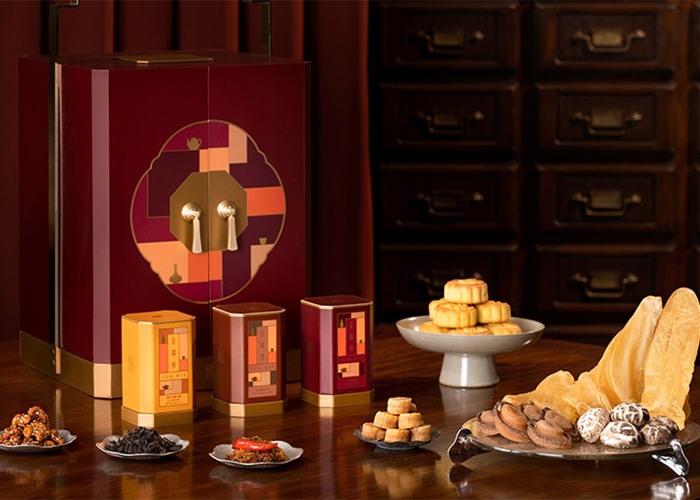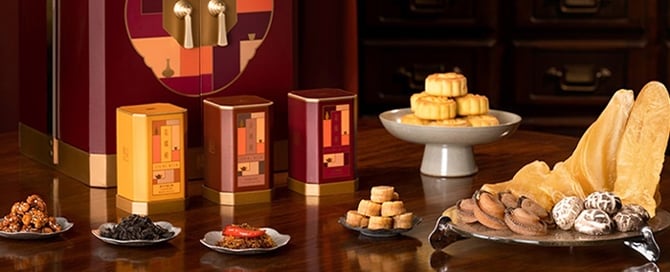 Credit: The Peninsula Hong Kong
House Collective
With some of Asia's most visually striking properties, including The Upper House in Hong Kong, The Temple House in Chengdu, The Middle House in Shanghai and The Opposite House in Beijing, you can always count on the House Collective to come up with thoughtful, beautifully designed mooncakes. This year's cache comes in boxes designed to resemble cylindrical Imperial-era curio boxes, with a different design for each house, tied with a faux jade Ping An Kou amulet recycled from plastic bottles and old House Collective uniforms. Flavours are equally enticing, from traditional white lotus paste and lava custard to Parma ham and egg yolk and Tieguanyin osmanthus plum.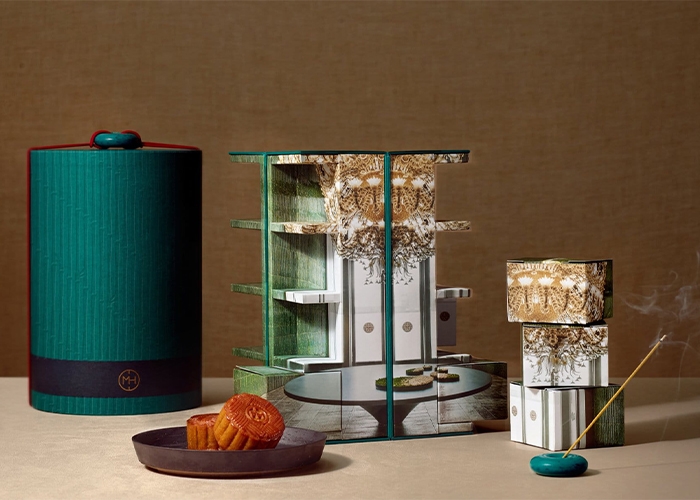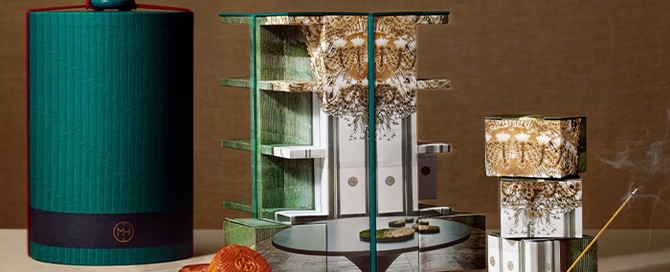 Credit: The House Collective
Rosewood Hotels
'Picnic on the Moon' is the theme for this year's mooncakes from Rosewood hotels in Asia. Their gift boxes have been created in eco-friendly packaging designed by award-winning Hong Kong creative studio RCS – and they don't sacrifice style. Made from 100% recycled paper, the range features over 15 different varieties, from traditional white lotus with double duck egg yolks to sweetened bean paste to mini assortments. In addition, guests can order blocks of rare Chinese pu'er, oolong and lapsang souchong teas, as well as lavish bouquets of Mid-Autumn Festival flowers, made up of orange roses and coral eustomas.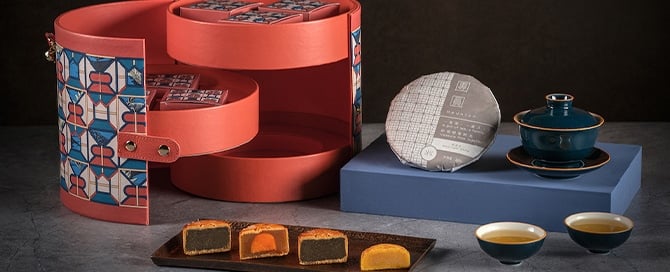 Credit: Rosewood Hotels
The Mandarin Cake Shop
Specialising in heavenly cakes, chocolates, patisserie and baked goods year round, for this year's Mid-Autumn Festival, The Mandarin Oriental's Cake Shops has come up with a suitably extravagant range of seasonal mooncakes, including chocolate lava, sugary red bean paste with dried tangerine peel, and luscious egg custard. Gift hampers come in signature fan-shaped boxes with optional additions of Ruinart Brut Rosé NV champagne, chocolate pralines, caramelised walnuts, Chinese preserved sausage, abalone and the Mandarin Oriental's homemade XO sauce.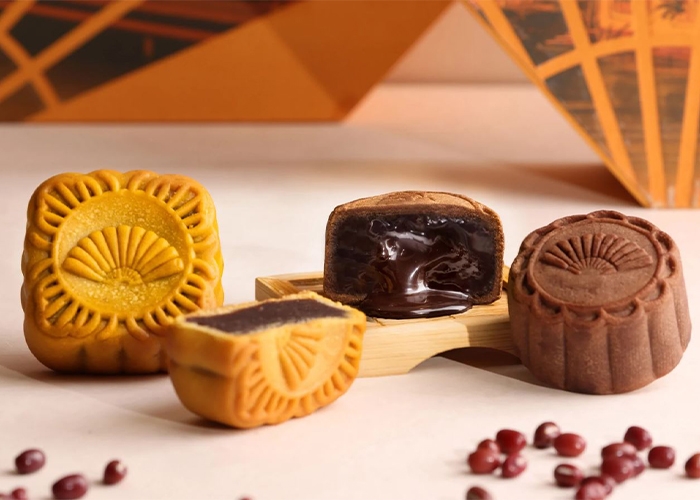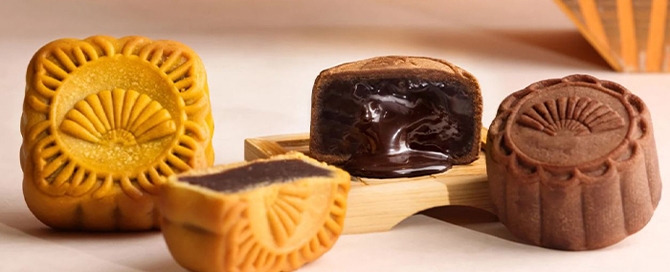 Credit: The Mandarin Cake Shop
Ritz-Carlton Shanghai and Beijing
Snow skin mooncakes or crystal mooncakes are a popular modern-day variety originating in Hong Kong; they are now also found in Macau, Taiwan, Vietnam, Singapore, Malaysia and Indonesia, as well as parts of Mainland China's big cities. Although the semi-translucent cakes are sold in bakeries, they aren't actually cooked and are instead fashioned from frozen glutinous rice, filled with the likes of strawberries, green tea, durian or sesame, and served cold. The Ritz-Carlton Shanghai and Beijing have a stunning range this year, flavoured with white peach oolong, Yuzhi matcha and rose bean paste.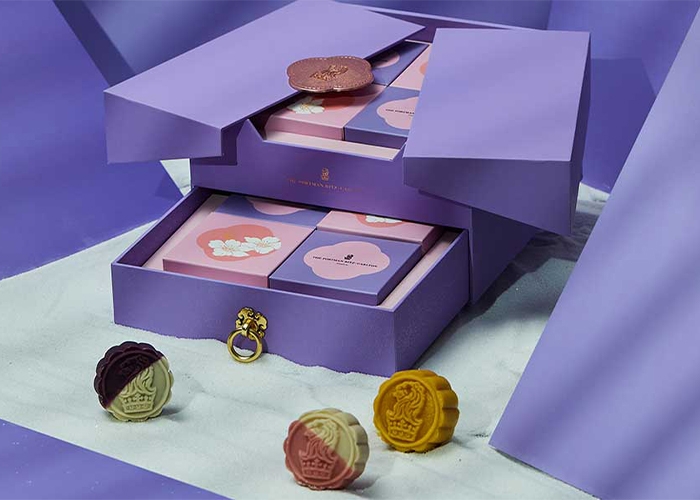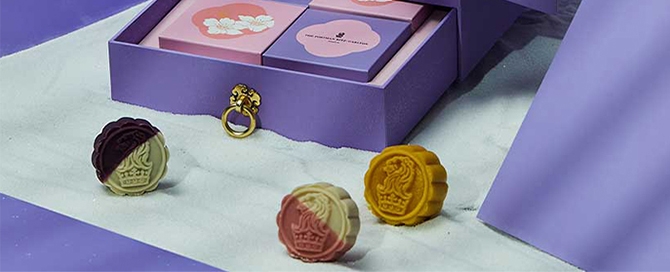 Credit: Ritz-Carlton Shanghai and Beijing
To order mooncakes or for additional recommendations, please contact your lifestyle manager. To find out more about becoming a Quintessentially member, please click here.