First, the headline news: the Design Museum's new show, Skateboard, plays host to London's newest skate ramp – arguably a first for an exhibition of this kind. Ticket holders can book a free slot to ride the 3.5m mini ramp (with an 8ft extension) – providing they have some prior skateboarding experience.
In between, visitors can watch a specially commissioned film of Converse CONS riders Diggs English and Gavin Bottger (the newly crowned world champion) dropping in on the ramp. Asked if they had ever ridden in a gallery before, they replied a little sheepishly, 'Maybe on the steps outside.'
This throwaway line picks up on the theme that lies at the core of this show, masterfully curated by designer and skater Jonathan Olivares in collaboration with curator Tory Turk: the idea that skate culture is about 'interplay with the built environment' – and how everything from found materials to inner-city architecture has been appropriated as skateboarding evolved.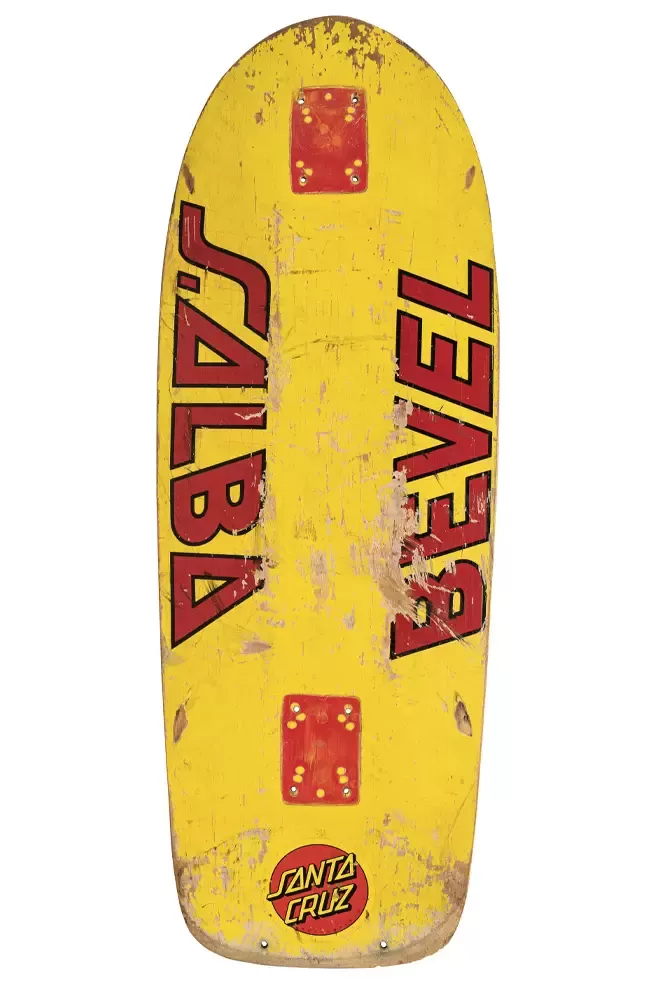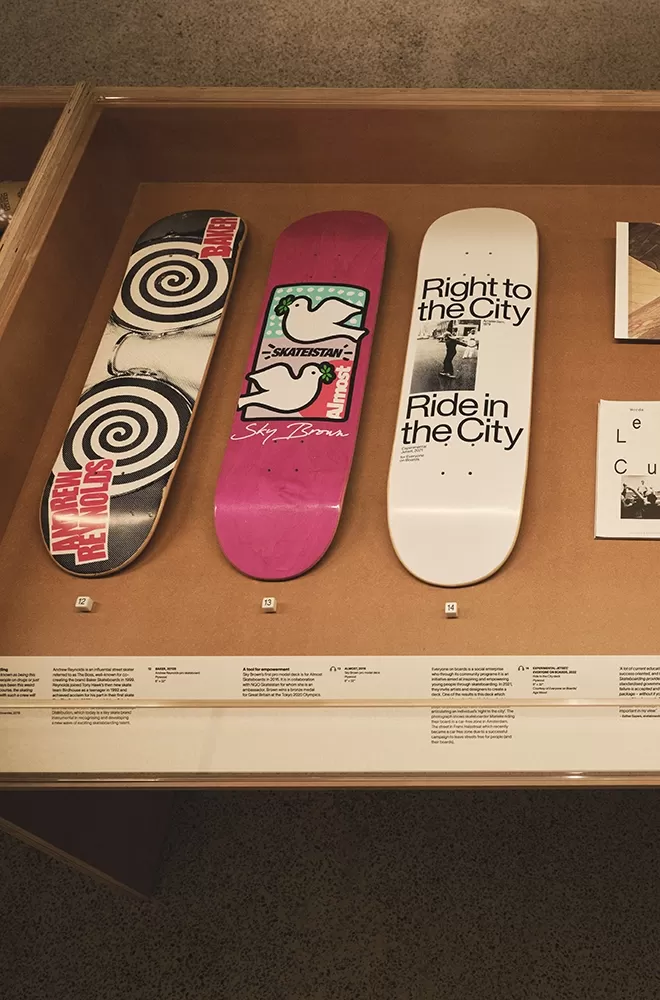 A series of close-up photos by Olivares of 'Skateable Objects' highlights how 'kerbs, ledges, stairs, handrails and gaps… serve as the platform for skateboarding'. Speaking at the private preview, Olivares marvelled at 'the plasticity in the mind of skateboarders' – and how it instils an 'innate education of architecture' as they examine every detail and dimension of buildings and town 'furniture' in the goal of crafting increasingly elaborate tricks.
The wayfinding for the show utilises bright yellow road markings that weave between the display cases, up walls and over benches as they lead the visitor through the chronology of skateboarding culture. This enables a linear storytelling route – from novice beginnings, with kids attaching roller-skate wheels onto wooden crate boards, to the all-encompassing cultural phenomenon it is today.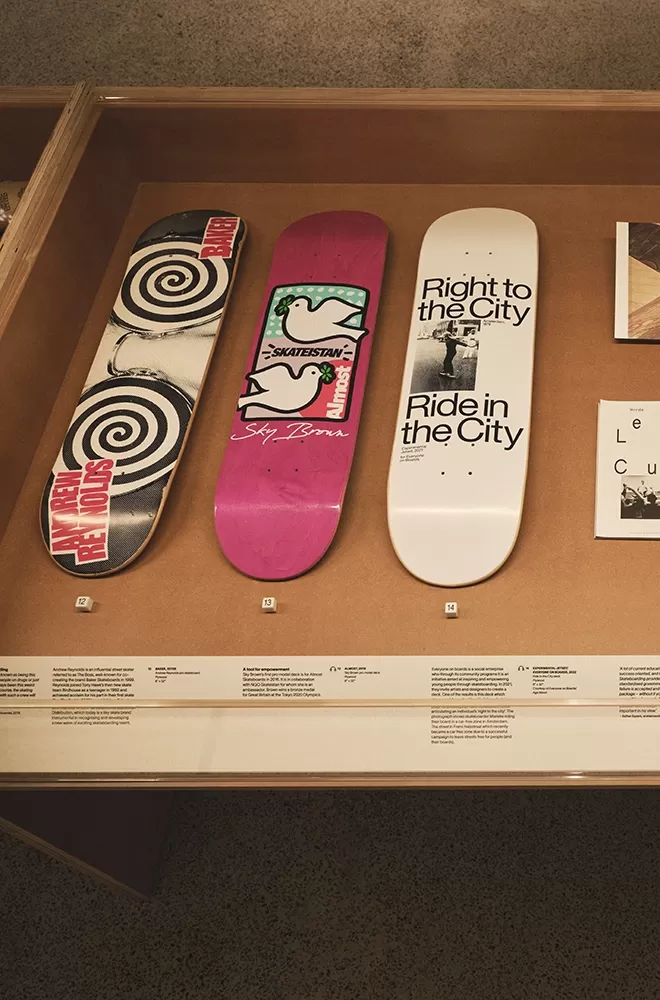 As journalist Craig Stecyk put it in 1975, 'Two hundred years of American technology has unwittingly created a massive cement playground of unlimited potential, but it was the minds of 11-year-olds that could see this.'
The exhibition explores and embraces the different tangents as this potential has been realised in often surprising ways, picking up on significant moments, such as the introduction of looser trucks, allowing the skater more freedom and manoeuvrability – thus opening up more of the urban playground to them.
The counter-culture associations of skateboarding – replete with fanzines, soundtracks, films and pop references – are well documented, as is the parallel development of the camcorder and ever more sophisticated handheld filming technology that further helped to record and disseminate this burgeoning scene globally.
Today, skate culture is everywhere – from luxury brand collaborations to 'drop' culture, while many of the early fanzines – many of which are on display here, now change hands for hundreds of dollars an issue.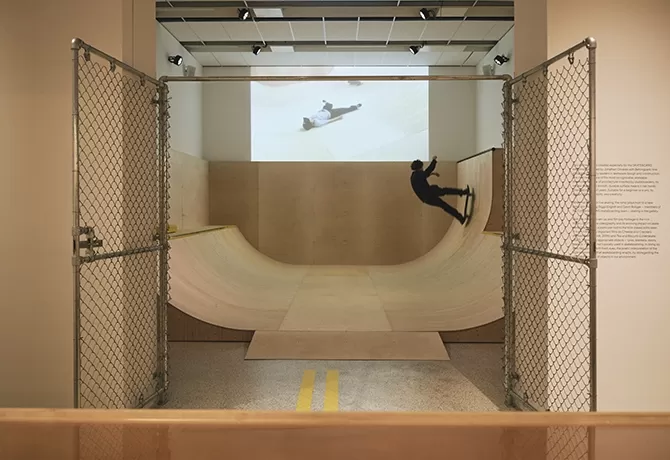 Many of the exhibits here are of immense historical importance – from skate legend Tony Hawk's first-ever professional model skateboard to his branded gaming console board. Just as culturally significant is the compilation of skateboarding-related films screened in the space.
'The skateboard story has many layers: a history impacted by societal, technological and geographical shifts,' says associate curator Tory Turk. 'The skateboard takes on a special power that can change lives, cities, cultures. And push boundaries.'
Picking up the theme, Olivares enthuses that 'Skateboarding is an education in design: it has no rules and requires inspiration, decision-making, ambition and rigour. Whether consciously or sub-consciously, these lessons leave a lasting impression on the skater.'
But more than that, this fascinating exhibition (in partnership with Converse) details how skateboarding has also left a lasting impression on global culture and design itself, helping to shape the environment that it first used as its playground. And if all that sounds too theoretical, you can always just drop in on London's newest and most stylish skate ramp…
Skateboard runs until 2nd June 2024 at the Design Museum.
Want to be invited to private tours, previews, and talks at the most esteemed art and cultural events around the world? To make it happen, we work alongside the most prestigious artists, galleries, museums, auction houses, and art fairs globally. Find out more about a Quintessentially membership here.