There's a nip in the air, the leaves in Central Park are changing colours, and runners training for the marathon are ramping up: it's autumn in New York City. For food lovers, autumn is the busiest eating season as dozens of new restaurants debut, and getting the hottest reservation becomes even more fraught than usual when lists fill up with more and more spots to try. But it's hard to select the wheat from the chaff, given the sheer amount of new restaurant openings this season. So, we've done the hard work for you.
Autumn 2023 introduces new spots from beloved chefs like Angie Mar, April Bloomfield, and Marcus Samuelsson, European imports from as far off as Monaco, and restaurants specialised in things like soba and Indian street food. Here is our list of the best new restaurants opening in the city's five boroughs this autumn.
Le B.
This West Village corner neighbours the former home of the historic Beatrice Inn. Then, in 2021, chef-owner Angie Mar opened Les Trois Chevaux. Now, Mar is moving Les Trois Chevaux to a new location – and has opened Le B. in its place. It's Mar's more playful ode to the excess of the 1980s and 1990s in which she grew up while maintaining references to the former restaurants that inhabited the space. The redesigned space features dark blue walls, a dramatic crystal chandelier, and lithographs and sculptures – some from Mar's grandfather's collection.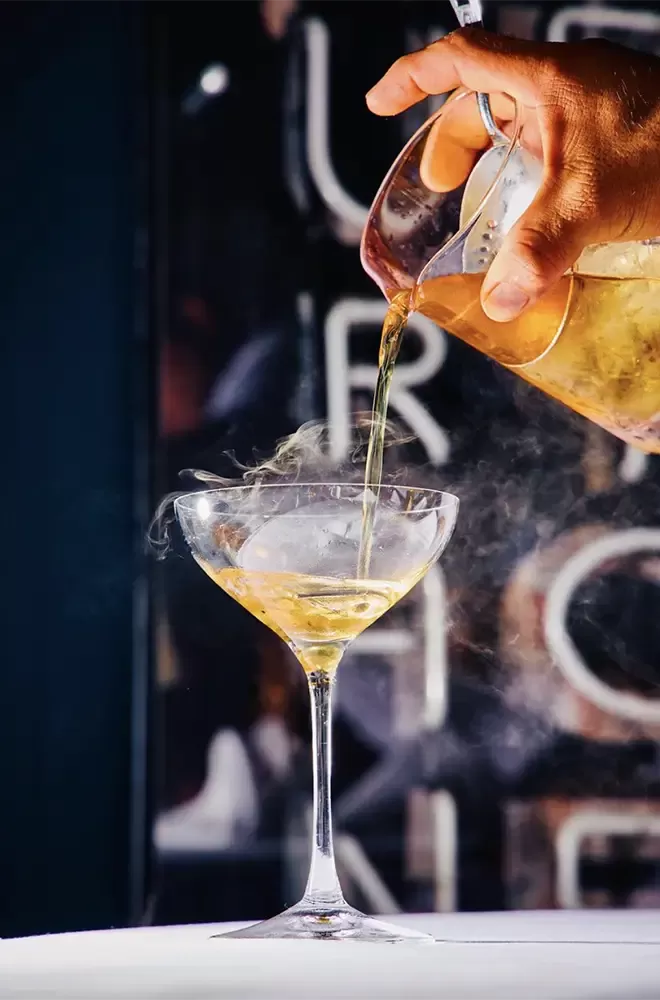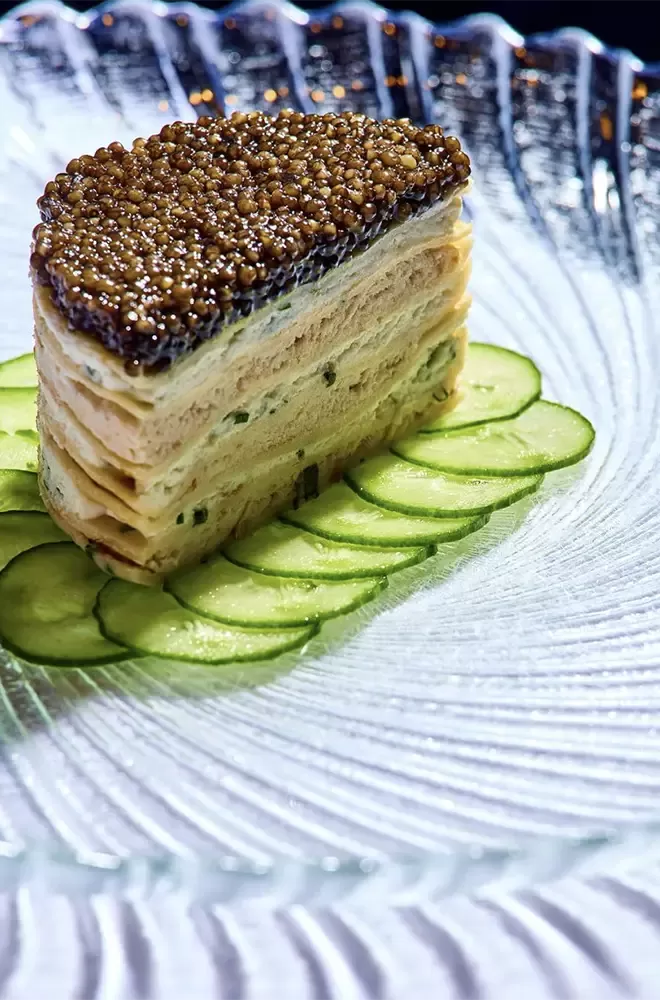 283 W 12th St, New York, NY 10014
But the food is what really excites, with menu items like onions Nancy, a play on French onion dip; sturgeon Charlemagne, layered caviar and smoked sturgeon delight; cream of garlic en croute, one of three soups; Dungeness crab wellington, encased in croissant dough and soaked in an addictive curry-style sauce; and duck, duck, goose, a throwback to the duck at Beatrice Inn. At the bar, you can also score one of the burgers from the good old days (one per bar seat per night). A cheese cart comes around before dessert, and Crêpes Suzette is prepared tableside for the final course.
Restaurant Yuu
This industrial-on-the-outside, sleek-on-the-inside theatrical spot in Greenpoint, Brooklyn, is chef-owner Yuu Shimano's first solo project after leaving acclaimed MIFUNE. Shimano's Japanese background and French training are on full display during the 16-course tasting menu, served at a black marble counter in front of a grand open kitchen.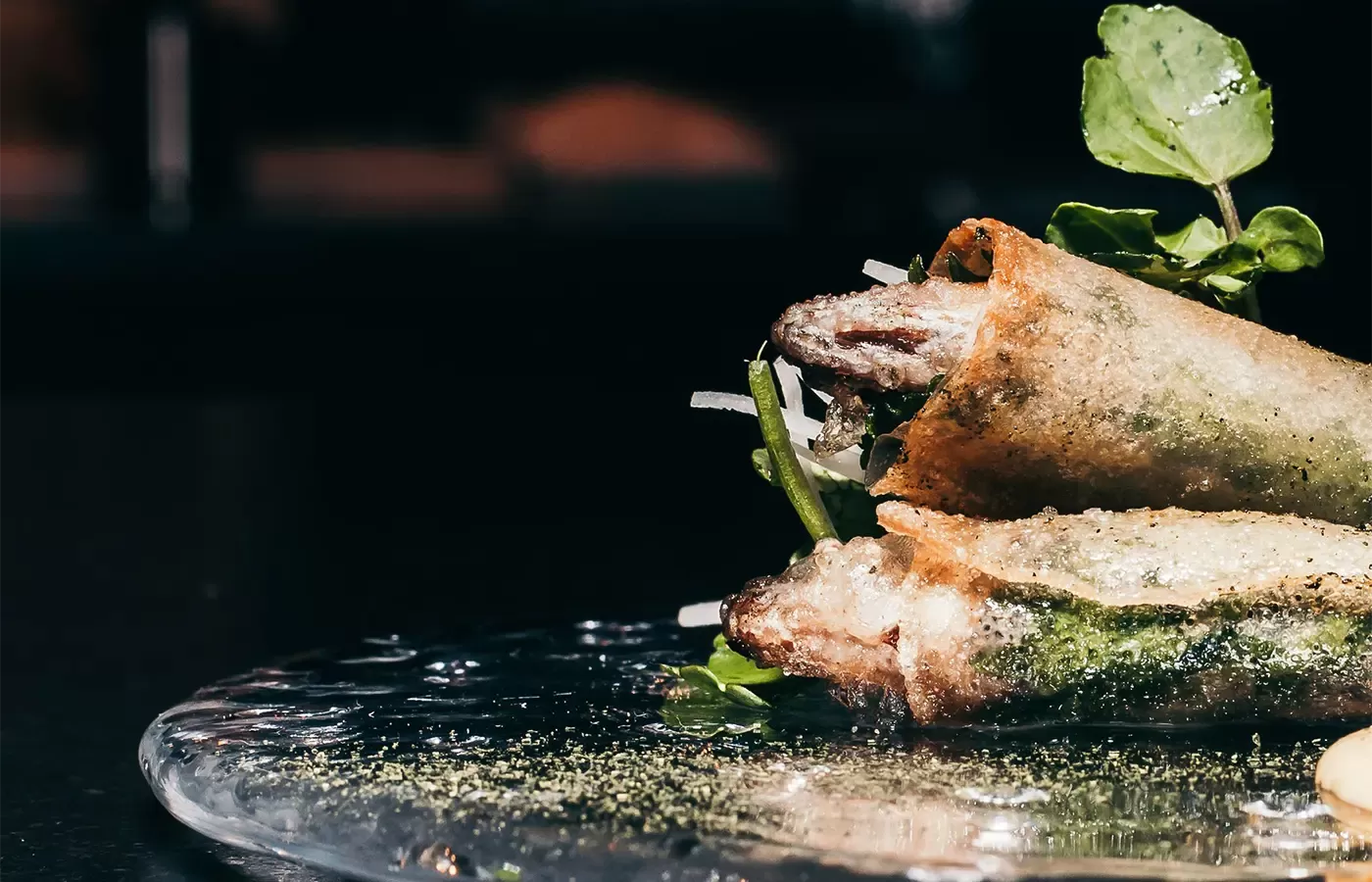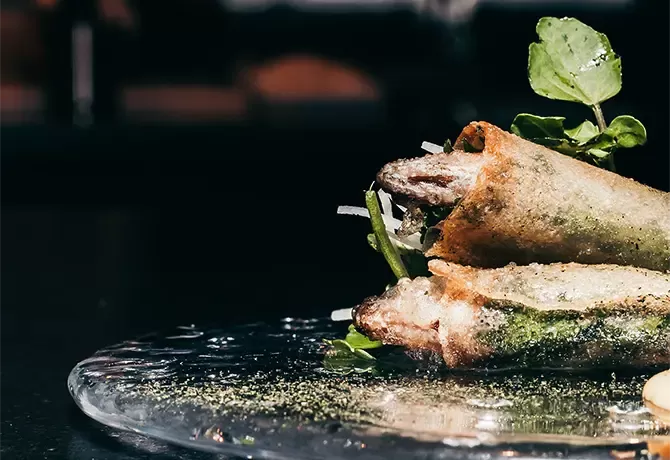 55 Nassau Ave, Brooklyn, NY 11222
Before the meal, the staff comes around with a glorious platter full of glistening ingredients ranging from lobster to white asparagus to Japanese Crown melon to unbaked, dry-aged duck en croûte, which is numbered each night – ours was labelled Canard (No. 00080). Then, the curtains literally open, revealing the gleaming kitchen and the dinner show begins.
Aside from the duck, other highlights include squid and caviar, based on the traditional Japanese dish of ika somen, where aged squid brushed with soy sauce is lightly seared and served over a slow-cooked egg and topped with Oscietra caviar and a shiso flower; the Wagyu, sauce Bordelaise, which is an elevated version of a wagyu sandwich featuring A5 Miyazaki Wagyu beef with foie gras on a piece of buttery brioche drizzled with a bordelaise sauce. At the end of the meal, guests are escorted to parlour areas with sofas and coffee tables where they're served petit fours and tea.
Bangkok Supper Club
The Meatpacking District is now home to Bangkok Supper Club, the latest restaurant from the group behind the beloved Thai restaurant Fish Cheeks. The more ambitious Bangkok Supper Club serves inventive, contemporary Thai cuisine in a sophisticated, '60s-inspired setting, evocative of bustling late-nights in the capital city. Bangkok-born chef Max Wittawat plays with tradition to create vibrant plates rooted in the flavours of the city's vibrant culinary scene, with a charcoal grill at the centre.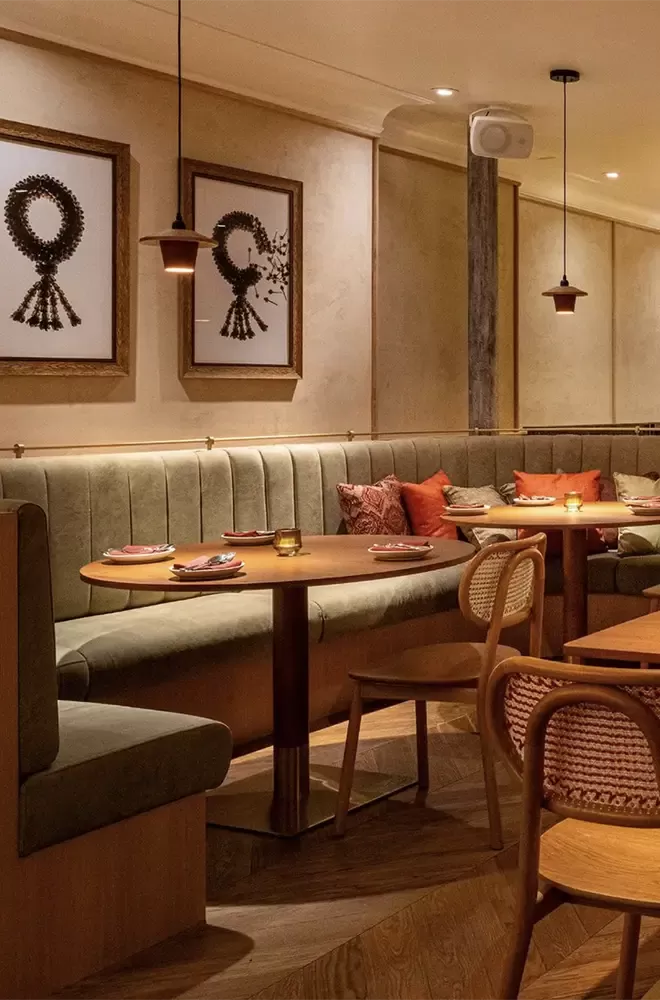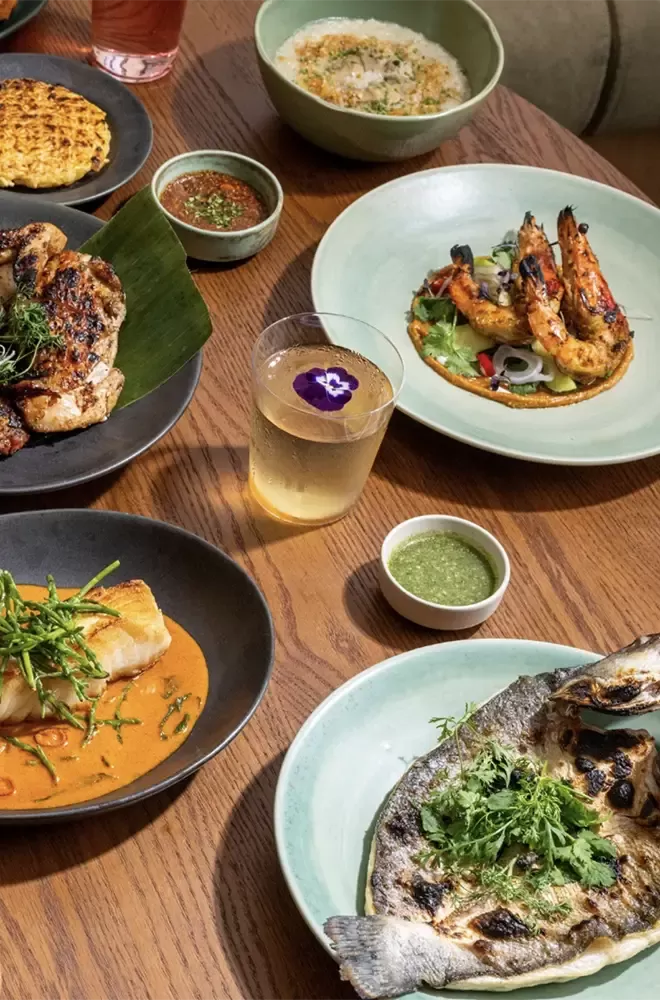 641 Hudson St, New York, NY 10014
Diners can dig into dishes like sticky-rice-stuffed chicken wings, whole grilled, boneless branzino with Nam Jim seafood sauce, shell-on grilled shrimp over a coconut curry-cashew satay sauce, and seared pork jowl atop garlic fried rice dotted with crispy pork skin. Pair it with an innovative cocktail like the Truffled Pandan, made with gin, fat-washed truffle oil, and apple juice infused with coffee, thyme, herbs, pandan syrup, and malic acid.
Nōksu
The rumours are true: one of the city's hottest new restaurants is inside the somewhat grimy 34th Street-Herald Square subway station. Nōksu, from restaurateurs Bobby Kwak and Joseph Ko with the Korean-born chef Dae Kim at the helm, is situated down the station's stairs on the corner of 32nd Street and Broadway; reserved diners are sent a code to punch into the locked door.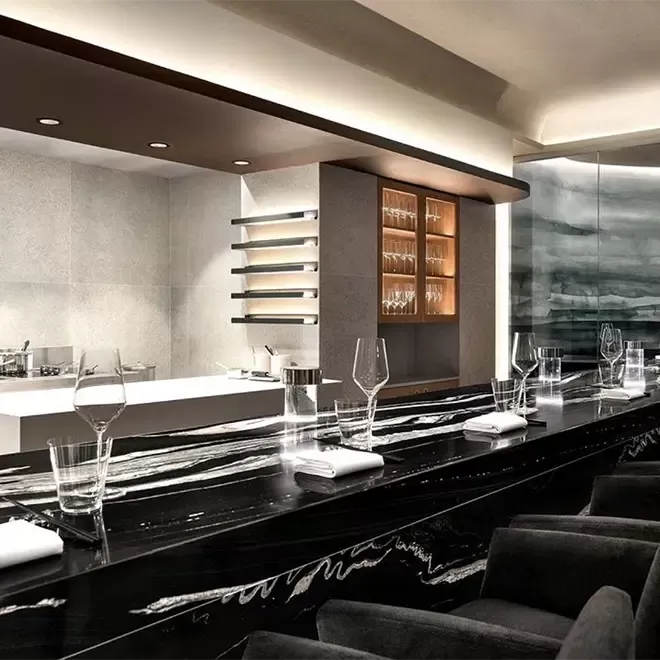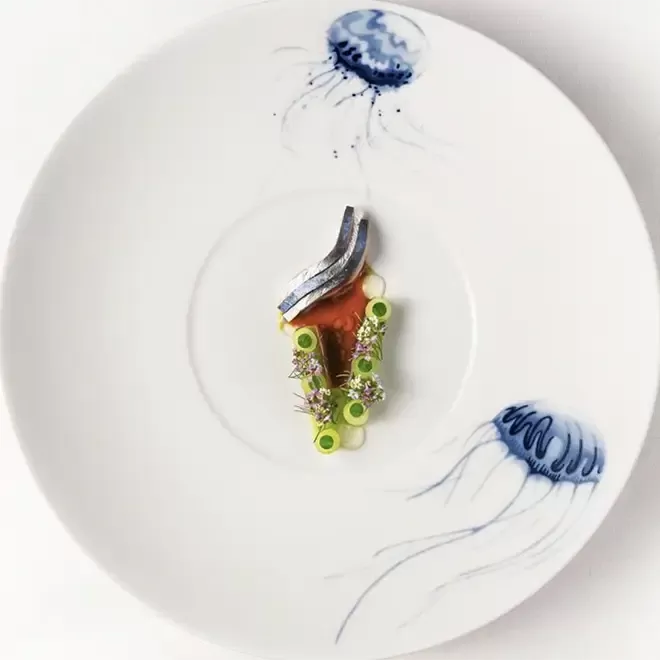 49 W 32nd St, New York, NY 10001
Upon entering, diners are welcomed into an entirely different world, designed by Claire Soojin Kim, with a gorgeous back wall inspired by Korean ink-and-wash paintings and a sleek black and white marble counter that seats 12. The parade of dishes from the open kitchen is refined, creative, and absolutely beautiful – the tweezers are in full effect here, with carefully placed edible flowers and garnishes turning each course into a work of art.
Highlights include broken rice, with Matsutake mushrooms, okra, and other vegetables; surf clams in a Chawanmushi-style egg custard topped with Kaluga caviar; and a whole grilled squab, lacquered in an addictive barbecue sauce, paired with crunchy duck feet, squab liver, and a truffle bao bun. The wine pairing is a must; look out for excellent European pours, Korean beers, and rice wine.
Jean's
From industry veterans Max Chodorow, Ashwin Deshmukh, and Bernardo Metsch comes Jean's, a neighbourhood destination serving New American cuisine made with farm fresh produce. Menu items include bone-in tuna au Poivre, Chitarra pesto, wood-grilled half farm chicken, and seared local fluke, all made with the ingredients harvested from Chodorow's very own farm in New Hope, Pennsylvania, just a couple hours away.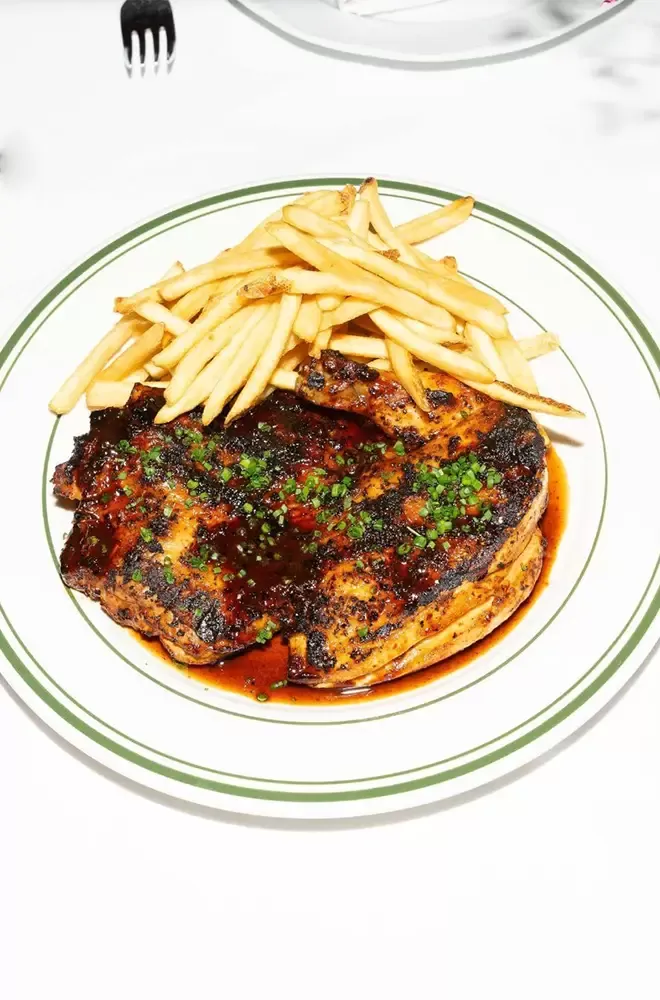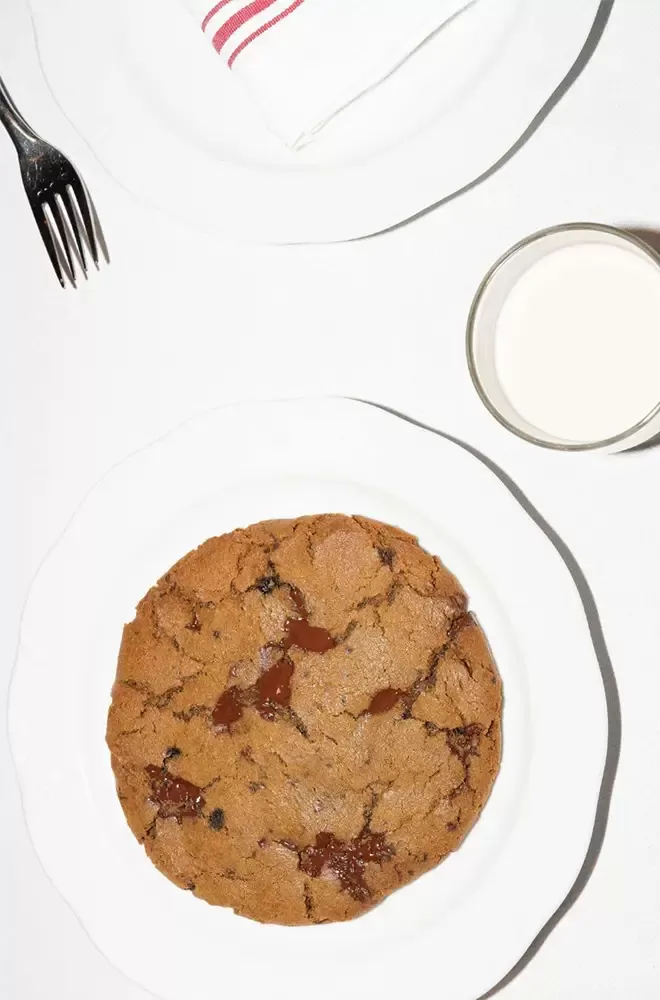 415 Lafayette St, New York, NY 10003
The main dining room features mirrors on both sides, a rescued working fireplace, a library wall of found items, and skylights to flood the space with natural light during lunch and brunch. The heart of the restaurant is the bar, a solid marble block surrounded by hand-painted gold leaf, offering up cocktails like the Kiki, with Casamigos mezcal, espelette pepper liqueur, guava, strawberry, kiwi, lime, and bitters. At the entrance is the café, which takes inspiration from Chodrorow's farm by recreating a hand-painted blue and white wood floor.
Sailor
Chef April Bloomfield returns to the city with this new neighbourhood bistro in partnership with restaurateur Gabe Stulman (Joseph Leonard, Fairfax), who has branched out from the West Village to open this spot in Fort Greene (his first in Brooklyn). The nautical theme runs deep here, from décor to menu items, which include mussel toast, mackerel pâté with pastrami spices, salt cod with peppers, radishes poached in beer, black sea bass with mushrooms and celeriac, and a showstopping whole roasted chicken.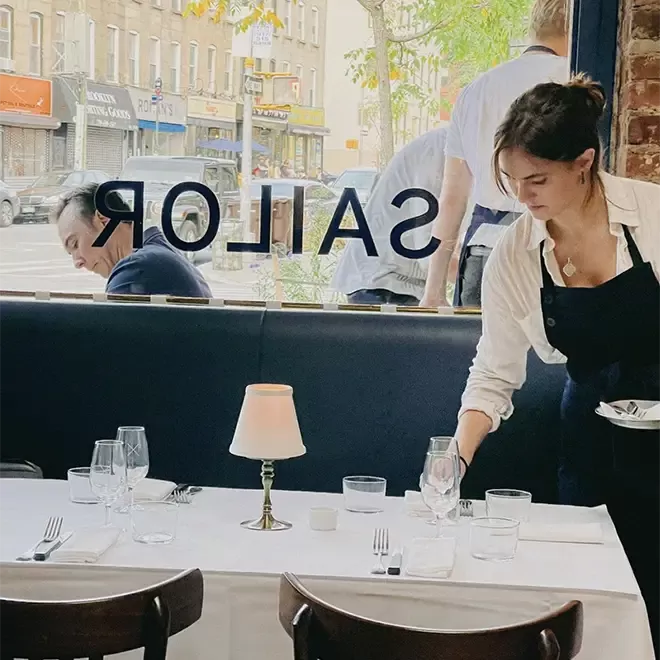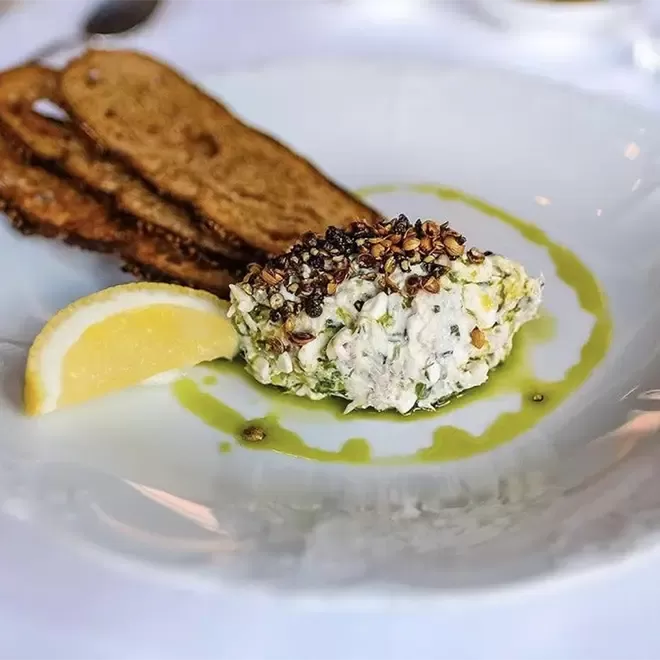 228 Dekalb Ave, Brooklyn, NY 11205
The interior design by Alfredo Parades, the former creative director of Ralph Lauren, involves exposed brick, gold sconces, blue trim, leather-topped bar stools, and plenty of nautical paintings and prints. Ahoy!
Rampoldi New York
This is the second location of the iconic Monte Carlo restaurant, a longtime celebrity and monarchy favourite. Located across from Lincoln Center, Rampoldi New York has identically reproduced the entire menu of the Monaco original, and the grand dining room mirrors the original décor, down to the Italian Rosso Imperiale marble, Murano glass chandeliers, and custom leather banquettes.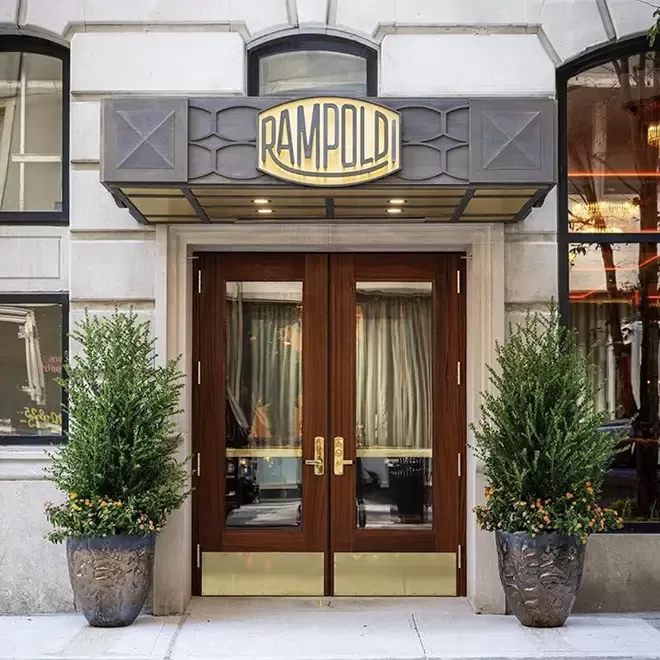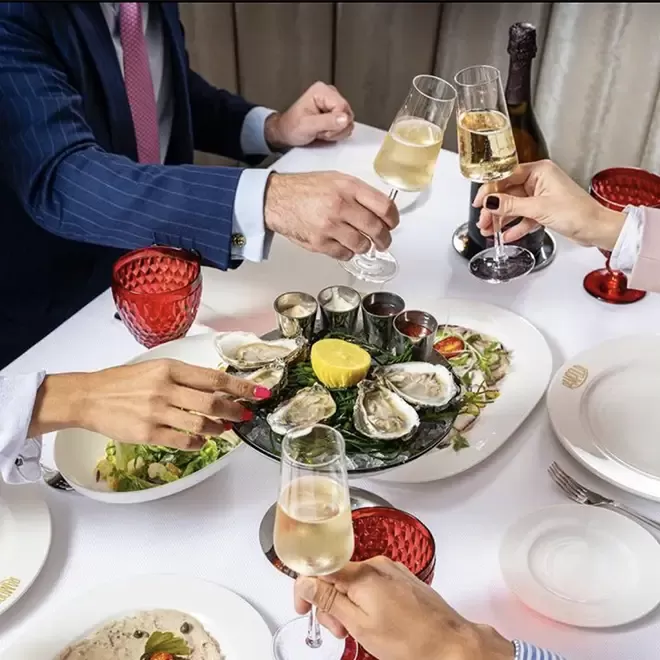 49 W 64th St, New York, NY 10023
Serving Monegasque food in what he says is the only restaurant outside the principality to do so, Executive Chef Antonio Salvatore garnered Michelin recognition with the original outpost. Modern Monegasque food is a mash-up of Italian and French cuisine with a touch of international influence, cooked with fresh ingredients and accented by loads of luxury touches like foie gras and caviar.
Due to Monaco's Mediterranean seaside location, seafood and fish are popular ingredients; a classic Monegasque dish, for example, is a seafood bouillabaisse and the one at Rampoldi is made with rockfish, clams, mussels, squid, potatoes, saffron, and star anise. Other highlights include the beef tartare, which is prepared tableside; a handmade crab ravioli topped with branzino, clams, garlic, parsley and bottarga; filet de boeuf 'Rossini,' which is Argentinian Angus beef topped with red wine sauce, black truffles, and seared foie gras served alongside a truffle potato purée; and Salvatore's excellent version of Vitello tonnato.
Ilis
Mads Refslund (co-founder of Noma) opens his first solo full-concept restaurant in New York City, landing in Greenpoint, Brooklyn, inside a former rubber factory. His chef de cuisine Bryce Shuman, known for his work at Betony and Sweetbriar, is also New York chef royalty. The space has been fully converted into an industrial chic restaurant with a massive open kitchen. However, this is not a prix fixe menu; instead, it's flexible, with options for dishes ranging from five to 12 courses.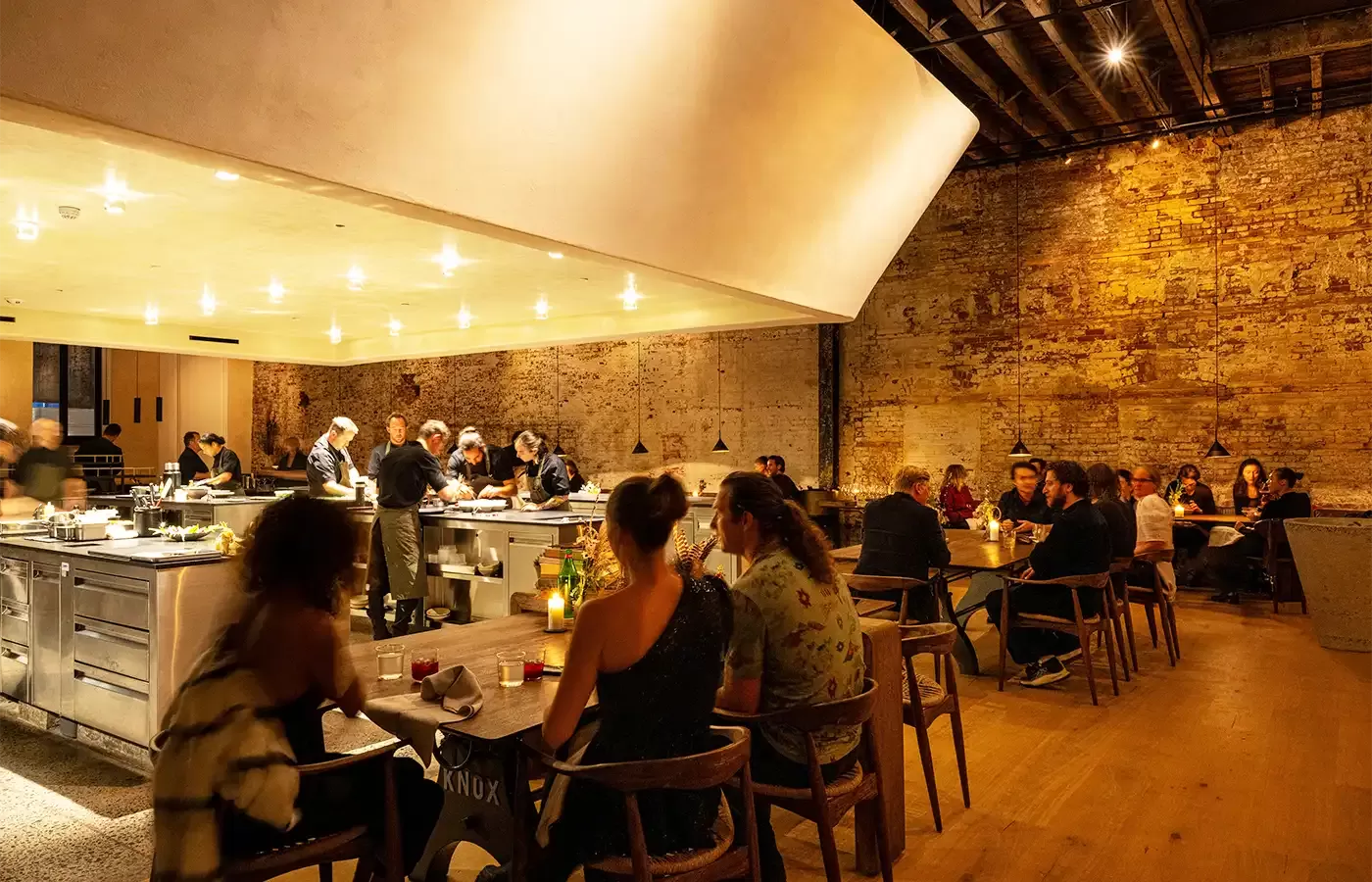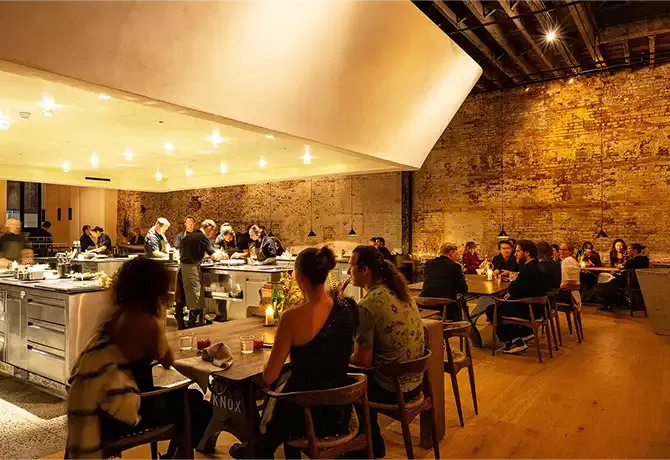 150 Green St, Brooklyn, NY 11222
Ilis combines the Danish words ild (fire) and is (ice), and the menu offers both hot and cold preparations for each dish. Menu items rotate frequently but might include sunflowers with aged local tuna, venison tartare with black garlic and spicebush, and barbecue eel-on-the-cob. Expect Noma-esque touches like a chilled zucchini beverage with a straw made from the plant's own stem and a surf clam, tomato water, and a smoked dashi course served in a vessel made from the clamshell.
Uzuki
Also in Greenpoint, Uzuki is a soba noodle bar from Shuichi Kotani, a soba master who has been consulting and making soba and other Japanese noodles for restaurants in New York and beyond for over 25 years. Uzuki marks his first solo venture with a prix-fixe menu offering diners a set of soba-centric appetisers, followed by a choice of soba noodles from a small selection of bukkake-style soba with toppings and sauce (always with one vegan option) and a soba dessert of their choice – although the ice cream is definitely the one to order.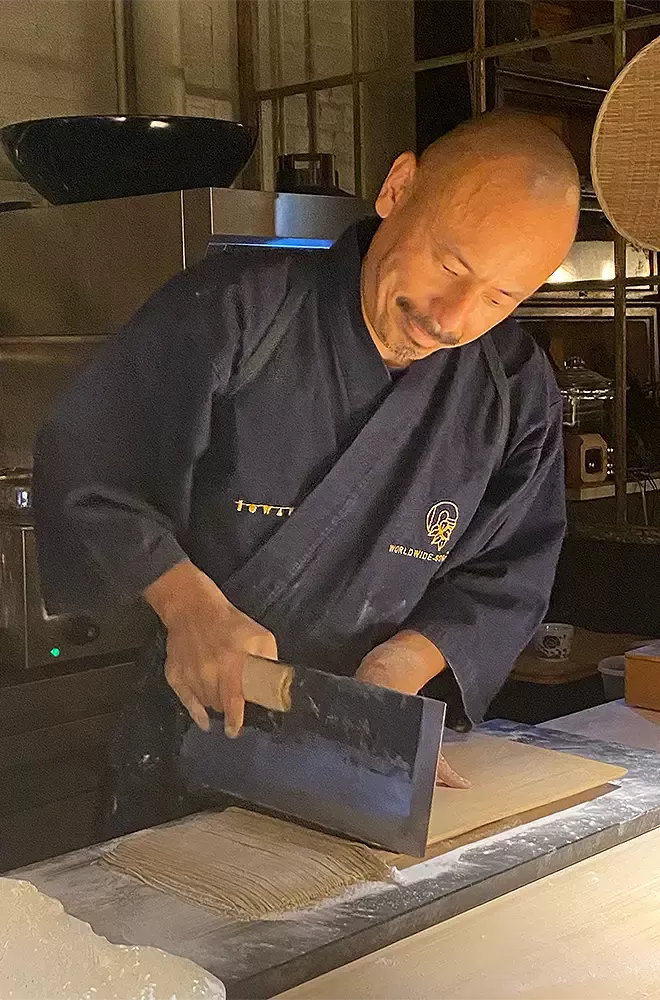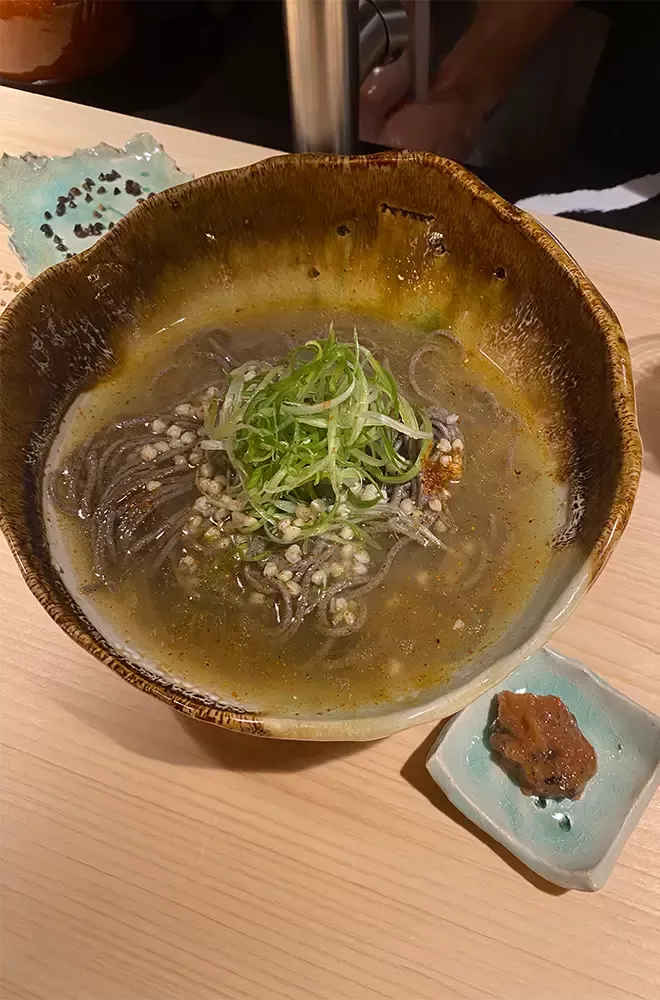 95 Guernsey St, Brooklyn, NY 11222
Beverage-wise, sake is on the menu, exclusively from the Tsuki no Katsura brewery, the oldest sake brewery in Fushimi, Kyoto, along with soba beer. Kotani is happy to share his gospel, illuminating diners on the health benefits of the naturally gluten-free soba (buckwheat) and how he mills his own soba flour on-site, making each noodle by hand.
Jazba
Jazba is the vibrant new restaurant from the team behind Junoon, the trailblazing Indian restaurant that was one of the first in the country to earn a Michelin star. Jazba, in the East Village, is a celebration of India's roadside eateries, with chef Akshay Bhardwaj celebrating regional street food and chaat culture.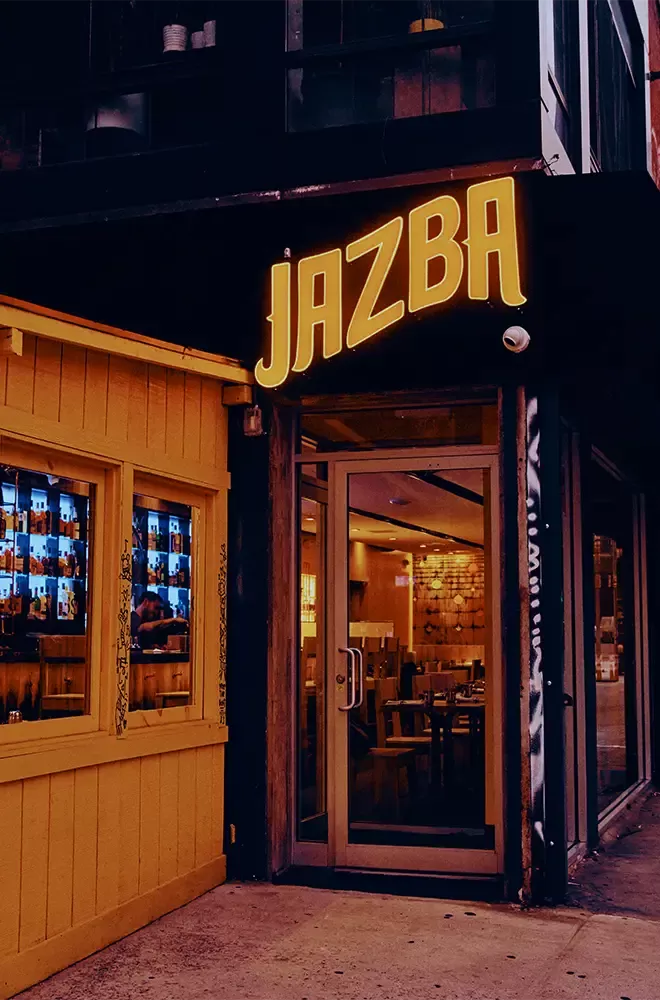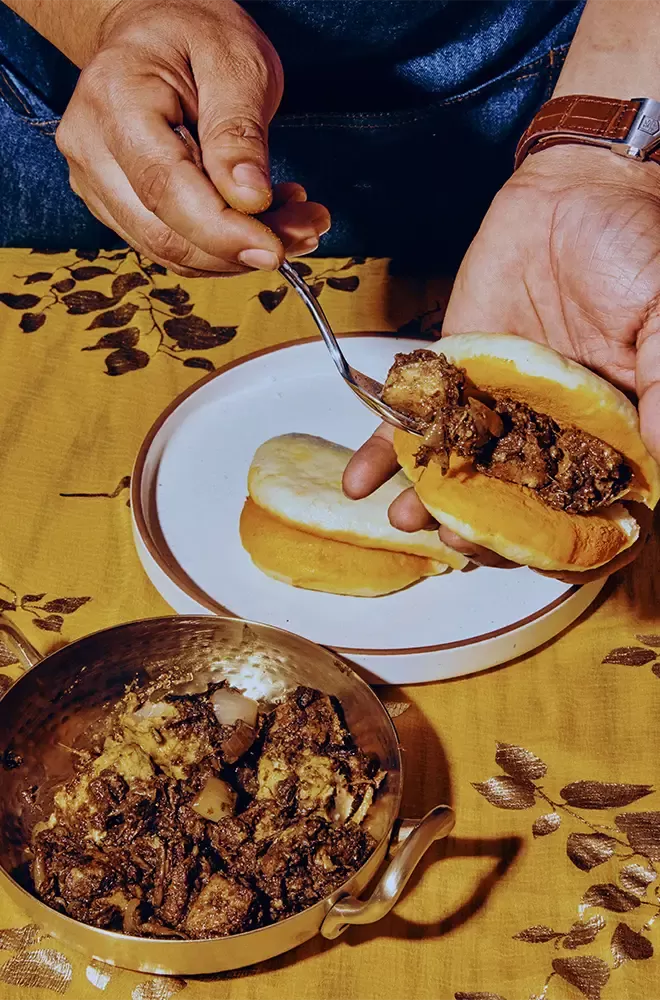 207 2nd Ave, New York, NY 10003
Sample menu items include Amirabad ke galouti, a minced mutton kebab with spices and warqi paratha from Lucknow; shack fried fish, inspired by coastal masala-rubbed, crispy fried sardines from the beach shacks of Vishakhapatnam and served with coastal-style cucumber salad; and ros-omelet prawn akin to the ones sold in street carts across Goa. The transportative menu is complemented by inventive cocktails fueled by Indian spices, botanicals and teas, like the Panch Phoran, a twist on a mint julep with a five-spice blend and an apricot-apple pickle.
Still to come before year's end? Chinese-French tasting menu spot in Hell's Kitchen Yingtao; upscale fried chicken concept Coqodaq from the group behind Michelin-starred COTE Korean Steakhouse; James Beard Award-winning chef Andrew Carmellini's fine dining French and Italian restaurant inside the upcoming Fifth Avenue Hotel, Café Carmellini; and Metropolis by star chef Marcus Samuelsson, launching inside the just-opened Perlman Arts Center downtown.
You've got good taste. We've got the specialist knowledge. As a Quintessentially member, you have a priority seat at every Michelin-starred restaurant, speakeasy cocktail bar, and chef's table experience – anytime, anywhere. Click here to discover membership.