Forever home to cosy local restaurants, Notting Hill has become a dining destination unto itself over the past several years. A smattering of new openings now accompany well-loved favourites, some of which have been reinvented and reimagined post-pandemic. Whether seeking a relaxed dinner with family or a destination night out, there are a plethora of options in this picturesque London neighbourhood.

Sumi
Courtesy of sushi god Endo Kazutoshi, this casual newcomer features incredible sushi. The minimalist interiors still manage to create a convivial atmosphere, with friendly staff and great music. Known for their temaki – hand rolls – which are as fresh and delicious as their reputation dictates, the rest of the menu is just as enjoyable. Everything is so full of flavour, from the nigiri and sashimi to the main dishes. Each of the sauces is made in house, and you can tell – don't miss dessert, either, particularly the weightless Matcha Mille Feuille.

157 Westbourne Grove; sushisumi.com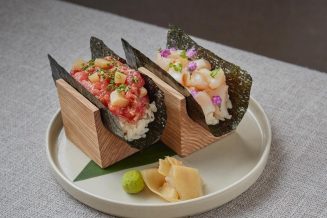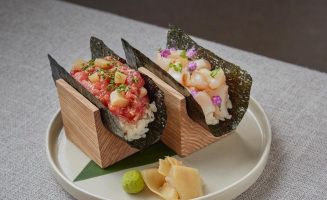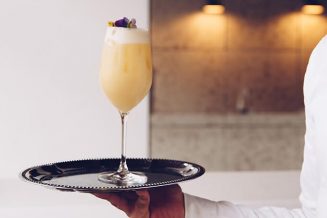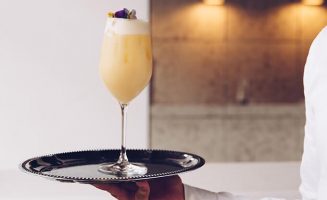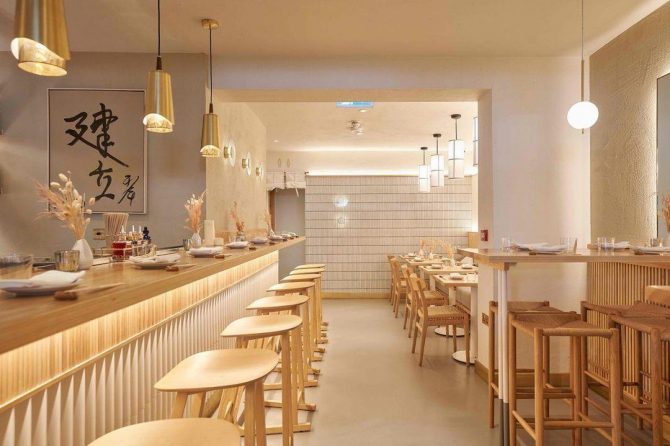 Sumi
Gold
Look past the statement painted eye mural, and Portobello's Gold gives way to a leafy environment that is almost transportive. Much of the rotating seasonal menu is cooked over an open fire and features modern European favourites with a bit of a twist; there's something to appeal to all palettes and dietary restrictions. One of few venues in the area open past 11pm, the bar scene is busy and buzzing as well. Cocktails incorporate more fruit and herbs than typically found – we especially love the rich, unexpected flavours of the Banana Old Fashioned.

95–97 Portobello Road; goldnottinghill.com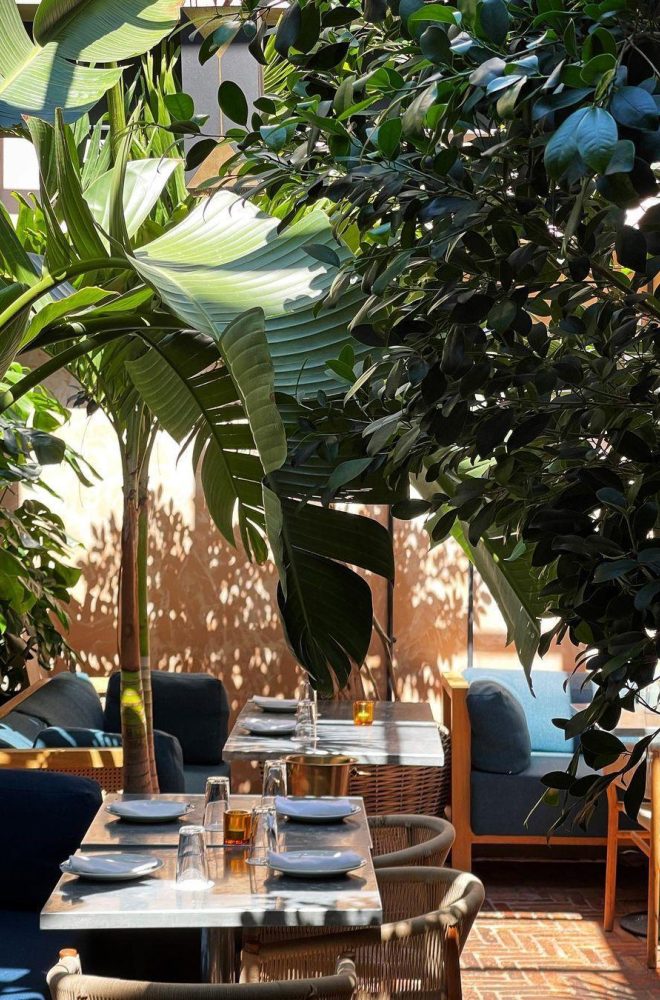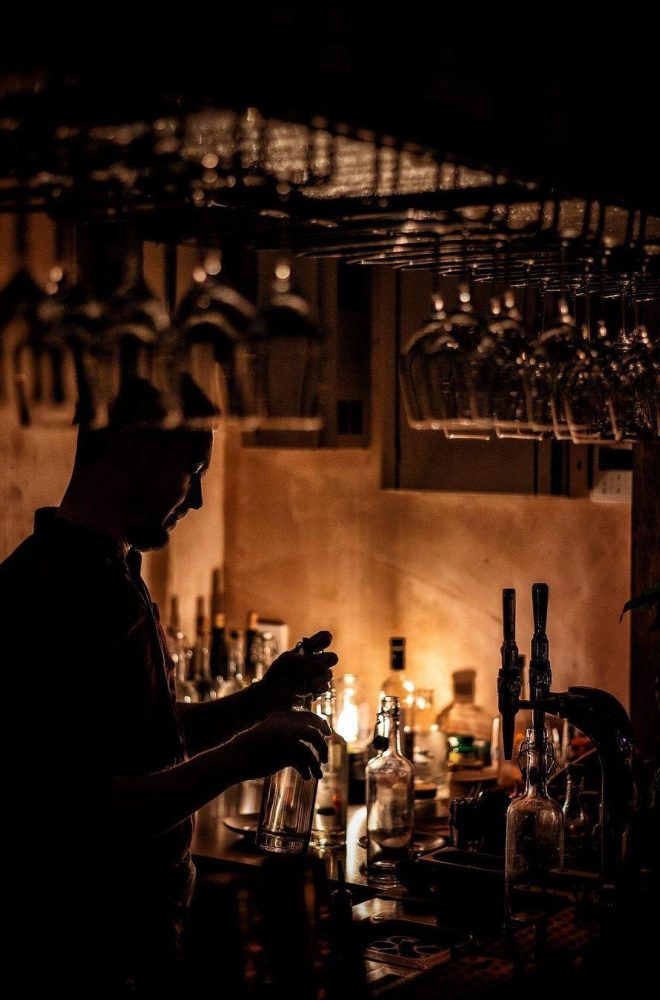 Gold
Core by Clare Smyth
Rare recipient of three Michelin stars, this elegant restaurant, courtesy of the World's Best Female Chef 2018, Clare Smyth, spotlights modern tasting menus. Utilising sustainable British ingredients, the French-influenced cuisine clearly integrates Smyth's passion for nature. Refined and beautifully presented, a meal here is a journey facilitated by exceptionally (but not overbearing) attentive service set against a streamlined dining room.

92 Kensington Park Road; corebyclaresmyth.com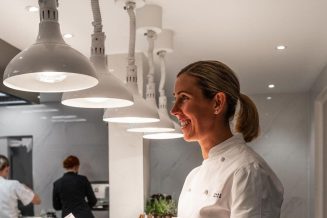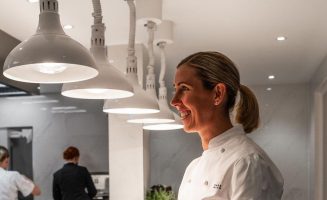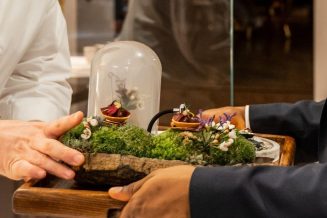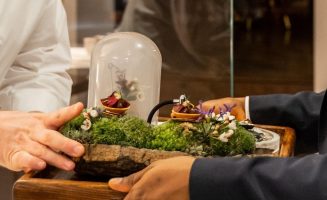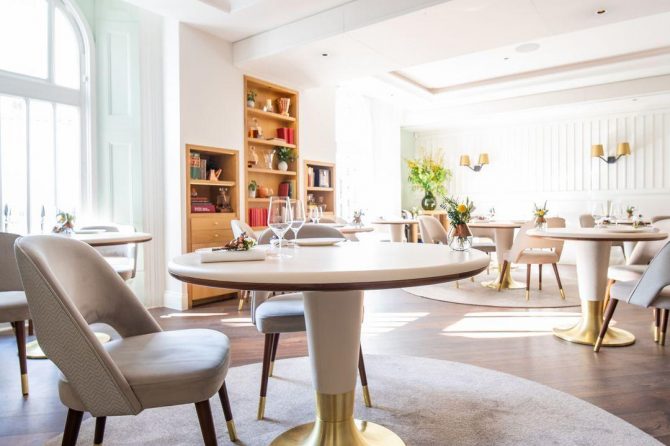 Core by Clare Smyth
Orasay
Blurring the lines between destination and neighbourhood restaurant, Jackson Boxer's Orasay has reinvented itself a few times whilst staying within the ethos of being a friendly seafood restaurant. Open for both lunch and dinner – and, taking a cue from popular New York establishments, an oyster happy hour preludes the evening – the sophisticated-sounding menu is rife with familiar elements. Our pick is the Fried Haddock sandwich, served at lunch; a fancy fish filet sandwich so perfectly done, we guarantee you'll think about it long post-visit.

31 Kensington Park Road; orasay.london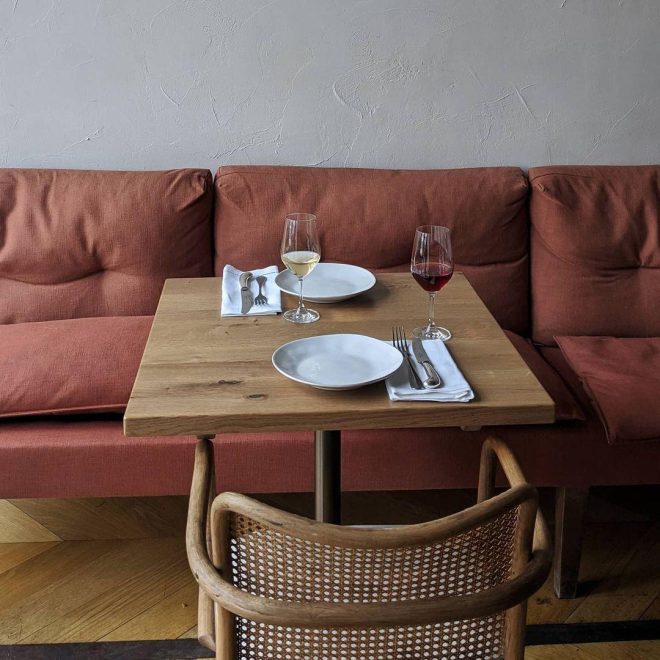 Orasay
The Ledbury
Having received a glamorous facelift during lockdown, The Ledbury is back with its signature tasting menus. Nature-inspired artful presentations define each course, each of which features seasonality at the forefront. Known for innovation, each dish has a bit of an unexpected twist. More relaxed than many other fine dining restaurants – there is no dress code – the convivial atmosphere makes for an enjoyable, yet still elevated, dinner with friends or family.

127 Ledbury Road; theledbury.com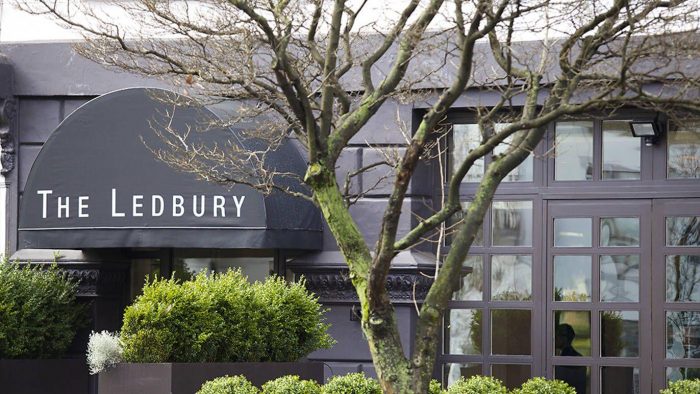 The Ledbury
Julie's
Reborn to close again just before the pandemic, Julie's has quite the storied pedigree. Having played host to the likes of Mick Jagger, Madonna, Kate Moss, and more in the restaurant's heyday, it was refurbished over the span of four years. The sophisticated dining spaces still feature some private nooks for naughty behaviour; there is an expansive terrace when weather permits. A 'modern British' menu features market-fresh vegetables alongside classic proteins with a bistro sensibility. Stop in the attached champagne bar après dinner for a glass or two of bubbly.
135 Portland Road; juliesrestaurant.com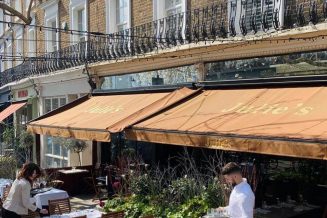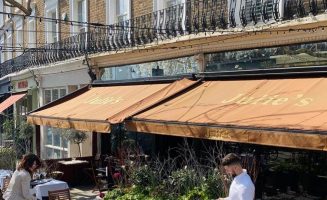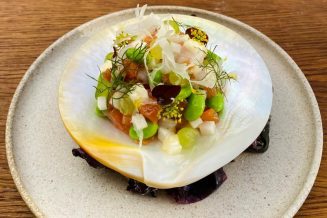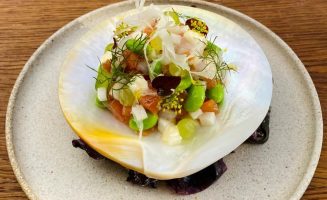 Julie's
Caractère
French-focussed but with an Italian twist, reflecting the background of its proprietors, Caractère sits on an unexpected and quiet corner a bit away from the primary hustle of the neighbourhood. Having defined itself as 'casual and contemporary', the restaurant is just that. Forward features such as a choose-your-own tasting menu lend an interactive feel to the experience that makes it feel a bit fresher and younger than its counterparts. The menu categories are defined by flavour intensity; make sure to include dessert, aka 'Greedy', as each is spectacular.
209 Westbourne Park Road; caractererestaurant.com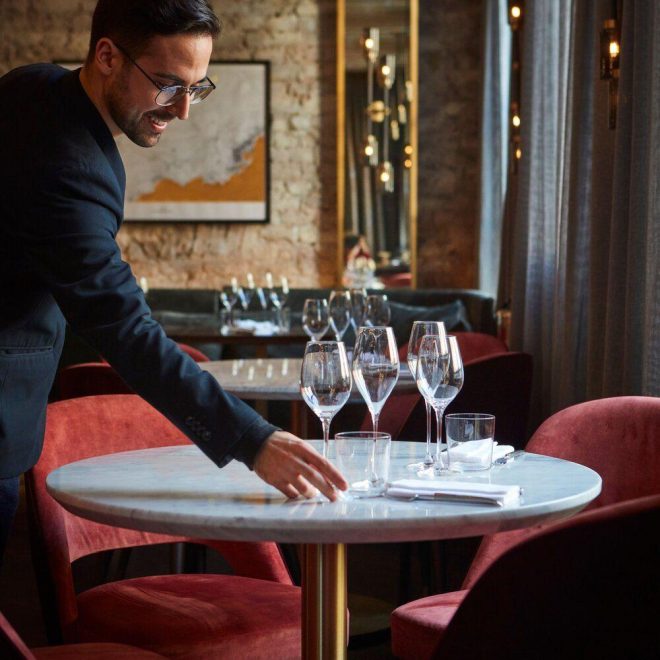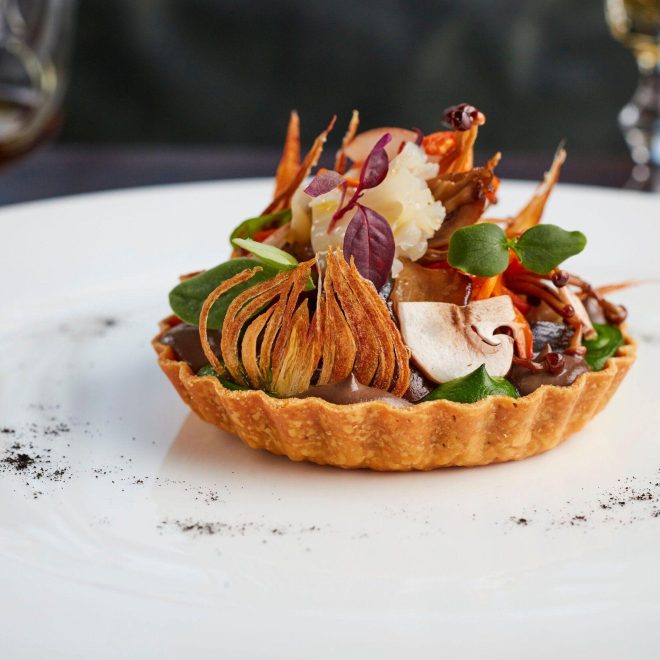 Caractère
Mazi
Busy year-round, our favourite time to visit Mazi is in the warmer months: their garden terrace beckons with a leafy feel reminiscent of a European island vacation. Fitting as the food follows suit. Delicious Greek dishes, meant to be shared, define the menu. Fresh, aromatic flavours ignite each dish – think thyme-infused olive oil to lend depth to honey-roasted tomatoes with goat's cheese and fresh dill to enliven artichoke risotto. Portions can err on the smaller side, so order a lot; you won't leave with leftovers.

12–14 Hillgate Street, mazi.co.uk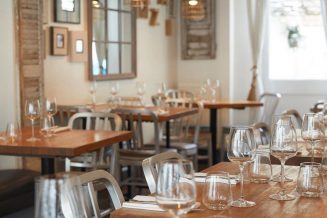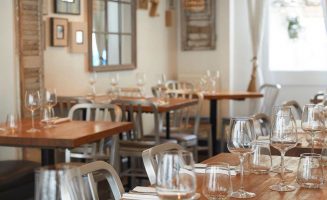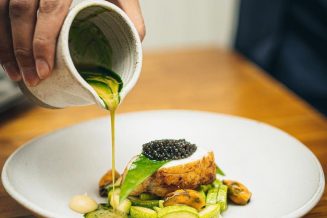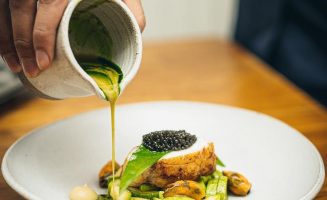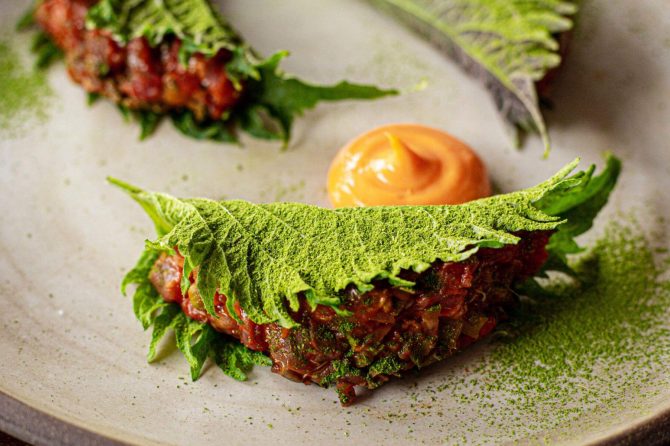 Mazi
For more recommendations or to book a reservation, please contact your lifestyle manager.