A retro-inspired Italian restaurant promising 'a taste of la dolce vita' – and truffle pizza – is about to open in Mayfair. Thankfully, that's the only clichéd thing about Il Gattopardo, which arrives on Albemarle Street this Friday.
It's the latest opening from the restauranteurs behind Amazónico, COYA, and Bar des Près (the latter of which is, incidentally, only a few doors along). However, Il Gattopardo has not gone down the route of the big and the bold and the brash. Instead, this is a relaxed, retro restaurant where around 85 diners can alternate forkfuls of lobster bolognese with sips of secret-recipe negroni whilst jazzy Italian music wafts from the speakers.
'It encapsulates what I really like about some of the recent openings in London,' says Quintessentially's Head of Restaurants, Keith Doyle. 'This new breed of restaurant is focusing on being a destination for diners to go and chill and just enjoy themselves without any pretentiousness – we've had Mister Nice, Robuchon's new restaurant [L'Atelier Robuchon], and now Il Gattopardo. They are all just really lovely, chilled destinations.'
Upon arriving, we immediately notice that, yes, Il Gattopardo is relaxed, but it also feels like three restaurants in one. There's the main dining room which, with its abundance of mirrors and wood-panelled walls, appears almost like a cigar lounge. You can practically picture Sir Roger Moore sinking into the chair next to you, tux on and Habano in hand, ready to order one of the four negroni variations on the menu.
Then, there's the Terrazza, which Il Gattopardo describes as a hidden garden, but in reality, is more of a conservatory with a retractable glass roof and plants sprouting from the latticed walls.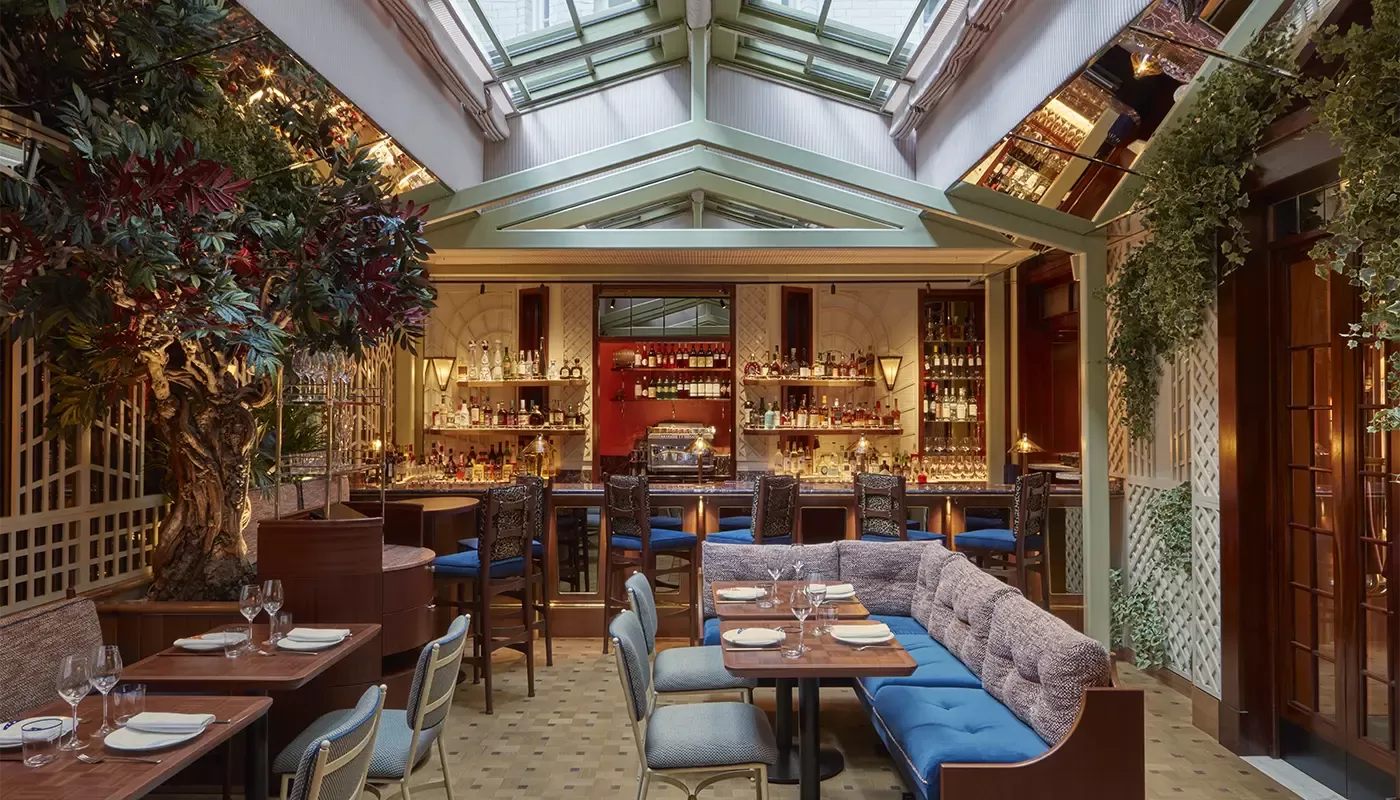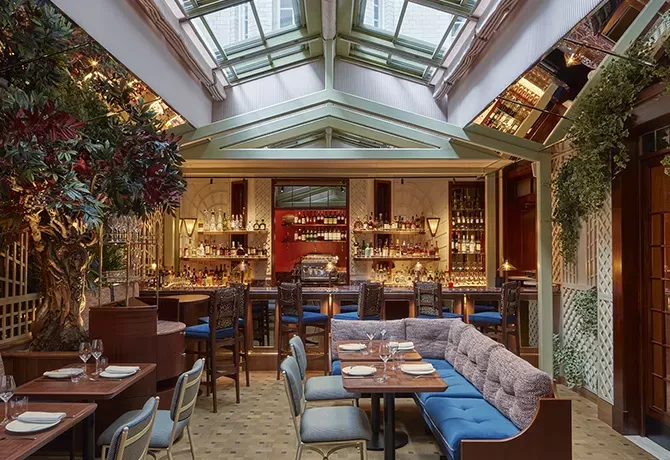 The Terrazza
And then there are the hidden spaces. Scurry down the blue-walled staircase and you'll come across the private dining room, Sofia, which is all red velvet chairs and fabric ceilings, creating the illusion that you are outside in Italy in summer (spoiler: you're inside in London in autumn). Whisk aside a curtain in the Terrazza and you'll stumble across Gina, a small, semi-private snug that seats up to six (or one lying on the sofa, depending on how much pasta you've consumed). There's also a private entrance that lands directly in Gina, so you can discretely slip in and out.
Il Gattopardo means 'the leopard' in Italian, so it's unsurprising that the décor has a bit of a feline theme. Blue-painted leopards leer from the walls; miniature leopards can be spotted on shelves and on the plates; and a leopard-print carpet papers the floor of the main restaurant. If that sounds garish, rest assured that it is not. Design studio Don & Arles has worked tirelessly to create something that's standout but subtle; colourful but still classy.
But what of the food? The chef at its helm is Abruzzo-born, Singapore-trained Massimo Pasquarelli, who spent ten years learning from Alain Ducasse and the last few heading up the Ritz-Carlton Singapore. His cooking at Il Gattopardo is simple yet refined, with the kitchen turning out uncomplicated Italian classics that are simple but, in all honesty, really rather lovely.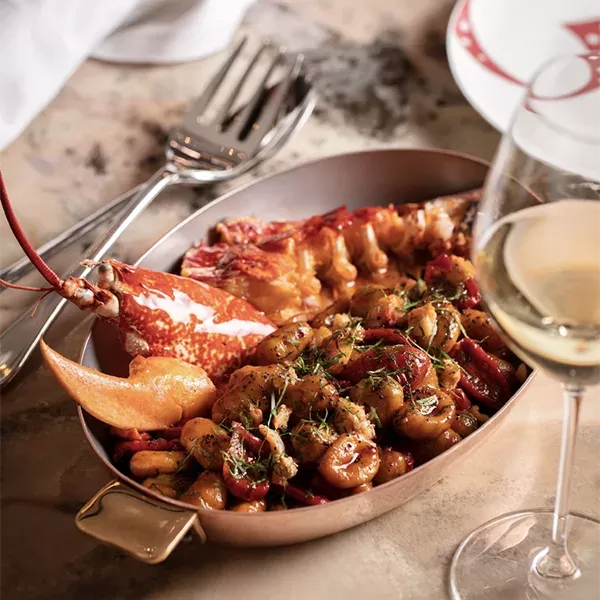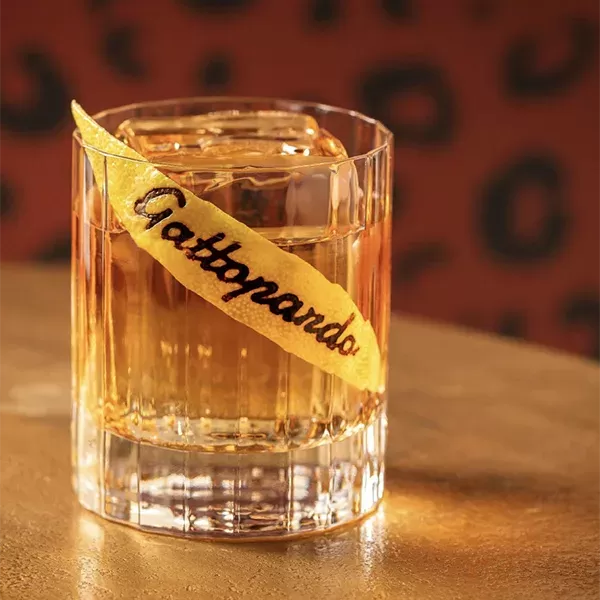 (L) Lobster bolognese | (R) Gattopardo negroni
Take your eyes off the signatures for a second (ignoring, if you will, the lobster bolognese and oro spigaroli) and instead cram your table with veal Milanese (buttery, crisp, and crowned with capers), octopus (grilled to a halloumi-like texture and piled with peppery rocket salad), and blushing lamb chops served as God intended them (bar the dribble of sweet jus on top).
Desserts hop on the nostalgic pudding trend currently running rife in London (see also: the peach melba at Manzi's and the jam roly-poly at Nessa). At Il Gattopardo, Pasquarelli has gone for tiramisu and a meringue-packed trifle, each served to share and thus instigating a battle by spoon to the bottom of the respective porcelain pots.
You could go for something a bit more Instagram-friendly, like the coppa gelato served in a multi-layer pot, or the aforementioned lobster bolognese. However, this reach towards something a bit more flashy feels almost forced – and at odds with the simplicity of the rest of the menu.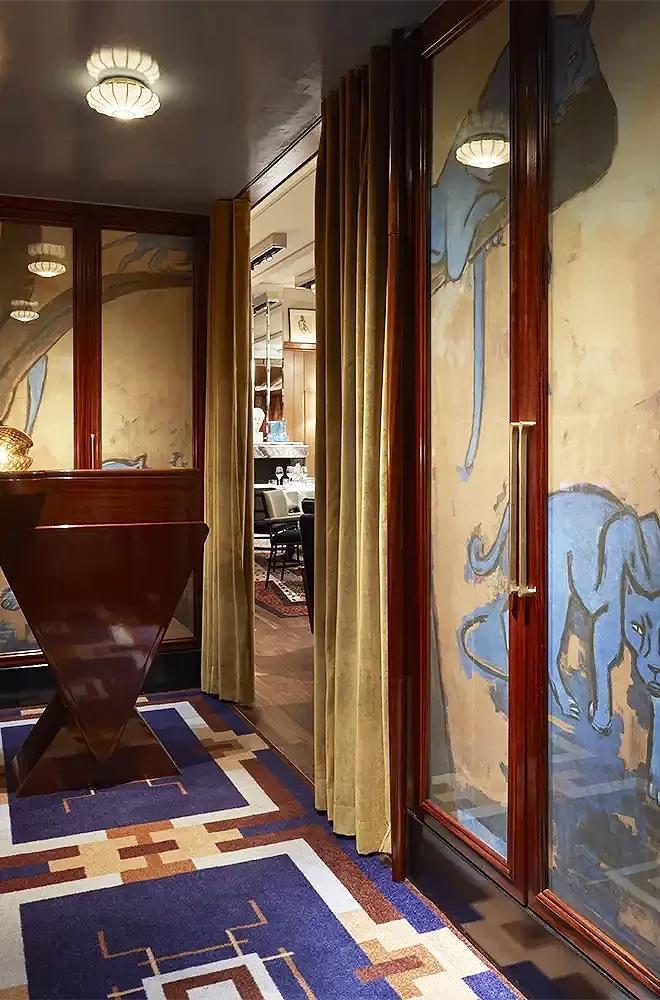 (L) Entrance to II Gattopardo | (R) Lobby featuring leopard paintings
Il Gattopardo is not wildly sexy or outrageously audacious like many of the restaurants around the corner in Berkeley Square. But it is warm and friendly, with knockout interiors, great negronis, and some really good Italian dishes. It's at its best when it's at its simplest – when the all-Italian produce sings and the delicate flavour balances sizzle. To paraphrase the adage, a leopard never changes its spots – and neither does a great Italian recipe. Il Gattopardo is all the proof you need.
Quintessentially members had a complimentary dinner at Il Gattopardo before it opened to the public. That's just one of the perks of membership, which also includes priority seats at every Michelin-starred restaurant, speakeasy cocktail bar, and chef's table experience – anytime, anywhere. Click here to join.