Delivering the perfect wine pairing is an art – especially when considering the season and which wines go best with certain foods. And as autumn approaches, there has been a noticeable shift in mindset and menus toward comforting dishes and warming wines designed to keep the chill at bay.
However, at many fine dining restaurants, pairings go beyond 'red with beef' or 'white with fish'. Instead, creative autumnal dishes showcase the very best of the season, complemented by unexpected wines from across the world. So, if you're looking for a new match made in heaven – or, at least, in London – we've asked five of the capital's leading sommeliers which food and wine pairings they'll be recommending this autumn. Their selections cover the bottles to buy and the dishes to order, plus some tips for pairing wines (although we'll probably leave that to them).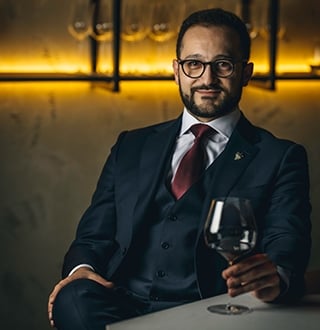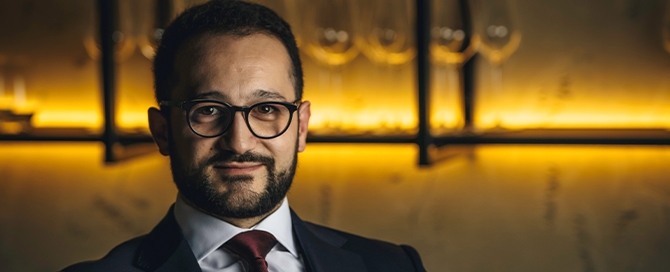 Filippo Carnevale; photo credit @lateef.photography
Barolo and pigeon
Recommended by Filippo Carnevale, Head Sommelier at Amethyst
'One of the best bottles of wine you should enjoy this autumn is a Barolo Conca 2016 from Renato Ratti in Piedmont,' says Carnevale. 'The palate is magical! It offers cherry, charcoal and gentle spice flavours with a hearty aftertaste. It's one of the most velvety tannins I've ever experienced on a young Barolo.'
He recommends pairing it with pigeon, such as the version served with beetroot, wild damson, nasturtium and plum jus at Amethyst. 'The balance of the dish works perfectly with the notes of the wine, picking up on the gamey and hearty flavours,' he says. 'And the tannins? The spices? It is the perfect cuddle your palate needs on a rainy, foggy autumn afternoon.'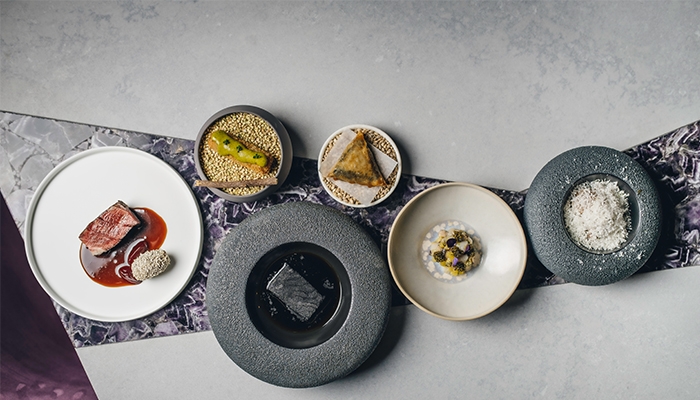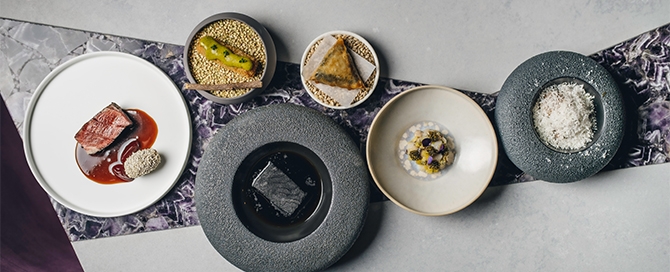 Photo credit @lateef.photography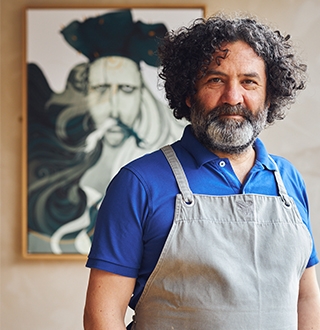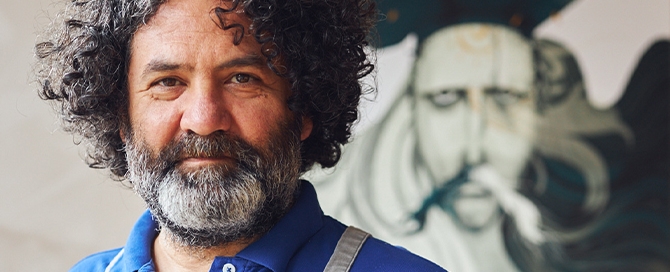 Isa Bal; photo credit Tom Osbourne
White burgundy and monkfish
Recommended by Isa Bal, Head Sommelier at Trivet
'This match really is one of the best in my career,' says Bal, speaking of his decision to pair a white burgundy with 'its best friend', the monkfish served at Trivet. 'We had created this dish with a red wine sauce to match with a red wine. This version, however, has all the elements to be a perfect match with a white burgundy.'
His analysis speaks to a broader pattern in food and wine pairing; the point is not to taste food and wine separately but to enjoy them as one synergetic being. 'The monkfish, rich beurre blanc and soft girolles all create harmony, leaving a little gap for the wine to fill,' he says. As for his wine selection,
the rather wordy 2019 Domaine Génot-Boulanger Meursault-Bouchères Premier Cru, is 'a rich, full-bodied, well-judged oak with a crushed rock minerality; citrusy and fresh with a great texture.'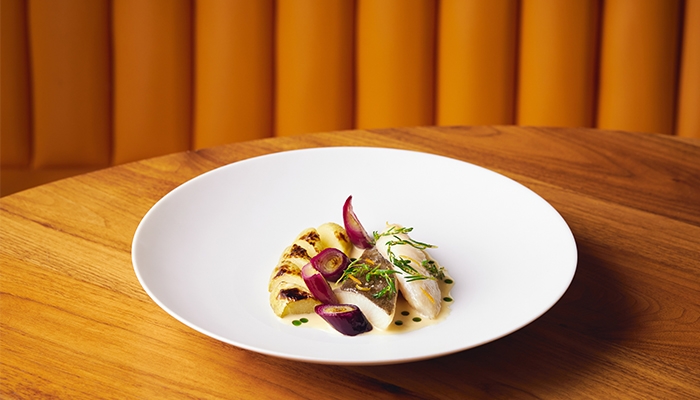 Photo credit Tom Osborne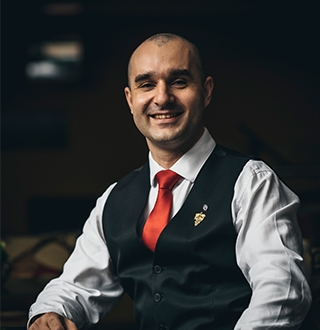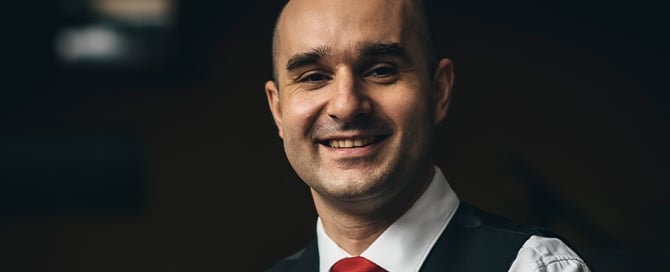 Viorel Filip
Italian red and muntjac
Recommended by Filip Viorel, Head Sommelier at Benares Mayfair
'I would recommend a fantastic red made by Cantine San Marzano in Puglia called Collezione Cinquanta,' says Viorel. 'It is a very full-bodied wine, with a deep ruby red colour and soft, velvety tannins; for me, it is simply autumn in a bottle.'
As Benares is a Michelin-starred Indian restaurant, it is no surprise that Viorel's partner of choice for this wine is Benares's tandoori muntjac: charred morsels of muntjac – a type of deer – marinated in a tingling tandoori sauce. It speaks to a wider pattern of pairing spicier foods with sweeter wines – something to bear in mind as autumn's bounty of warming, spiced dishes come out of hibernation.
'[The wine is] packed with flavours that perfectly accompany foods with subtle amounts of chilli,' he says. 'The tandoori muntjac matches the wine's sweet notes, tempering any heat sensation for delicate palates.'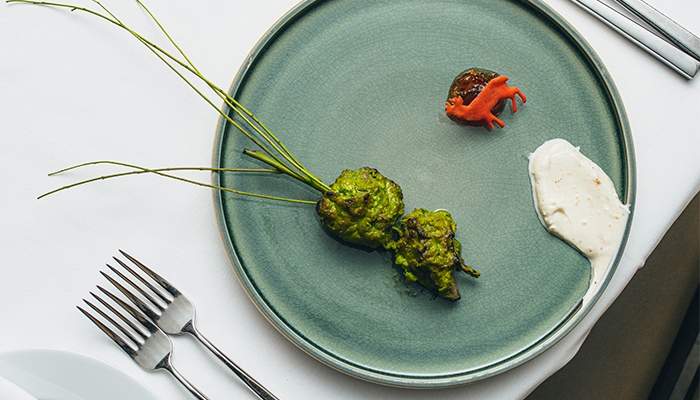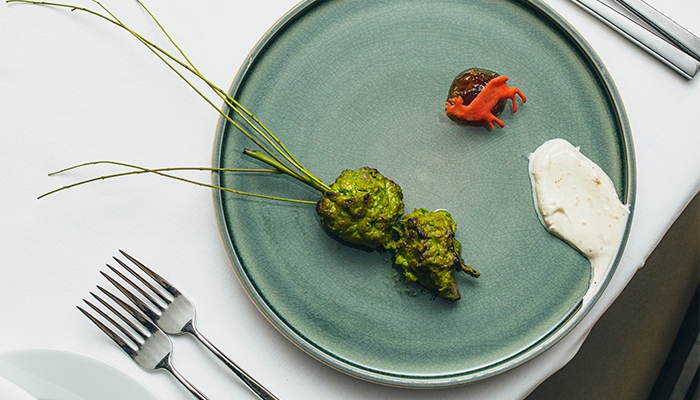 Tandoori Muntjac with Garlic Yoghurt and Chilli Chutney. Photo credit @lateef.photography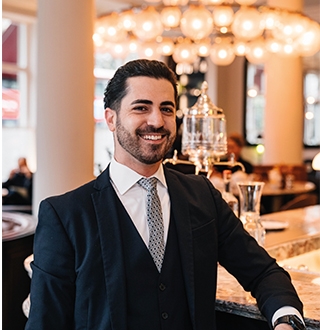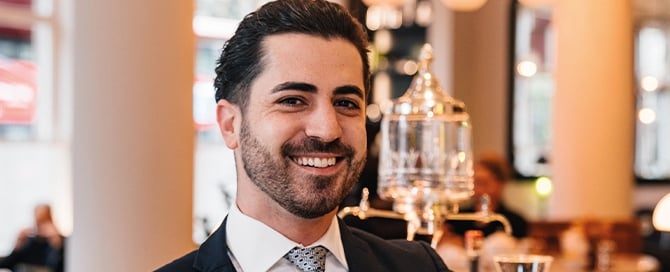 Andrea Taiuti
Chardonnay and soufflé
Recommended by Andrea Taiuti, Bar & Lounge Manager at The Cadogan, A Belmond Hotel
For this oenophile, it's a Chilean white chardonnay called Tara Atacama that we should look at this autumn. 'The nose is essentially mineral, revealing aromas of fudge and white stone fruits. The mouth is well-balanced, providing great tension and a long finish with endless caramel notes,' he says. 'It's the perfect autumn wine that takes chardonnay to new levels.'
And what would he pair it with, you ask?' A cheese soufflé, which itself is the ultimate autumn dish,' he says before recommending the one currently on the menu at The LaLee. 'The creamy, rich flavours of the dish mingle with the wine's gentle mineral, chalk and butter notes. It's like finding the perfect dancing partner.'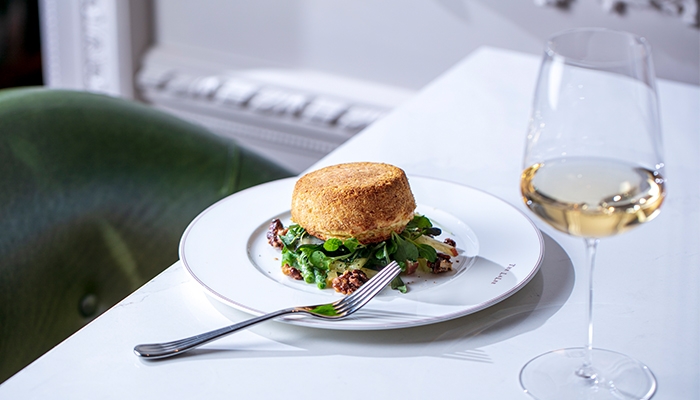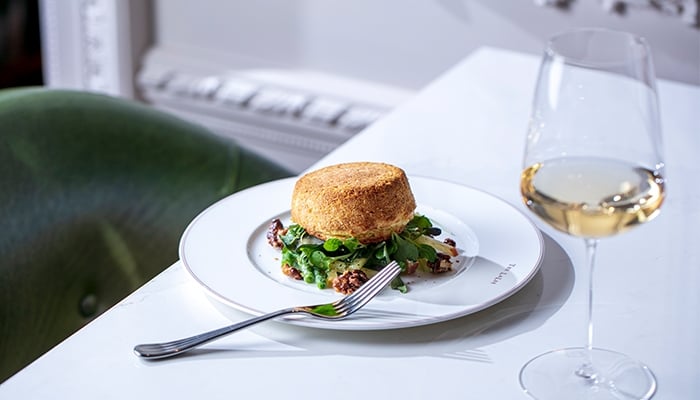 Cheese souffle at The LaaLee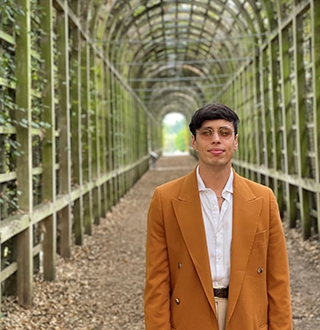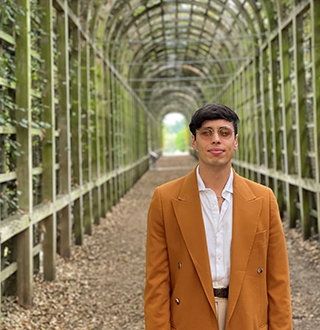 Credit: Nicola Valentini - Restaurant Manager
Spanish white and hake
Recommended by Nicola Valentini & Maria Pia Arrigoni, Restaurant Manager & Sommelier at Cornerstone by Chef Tom Brown
At Michelin-starred Cornerstone, autumn has arrived in the form of truffle-stuffed hake served with truffled cauliflower purée. It's a rich, buttery dish that Valentini and Arrigoni have matched with a smoky, mineral-rich white called Las Toscas from Tenerife – of which only 1250 bottles are produced annually.
'The wine has a pleasant minerality, due to the volcanic soil, and a fresh acidity that helps to cut through the richness of the dish,' they explain. 'The wine also has an interesting smokiness given by the ageing process that pairs perfectly with the buttery and nutty notes of the dish.'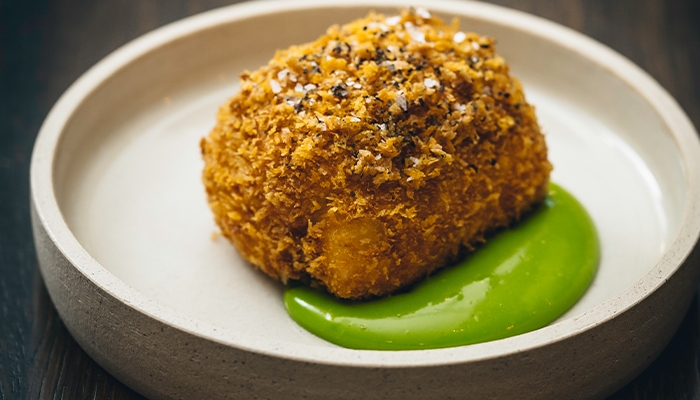 Hake Kyiv, Roast Chicken Butter, Mushrooms, Tarragon Emulsion Credit: @lateef.photography
For further recommendations, please contact your lifestyle manager. Interested in becoming a member? Request more information