As anyone who ate their way around London in the 80s will know, food trolleys are not new. However, cast aside memories of carveries-on-wheels or trolleys of pale pastries that look like they need a few weeks in Spain. In 2022, tableside dining is a spectacle.
It seems that London's restaurants have gone tableside service mad. There are great cabinets filled with all manner of smoked fish; tiramisu trolleys that are live loaded with coffee, chocolate and cream; tables that themselves are constructed tableside before a Caesar salad is tossed to your preference. It's an at-your-table service that encapsulates the post-pandemic desire for a dining experience that goes above and beyond and makes every table a chef's table.
Below, we've chosen eight restaurants with great tableside service to eat in right now. Bon appétit.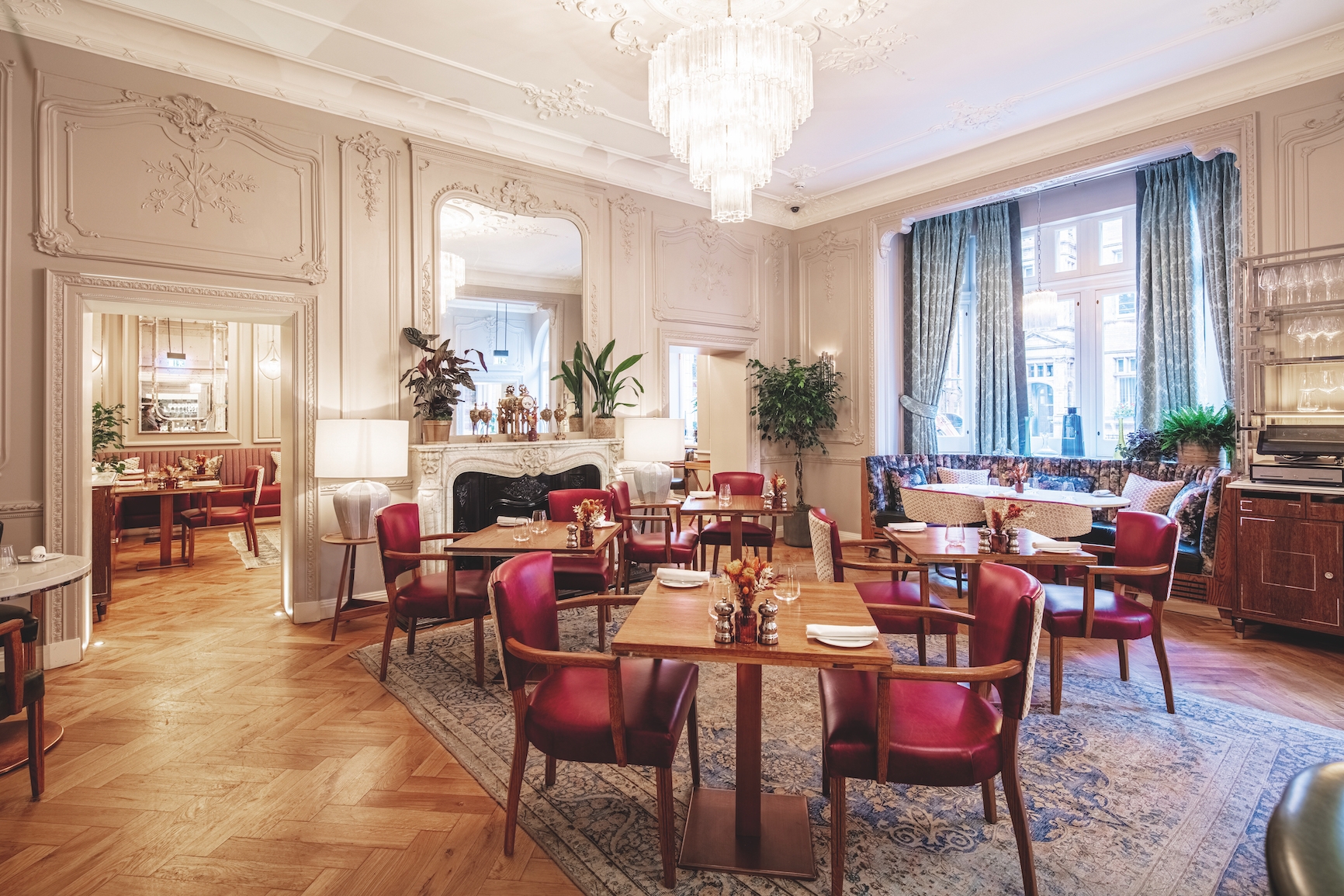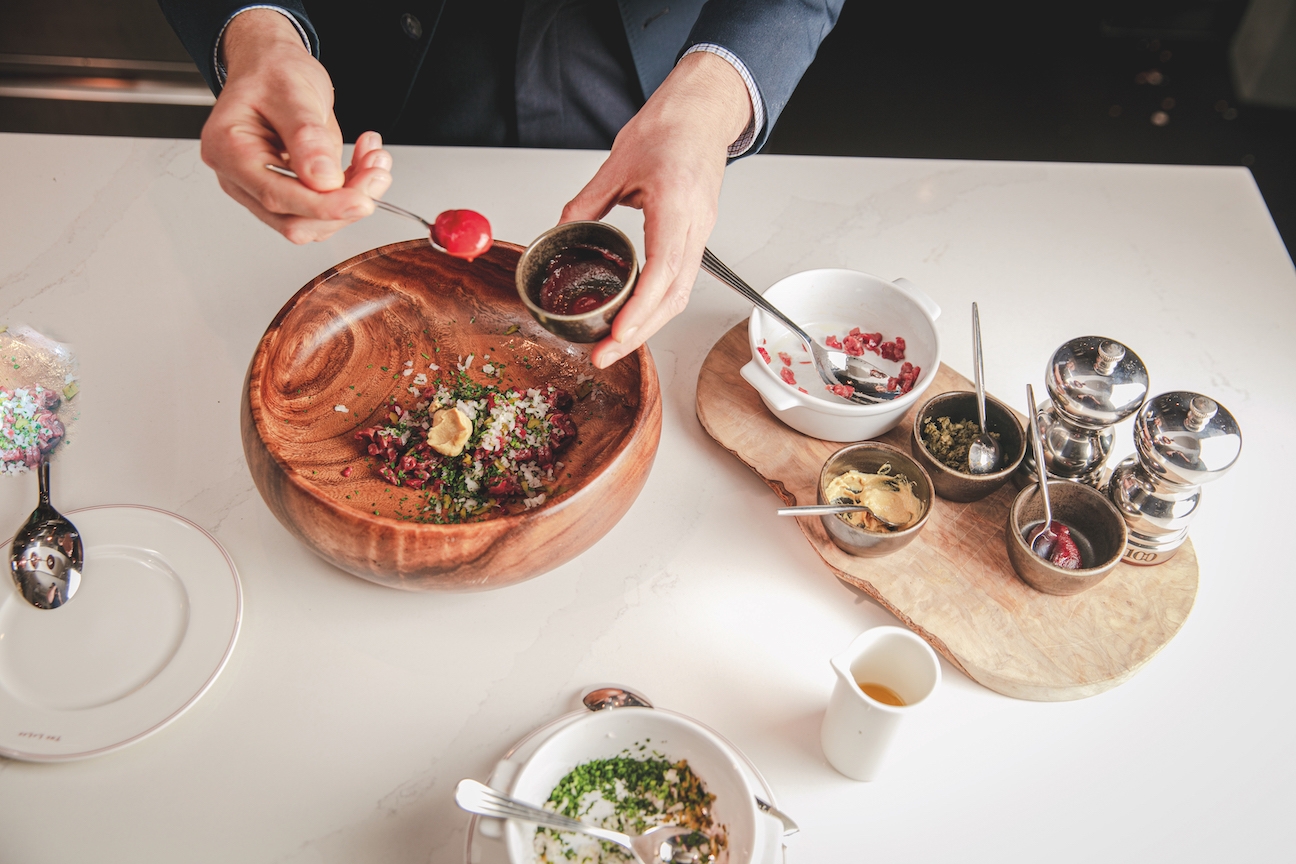 The LaLee
The LaLee, Belgravia

75 Sloane Street, SW1X 9SG
A maze of marble and oak in the Cadogan Hotel, The LaLee's theatrics are inspired by socialite and ex-resident Lillie Langtree. The menu is seductive in tone and execution; starters – including an excellent mushroom toast – are described as 'a little flirtation', whilst a surprisingly fresh tarte Tatin is filed under 'scandalously sweet'. However, it's the tableside dishes where The LaLee really performs. Steak tartare is prepared to your preference – would sir like capers? And how much tabasco for madame? – and a Caesar salad is not only tossed tableside, but the mayonnaise is made in front of you, too. Both are fresh, flavourful and served with aplomb – proper tableside theatre, indeed.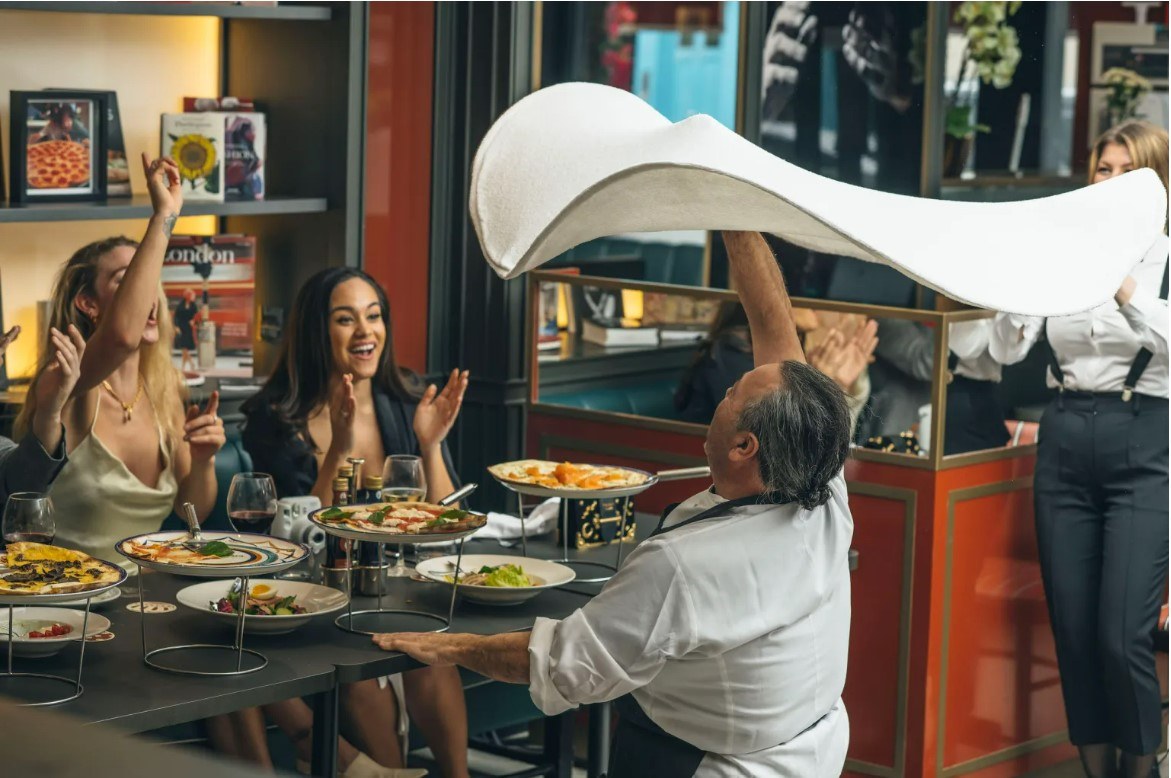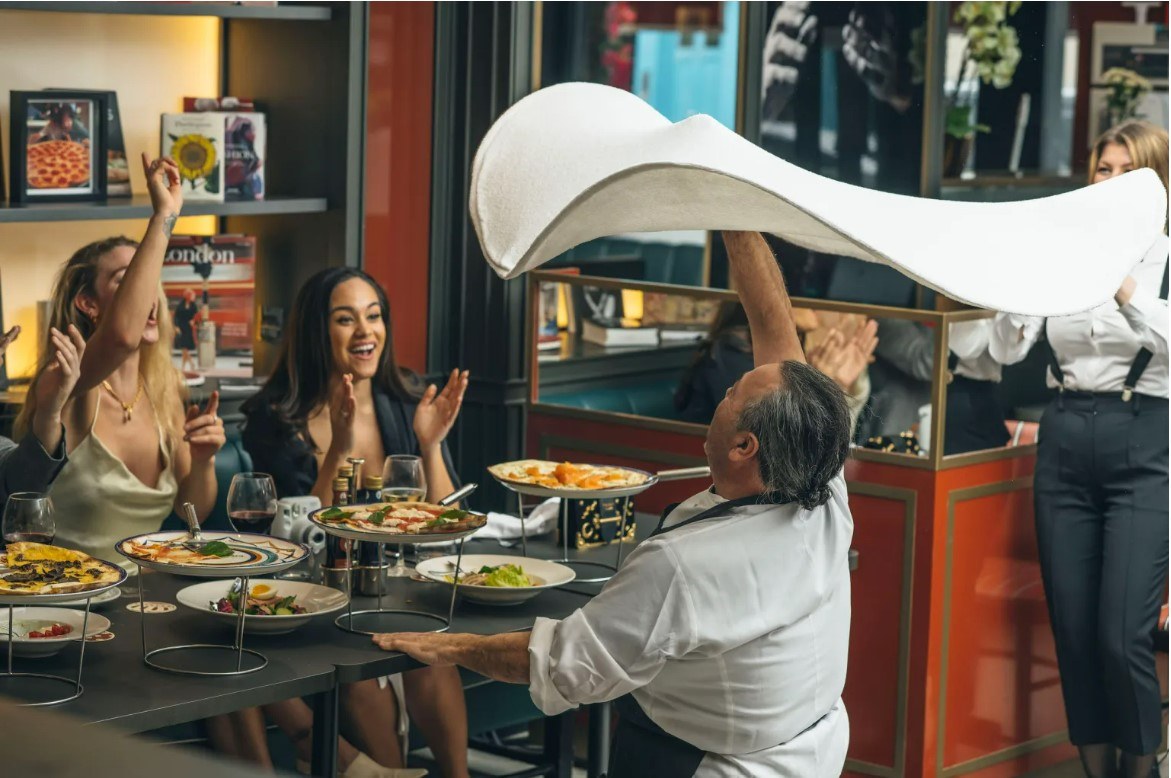 Crazy Pizza
Crazy Pizza, Marylebone
7 Paddington Street, W1U 5QH
This Marylebone pizzeria is known for its 'crazy' antics, including a nightly interlude during which the chef parades around the restaurant spinning a giant pizza dough above his head. It's unsurprising, then, that pud is also a performance. Silver trolleys are wheeled between well-heeled pizza-eaters before bow-tied boys bathe sponge fingers in enough espresso to keep you wide-eyed late into the evening (the tiramisu) or lash a cornetti with a Jackson Pollock's worth of Nutella and cream (the 'crazy cake').

The Game Bird, The Stafford
16–18 St James's Place, SW1A 1NJ
It feels odd for a restaurant named for its game to recommend its fish. However, the smoked fish trolley at The Game Bird makes a compelling case for sea over land. Light, tender smoked salmon – from Forman's, of course – sits beneath its beetroot-cured, Scottish cousin, whilst a stripe of Lincolnshire smoked eel suns its pink belly above. Each comes with a lick of pickle, chopped eggs and horseradish cream, and a slab of tangy soda bread – and it's all sliced and served tableside, too.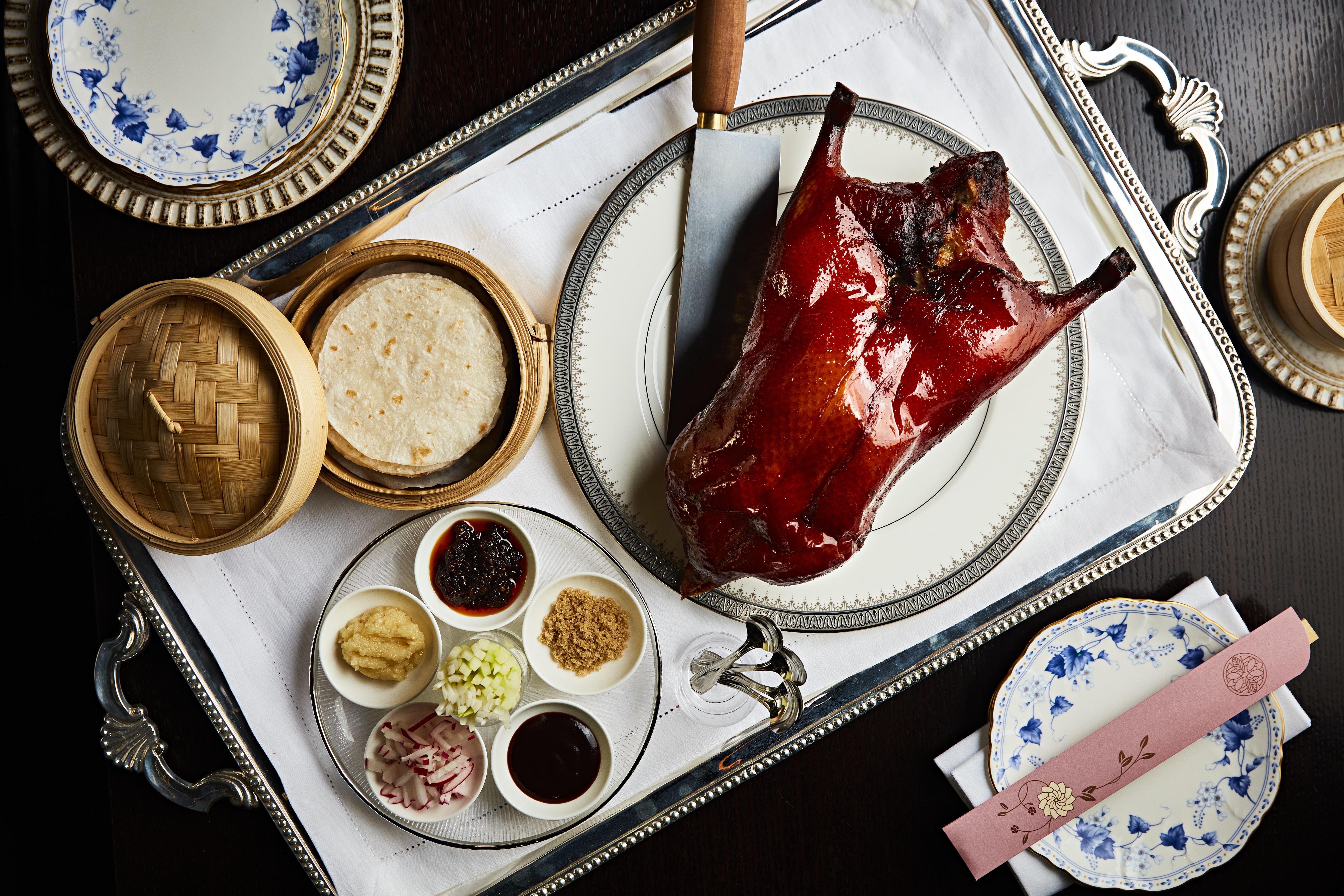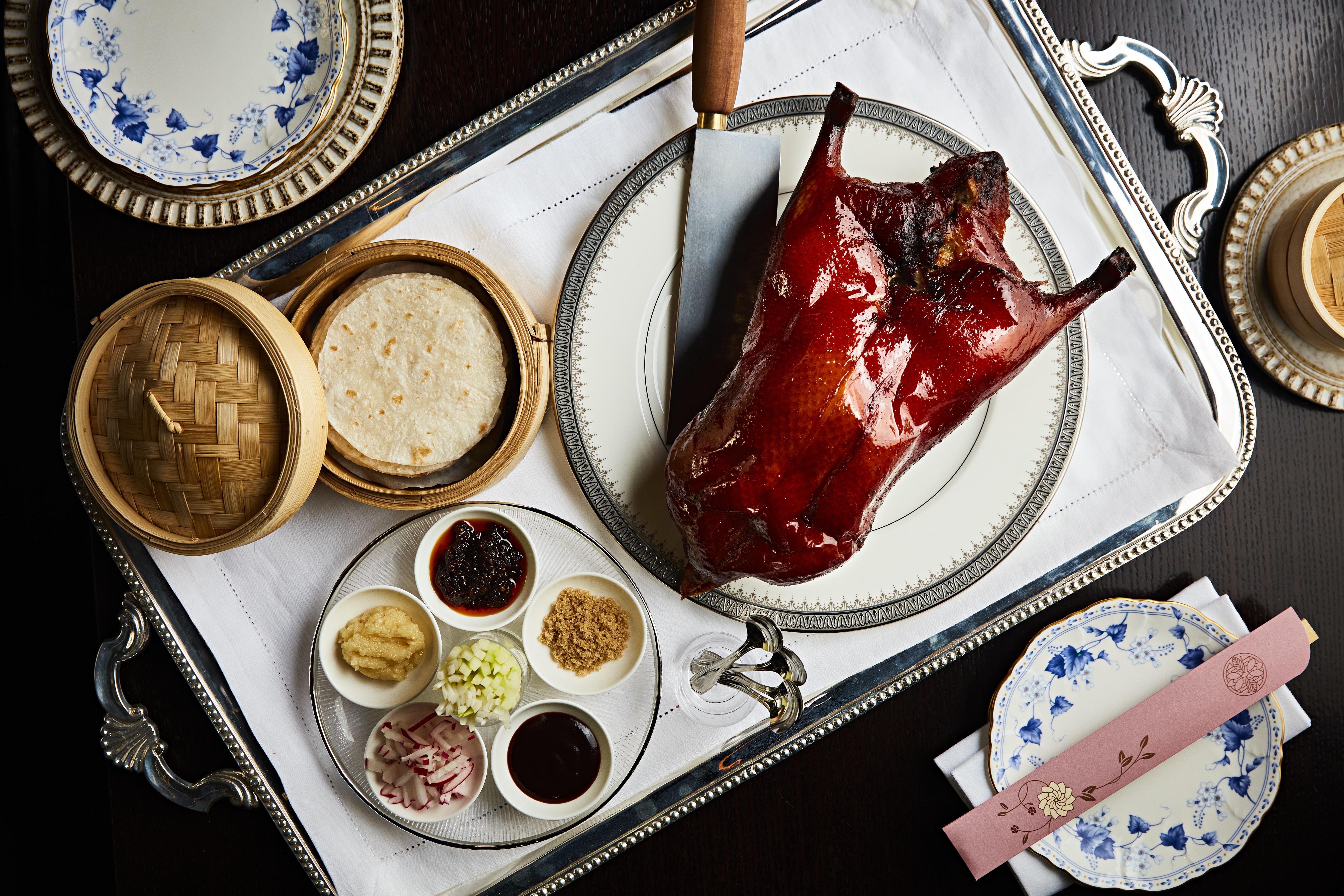 Mimi Mei by Steven Joyce
Mimi Mei Fair, Mayfair
55 Curzon Street, W1J 8PG
Mimi is famed for its tableside Peking duck, but you'll have to pre-order it at least 24 hours before arriving. It's worth the wait when a glossy, mahogany duck lands on a silver platter next to your table before being carved into perfect slices. It comes with homemade pancakes and will quite easily feed two with room to spare. It doesn't hurt that the restaurant's three full floors of ornate décor meet the modern restaurant requirement to look as good as its food tastes.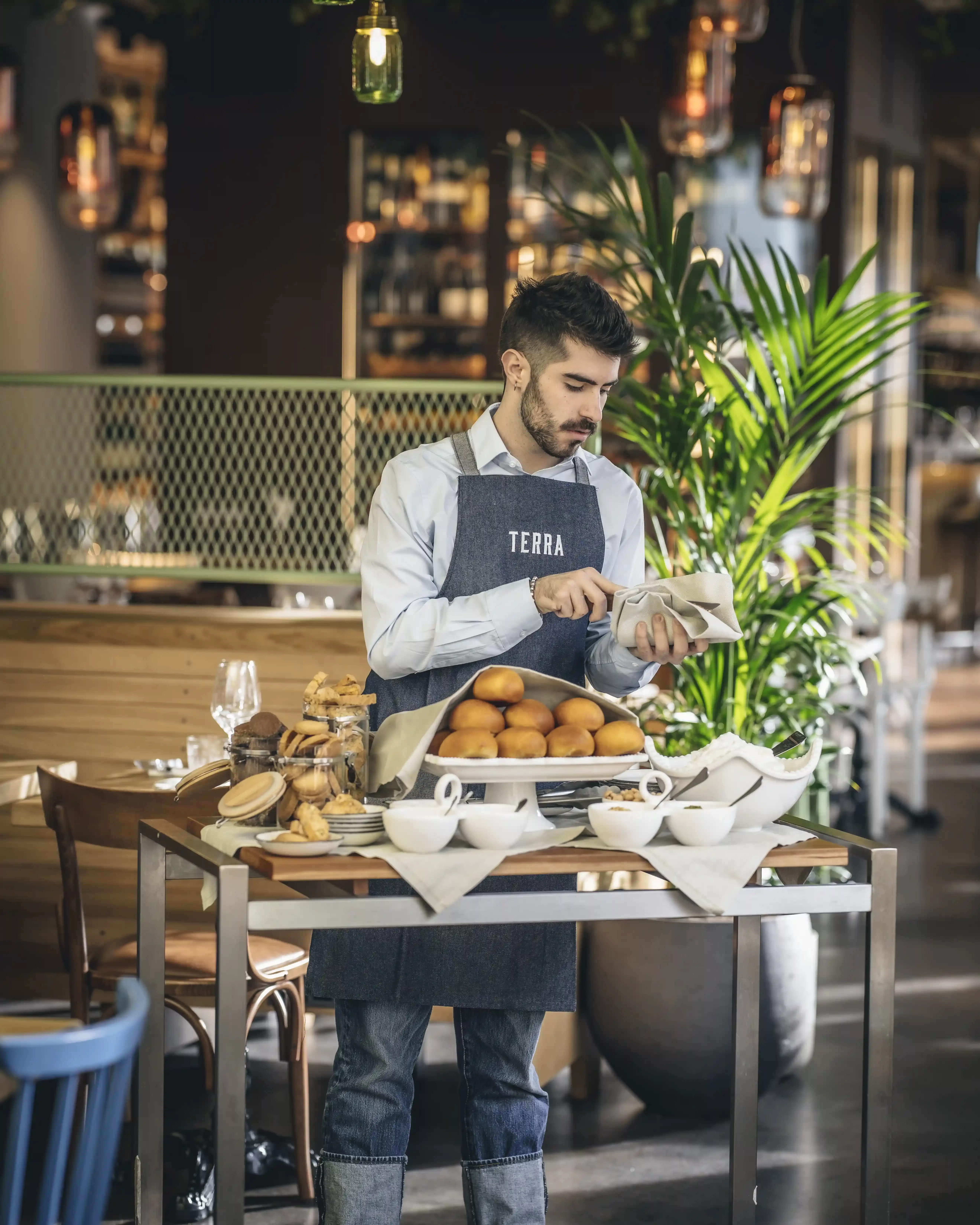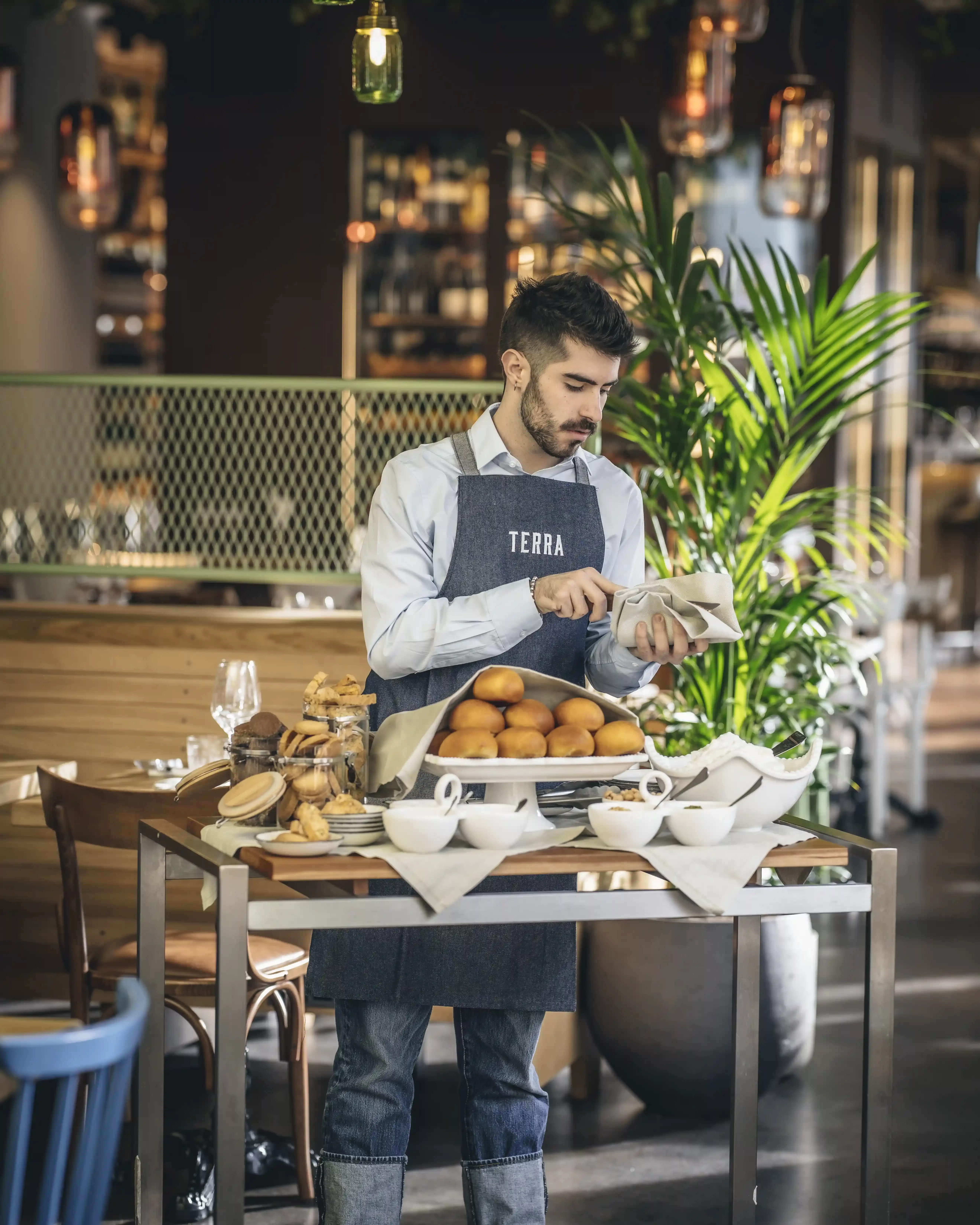 Terra
Terra at Eataly, The City
135 Bishopsgate, EC2M 3YD
In 18th century Italy, legend has it that suitors would gift their betrothed sweet buns with a ring or gold trinket hidden inside. The bun in question? A maritozzo. Recreate the experience yourself – albeit without the proposal – at Liverpool Street's Eataly, home to the UK's only maritozzi cart. Flag it down to construct the maritozzo of your dreams: a buttery bun sliced and stuffed with whipped cream and topped with amarena cherries, amaretti crumbs and hazelnut cream.

Maison François, St James's
34 Duke Street, SW1Y 6DF
Making a compelling case for the dessert trolley's existence in 2022 is the upmarket bistro, Maison François. The trolley in question is a multi-tiered treasure chest packed with enough tartes, gateaux, macarons and the like to send a quiver through every dentist in the area. Still, it's a real treat to choose your patisserie on sight rather than from the menu; it's a genius way to convince the person who 'doesn't want dessert' that they've got room for an éclair.

The Ritz
The Ritz, St James's
150 Piccadilly Street, W1J 9BR
We had to include at least one classic restaurant on this list, and if we're going to include a classic, it must be The Ritz. The elegant dining room here has been perfecting les arts de la table since the 19th century and, as such, it's an experience fit for a five-star. Skip the Bresse duck and beef wellington – both available tableside, too – in favour of the Crêpes Suzette. These delicate pancakes are bubbled in caramel before being flambéed in booze from a silver trolley – and the taste is worthy of the price tag.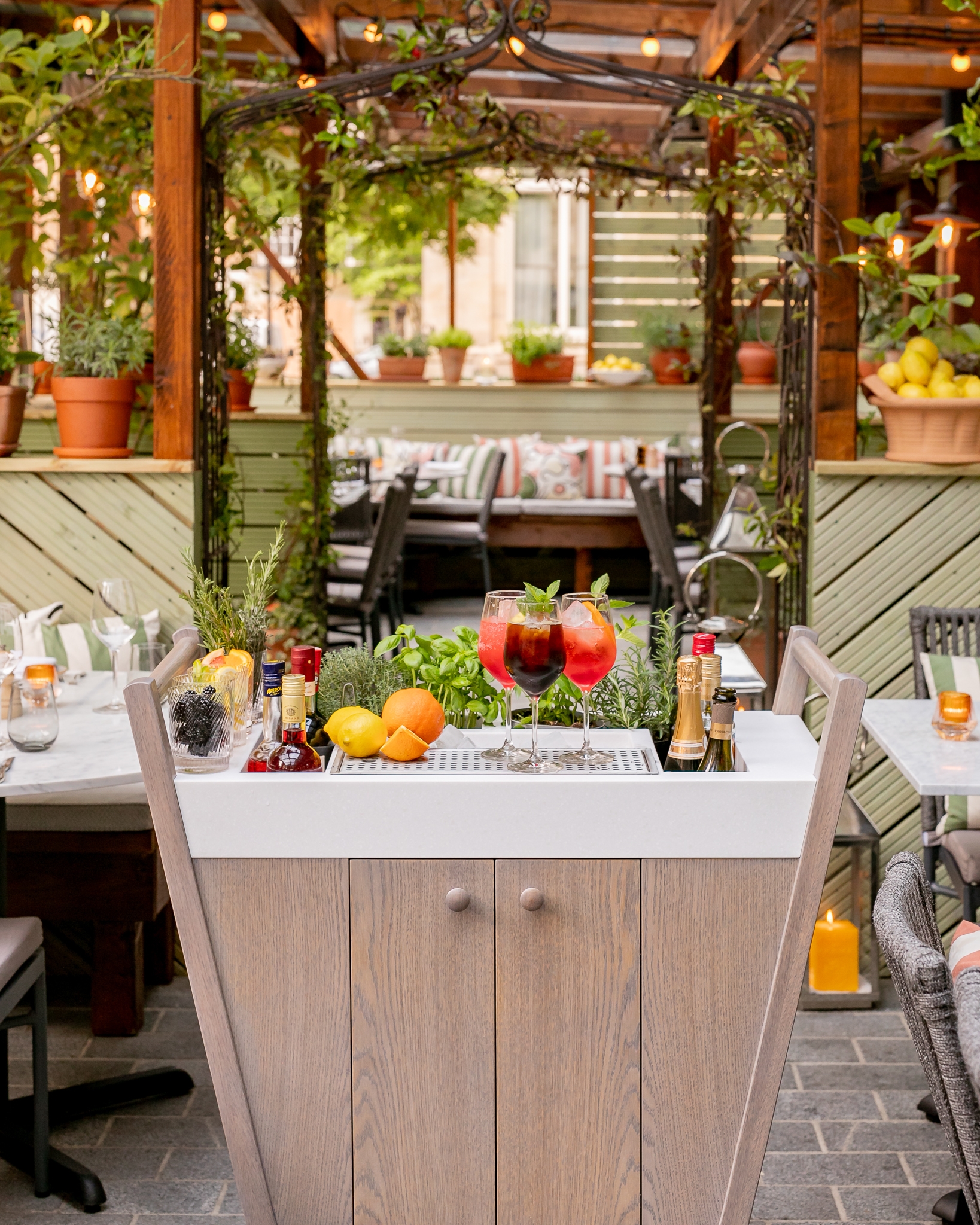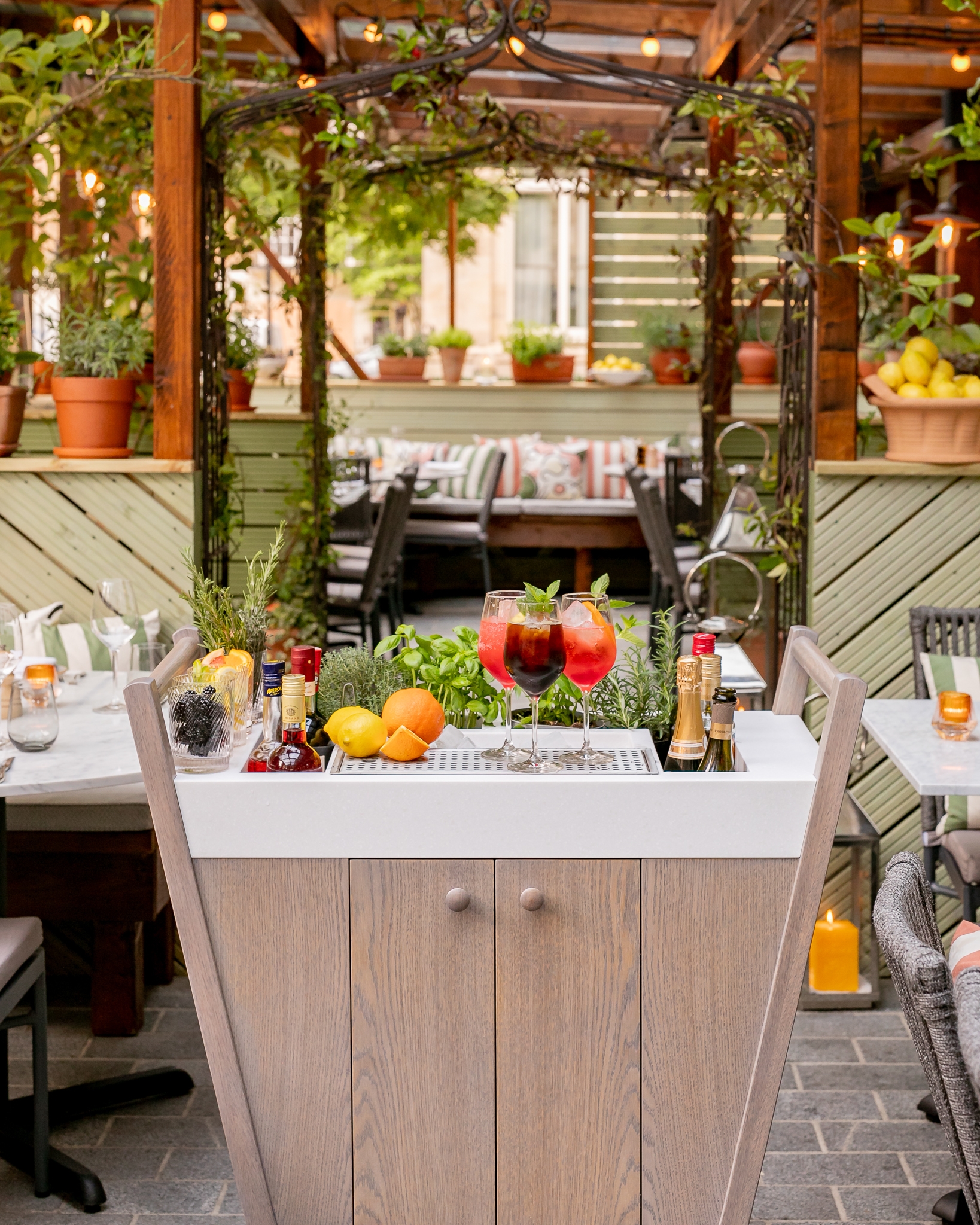 Il Giardino
Il Giardino at The Berkeley, Knightsbridge
The Berkeley, Wilton Place, SW1X 7RL
Move over, martini trolley at the Connaught: there's a new drinks cart in town. Rolling around The Berkeley's Italian Garden, the new spritz trolley is packed with a bazaar-load of herbs and syrups, with the promise of near anything being spritzed for you by a master mixologist. Come for cocktail hour and stay for dinner; the herb-lined walkways and fairy lights inspire romance, and dishes like melt-in-the-mouth T-bone and creamy pesto pasta are exquisite.

For further recommendations or to make a booking, please contact your lifestyle manager.