In Bella Italia, at the point where mountain passes meet Mediterranean palms, a European Eldorado has emerged: Hotel Ansitz Plantitscher, a family-run wellness hotel that recently received the coveted Davidoff Golden Band Award for the best hotel cigar lounge in Italy.
The retreat – which used to be a traditional country inn – is poised in the elegant residential area just above Merano (one of Italy's finest spa towns). Upon arrival at the hotel's picturesque courtyard, we encounter owners Johannes and Margit Gufler sitting and chatting with guests. As a welcome, the master of the house proudly shows us his near-majestic salon, which he has simply named 'Old Timer Living Room'.
This extraordinary cigar lounge comes across as a modern Valhalla for those with refined taste, catering to cigar, whiskey and limousine enthusiasts alike. Upon entering, we are enticed into a journey through the last century; back to an era when music was played on jukeboxes and electric cars were utopian dreams that wouldn't be out of place in an Orwell novel.
'This was the barn of the small holiday hotel that my grandparents once ran,' says Johannes over a puff of cigar smoke. A passionate sommelier and whiskey enthusiast, he has assembled South Tyrol's most extensive whiskey menu, boasting more than 350 different bottles. As we sit with him in the vintage living room's gallery lounge, he takes in his collection with gleaming eyes whilst we all enjoy a Davidoff Grand Cru No. 2.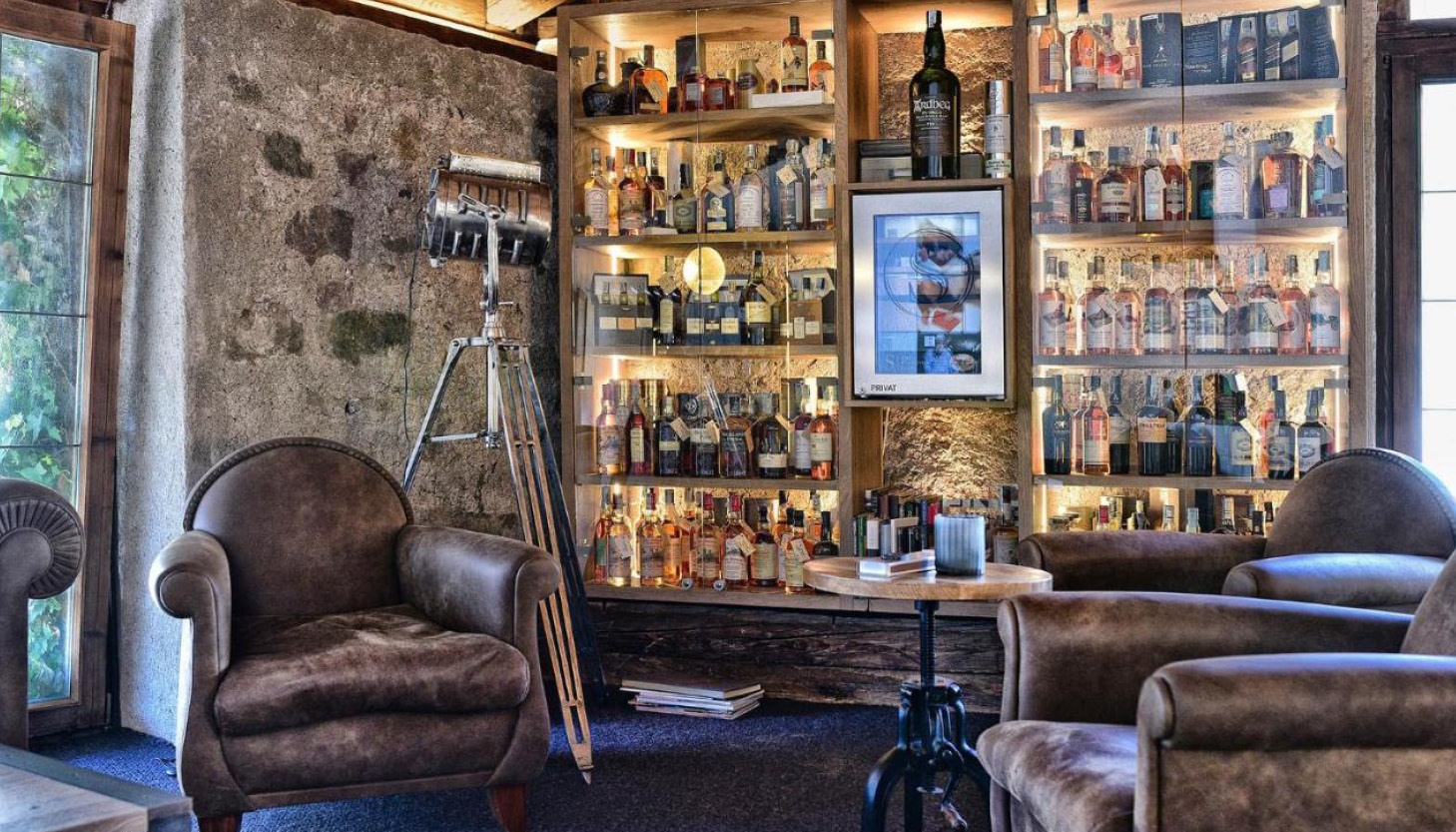 Cigar lounge located inside Hotel Ansitz Plantitscherhof
The spacious ground floor of this smoking pleasure temple has English-style leather seating that invites long, lingering evenings. In fact, it is here that The Gentlemen's Club of Merano meets every last Saturday of the month, with hotel guests welcomed to join them with open arms. Should you continue down the stairs and past a portrait of Hendrik Kelner – the Davidoff tobacco guru – one can enjoy an espresso with a view on the lounge's ground floor, where a Caribbean-inspired original engine from Johannes's 1977 VW Bulli is in pride of place.
Ahead of us, on the rustic inner wall, Johannes has hung an imposing avant-garde screen that unfolds with the magic of a sacral triptych. A series of film sequences alternate between scenes of tobacco fields in the Dominican Republic and moments from Merano's legendary classic car meetings, organised by Johannes himself.
In one such scene involving a Mercedes -Benz Pagoda 230 SL (1967) – which is available for rent like all the classic cars found here – you can see Johannes with his daughter Madelaine, who, at the age of 21, now works as a manager in the family's hotel. It truly is a family business.
The 13th-century wine cellar
Johannes inherited his passion for fine wines from his father, who still tends his own vineyard to this day. Johannes shares this passion through tours of the hotel's 13th-century wine cellar. 'I've gotten into the habit of buying three of every good bottle,' he says, whilst quickly locating his collector's bottles without the need for a computer. 'With both wine and cigars, years of maturation increase the enjoyment.'
The atmospheric vault is also the smallest restaurant in South Tyrol. The romantic setup comprises a single, elegantly decorated table and two chairs, designed to offer an unforgettable culinary soirée. 'It was my wife's idea,' says Johannes. 'She is responsible for the interior design in our five-star hotel.'
Margit Gufler, who is usually busying herself between the luxury hotel's three buildings, also takes care of the heavenly garden, which includes an apiary. It is an oasis of wellbeing at any time of the year with many beautiful places for smoking in style.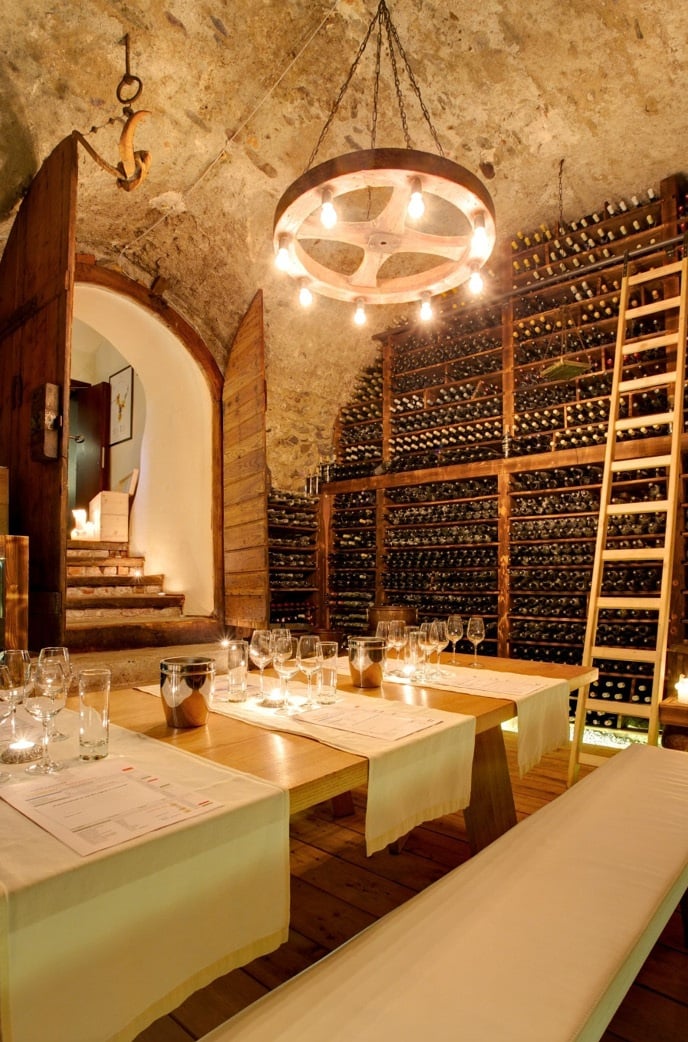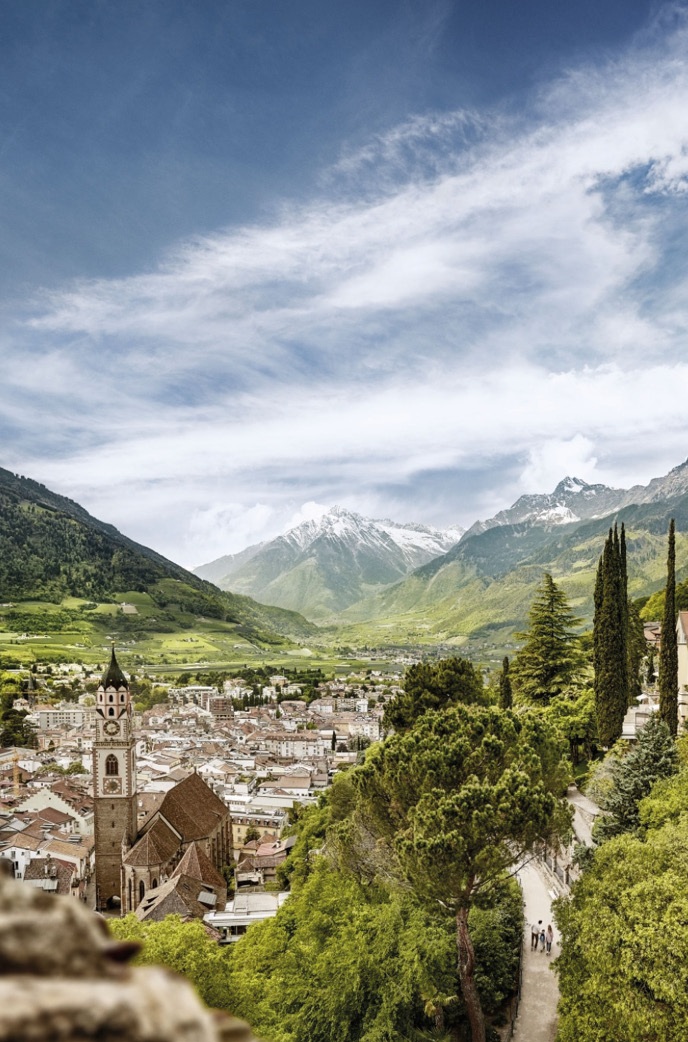 Left: 13th Century wine cellar Right: View over Merano
Exploring Merano in the sunshine
Given that Merano has more than 300 days of sunshine per year, we felt encouraged to exit the hotel and walk through the nearby mountain trails. It didn't escape our knowledge that we were hiking in the steps of Empress Sissi of Austria, who stayed twice at Trauttmansdorff Castle in the late 19th century. We spend many happy hours strolling through the castle's dreamlike gardens, before stopping on the café terrace for a Honduran Flor de Selva Doble Corona – a light, stimulating midday cigar.
As we pass along the Merano spa promenade next to the River Passer, the Tobacco Shop Garber lures us in with a well-stocked humidor. In addition to some limited rarities from the most important tobacco-growing areas, you will also find an excellent Alec Bradley Nica Puro Rosado from Nicaragua. Of course, being in Italy, aficionados can also choose from a wide range of typical Tuscan cigars.
For those who prefer to explore the scenery on two wheels, an e-bike tour to the Parcines Waterfall is an idyllic way to spend the afternoon. Whilst on the steep route, we weave through idyllic villages such as Algund, whilst red-cheeked South Tyrolean apples shine at us from the nearby fruit terraces. We take a break on the cycling route's gigantic panoramic high seat and enjoy the peaceful views of mountain valleys.
This is the athletic complement to Johanne's offering: a group tour in his vintage VW Bulli through the picturesque vineyards, complete with a scenic picnic. It's a trip met with nostalgic enthusiasm by all guests, with beautiful vistas including Merano's sophisticated racecourse and the pretty Lebenberg Castle.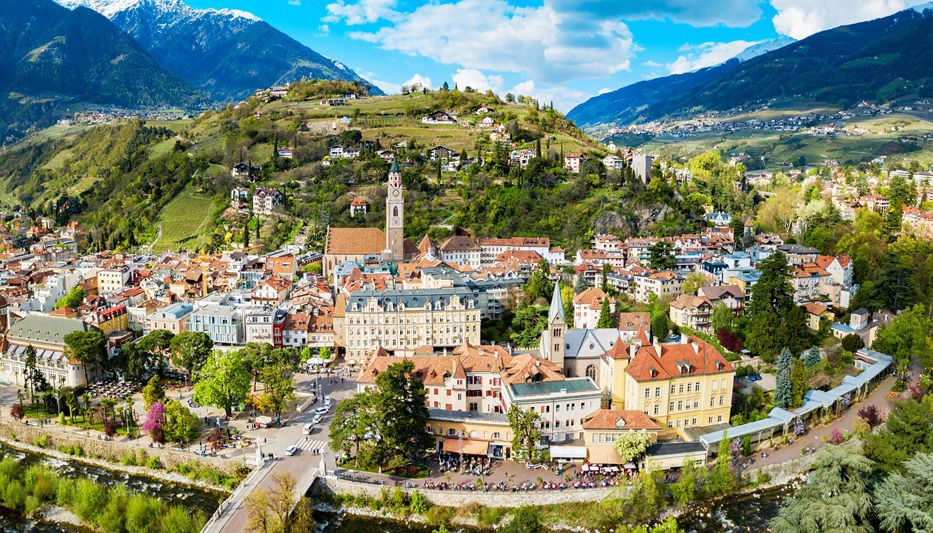 View of Merano in the daytime
Finding mindful moments
Our second day begins in a relaxed manner when we meet with the hotel's young wellness trainer, Alan Ballerini Botzner. He introduces us to the inspirational world of Qigong, a Chinese practice that involves using exercises to optimise energy within the body, mind, and spirit. Then, the so-called 'blonde Italian' takes us on a mindfulness walk through the forest high above the pretty town of Hafling. During the walk, he demonstrates how to develop a better sense of awareness of your body and completely switch off from everyday worries.
Anyone keen to continue the meditative mood into the evening will likely find the small cigar lounge at the Plantitscher Hotel residence – opposite the hotel bar – to be another highlight. Whilst an Italian sommelier mixes cocktails with her Cuban assistant, we lean back in comfortable leather armchairs and meditate on the clouds of a fine, rare Habano.
Perhaps, if you're lucky, Johannes Gufler, will join you and reveal how he found his passion for cigars. It was in 1998 on a holiday in Cuba, during which he had to prepare for his hotel manager exams. 'I was happy to relax in Havana's hotels with their beautiful cigar lounges,' he says, over an exquisite Davidoff Oro Balnco. 'It was here that I discovered my delight in enjoying good cigars.'
If only he'd known then that he would one day create his own Eldorado, which would eventually be named Italy's finest and attract aficionados from around the world…
Travel Information
Hotel Ansitz Plantitscherhof
Via Dante Alighieri, 56, 39012 Merano BZ, Italy
Tobacco Shop Garber
C.so della Libertà, 23, 39012 Merano BZ, Italy
Tel. +39 0473 23 70 39
For more recommendations, please contact your lifestyle manager