This story begins in 2016 at Royal Ascot. A young woman has just stepped into the Royal Enclosure, blonde hair tucked into a top hat and a feather weave morning coat on top of a blue linen waistcoat and Louboutin heels. She is the first person in history to break the racing event's strict dress code – and her arrival is met with rapturous applause.
Her name? Daisy Knatchbull, great-grand daughter of Louis Mountbatten, niece-by-marriage of Penny Knatchbull and – most importantly – the visionary behind Savile Row's first shopfront for women.
'I couldn't quite believe no one had done it before,' she says, reflecting on her decision to style herself according to the male dress code. 'It ended up being quite an iconic moment that received a lot of press attention.'
It was also a catalyst. At that point, Knatchbull was Head of Communications at Savile Row stalwart, Huntsman & Sons. Although the house – like many others on the famed street – could create bespoke suits for women, there was still no shopfront that catered specifically to the female market. The overwhelmingly positive reaction to Knatchbull's appearance made her realise that there was a huge demand for such a space – it just didn't exist yet.
So, in 2019, she founded The Deck: the first ever female-focused tailor with a shopfront on Savile Row. It is named after a deck of cards; clients choose a suit (pun intended) from one of four master patterns, before working closely with one of The Deck's all-female tailors to shape it to their unique measurements and preferences.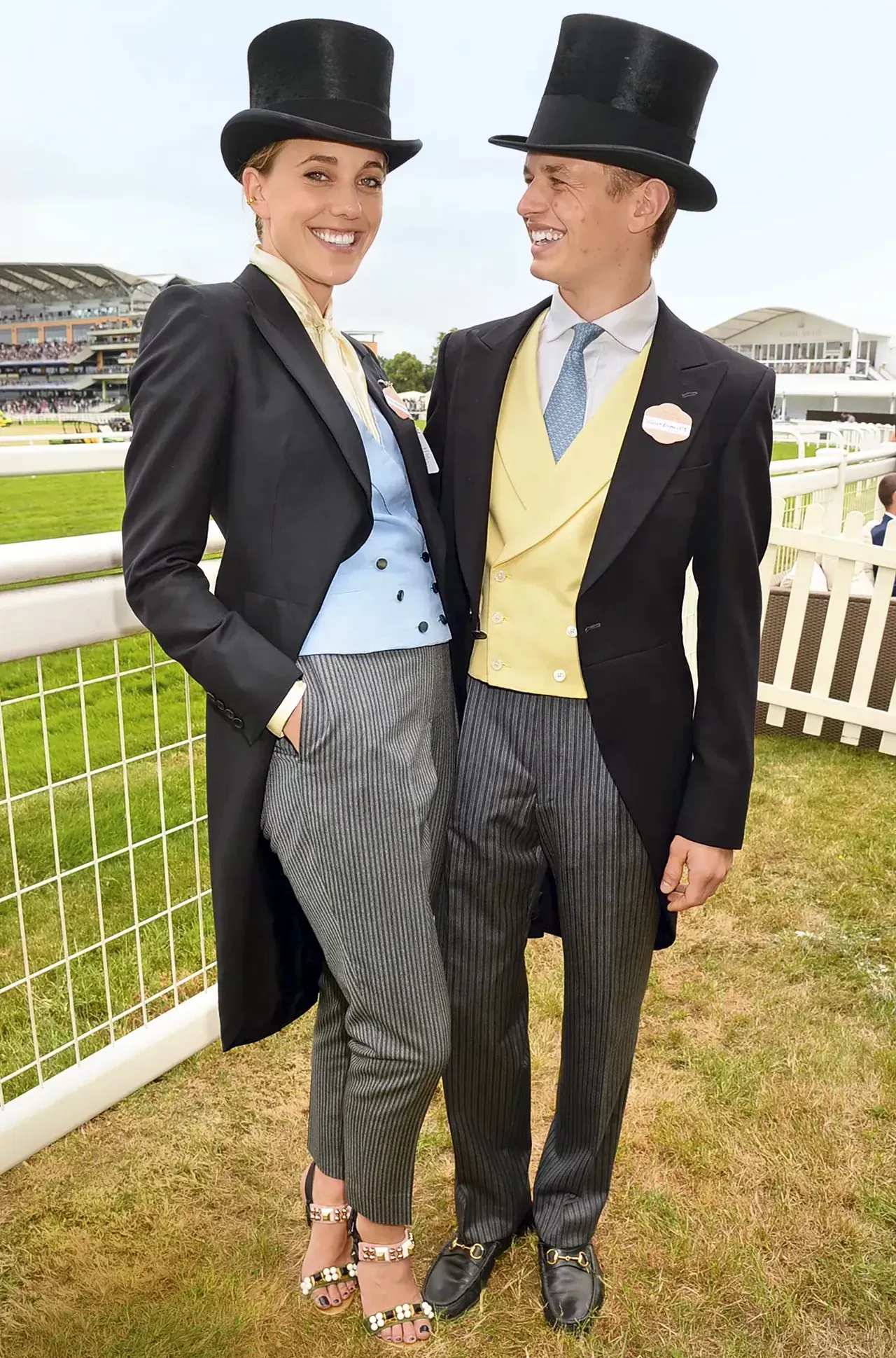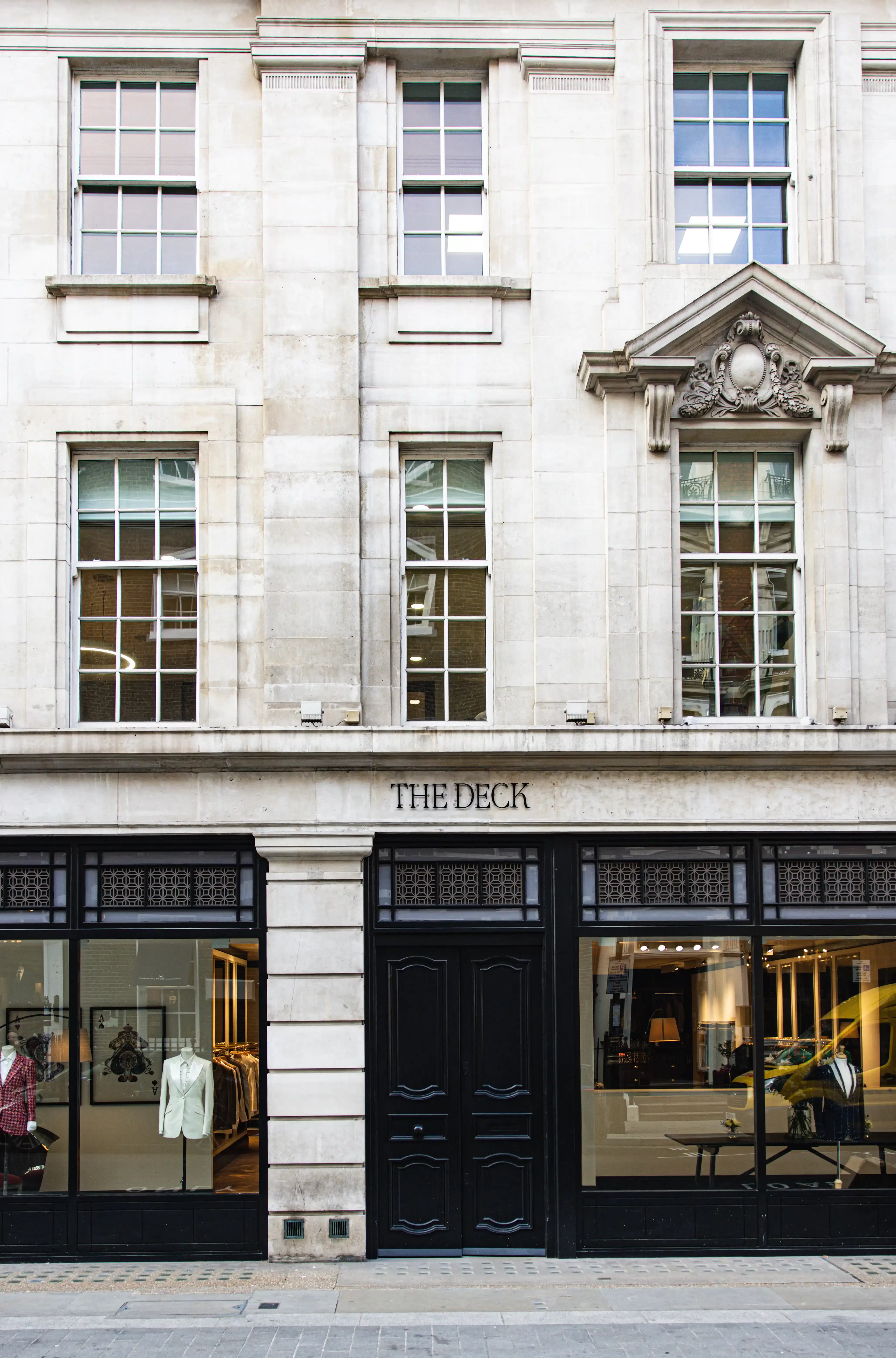 Daisy wearing morning dress at Ascot in 2016; image courtesy of Tatler (L) | The Deck's new shopfront at no. 32 Savile Row (R)
'Each tailor will understand exactly what [the customer] does or doesn't want,' says Knatchbull. 'We'll ask them all about their current wardrobe: do they travel a lot? Do they sweat a lot? All these questions really help create something perfect, because the clothes you love are for life.'
Every detail is painstakingly considered, with special buttons, monogramming, secret embroidery, split hems, and side-adjusters on trousers (to counteract 'after-dinner bloating') all possible. It takes weeks of stitching, measuring and adjusting before the final suit is ready – and it fits its wearer perfectly. The pattern is then kept indefinitely for future pieces; a model that sees a high repurchase rate despite each suit costing upwards of £2,000.
'People thought [The Deck] was crazy because women's bodies are more "difficult",' says Knatchbull. 'But I didn't see it as a block. We put men on the moon; there must be the ability to put a women's shopfront on Savile Row.'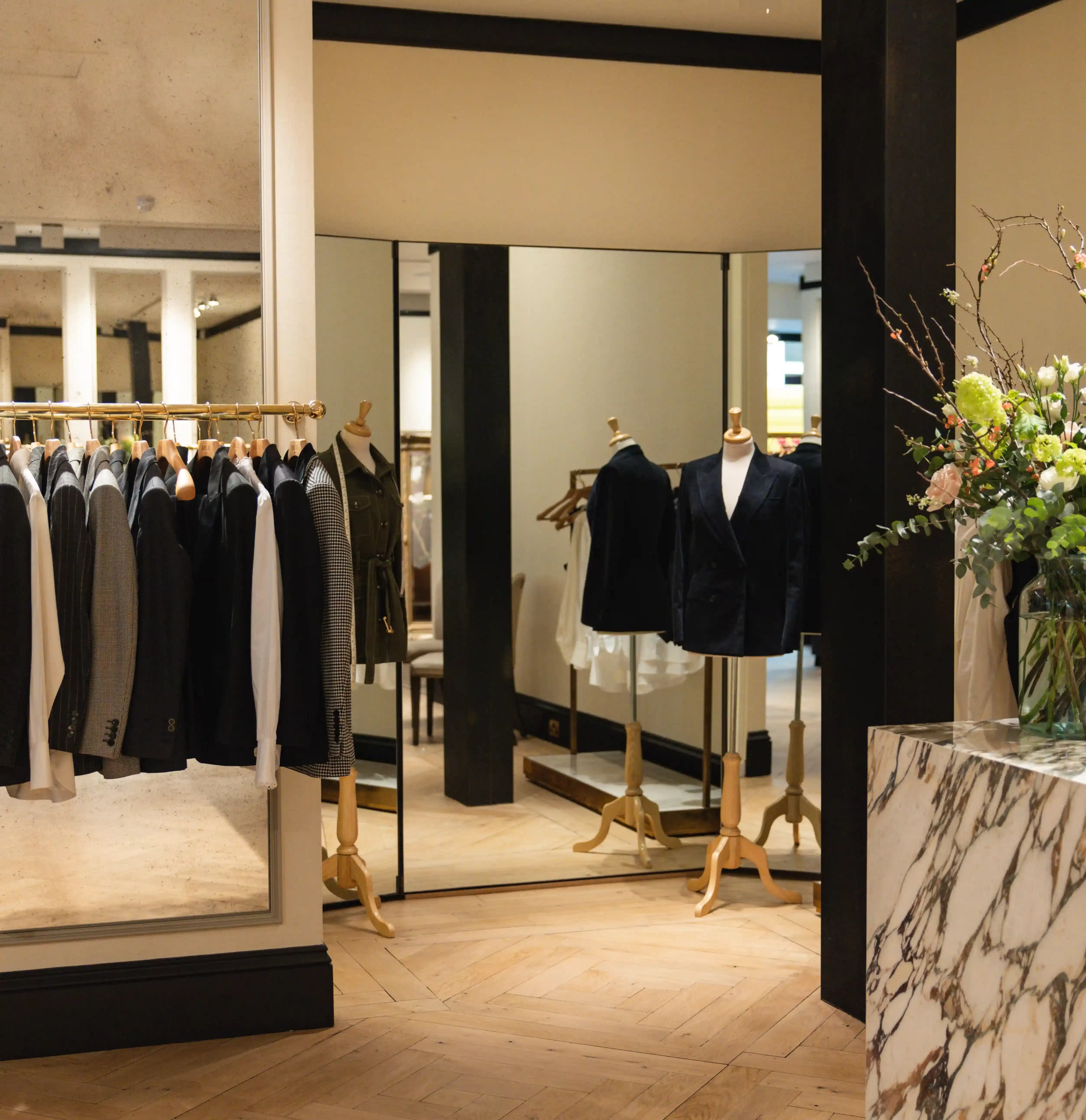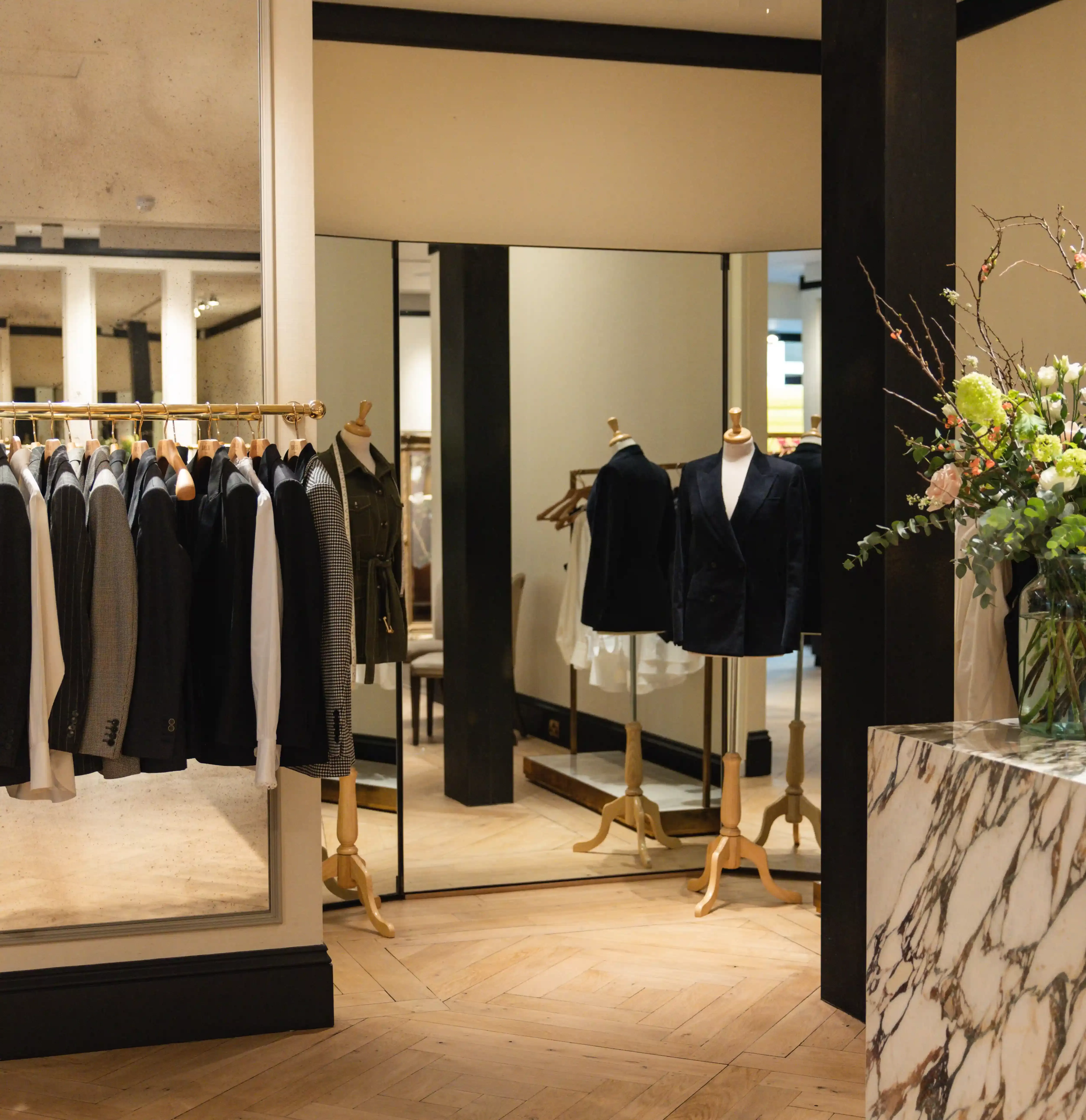 'We put men on the moon; there must be the ability to put a women's shopfront on Savile Row.'
– Daisy Knatchbull
Demand has been so great that, three-and-a-half years later, The Deck has moved into one of the largest stores on Savile Row. It's a light, bright, welcoming space designed 'to feel like a second home', with neat piles of magazines, huge golden mirrors, velvet sofas and hand-stitched wallpaper. New to this larger version of The Deck is a small selection of ready-to-wear pieces, which Knatchbull shows us (after swooping down to pluck a singular polystyrene ball from the floor to keep it looking pristine for that evening's launch party).
'It looks quite different to what you see on the rest of the street,' she says, no doubt thinking of the wood-panelled, antique-filled Savile Row institutions. 'But it's important that we recognise the heritage and history here. It's a total honour and a privilege to be amongst these people; we're just making our own little space for women.'
Her comments are chosen carefully in light of the current row over whether or not Savile Row should expand its offering to include ready-to-wear shops, office spaces, cafes and galleries. Many tailors are dismayed by these plans; this is one of the last streets in London still dedicated to a single craft, and they fear diversification will damage its soul.
Whichever side of the argument you fall on, it's clear The Deck is one bit of change that is very much needed. Knatchbull paints a picture of a cosy, empathetic space where clients discuss everything from IVF to menopause and where bodies are celebrated and not shamed for their idiosyncrasies.
'When I had my first three-piece suit made, I felt like I could put my feet up on the table at a board meeting and tell everyone what I wanted'
– Daisy Knatchbull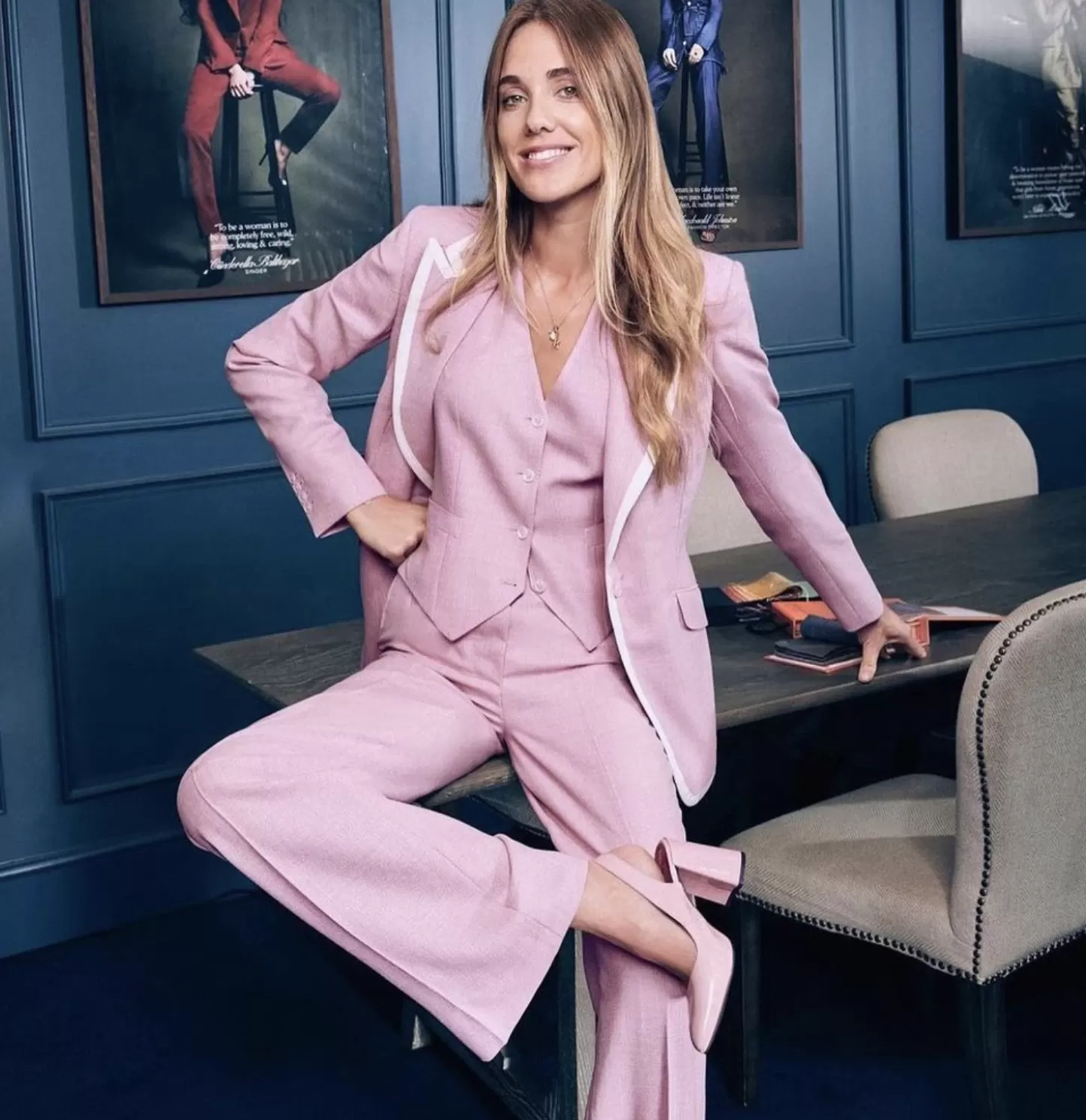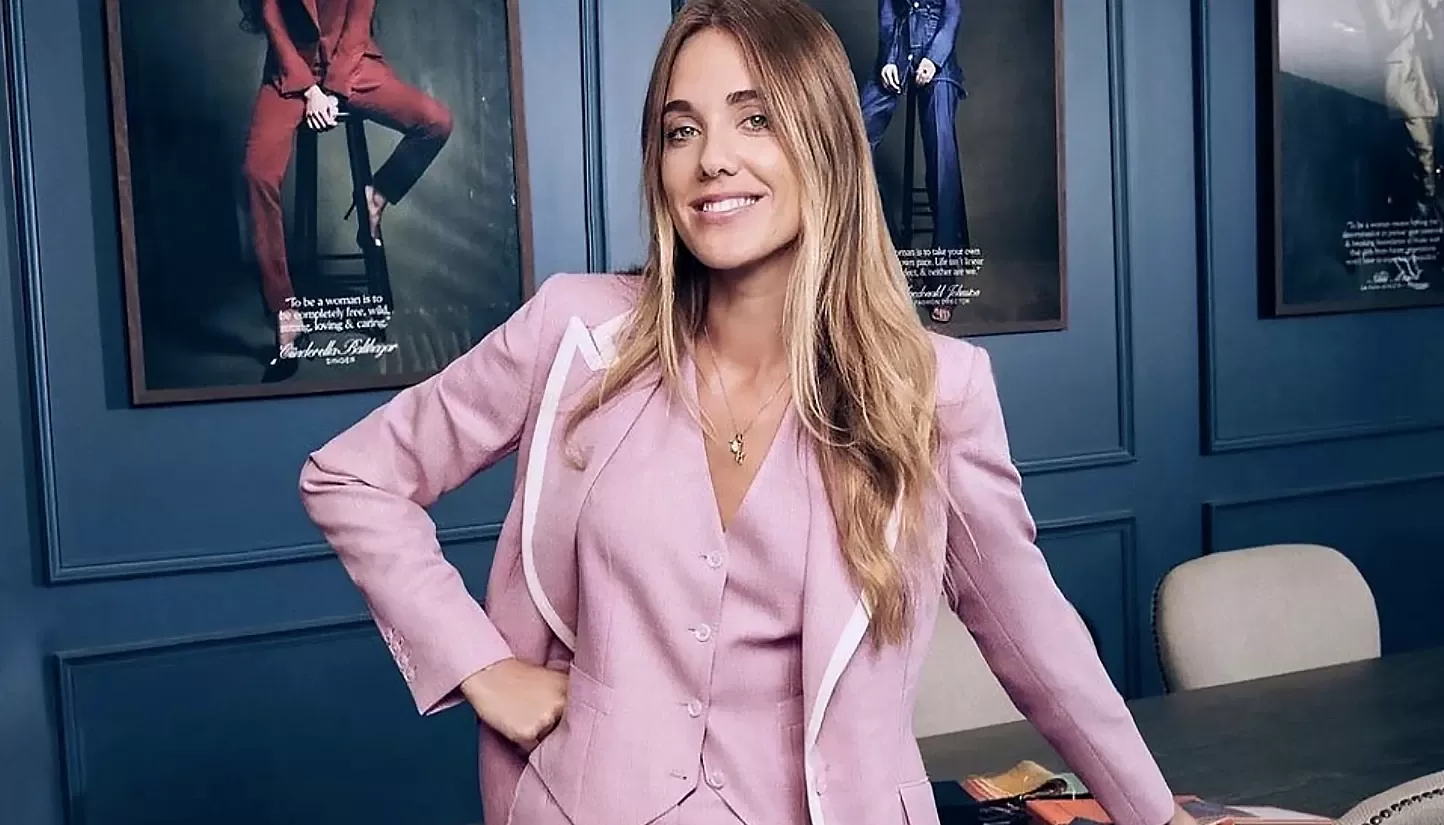 'When I had my first three-piece suit made, I felt like I could literally put my feet up on the table at a board meeting and tell everyone what I wanted and what I wanted to do,' she says. 'We've had women come in who have never had a pair of trousers in their life because they don't believe trousers fit them. When they see themselves in the mirror, they stand a bit taller and give themselves that look; it's amazing.'
Suits are certainly 'in' right now – and not in the traditional workwear sense. They were all over the front row of London Fashion Week, whether a jacket slung over jeans and trainers, cigarette trousers dressed down with a T-Shirt, or a full three-piece styled with stilettos.
'One suit can do so much,' says Knatchbull. 'I would love to give as many women as possible the experience to have something made bespoke. Our clients always say they wish they'd found us sooner; our biggest problem [as a brand] is that people don't know we exist.'
As we wrap up our discussion, a smiling young woman steps out of the changing room wearing the baste stage of her new suit. Knatchbull dashes over to introduce herself and invite her to that evening's launch party. It's a touching reminder of what has been created here. The Deck is a space where clothes fit women's bodies and not the other way around, and where any woman can not only wear the trousers, but feel truly empowered within them.
For further information about The Deck or Daisy Knatchbull, please contact your lifestyle manager. To discover more about Quintessentially, click here.