With the combined push/pull factors of global lockdown regulations easing and the recent financial crisis, it's been something of a rollercoaster year for watch collectors.
First, the good news – with Watches And Wonders Geneva 2022 (formerly SIHH), replacing the cancelled Baselworld as this year's go-town watch fair, enthusiasts and collectors alike were finally able to see the most talked-about new timepieces in the flesh again. There was no doubt that the audience was ready: with 22,000 physical visitors and a combined global reach of over 300 million, this was the largest watchmaking summit ever held in the city, featuring 38 leading brands.
On the other hand, there has been a general slowdown in the market, which reflects the current cost of living. 'Things had been rocketing up, so it was always going to come down slightly,' says Jonathan Murray of Quintessentially's watch specialists, Black Label Supply. 'It has calmed down a bit now thankfully, so you'll only have lost some value if you bought at the peak of the prices.'
In tandem with this, the last year has seen a general trend for the big releases to be a little less ostentatious, with a focus more on simplicity and classic elegance in the design. Although, of course, there are always exceptions to disprove the rule. With that in mind, here are seven expert-approved watches to consider adding to your collection.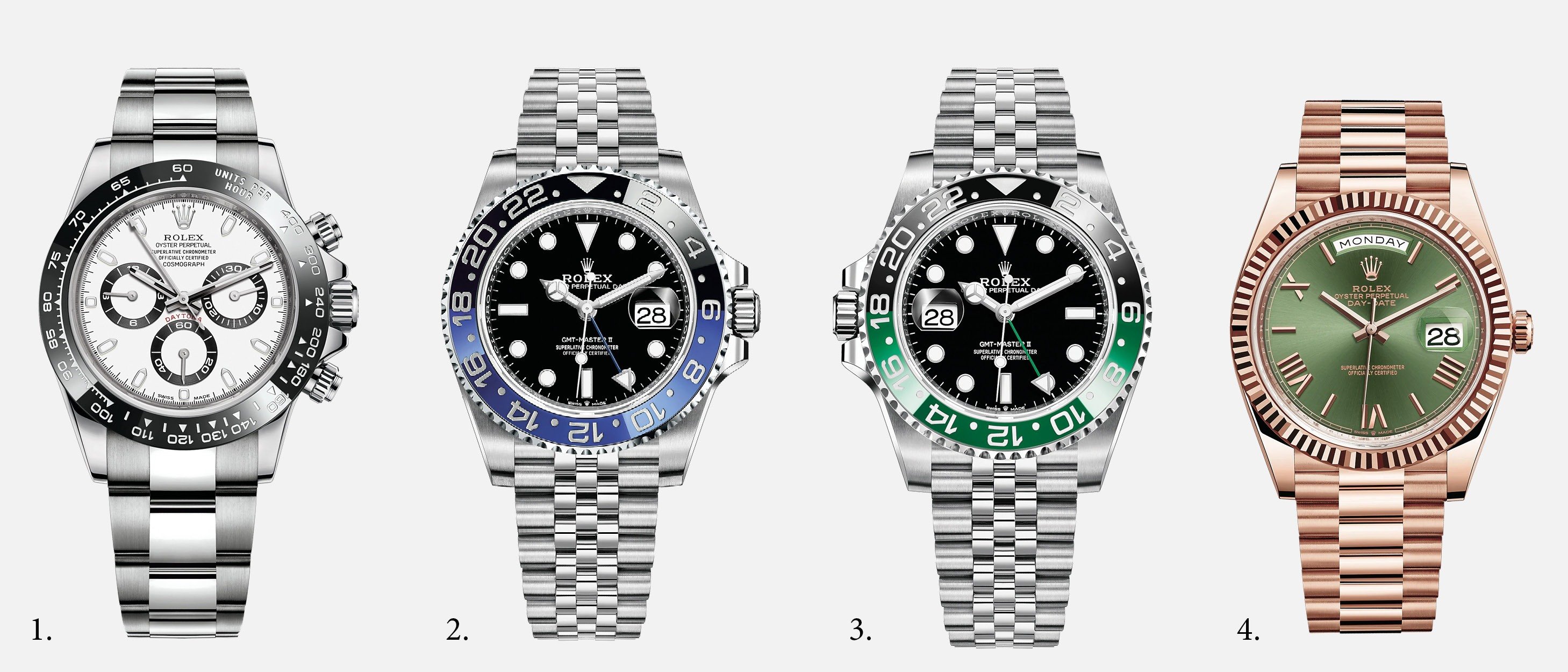 Rolex Daytona
For those looking for a perennial favourite, Murray suggests that the Rolex Daytona will always be a safe bet with collectors. 'Daytonas are seen as the 'OGs' of Rolex. They always sell really easily, so if any client is looking to buy a watch simply as an investment and not to wear, we will often guide them towards a Daytona. Everybody always wants them, and they are often the hardest to get, so you know can always resell them.'
For instance, the Rolex Cosmograph Daytona 'Panda' 116500LN (1) – so named because of the colourways – a white face with black sections, or the sister piece with the colours reversed – has proven a favourite. 'I think they will always remain in demand, and if it gets discontinued, you can expect the price to quadruple,' adds Murray.
Rolex GMT Master II
The Rolex GMT Master II 'Batman' 126710BLNR (2), with blue and black around the dial) and the new Rolex GMT Master II 'Sprite' 126720VTNR (3), with the crown on the other side, so it's left-handed) have been immensely popular. 'We probably get asked for a Batman and a Sprite a couple of times a week,' says Murray. If you're looking to invest, these will both be easy to resell – although you might want to hang onto the Sprite for a bit longer (because of the hype around it being left-handed when it was first released, demand pushed the price up, and it has since dropped back). The rarity factor should ensure it doesn't stay this low for long. The Rolex Day-Date Rose Gold 228235 (4) with green dial is also worth considering.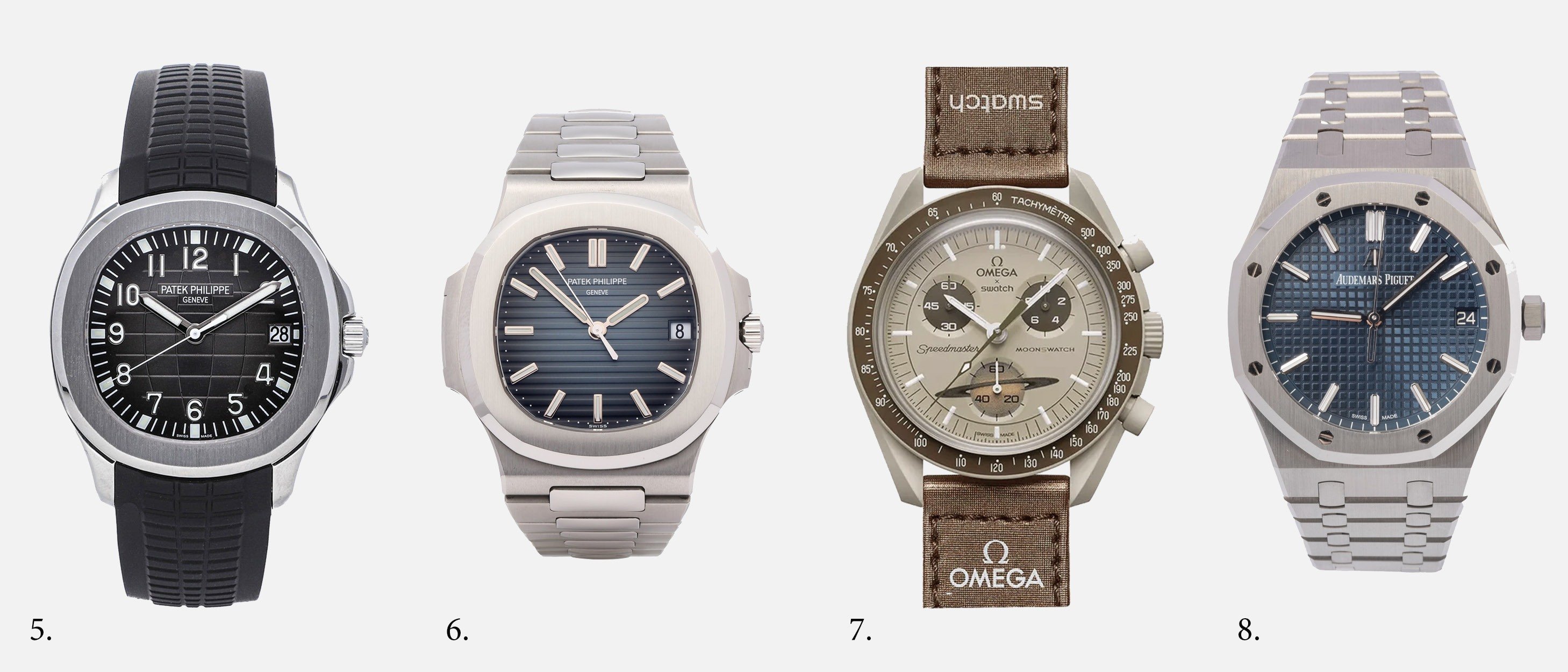 Patek Philippe: Aquanaut and Nautilus
If you're after something a little flashier, Patek Philippe's Aquanaut 5167A (5) has proven hugely popular with high-profile customers including sports stars – particularly the black version (it also comes in red, green and blue), with its distinctive square dial and rubber strap. There is also a chronograph version that will go for north of £120,000.
Also from Patek, the Nautilus Blue Dial 5711/1A (6) has proven a hit; a beautiful watch available in different materials – the most popular probably being the steel with the blue face. 'When someone next to you has a Patek on their wrist, it's like being in your fancy sports car at the traffic lights and they pull up in a Lamborghini,' says Murray.
Swatch X Omega
For a more unusual choice, this year's Swatch X Omega collaboration (7) is of particular interest. Thanks to the 'Drop' approach to sales, unusual at this end of the market, demand has remained high. 'You'd see people queuing outside the shop from the crack of dawn, and you could only buy one, with very limited stock, so you'd have to chance it and hope they had the stock in for that week,' says Murray. 'We've still got a few. The whole branding and the way they've marketed it has been very clever, people have just jumped in on the whole space theme; it's just genius.' Another factor to consider is that, due to the quartz movement and the relative lightness of the watch, it is also a less flashy piece to wear in the current climate.
Audemars Piguet's Royal Oak
As for a vintage piece you can always rely on, Audemars Piguet's Royal Oak (8) is such a classic that it even had a heavyweight book dedicated to it to celebrate its 50th anniversary, written by Wallpaper* Acting Editor-in-Chief, Bill Prince. Murray suggests the Royal Oak 15500ST but says that any model is 'always a solid shout. The great thing about the Royal Oak is the size of it: it fits perfectly under a dress shirt, which really suits the clientele.'
Quintessentially has the connections to ensure your watch collection is always at its best. Speak to your lifestyle manager to find out more, or request more information about membership to access our watch experts and suppliers.