Luxury sports watches might appear something of a contradiction in terms. Designed to be durable and hard-wearing, they are typically housed in a strong case (often with extra protection on the face to withstand any knocks and prevent scratching) and will include a number of sports-related features, including a stopwatch, a tachymeter, and a notable degree of water resistance.
Whether you want to actually wear them for sport depends on the price point, of course. A rugged, sturdy look (albeit combining the durability with a certain elegance) has become an enduring trend amongst luxury collectors. And while they might be appropriate for certain non-contact sports (such as golf), the 'sport' aspect is often restricted to viewing rather than participating – or else to wear in the club bar afterwards.
But, just as you don't have to be a jet pilot or submariner (or astronaut, come to think of it) to wear a watch originally designed for those vocations, a sports watch is for life, not just for the locker room. Here are our pick of the most collectible for 2023…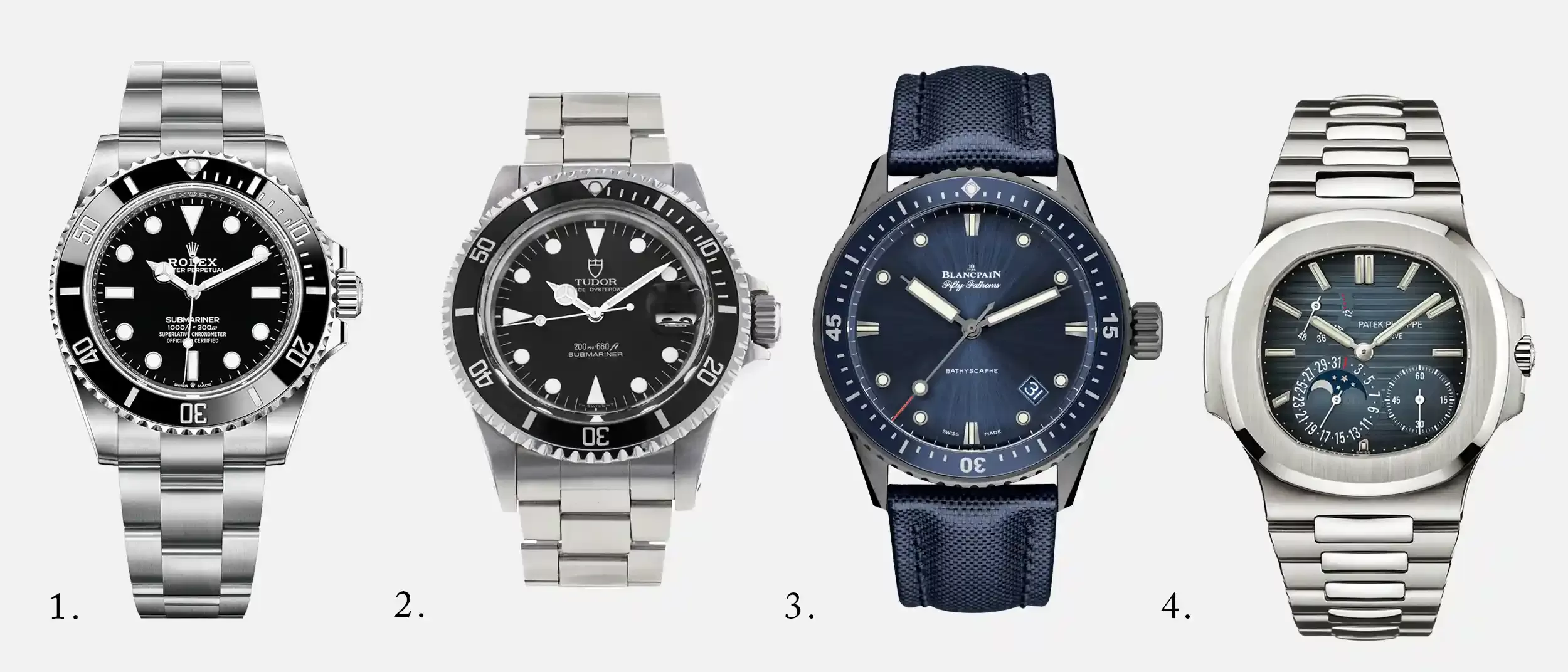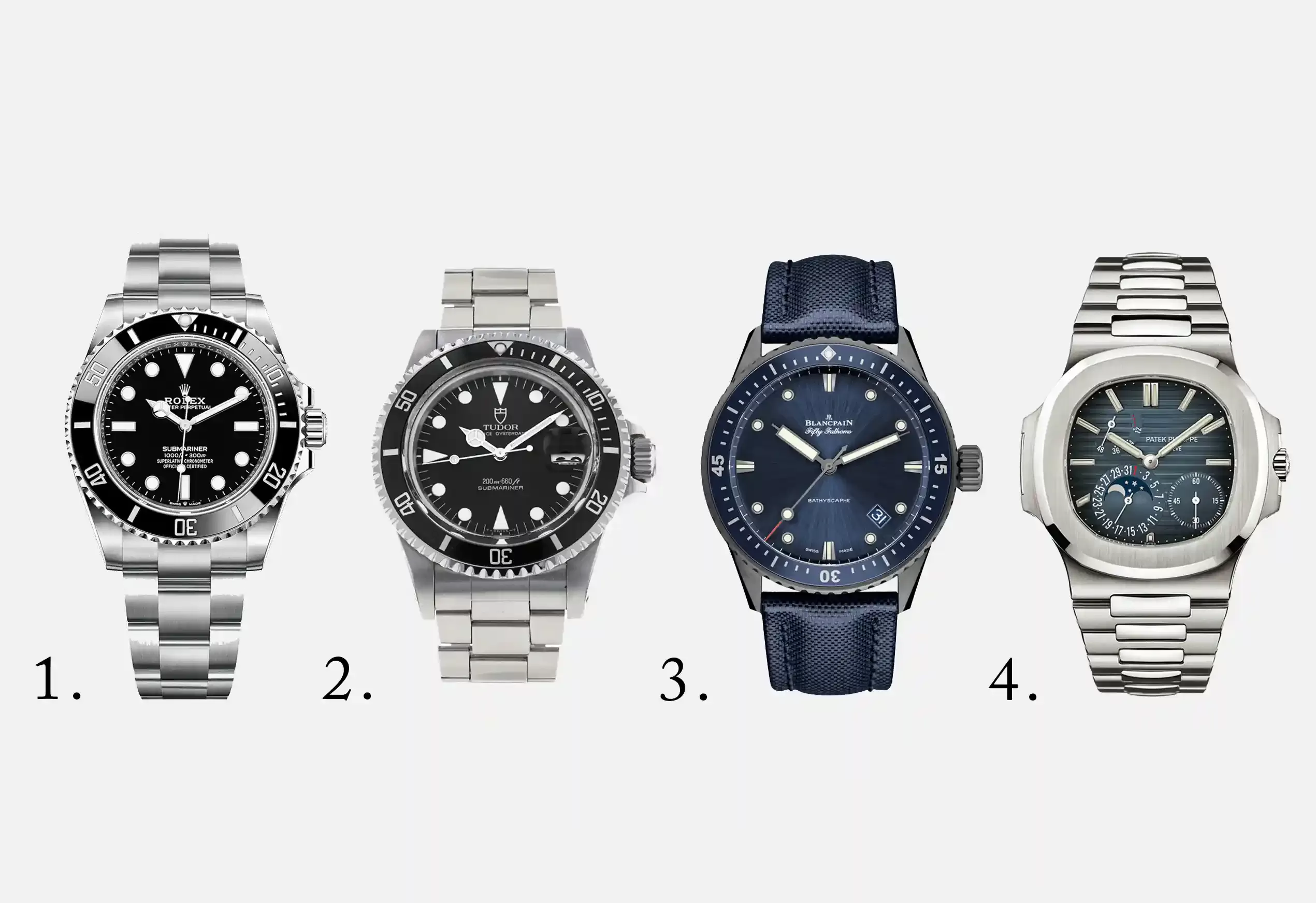 Rolex Submariner
A truly iconic timepiece, the Submariner was originally designed as a dive tool watch, first showcased at the 1954 Basel Watch Fair. With water resistance of up to 330 metres and a classic, timeless design (available in a case diameter of 40mm or 41mm only), it remains the archetype of the sports watch; the Oystersteel M124060-001 (1) is a good example. There have been many imitations over the years, but for many, only a Submariner will do.
With almost 70 years of history, there are countless collectable editions – with prices to match. Popular among the discontinued models are the reference 6538 (worn by Sean Connery in his first four Bond movies – switching to a NATO strap for 1964's Goldfinger) and the 50th anniversary edition (ref 16610LV), released in 2003.
Tudor Submariner
Tudor affords a special place amongst Rolex aficionados. Registered in 1926 by Rolex founder Hans Wildorf, this 'sister' company, Tudor, was originally conceived as a more affordable alternative – coupling Rolex cases and bracelets with off-the-shelf movements. An example is the Tudor Submariner 79090 (2). Tudor moved into the production of tool watches, becoming the official suppliers for both the US Navy Seals and French Marine Nationale from the 1960s.
They have earned a reputation for hardwearing durability, originally aimed at military and professional divers – and have also been the official timepieces of countless polar expeditions. The Tudor Submariner line has its own subset of collectibles – notably the 'big crown' and 'snowflake hand' editions – as well as the Heritage Black Bay – an update of the early Tudor Submariner, unveiled in 2012.
Blancpain Fifty Fathoms Bathyscape
Blancpain is the world's oldest surviving wristwatch manufacturer (founded in 1735 – and now a subsidiary of the Swatch Group since 1992); and its Fifty Fathoms model is regarded as the first modern diving watch, first launched in 1953. With water resistance to 300 metres (50 fathoms is actually 300 ft – or just over 90 metres), it is the epitome of minimal, stylish elegance. The Bathyscape (3), available in ultra-lightweight, heat- and corrosion-resistant ceramic casing, is as classy as it is tough.
Patek Philippe Nautilus
Released in 1976, the Patek Philippe Nautilus (4) was conceived as the ultimate luxury sports watch, with its distinctive 'porthole' steel case and integrated bracelet. The original model (Ref 3700) was designed by the legendary Swiss watchmaker Gérald Genta, who had previously created the Royal Oak collection for Audemars Piguet. This is the most collectible, but also highly popular are the 30th anniversary models – ref 5711 and 5712.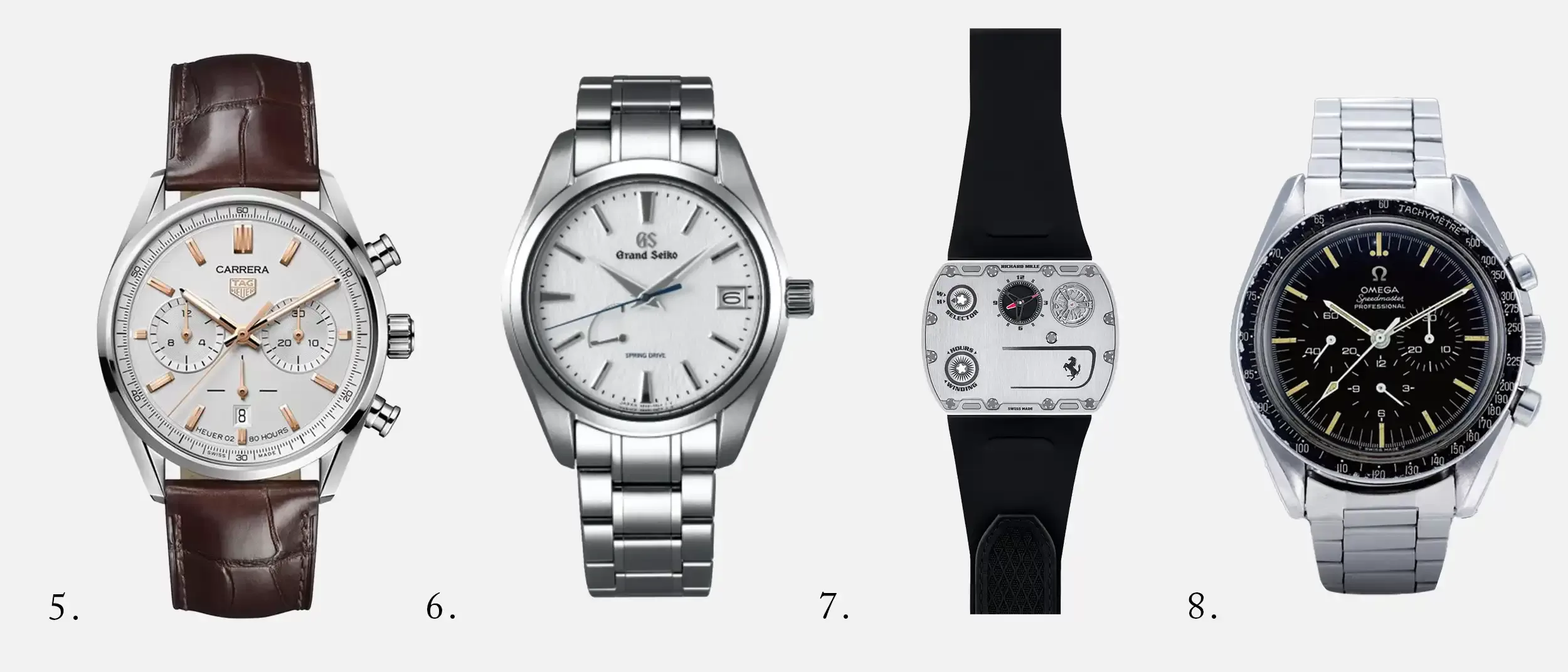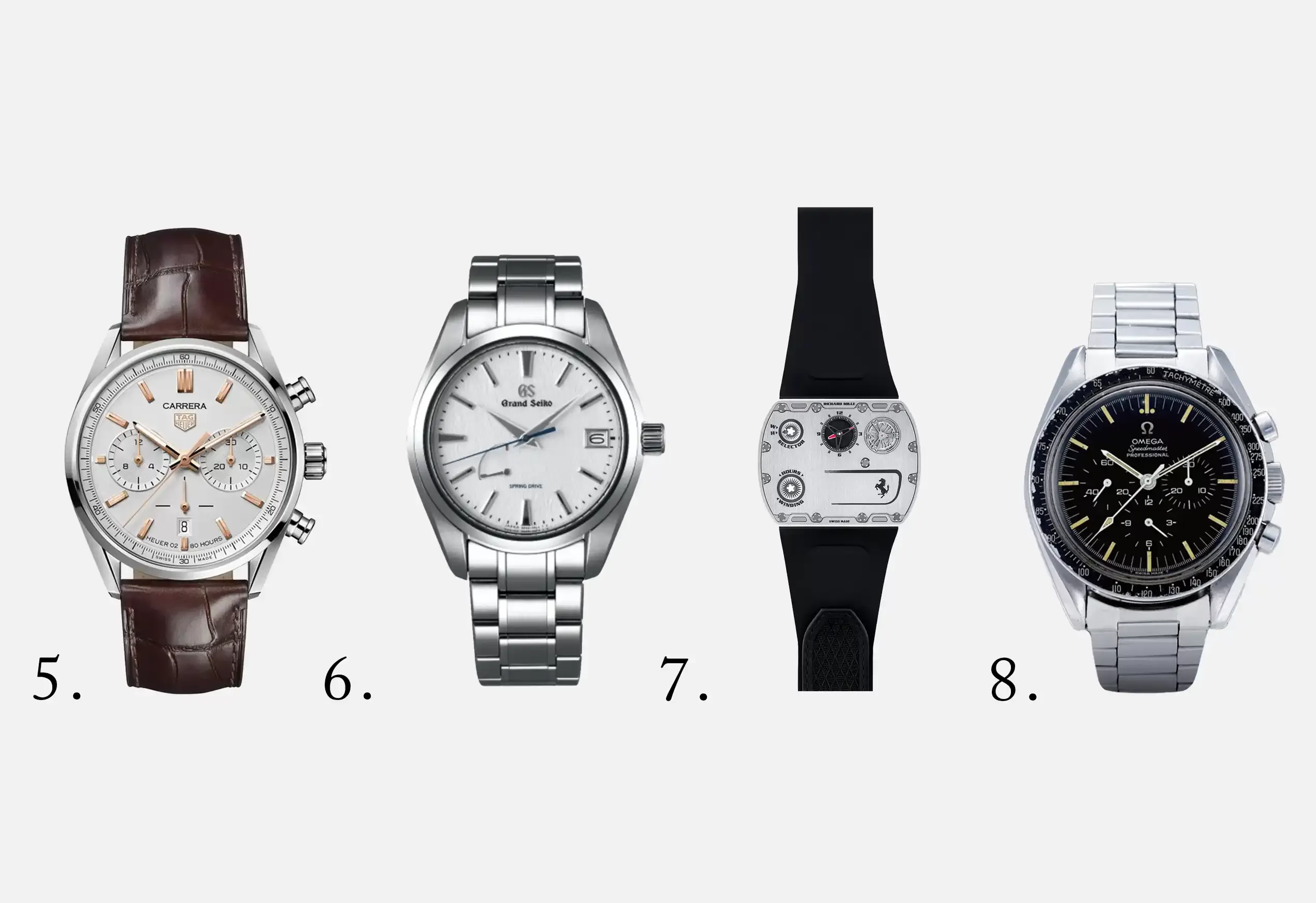 Tag Heuer Carrera
Tag Heuer has earned an enviable reputation for their racing and sports watches. The Carrera Chronograph (5), with its distinctive bezel, legible dial and combination of polished ceramic and steel, is notable for its 'minute' numbering (the dial features the numbers 05 to 60, in 5 minute intervals, as opposed to the typical 1 to 12 hour dial). Water resistant to 100 metres and a case size of 44mm, it is an affordable but classy option.
Grand Seiko Spring Drive
Named after the Japanese 'Seiko-sha, which translates as 'House of Precision', Seiko took on the hegemony of Swiss watch manufacturing with a series of technological innovations. Typical of this was the pioneering Spring Drive movement, introduced to Grand Seiko in 1999 after 28 years of development. This generates energy with a mainspring (like a conventional mechanical watch) but combines this with an electronic regulator to deliver a superior level of precision, never requiring a battery change. The Grand Seiko Spring Drive SBGA211 (6), with its 'indestructible' titanium casing, boasts technical sophistication with a simple, classic design.
Richard Mille RM UP-01 Ferrari
This instantly recognisable 'ultraflat' design, launched in 2021, is the result of a collaboration between Ferrari and Richard Mille (7), who have a long tradition of working with sports brands and marques. At just 1.75mm thick, it required a complete rethinking of the traditional 'stacked' watch mechanism, with baseplate and bridges made from grade 5 titanium for added protection. As a head-turning statement piece, it takes some beating.
Omega Speedmaster Moonwatch
As far as high performance under strenuous conditions goes, you don't get more pressure than the moon landings. Which is why NASA's official watch for the Apollo 11 crew (and every mission thereafter) takes the concept of the sports watch to another world (or at least atmosphere).
Plexiglass was used instead of sapphire crystal to withstand the pressures of space travel – while the 50 metre water resistance might not sound much – but it has been guaranteed for a distance of 360,000km into the heavens. Famously, Buzz Aldrin trusted the accuracy of his Speedmaster over the Lunar Module's in-board electronic timer, which malfunctioned. Prices start at a very affordable level, but the original 1969 moon model (8, ref 105.012-66) is the most sought-after.
Quintessentially has the connections to ensure your watch collection is always at its best. Speak to your lifestyle manager to find out more, or request more information about membership to access our watch experts and suppliers.