A slew of talented restaurateurs have swapped the city for the countryside of late. Combining hyper-seasonal ingredients and sustainable practices to delicious effect, escaping to the countryside's never been more appetising. Here are the tables to book.
Grace & Savour
More start-to-finish culinary immersion than simply a meal, Grace & Savour – a standalone restaurant with rooms on the grounds of established foodie haunt Hampton Manor – has discerning diners hot-footing it to the West Midlands. Proceedings begin with a walled garden tour led by Head Chef David Taylor, who honed his craft at Oslo's Michelin-starred Maeemo. On this, Taylor brings to life his root-to-tip approach, which is grounded in respect for the land and shows off the organic produce central to his up-to-fifteen-course conversation-sparking feasts.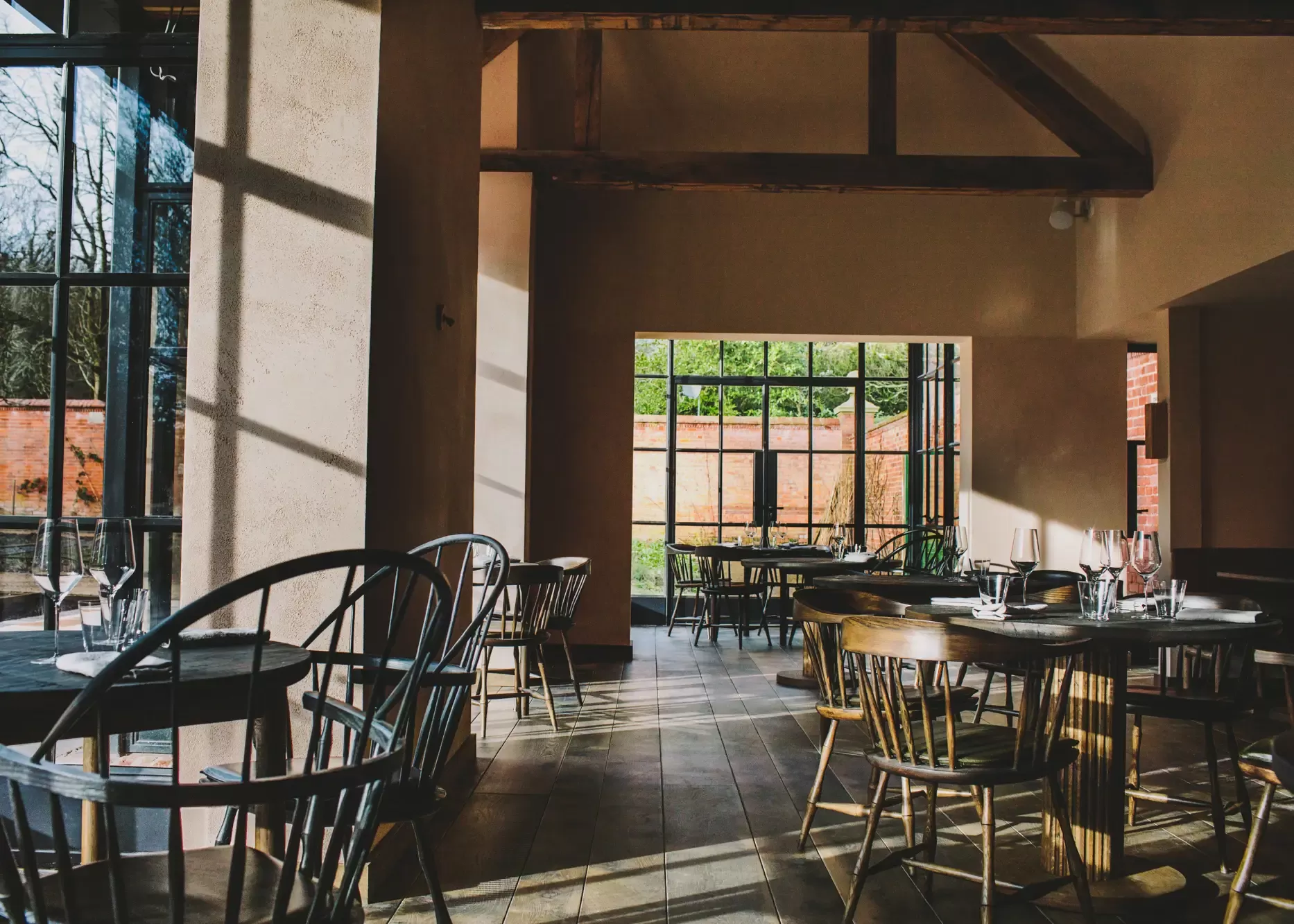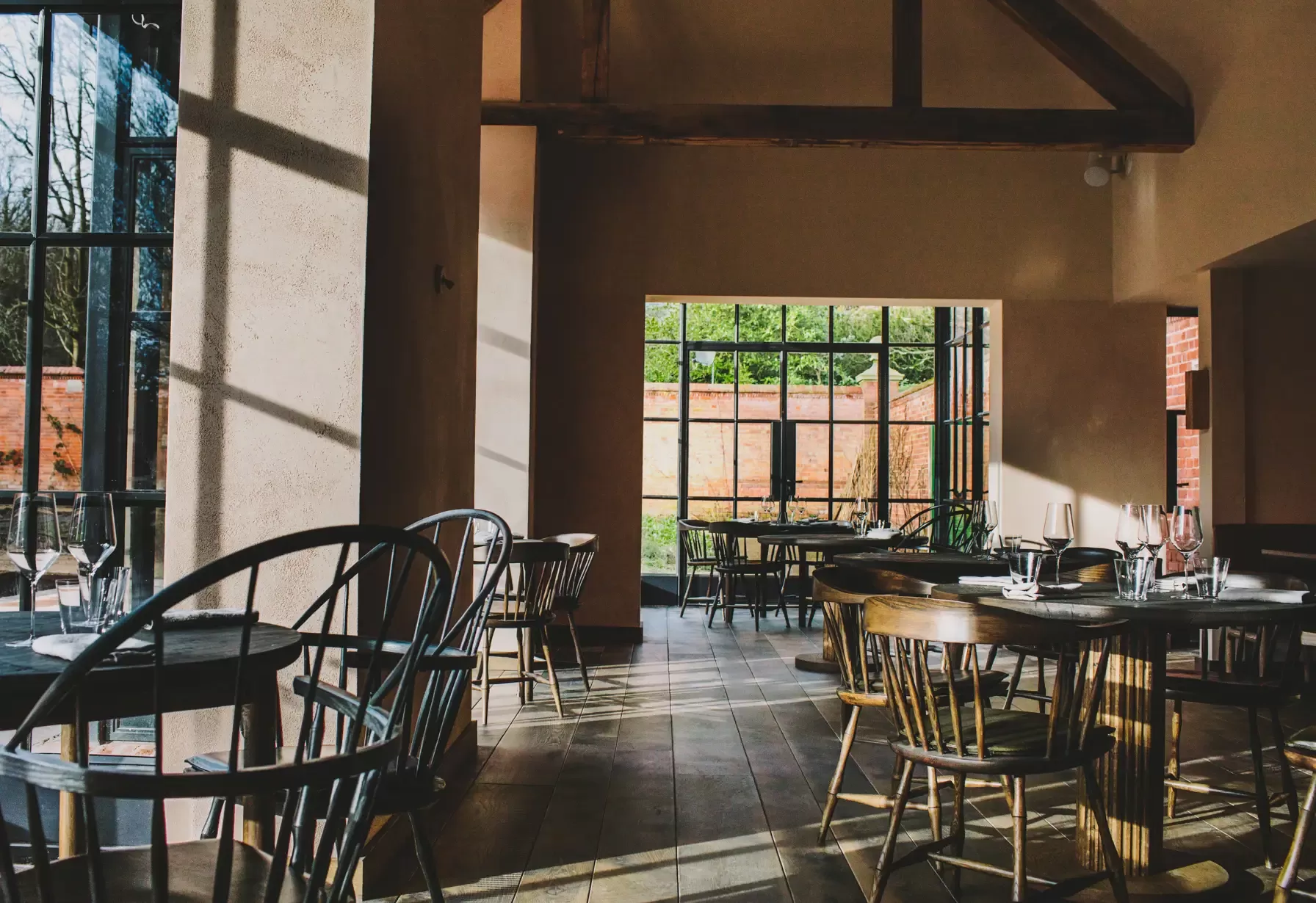 The airy restaurant is the centrepiece of a Grace & Savour stay
Each artful dish is finished in the centre of a horseshoe-shaped table in the earthy, red-brick restaurant and brings to life the provenance of what's on the plate, as well as sustainably minded suppliers' stories. While the menu's never revealed, expect Jerusalem artichoke puree in its roasted skin, topped with apple discs, hand-dived scallops in fermented hot wax chilli sauce, and desserts featuring caramelised whey and fruit compotes. Handily, five bedrooms sit across a courtyard, and after a next-morning breakfast, the experience finishes with a cooking class.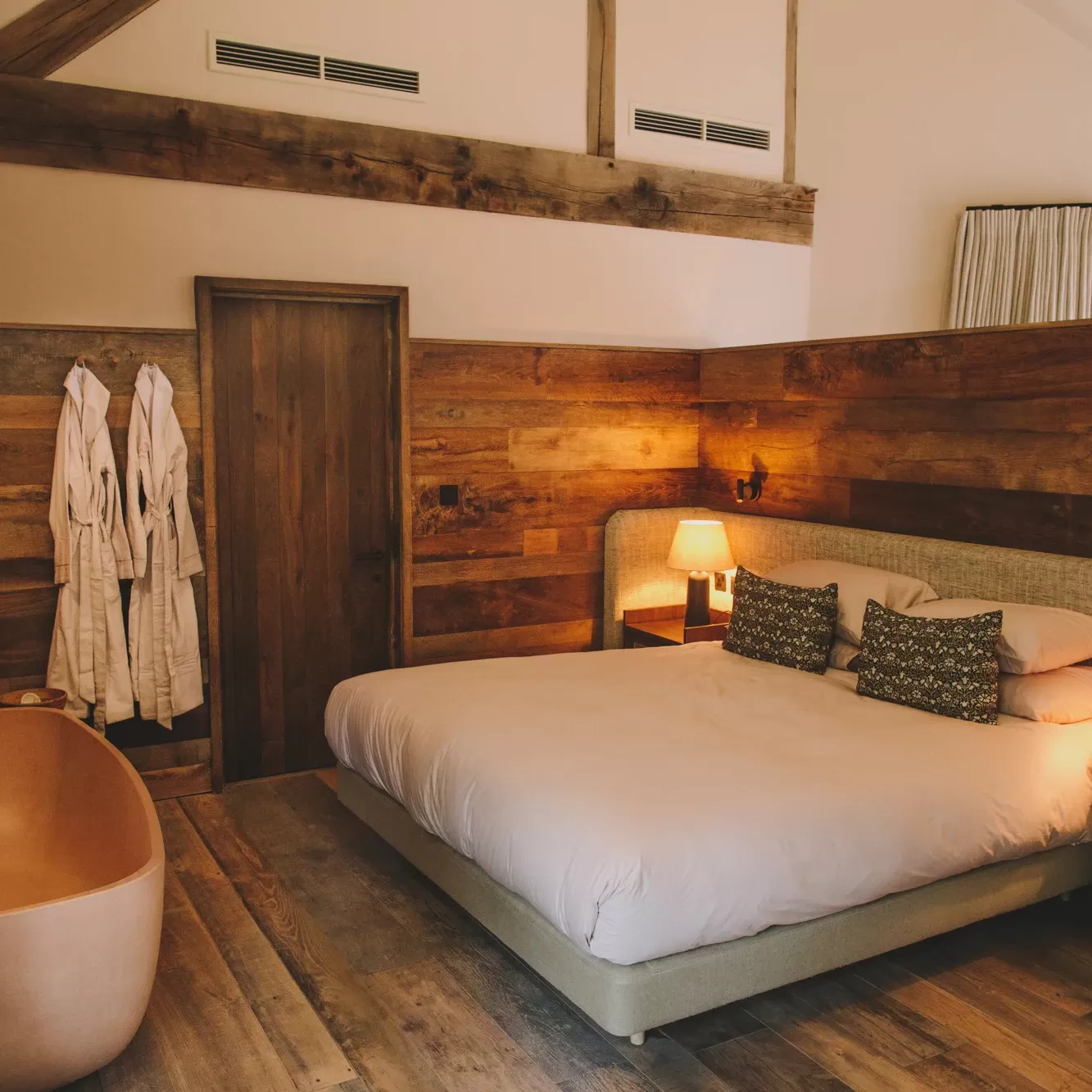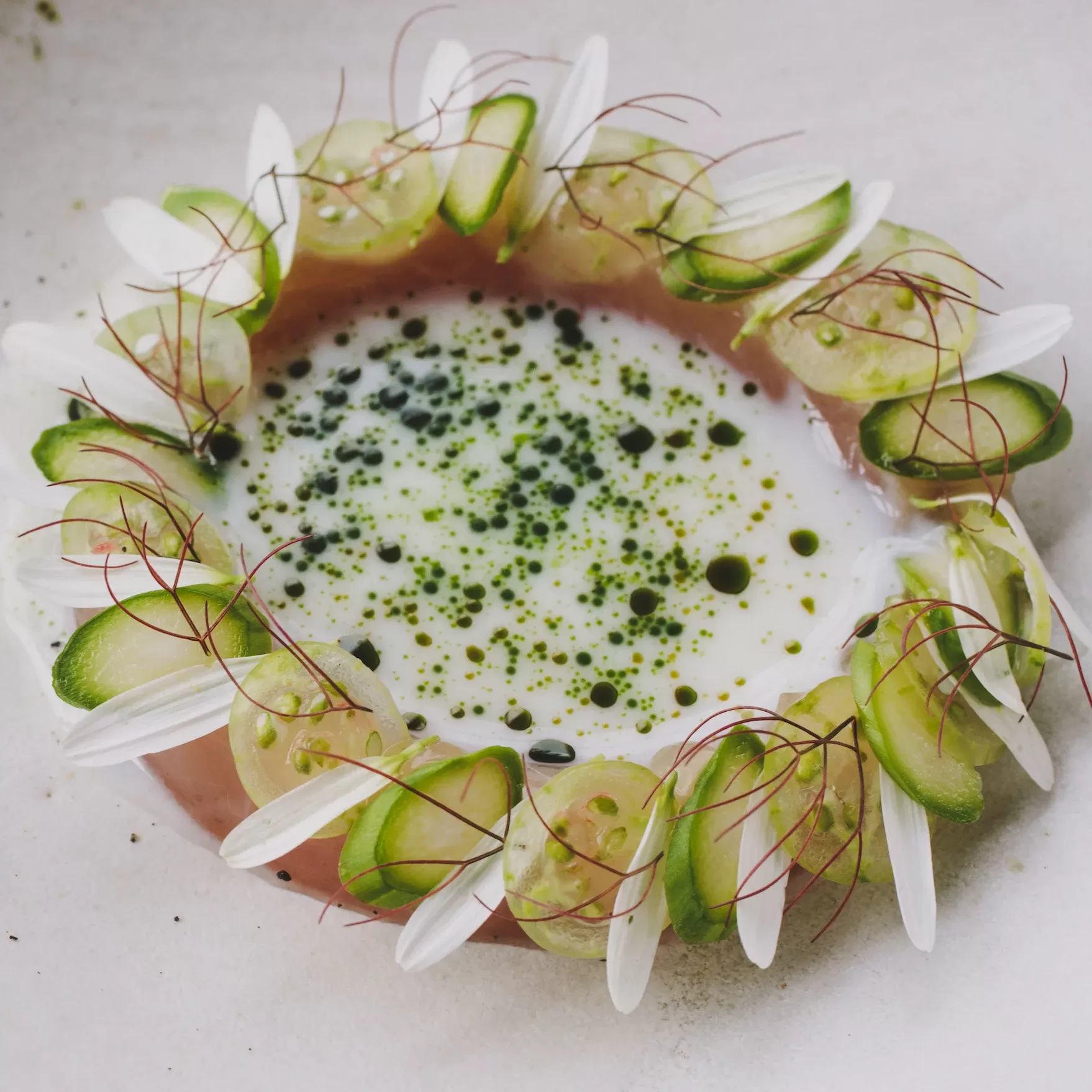 Both bedrooms and dishes at Grace & Savour adopt the same artistic approach.
Where to stay: G&S's spoiling sage green and olive-toned rooms celebrate the work of artisan wood crafters rather beautifully.
Holm, South Petherton
Causing a stir in Somerset is Holm, tucked on St James St in the quiet village of South Petherton. Fittingly, given its setting in a former bank, the first out-of-the-city endeavour from Nicholas Balfe, Mark Gurney and Matt Bushnell – the trio behind popular Peckham hotspots Levan and Larry's – is on the money. Behind a honey-hued facade is a 34-cover dining room where texture-rich walls hung with abstract artwork and candlelit tables set a cosy Scandi tone.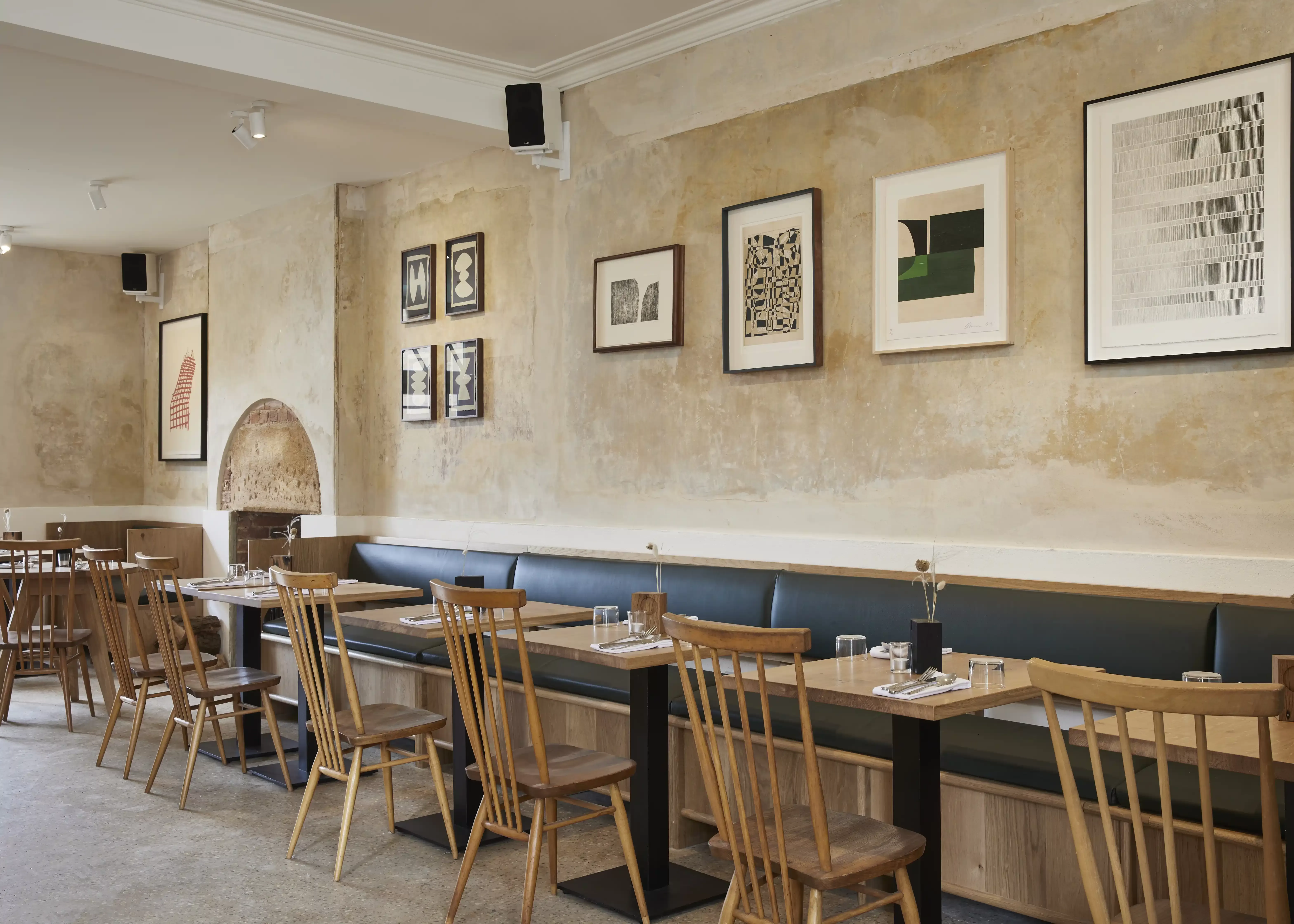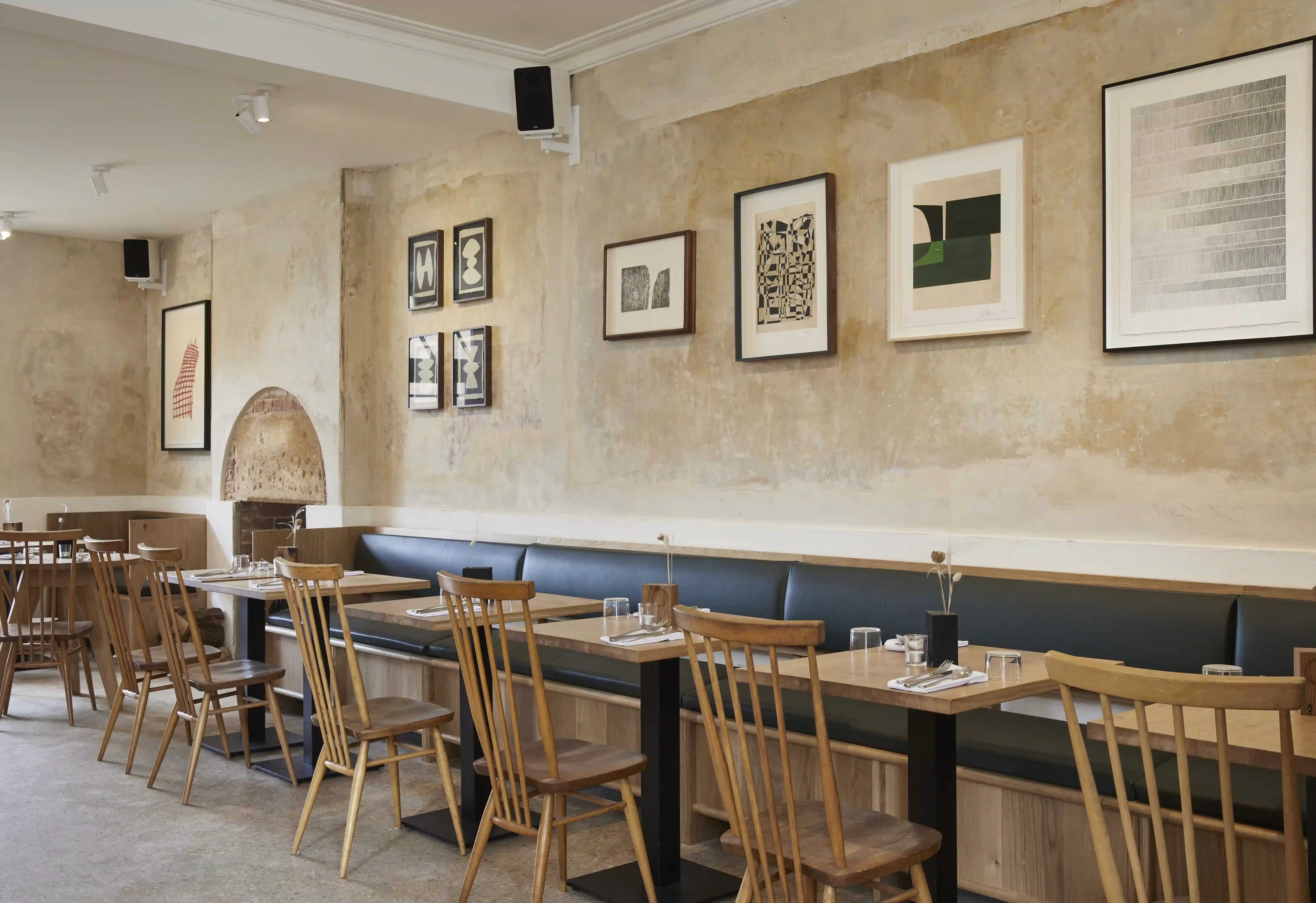 Holm's texture-rich walls set a cosy Scandi tone
Whether Chef's Tasting menu or a three-course affair, seasonal dishes don't put a foot wrong here. Showcasing Somerset's finest ingredients, highlights include moreish cubes of panisse topped with pickled walnut and Westcombe cheddar, comforting spelt with zingy Lion's mane mushroom, and rhubarb with cream cheese ice cream. Counter seats offer excellent chef-at-work views, the old bank vault houses a curated selection of low-intervention and biodynamic wines, and a new monthly series, DINNER AT HOLM, will welcome the likes of Ana Ortiz and Harriet Mansell into the kitchen for a night.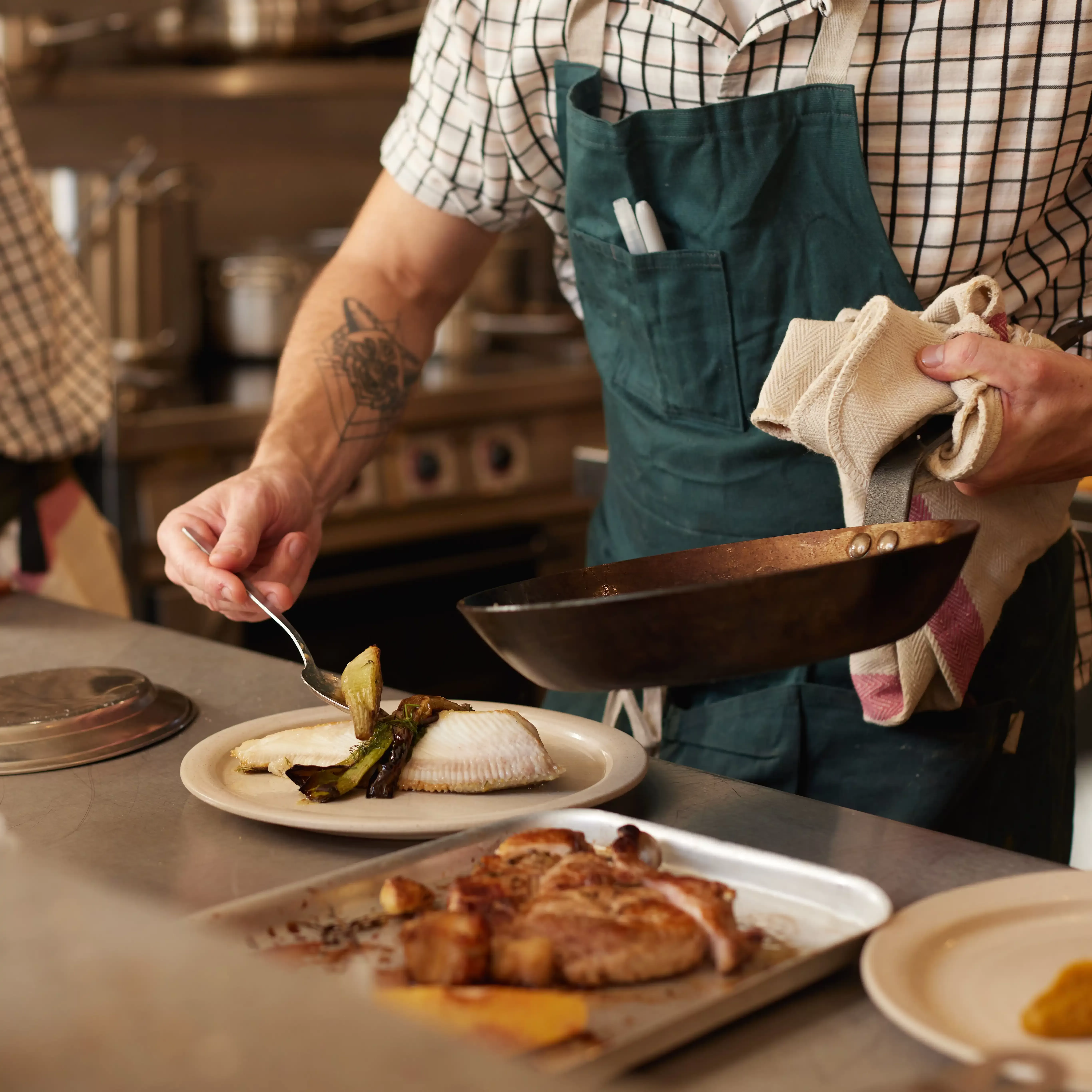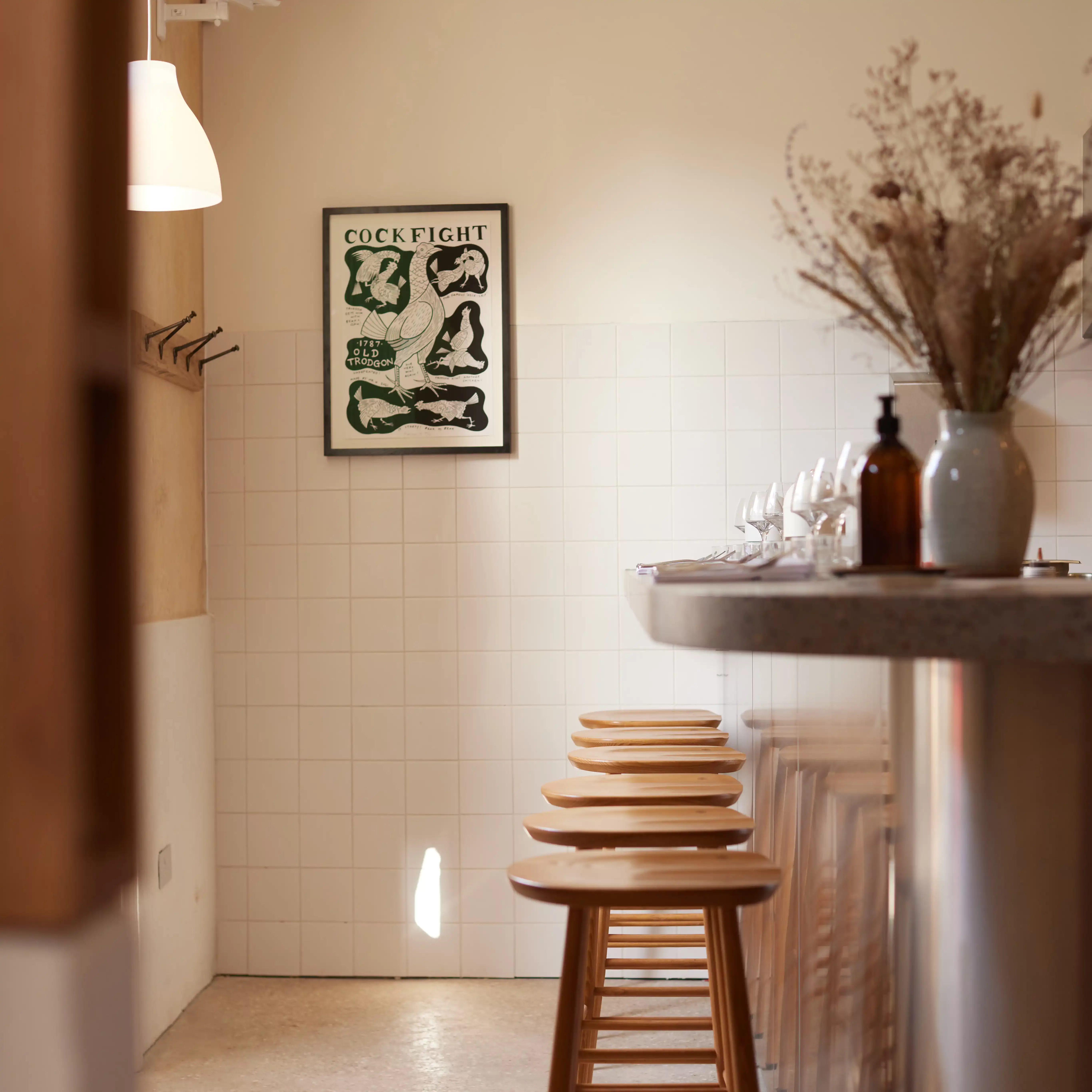 Holm images by Ed Reeve & Ed Schofield
Where to stay: The Lord Poulett Arms in nearby Hinton St George is a characterful pub with elegant bedrooms upstairs; opt for No 1 for slipper bathtub soaks.
Boys Hall, Ashford
While Ashford's not historically been associated with culinary wow, newcomer Boys Hall has changed the game. A dilapidated Jacobean manor house some twenty minutes from Hythe has been given a new lease of life thanks to a top-to-toe transformation by Kristie and Brad Lomas. An atmospheric dining room, with grand oak beams, floor-to-ceiling windows, and rich teal and burgundy furnishings, provides the backdrop to plates of tempura enoki and za'atar roasted cod with kalamata olive and samphire, courtesy of Chef Shane Pearson (ex-Blacklock and Caravan).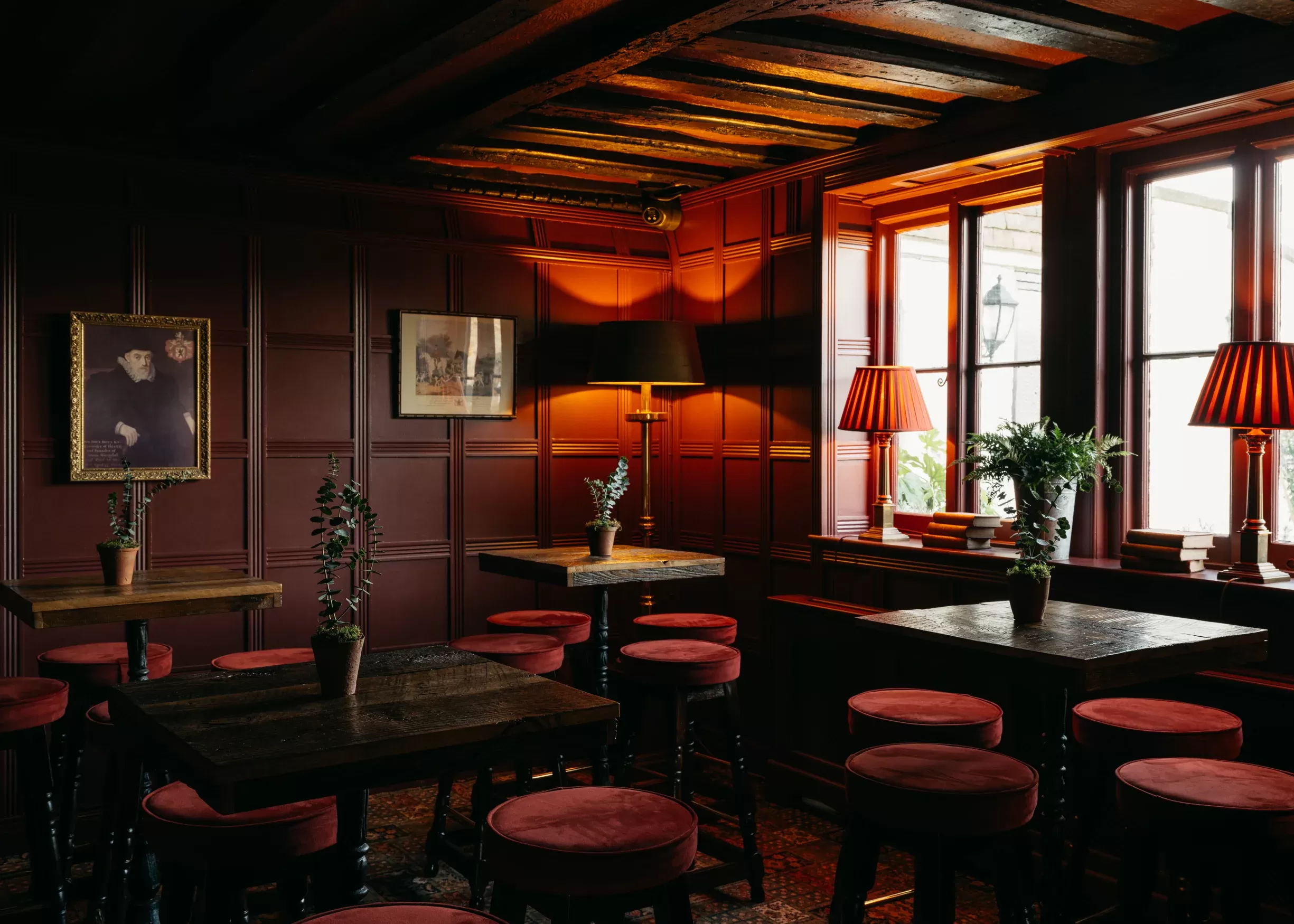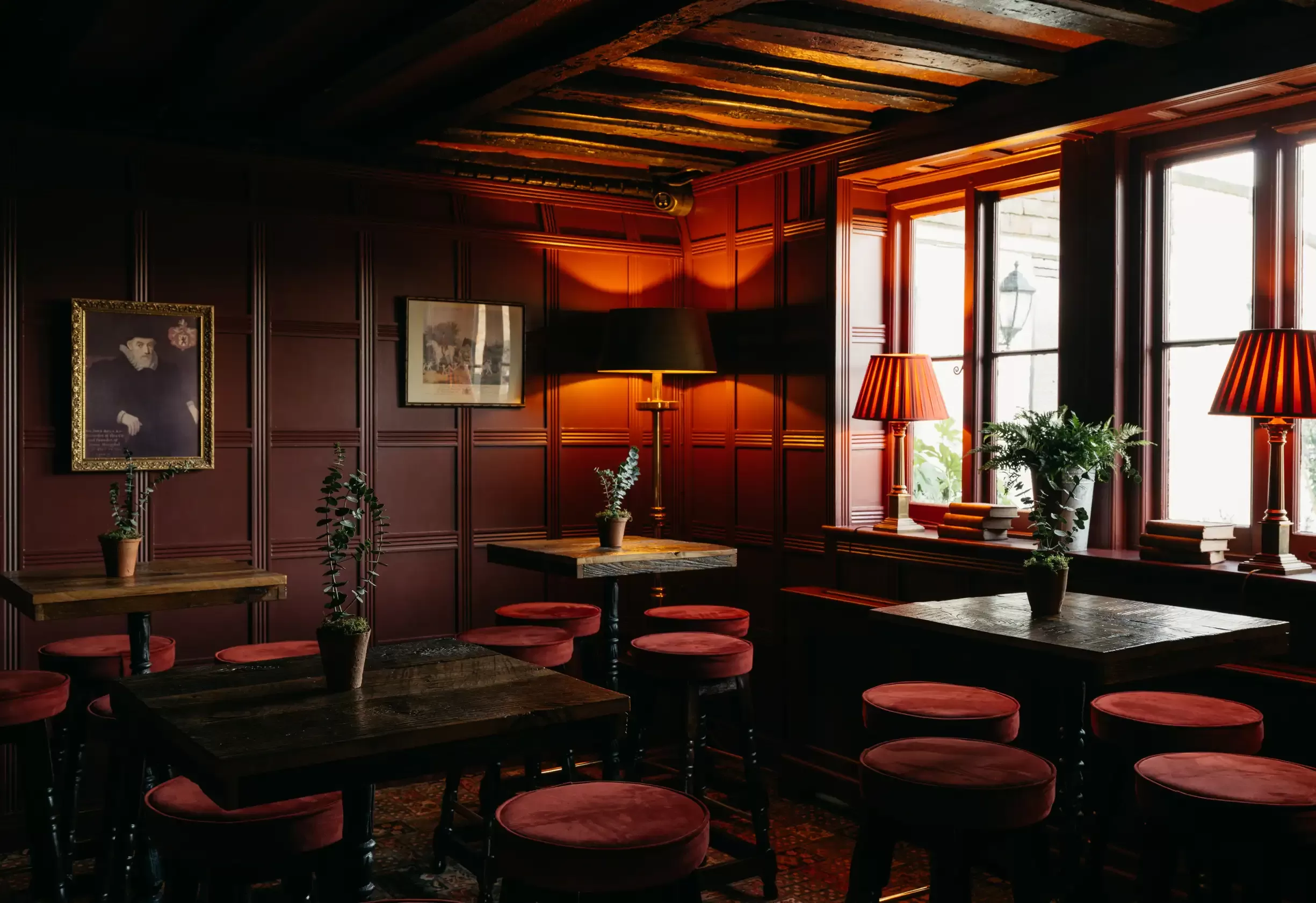 Boys Hall's crimson-walled, wood-panelled pub
Carnivores are as well-catered for, with steaks cooked over fire and a sticky toffee pudding made with beef suet – as are plant-based diners, who can enjoy the likes of sweet potato and quinoa tartare with lime, and apple crumble souffle. As well as wonderful food, the welcoming atmosphere is second to none; there are nook-filled lounges to sip damson gin fizzes in and a wood-panelled pub to discover.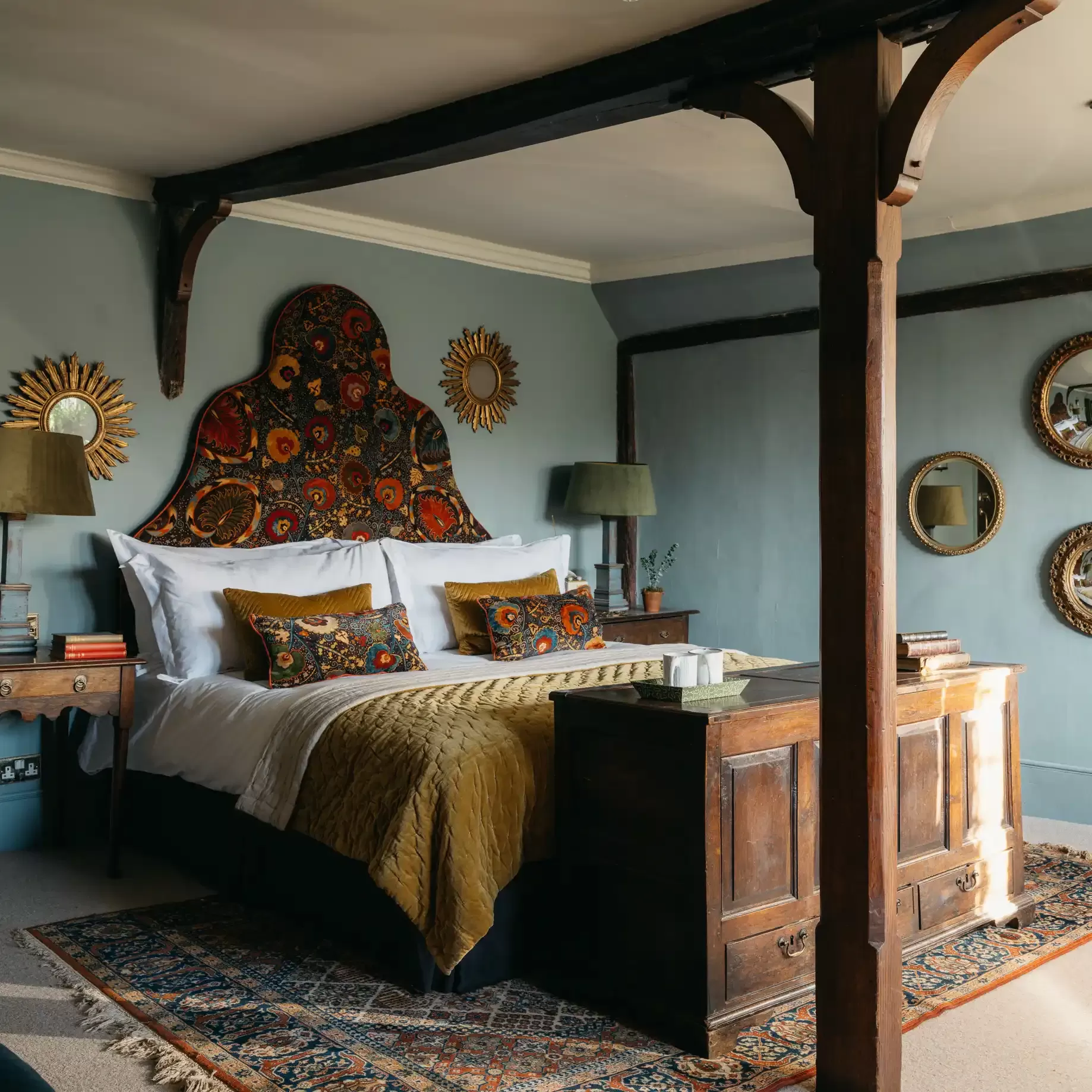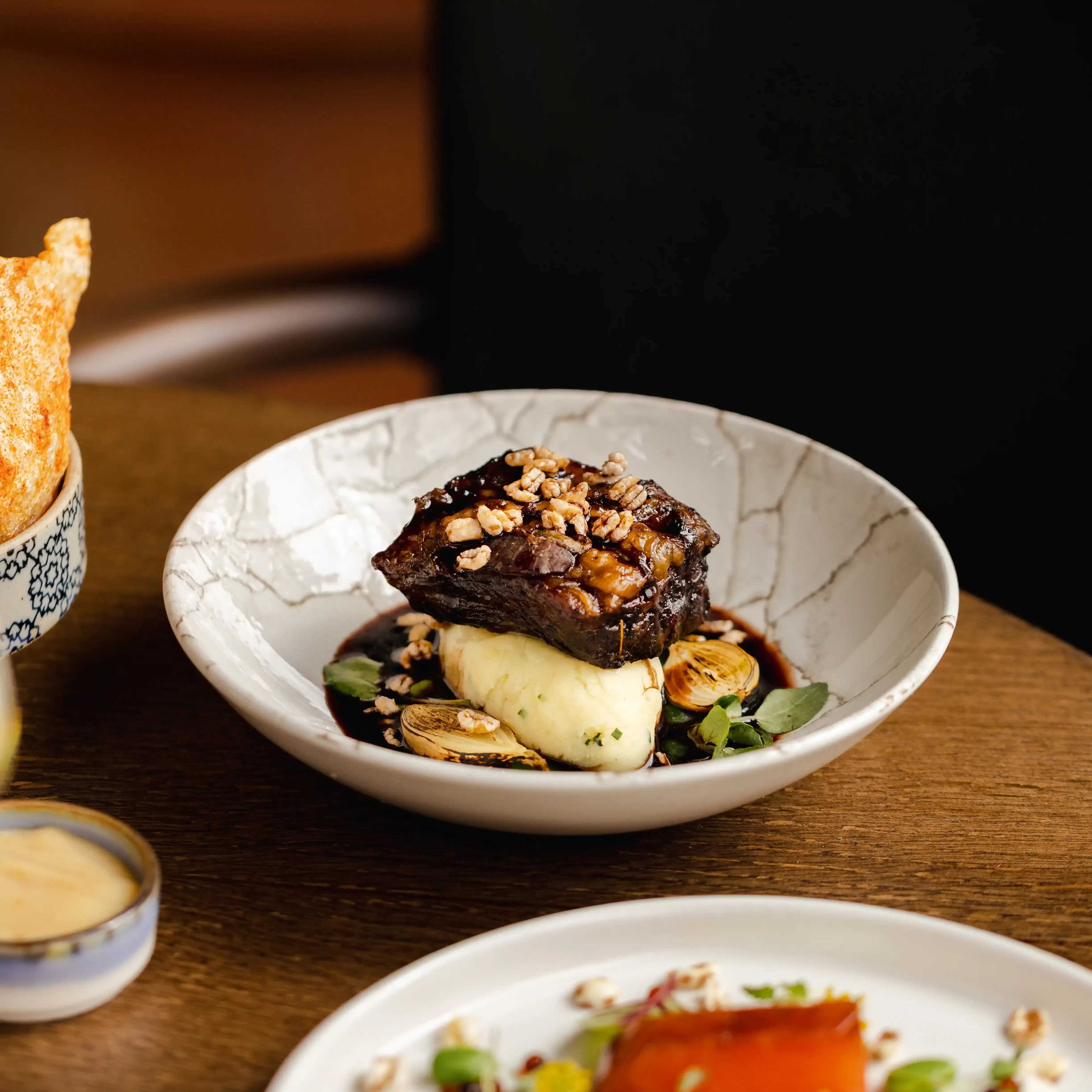 Subline bedrooms and sumptuous steak, by Mark Anthony Fox & Joe Howard
Where to stay: Boys Hall has a clutch of just-opened bedrooms; pick Sovereign for four-poster allure and Ernest for whimsical romance.
Boath House, Nairn
Despite only being open shy of a year, this soulful restaurant-with-rooms – masterminded by artist-restaurateur Jonny Gent and director of award-winning architecture and design studio SODA Russell Potter – has quickly established itself as the dining spot for creatives to bookmark. Set on the Moray Firth coast, near the fishing port of Nairn, the dynamic duo behind Clerkenwell's Sessions Arts Club have transformed a grand Georgian mansion into an arts-centric haven, with a studio, wood-fired sauna and artists' residencies aplenty.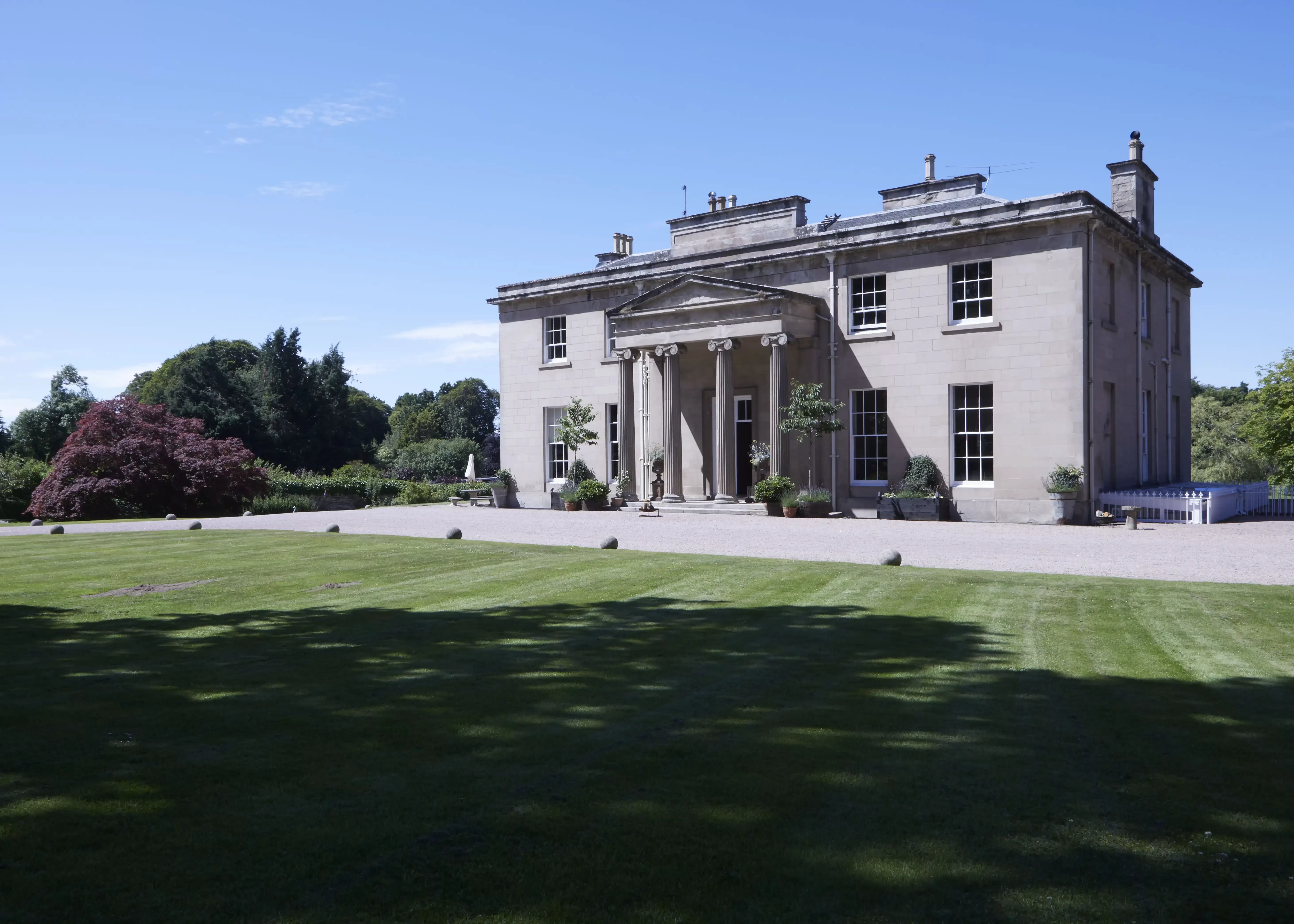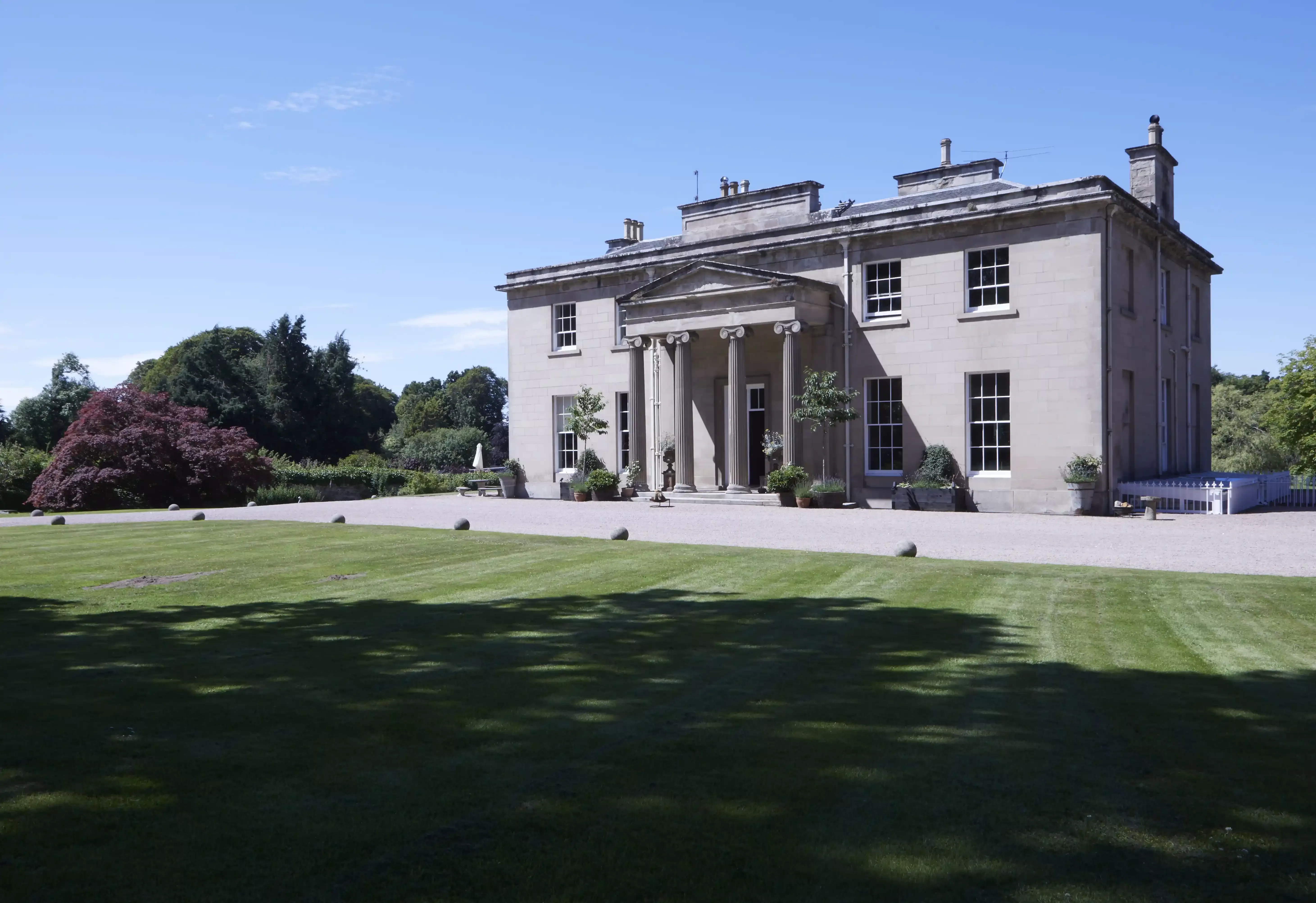 Boath House: a grand Georgian mansion transformed into an arts-centric haven
It's in the property's pretty walled garden that the culinary magic takes place. Here, in the Garden Café, Chefs Philip Mcenaney and Katherine Austin cook up a storm of simple-yet-delicious seasonal, British, French and Italian-influenced dishes, including Langoustine garganelli and fennel whisky-cured salmon, alongside classic desserts such as cranachan. Don't miss the special long table feasting dinners that occur once a season and are conducted alfresco in the sunnier months.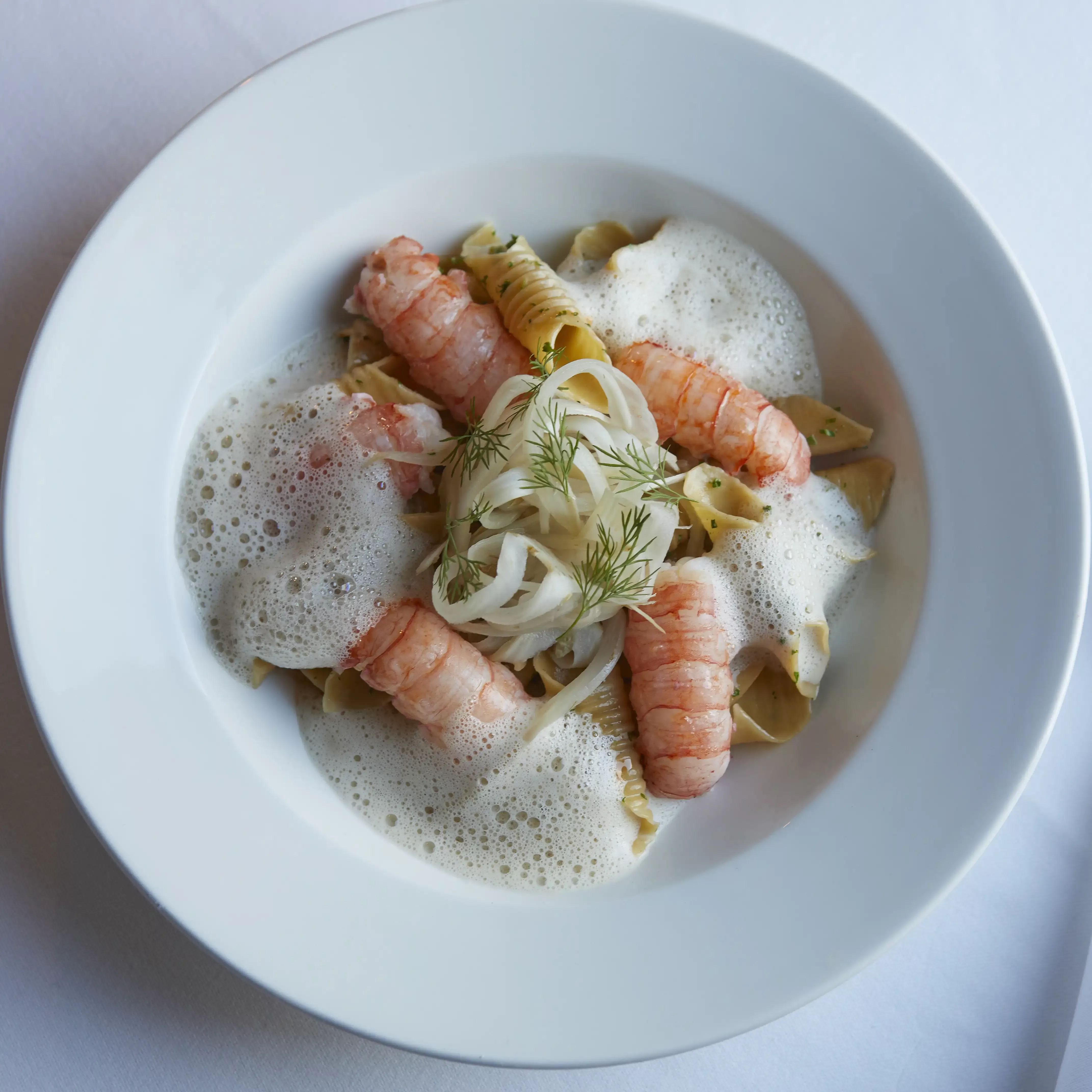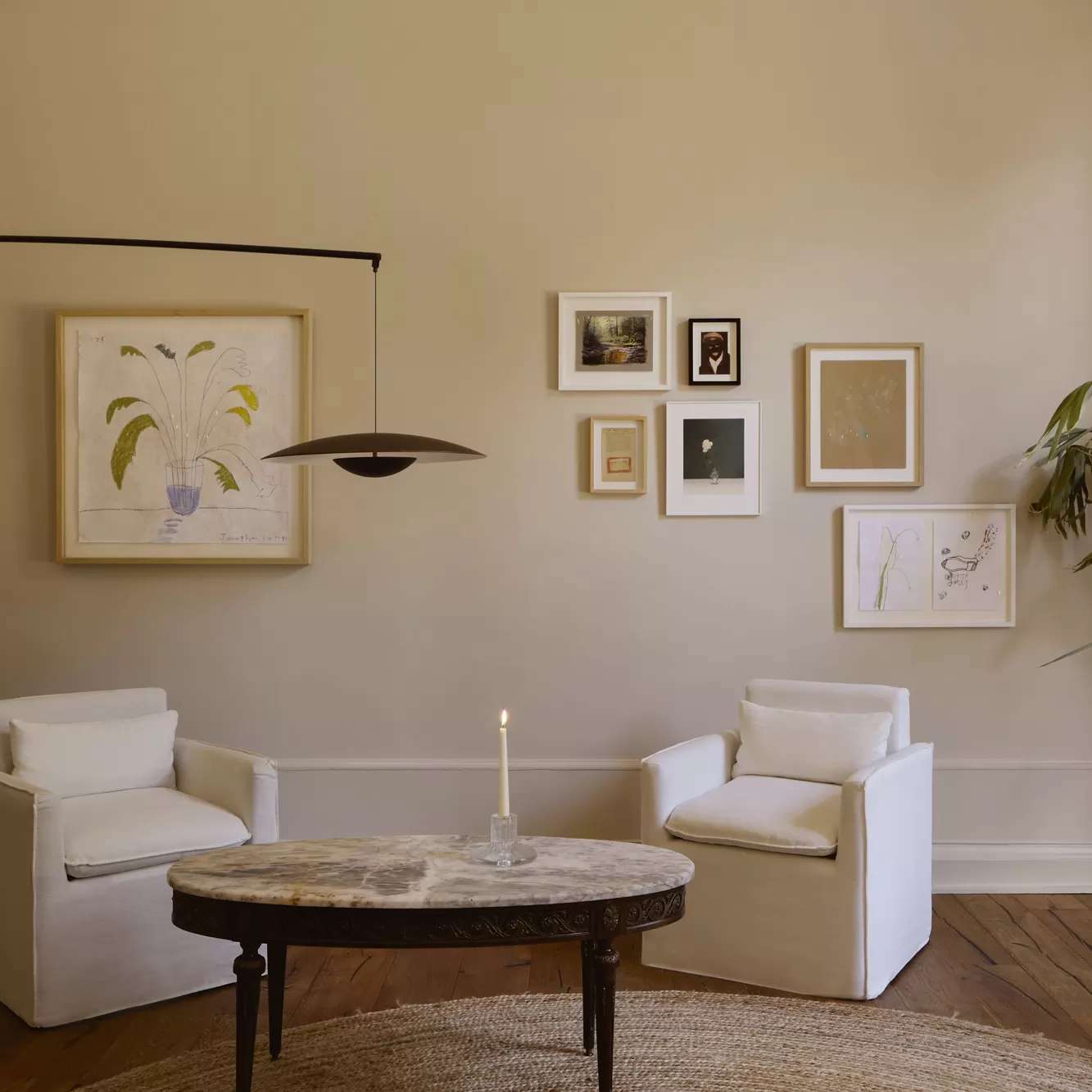 Images by Beth Evans
Where to stay: Nine tranquil rooms have been designed to foster creativity, with TVs switched for record players and typewriters.
Crocadon Farm, Cornwall
In Cornwall's St Mellion, Chef Dan Cox's restaurant debut has opened on a 120-acre organic farm fringed by the hills of the Tamar Valley. With a storied career, including seven years working with Simon Rogan and time at L'Enclume and Fera at Claridge's, Cox has spent five years revitalising Crocadon's soil, grazing rare breed sheep and cattle and cultivating vegetables, fruit and herbs, and tending to pear, plum and cherry-tree-filled orchards. Now, his long-held vision of a sustainable farm, with a self-sufficient restaurant showcasing the connection between food and agriculture has come to life.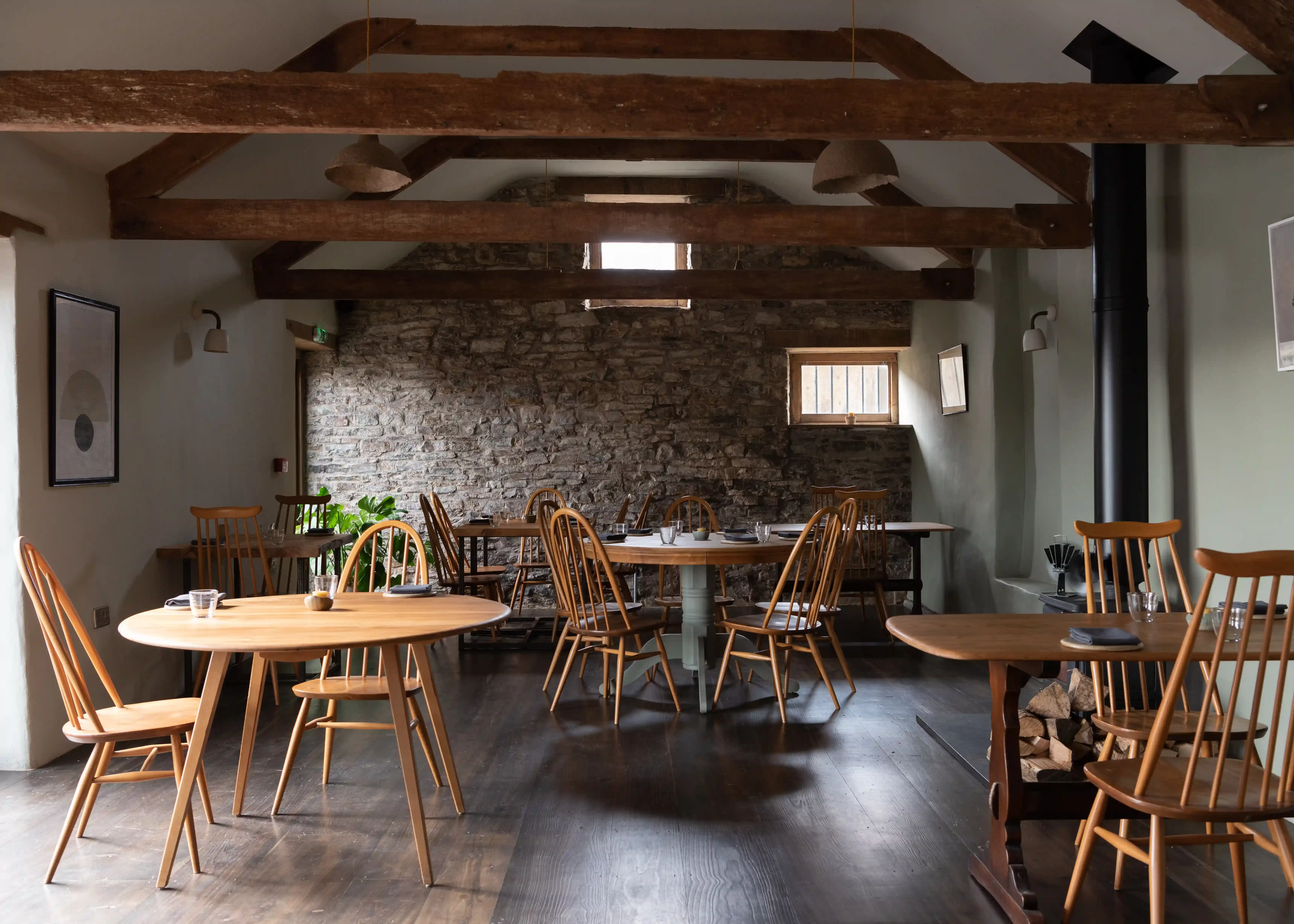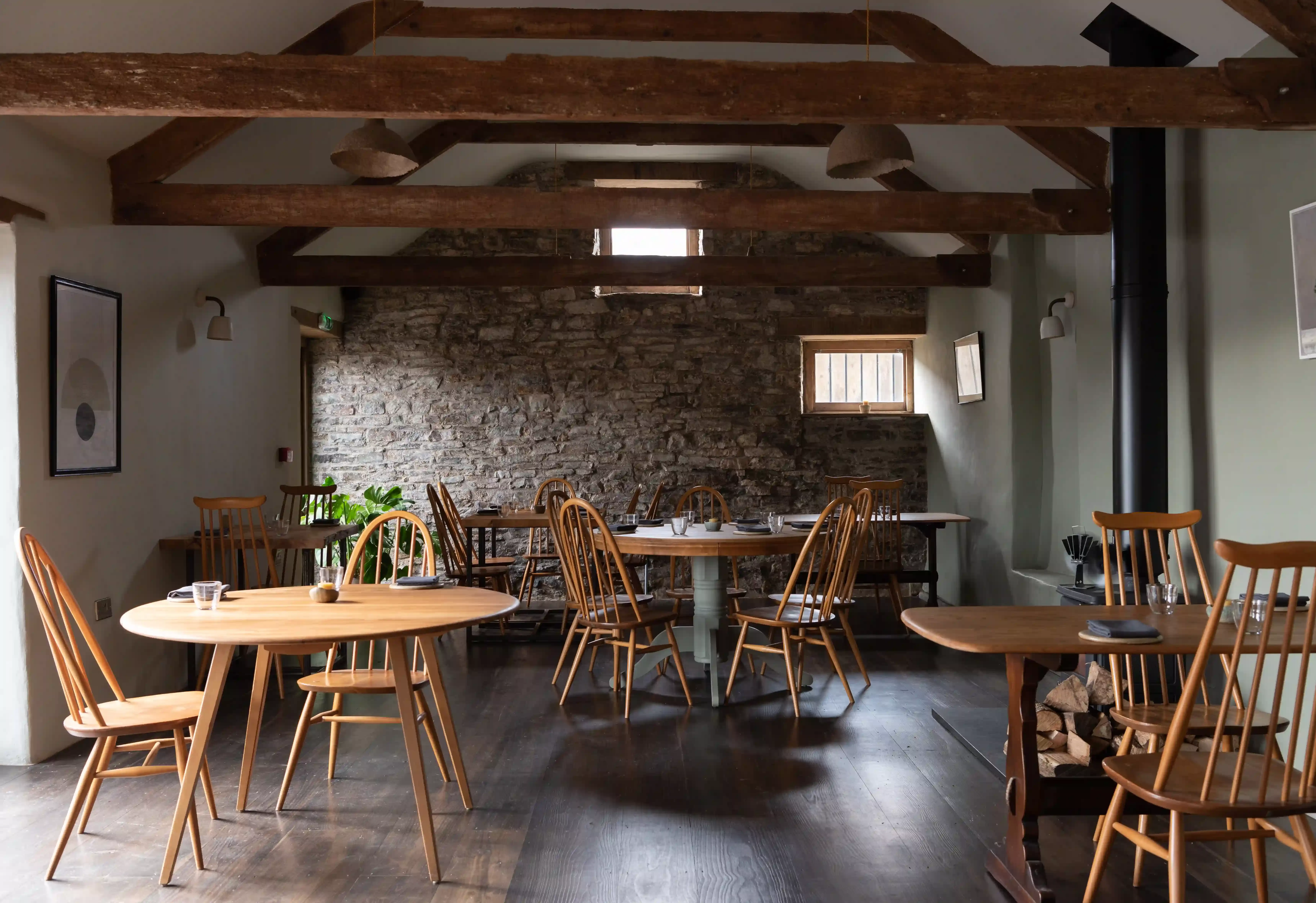 Crocadon Hall's 25-cover dining room is inside a refurbished barn
At its heart is a 25-cover dining room inside a refurbished barn. Here, Cox serves up tasting menu suppers featuring the likes of gigantis beans and cured saddleback pork loin, fig in shiso and celeriac with chicory root and sweet clover. Expect plenty of fermentation, smoking and open-fire techniques and a wine list featuring European natural and biodynamic numbers. For something more casual, Sunday lunches are a three-course sharing-style affair.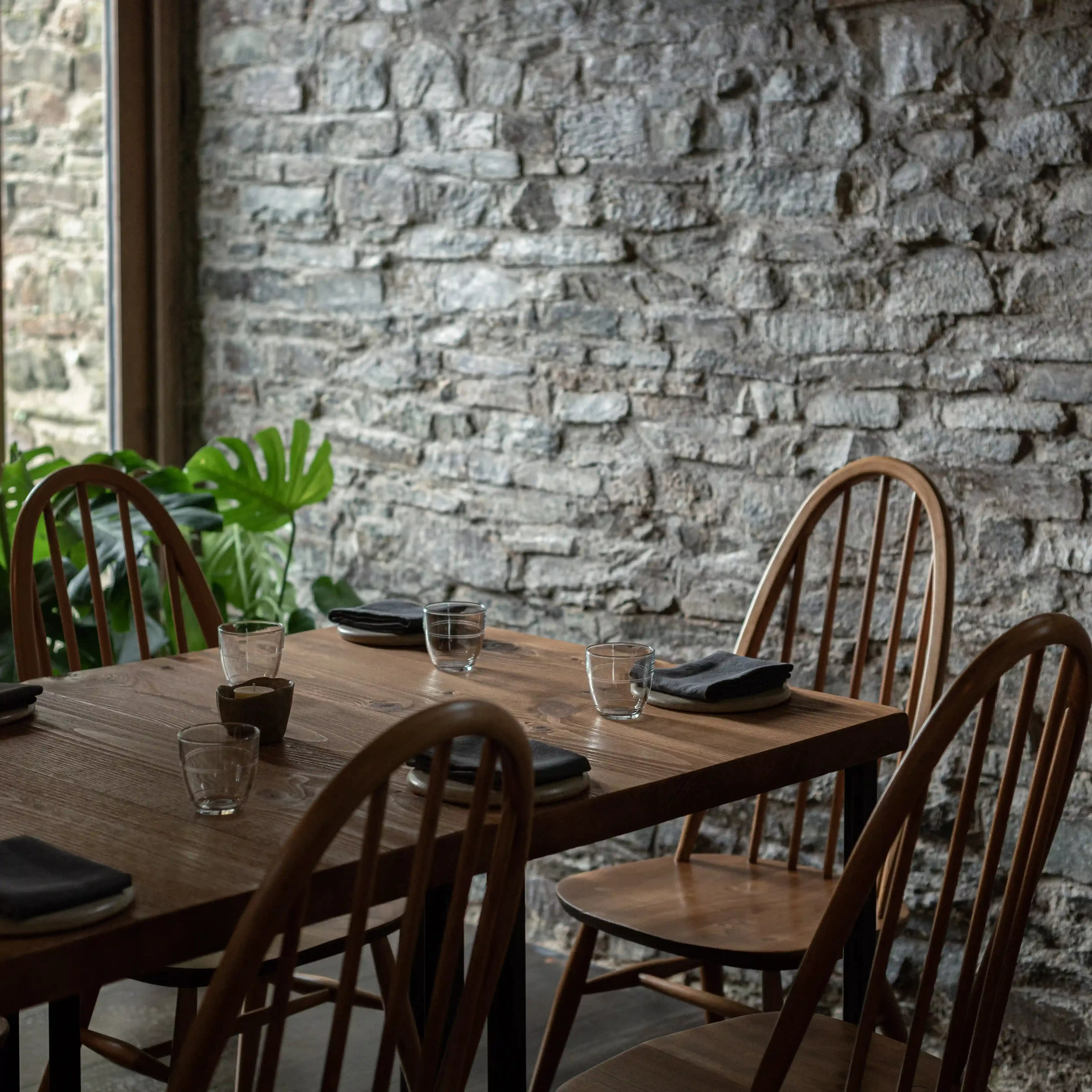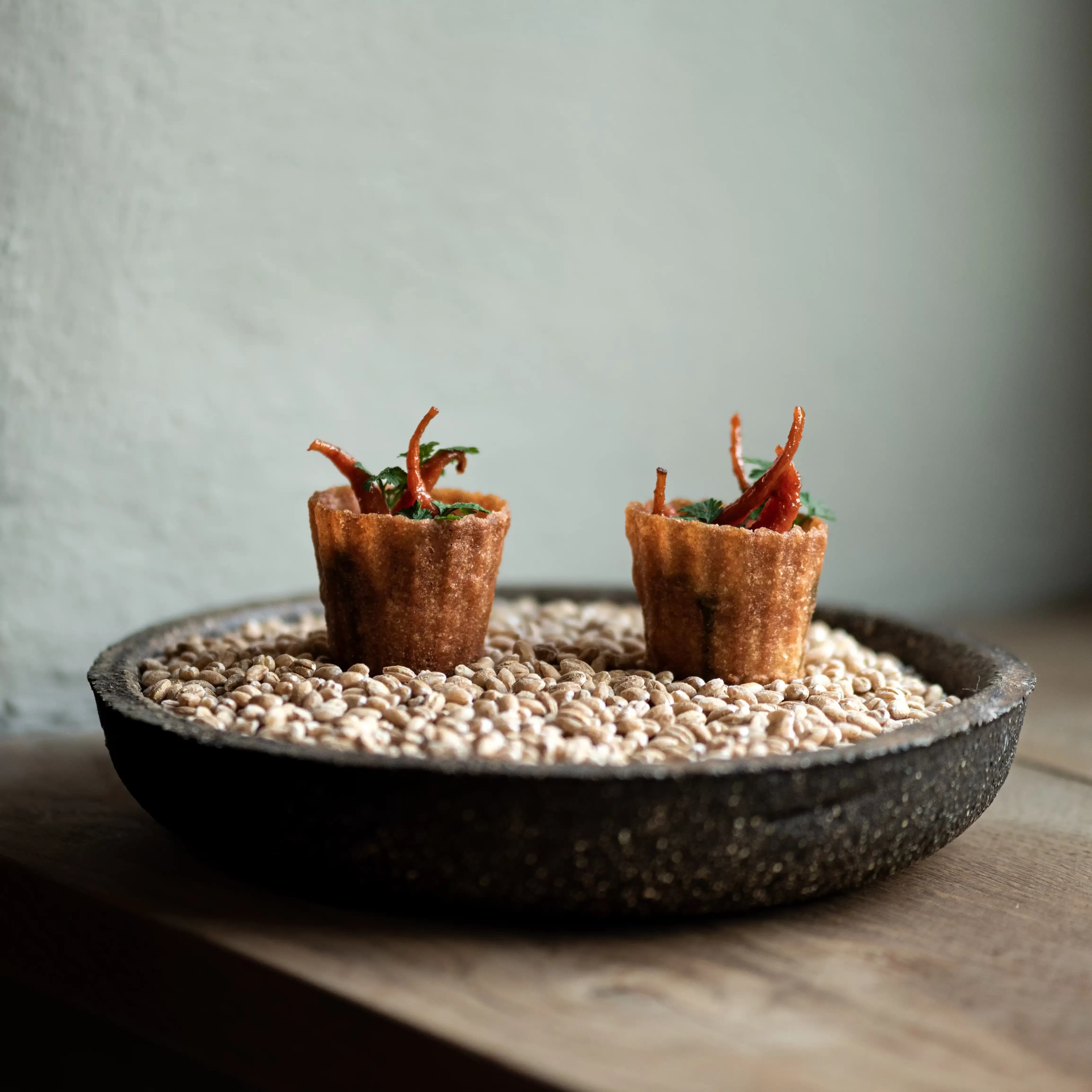 Expect plenty of fermentation, smoking and open-fire techniques at Crocadon Hall; images by Rebecca Dickson
Where to stay: Hotel Endsleigh, an elegant historic house on Dartmoor's fringe transformed by Olga Polizzi, ringed by folly-packed grounds designed by Humphry Repton.
From restaurants to travel to a bit of them both, Quintessentially's comprehensive lifestyle services are here for you. Contact your lifestyle manager for further recommendations or to make a booking, or click here to find out more about membership.