Alfresco dining is back. Not that it ever really went away; one of the few silver linings of the pandemic was the influx of excellent outdoor dining options in London, many of which became permanent, year-round additions.
You can now eat in glorious gardens, revamped rooftops, secret suntraps, tranquil terraces, and concealed courtyards: there's almost too much choice (and alliteration). To help you decide, we've selected our favourite spots for supper in the sun below.

Rosewood London
Offering a tranquil reprieve from Holborn's busy streets, Rosewood London's terrace feels like a secret garden – even if you've just stopped by for a platter of oysters and a fruity cocktail. If you fancy something more substantial, the new terrace menu is suitably summery. We loved the grilled courgette, a zesty, light dish of courgette ribbons on a bed of sundried tomatoes, and the BLT – which, being the Rosewood, is a cloud of lobster on soft brioche topped with truffle and edible flowers.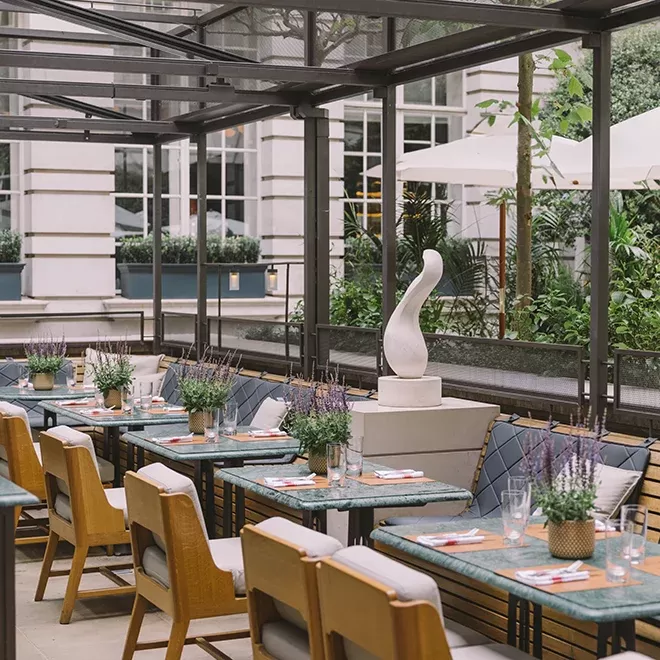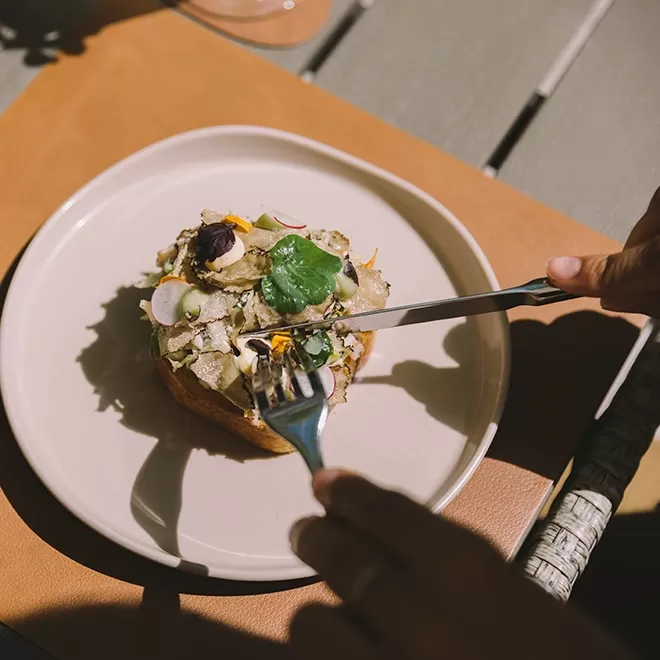 252 High Holborn, WC1V 7EN
The Maine, Mayfair
This sun-smothered terrace feels a bit like a stately home or a country mansion, courtesy of its striped awning, creaking bamboo chairs, and ivy-lashed brick walls. The menu is mostly New England classics done very well; the truffled steak tartare is a good choice, as is the garlicky Maine lobster. If you're in the mood to explore, ask Ali – the moustached Director of Guest Relations – for a tour of the building's secret spaces, or simply kick back with a Mayflower Martini and relax…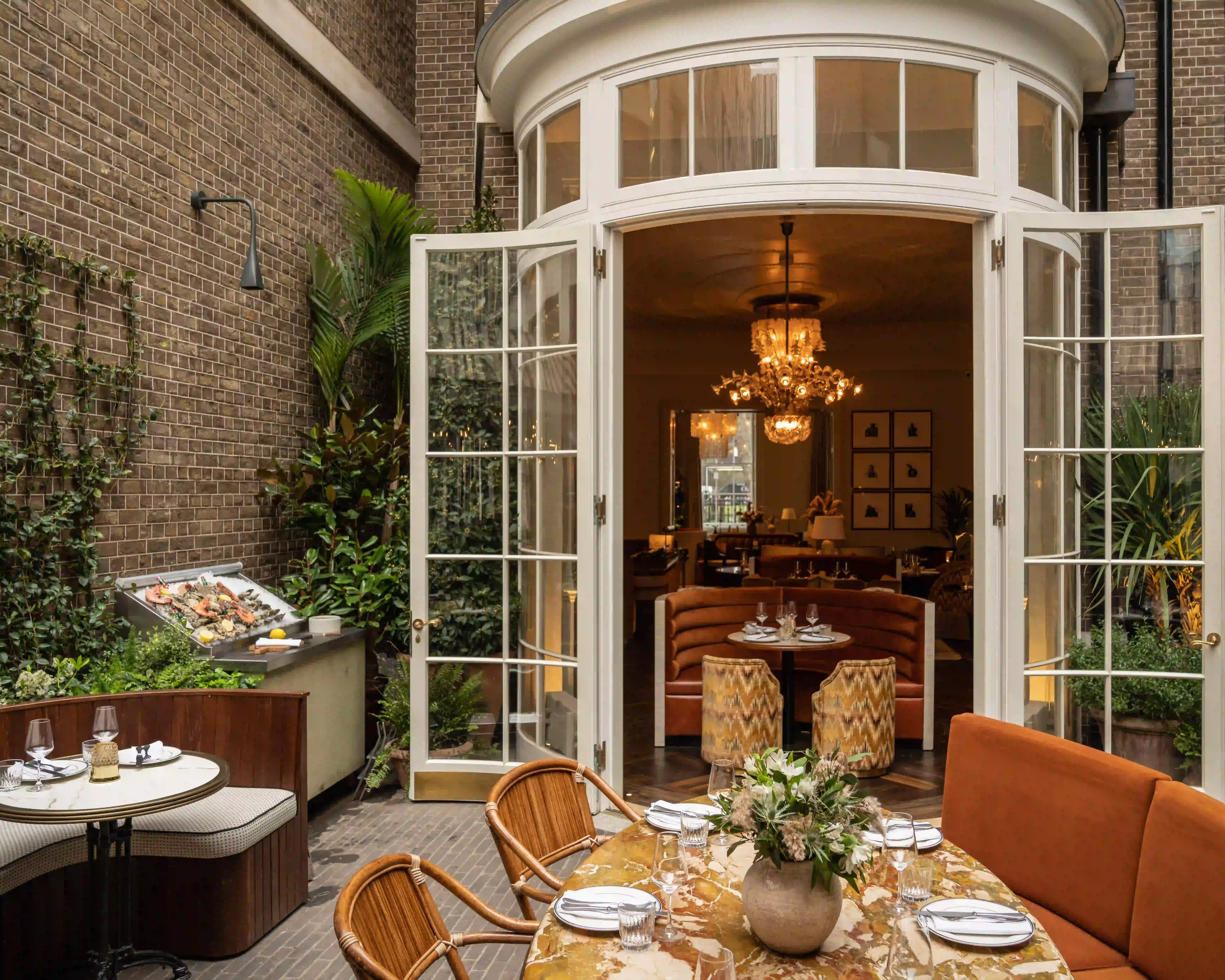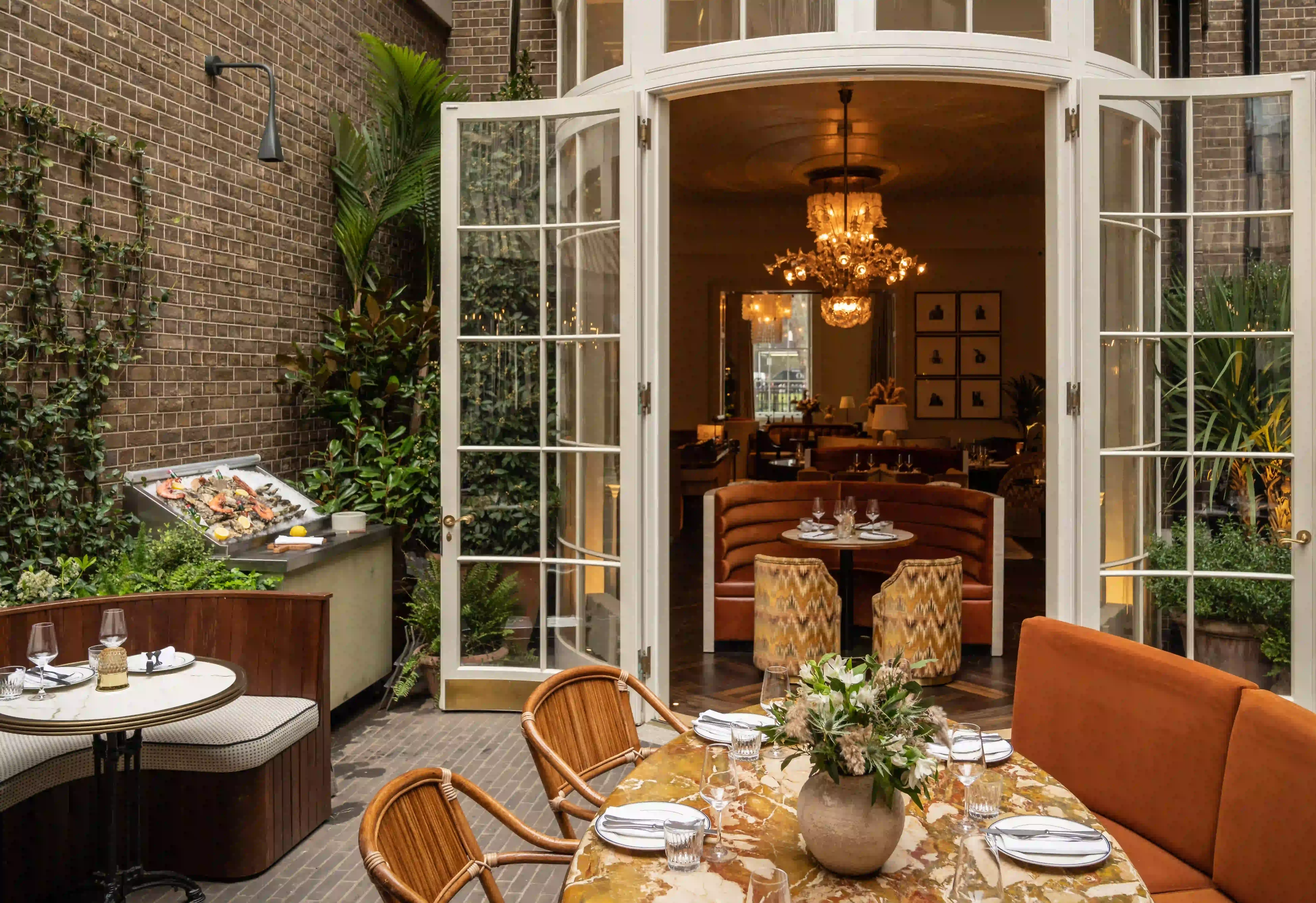 6, Medici Courtyard, W1S 1JY
Native at Browns, Mayfair
You'll need to pass through Browns' Mayfair boutique to arrive at this hidden, cherry-blossom-filled courtyard. One of London's most sustainable restaurants, mostly zero-waste dishes use foraged ingredients and change with the seasons. Some are evergreen though, like the hand-dived scallops (served with a warming thwack of venison nduja) and the 'marrowmel' – a white chocolate, caramel and bone marrow mix spooned out of the bone itself.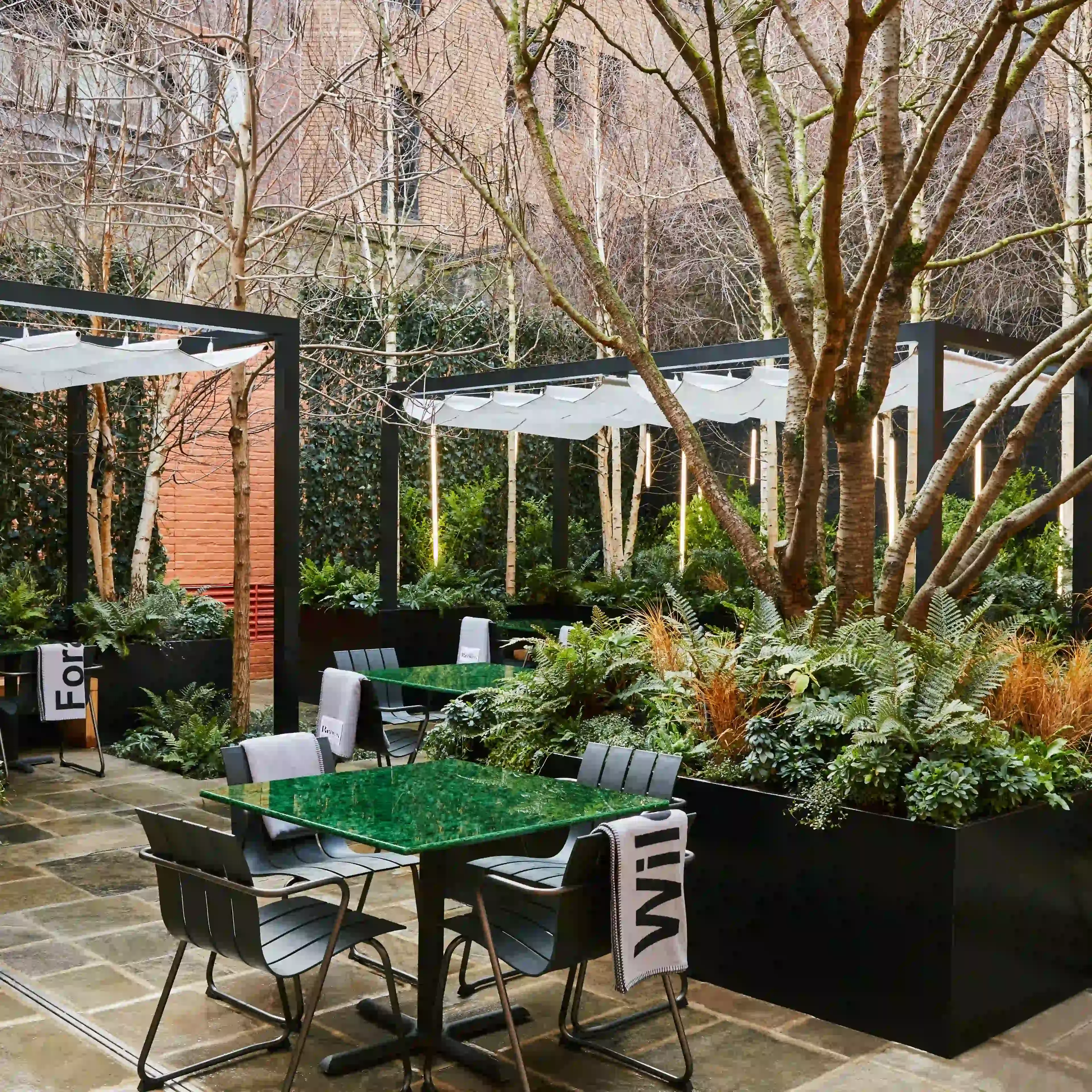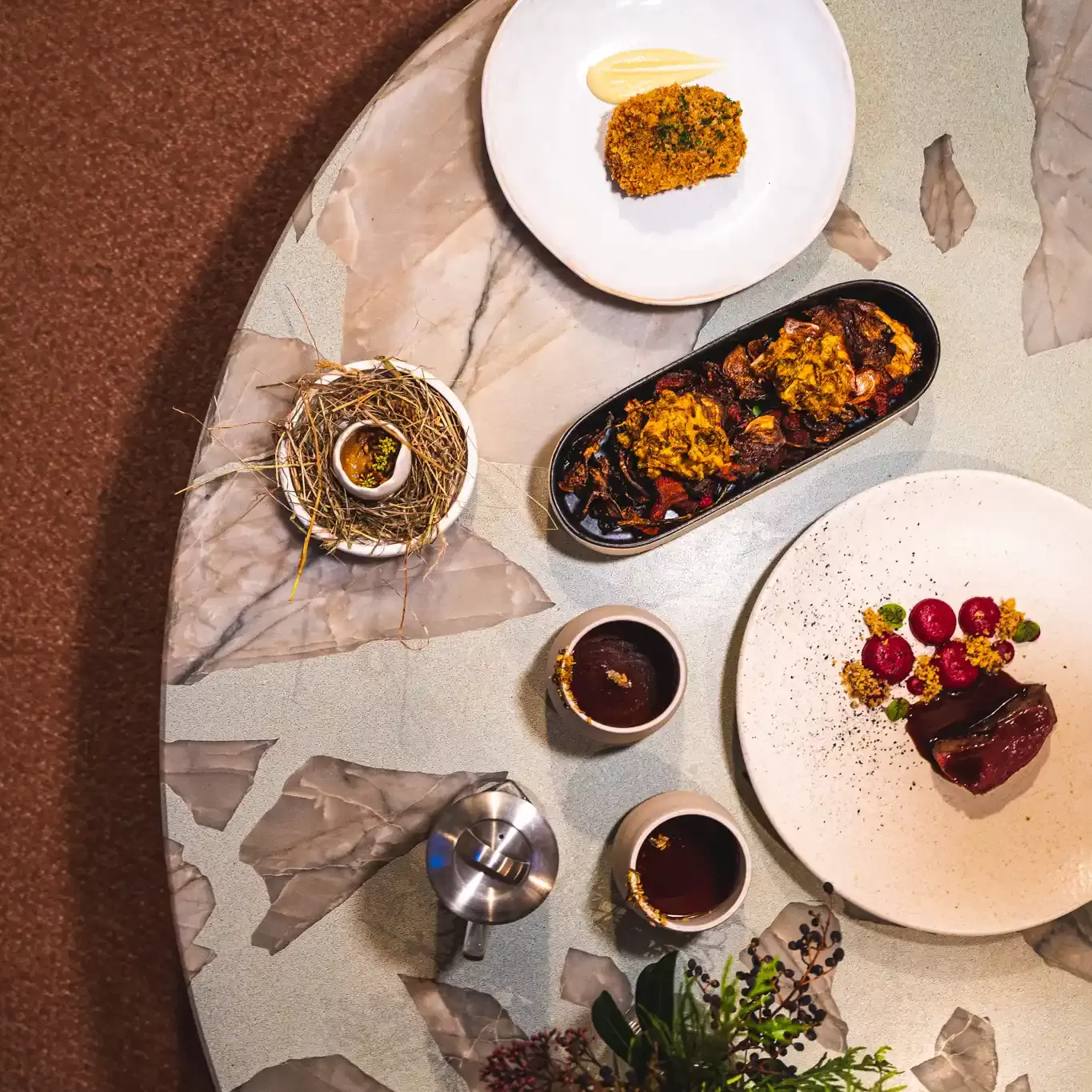 Browns 39 Brook St, W1K 4JE
Peggy Jean, Richmond
A vision in pastel parasols, the latest addition to the Daisy Green empire serves Aussie-style dishes from a restored Jesus College Oxford barge. It's moored near The Ivy Café in one of Richmond's prettier spots, and the vibe is decidedly like an Aussie beach club – especially in the sun. To eat, it's an all-Aussie affair from brunch to dinner, and you can also order fist-sized, rainbow-coloured lamingtons to takeaway, courtesy of sister brand, Radio Lamington.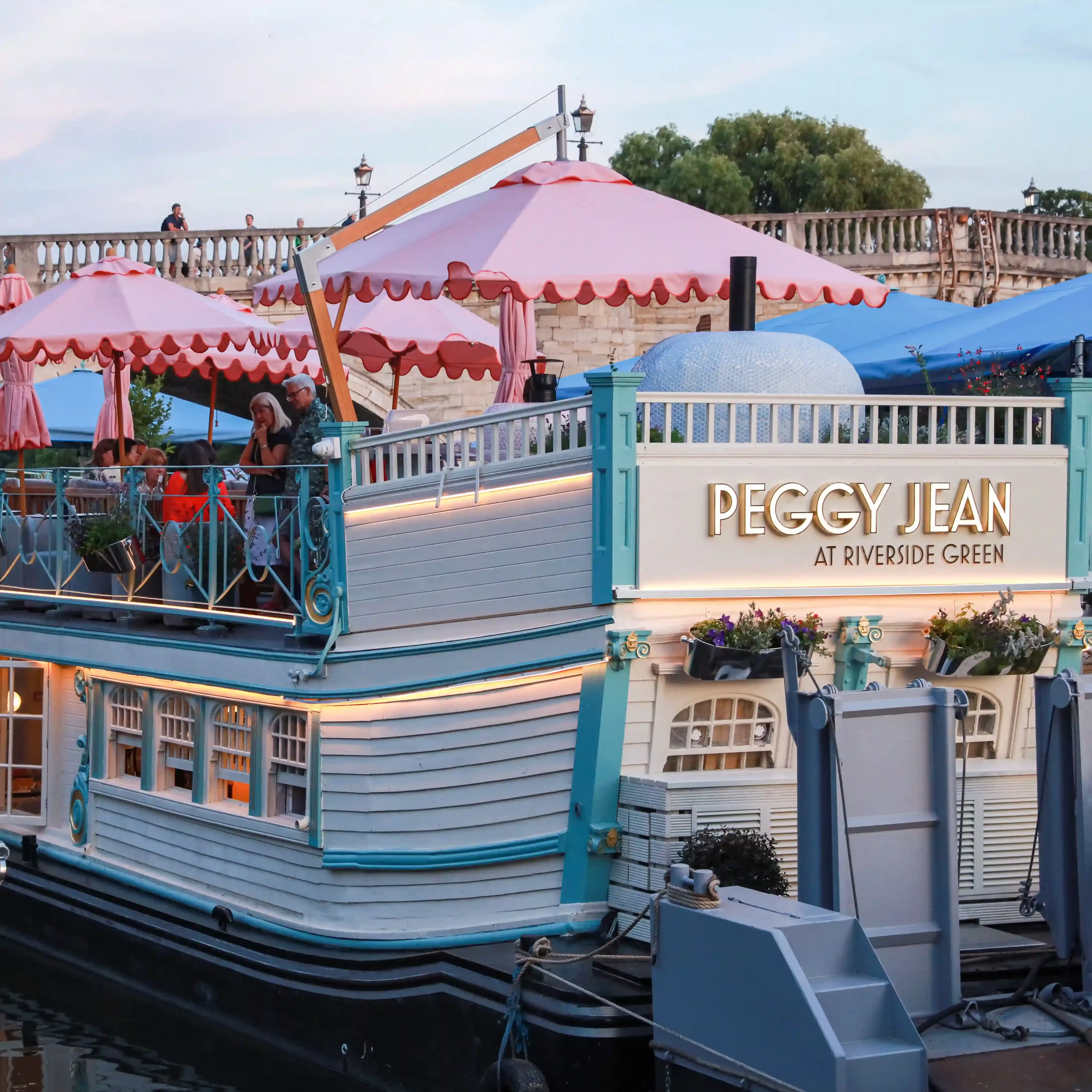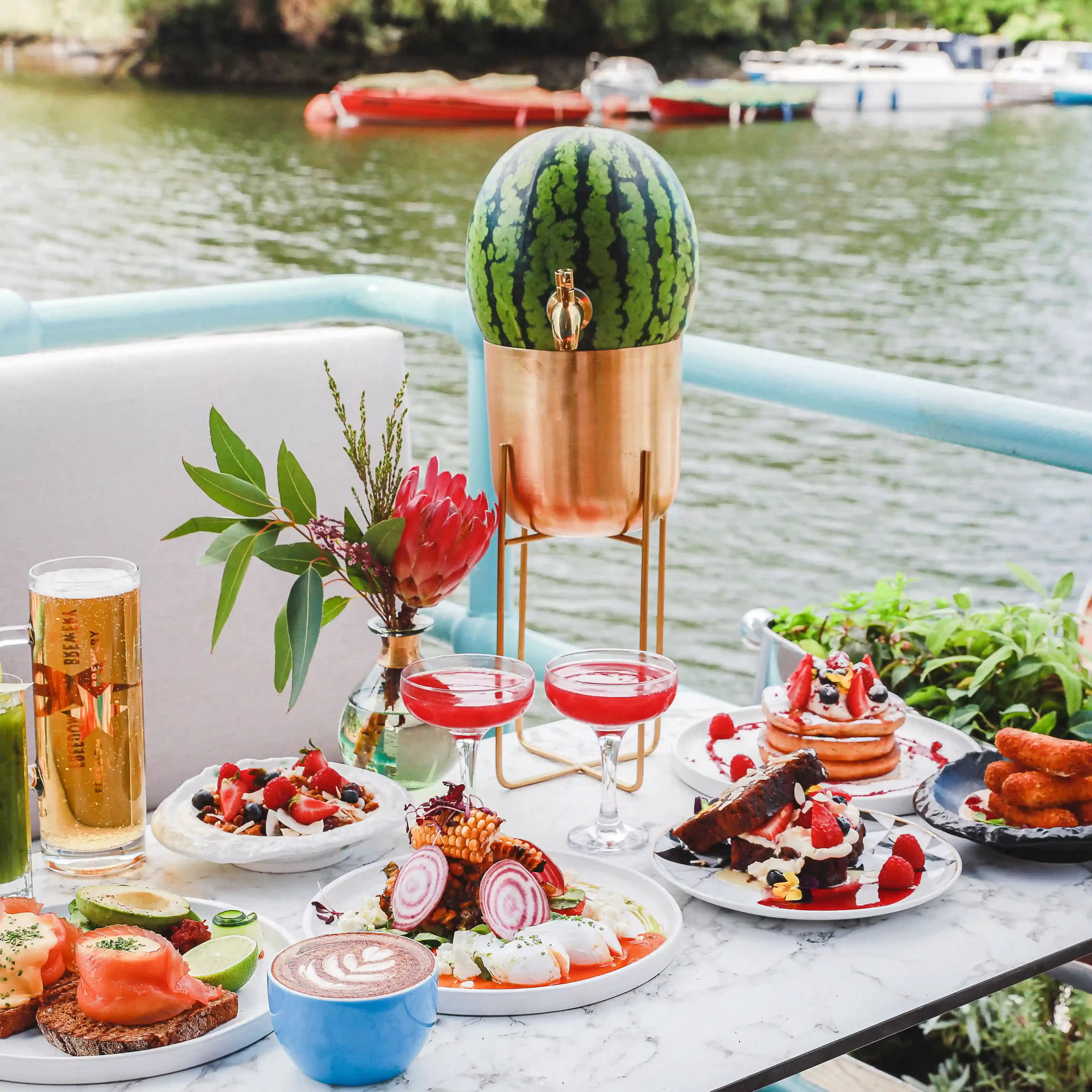 The Boat, Bridge Boat House, Riverside, TW9 1TH
La Poule au Pot, Belgravia
Nothing feels more French than sitting on the roadside with a glass of red – except when you do so at La Poule au Pot. Often vying with Clos Maggiore for the title of 'London's most romantic restaurant', it's been serving the same French favourites since 1962 – although, in recent years, several plant-based options have appeared alongside classics such as cassoulet and boeuf bourguignon. Stay late – the people-watching is excellent.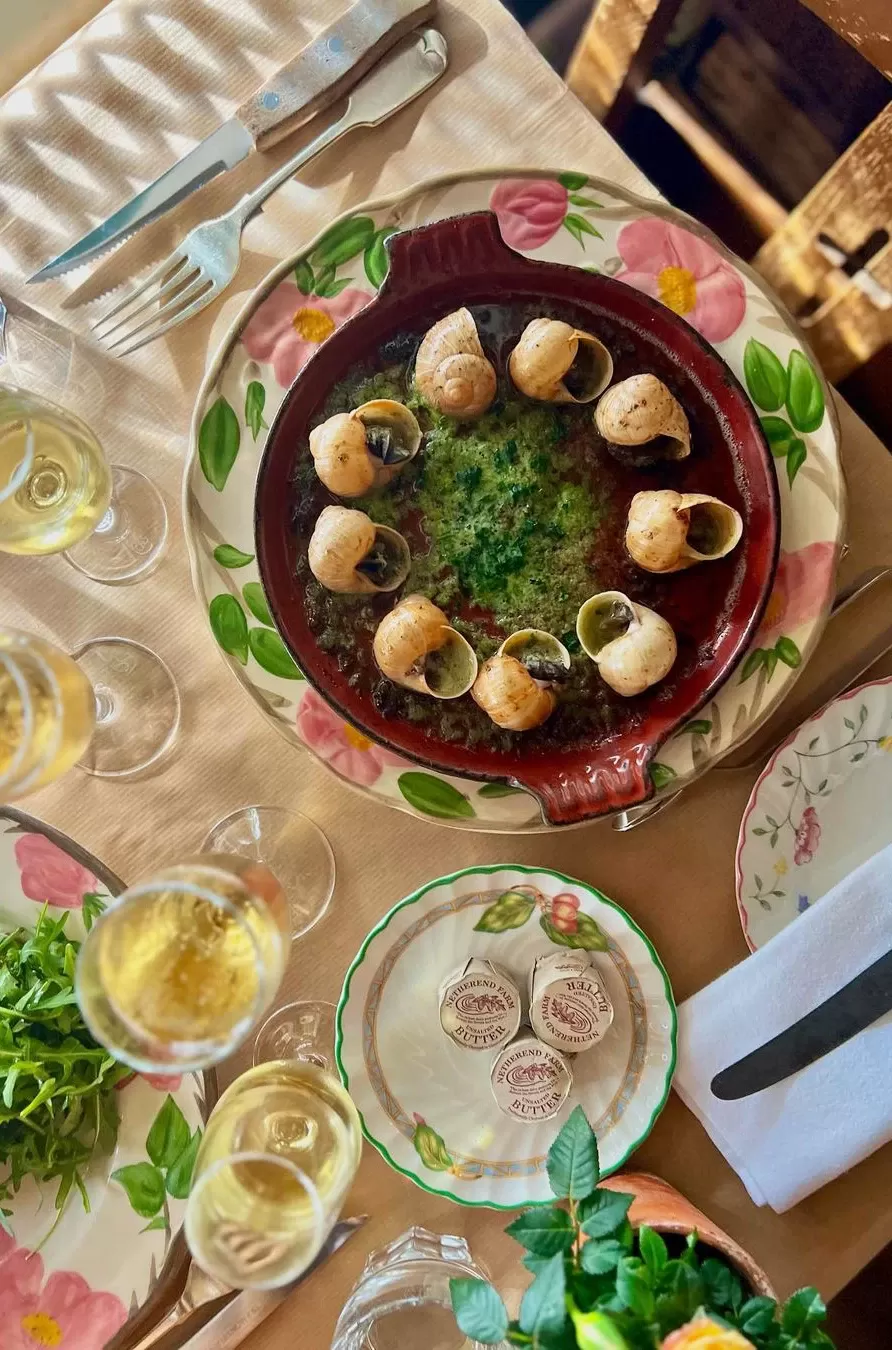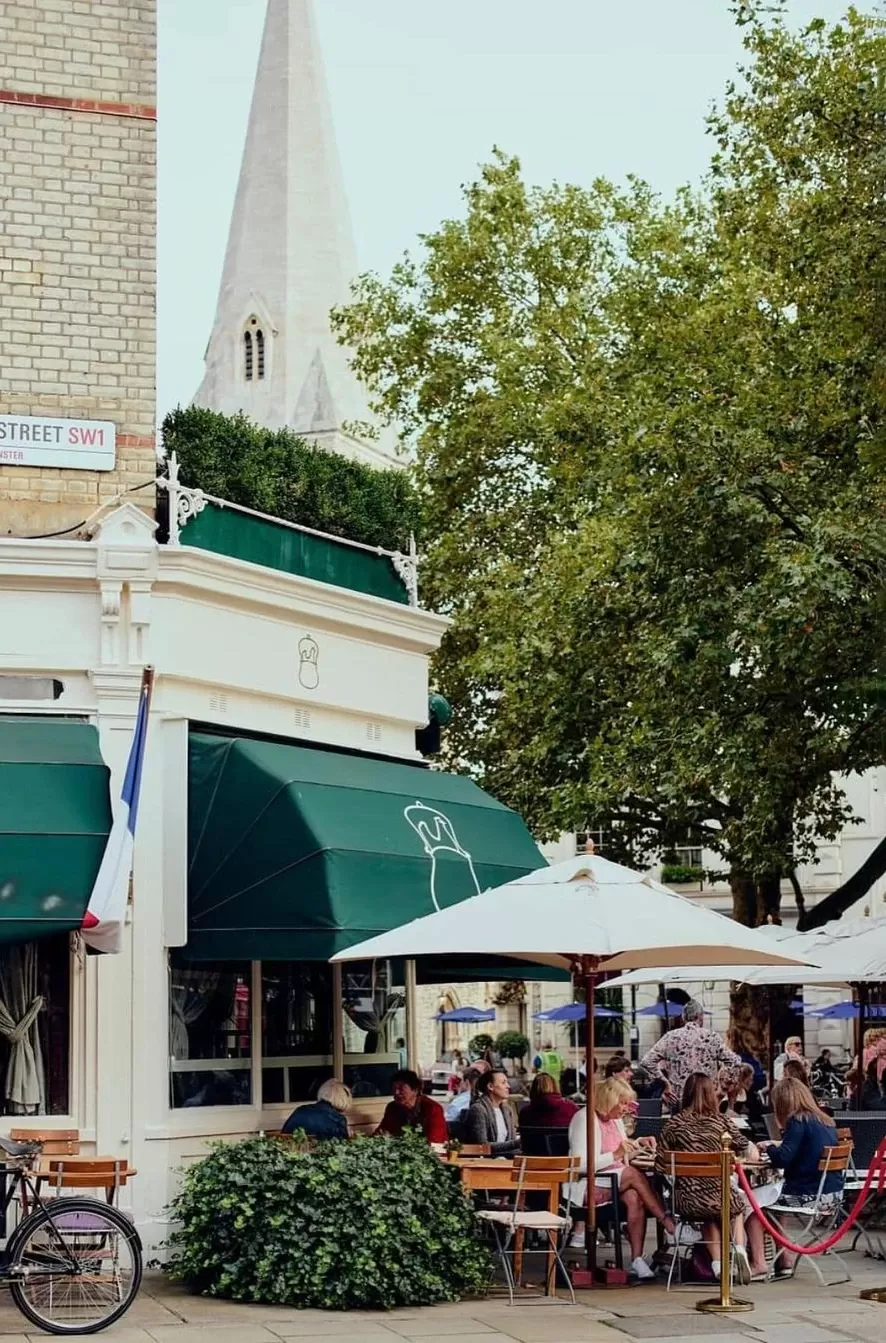 231 Ebury St, SW1W 8UT
Scott's, Mayfair
If you're dining at Scott's, you want to eat on the terrace. These prime tables are notoriously difficult to secure – but, once safely seated amongst the lemon trees, you'll be ordering Dover sole by the ounce and oysters by the dozen (although, on a hot day, save room for one of the ice creams, too).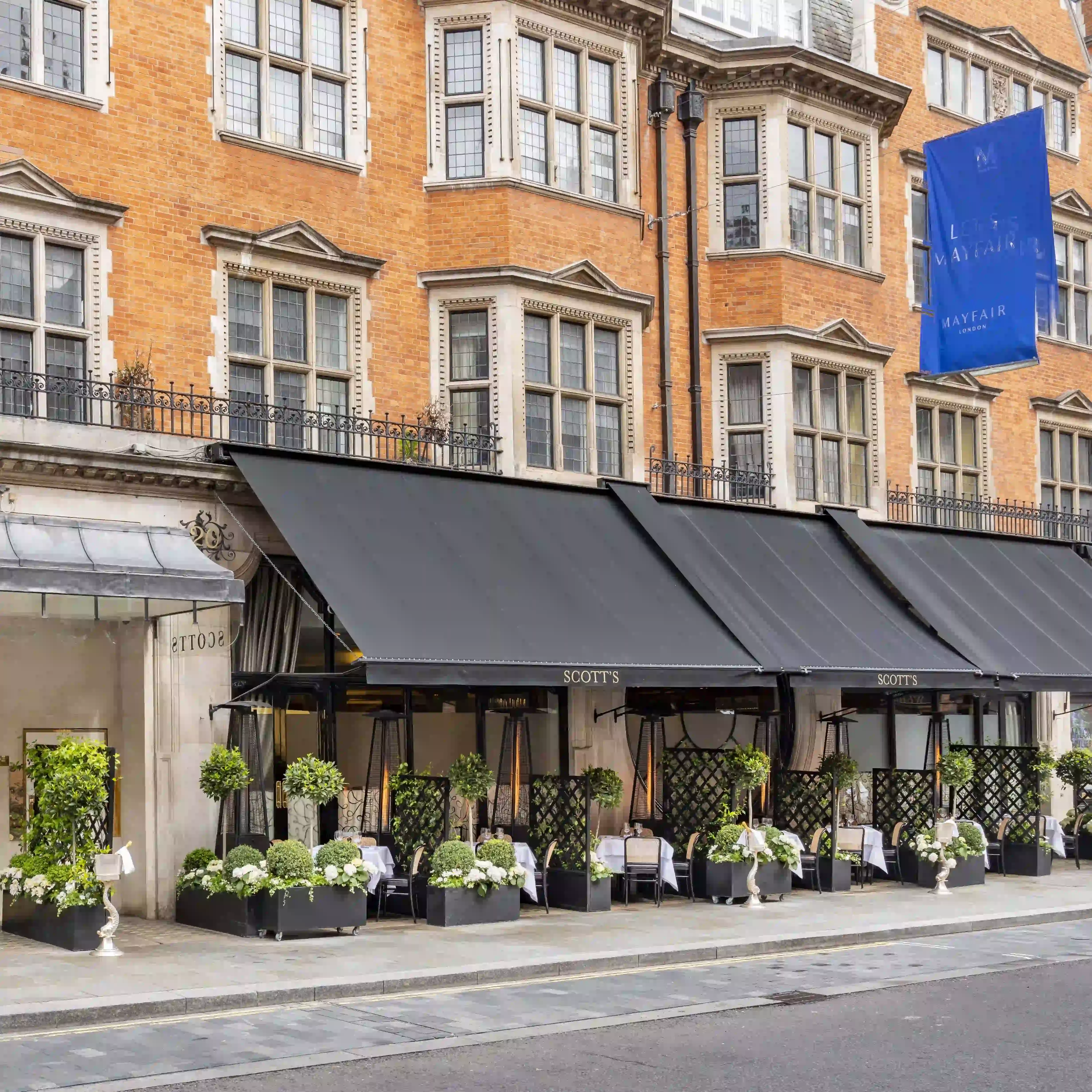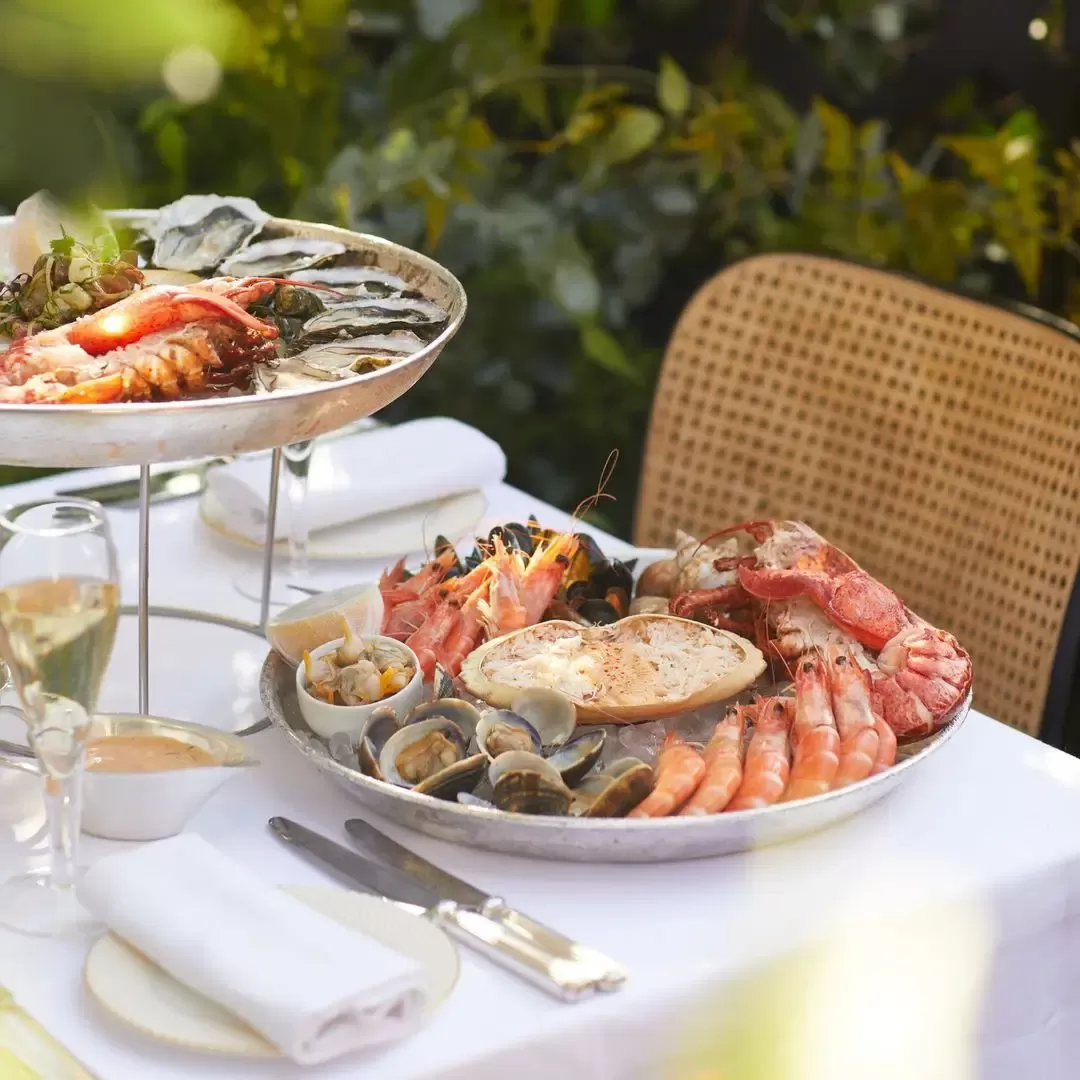 20 Mount St, W1K 2HE
Jurema at The Mandrake Hotel, Fitzrovia
When you imagine an urban oasis, you're probably picturing something like The Mandrake Hotel. Jasmine and passionflower are draped from almost every surface, and if you look up, there's a greenery-filled glasshouse for private dining. Cocktails are ethnobotanical (try the Mangosteen if you like a spicy margarita), and dishes are Mexican-leaning and seafood-heavy, such as grilled octopus and tuna tartare.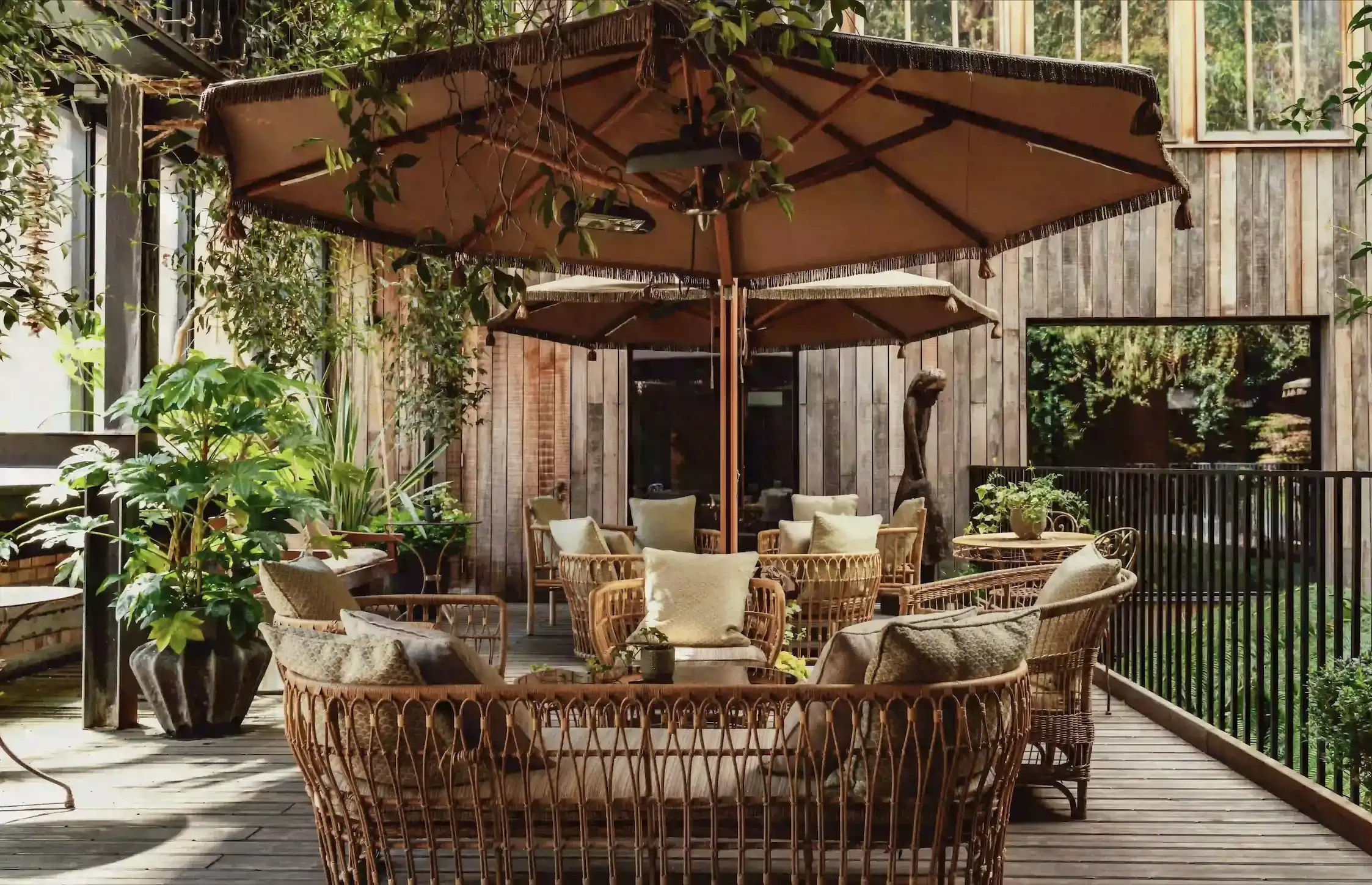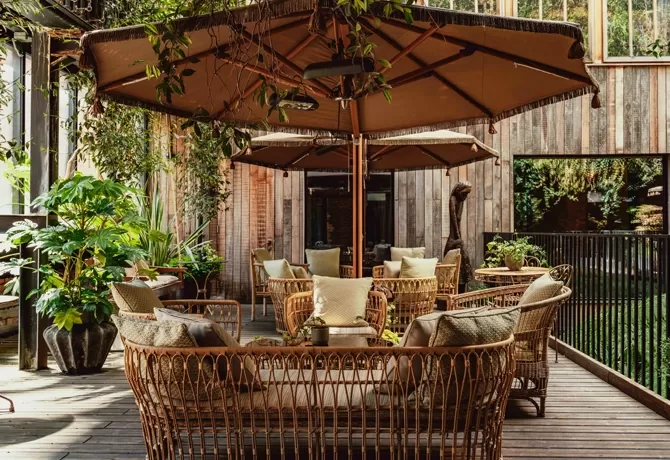 20–21 Newman St, W1T 1PG
Petersham Nurseries, Covent Garden
This flower-filled courtyard is undoubtedly one of the prettiest in London – and it's home to not one but two restaurants, plus a bar, deli, wine cellar and florist. Come for a long, lingering dinner of small sharing plates at La Goccia, preceded by aperitivo at the adjacent bar (the negroni sbagliato is a must, made with Petersham's own prosecco). Make sure to leave plenty of time to browse the shop and deli for flowery wares to enhance your own space.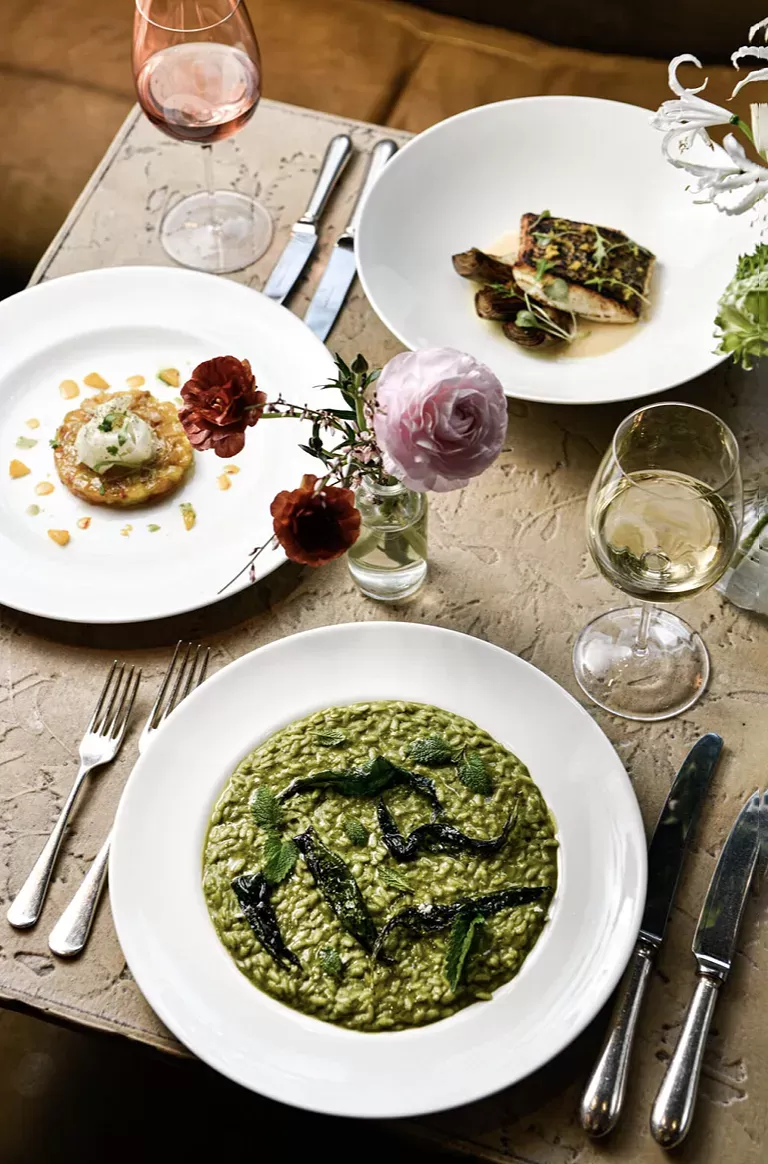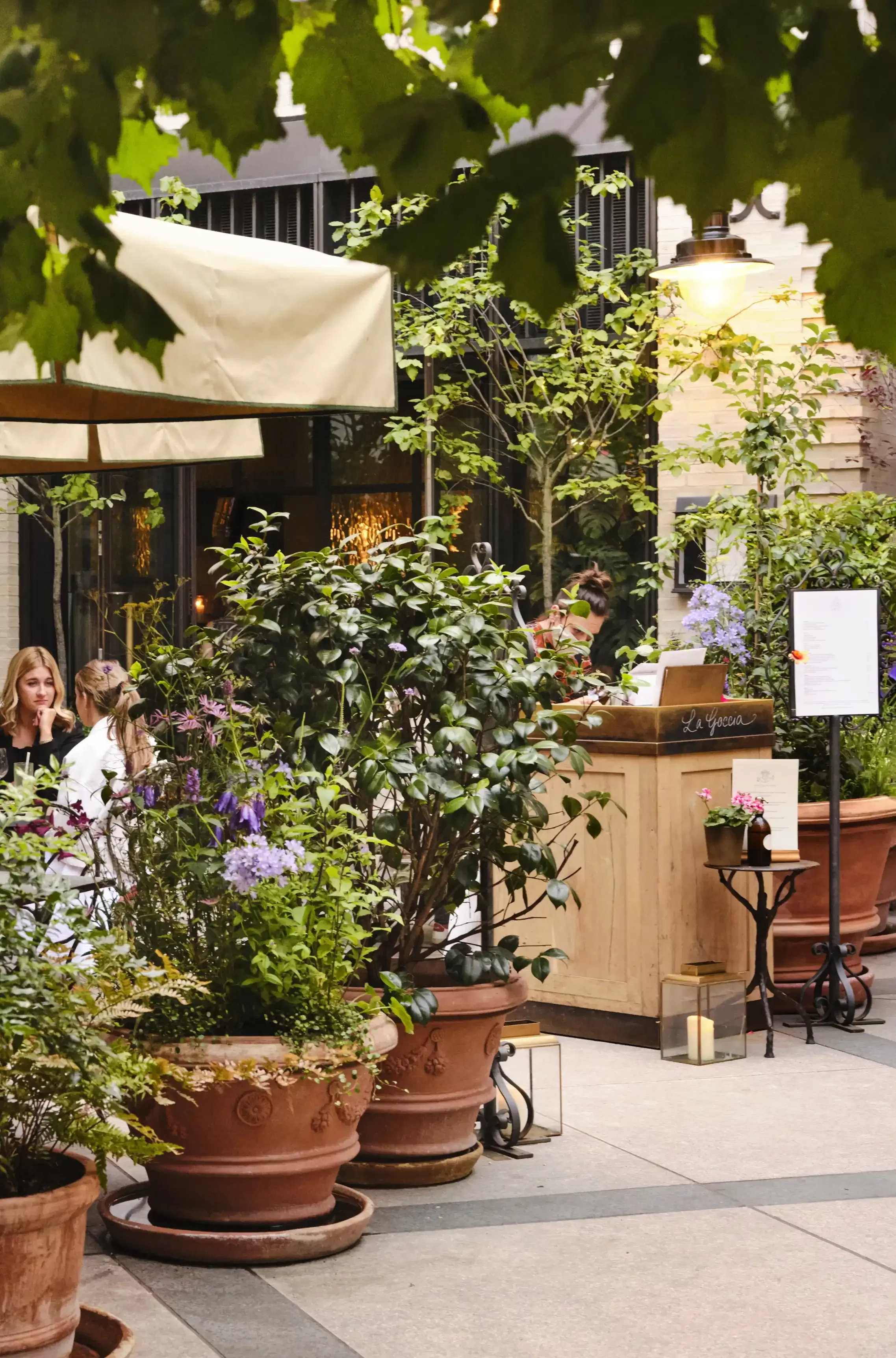 1 Floral St, WC2E 9FB
Dinings SW3
Something about this pleasant little Japanese restaurant makes you feel like you're on holiday – even if, as the name indicates, you're not far from Knightsbridge. It's concealed down a mews and has a garden that feels like a quintessential West London courtyard complete with plant-smothered walls and wicker chairs that match your chopsticks. To eat, it's seafood-heavy sushi – although the wagyu, topped with flecks of caviar and preserved spiced yuzu, is also unmissable.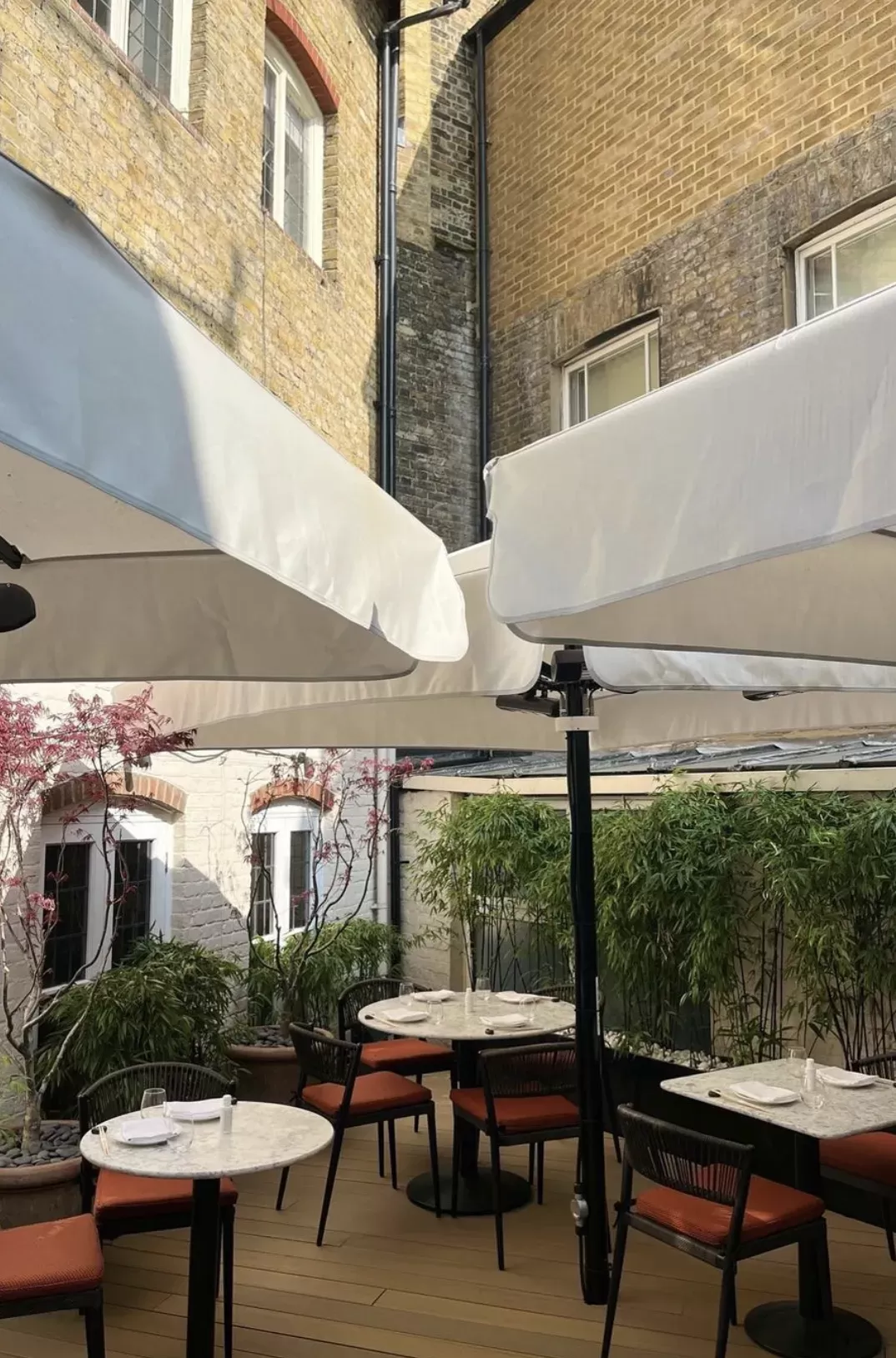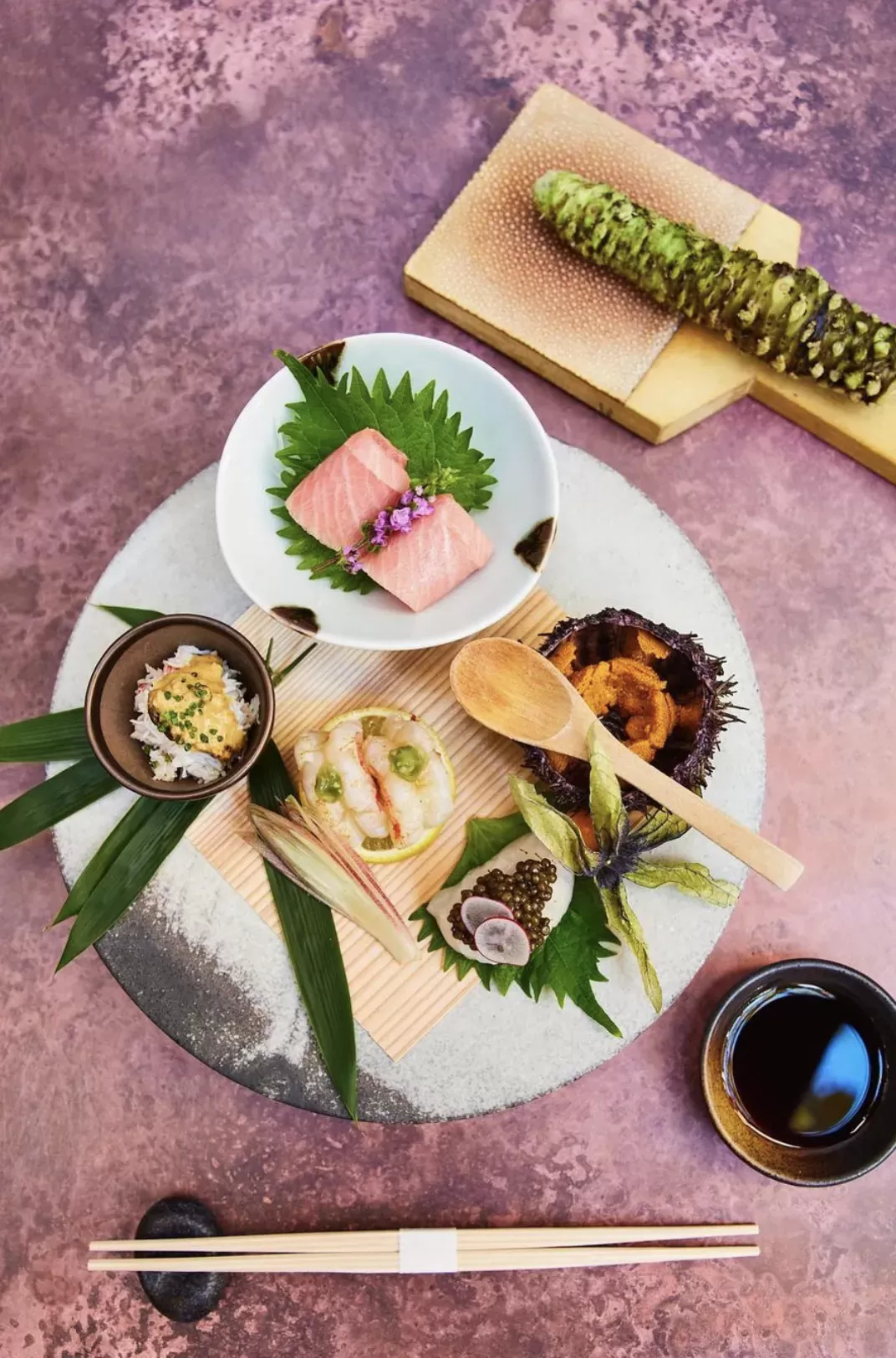 Walton House, Lennox Gardens Mews, Walton St, SW3 2JH
The Greenhouses at One Marylebone
For a feast that feels completely private, the nine greenhouses at One Marylebone are hard to beat. Each is filled with flowers, candles and twinkling lights, and they're available for private hire only – whether you're dining in groups of two or 22. The Mediterranean menu is heavy on vegetables and designed to share; expect to eat harissa-drenched cauliflower, delicate lamb shank, and a chocolate tart topped with plump figs.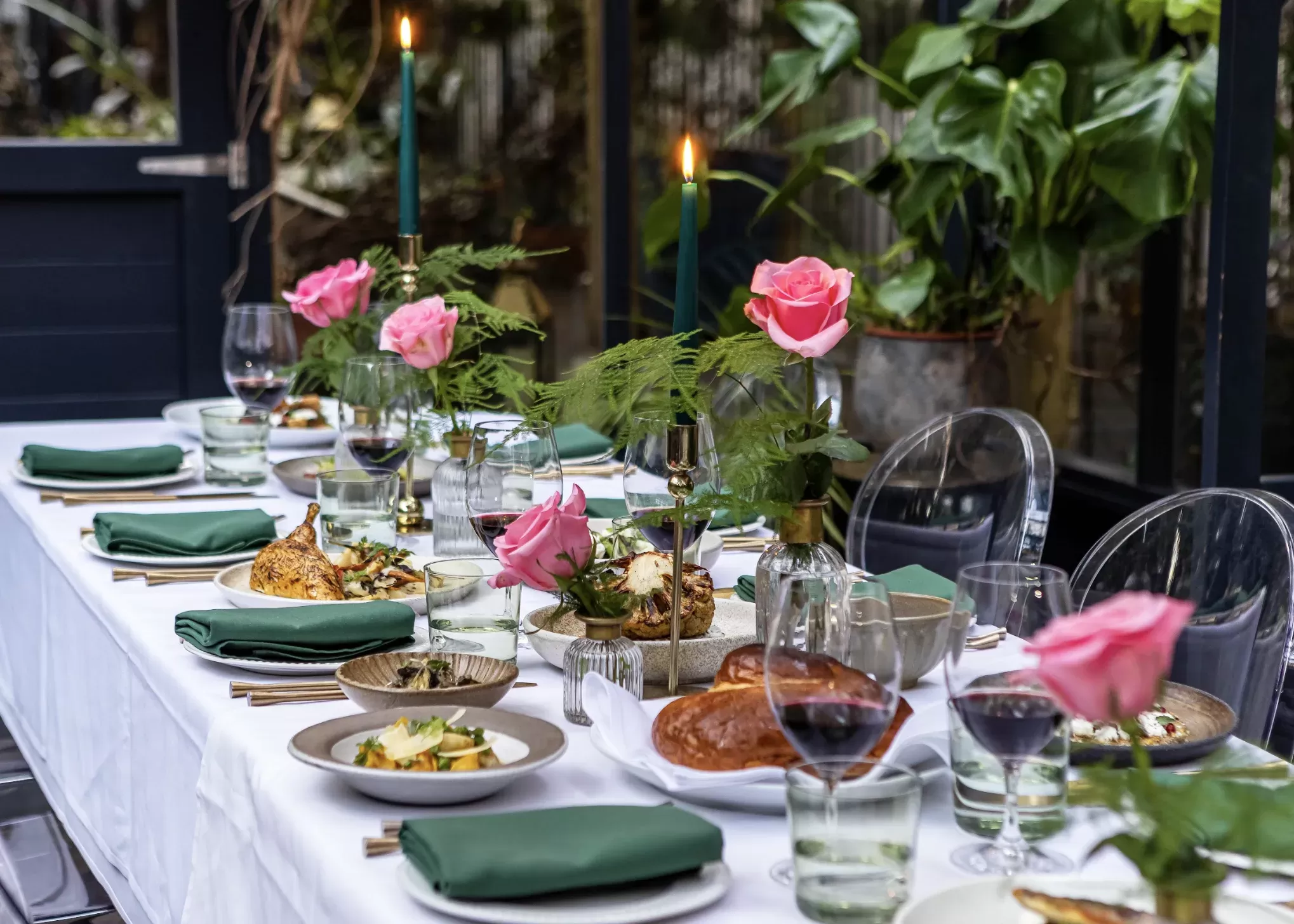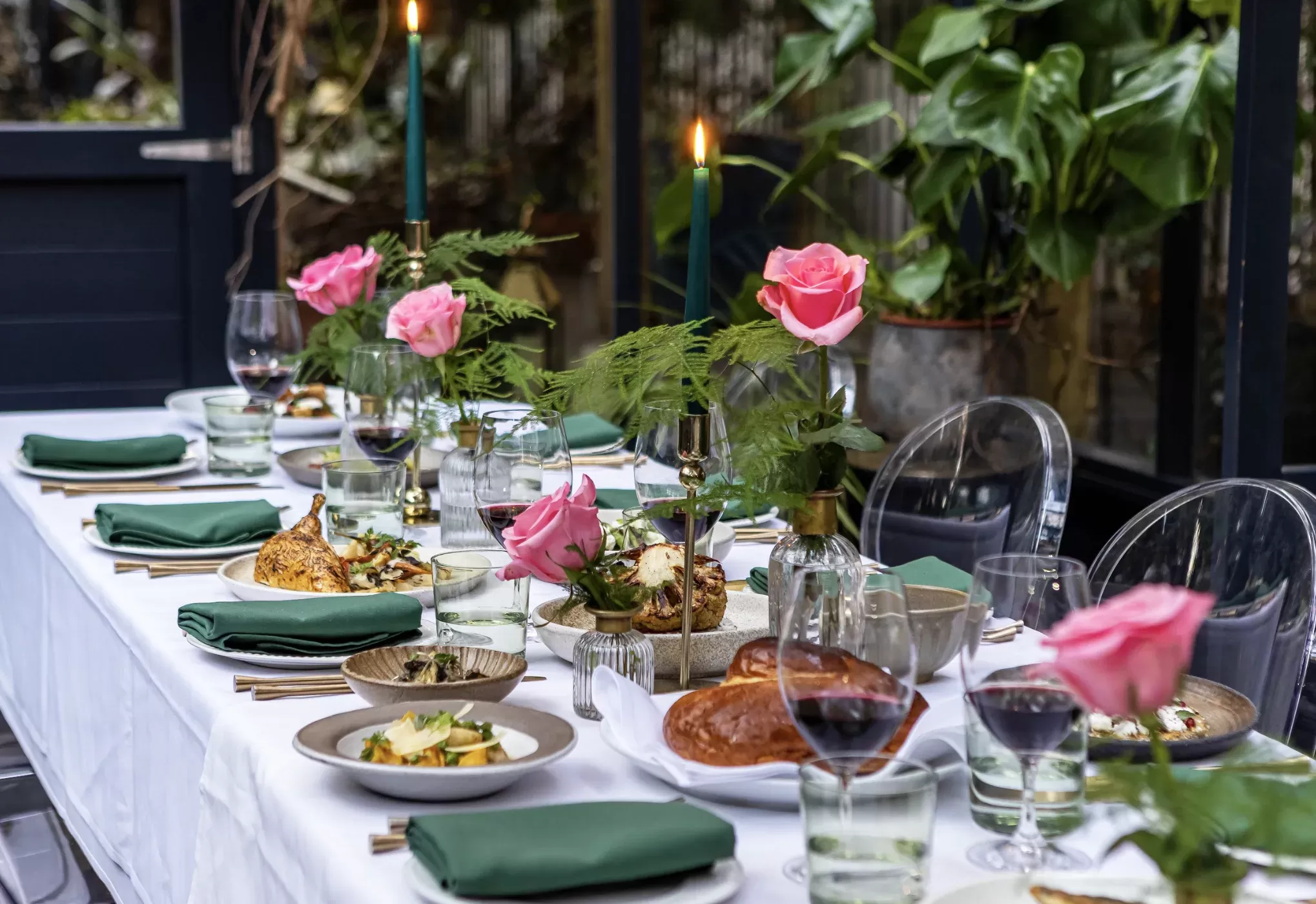 1 Marylebone Rd, NW1 4AQ
The River Café, Hammersmith
One of the few London restaurants that can truly be described as iconic, the River Café draws a crowd even on grizzly days. It's been stretched across the same Thames-facing lawn since 1987; you come here for seasonal Italian dishes and the unmistakable feeling of being on holiday. Of the extensive menu, the freshly made pasta is always a good idea – as is that second glass of rosé in the sun.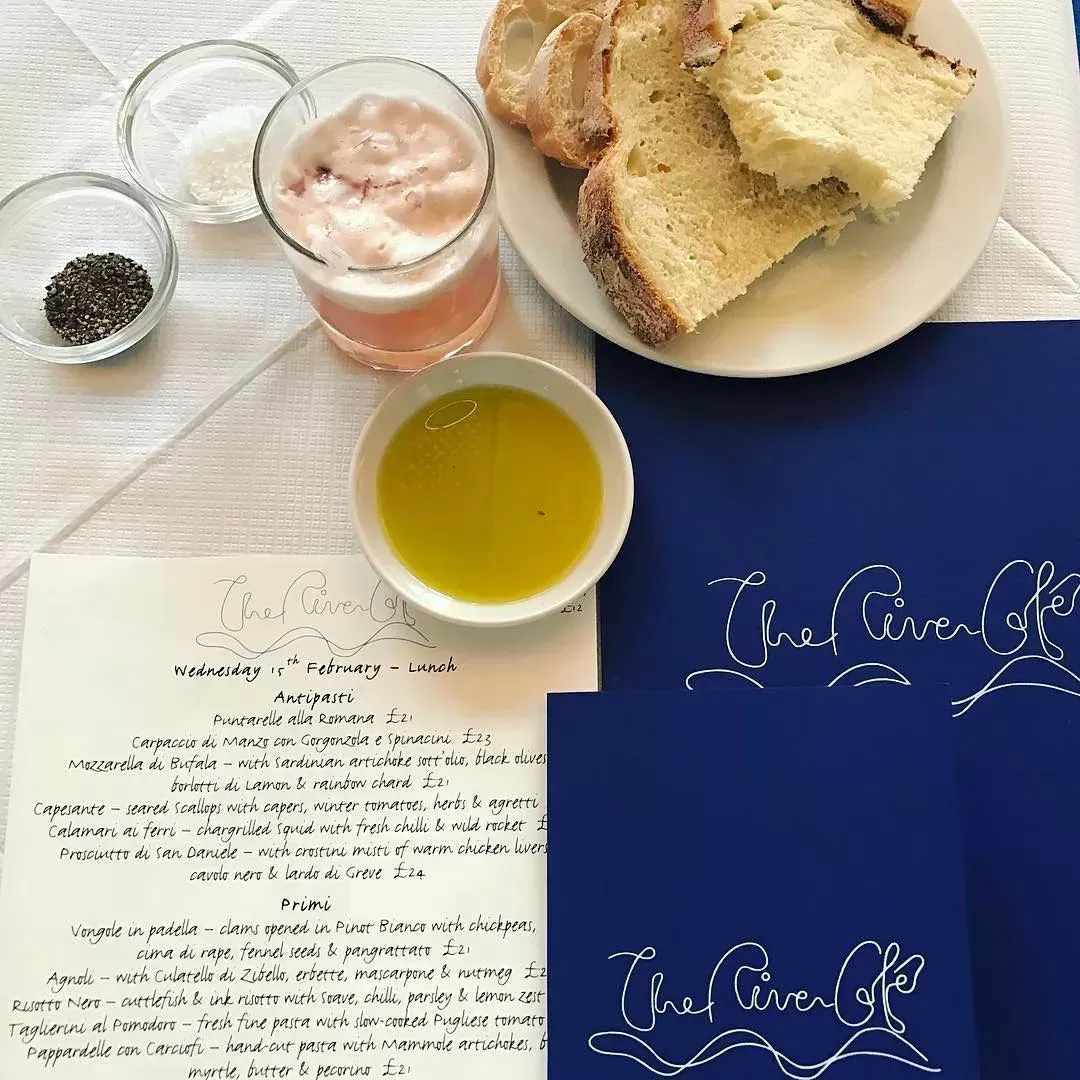 Thames Wharf, Rainville Rd, W6 9HA
Quintessentially's restaurant specialists secure complimentary benefits for members at some of the world's most premier dining venues, plus invites to exclusive gastronomic events and tastings. Contact your lifestyle manager to discover your benefits or click here to find out more about membership.