London has a long history of glamourous hotel bars. The first opened their doors in the late 19th century, importing a sophisticated cocktail culture from the US that prevails to this day (such as The Savoy's American Bar – the first hotel bar to open in the UK).
However, in recent years, London's hotel bars have become some of the most progressive cocktail places in the city. Gone is the expectation of tuxedoed staff, tinkling pianos, and being addressed as 'sir'; new hotel bars have design-forward interiors, discos and DJs, and cutting-edge cocktails from the world's leading mixologists.
They are, in other words, fun. The following are all spots worth trying, from Chateau Denmark's new drinking den to The Connaught's hidden haunt.
Thirteen at Chateau Denmark
Unabashedly over-the-top Chateau Denmark arrived last year with all the subtlety of a Sex Pistols song; its first hotel bar, Thirteen, follows in hedonistic suit. From the entrance porch fashioned like a coffin to the enormous 'conversation chair' topped with a curling dragon, everything is designed to the max; look out for the chain link mural of Damian Frost's Soho Tableaux. Even the bar is a riot of textures, with lenticular gold mirrors and bartenders suited in the same pattern as the wallpaper. Sit here and order Thirteen's take on a negroni, in which Campari is swapped for a sweet coffee liqueur – delicious.
Insider's tip: slink downstairs to the more exclusive dial8 bar, which is decorated with glowing moons and contains a tiny hideaway bedecked with erotic paintings.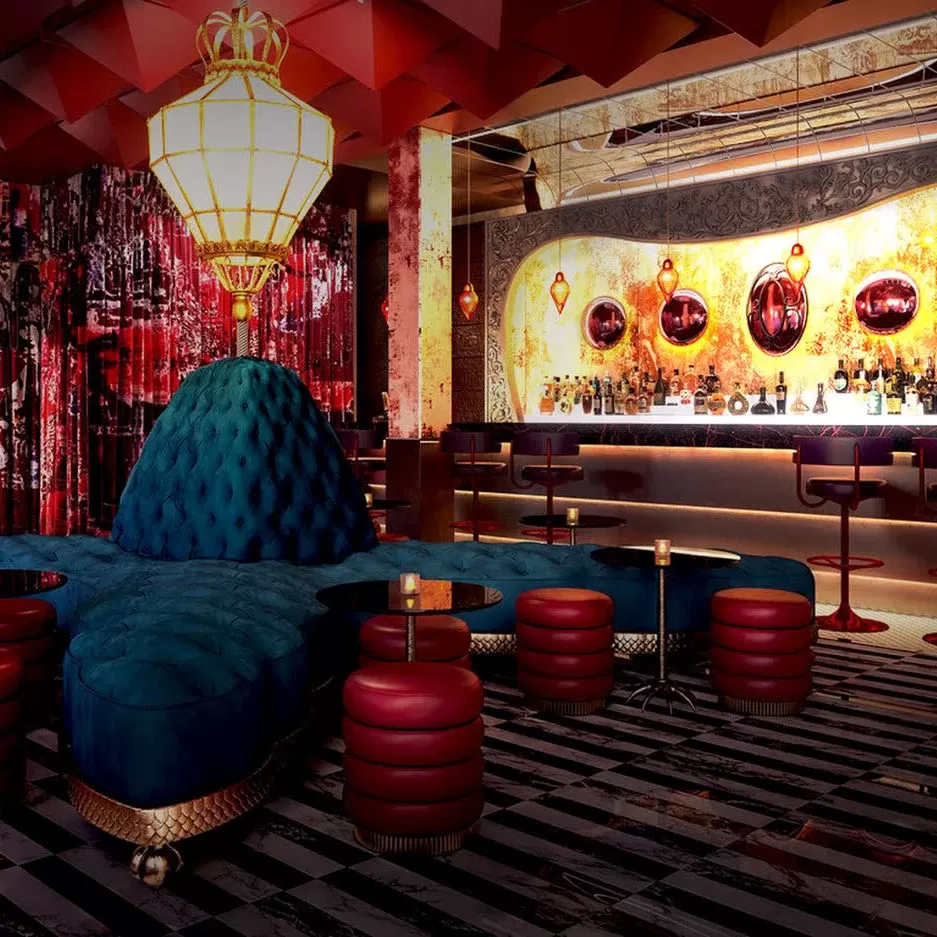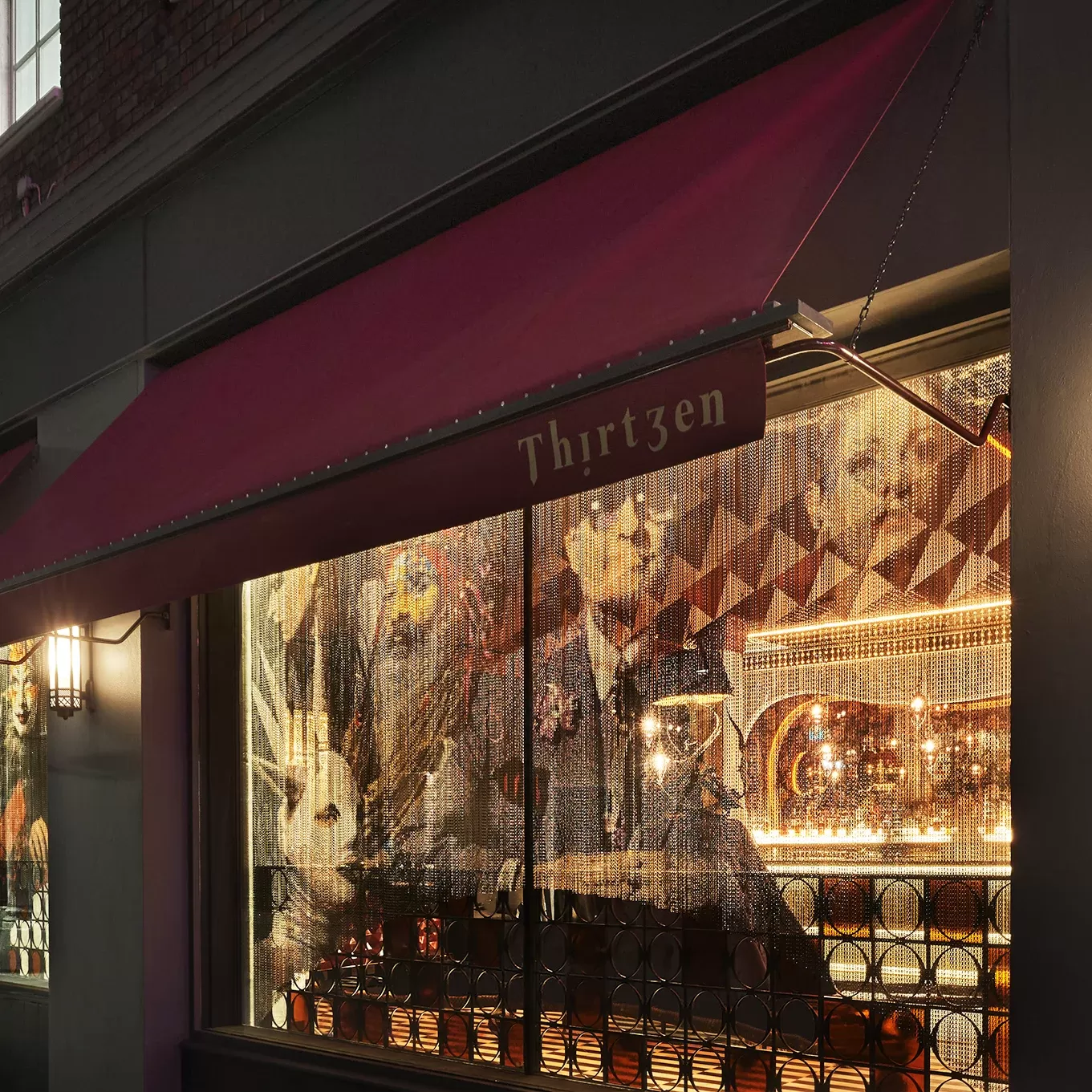 Thirteen at Chateau Denmark
Le Magritte at The Beaumont
There's a work of art contained within The Beaumont – and we don't just mean Magritte's Le Maître d'École suspended between two columns of high-end spirits. Le Magritte, the hotel's jewel box of a hotel bar, is a masterpiece in both style and execution. The snug, walnut-walled space might inspire thoughts of a martini or Manhattan, but that would do disservice to a genuinely innovative cocktail list (courtesy of Bar Manager Antonino Lo Iacono), including Le Maître d'École – so named after the bar's centrepiece painting
Insider's tip: order the bite-sized, truffled French toasts alongside your drink du jour – even the bar snacks are worthy of admiration here.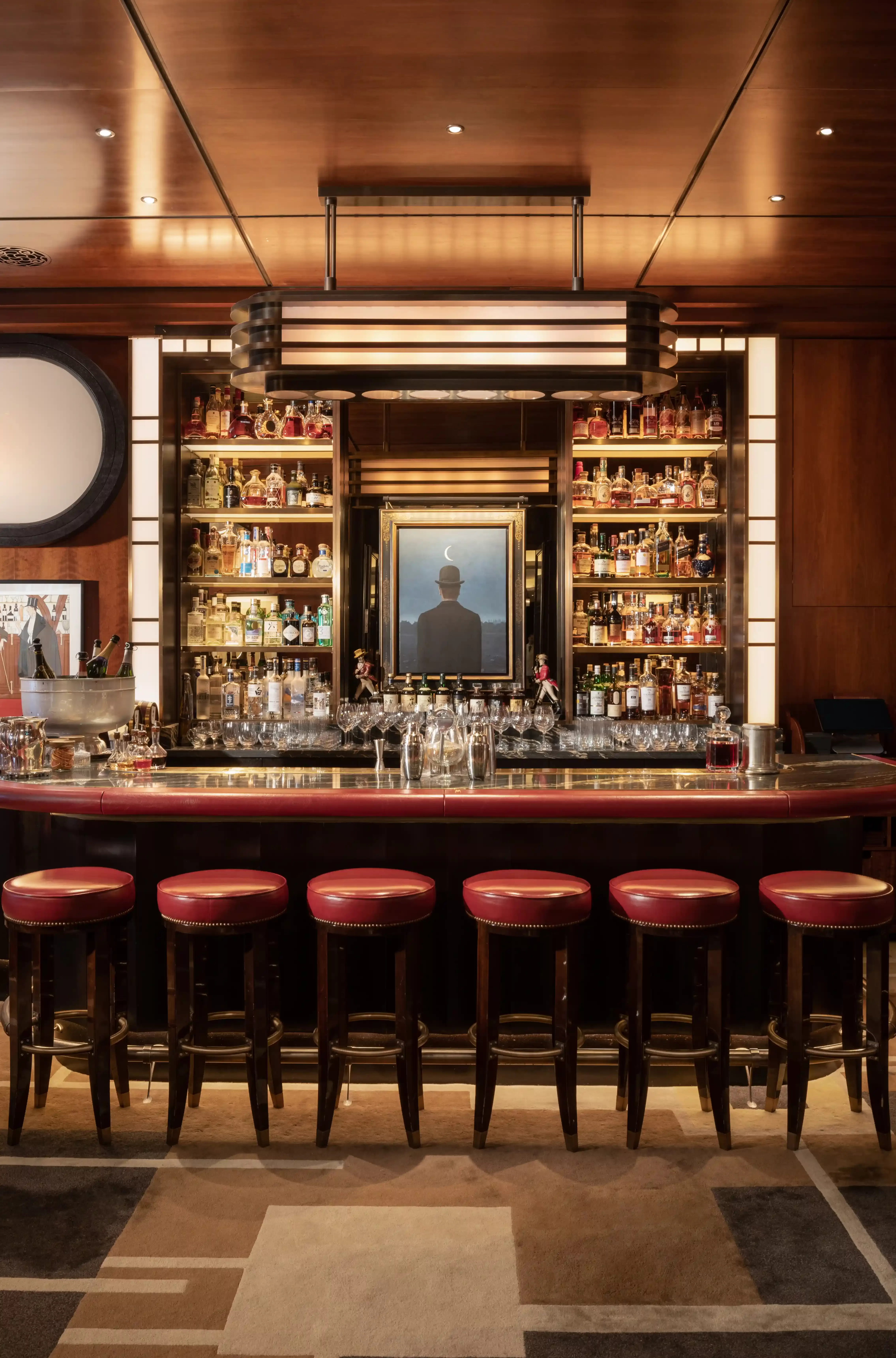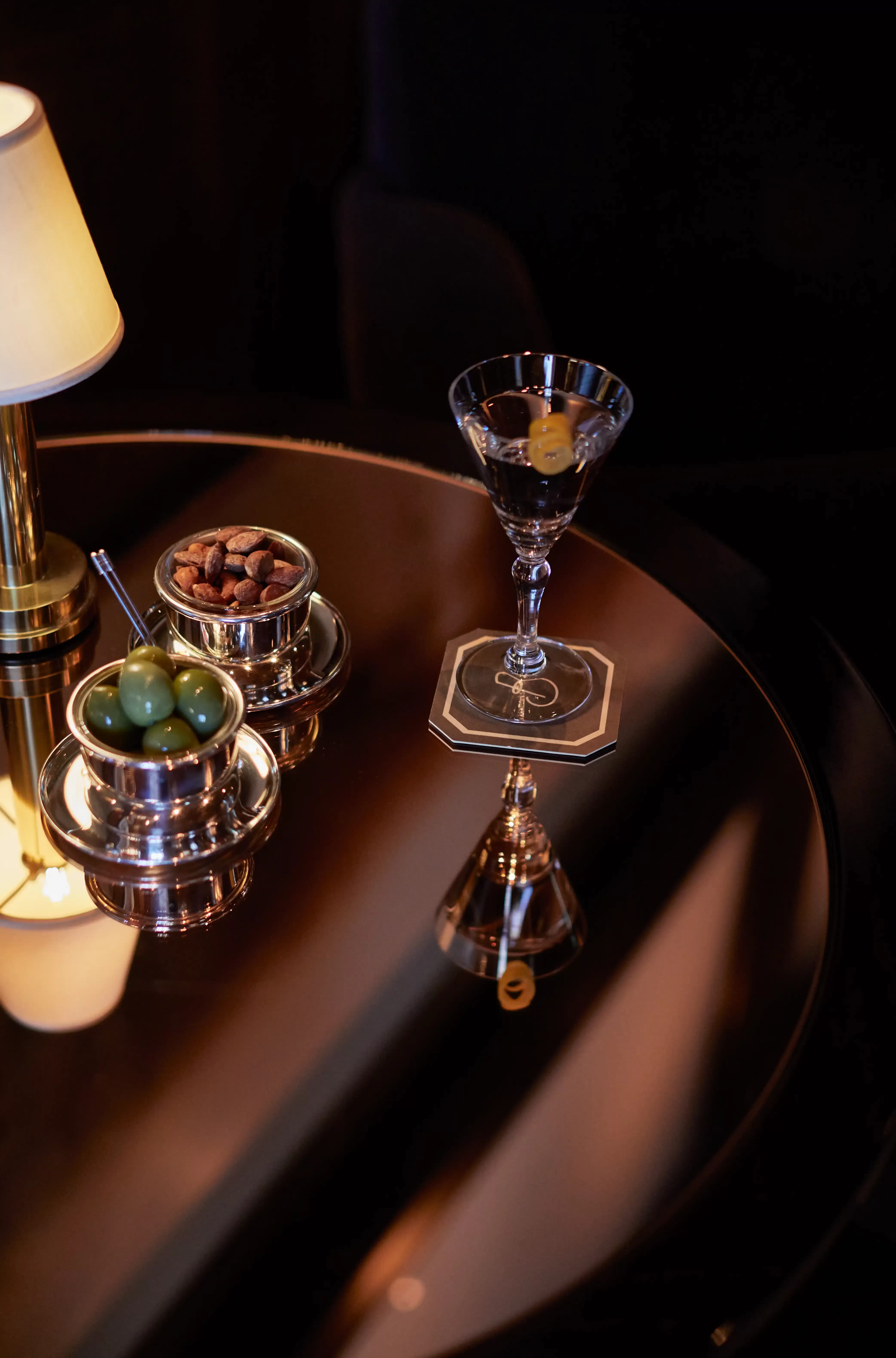 Le Magritte at The Beaumont © Helen Cathcart
Red Room at The Connaught
We'll let you into a secret: there's a new drinking den hidden behind a curtain in The Connaught's champagne room. So named for its rosy artworks by four pioneering female artists, the Red Room is designed like an eccentric collector's living room with coral-like nooks showing off an eclectic array of kooky ceramics and artworks. The drinks menu makes full use of The Connaught's wine cellar, which houses around 30,000 bottles of wine – including several private ex-cellar collections.
Insider's tip: most wines are available by the glass, but for something a bit more special, the 'jewel' collection includes a bottle of 1985 La Romanée Conti for a cool £45,000.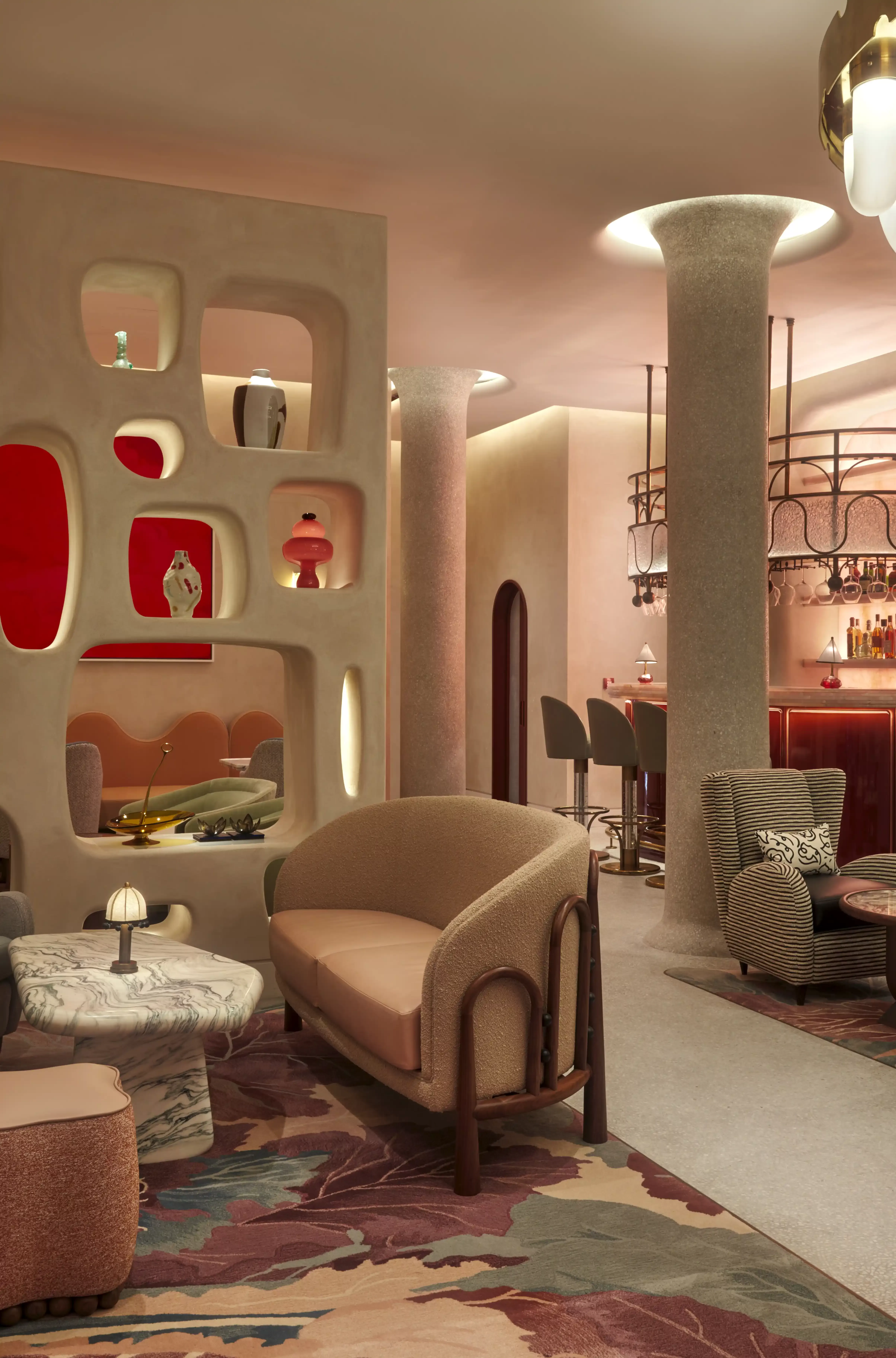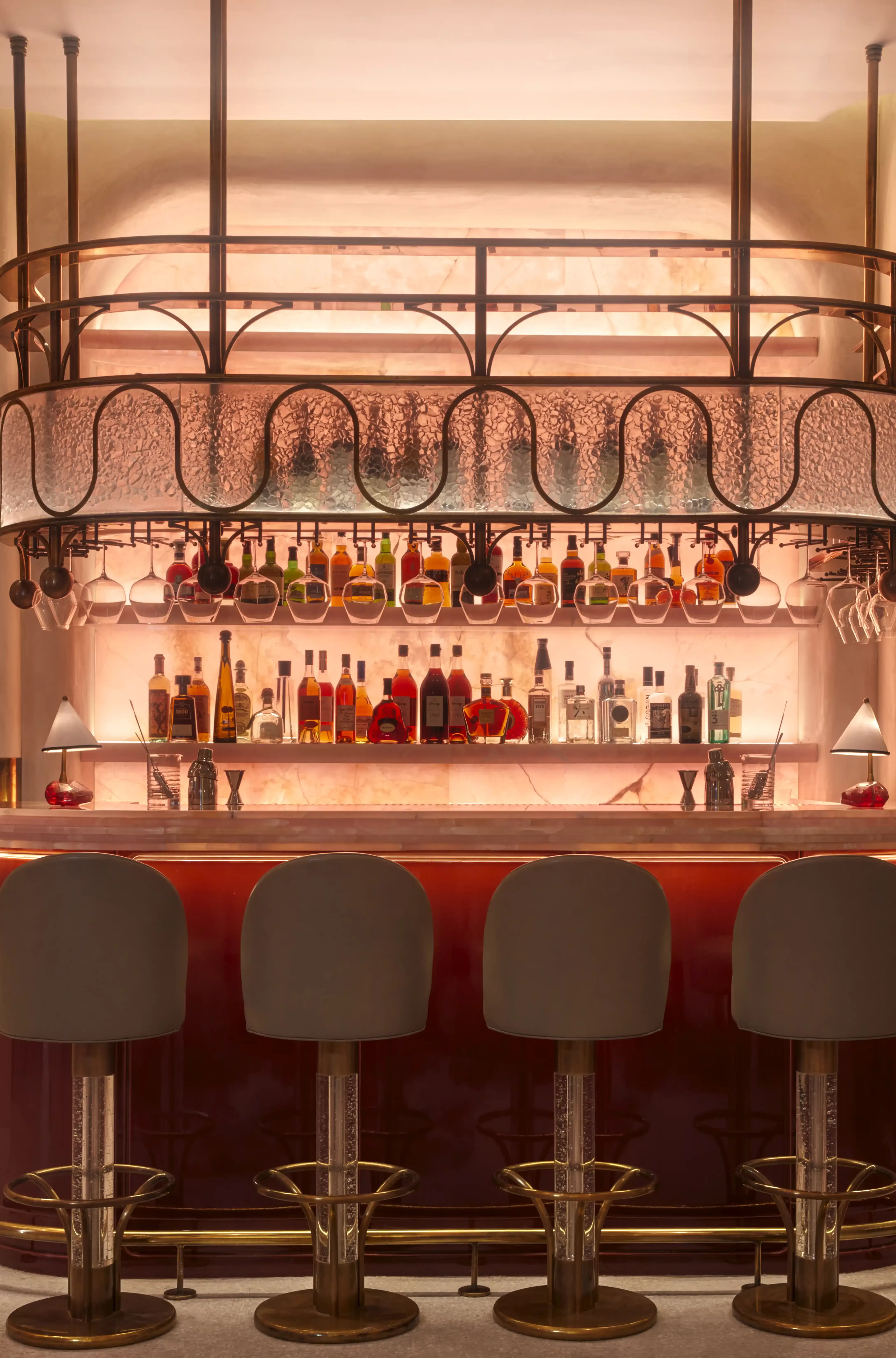 Red Room at The Connaught © James McDonald
The Aubrey at the Mandarin Oriental
The Aubrey's namesake is illustrator Aubrey Beardsley, an artist who spent the latter half of the 19th century hanging out with Oscar Wilde and obsessing over Japanese art. As such, the Mandarin Oriental's bar is an ostentatious, rabbit-warren of a place filled with Japanese artworks. All drinks in the menu – or yellow book, as it's referred to here – borrow spirits from Japan and are inspired by art nouveau works; try the Salome, a savoury, sake-based martini named after Oscar Wilde's 1893 play.
Insider's tip: book a 'cocktail omakase' in the hidden bar concealed behind a bookcase, or the weekend brunch which comes with free-flowing champagne.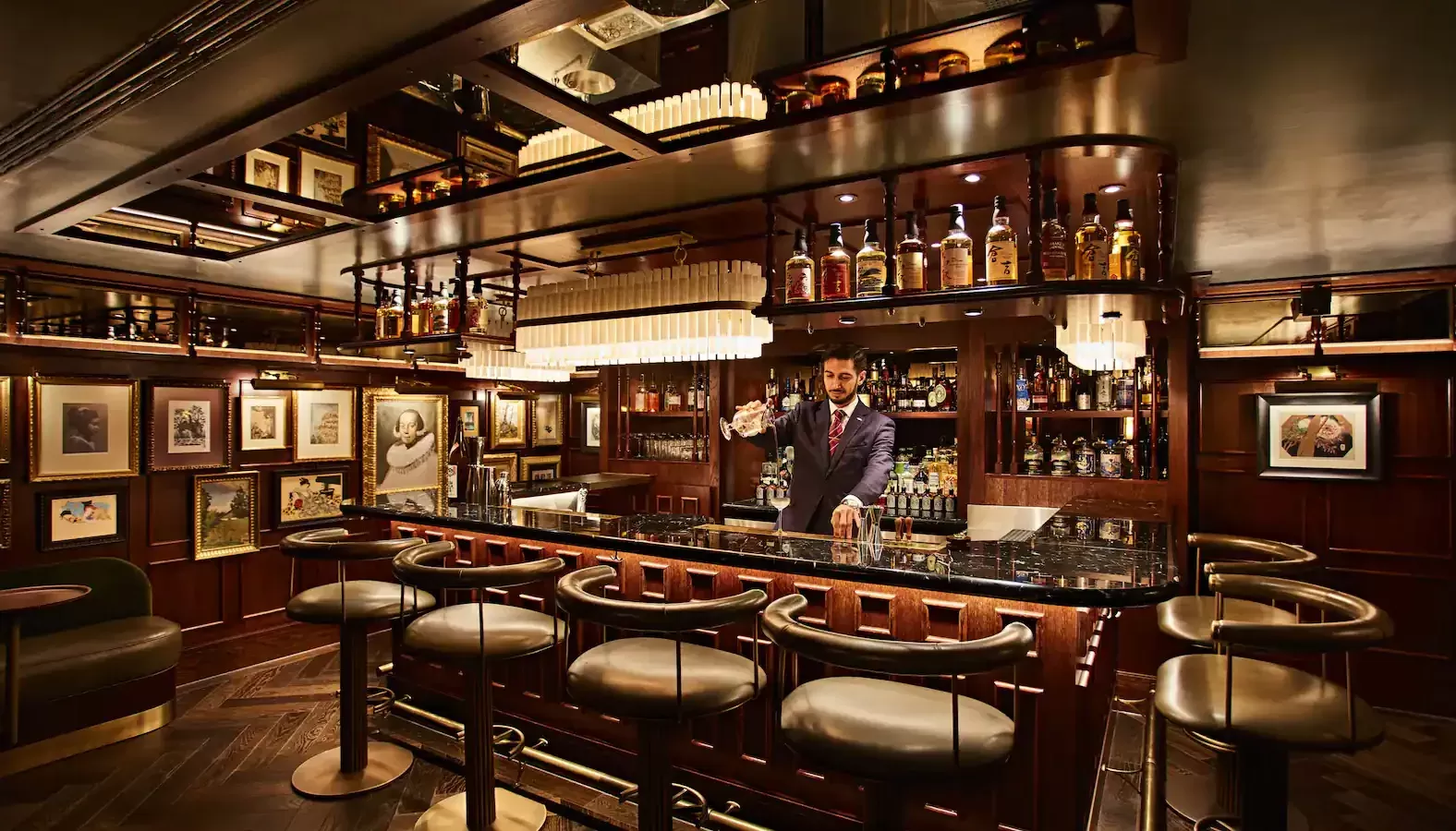 The Aubrey at the Mandarin Oriental
Sweeties at The Standard London
It's garish, it's the 10th floor, and it has a huge disco ball suspended over the bar – Sweeties takes fun seriously. The antithesis to The Ritz or The Savoy, it opened last year and has just tasked drinks consultant Zoe Burgess to overhaul its menu. She's come up with a list of colourful, seductively named cocktails such as 'all yours' (Japanese whisky, green tea and honey) and 'hot lips' (smoky mezcal, pickled peppers and spiced tomato juice).
Insider's tip: wear comfortable shoes and prepare to dance all night – DJs such as Eliza Rose and System Olympia will be on the decks until 3am.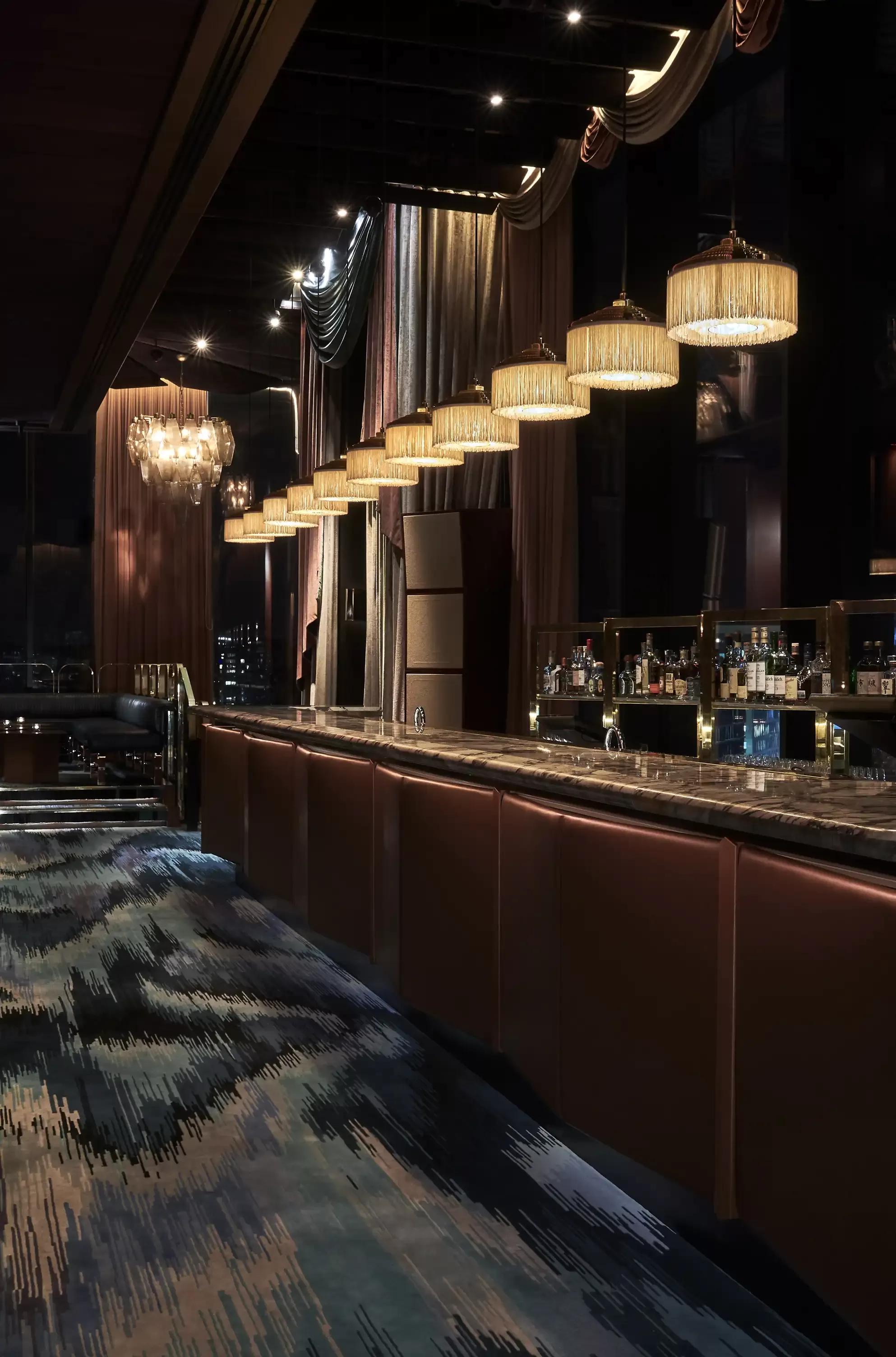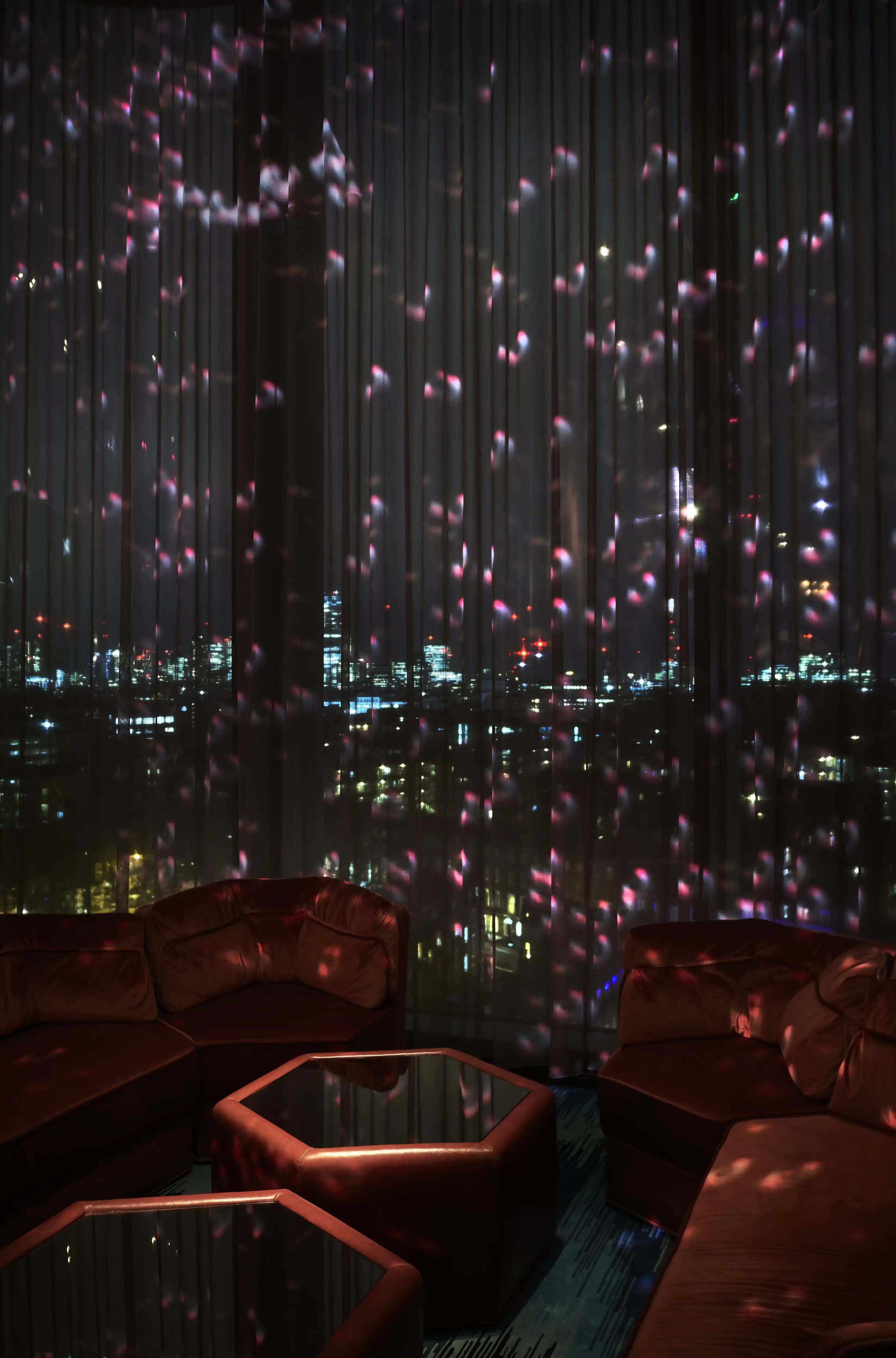 Sweeties at The Standard London © The Standard
The Painter's Room at Claridge's
Excellence is a universal language at Claridge's, so it's unsurprising that its newest bar, The Painter's Room, is one of the city's best. Peachy walls are bedecked with murals by British artist Annie Morris and a pink skylight casts the intimate space in a rosy glow. Sidle up to the pale onyx bar and order a cocktail inspired by southern France, Italy or Spain and then sink into a plush pink stool to savour it.
Insider's tip: precede things by dropping into the just-opened Art Space café for a lobster crêpe and a Claridge's crest chocolate cake to go.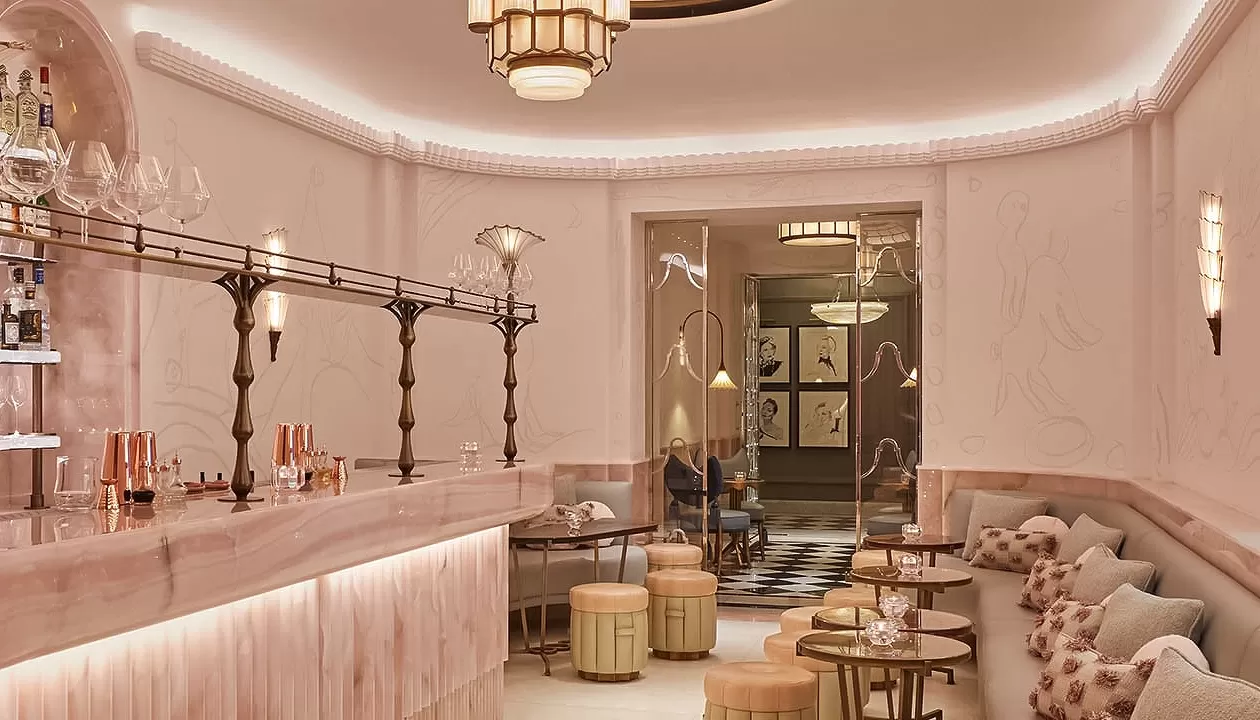 The Painter's Room at Claridge's
Silverleaf at Pan Pacific
The first mistake you'll make when looking for Silverleaf is waltzing into the Pan Pacific proper; it's hidden on the top floor of adjacent Devonshire house. The second is assuming this is a run-of-the-mill financial district bar: Silverleaf is in a cocktail league of its own. Its creatively designed menu is laid out like a rune book; the best way to navigate it is to look for a flavour you love or an artistic interpretation you resonate with. Our pick? Strawberry Lapsang – smoky, fruity and topped with a square of strawberry leather.
Insider's tip: meander into the temperature-controlled golden turret to peruse the bar's high value bottle collection, and look out for Alba – a small tasting room set under a moon-like installation.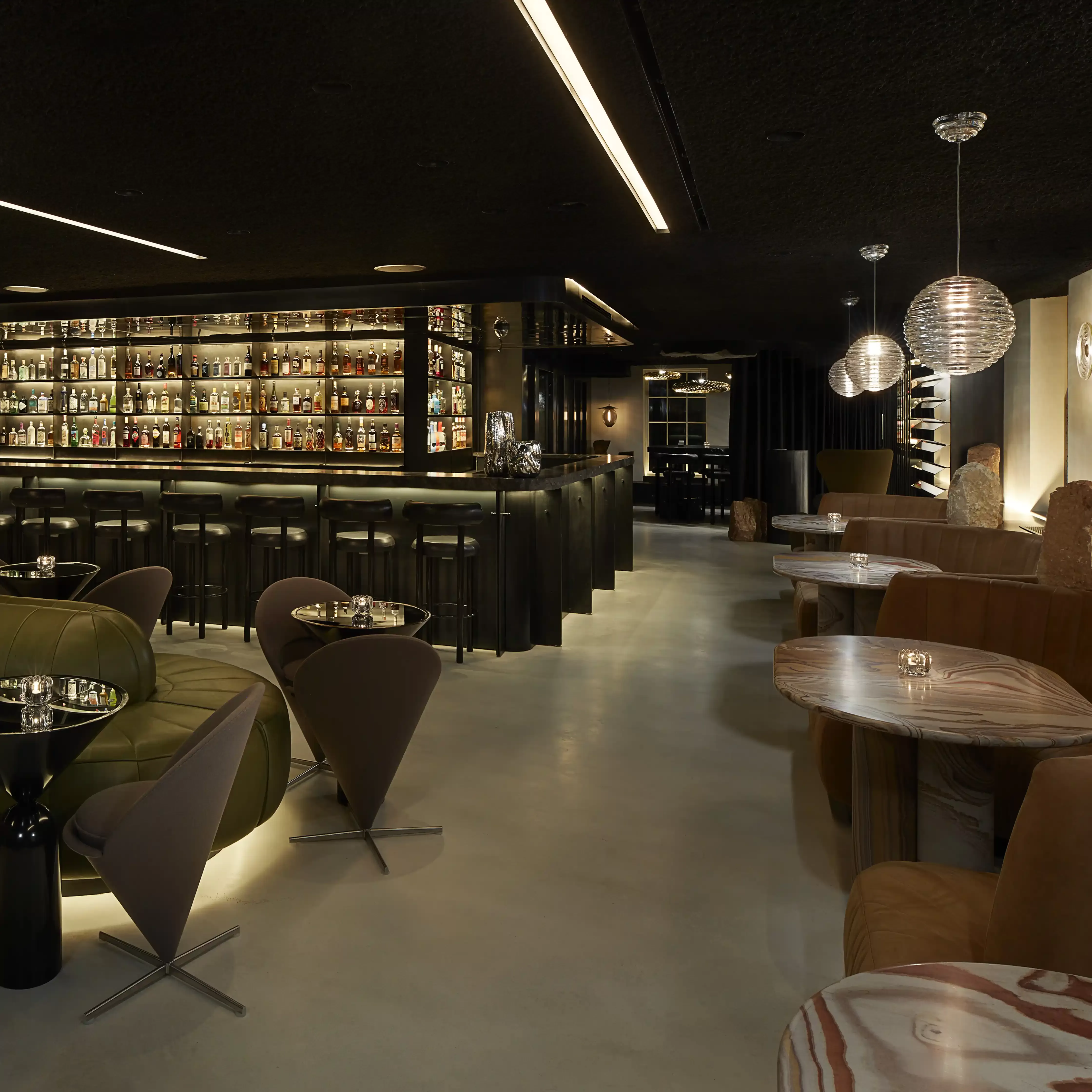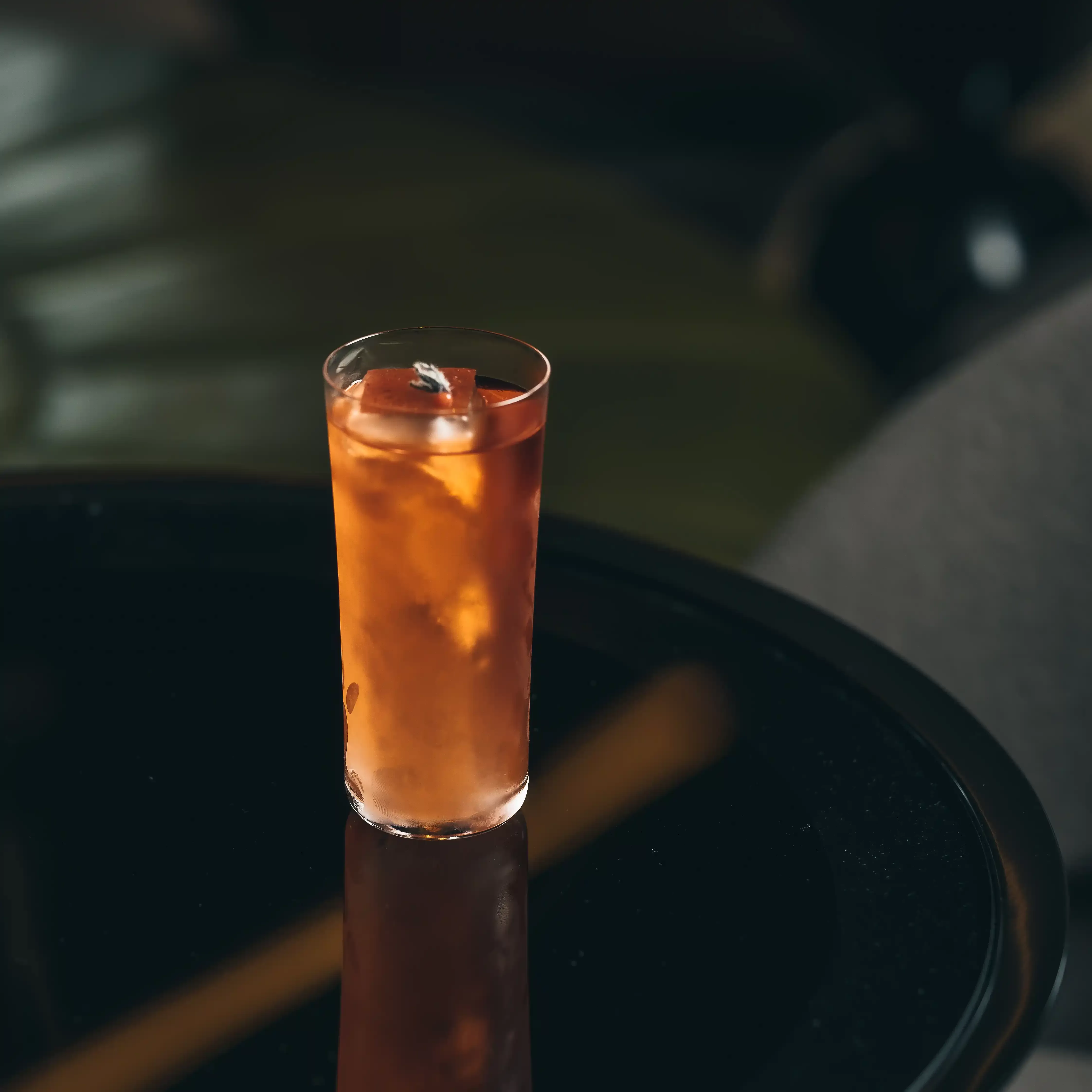 Silverleaf at Pan Pacific © Julian Abrams
Quintessentially's in-house specialist teams ensure members consistently have access to the newest and the best. Find out more about membership here.