Extravagant, excessive, epicurean, expensive: there are many words you could use to describe London's most affluent postcode (and not all of them begin with E). However, until a few months ago, 'innovative' might not have been on that list – that is, until a flurry of investment resulted in a Monopoly board's worth of new restaurants, members' clubs and cocktail bars. Mayfair has got its mojo back.
In our edit of Mayfair's best luxury bars (which joins our ever-popular list of Mayfair's best restaurants), we've sipped our way around W1 to find only the finest. From an invite-only caviar lounge to an erotically decorated attic, see below for our top seven.
Vesper Bar at The Dorchester
Should you have pulled up a barstool at The Dorchester in the '40s, you might have been joined by Ian Fleming. The writer was certainly familiar enough with the hotel to feature it in several of his James Bond titles . In 2023, The Dorchester has returned the favour with Vesper Bar, named after James Bond's favoured Vesper Martini. The swanked-up space arrived in January and is everything you'd want from a Mayfair cocktail bar: interiors are extravagantly green-and-gold, and cocktails strike the perfect balance between classic and creative.
Insider's tip: book The Snug for a private event. It's an intimate space hidden by a tasselled curtain from the rest of the bar.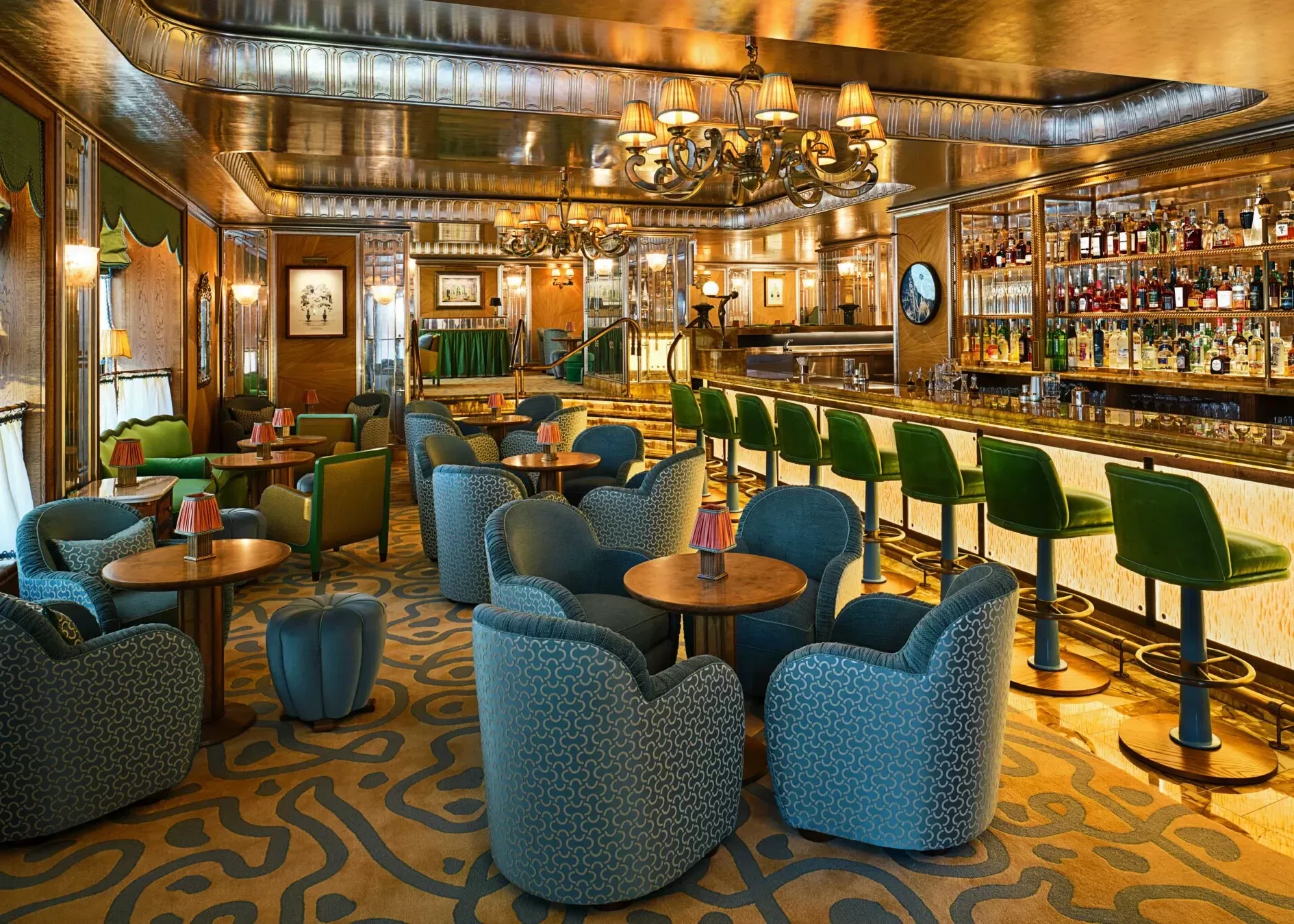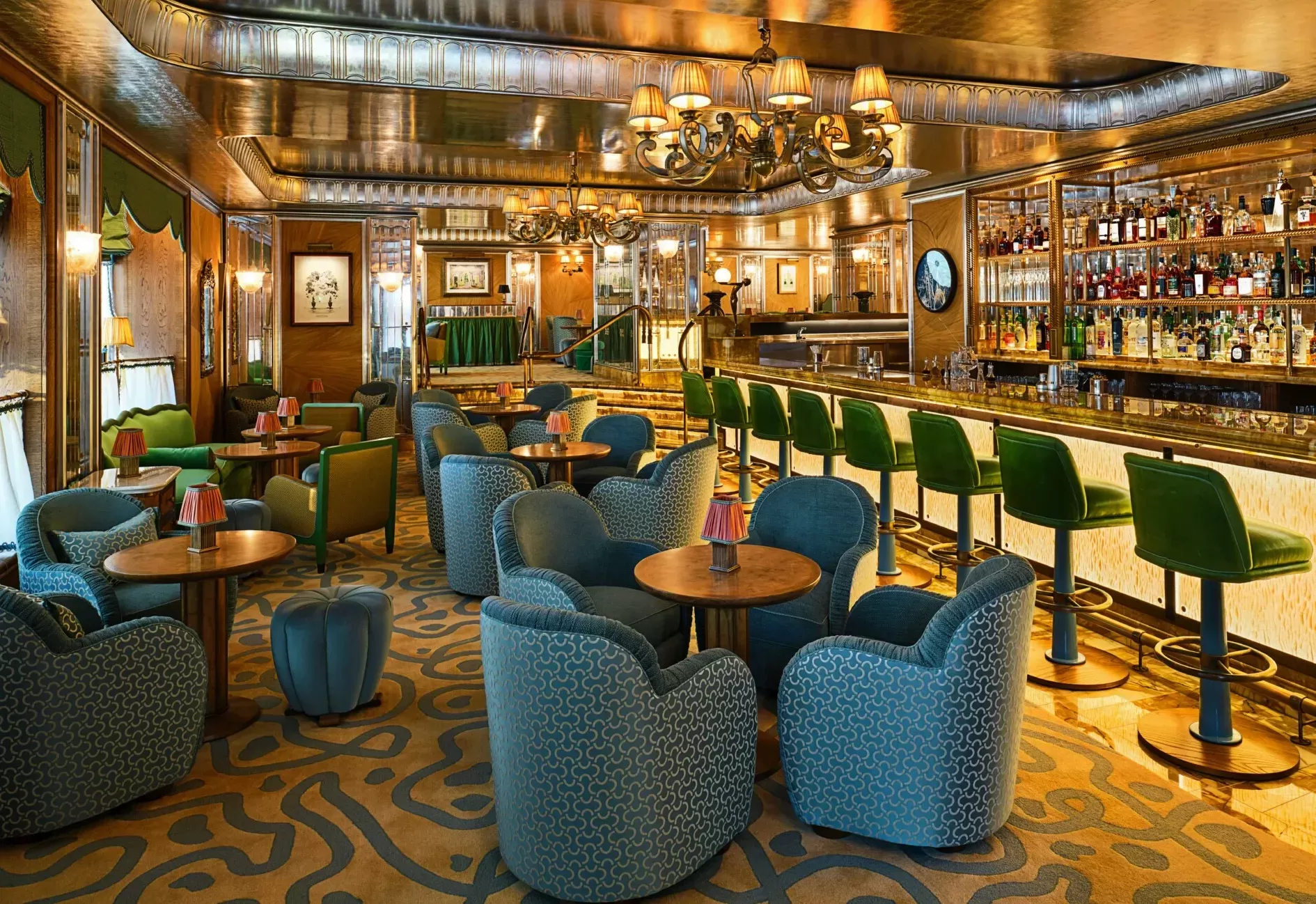 Vesper Bar at The Dorchester | 53 Park Ln, W1K 1QA
The Rivoli Bar
This is what you think of when someone says, 'the best bars in Mayfair'. It's smothered in gold and conjures the ambience of a bygone era via swirly Merano glass chandeliers and etched 1920s emblems. However, such style comes with a heavy price tag; expect to pay £33 for a sandwich here and upwards of £100 for a bottle of wine – but it is The Ritz, after all.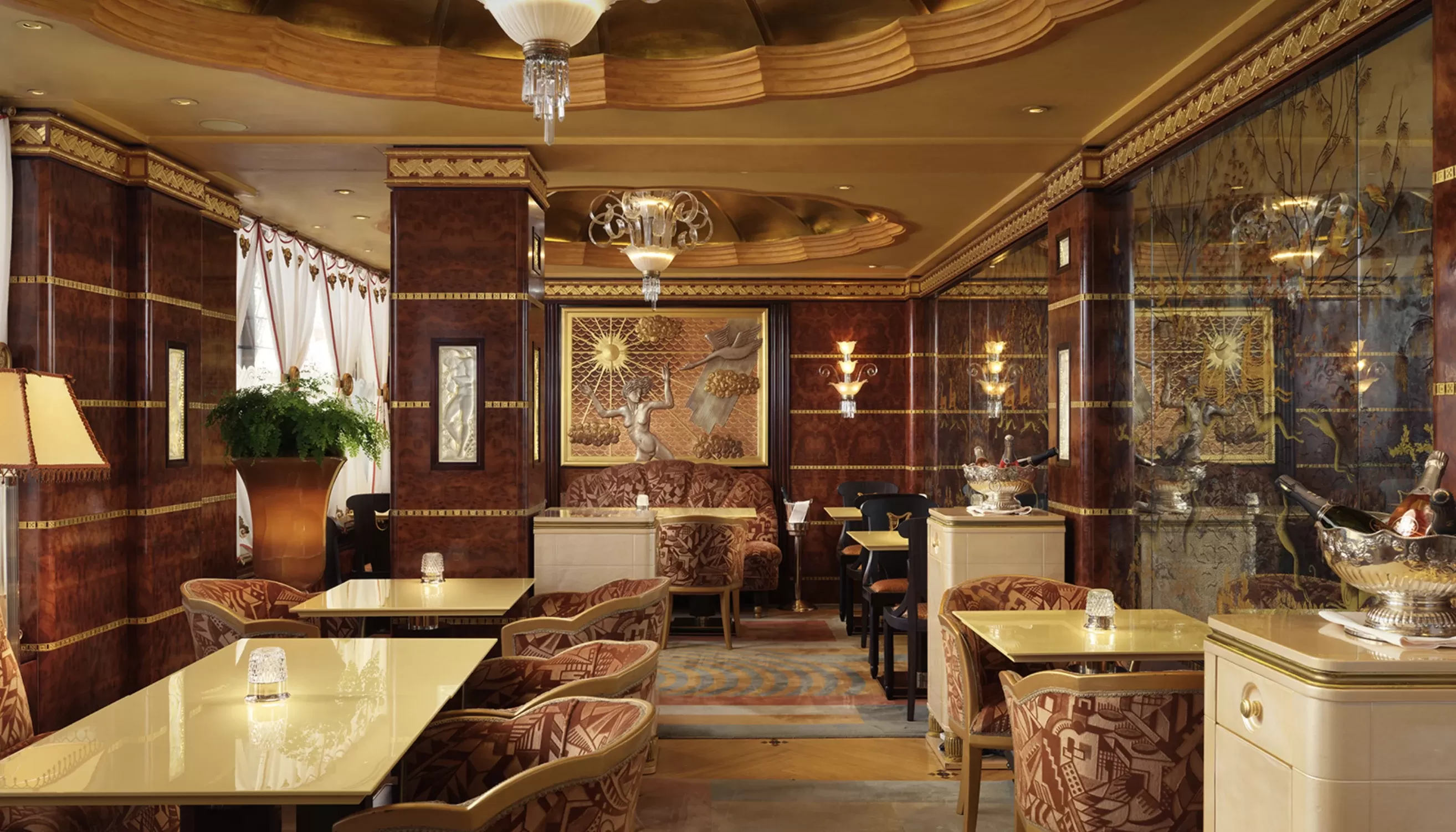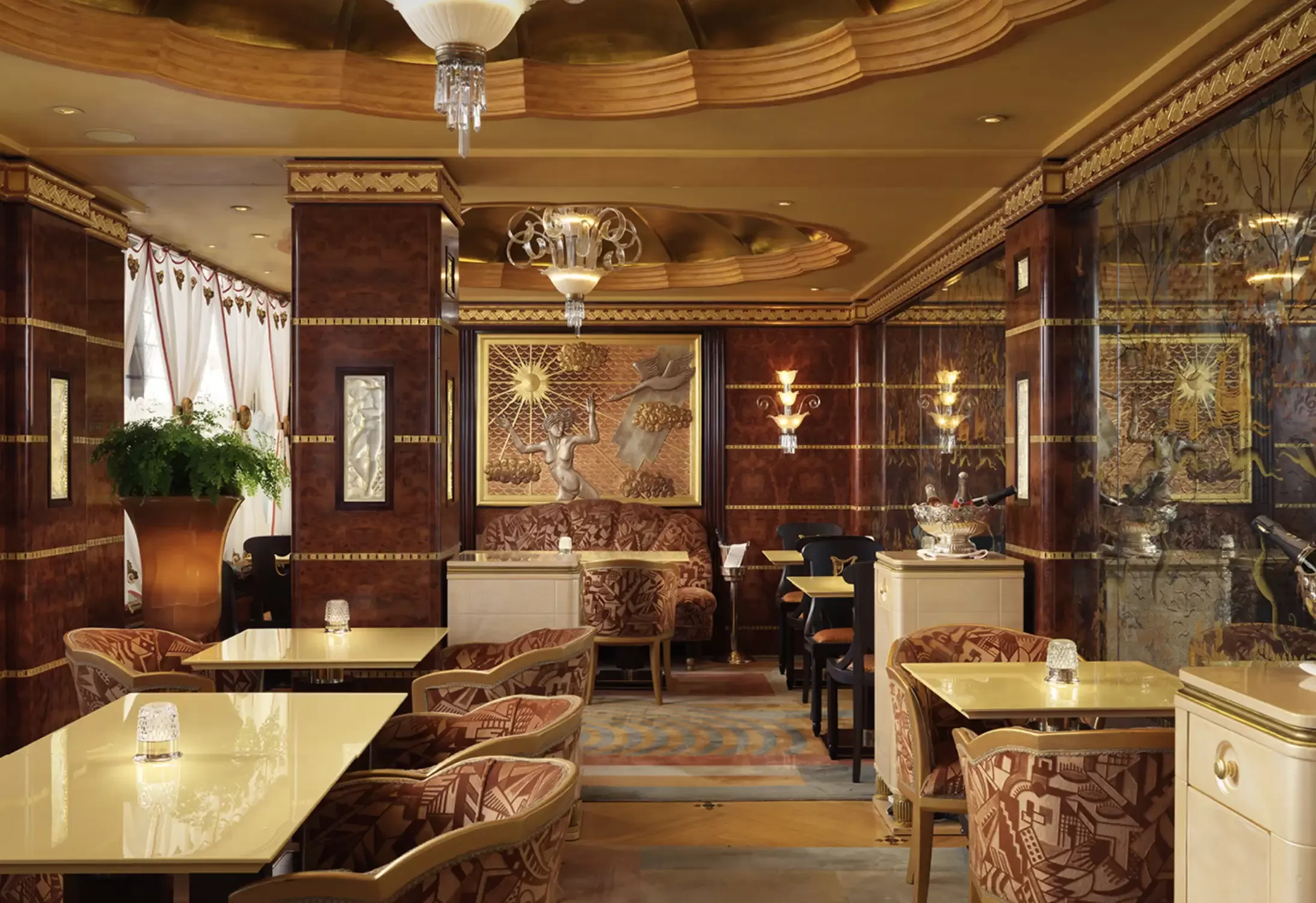 The Rivoli Bar at The Ritz | 150 Piccadilly, W1J 9BR
Insider's tip: if The Ritz were a cocktail (which it is), it would be a mix of champagne, gold-infused Grey Goose Grand Marnier and peach. It would also be, we can report, utterly delicious.
Caviar Kaspia
You came for the caviar and corresponding bragging rights for being on the invite-only list. However, new private members' club Caviar Kaspia also has an elegant cocktail bar that is becoming one of Mayfair's most sought-after spots. The décor is a mishmash of jewel-toned velvet, animal print and gold that looks far sleeker than it sounds; you can drink pretty much anything you like – although, given the emphasis on caviar, champagne and vodka are practically pre-requisites.
Insider's tip: stay for dinner and order the twice-baked potato – it's a cult classic for a reason.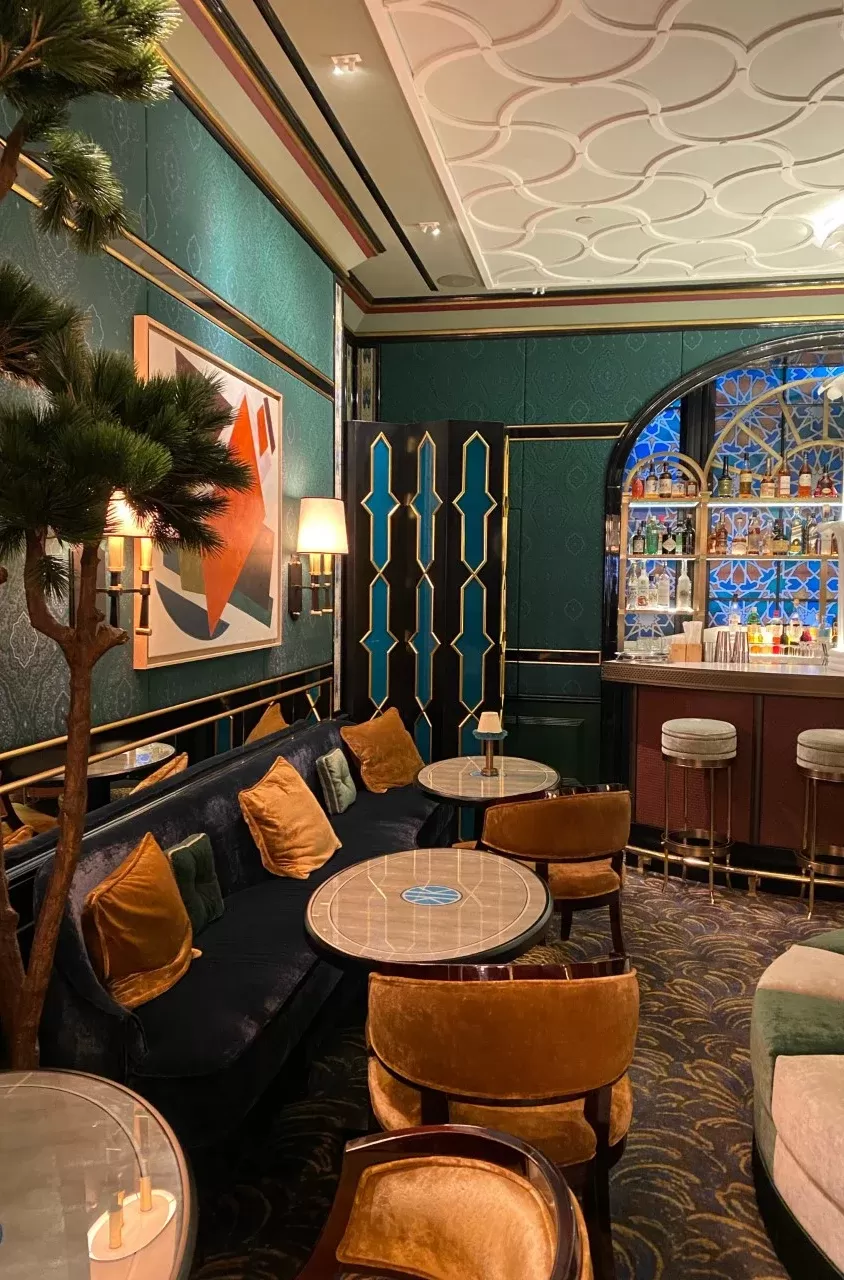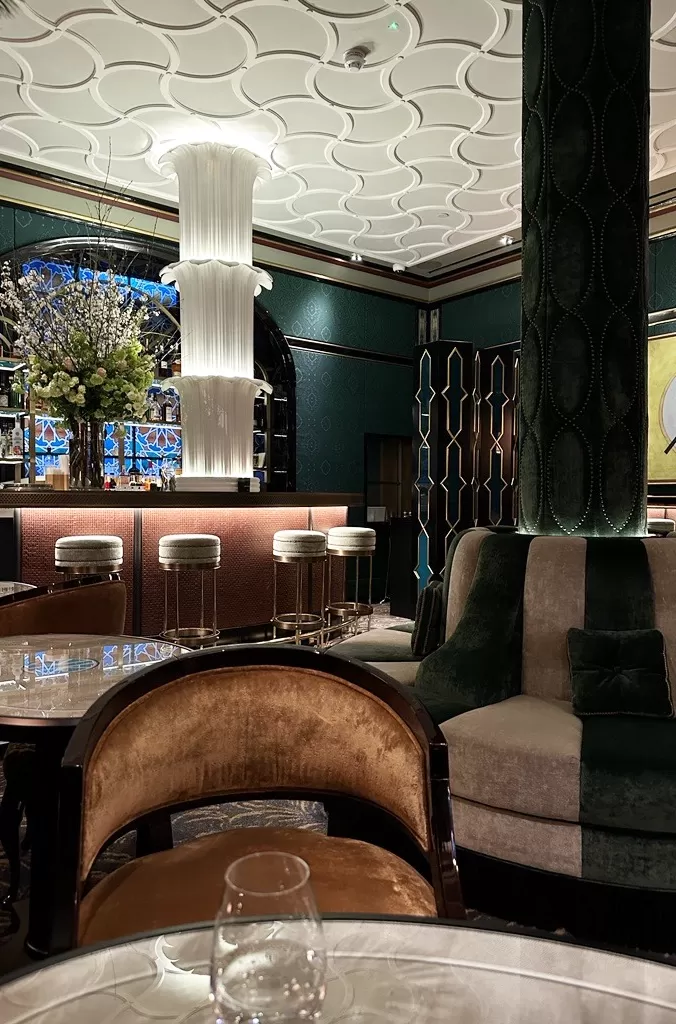 Caviar Kaspia | 1a Chesterfield St, W1J 5JF
The Games Room at Mount St. Restaurant
Ordinarily, we'd recommend The Audley as one of our top places for a drink in Mayfair. However, the posh pub has been trumped by the arrival of Mount St. Restaurant immediately upstairs, which is home to not one but three bars – and all are available for private hire only. You could go for the sunshine yellow Italian Room, but we prefer the attic Games Room. Small and cosy, it has fringed lighting, tasselled chairs and, ahem, female-inspired carpets – plus a well-stocked bar ready to make any drink you please.
Insider's tip: steal a few private moments in the just-for-two mini lounge – the ceiling is, bizarrely, covered in tentacular erotica.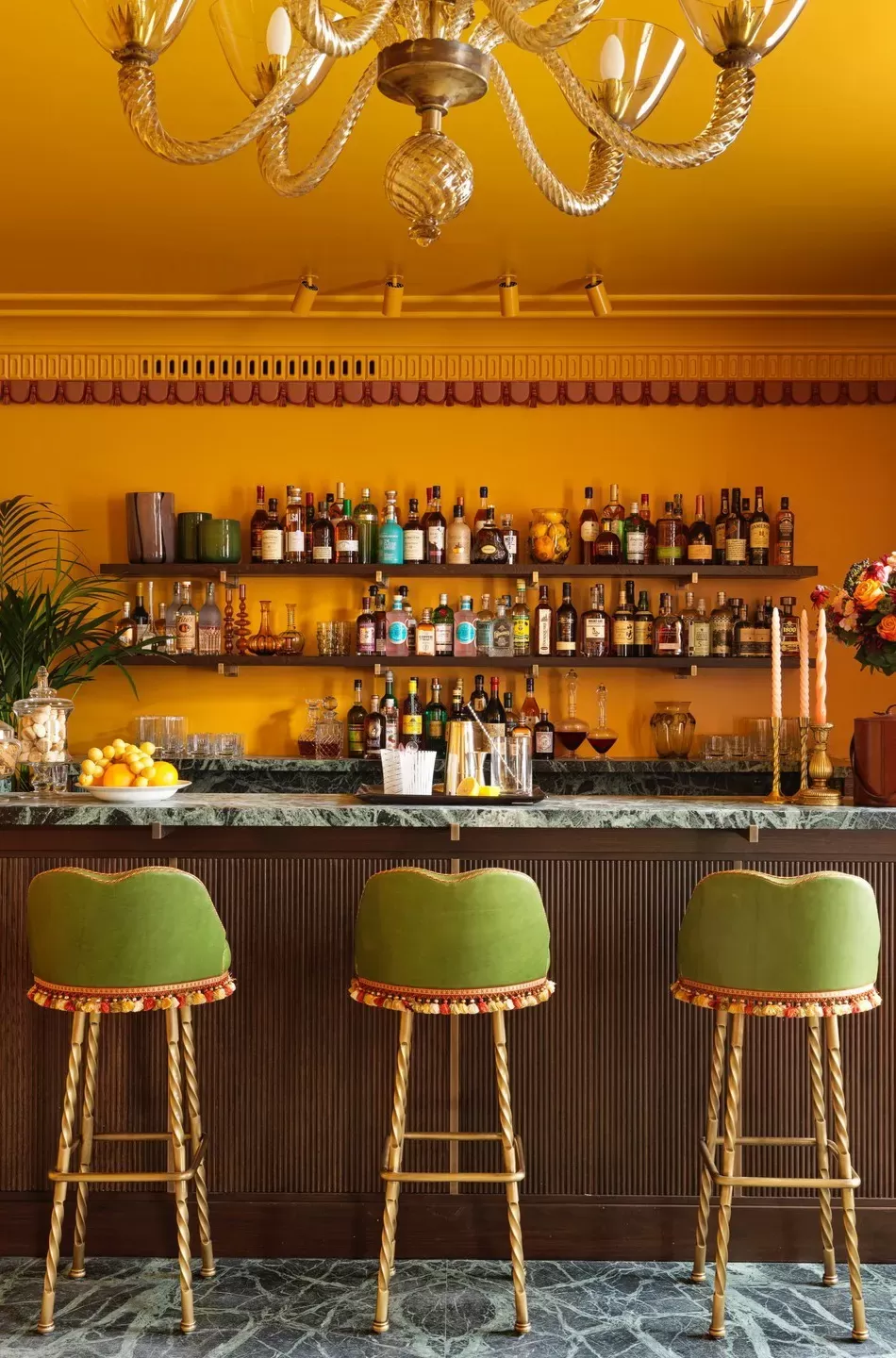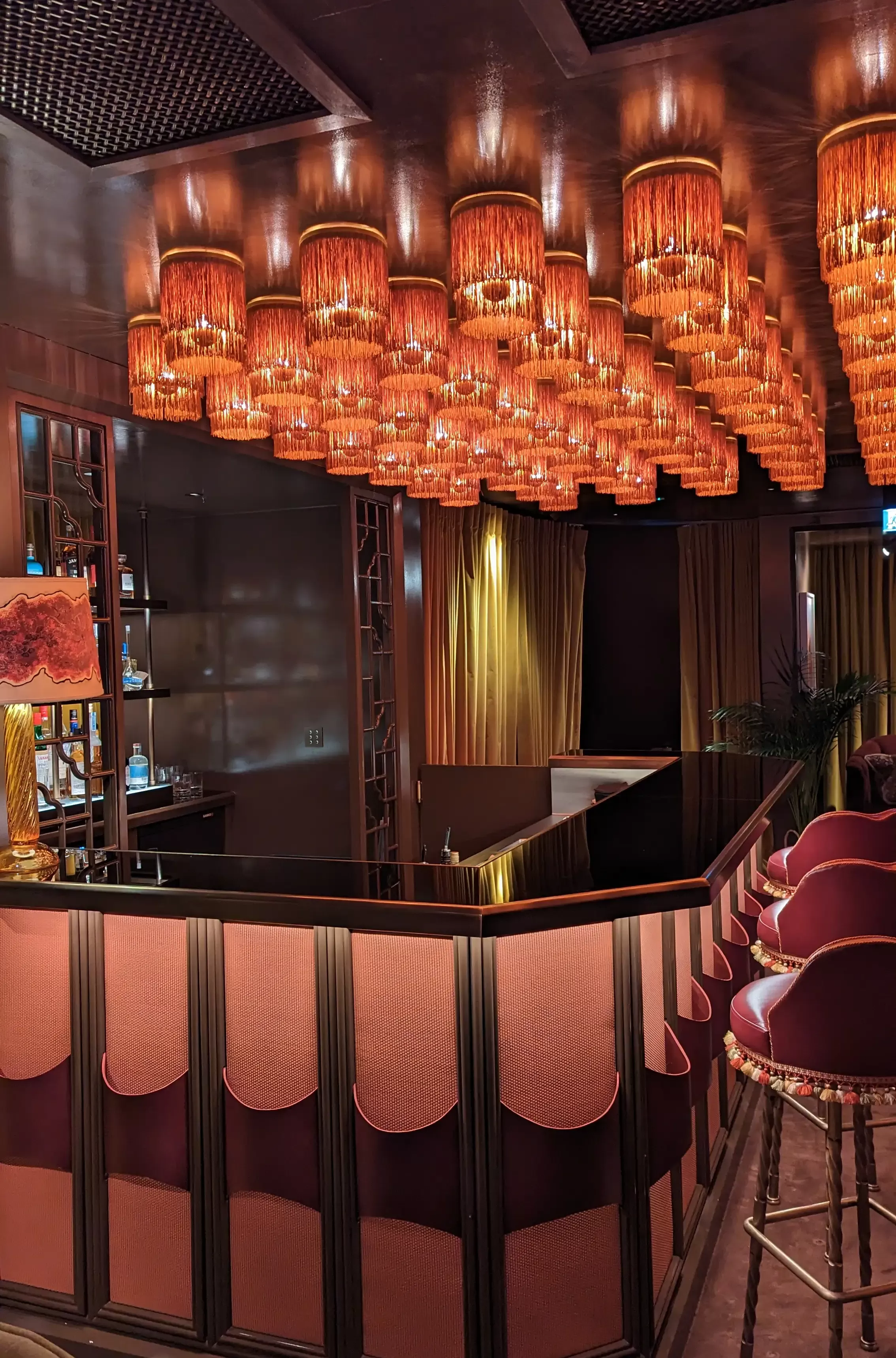 The Italian Room (L), The Games Room (R) | First Floor, 41-43 Mount St, W1K 2RX
The Dragon Room at Isabel
If you can resist the temptation to be drawn into the gold-lit glamour of Isabel proper, The Dragon Room – hidden in the basement – is great for late-night libations. Inside feels a bit like a fancy living room, with carpeted floors, navy velvet sofas and mirror-topped tables. Cocktails are mostly classic and err on the expensive side, but the amaretto sour is good – as is the music, provided by DJs from 10pm.
Insider's tip: chase a night of cocktails with brunch at Isabel, which has just launched a new Latin-inspired menu, available on Sundays from 12pm.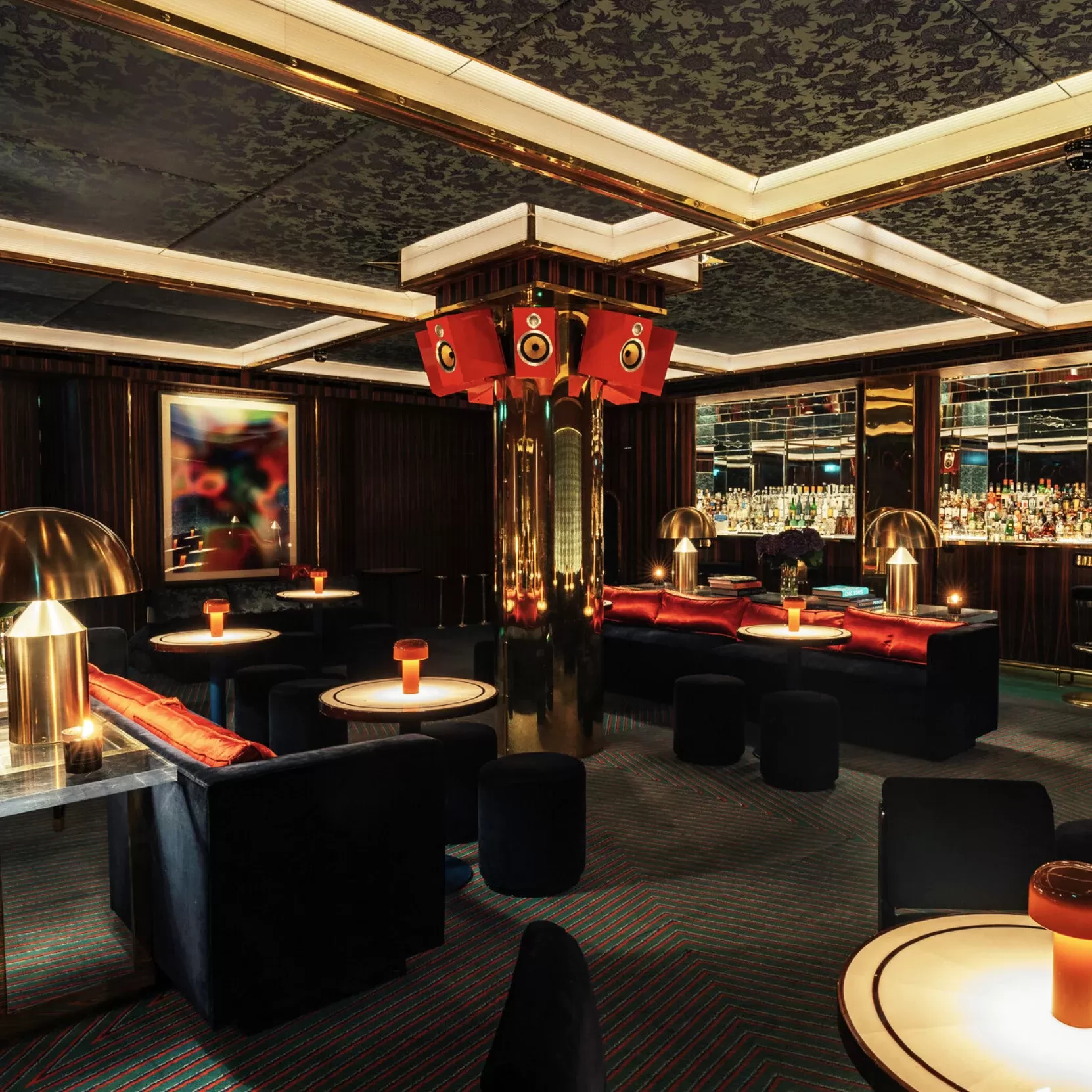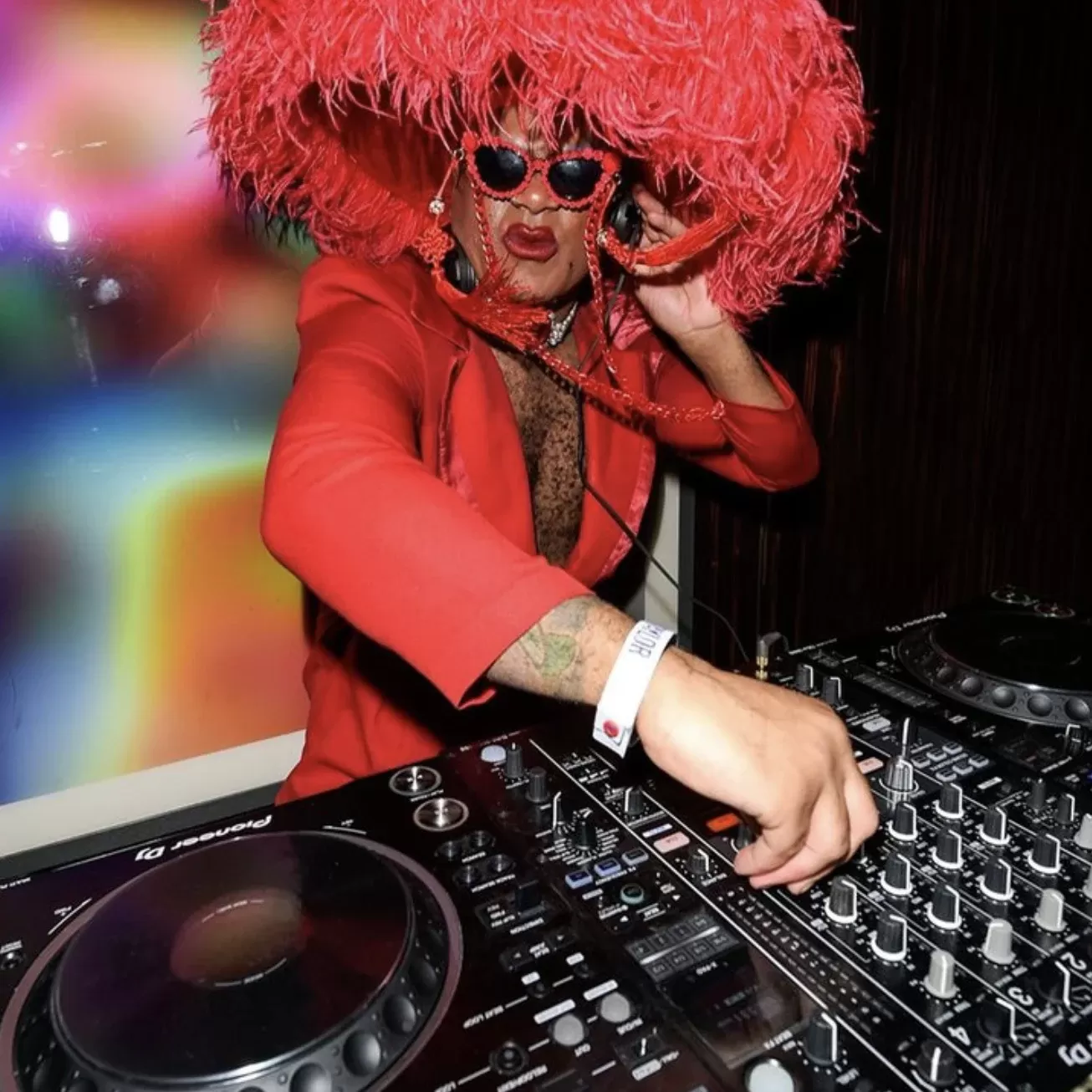 The Dragon Room at Isabel | 26 Albemarle St, W1S 4HY
Donovan Bar
You'll find this photography-filled bar in Brown's Hotel. Its pedigree is summed up by its bartender: Salvatore Calabreso. Known as 'il maestro' in the industry, he is the creator of the Breakfast Martini and once held the world record for the most expensive cocktail ever created (£5,500 if you were wondering). You'll find both on the menu at Donovan, which is named after '60s photographer Terence Donovan and is fittingly filled with his works.
Insider's tip: if you're not in the mood to splash five grand on Salvatore's Legacy, try the Sparkling Side of the Moon – a fruity riff on Pink Floyd topped with Ruinart bubbles for a very reasonable £23.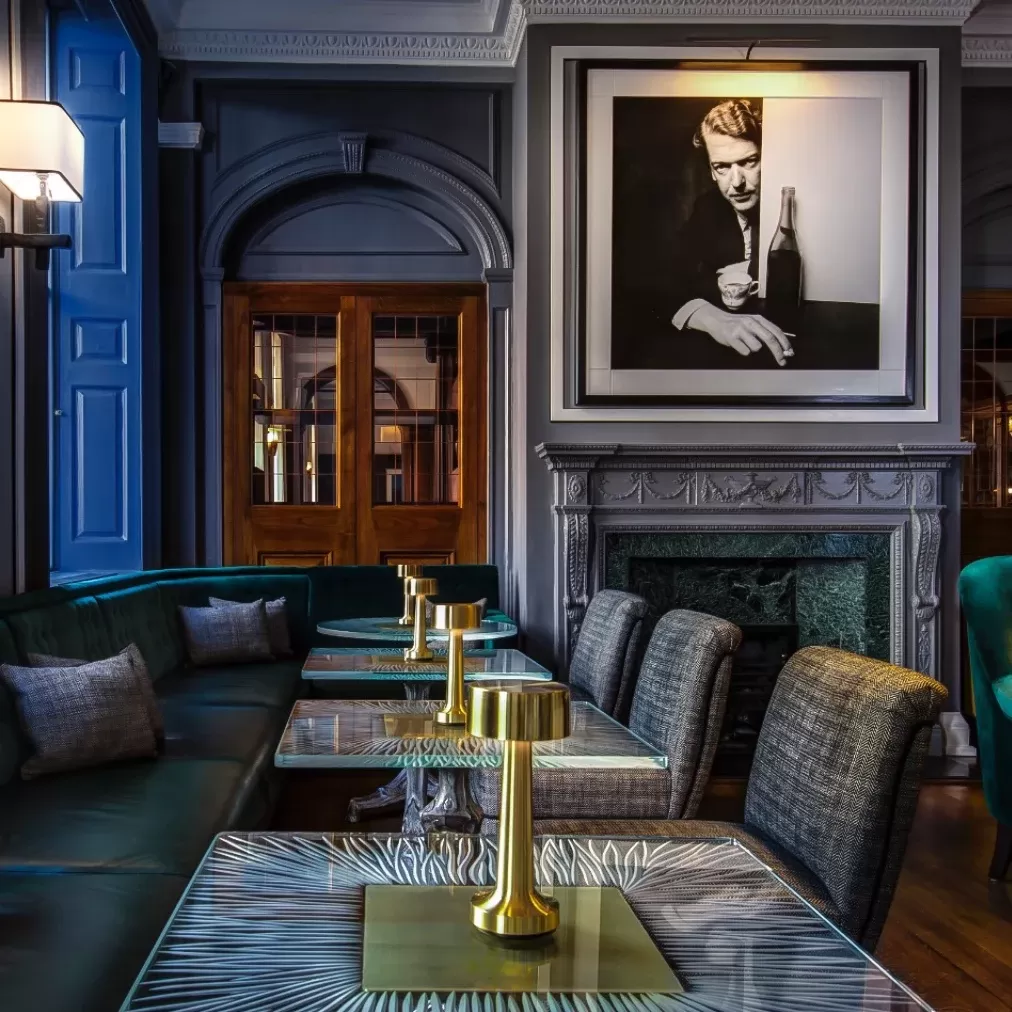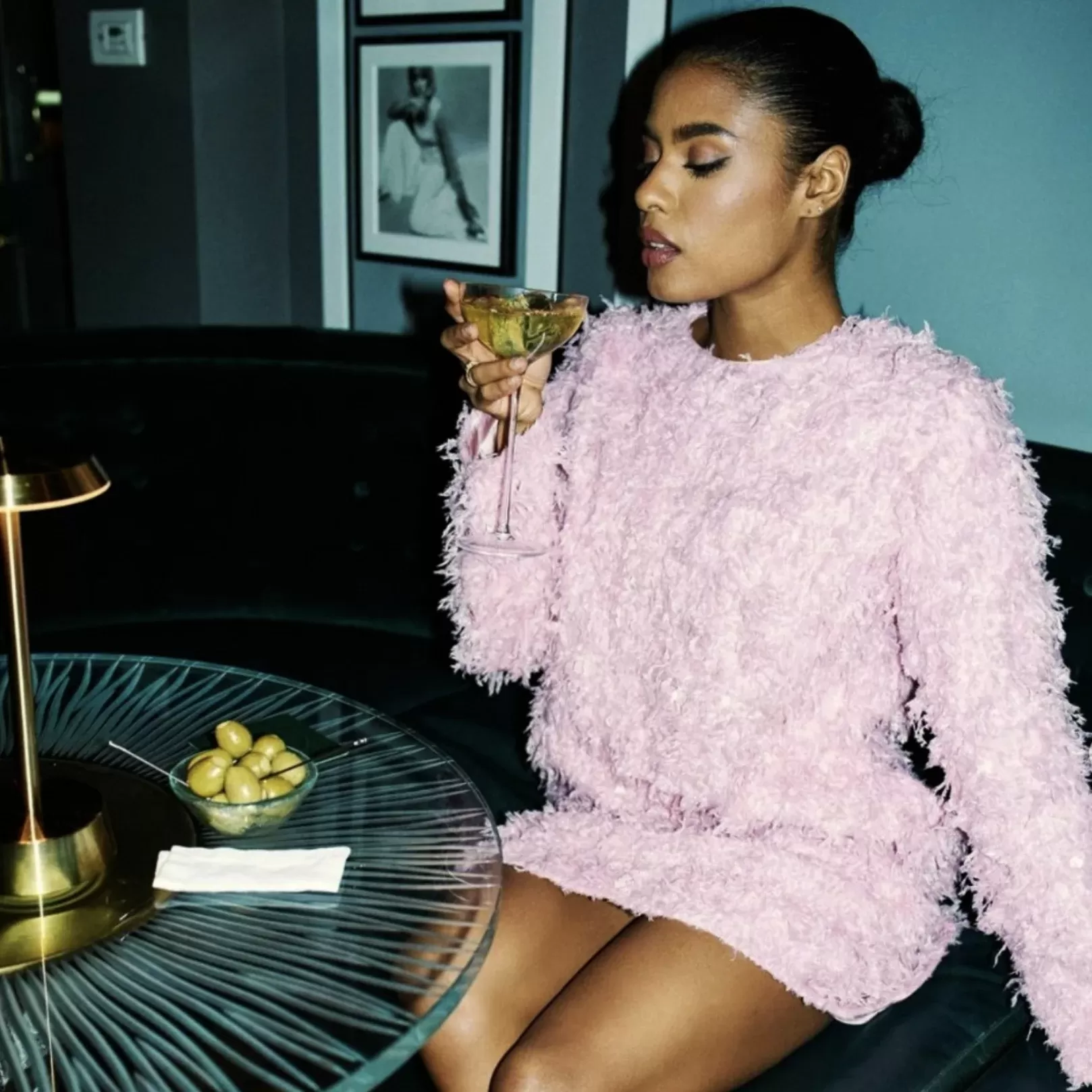 Donovan Bar at Brown's | 33 Albemarle St, W1S 4BP
The Connaught Bar
Everybody knows it, everybody loves it – and if you haven't been, what on earth are you waiting for? We are, of course, talking about The Connaught Bar, which is frequently named among the world's best bars. Even if you don't like martinis, order one for the theatrical experience of the martini trolley arriving at your table. Otherwise, kick back in the Cubism-inspired interiors and leave your cocktail choices to Master Mixologist, Agostino Perrone.
Insider's tip: The Connaught Bar is celebrating turning 15 with a new 'Synergia' cocktail menu – try Daydreaming, a sparkling, tropical rehash of a classic negroni.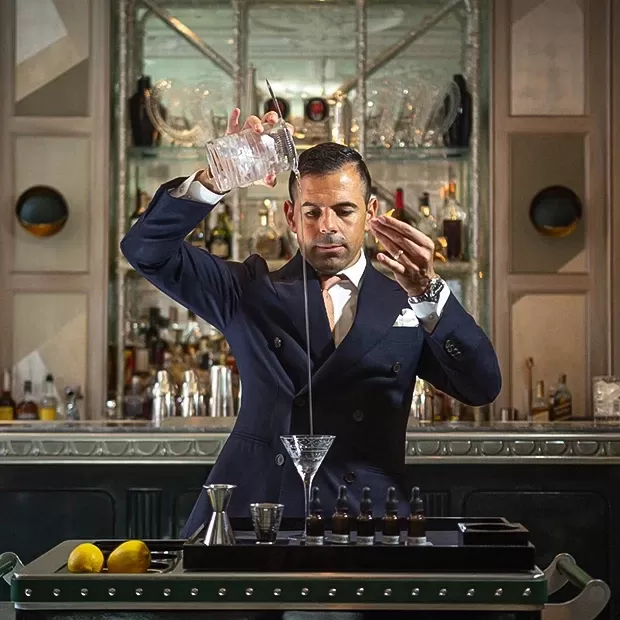 Agostino Perrone (R); Daydreaming (L) | 16 Carlos Pl, W1K 2AL
A Quintessentially membership is a golden ticket to some of the world's most exclusive bars and restaurants. Click here to find out more or speak to your lifestyle manager about the access we can secure for you.