To say that Bamford takes wellness seriously is a bit like saying 'grass is green' or 'water is wet' or 'the porridge at Daylesford is organic'. Encompassing a skincare and fashion brand, several spas, and the flagship Daylesford Farm, Bamford is an empire of wellness spearheaded by Lady Carole Bamford. It has been a standard-setting pioneer of sustainable fashion and organic farming since the early 2000s – with the popularity to match.
To even refer to Daylesford as a farm is somewhat of a misnomer. Alongside the expected animals, it encompasses a farm shop, café, spa, clothing boutique, events space, yoga studio, pair of shepherds' huts and a cookery school. It's also extremely popular; even on a drizzly Monday in March, almost every space is full.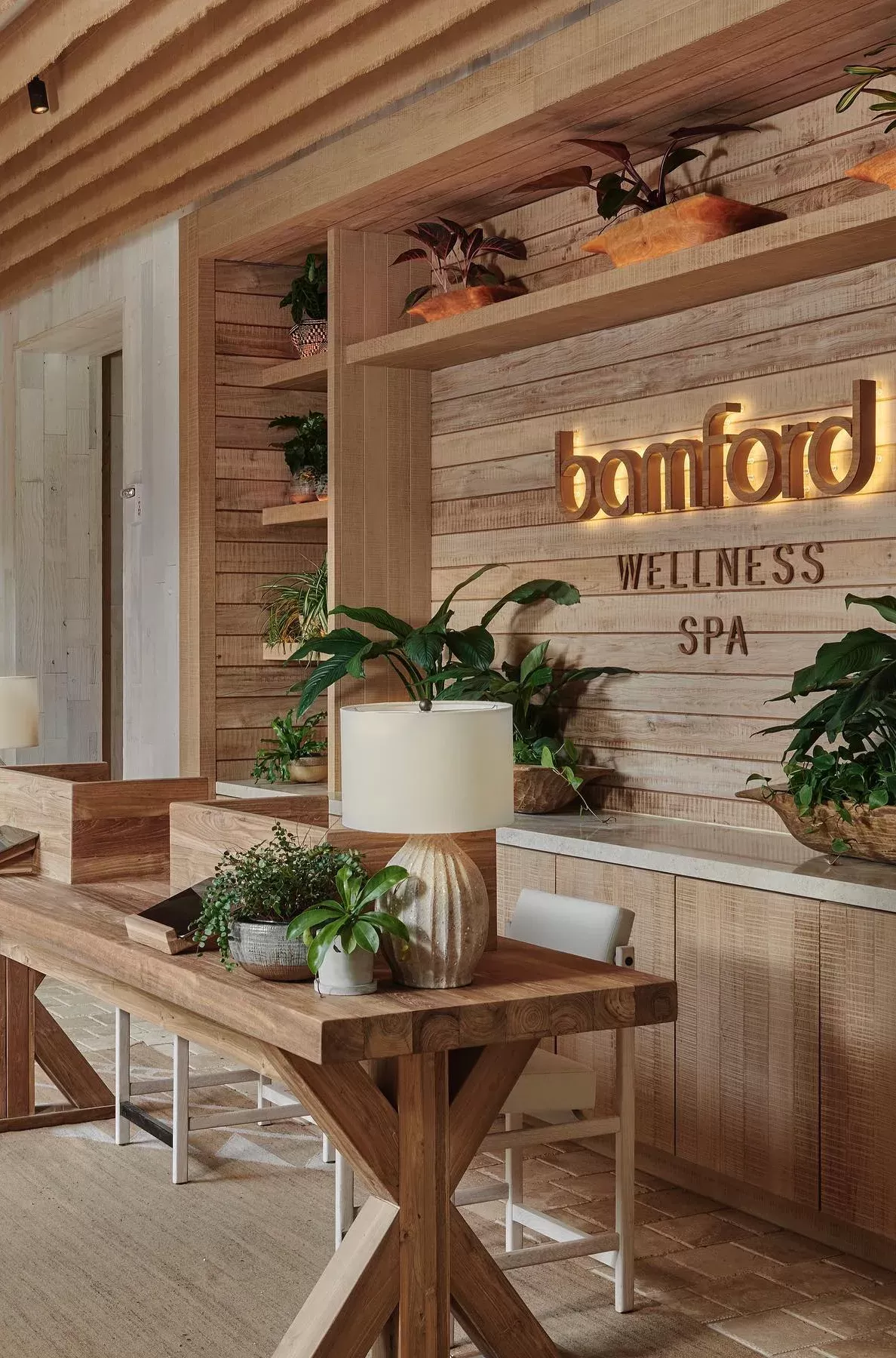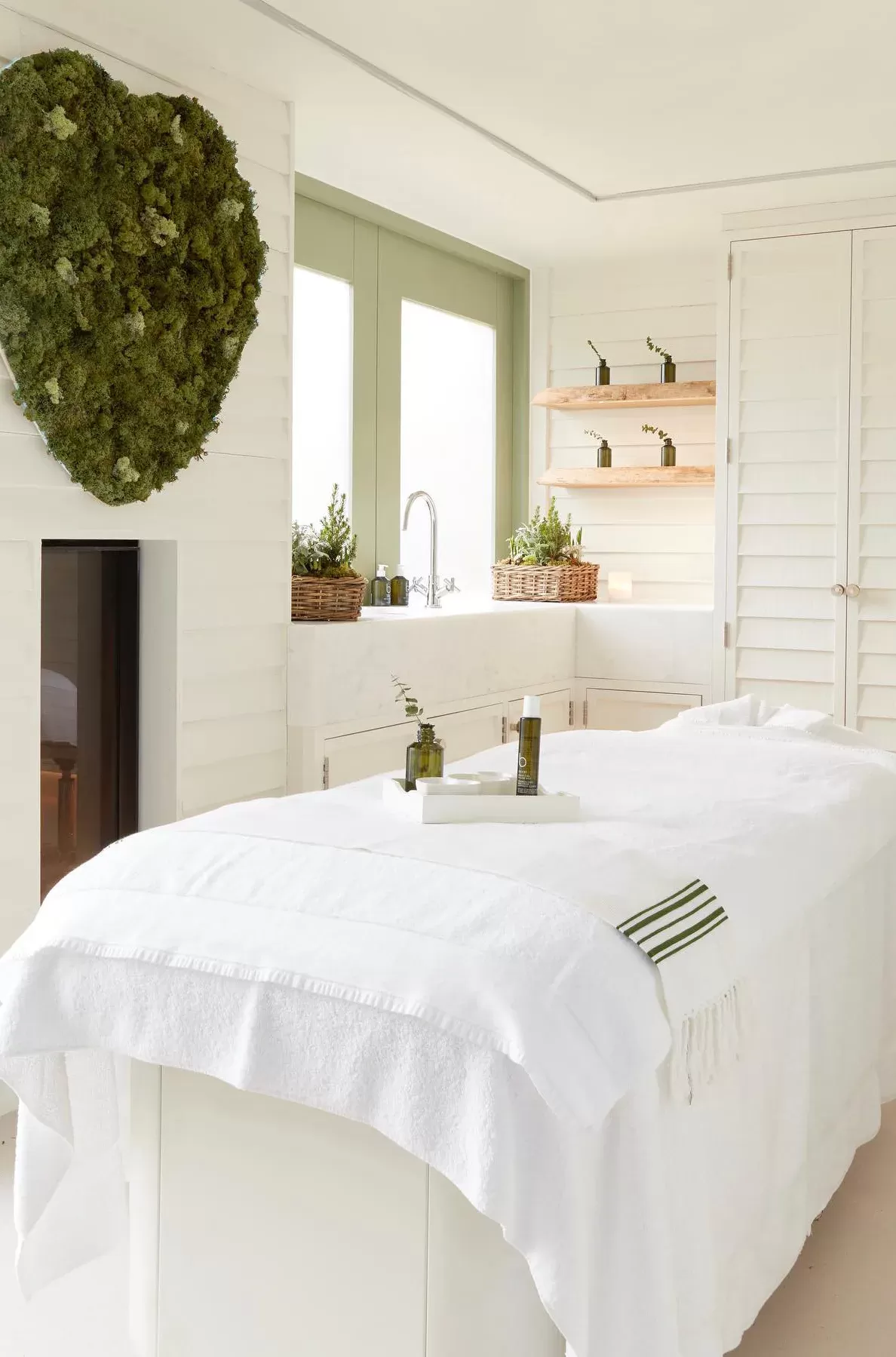 Daylesford Farm already has a Bamford wellness spa, offering luxury treatments using Bamford products
Daylesford's latest arrival is also its most exclusive: The Club by Bamford, a wellness-focused members' club concealed at the rear of the farm. It is on track to be one of the most high-tech wellness clubs in the UK, offering treatments such as cryotherapy that are only really available in London.
Membership starts at £350 per month and goes up to £15,000 per year, plus joining fees. Once you've handed this sum over, you've got full reign to use the space however you please. You could do laps in a garden-facing pool, play padel on the cowshed-adjacent courts, plunge into icy then heated baths, chill yourself to -120°C in a cryogenic chamber then thaw out in an infrared sauna, or chat with an Effect Doctor about your latest blood test results then hook up to an IV drip filled with targeted vitamins…
… Or, you could bring a friend, swan into the art-filled 'Nest' and sink into a forest green sofa to catch up over a glass of something pale and fizzy: whatever 'wellness' means for you.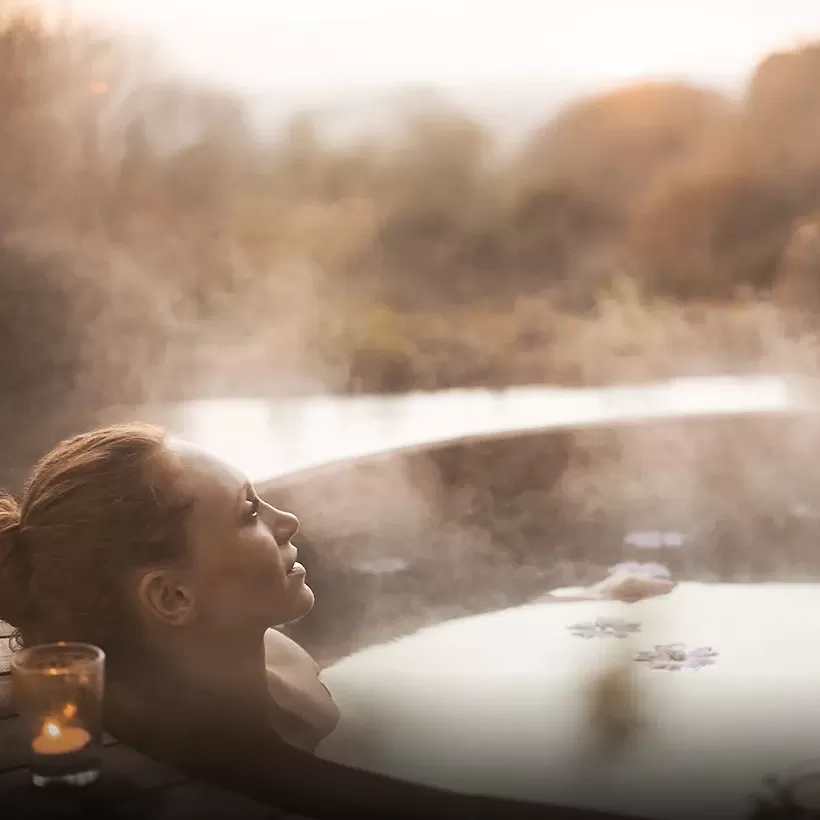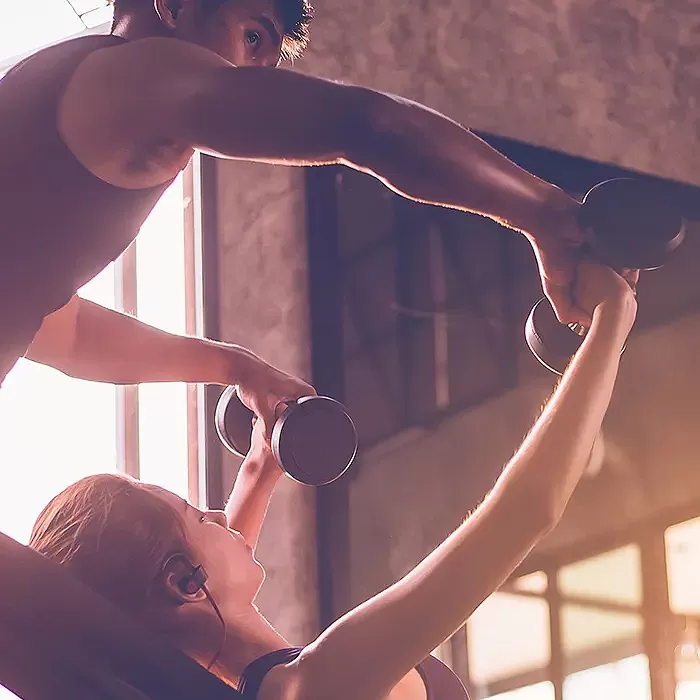 Bamford is founded on the principles of B. Wild, B. Well and B. You
The Club joins a growing number of private members' clubs in the Oxfordshire area. In Chipping Norton, 15 miles east of Daylesford, lies celebrity favourite, Soho Farmhouse; travel a further 15 miles south and you arrive at Masion Estelle's soon-to-be rural outpost, Estelle Manor.
However, what sets The Club apart is its laser focus on wellness. This is not the place to drink endless negronis in a jacuzzi (although you probably could if you pitched it as nourishing your soul). It is a place to, in Bamford's words, 'B. Wild, B. Well, B. You', with a slim member list ensuring all of the above can be done exceptionally.
To give you an idea of what to expect, your day at The Club could begin like this. You could purr up the gravel drive at 6:30am, where number-recognition gates will admit you to the private carpark. You then waltz up the wooden steps, past black and white shelving of The Club merchandise, and jump on a treadmill overlooking the cowsheds. Or, from 8am, you could drink an oat flat white at the black marble bar before meeting your personal trainer in the mirrored studio, rounding it all off with a cryotherapy session and a few laps in the 25m pool.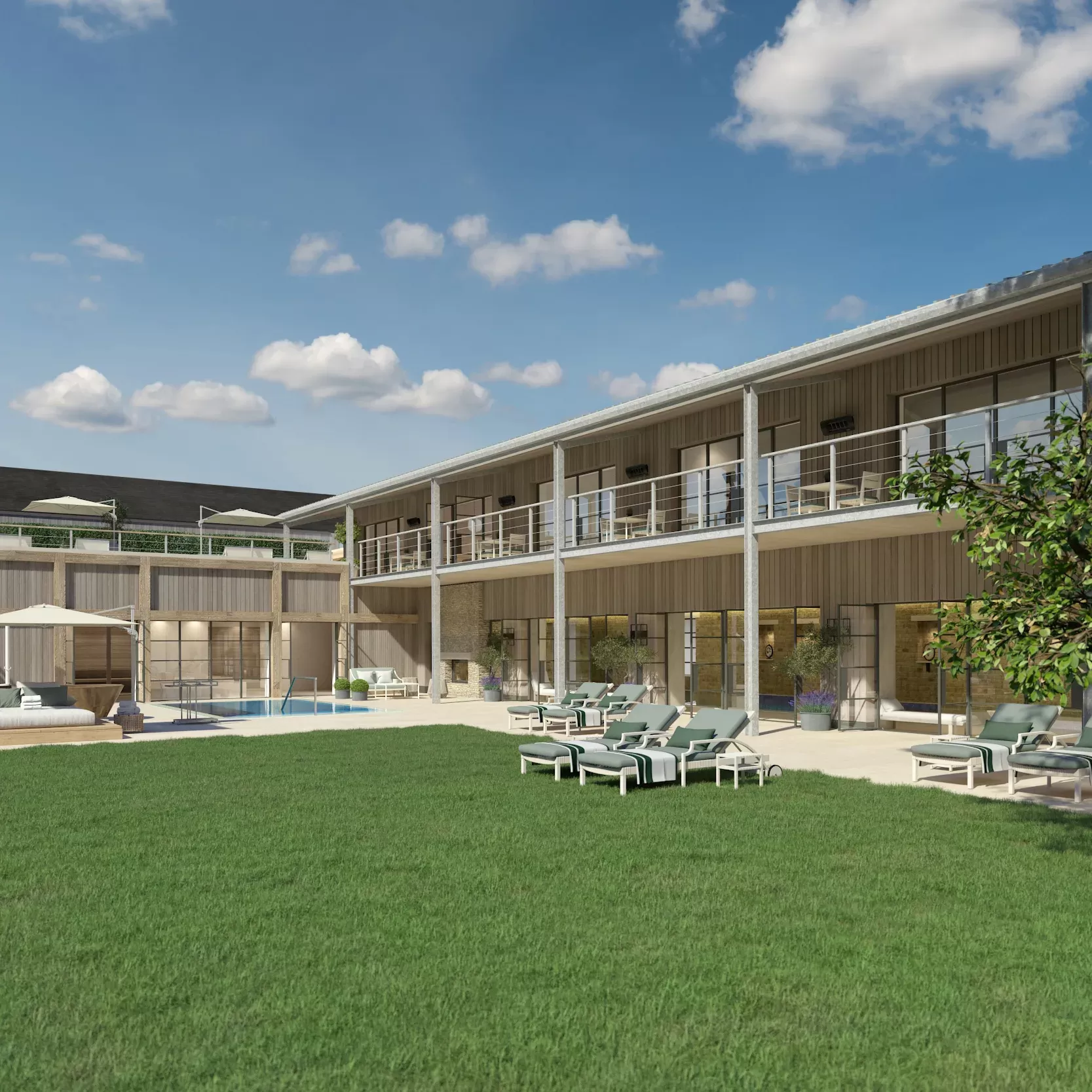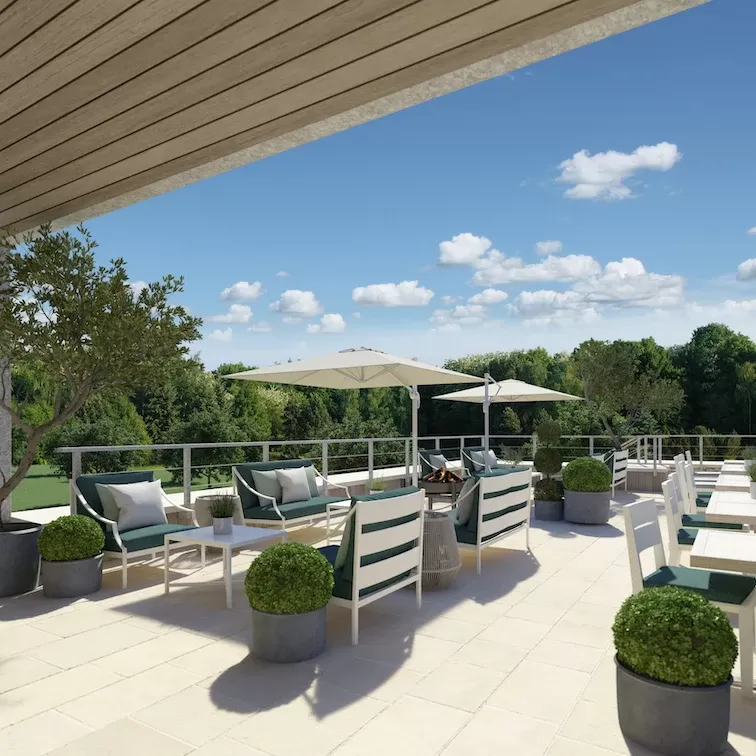 A gym class or a glass of wine on the terrace? Both are possible – and encouraged – at The Club
It's even possible to bring your laptop and sink into a sheep-like, fluffy white armchair (it is a farm, after all) and fire off some emails whilst breathing in the lemon-scented air, courtesy of several indoor trees. However, the team are quick to assert that this is no co-working space. It is for making you feel your best – but if that includes a discreet Teams call, so be it.
Regardless of how you use it, the attention to detail throughout is astounding. Huge art pieces adorn every wall, either bought specifically for The Club or plucked from the Bamford family's private collection. Seemingly inspired by the mandate to 'B.Wild', door handles have been fashioned to look like tree branches, as has the banister leading to the pool. Down here, your journey from Indian marble changing rooms to open-air sauna has been painstakingly landscaped so you can flow from pool to sauna to shower. Even the high-vis jackets worn by builders nailing down the final few flourishes are emblazoned with The Club's cursive logo.
The grand opening date has been set as 27th March. So, if you're looking for a place where a HIIT class, flopping in an infrared sauna, or strolling to the pub are all considered equally worthy wellness pursuits, all you need to do is join The Club.
For more information about joining The Club, please contact your lifestyle manager. For further information about a Quintessentially membership, click here.