While the origins of mooncakes are believed to date back to the Shang dynasty, more than 3,000 years ago, it's only over the last few years that the festive treats have evolved from humble pastries to beautifully presented gourmet goods, made with everything from ice cream to rare teas to caviar. Here's our pick of the best gift boxes and hampers to order if you're out to seriously impress your friends, colleagues and loved ones for this year's Mid-Autumn Festival.
Rosewood Hong Kong's 'Full Moon – past: present: future' limited-edition mooncake gift box
The Rosewood Hong Kong has a range of covetable Mid-Autumn gift boxes and hampers, but the one to bag this year is the limited edition 'Full Moon – past: present: future' set, which has been designed in collaboration with the new Hong Kong Palace Museum (the only outpost of the Palace Museum in Beijing).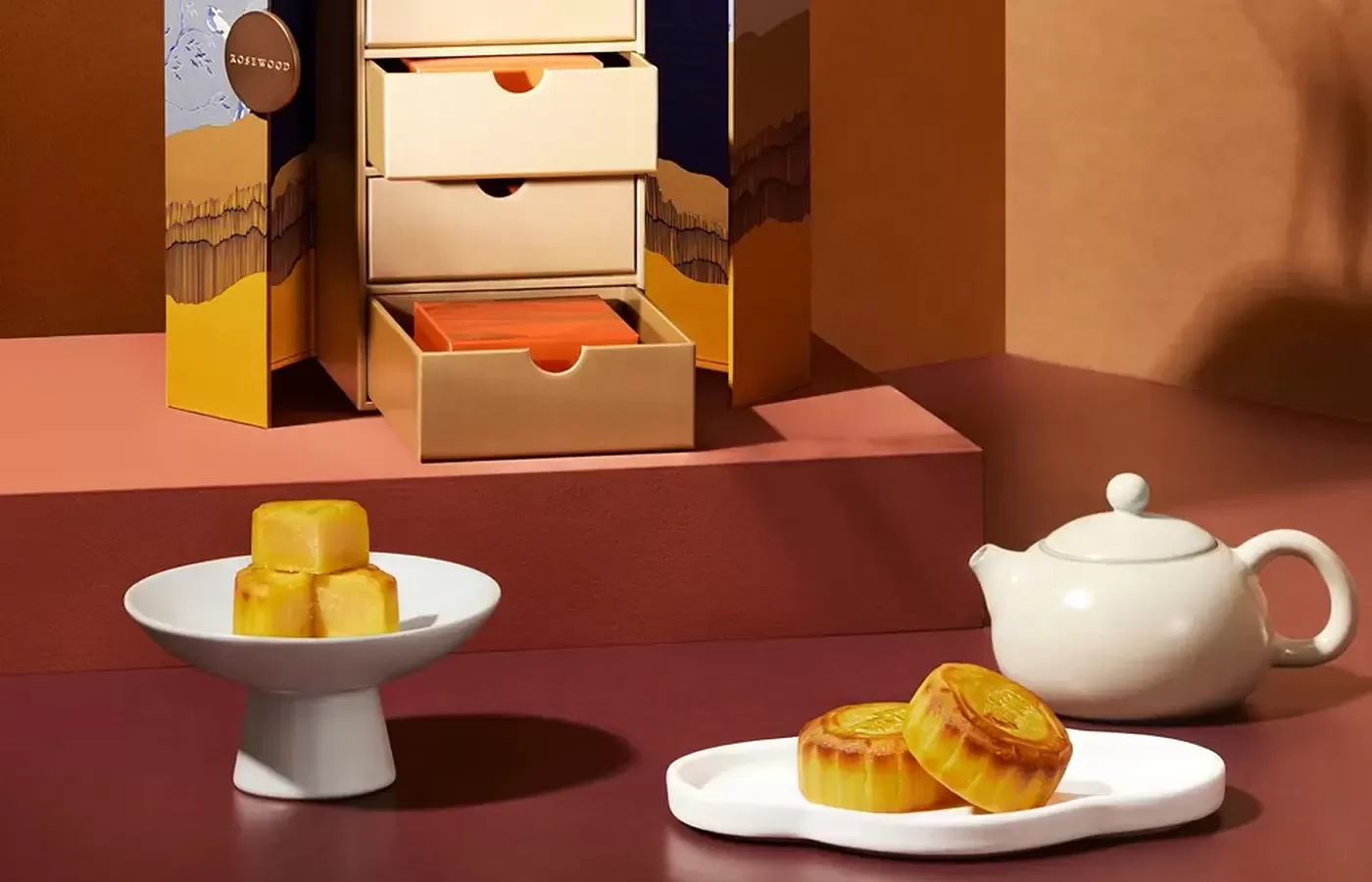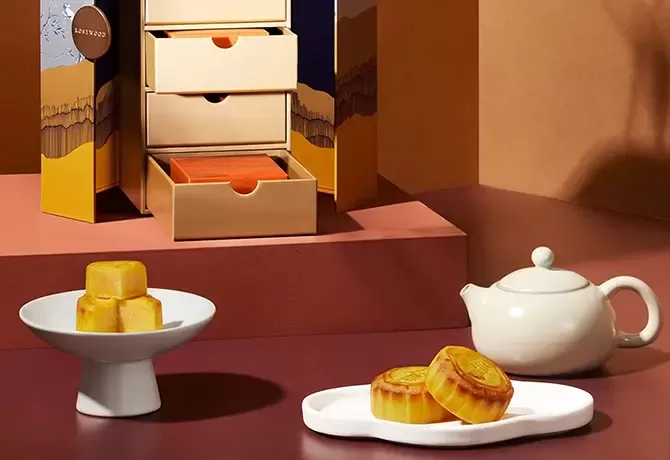 Created by HKPM's artistic director Stanley Wong in collaboration with visual artist Victor Wong, who uses artificial intelligence to reimagine traditional ink painting on paper, the box is striking in its originality. Inside the neon-bright confines, it includes a mix of white lotus seed paste with double egg yoke cakes and egg custard mooncakes created by The Legacy House's executive chef, Li Chi-Wai.
Lady M's Moonglow Mooncake gift box
Upmarket bakery Lady M is best known for its exquisite mille-crepe cakes, but they also produce a range of gorgeous mooncakes for the Mid-Autumn Festival celebrations. This year's offering comes in a pearlescent pink jewellery box adorned with pretty drawings of fortuitous flowers and a gold-embossed moon.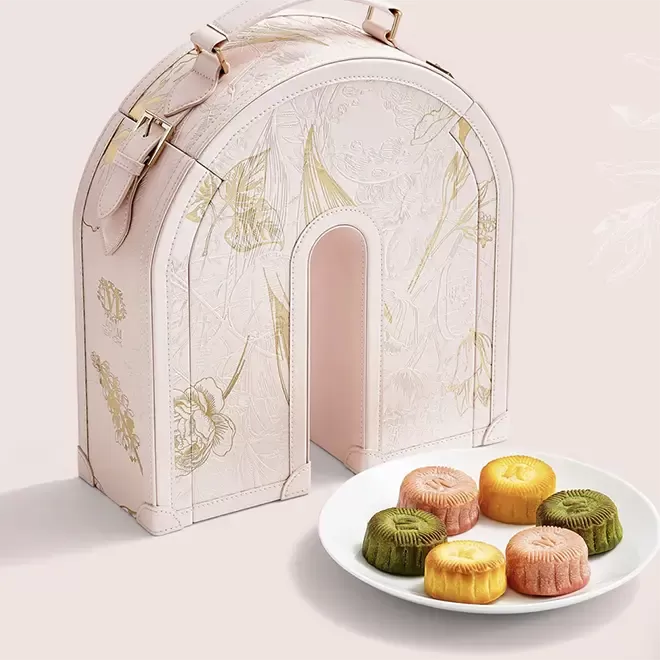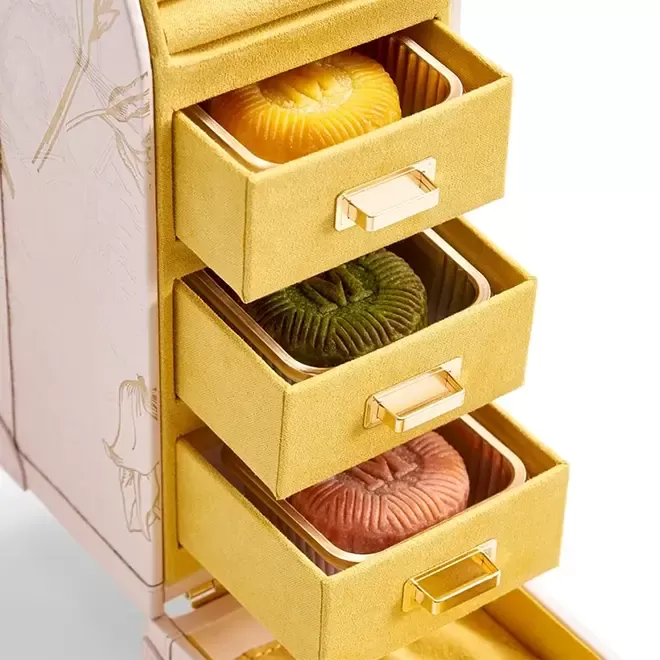 Within, six drawers contain individual cakes in three delicate flavours: pandan matcha custard, lychee rose custard and yuzu milk custard. Bottles of biodynamic wine, vegan palmiers and chocolate cookies can also be added to create a more generous hamper.
Landmark Mandarin Oriental's Mooncake Bento Box
The perfect hamper to gift more sustainably-minded friends and loved ones, the Landmark Mandarin Oriental's swish Mid-Autumn Mooncake Bento Box can be reused again and again for bento-style lunches.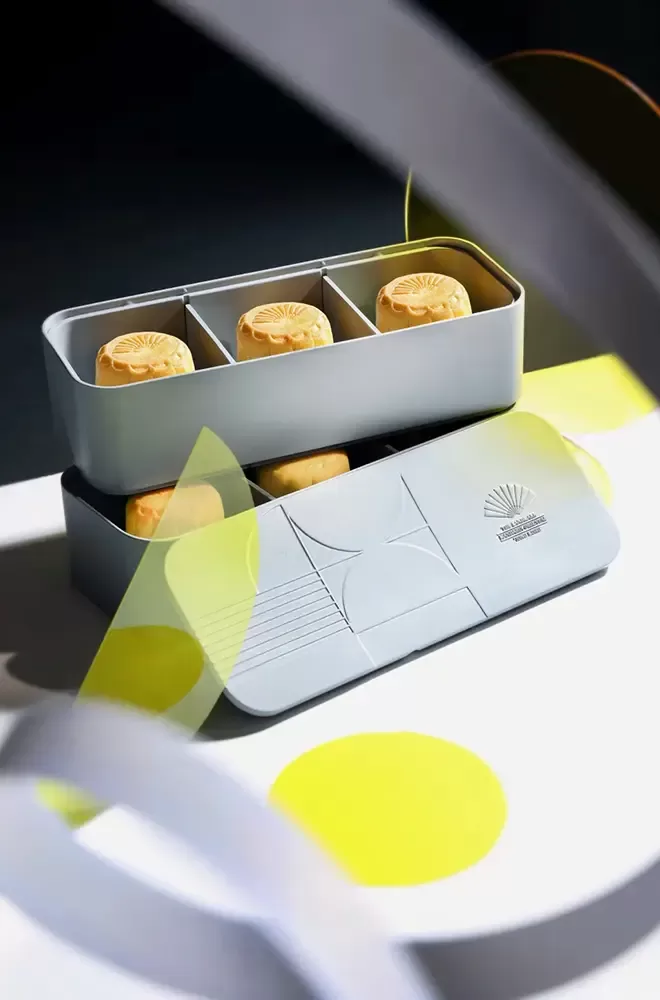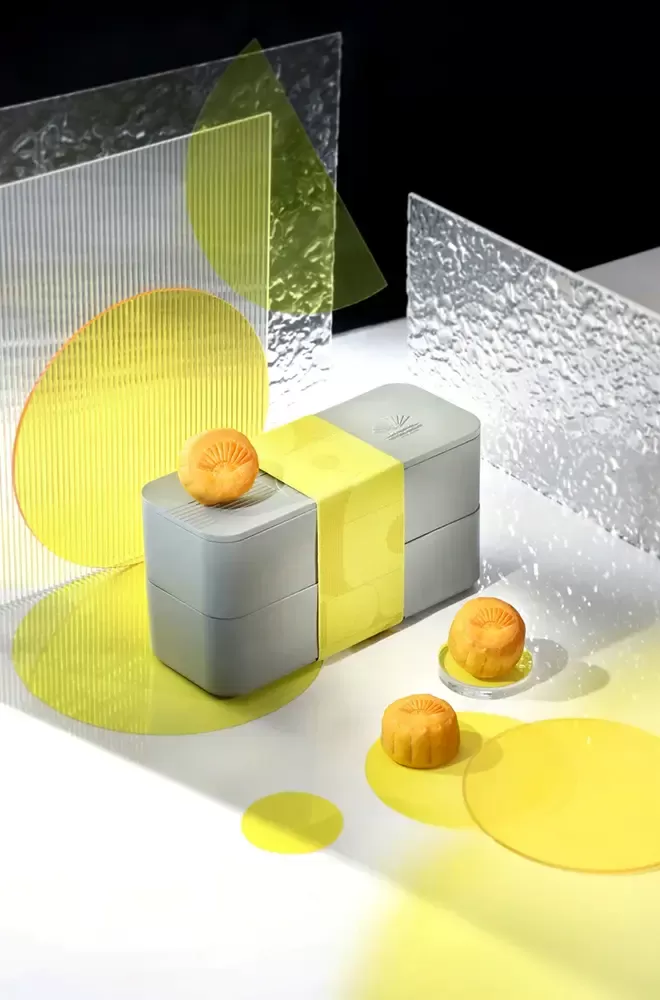 Made from sturdy, microwavable – but completely biodegradable – corn fibre, the sleek graphite-grey double-decker box is decorated with subtle rabbit motifs (reflecting the current lunar Year of the Rabbit). It is filled with six mini egg custard mooncakes adorned with the Mandarin Oriental's fan. Boxes can also be returned with the hotel, which will gift recyclers with a complimentary glass of wine at Amber, Somm or the MO Bar.
The Peninsula's Supreme Mid-Autumn Hamper
It's hard to top a hamper from The Peninsula, and this beautifully decorated box adorned with pink lotus flowers has everything you need to see you through the festivities. Aside from containing eight delightful egg custard mooncakes from Michelin-starred Cantonese restaurant Spring Moon, you'll also find butter egg rolls, almond puffs, candied fruit and Charming Carré chocolates, as well as a bottle of The Peninsula's own vintage of champagne.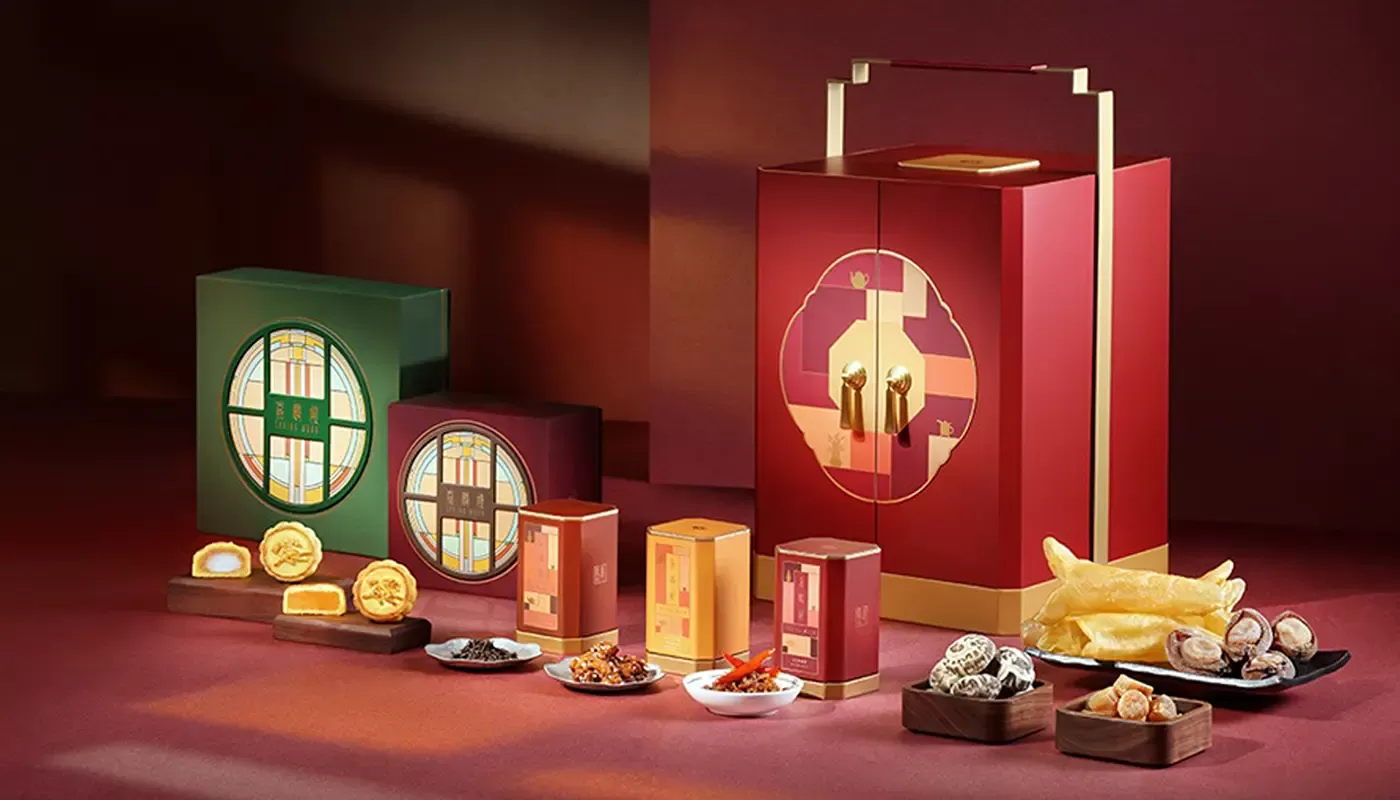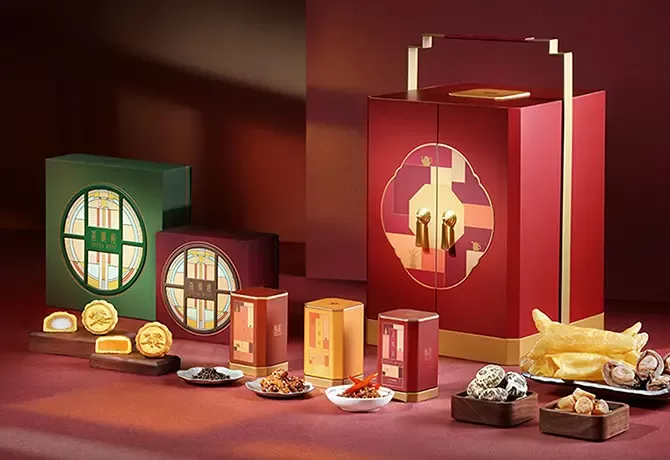 Royal Caviar Club
Forget caviar bumps: this Mid-Autumn Festival is all about caviar mooncakes. Coming courtesy of the Royal Caviar Club, their most recent selection artfully blends Ossetra caviar with a creamy cheesecake base and a shell fashioned from French artisanal chocolate.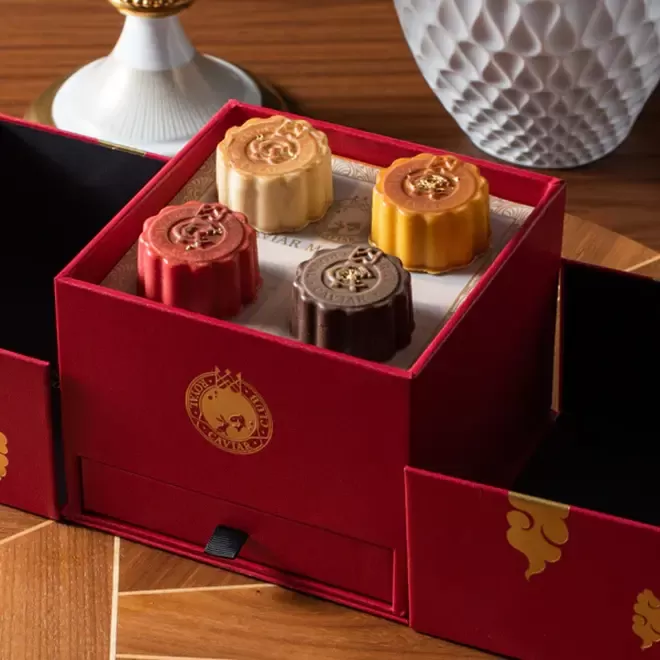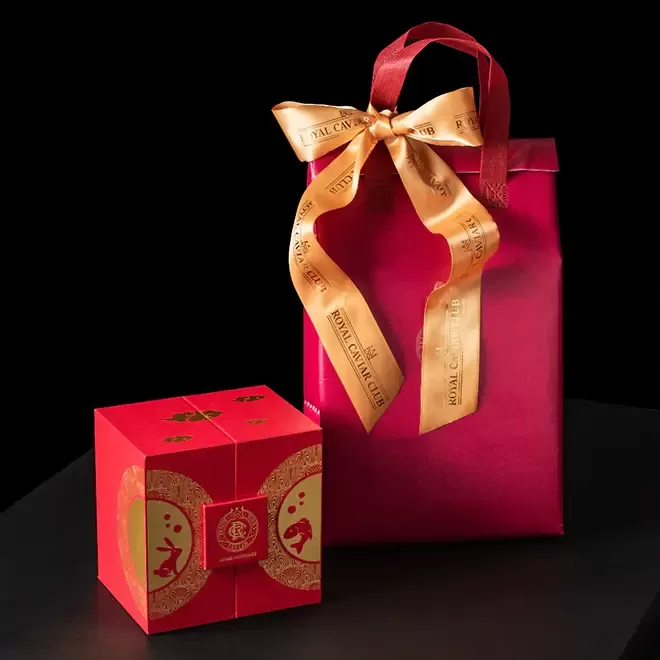 A more traditional red and gold box contains four mooncakes in four different flavours: dark chocolate with black truffle, Italian strawberry, Madagascan vanilla and Hokkaido cheesecake. Despite the decadent ingredients, each mooncake contains just 161 calories and has added minerals and vitamins, making this one of the healthiest mooncake options around.
Lung King Heen's assorted signature mooncakes gift box
There's a reason why Chef Chan Yan Tak, executive chef at the Four Seasons Hong Kong, has remained one of Asia's most lauded chefs for decades since becoming the first Chinese chef to be awarded three Michelin stars – and that's his passion for reimagining traditional Cantonese cuisine.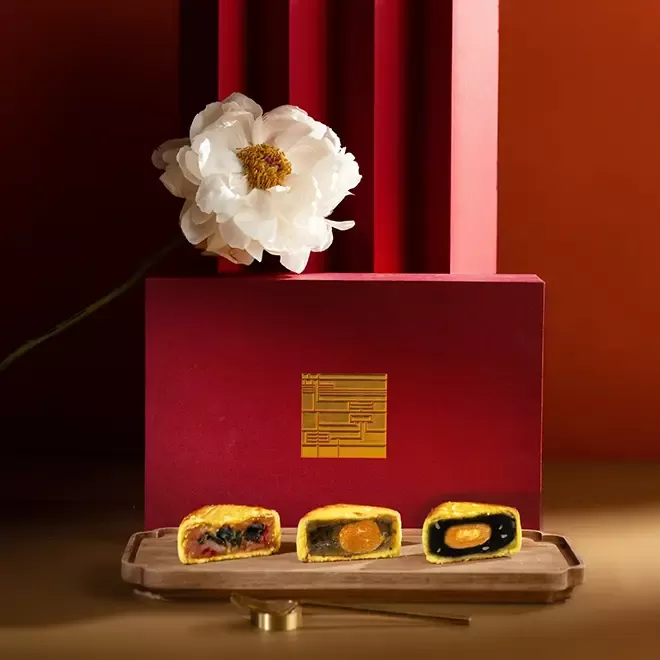 For this year's mooncakes, he's created a new flavour which blends a lighter, less sugary white lotus paste filling with rare orchid oolong tea – hand-picked in Wuyi – with crunchy hazelnuts and tangy salted egg yoke. You'll find them in the signature box, which includes preserved egg, pickled ginger, and cream custard with toasted pine nuts. Add them to a hamper alongside Chef Chan's other signature delicacies, including homemade XO Sauce, 5 Heads South African abalone and premium dried fish maw.
You've got good taste. We've got the specialist knowledge. As a Quintessentially member, you have a priority seat at every Michelin-starred restaurant, speakeasy cocktail bar, and chef's table experience – anytime, anywhere. Click here to discover membership.