In Japan, when 5pm rolls around, you don't go to the pub. You head for an izakaya. The laidback drinking dens – or, to use the literal translation, 'stay drink places' – combine the merriment of a pub with tapas-style small plates. Menus are a far cry from clean-lined platters of raw fish; in an izakaya, you use the adjectives 'sticky' and 'crispy' and 'grilled'.
London isn't exactly shy of food trends, and especially not when said trend involves beers and shared small plates. So, it's no surprise that a flurry of izakaya-identifying restaurants have cropped up in the capital – here are six you should know about.

The Aubrey London, Knightsbridge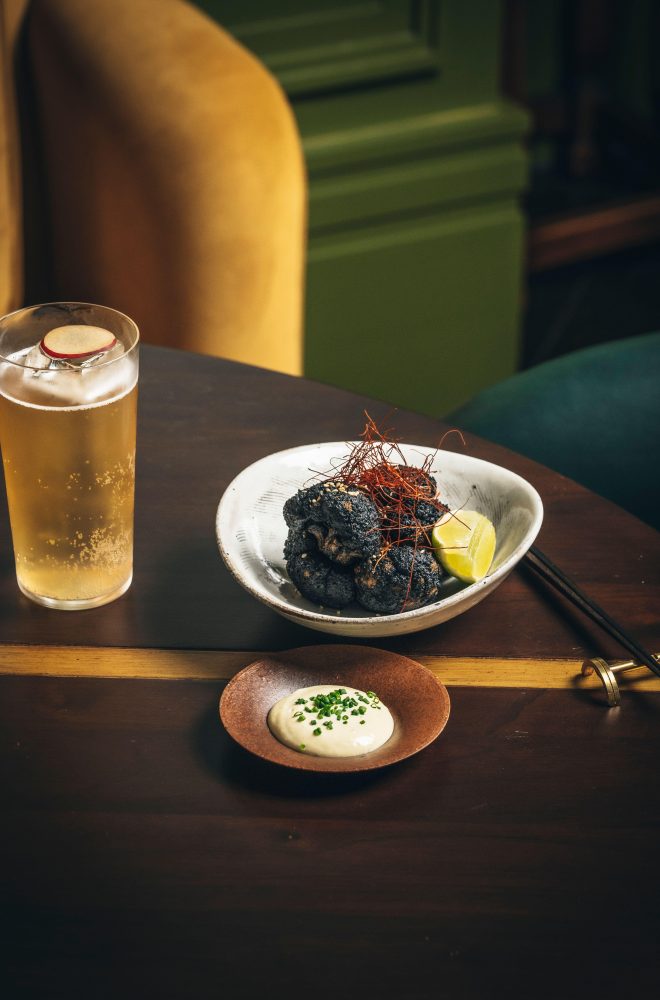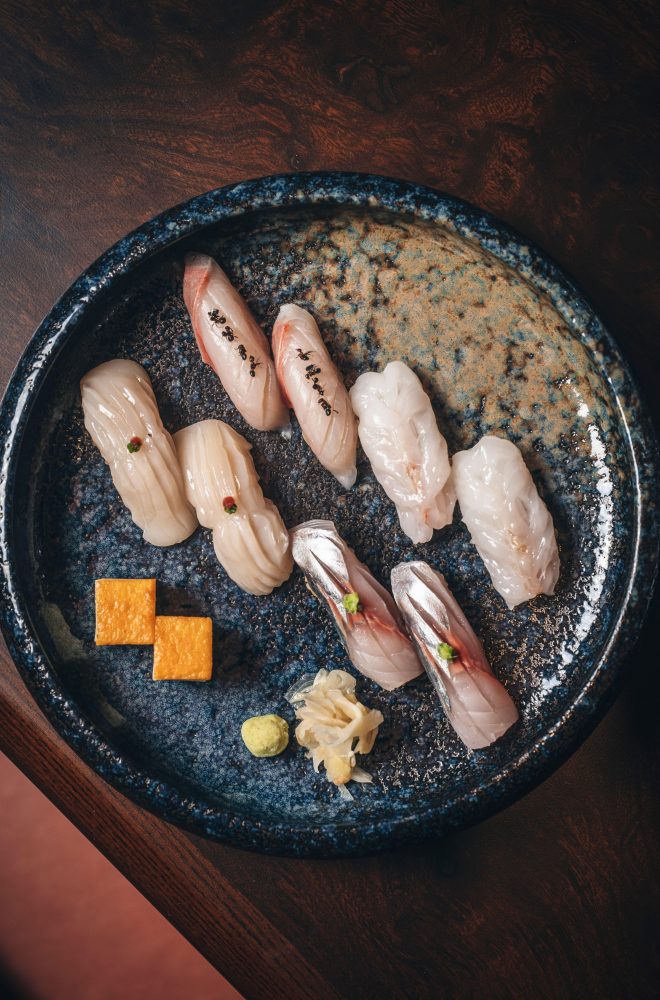 Chicken karaage and nigiri platter; images @lateef.photography
London's newest izakaya whisked aside its red velvet curtain at the end of January, revealing a vestibular velvet den punctuated with Japanese techno. Japonisme inspires sumptuous interiors (think painted herons, fringed scarlet lamps and curvaceous nick-nacks), and there's a pair of marble bars where you can watch nimble-fingered bartenders shake up sake-heavy cocktails. Foodwise, skip the bone marrow fried rice and instead load your table with blushing Iberico pork (salty, tender, and best when dunked in the accompanying chilli paste), nigiri topped with nose-tickling wasabi, teeth-tickling ants (no, really), and a cloud of miso soufflé.
Drink: the umami-heavy Salome. It's a savoury, moreish martini made with sake and tomato liqueur.
Eat: the charcoal karaage chicken. Despite its blackest black appearance, it's surprisingly light and tender – and the yuzu mayo it's served with? Heavenly.

Mandarin Oriental Hotel, 66 Knightsbridge, SW1X 7LA
Double Dragon, Clerkenwell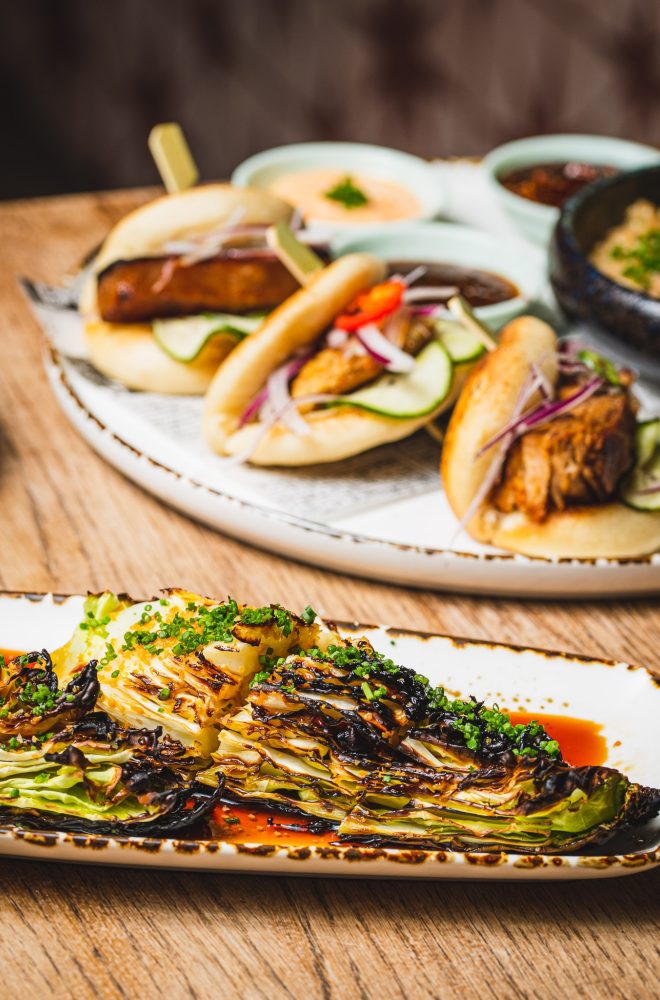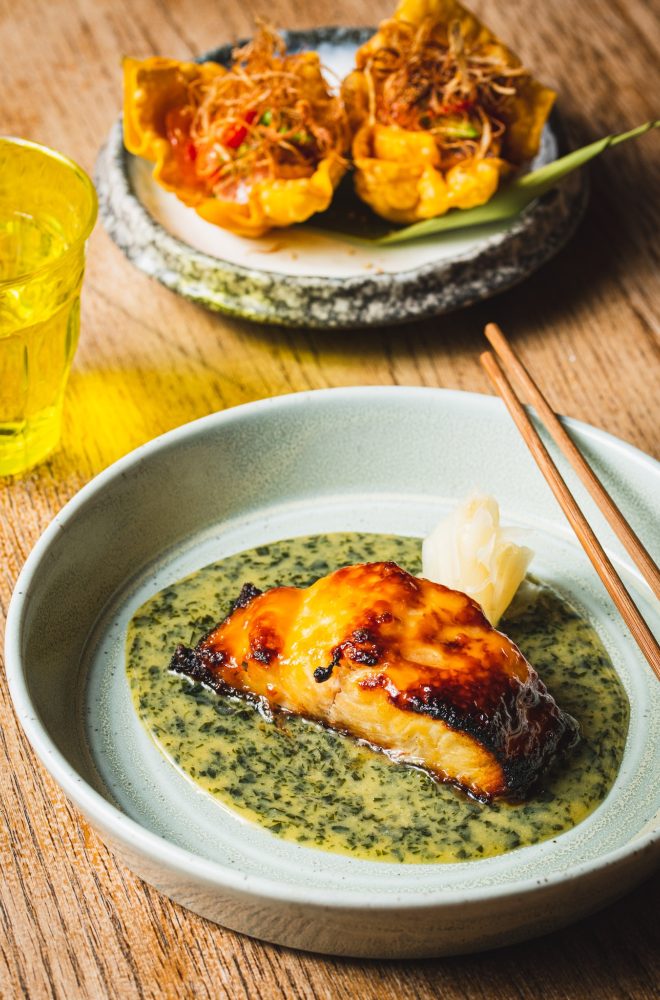 Magical cabbage (L); Wood-fired black cod (R)
This once-temporary, now-permanent Scott Hallsworth restaurant is a true, rough 'n' ready izakaya – if an izakaya was housed in a column-filled former bank, that is. The open kitchen is covered in stickers, Takeshi's Castle flickers from a projector, and guests are encouraged to scrawl all over its 'graffiti' wall. As such, it's not one to wear your best suit to, but it is a lively place to share a few superb dishes with friends. On your order list: jelly-soft black cod, beer-marinated beef tataki, and spindly artichoke chopsticks (ask for an extra portion of the truffle ponzu dip – it is heavenly).
Drink: a sake bomb – a shot of sake carefully balanced on top of a glass of beer with chopsticks.
Eat: the so-called 'magical' cabbage. Its leaves are charred in a pizza oven before being drenched in a sour, moreish sauce that is, we agree, truly magical.
84-86 Rosebury Avenue, EC1R 4QY
Apothecary, Shoreditch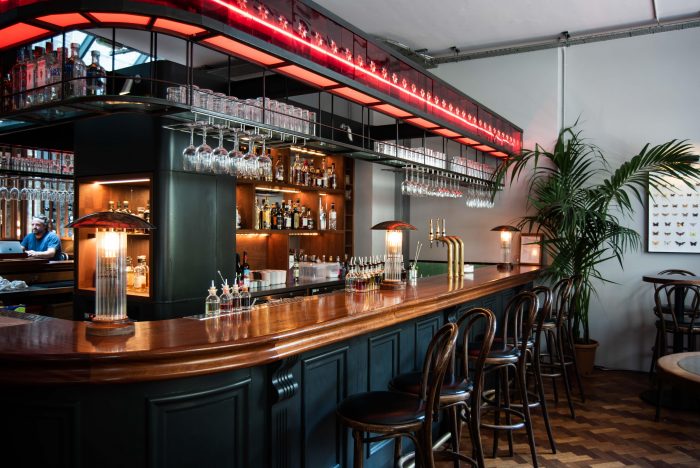 The bar at Apothecary
Only in East London could a restaurant get away with describing itself as "a Tokyo tavern with Shoreditch energy". The aforementioned energy, by the way, is a plant-filled, used-to-be-a-pub room with globular hanging lights and DJs on the weekend. Sushi comes topped with fish rather than rolled around it, there's a deluxe menu that includes 'dragon rolls', and there's a sexy-looking yuzu cheesecake on the pudding menu, too.
Drink: skip the local brewers (sorry, Camden Hells) and opt for a slow-aged Japanese amber beer flavoured with sweet potato.
Eat: match your plate to your pint by going for robata grilled sweet potato skewers; they arrive dribbled in tofu sauce and topped with dry-fried spring onions.
36 Charlotte Rd, EC2A 3PG
Sakaya, Belgravia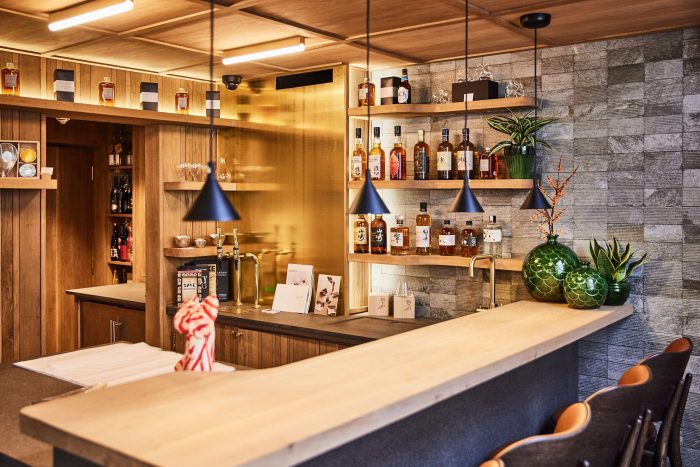 The bar at Sakaya has room for four guests
This tiny bar is the smallest space in Belgravia's giant Nordic-Japanese playground, also known as Pantechnicon. Sakaya – meaning bottle shop in Japanese – has floor-to-ceiling shelves heaving with various whiskeys and sakes, but there's also space for four people to sample its products at a dinky wooden bar. The intimacy of the space means that service from the sommelier is pretty much personal, and you'll leave knowing more about sake than you thought was possible – as well as with a bottle of your favourite.
Drink: the fruity-yet-creamy White Blossom, enlivened with a shot of sake.
Eat: food is of the bar snack variety (hello, lotus crisps), so if you're hungry, you're better off booking a private booth in subterranean sister restaurant, Sachi, for truly sublime sushi.
19 Motcomb Street, SW1X 8LB
8 at the Londoner, Leicester Square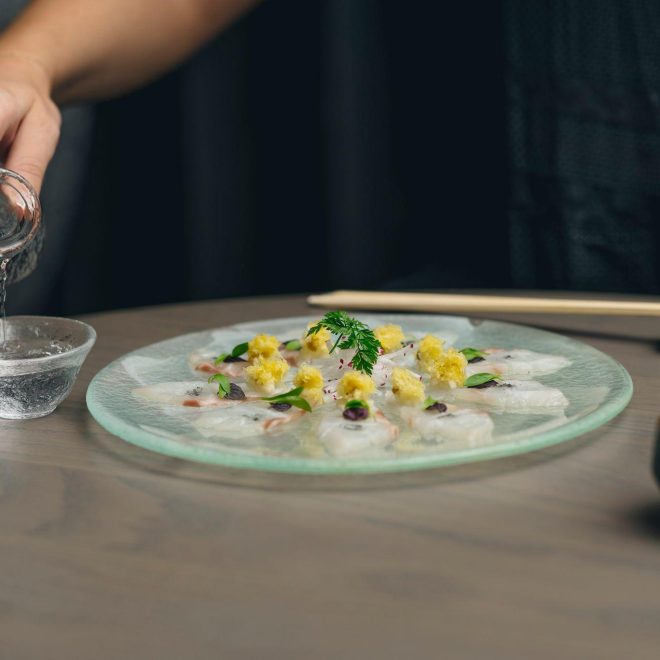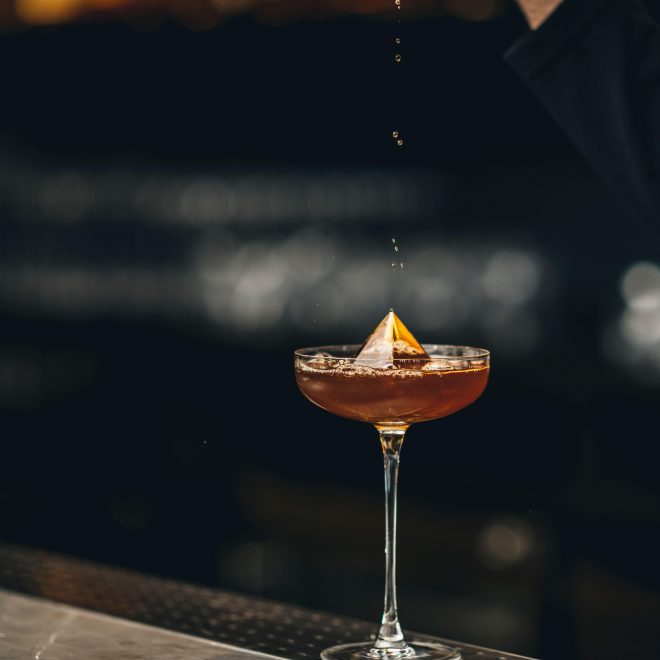 Sea bass carpaccio and espresso goma; images @lateef.photography
Although any place that claims to 'reimagine tradition' sets off the cliché detector, this eighth-floor drinking den manages to pull it off. A far cry from the folded plastic chairs you'd expect from a backstreet Tokyo izakaya, this slick bar is on the 8th floor of the five-star hotel The Londoner. It features monochromatic sofas and a sculptural rope installation suspended over a fire pit. Absent, too, is an izakaya's typical fried fare; instead, you can expect a focus on seafood and wagyu, as well as a martini-heavy cocktail list.
Drink: an Espresso Goma. Essentially the Japanese cousin of an espresso martini, this delicate drink comes complete with Amari seaweed and sugar sesame.
Eat: start with freshly cut sea bass carpaccio (it comes topped with Fuji apple) followed by lobster gyoza tacos, which are punched through with chilli and coriander.
38 Leicester Square, WC2H 7DX
Cubé, Mayfair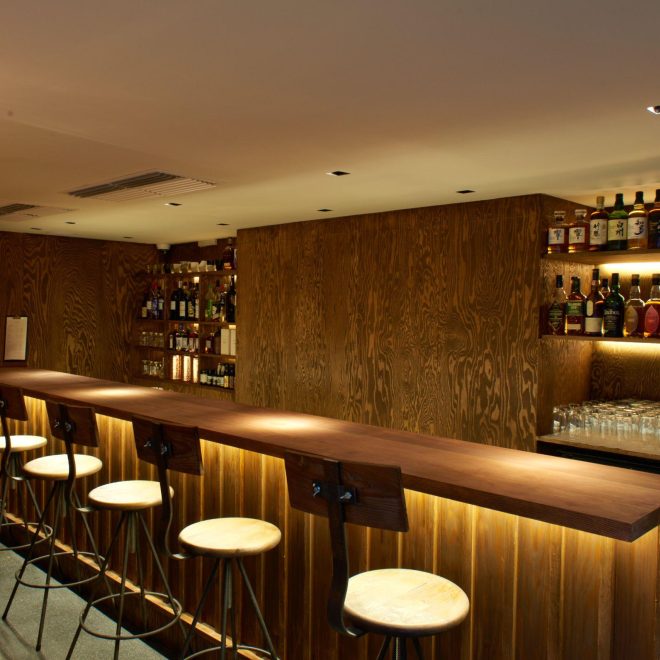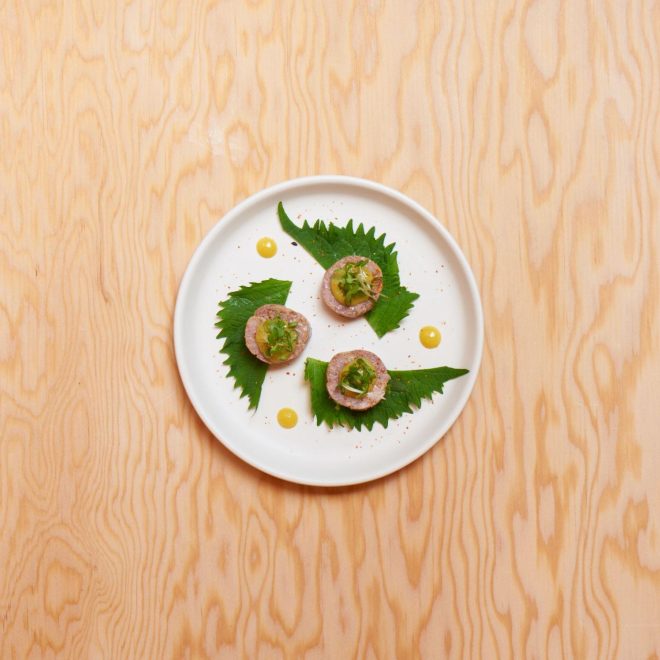 The bar and sushi at Cubé
You need a crash course in Japanese before we tell you why Cubé is one of our favourite izakaya. In Japanese, Cubé – pronounced phonetically – means to pamper, and the other word you'll need to familiarise yourself with is omakase, which means 'entrust'. Put them both together, and it sums up the offering at Cubé: ten courses of chef-chosen, fresh sushi to pamper any guest. Of course, in the spirit of izakaya, there are also other small plates on offer, and interiors are slick and simple with walls, tables and bars all made from wood.
Drink: head downstairs to the owner's cellar for an incredible selection of wines and sakes; we're eyeing up the sparkling sake.
Eat: if you don't have time for the full omakase treatment, order a selection of small plates à la izakaya, including spicy octopus with cucumber and creamy crab meat croquettes.

4 Blenheim Street, W1S 1LB
To make a booking, please contact your lifestyle manager.