In Japan, when 5pm rolls around, you don't go to the pub. You head for an izakaya. The laidback drinking dens – or, to use the literal translation, 'stay drink places' – combine the merriment of a pub with tapas-style small plates. Menus are a far cry from clean-lined platters of raw fish; in an izakaya, you use the adjectives 'sticky' and 'crispy' and 'grilled'.
London isn't exactly shy of food trends, and especially not when said trend involves beers and shared small plates. So, it's no surprise that a flurry of izakaya-identifying restaurants have cropped up in the capital – here are six you should know about.

The Aubrey London, Knightsbridge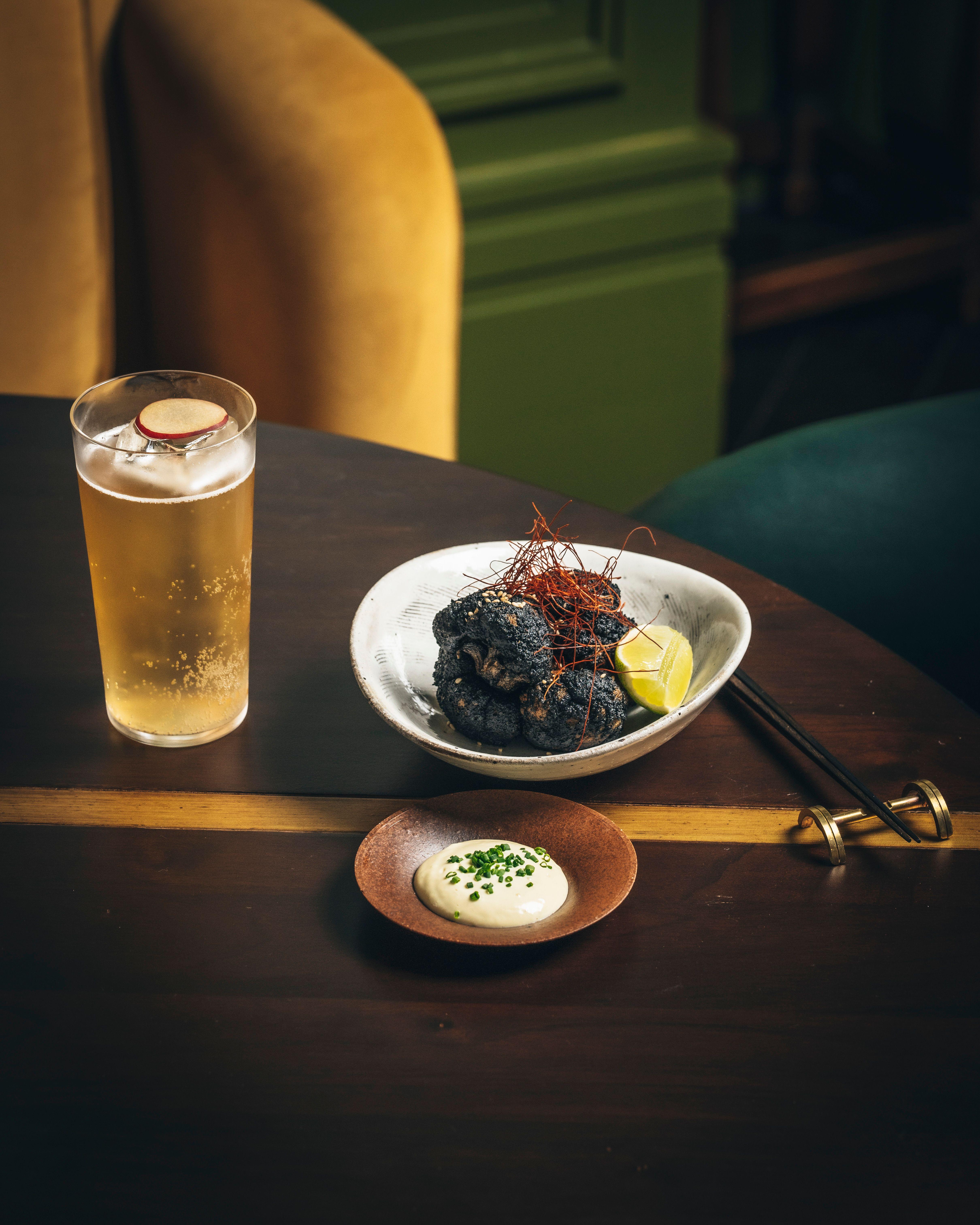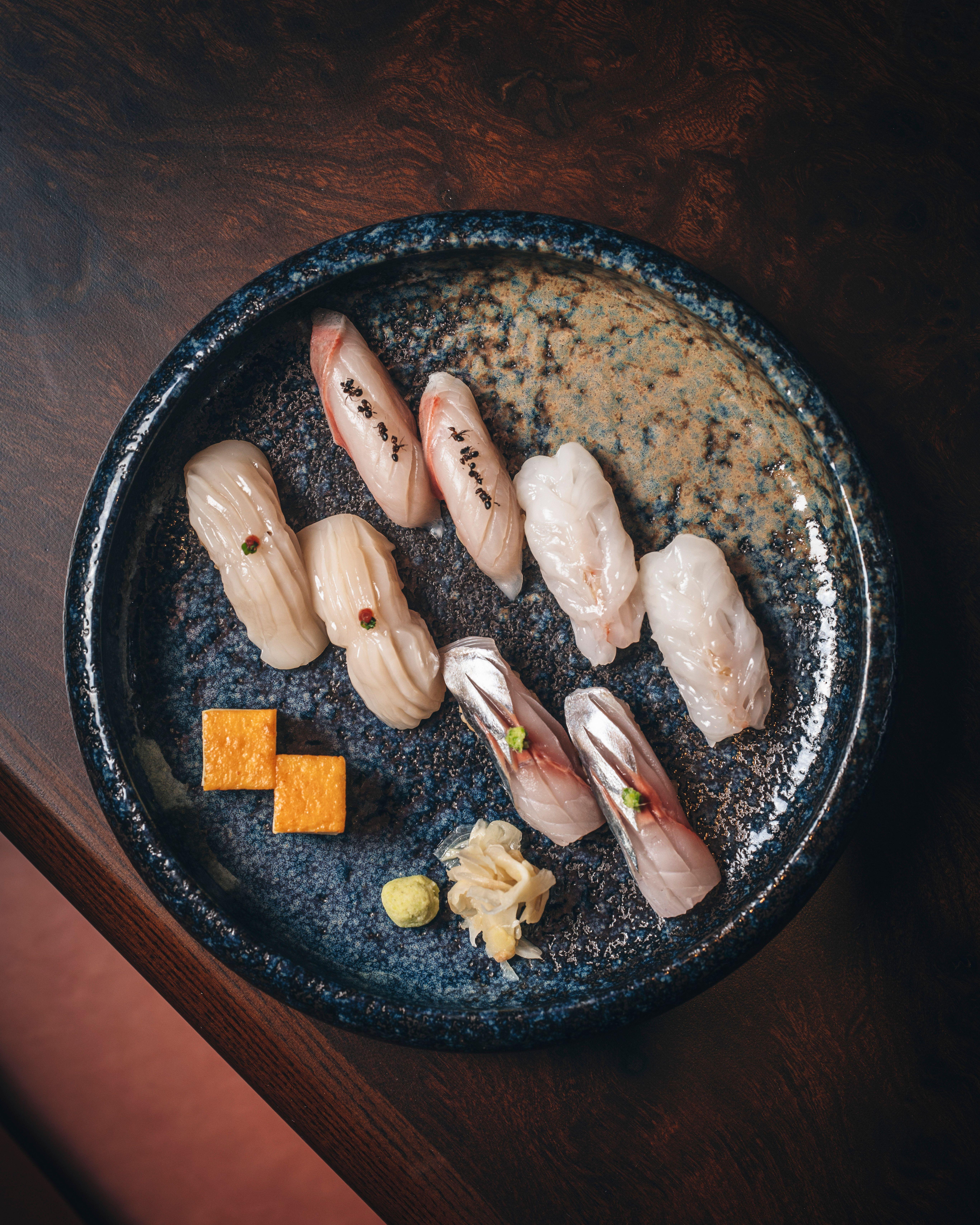 Chicken karaage and nigiri platter; images @lateef.photography
London's newest izakaya whisked aside its red velvet curtain in 2022, revealing a vestibular velvet den punctuated with Japanese techno. Japonisme inspires sumptuous interiors (think painted herons, fringed scarlet lamps and curvaceous nick-nacks), and there's a pair of marble bars where you can watch nimble-fingered bartenders shake up sake-heavy cocktails. Foodwise, skip the bone marrow fried rice and instead load your table with blushing Iberico pork (salty, tender, and best when dunked in the accompanying chilli paste), nigiri topped with nose-tickling wasabi, teeth-tickling ants (no, really), and a cloud of miso soufflé.
Drink: the umami-heavy Salome. It's a savoury, moreish martini made with sake and tomato liqueur.
Eat: the charcoal karaage chicken. Despite its blackest black appearance, it's surprisingly light and tender – and the yuzu mayo it's served with? Heavenly.
Mandarin Oriental Hotel, 66 Knightsbridge, SW1X 7LA
May Fair Kitchen, Mayfair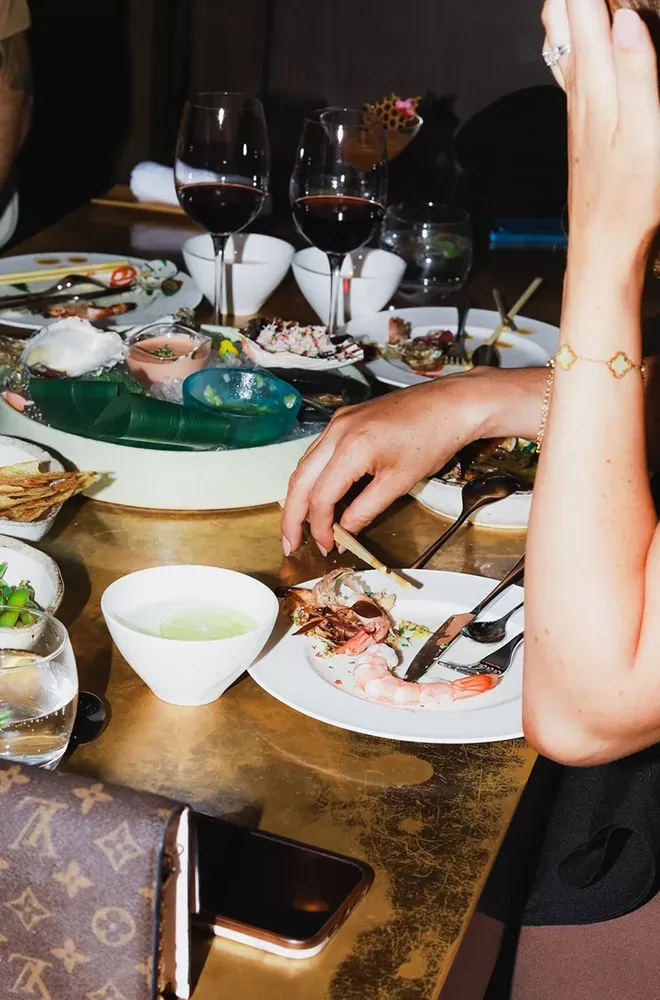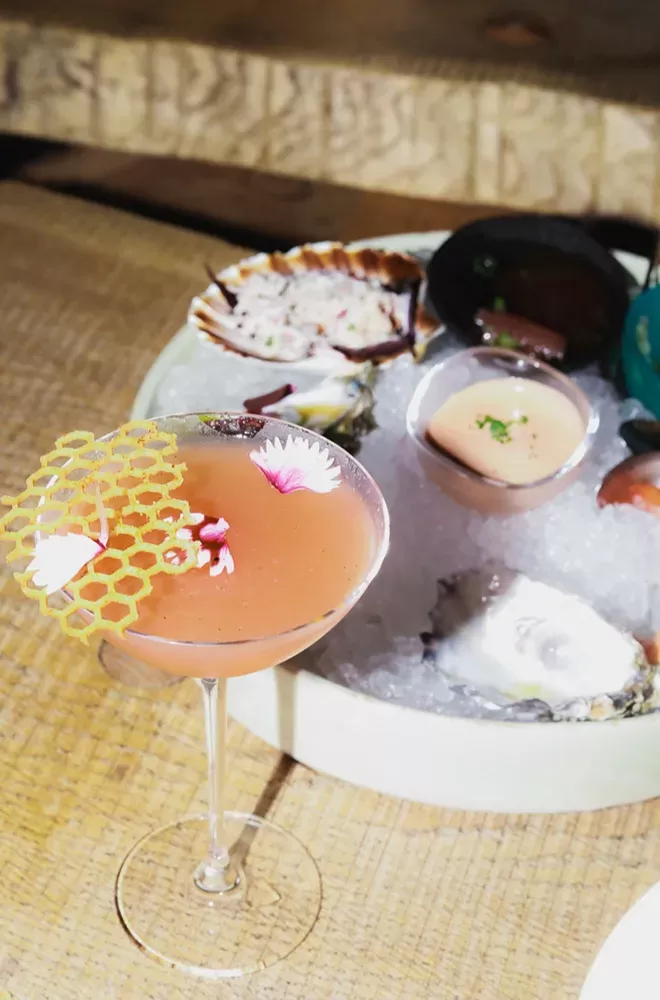 To call this an izakaya is to stretch the definition to the limit. It's an elegant, incense-filled restaurant where the service is as slick as the design – and that's saying something, given the artful use of marble and subtle Japanese detailing. The menu is a 50/50 split between Japanese and Italian dishes, but the former is where May Fair Kitchen excels; think delicate slithers of yuzu-doused yellowtail, wispy filo prawns, and a heavily caffeinated tiramisu topped with a dusting of matcha, all served as they're ready, izakaya-style.
Drink: the arancia piccante margarita. It's a spicy yet sweet take on a margarita, topped with hand-crafted honeycomb made in the mixology lab downstairs.
Eat: the wagyu gyoza tacos. Gyoza wrappers have been fried until they're so crispy that they fall apart the second you bite into them, causing the truffle-spiked filling to spill onto the plate. We'll take two, please.
Stratton St, W1J 8LT

Evernight, Nine Elms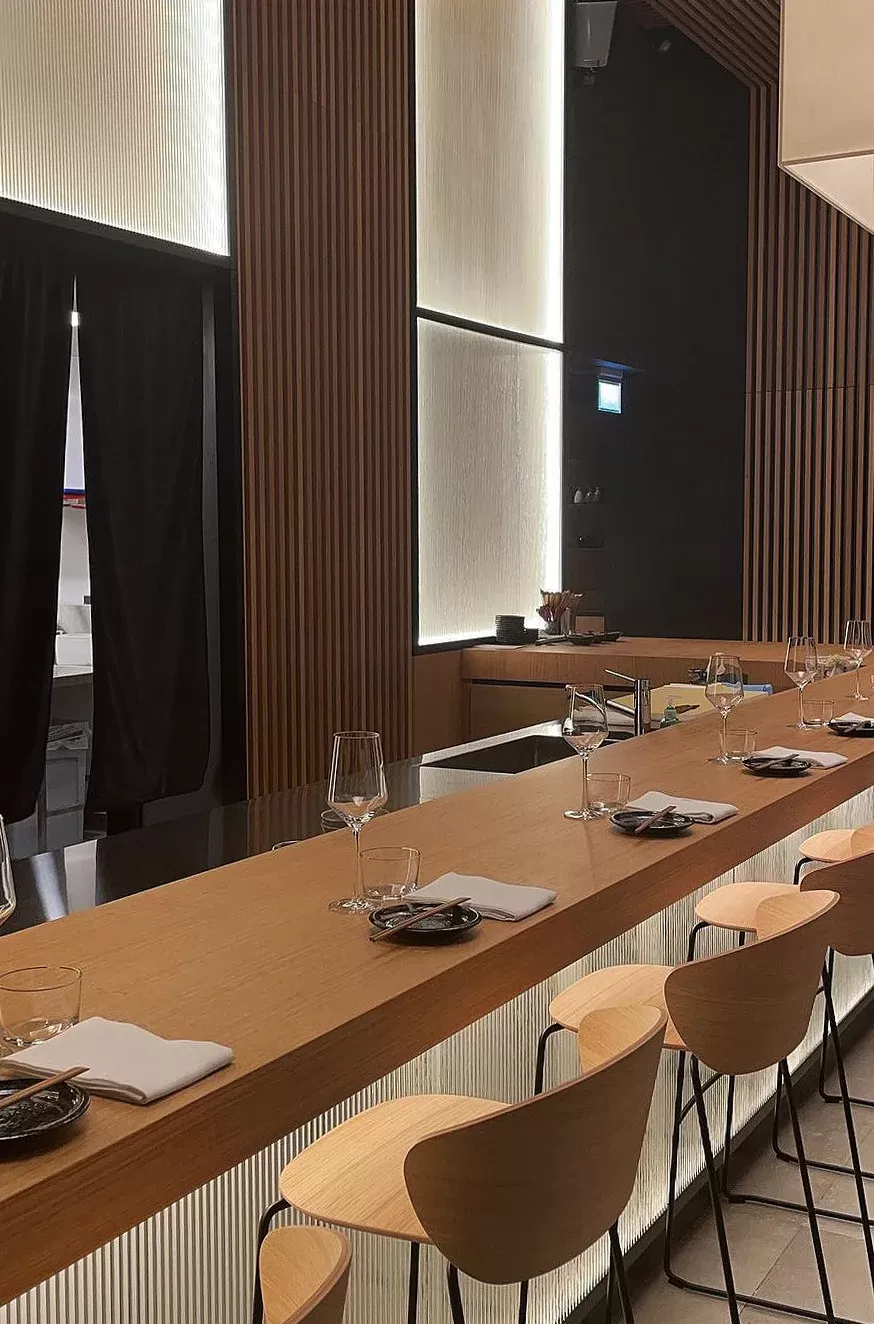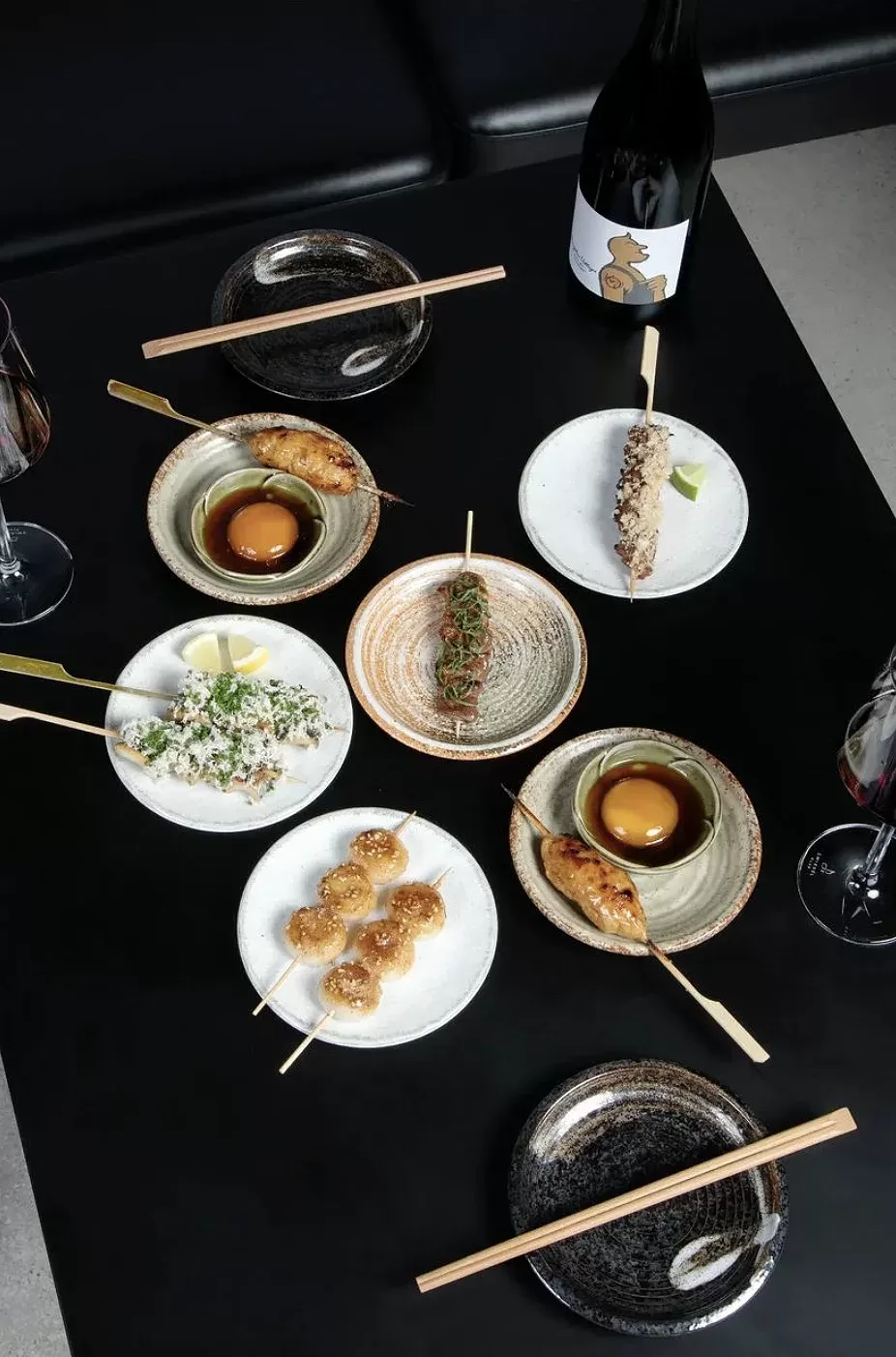 Evernight, Nine Elms
Nine Elms is on the up, and this sleek new izakaya provides yet another reason to investigate the food scene in this bourgeoning neighbourhood. The well-dressed space feels moodily modern, with lots of dark tones and a few pinstripe details, and the menu uses almost exclusively British 'micro-seasonal' produce. All dishes are small and shareable, as per typical izakaya style, and include the classics (karaage, gyoza, sashimi and tempura) as well as oysters, caviar, and brilliant little innovations like a chicken meatball topped with a cured egg yolk.
Drink: there are only two cocktails on offer here, so you might as well try them both – a sakura negroni or a yuzu highball.
Eat: the mallard gyoza with sloe berry ponzu, a perfectly oxymoronic combination of crisp, squishy and tangy – order several.

Unit 1A, 3 Ravine Way Embassy Gardens, London SW11 7BH
Apothecary, Shoreditch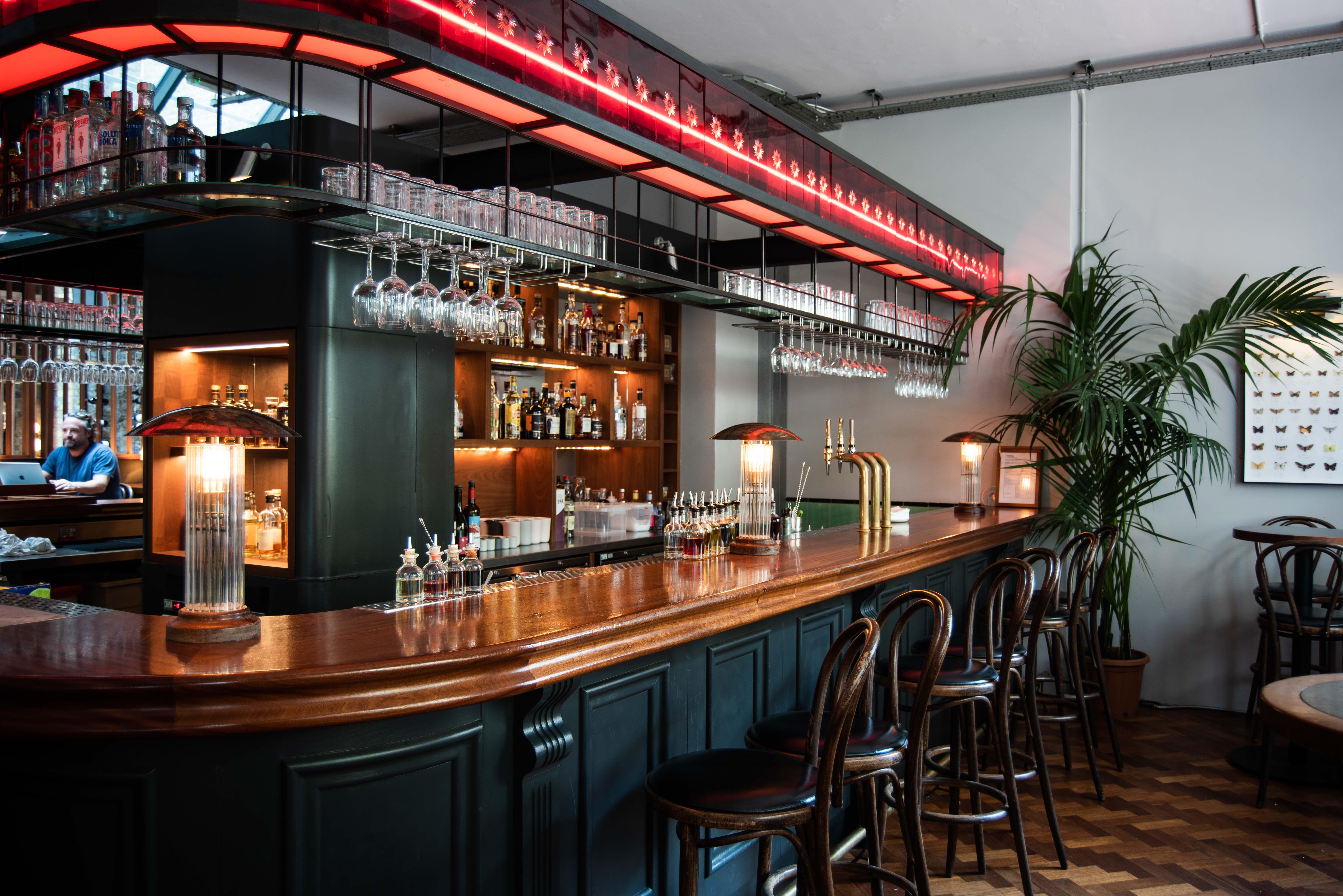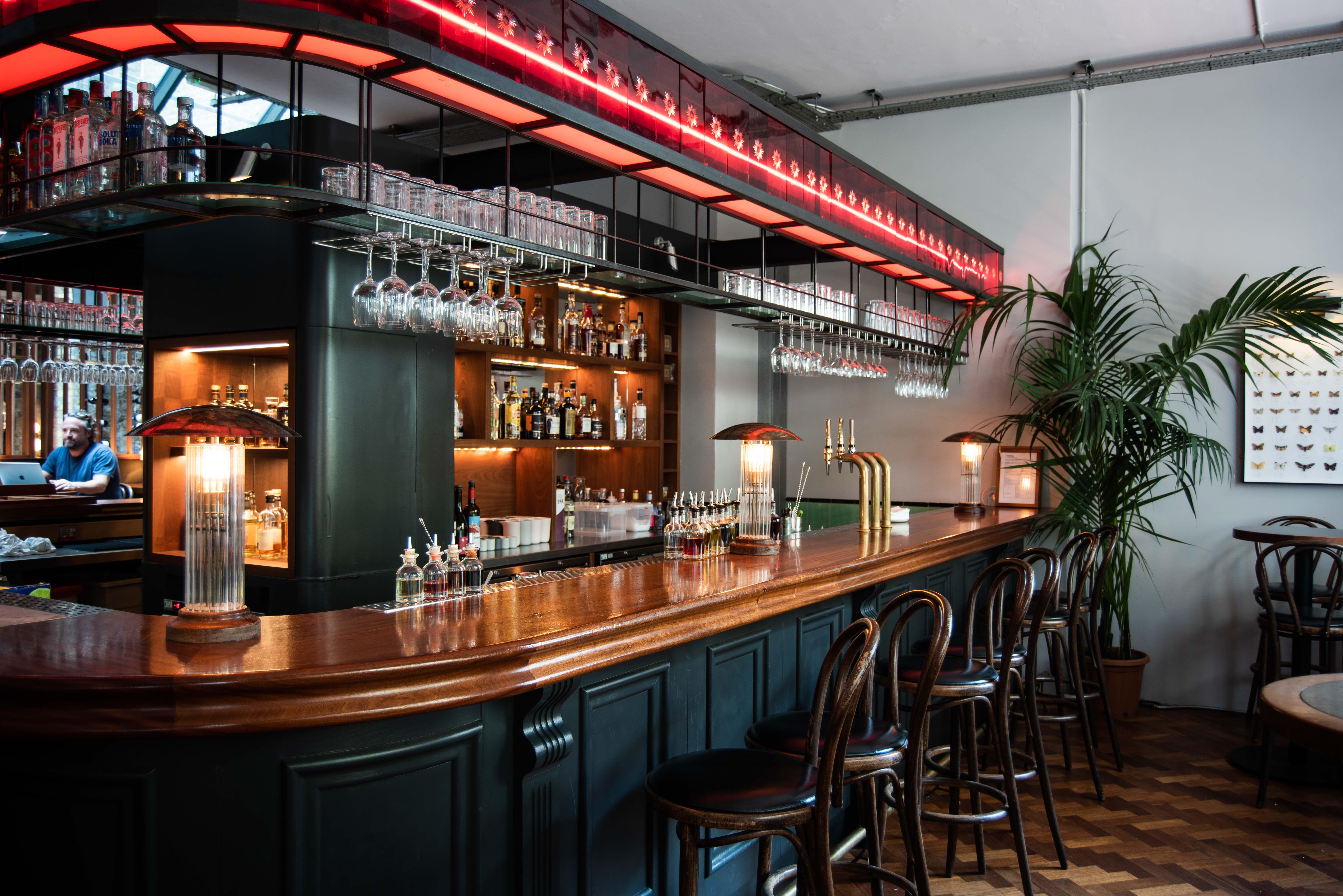 The bar at Apothecary
Only in East London could a restaurant get away with describing itself as "a Tokyo tavern with Shoreditch energy". The aforementioned energy, by the way, is a plant-filled, used-to-be-a-pub room with globular hanging lights and DJs on the weekend. Sushi comes topped with fish rather than rolled around it, there's a deluxe menu that includes 'dragon rolls', and there's a sexy-looking yuzu cheesecake on the pudding menu, too.
Drink: skip the local brewers (sorry, Camden Hells) and opt for a slow-aged Japanese amber beer flavoured with sweet potato.
Eat: match your plate to your pint by going for robata grilled sweet potato skewers; they arrive dribbled in tofu sauce and topped with dry-fried spring onions.
36 Charlotte Rd, EC2A 3PG
Sakaya, Belgravia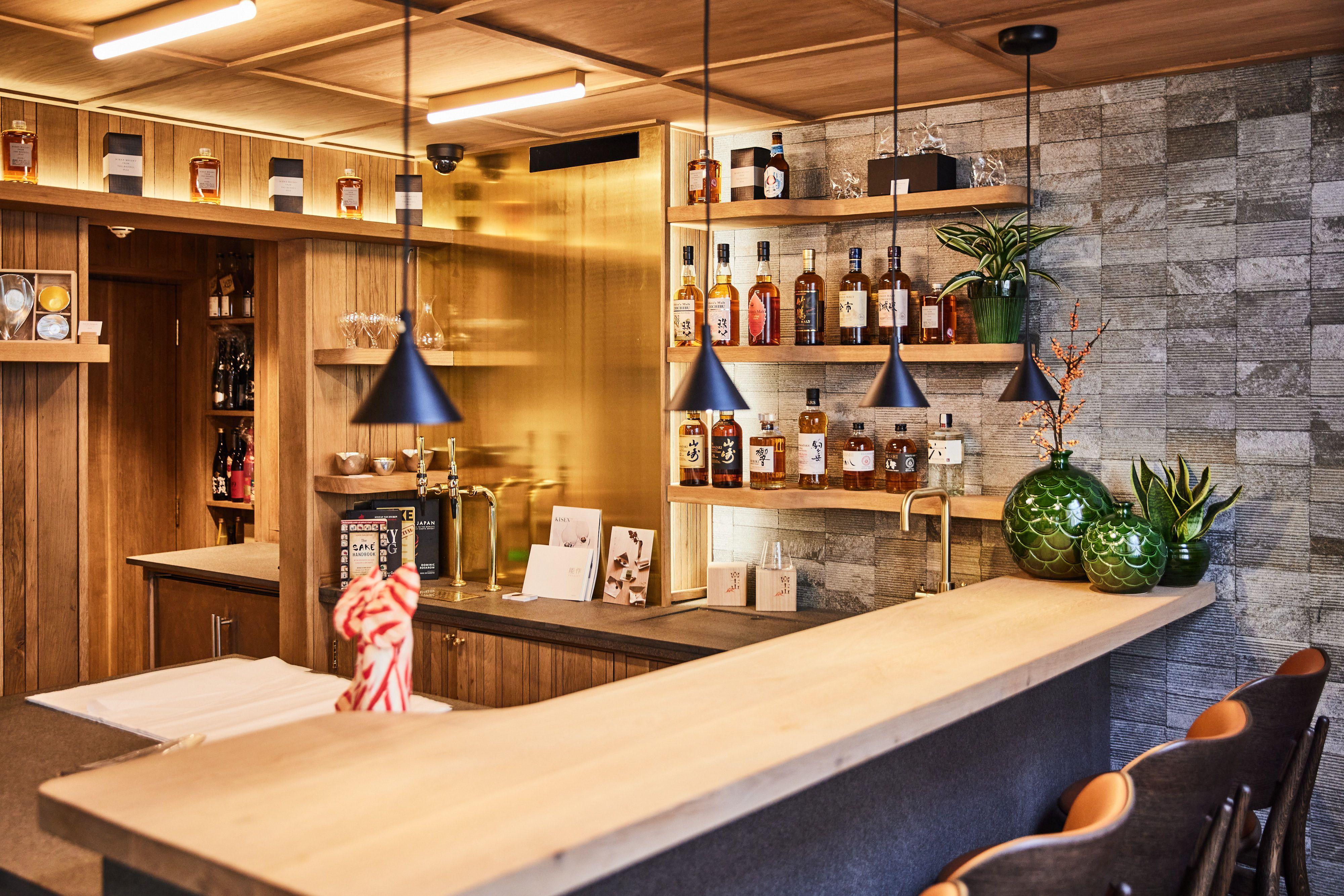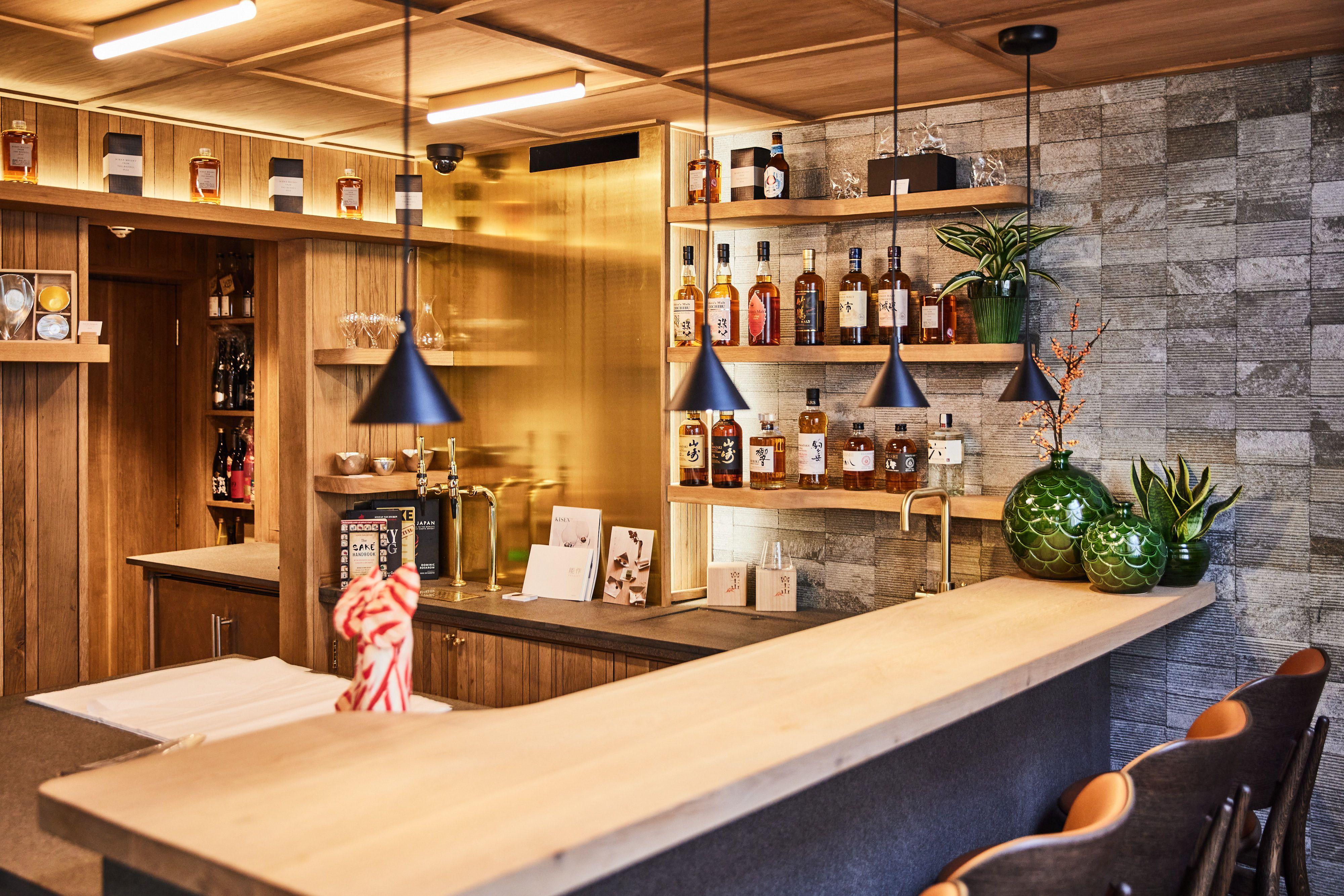 The bar at Sakaya has room for four guests
This tiny bar is the smallest space in Belgravia's giant Nordic-Japanese playground, also known as Pantechnicon. Sakaya – meaning bottle shop in Japanese – has floor-to-ceiling shelves heaving with various whiskeys and sakes, but there's also space for four people to sample its products at a dinky wooden bar. The intimacy of the space means that service from the sommelier is pretty much personal, and you'll leave knowing more about sake than you thought was possible – as well as with a bottle of your favourite.
Drink: the fruity-yet-creamy White Blossom, enlivened with a shot of sake.
Eat: food is of the bar snack variety (hello, lotus crisps), so if you're hungry, you're better off booking a private booth in subterranean sister restaurant, Sachi, for truly sublime sushi.
19 Motcomb Street, SW1X 8LB
8 at the Londoner, Leicester Square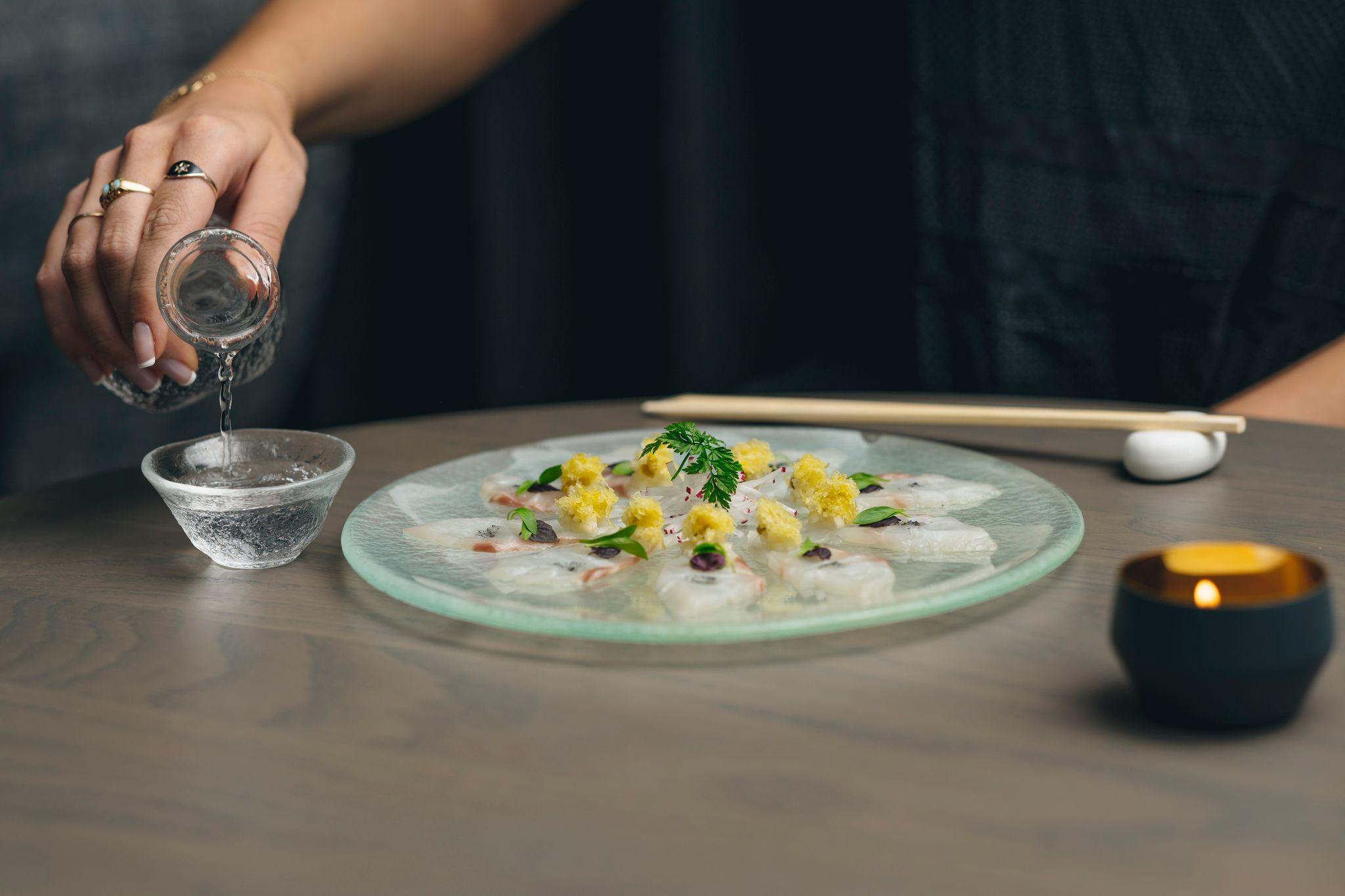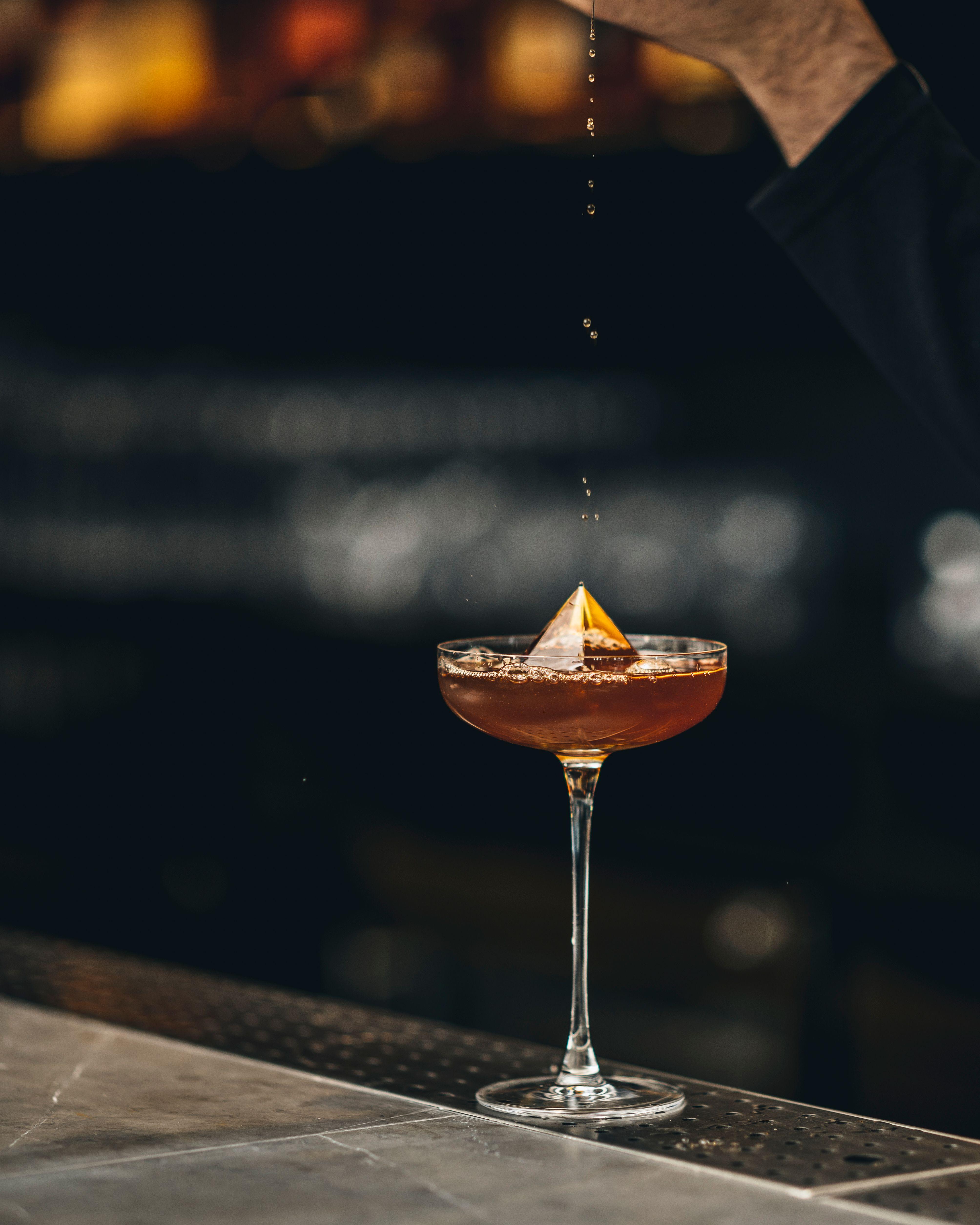 Sea bass carpaccio and espresso goma; images @lateef.photography
Although any place that claims to 'reimagine tradition' sets off the cliché detector, this eighth-floor drinking den manages to pull it off. A far cry from the folded plastic chairs you'd expect from a backstreet Tokyo izakaya, this slick bar is on the 8th floor of the five-star hotel The Londoner. It features monochromatic sofas and a sculptural rope installation suspended over a fire pit. Absent, too, is an izakaya's typical fried fare; instead, you can expect a focus on seafood and wagyu, as well as a martini-heavy cocktail list.
Drink: an Espresso Goma. Essentially the Japanese cousin of an espresso martini, this delicate drink comes complete with Amari seaweed and sugar sesame.
Eat: start with freshly cut sea bass carpaccio (it comes topped with Fuji apple) followed by lobster gyoza tacos, which are punched through with chilli and coriander.
38 Leicester Square, WC2H 7DX
Cubé, Mayfair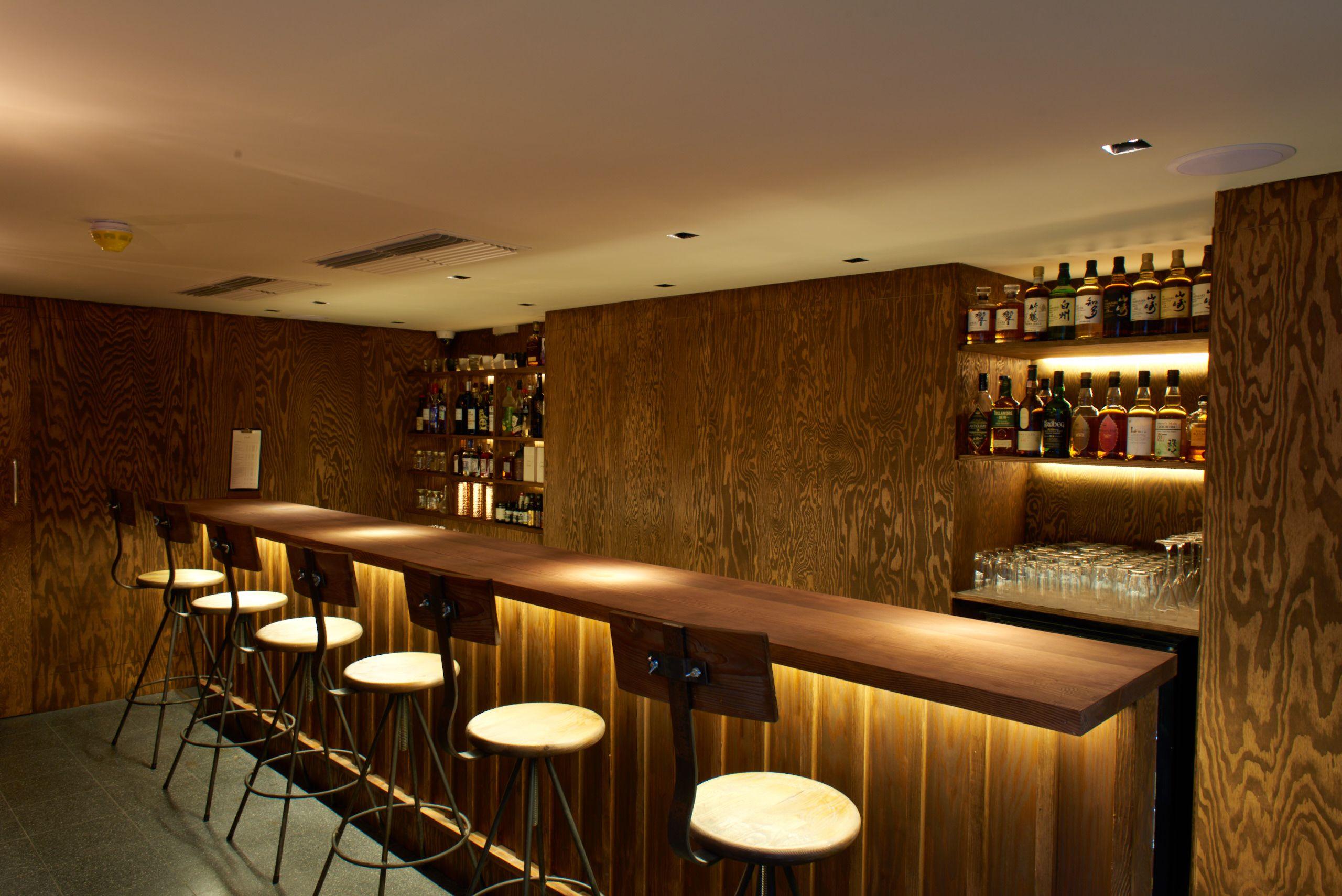 The bar and sushi at Cubé
You need a crash course in Japanese before we tell you why Cubé is one of our favourite izakaya. In Japanese, Cubé – pronounced phonetically – means to pamper, and the other word you'll need to familiarise yourself with is omakase, which means 'entrust'. Put them both together, and it sums up the offering at Cubé: ten courses of chef-chosen, fresh sushi to pamper any guest. Of course, in the spirit of izakaya, there are also other small plates on offer, and interiors are slick and simple with walls, tables and bars all made from wood.
Drink: head downstairs to the owner's cellar for an incredible selection of wines and sakes; we're eyeing up the sparkling sake.
Eat: if you don't have time for the full omakase treatment, order a selection of small plates à la izakaya, including spicy octopus with cucumber and creamy crab meat croquettes.

4 Blenheim Street, W1S 1LB
Quintessentially's restaurant specialists secure complimentary benefits for members at some of the world's most premier dining venues, plus invites to exclusive gastronomic events and tastings. Contact your lifestyle manager to find out more, or click here to find out more about membership.