Having garnered a reputation for offering a wide variety of global cuisines at every price and touchpoint, it's only fitting that London plays host to a selection of restaurants inspired by West Africa. Over the past couple of years, the unique flavours and ingredients characteristic of this region have been spotlit across the capital. Several new openings present this cuisine against a chic backdrop of sophisticated interiors, music, and creative programmes that pay tribute to the chefs' and proprietors' heritages to delightful effects.
Ikoyi
1 St James's Market, St James's SW1Y 4AH
Having received two Michelin stars and a coveted position on The World's 50 Best Restaurants list, Ikoyi bills itself as 'A cosmopolitan and contemporary restaurant in constant evolution, with strong bold dishes that celebrate the finest, hyper-seasonal British produce combined with an extensive global store-cupboard of ingredients.' Founded by childhood friends Iré Hassan-Odukale and Jeremy Chan – whose extensive travels and Chinese-Canadian background inform his diverse take on flavour and influence – this special restaurant is not African, per se, but utilises spices that are characteristic to sub-Saharan West Africa to enhance and define their daily menus.
Artistically created, every primary ingredient on the hyper-seasonal menu ensures organic production and local sourcing, elevated by the aforementioned palette of West African spices. Expect signature Smoked Jollof Rice to appear alongside thoughtfully prepared seafood courses and ingredients such as plantains and morel mushrooms or seasonal Sungold tomatoes. The subdued interiors provide a calm backdrop for the colourful cuisine; all served with an informal yet refined sensibility that creates a warm atmosphere.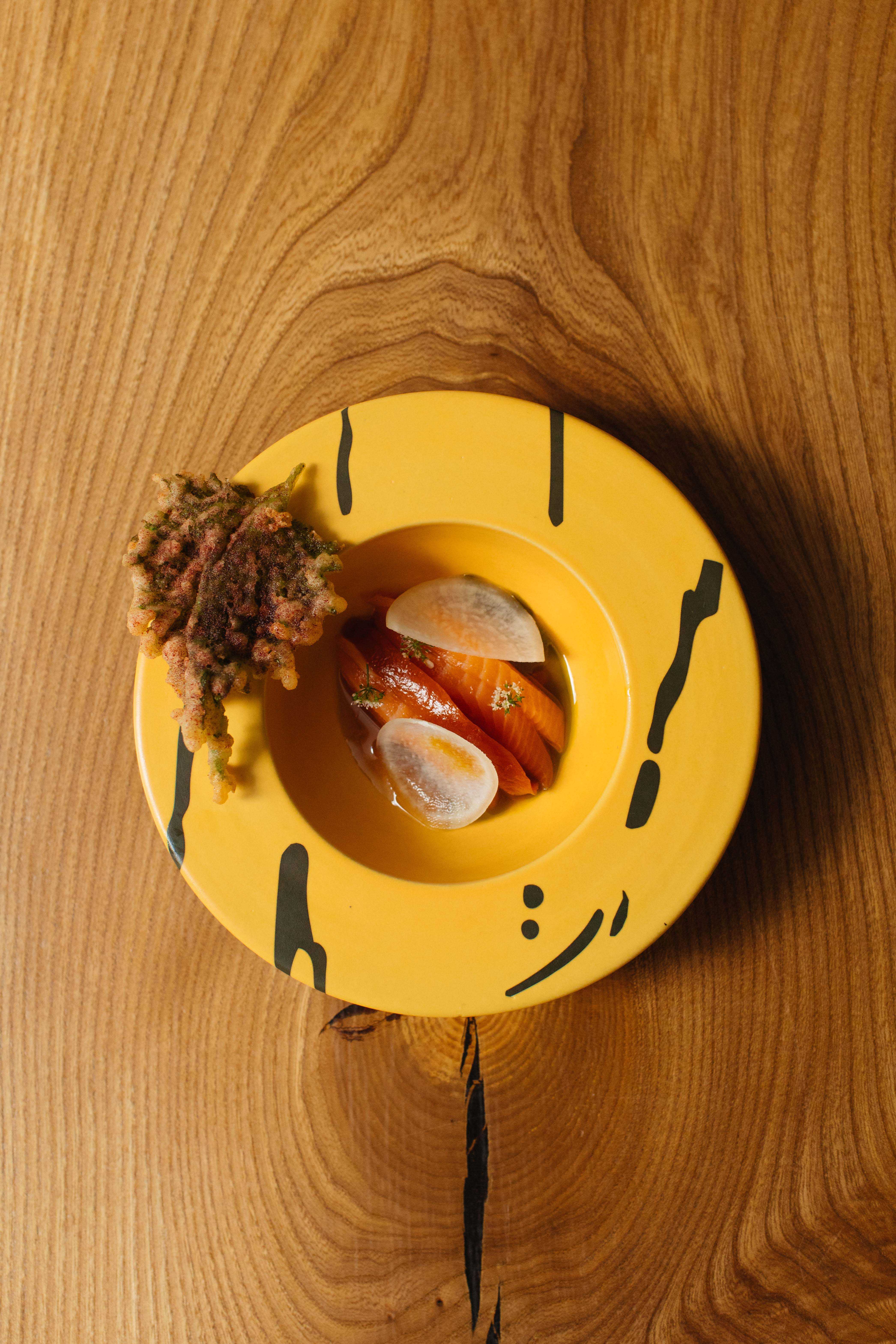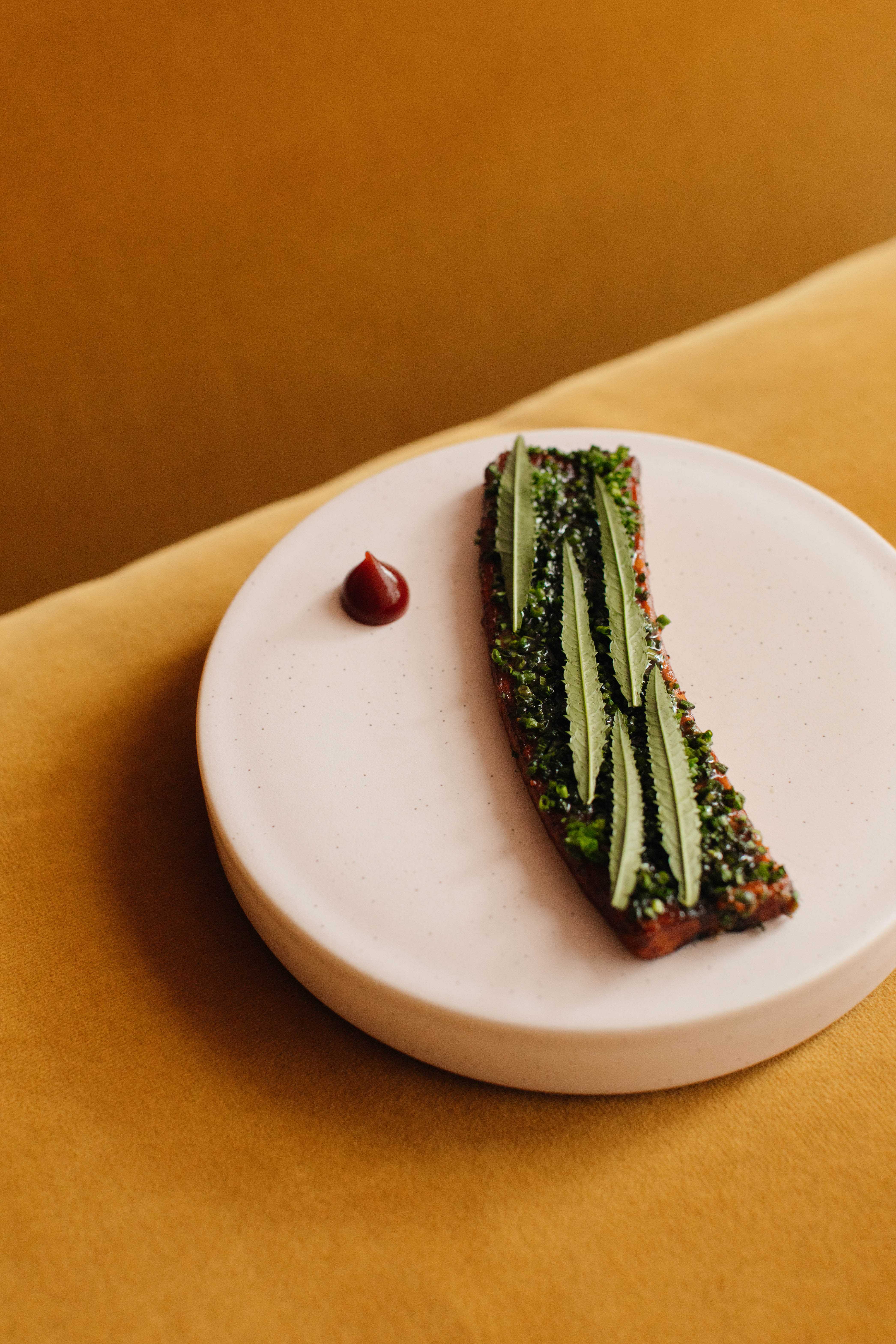 Credit @ikoyi_london
Tatale
66 Great Suffolk Street, Southwark SE1 0BL
Named after a Ghanaian plantain pancake, Akwasi Brenya-Mensa's pan-African restaurant is inspired by West Africa's Chop Bars – spirited dining institutions that cater to everyone, thereby bringing about a spirit of togetherness and camaraderie in their very existence. Tatale's location at The Africa Centre serves to bring a bit of this energy to London, operating not only as a restaurant but as a space that is 'Looking beyond borders and nation-states, our selection of Pan-African dishes will ignite conversation, foster new friendships, and form part of a wider narrative of cultural exchange in London.'
The changing seasonal menu spotlights nostalgic dishes, such as Chichinga Buttermilk Fried Chicken Wings – 'a Hall Party staple. Uncles talking, Aunties serving, kids running, all while wielding a spiced goat/beef kebab' – and Ackee Croquettes. The anecdotal details accompanying each dish lend a personal feel to the menu as if you're at a private dinner party with friends; the convivial energy throughout the restaurant very much enhances that sensibility.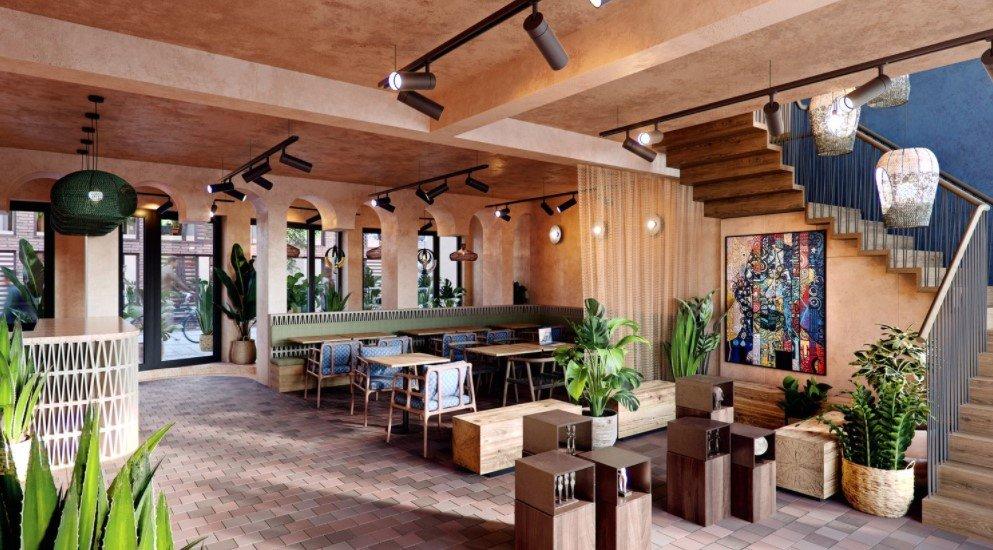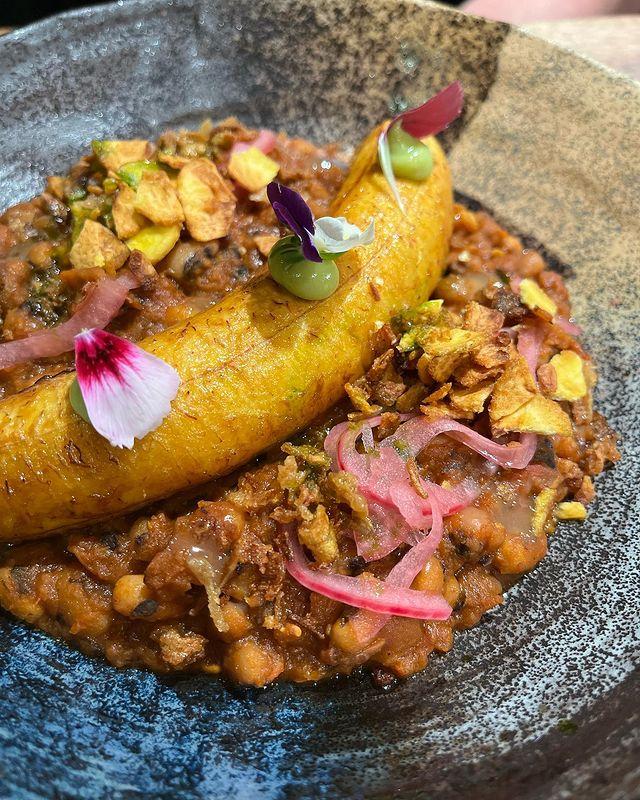 Credit @tataleandco
Akoko
21 Berners Street, Fitzrovia W1T 3LP
Recommended by Michelin, his Nigerian heritage inspires Aji Akokomi's creative restaurant. Called Akoko – meaning 'the first' in Yoruba – the team creates West African dishes using British produce and meat enhanced with 'specially sourced' African spices from Nigeria, Ghana and Senegal; a meal here is an imaginative culinary journey through a special part of the world.
Stepping beyond the culinary creations and into other areas of art and culture from West Africa, at Akoko, expect buzzing music and a considered art selection, including a piece from Niyi Olagunju within the warm, monochromatic space. Even the pottery draws inspiration from 1960s West Africa, serving as the ideal canvas upon which the artful dishes are placed. Offering a vegetarian or classic tasting menu, with an abbreviated lunchtime iteration, enjoy seasonal meat and seafood complemented by local produce and favourite flavours such as their celebrated Jollof Rice.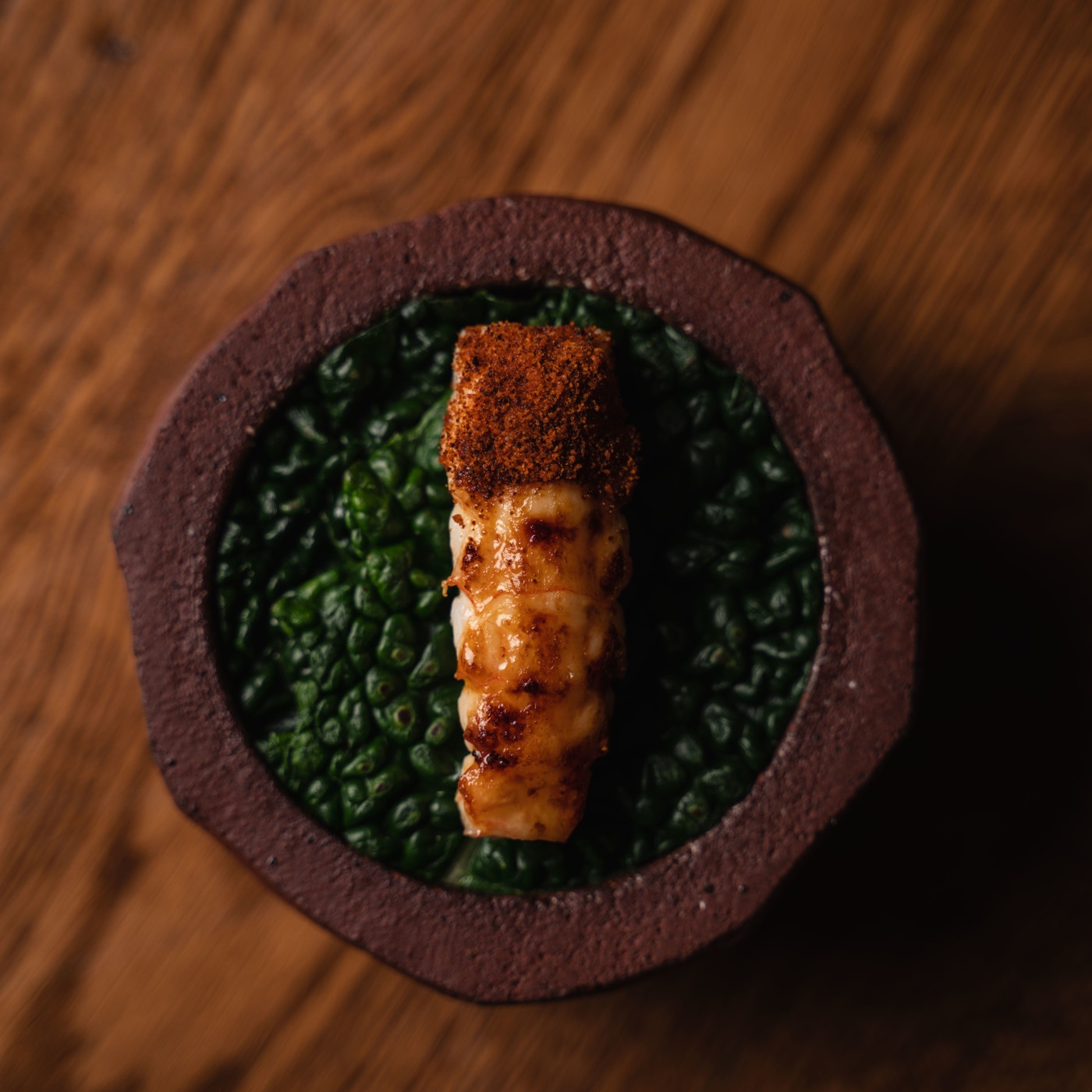 Credit @akokorestaurant
Stork
13-14 Cork Street, Mayfair W1S 3NS
Dubbing their fare 'Innovative and erudite Modern Pan-African cuisine… designed to showcase the culinary richness of the African continent and the Diaspora,' Stork is the oldest restaurant on this list, having opened in 2019. Focused on creative food with authentic and rich flavours, guests can expect some familiar tastes – e.g., Jerk Chicken Wings – and some that are potentially unfamiliar, such as Chicken & Nkatenkwan, a Ghanaian stew paired with fufu.
The bi-level space boasts self-proclaimed 'afro-chic' interiors, spotlighting artwork from young African artists and the capability of private dining space. A fun champagne brunch with live DJs is an excellent addition to the weekend calendar; the cocktail list features unexpected flavours such as suya pepper and pitaya, presented in drinks designed to complement and enhance the vibrant food.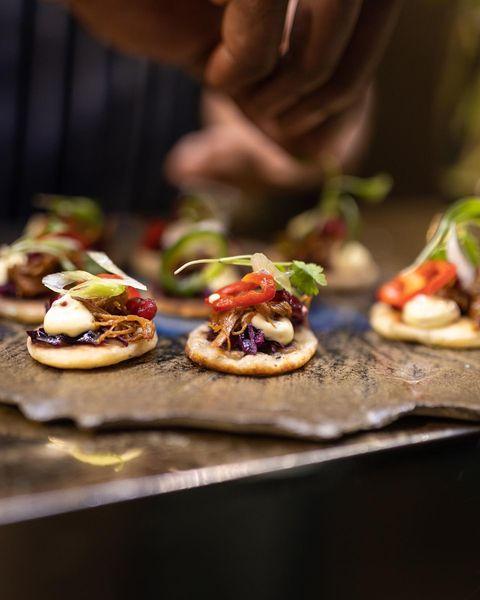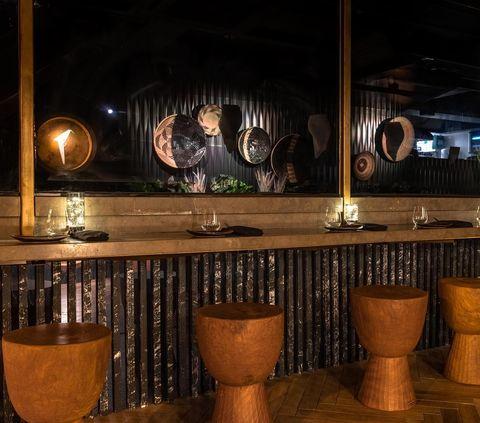 Credit @storkmayfair
Chishuru
Unit 9 Market Row, Coldharbour Lane, Brixton SW9 8LB
With origins as a supper club, Nigerian chef Adejoké "Joké" Bakare's restaurant in Brixton Market has fast-become beloved amongst diners and critics alike. Having opened during the pandemic, the success story and quick rise to fame deserves all the accolades: each dish features flavour and texture in droves. Decidedly unfussy despite the elevated food, Chishuru is absolutely first and foremost a neighbourhood restaurant, offering a less expensive price point and more flexible cancellation policy than others on this list.
Cooked daily by Bakare, the tasting menus pair traditional recipes and techniques with modern flair for a dynamic taste. Dishes such as Barbecue Cauliflower are enlivened by peanut sauce, preserved lemon and coriander; the Bavette (an optional add-on) is flavoured with Yaji spice mix and pickled mushrooms. Don't miss the creative cocktails; there is a concise natural wine list as well. Welcoming and warm, Chishuru is the kind of restaurant you want to visit every week.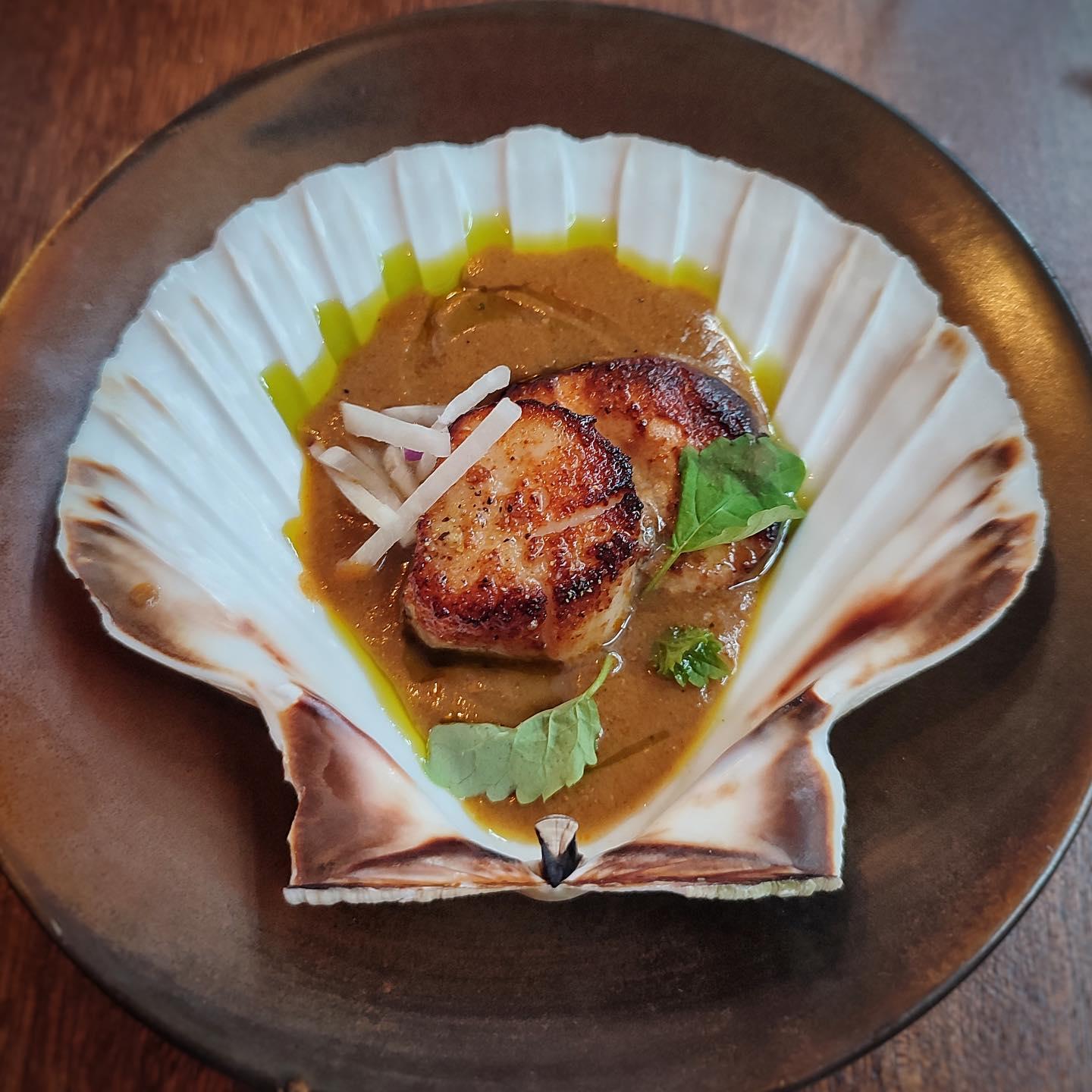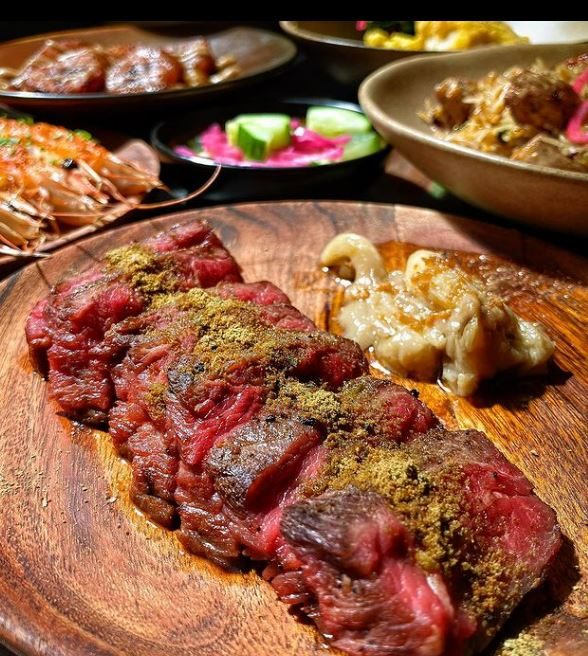 Credit @Chishuru