There's no rest for the art world; with Art Basel just wrapping up and London auction exhibitions opening – there's no hint of a pause! Here are just some of the top highlights of what's on view in London this month.
SOTHEBY'S
Winter bei Urfeld (Winter near Urfeld)
By Wassily Kandinsky
Though a relatively small painting on board, this composition by Kandinsk emanates an infectious energy. The winter landscape glows in almost-neon purple and blue hues as if it had been painted yesterday rather than 1908. Dappled light creates a flickering patchwork of yellows, whites and blues, perfectly capturing a crisp sunny day in the Bavarian countryside.
Last seen in public in 1956, when the present owner acquired it, this is a wonderful opportunity to see this charming small picture before it is (most likely) hidden away again in another private collection.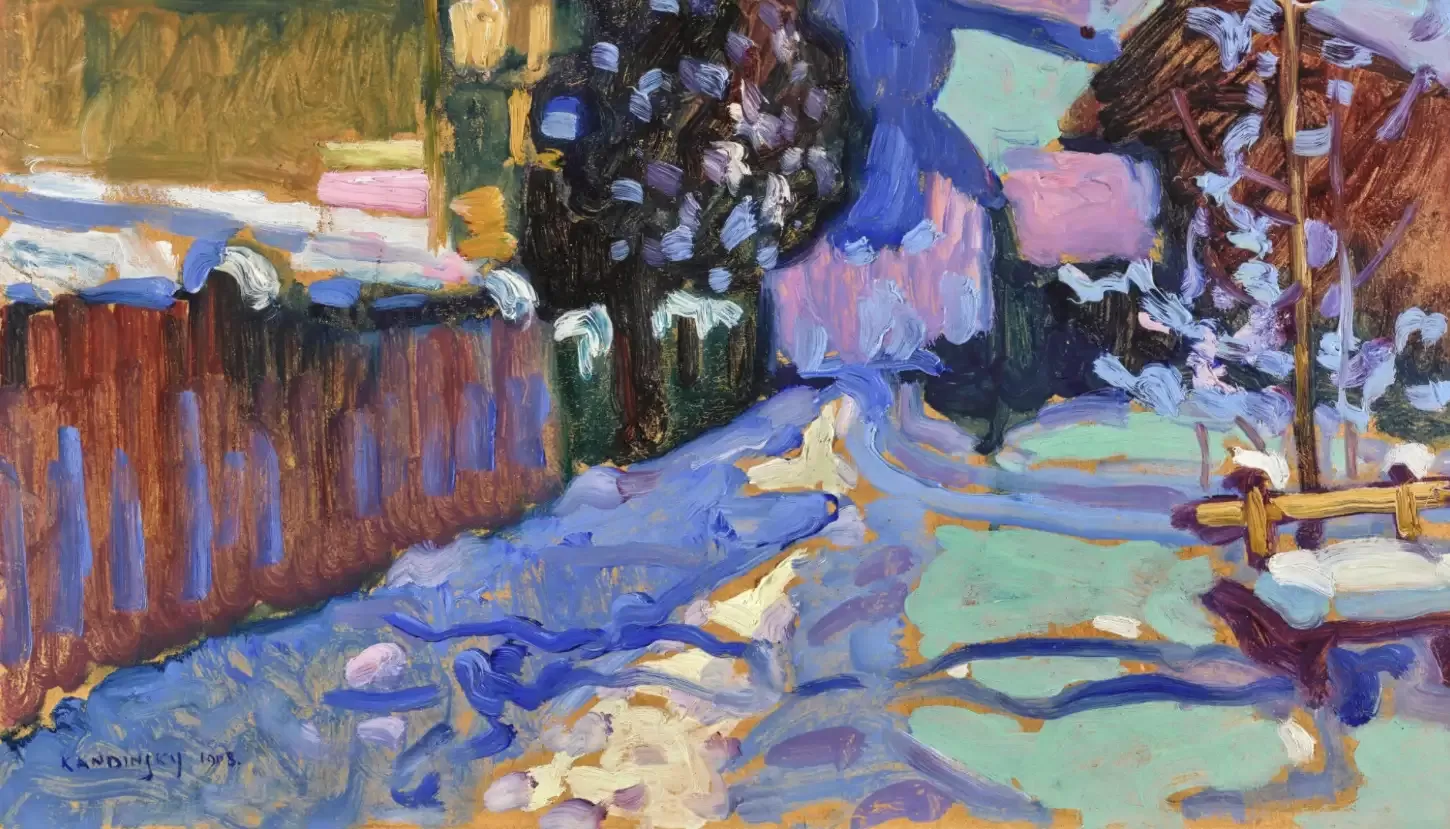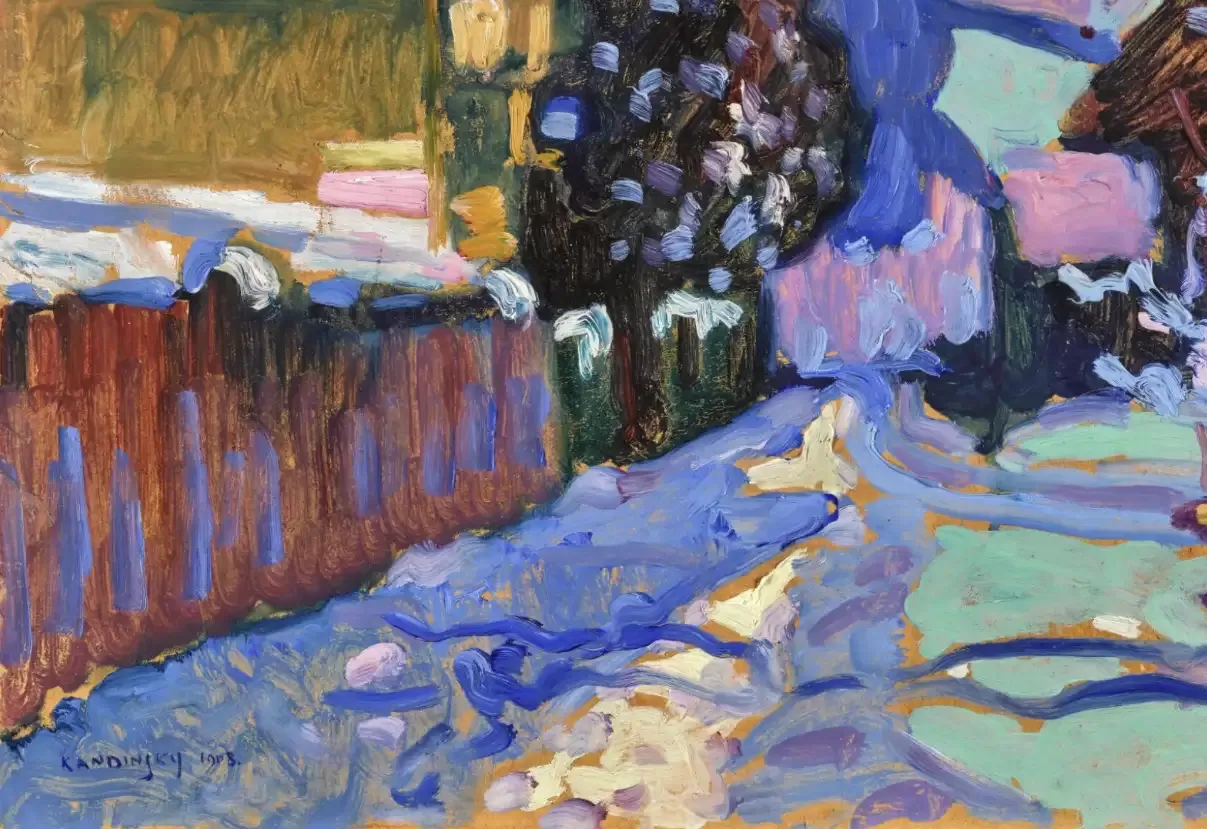 Winter bei Urfeld (Winter near Urfeld) by Wassily Kandinsky 
Elegy III
By Barbara Hepworth
Created in 1966 and consequently part of Hepworth's mature body of sculptures, Elegy III is a phenomenal example in bronze by one of Britain's most influential artists of the 20th century. The sinuous curves and concave hollows generate a harmonious form which contains an elegant central chamber that balances between void and matter.
For Hepworth, oval forms remained the heart of her practice. In 1946 the artist stated, 'I have always been interested in oval or ovoid shapes. My first carvings were simple, realistic oval forms of the human head or of a bird. Gradually my interest grew in more abstract values – the weight, poise, and curvature of the ovoid as a basic form. Here is a sufficient field for exploration to last a lifetime.'
Elegy III by Barbara Hepworth
Dame mit Fächer (Lady with a Fan)
By Gustav Klimt
An incredibly rare gem and museum-quality painting, Lady with a Fan is a must-see this season! Rendered in the year leading up to Klimt's death, this composition culminates his successful artistic career. Featuring an abundance of patterns and floral motifs, the colourful display of textures and ornamentation are typical of the artist's mature style. Though this piece does not contain his signature use of gold leaf, it still shimmers through the use of a rich and light palette.
Dame mit Fächer (Lady with a Fan) by Gustav Klimt
CHRISTIE'S
The Spectator
By Howard Hodgkin (1932–2017)
Initially named Portrait of the Artist, this energetic composition is an absolute crescendo of the brush's colours, marks and sweeps. Rather than depicting the artist's physical features, it mirrors his artistic character – charting the different stages of his career up until this point.
Tangerine orange waves cascade down the panel, overflowing over a pattern of yellow and aquamarine dabs that almost spiral inwardly. Painted over three years, during one of the essential points of Hodgkin's career, this work is a historically significant landmark that retains its significance as much as its colours have retained their vibrancy.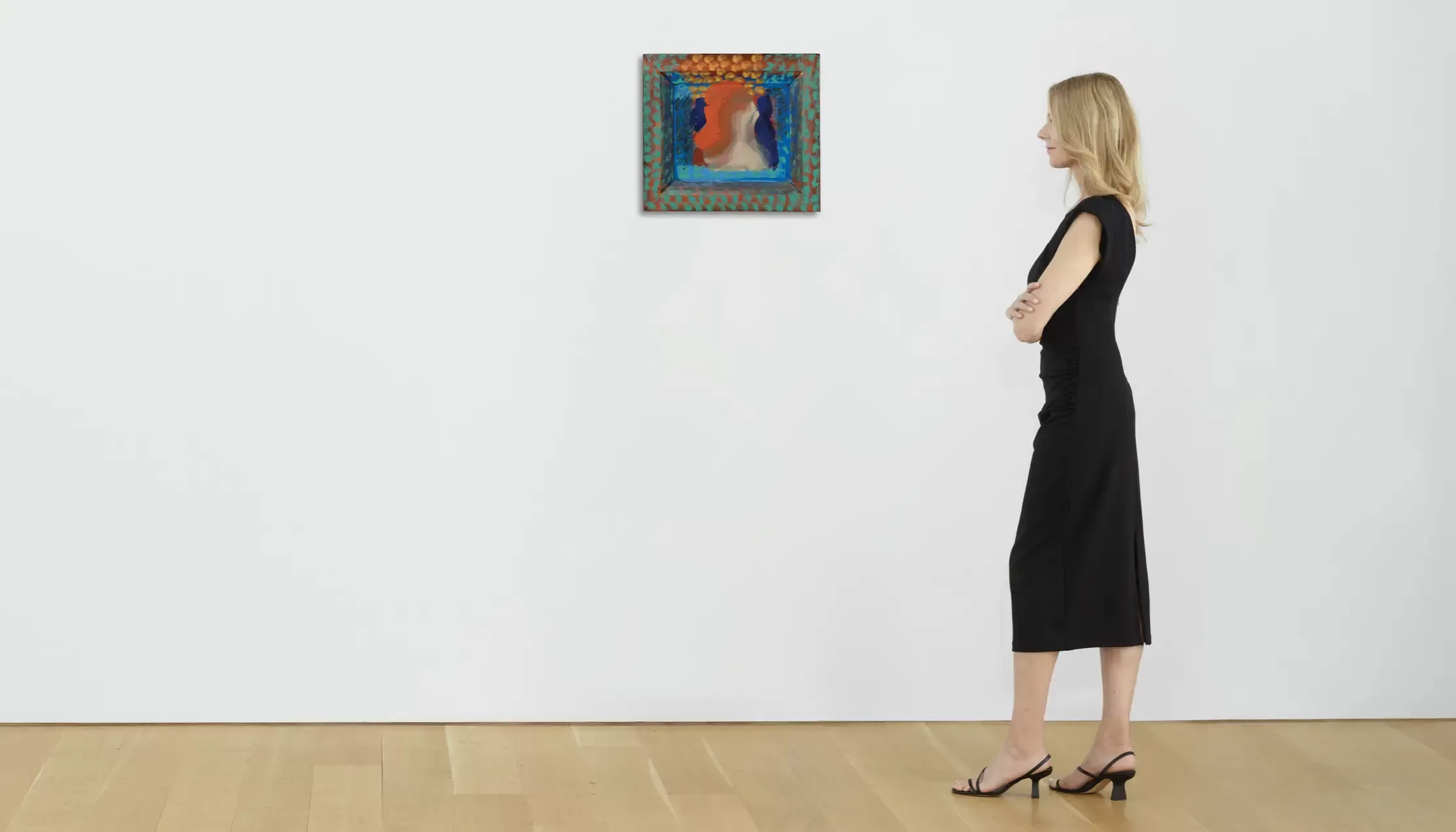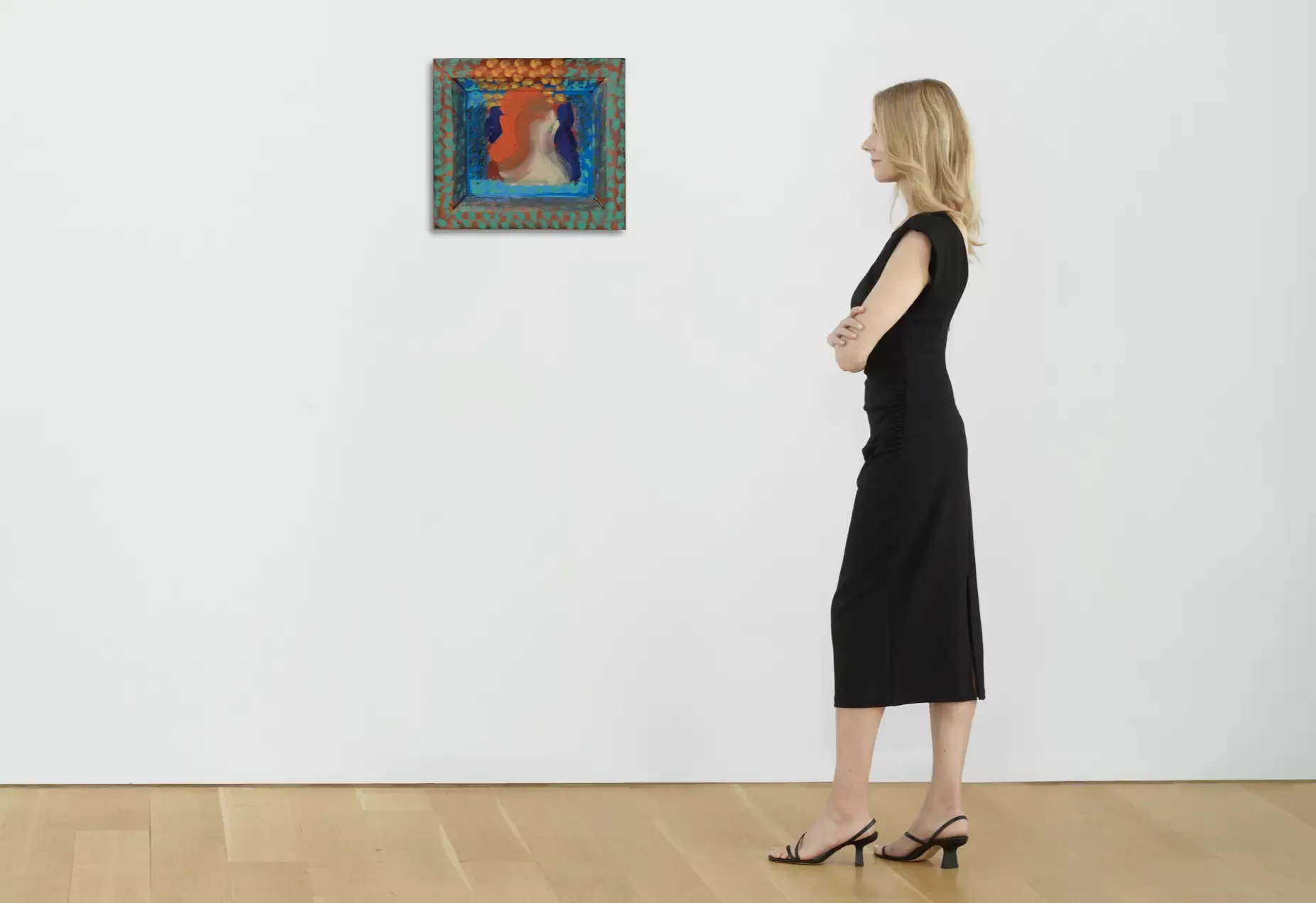 The Spectator by Howard Hodgkin (1932-2017)
Calanque des Canoubiers (Pointe de Bamer), Saint-Tropez
By Paul Signac (1863–1935)
A prime example from Signac's Pointillist period, this museum-quality landscape captures the tranquil Mediterranean coast in the South of France. Seeking solace after his friend Seurat's death in 1891, Signac left Paris for the South, determined to continue his painterly mission. Created just a few years after his arrival in the region, this painting shows exactly what enticed the artist to remain in this area. Enamoured by its picturesque scenery and calm, Signac settled here, and this move was to profoundly affect his art's development.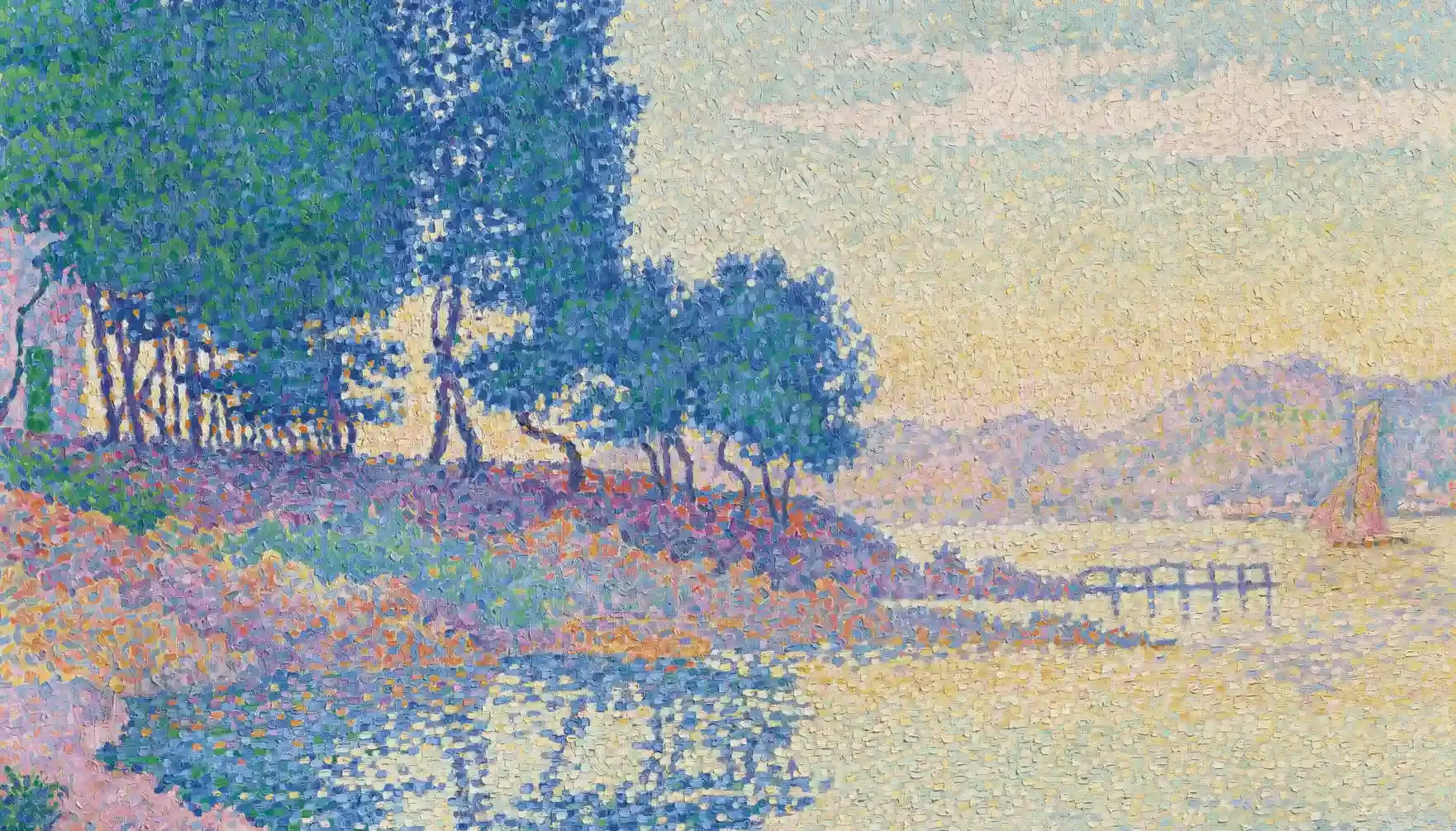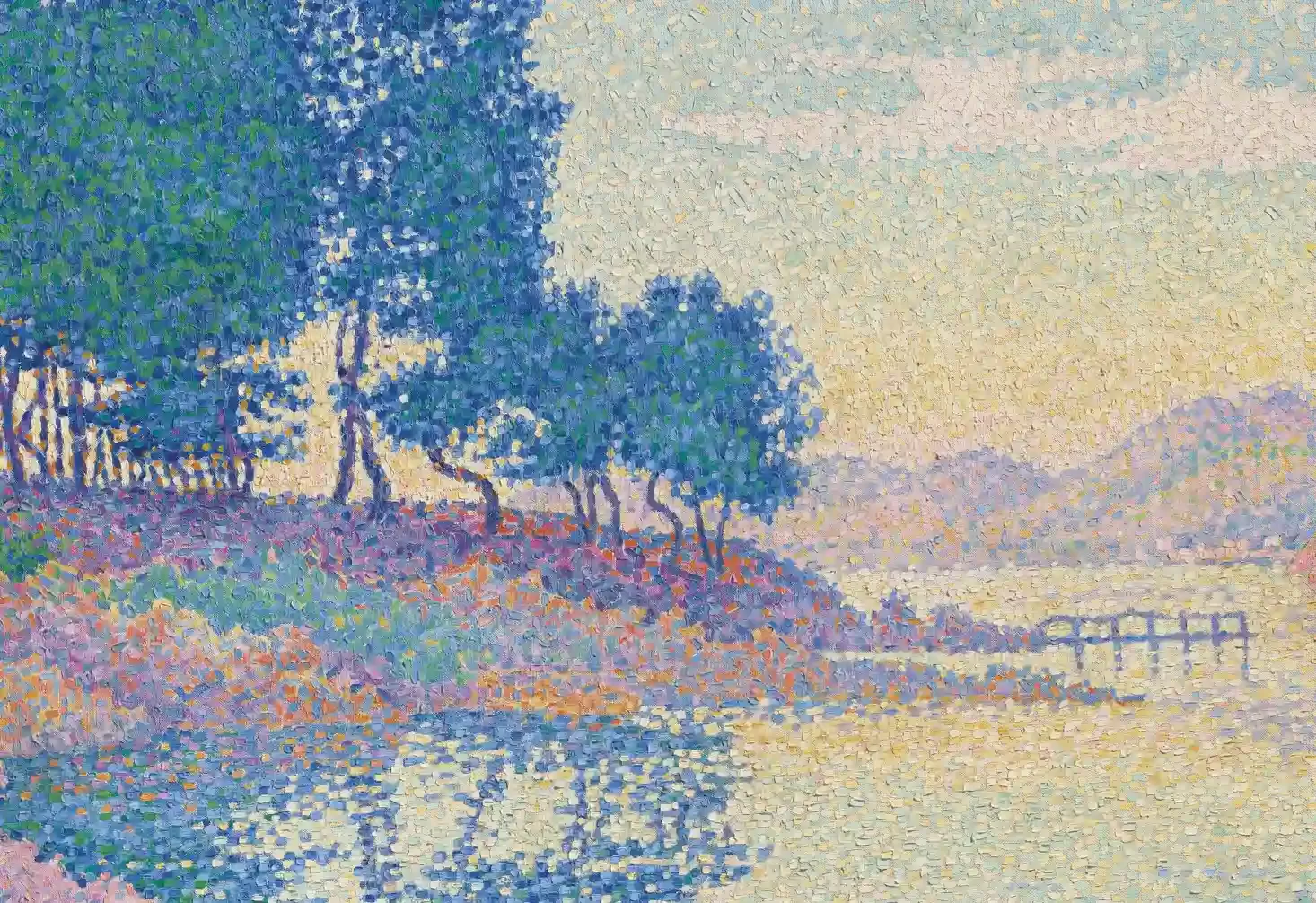 Calanque des Canoubiers (Pointe de Bamer), Saint-Tropez by Paul Signac (1863-1935)
INFINITY-NETS (OOAXT)
By Yayoi Kusama (b. 1929)
Electric, pulsating red is punctured with rounded slits of bright blue to create a lace-like web in Kusama's Infinity-Nets (OOAXT). As the title suggests, this renowned body of works attempts to capture the impossible: infinity itself. The textured pattern spreads to every canvas corner, immersing the viewer fully. Though entirely abstract, ripples of variable tones almost make the composition seem like a wrinkled veil spreading across the piece.
Kusama has reached a status of infamy over the decades with her recognisable style of painting and her installations. Most recently, Kusama's London exhibition of Infinity Rooms at Tate Modern almost crashed their bookings site when tickets were released!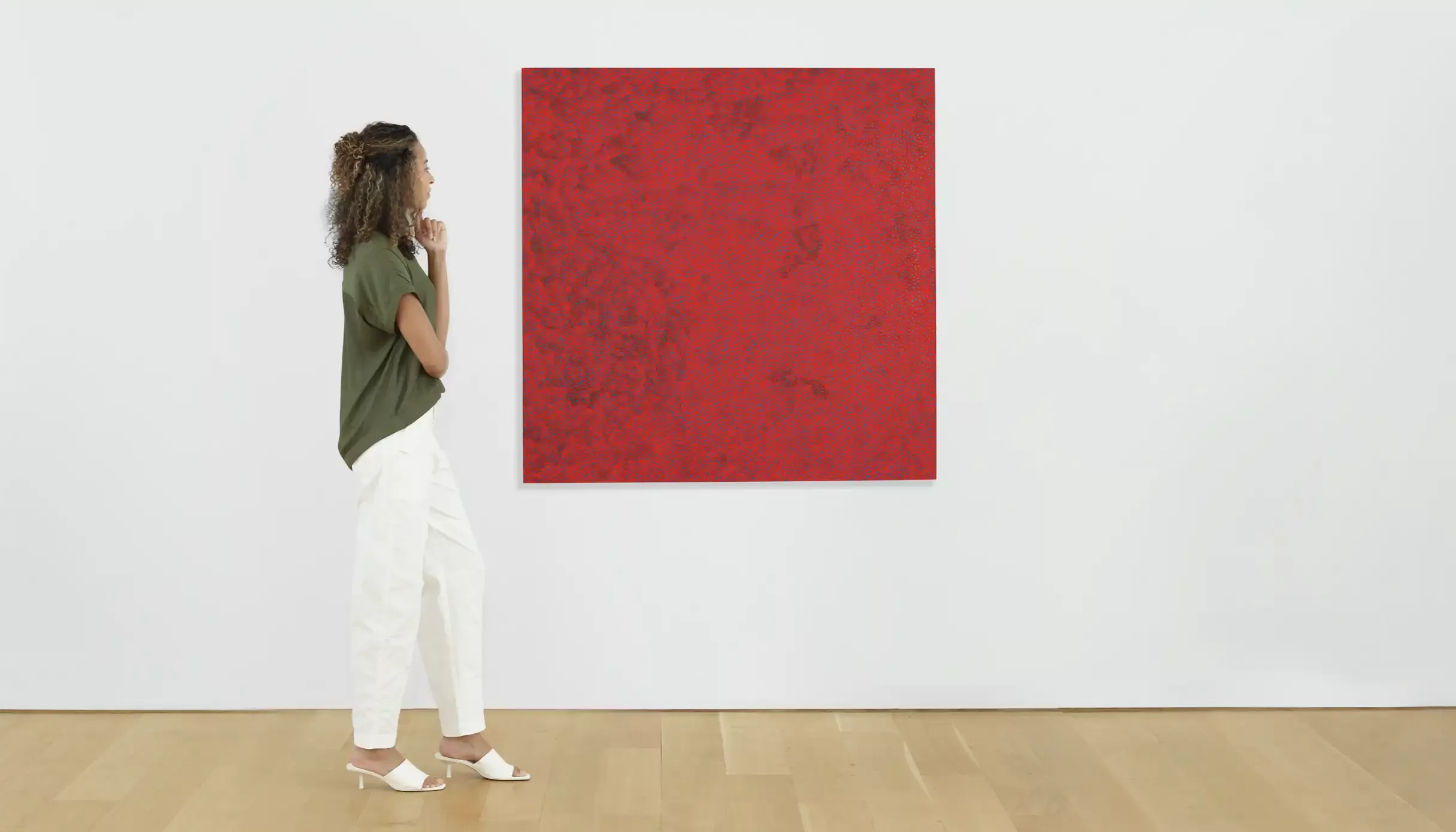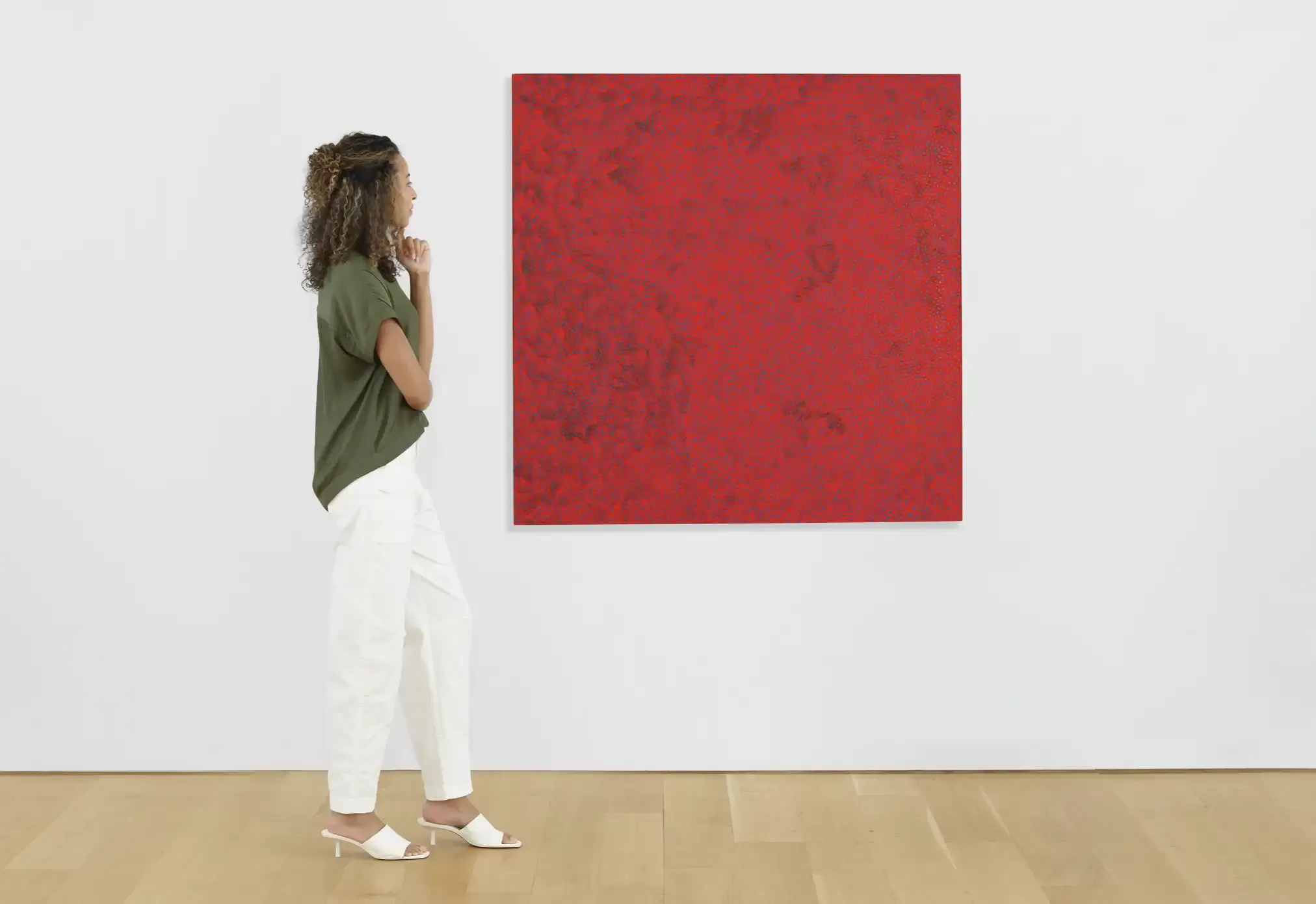 INFINITY-NETS (OOAXT) by Yayoi Kusama (B. 1929)
Let's just take a breather
By Michaela Yearwood-Dan (b. 1994)
Priced at £40,000–60,000, I would not be surprised if this painting exceeds its estimate as Michaela Yearwood-Dan has recently generated considerable interest from collectors. Her beautiful compositions marry elements of the abstract with figurative leaf motifs and text. Often including lyrics from songs or snippets of conversations, they create an atmosphere defined by colour. At the same time, Yearwood-Dan's paintings often give an insight into the female experience – specifically from her perspective as a queer, black woman.
Challenging the outdated notions of 'serious' vs 'feminine' art, her work is defiant in its aesthetic. 'The world exists because of the feminine. Stop insulting women for being who they are. We deal with enough. Globally and biologically, we deal with enough,' she's said.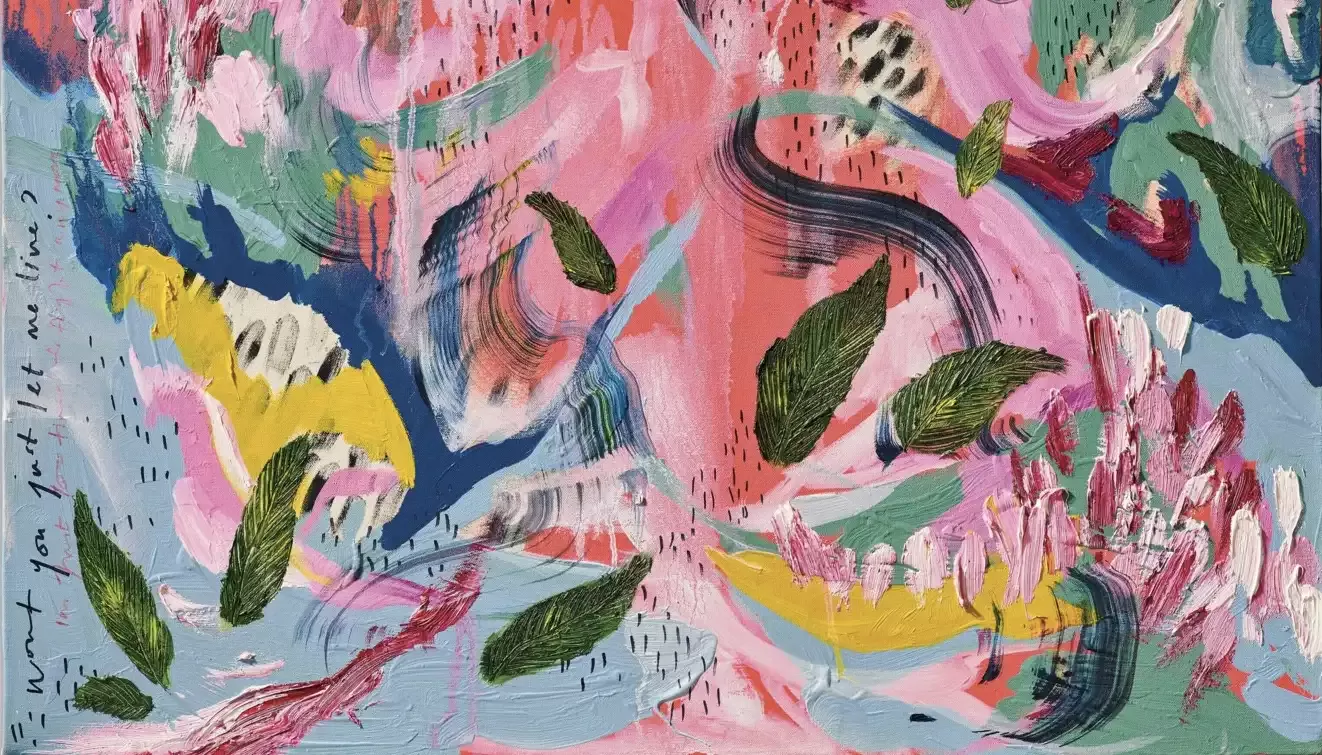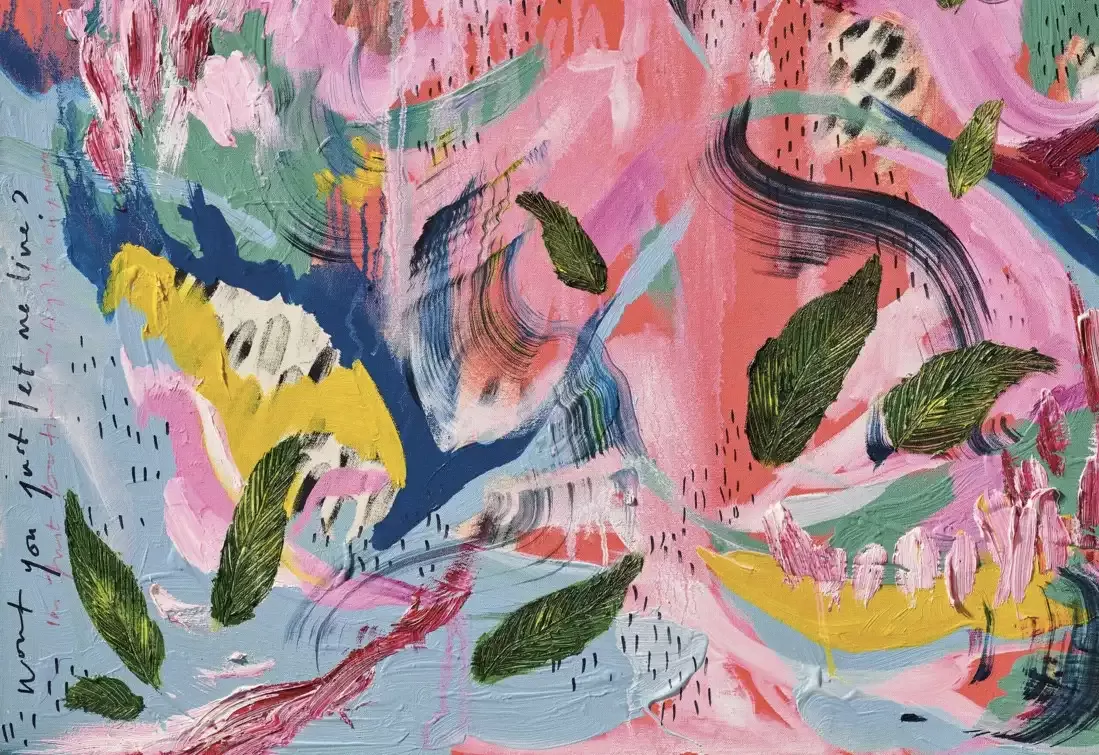 Let's just take a breather by Michaela Yearwood-Dan (B. 1994)
Untitled (Pablo Picasso)
By Jean-Michel Basquiat (1960–1988)
Estimated at £4,500,000–6,500,000, this show-stopping Basquiat has been the lead image of Christie's June season. It doesn't get much better than one of the most iconic artists of the 20th century depicting another artistic genius from the turn of the century. What's also fascinating for anyone who likes to track the art market is that this specific work has been up at auction before, specifically in 2007, when it sold for just over a million pounds and dramatically exceeded its pre-sale estimate of £350,000–550,000.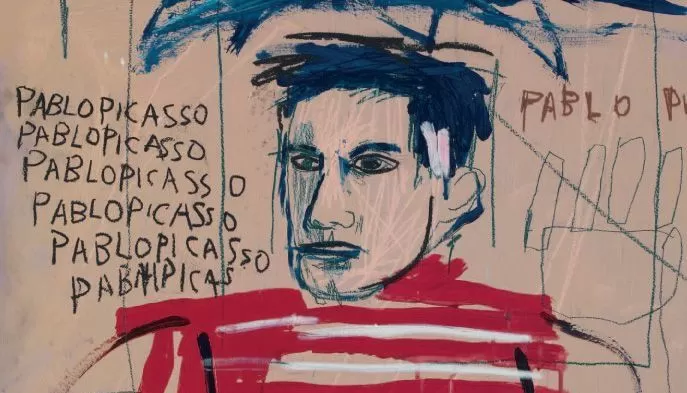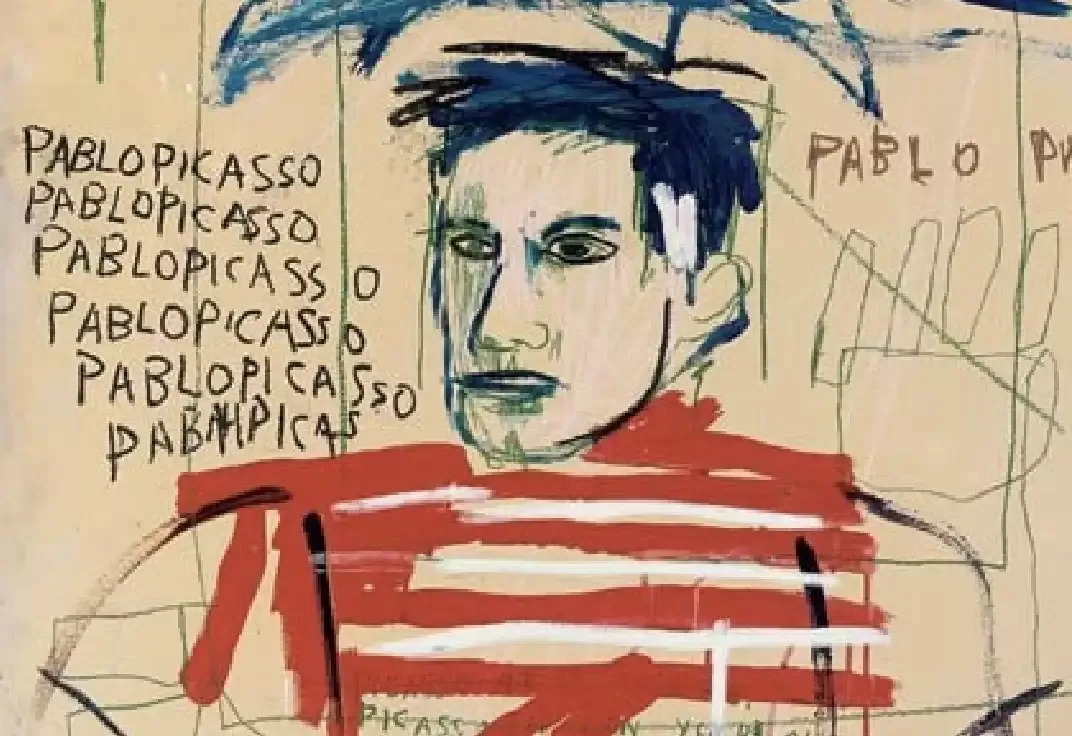 Untitled (Pablo Picasso) by Jean-Michel Basquiat
Pietà
By Anselm Kiefer (b. 1945)
Coinciding with White Cube Bermondsey's solo show dedicated to Anselm Kiefer, this work is an example from an earlier period of the German artist's practice. As is typical for Kiefer, religion, suffering, faith and nature are all presented in this haunting composition.
Stretching almost four metres in width, he undoubtedly references Christian iconography (especially through the title) but eradicates all details that could anchor this scene in a purely biblical narrative. The result is that the image could signify both sacrifice for a greater cause or tackle, more broadly, the issue of human mortality and death.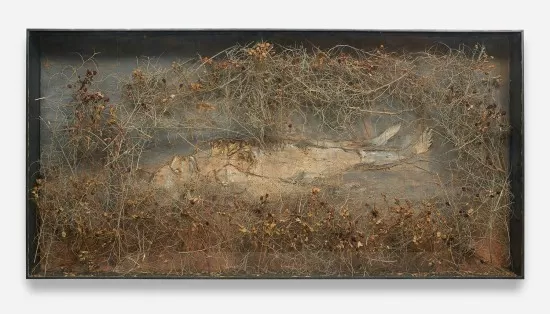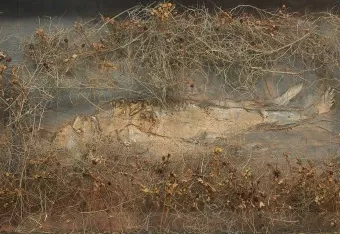 Pietà by Anselm Kiefer
Want to be invited to private tours, previews, and talks at the most esteemed art and cultural events around the world? To make it happen, we work alongside the most prestigious artists, galleries, museums, auction houses, and art fairs globally. Find out more about a Quintessentially membership here.