The sun has just started to set over Nobu Ibiza Bay when Nobu Matsuhisa appears. He's wearing his classic chef jacket and white Air Force Ones and poses for a photo on a sunbed recently vacated by an influencer. Nobu is in town. And he wants the world to know about it.
He is, without a doubt, the most famous sushi chef in the world. Iconic dishes such as black cod with miso and yellowtail with jalapeno propelled him to stratospheric fame, 'Nobu' becoming code for a coveted evening out among the rich, famous and fortunate. He is name-dropped in Future and Post Malone songs and has cameos in Casino and Austin Powers. His business partner is none other than Robert de Niro, and his Instagram feed is filled with shots of him on board his private jet or beaming as he points at yet another large sign bearing his name.
What started as Nobu the man has become Nobu the brand, with 51 restaurants around the world and counting. However, despite such global dominance, he remains humble and committed to ensuring that his 'Nobu philosophy' remains watertight worldwide.
'You keep talking about the future, eh?' he laughs as we sit in the bar at Nobu Ibiza Bay, and I ask him what he thinks Nobu will be like 20 years from now. 'You never know the future. There's always something happening. Even right now, as I'm talking, I'm trying my best. I just want to keep the philosophy the same and take every day step by step.'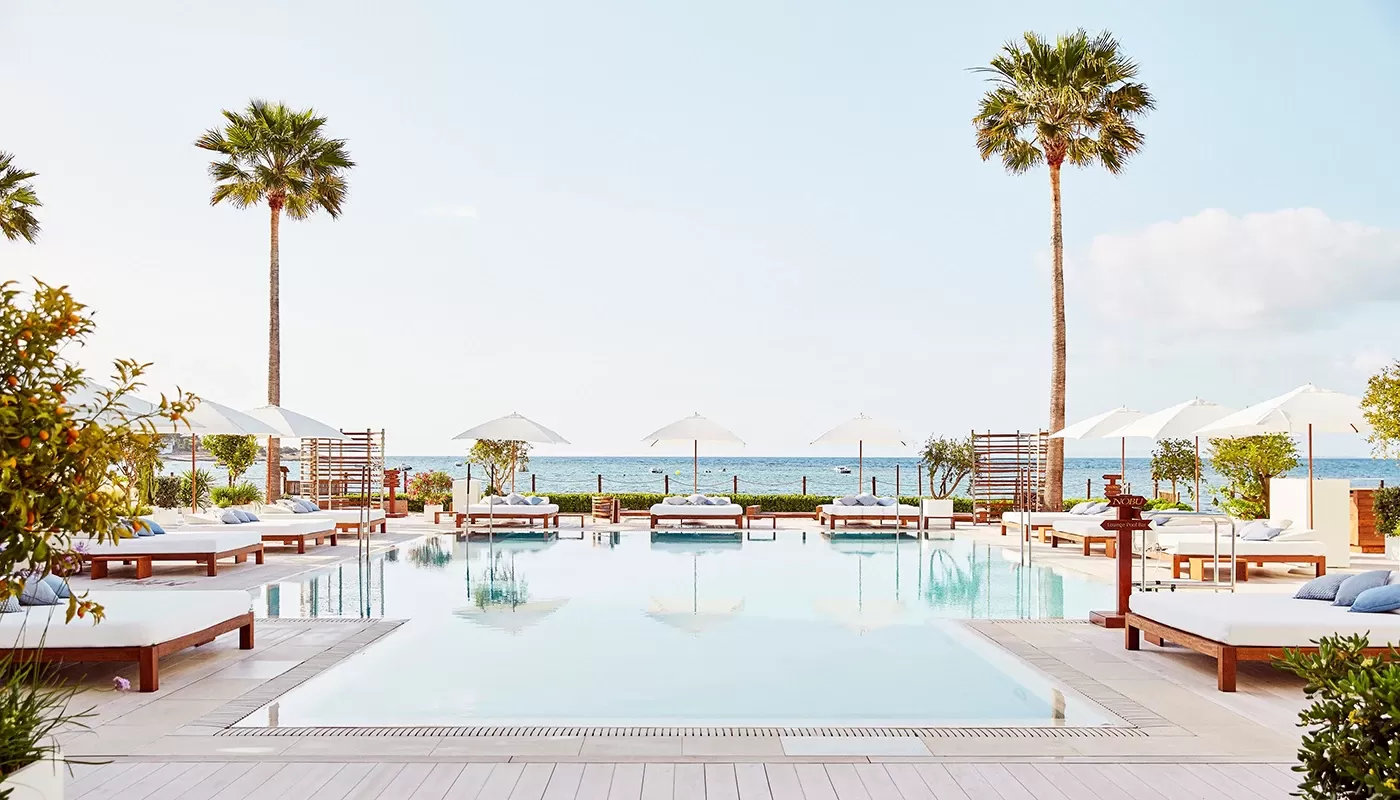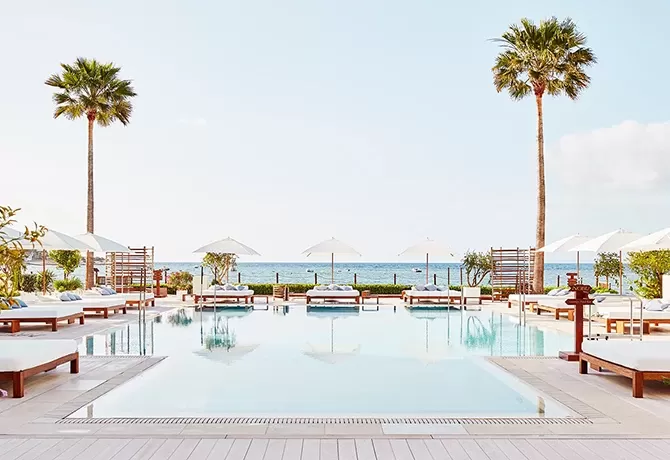 Nobu Ibiza Bay
His philosophy is simple: to serve the highest quality food with the highest quality service. There are no compromises or cut corners – even if costs shoot up. And to ensure every one of his restaurants meet his exacting standards, he spends ten months of the year travelling the globe (and documenting his visits with #nobuintown on Instagram).
'When I was young, I tried to be different and do things that were fashionable,' he says. '[But] in my experience, the best food comes from high quality, light, simple ingredients. I'm Japanese. I always look for quality products – that's why our customers trust us.'
Last week, he was in London to celebrate the launch of the Nobu tequila in partnership with QUI (launched because 'tequila is [his] favourite drink'); last night, he was posing for photographs at the launch of Nobu Ibiza Bay's rooftop; but today, he's chatting with me about his legacy, overcoming hardship, and cooking for Princess Diana – all in five questions, of course.
Nobu is such a global success story, with over 50 restaurants dotted all over the world. Why is it so successful, and would you ever consider changing it up and doing something entirely new?
The first Nobu restaurant opened in 1994. When we opened it, I never thought that Nobu would keep growing worldwide. We kept the same philosophy from Matsuhisa [Nobu's first restaurant] – good quality food with good quality service – and the customers kept coming. So, somebody on the business side asked us to open in another country or another city. We opened each restaurant one by one, and suddenly we now have more than 50. Even now, I never think about making more, but instead focus on gaining knowledge. I am not a businessman; I am a chef. I worry about good quality food and good quality service and seeing customers eating and smiling – this is the Nobu philosophy.
You've cooked for almost everyone – what is the most memorable meal you've ever cooked, and who was it for?
We had just opened Nobu London (Old Park Lane) and my business partner's friend invited Princess Diana. She came for lunch one day, and I cooked just for her. I was a little nervous and asked the manager how to introduce myself, and he said 'say, "it's a pleasure to meet you, Princess".' So, I said this, and she said, 'oh chef Nobu, I know you! I've read about your book.' I was so impressed. I made her tempura, sushi, some cooked fish, and after lunch, I remember her driving herself home in her BMW. A few months later, she had the car accident. I was so shocked, but I will always remember 'it's a pleasure to meet you, Princess' and 'chef Nobu, I know you, I've read about your book'.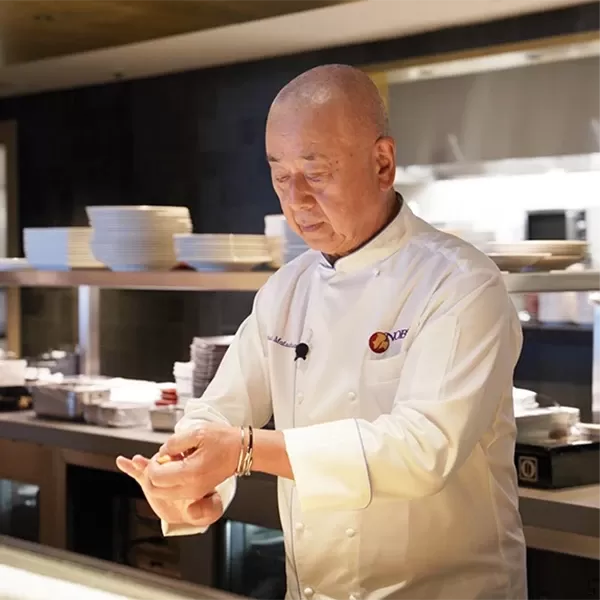 'I am not a businessman; I am a chef. I worry about good quality food and good quality service and seeing customers eating and smiling – this is the Nobu philosophy.'
- Nobu Matsuhisa
A lot of your signature dishes, such as New Style Sashimi, were developed in your early days at Matsuhisa when guests would request alterations to your dishes. But what is the strangest request you have ever catered for at one of your restaurants?
We are a Japanese restaurant. Once, a very famous Japanese baseball player came to us and said he didn't eat any fish – but he must have come because he knew about my restaurant, which serves fish. We started taking orders, and he said that he wanted a hamburger. We didn't have any, but we were in Los Angeles, and, across the street, there was a burger restaurant. So, I sent someone to go and get one and gave it to him on a plate.
Days off for you are few and far between! So, what do you do on your days off? Are you still cooking?
I just relax. I go to the gym, I read a book, I go swimming... I don't drink alcohol – so no tequila! – and just keep quiet. I cook, or my wife cooks, or sometimes we cook together. My wife is my private chef – she cooks with heart like a mother does when she cooks for her children. We always ask, 'how do you feel today?' or 'what would you like to eat?' and keep what we make very simple.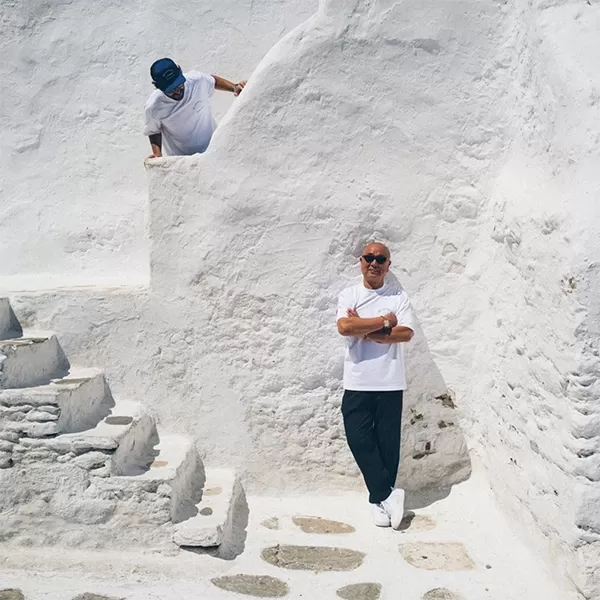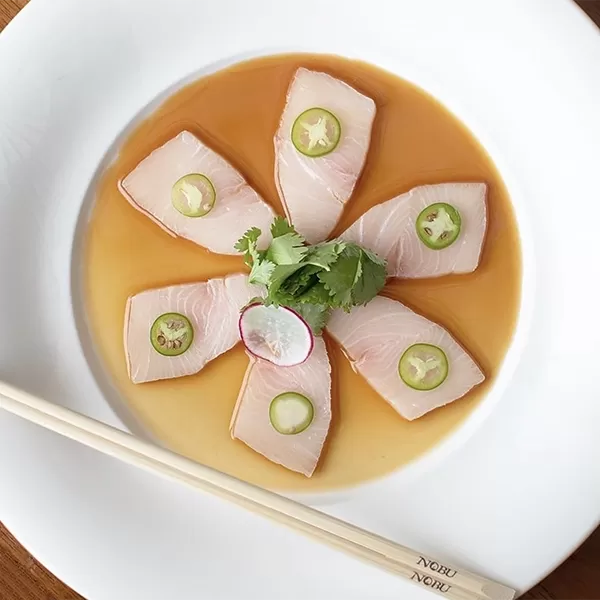 In your memoir, you describe the setbacks that besieged your early career – including a restaurant in Alaska that burnt down, plunging you into a deep despair. However, you are still one of the most successful chefs on the planet. How do you overcome difficulties to achieve greatness?
That time was so tough. Sometimes when I think about it, I cry; I don't want to think about it. But I'm here because I've had this experience, and from it, I learnt patience and about love from people, because I made it out through other people supporting me. I think in life, every person has got good experiences or bad experiences, but smart people learn from their mistakes. These weren't mistakes, but I dealt with my worst experiences, and I now appreciate them because of what I learned from them.
You've got good taste. We've got the specialist knowledge. As a Quintessentially member, you have a priority seat at every Michelin-starred restaurant, speakeasy cocktail bar, and chef's table experience – anytime, anywhere. Click here to discover membership.