Before it arrived, there were whisperings of Bacchanalia. A gorgon cut-out appeared in the blacked-out windows of an old Porsche showroom on Mayfair's Mount Street. On social media, an advert for a 'grape feeder' with 'gorgeous hands' went viral. A Times interview hinted that the décor was inspired by Silicon Valley crossed with a Roman orgy. However, nothing can prepare you for the moment Bacchanalia's gilded doors are held open, and you step into the den of hedonism itself.
Marketing itself as 'more than a mere restaurant', Bacchanalia – preceded by the likes of Sexy Fish and Annabel's – is the new Greco-Roman experience by Richard Caring's Caprice Holdings. Sitting in pride of place at One Mount Square, it has been sumptuously imagined by Martin Brudnizki Design Studio into an oxymoron of a restaurant; it is only in Bacchanalia, after all, that the world's hottest DJs perform amongst millennia-old statues.
'It really is absolute opulence and grandeur of the highest degree,' says Quintessentially's Head of Restaurants, Keith Doyle. 'From the moment you step through the doors, you are completely immersed in another world. It's fun to watch other people react to entering the restaurant after you've already sat down; everyone is blown away.'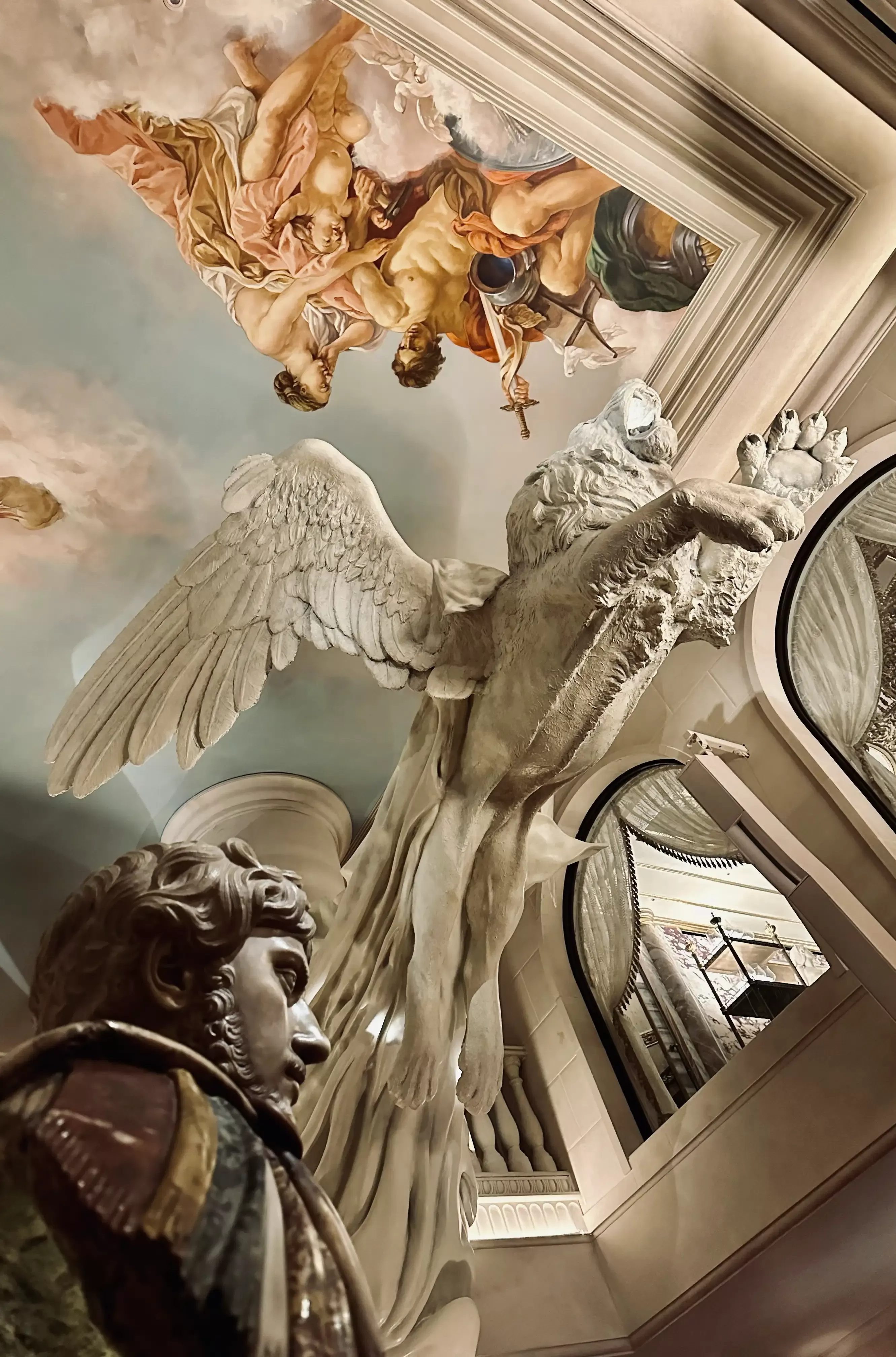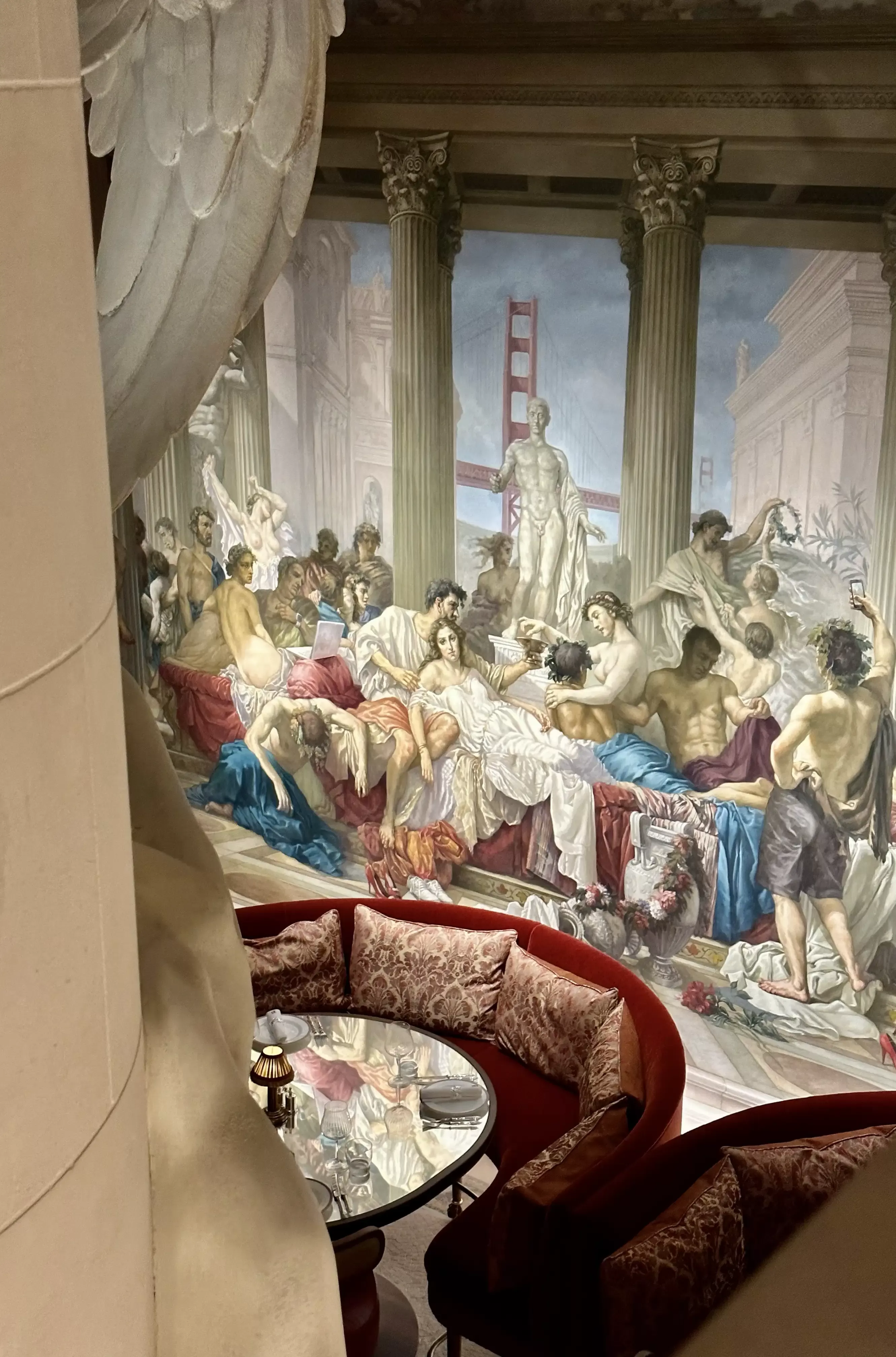 Hand-painted ceilings, Damian Hirst statues and 'Romans In Their Decadence' mural by Gary Myatt
The first thing you encounter are huge Damien Hirst statues of winged horses, lovers and Medusa galloping across the towering ceiling, which itself has been hand-painted with scenes from classical myths. Another £12m mural is plastered across the back wall, this time depicting a debauchery-filled last supper (complete with iPhones and the Golden Gate bridge, of course). Genuine 2,000-year-old statues loom over each mirrored table, all of which are edged in Byzantine patterns and topped with menus designed to look like mosaics. There's no sign of a grape feeder – but there are staff in colourful togas fastened with a golden 'B'.
In name and atmosphere, the restaurant is inspired by ancient 'bacchanalia', which were opulent private parties held by mysterious cults and dedicated to the Roman God of wine and excess, Bacchus. 2022's Bacchanalia is also somewhat of an enigma. Even before opening, it has successfully channelled the right balance of exclusivity, mystery and opulence to intrigue diners; as of November, it is fully booked for months. Its weekly roster of international DJs and performers is also shrouded in secrecy – although the standard was painted gold by a performance by Florence + The Machine at last week's launch party.
Whilst it's yet to open to the public and the press, we at Quintessentially have a longstanding relationship with Caprice Holdings, and so were amongst the first to head through the red-and-gold doors and sample Bacchanalia's Greco-Roman delicacies.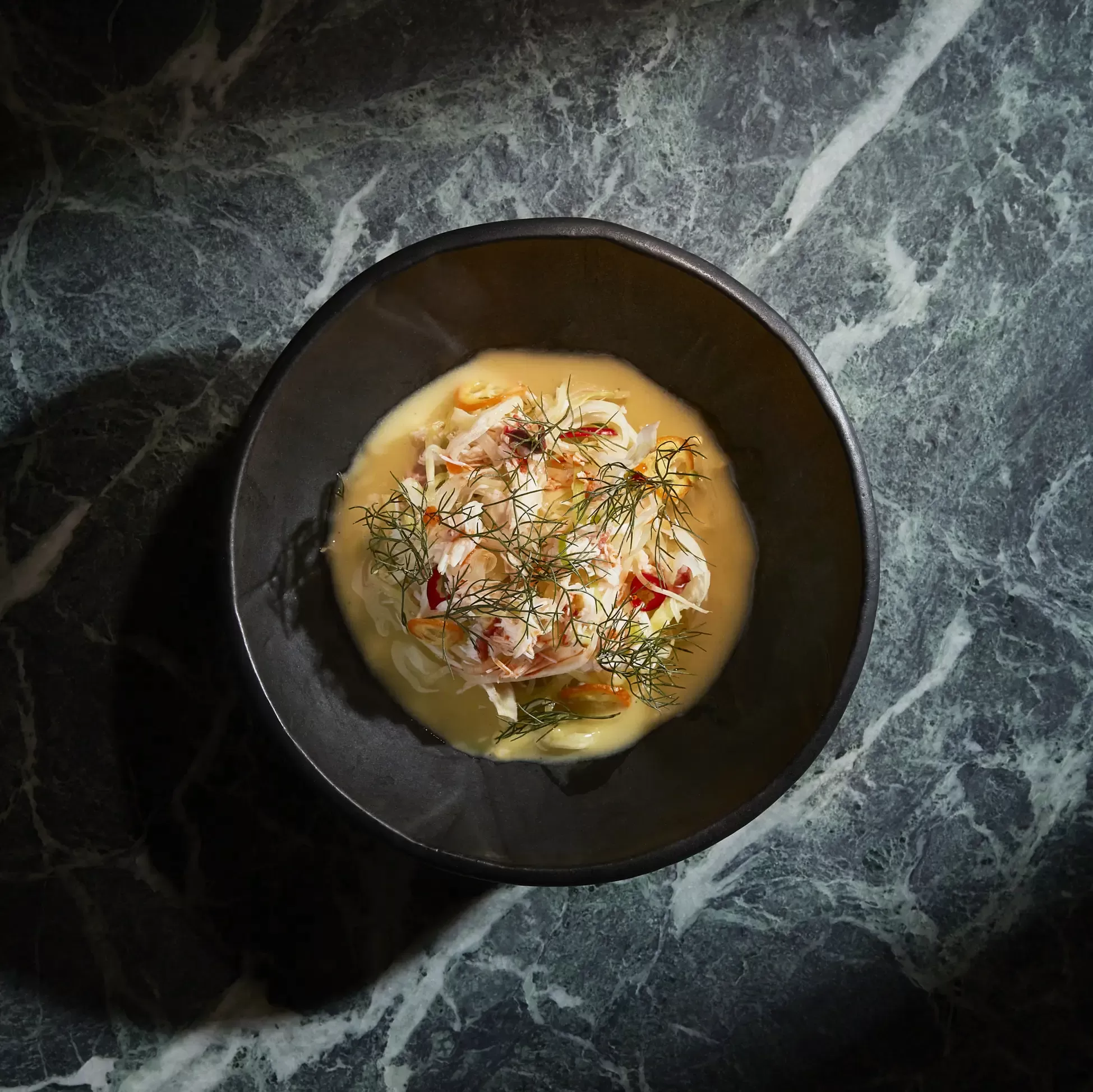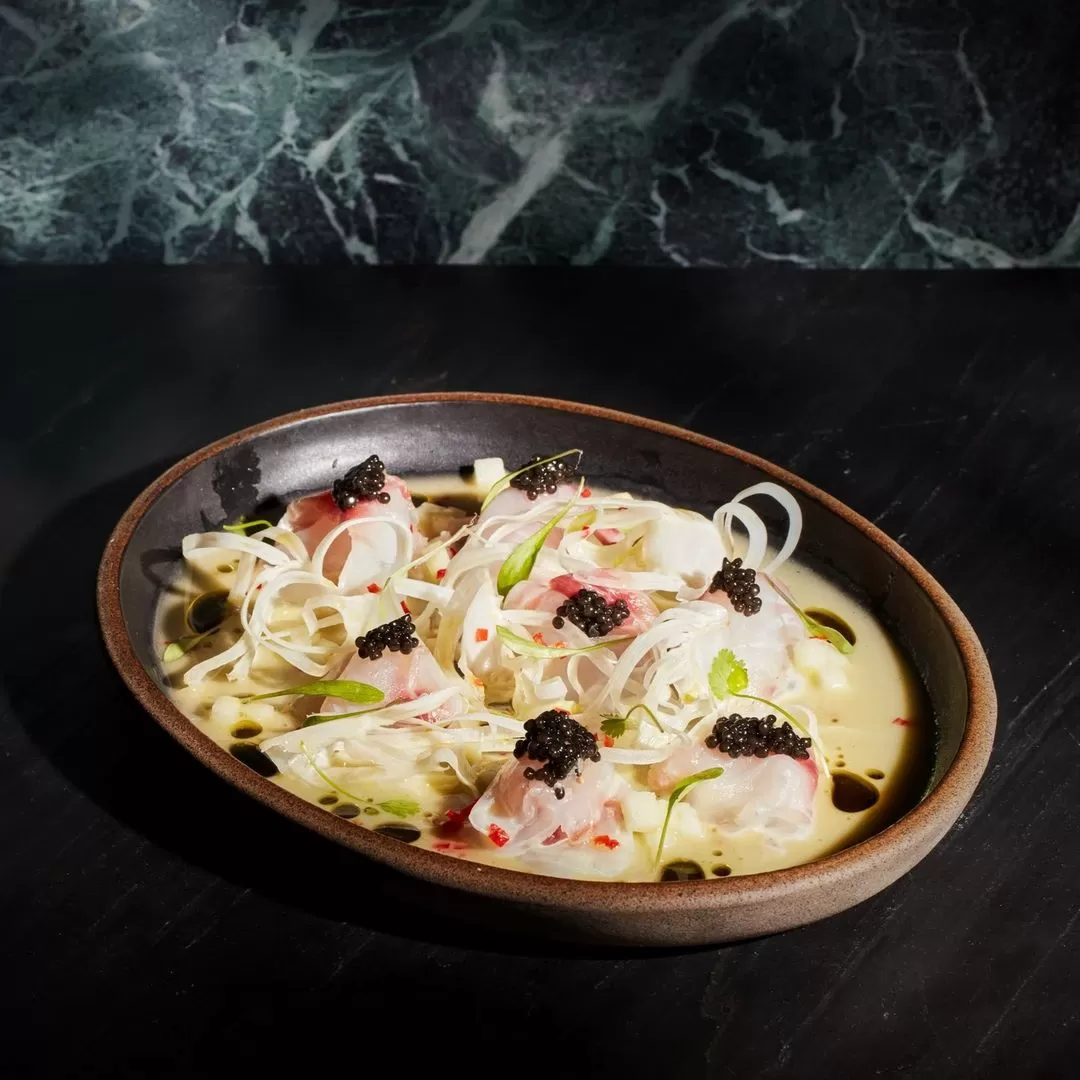 Crab salad with fennel dressing (L) | Sea bream carpaccio with caviar (R)
Like an ancient banquet, most things are designed to share and are served with a side of theatrics. Toga-clad staff bring huge, stone plates of delicately charred octopus, citrusy sea bream carpaccio and 'nduja-spiked beef tartare. An enormous risotto Nero arrives crowned with a spiky crab shell, which is whipped away to reveal piles of tender meat (that then arrive on your plate via silver service). A four-person tiramisu is encased in a brûlée-style chocolate shell which is cracked to expose the soft cream underneath.
Even the cocktails are laced with Greco-Roman ingredients. One mingles white chocolate, egg white and Greek yoghurt, whilst another lists feta alongside watermelon, prosecco and Aperol. Even if you're not doing the full Roman-style banquet, one can imagine ordering a couple of cocktails plus a pasta dish to the first-floor mezzanine, where you can look over the kingdom of a dining room below.
Those who prefer their dining even more exclusive should set their sights on private dining space, Artemis, which has emerald velvet seats for up to 18 guests. It's situated on the first-floor mezzanine – incidentally, next to the DJ booth – and has floor-to-ceiling windows that bring you eye-to-eye with the Hirst statues (with the option to close the gauzy curtains if you want more privacy). And, because this is Bacchanalia, the private menu is also available in excess: lobster by the platter, cocktails by the samovar, and wine by the magnum (including a Jeroboam of rosé). It is also – somehow – still available on New Year's Eve, where the gold-leafed table will be heaving with caviar, white truffle and oysters.
There are yet more whisperings about a decadent private members' club opening in the new year. However, with all its art, statues, DJs, feasts, and togas, there is no denying that Bacchanalia has already arrived with God-given confidence – and a God of wine and revelry at that.
Bacchanalia opens on 24th November. Quintessentially members have priority access to Bacchanalia's 'Last Supper' New Year's Eve party – please contact your lifestyle manager for further information. Want access to the hottest new restaurants before they open to the public? Speak to our team about becoming a Quintessentially member here.