Anyone looking for a quiet, rural place to enjoy their favourite cigar will find paradise in the hinterland of Dijon. Located in Burgundy, one of France's most exclusive wine-growing regions, the area's small town and villages contain many cultural and culinary temptations, as well as ample opportunities to discover new wines alongside your cigar.
Champagne's competition
In the dreamy old town of Auxerre, we smoke a creamy and spicy Flor de Selva Toro (about €12) as an entrée, purchased from the tobacco shop opposite the nostalgic clock tower. It evokes the glorious times when Burgundy's largest vineyard was located here, near the monks' abbey and the river Yonne, just an hour and a half by boat from Paris.
A magnificent 19th-century courthouse documents how stockbrokers and bandits once fought over fine wines as lucrative currency. Our stroll from there is accompanied by the splendid cigar from Franco-Honduran Maya Selva, ending on a romantic bridge with a view of Auxerre's cathedral. We contemplate: why not coast along Burgundy's gentle vineyard landscapes by houseboat? We could indulge in our smoking pleasure on board at any time…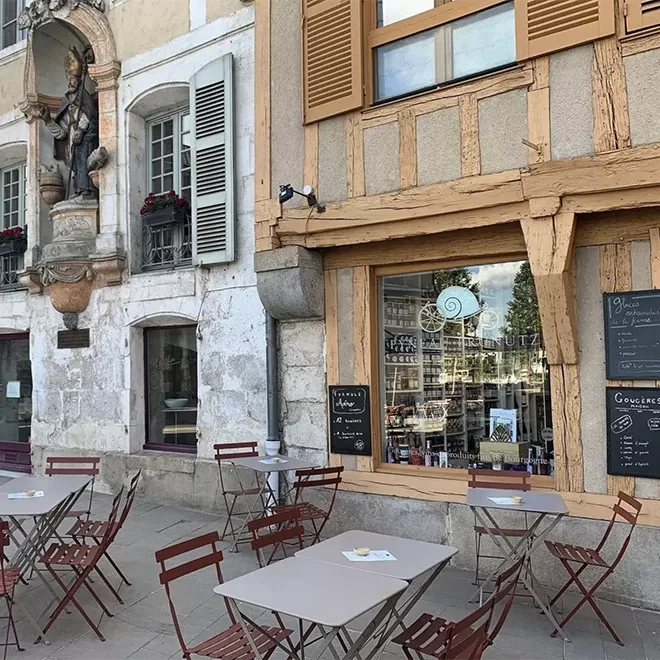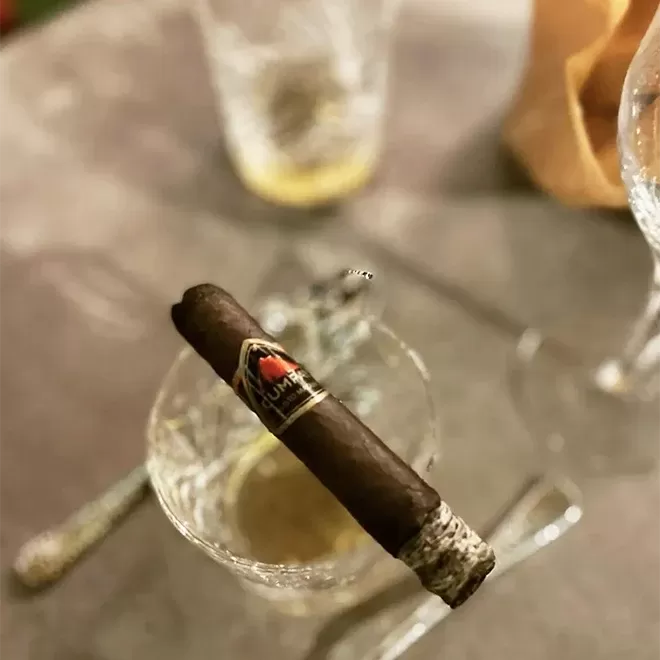 Bar Boutique Pyneau Prunutz
Then we feel like having an aperitif, which we enjoy at the Bar Boutique Pyneau Prunutz. If you wanted, you could order gougères filled with snail paté – an excellent take on the classic cream puff. It is best paired with a Crémant de Bourgogne from the Bailly-Lapierre winery.
Next, to the village of Bailly and the opportunity to taste wine in an underground quarry. The village is – we discover – the birthplace of Crémant de Bourgogne, which emerged as a competitor to Champagne in the 1970s. With a view of artificial limestone figures that pay homage to Bacchus, we delve into the cool 12ºC cave cellar, which stores 5,000,000 bottles of Crémant de Bourgogne. Its grapes are picked by hand, similar to how tobacco is harvested. During the tasting, we fall in love with a dry Crémant Rosé, and later that evening, we are delighted that it pairs well with the Hoyo de Monterrey San Juan (about €23.50).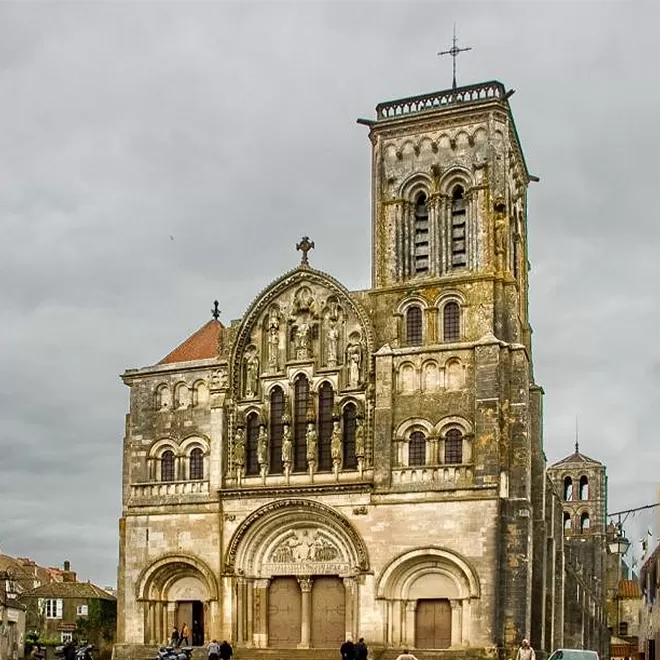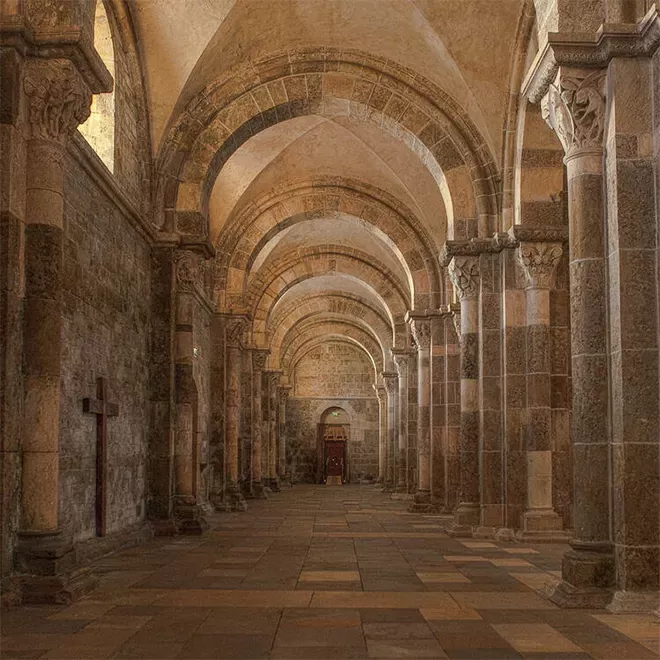 Romanesque Sainte-Madeleine basilica | Source: UNESCO
The mountain of joy
Our next destination is Vézelay in the heart of Burgundy – a UNESCO World Heritage Site sitting atop a hill whose Romanesque Sainte-Madeleine basilica was an important stop on the Way of St James (Camino de Santiago). Tranquil country roads lead us further to Domaine La Croix Montjoie, also known as the mountain of joy.
Sophie and Matthieu Woillez personally offer wine tastings here on an ancient farm with 15 hectares of vineyards. Matthieu, who speaks perfect English, guides us through his cellar, recommending a rare Montrachet Grand Cru to go with the Habano Partagas Lusitanias (about €30). We treat ourselves to an after-dinner smoke on the Hôtel de la Poste et du Lion d'Or terrace, where chef Éric Balan spoils us with culinary delights.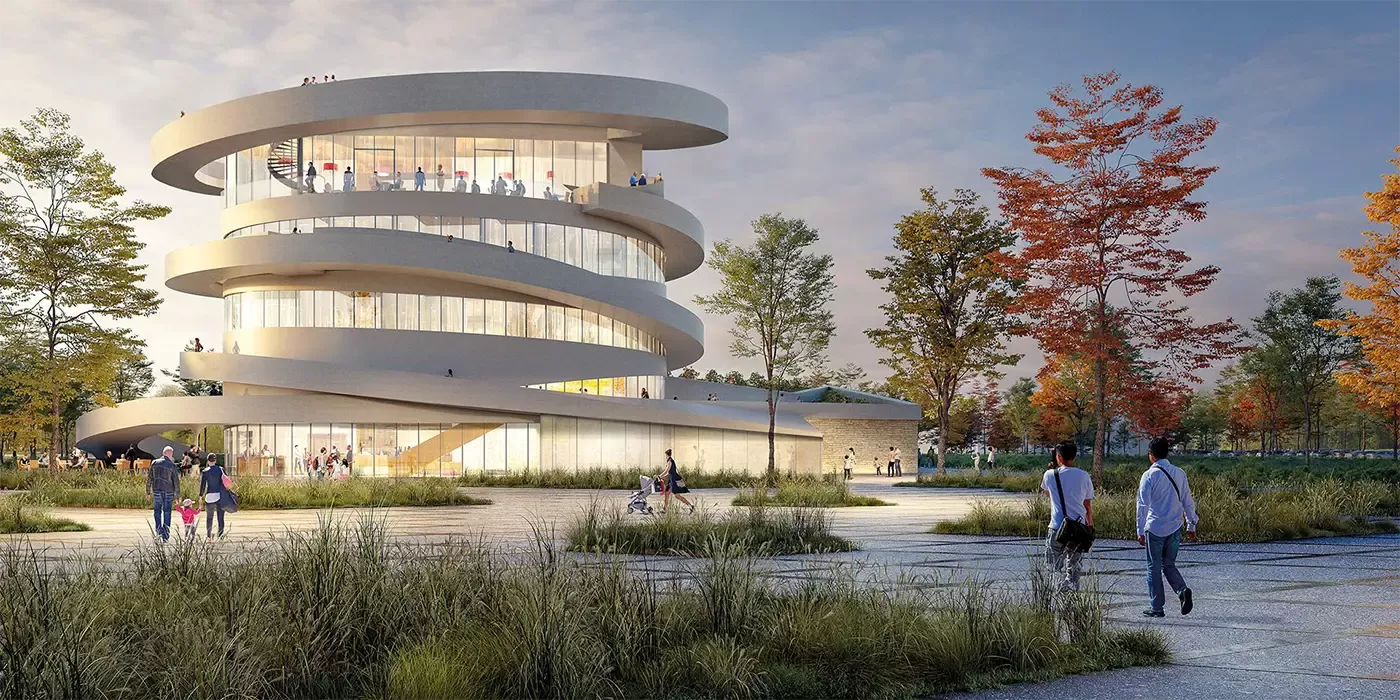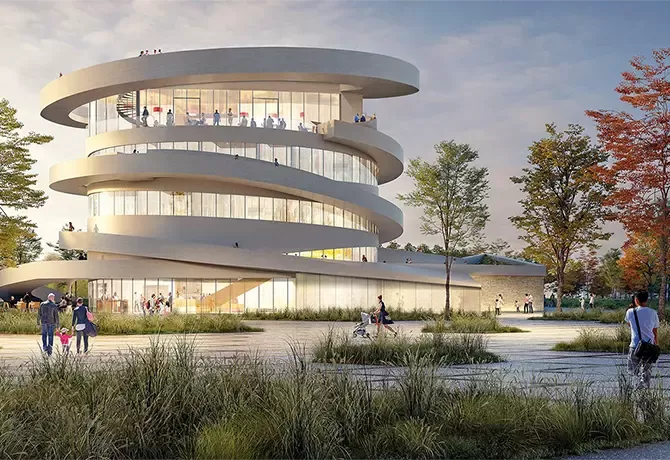 Cité des Climats et Vins de Bourgogne | Souce: Beaune Tourisme
The Climats of Burgundy
The next day, we visit the picturesque village of Chablis, considered the cradle of white wine in Burgundy. In the wine museum Cité des Climats et Vins de Bourgogne, housed in a renovated medieval building, we meet Damien Guerault. The host recommends a very dry red burgundy with our Davidoff cigars (to our benefit, we learn that aficionados are welcome in the courtyard).
But before that, we explore the museum, where you can compose your own wine using the magic of the digital age. Olfactory bulbs make you curious about all the earthy, fruity, and bitter aromas that determine the character of the local wine-growing terroir (the Climats).
In Burgundy, these Climats are categorised similarly to the tobacco-growing areas in Cuba's Pinar del Rio. Each location has become symbolic due to its soil, depending on the nature of the soil, climatic influences and its own history.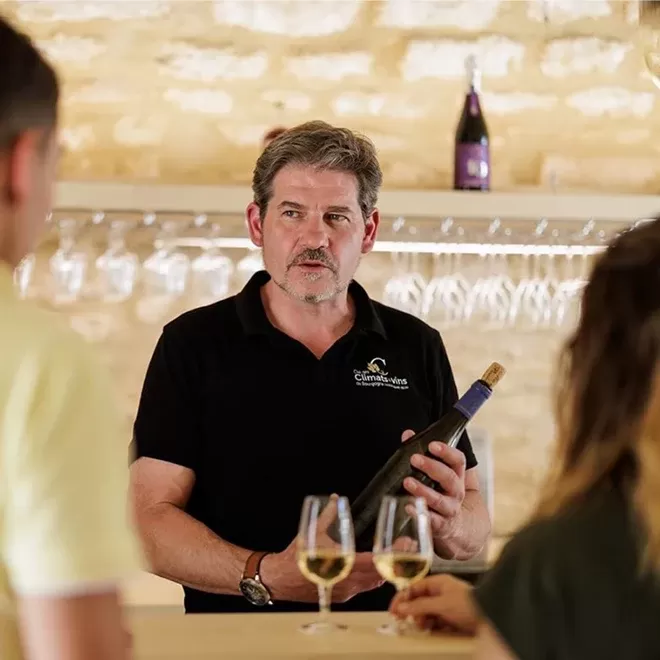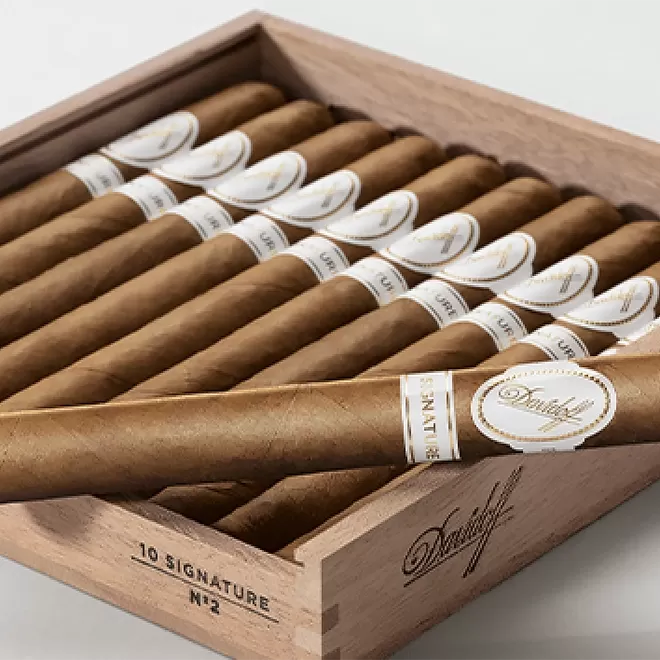 Damien Guerault left | Davidoff cigars right
Attuned to the serenity of rural Burgundy, we continue to one of the most beautiful villages in France: the medieval Noyers-sur-Serein. With its half-timbered houses, it has served as the backdrop for numerous film classics. Plus, the picturesque hamlet is also home to a colourful artistic community, one of whom is leather-maker Brice Corman. His shop is a must-visit for cigar lovers: he crafts handy humidors for travellers from thick buffalo leather.
Beaune's spectacular auction
During a nostalgic factory tour in the historic village of Flavigny-Sur-Ozerain, we learn how closely the tradition of a good cigar is linked to the culinary culture of Burgundy. The anise pastilles, first created by monks in 719 and still in demand worldwide today, once had cult status among cigar smokers. At a time when smoking was still accepted throughout society and in vogue everywhere, the refreshing mini bonbons from Flavigny were sold all over France in dummy cigar containers.
From there, we continue to the prosperous wine town of Beaune on the legendary Côte-d'Or – the Golden Vine Hills of France. Every November, a spectacular auction is held in the medieval Hospices de Beaune (World Heritage Site). Wine enthusiasts from around the world will join in the celebrations as a 228-litre barrel is auctioned off for charity at an astronomical price. The process reminds me of the charitable humidor auctions at the famous Festival del Habano in Cuba's capital.
Much like beer is associated with Bavaria, exquisite mustard belongs to Burgundy – so don't miss a visit to the Edmond Fallot mustard factory in Beaune. Many aficionados will be reminded of a tour of a tobacco factory when visiting the unique studio; the world of mustard seeds and their complex preparation into a culinary delicacy is reminiscent of the processing of fragile tobacco leaves.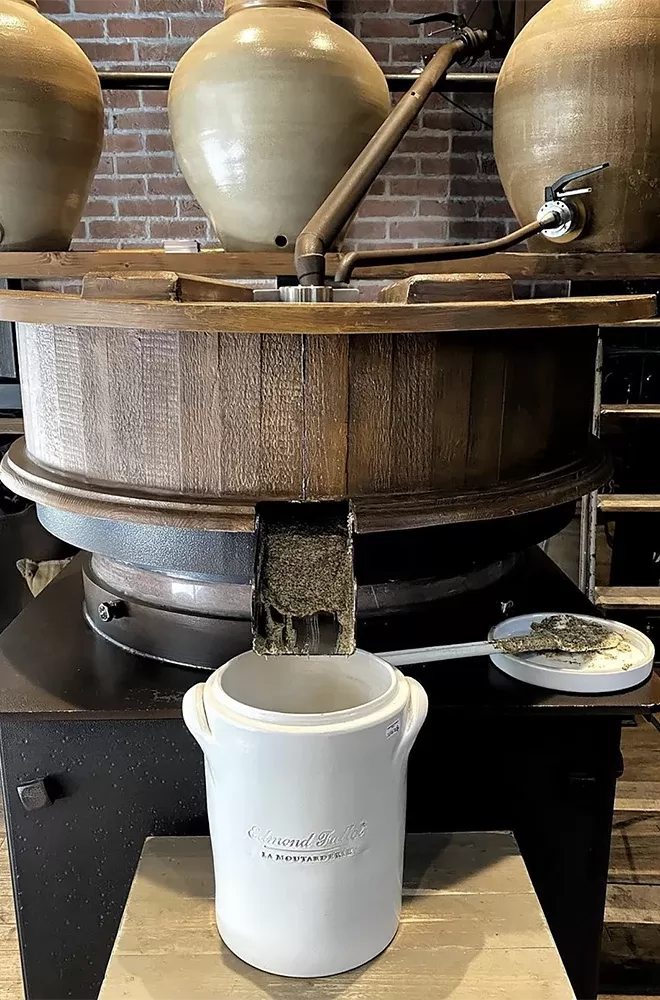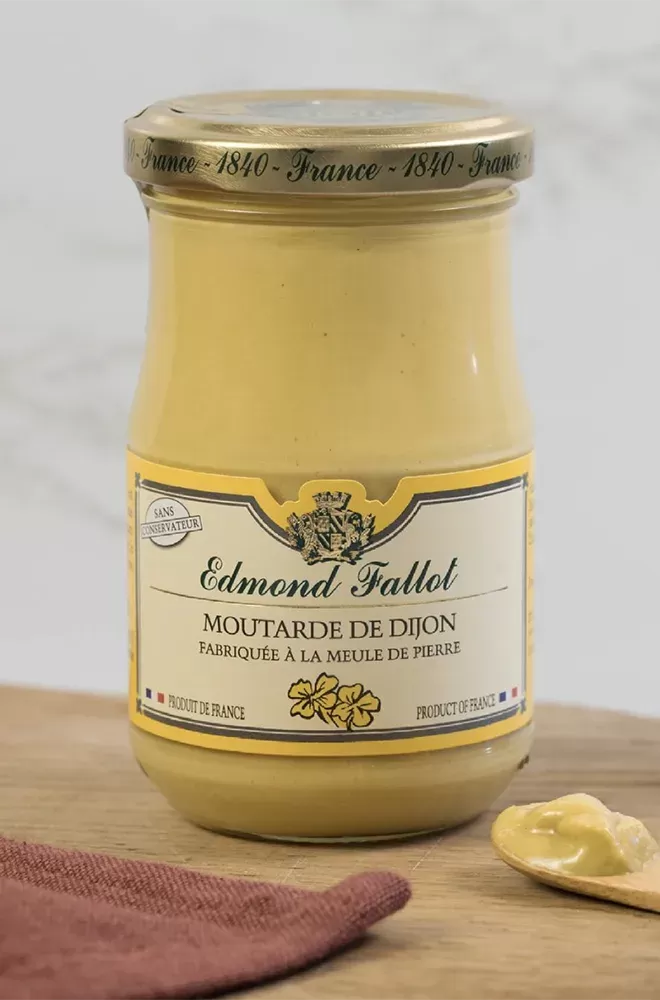 Edmond Fallot mustard factory in Beaune
A mystical cigar lounge
Finally, we drive into the wine capital of Dijon. The world's most exclusive locations have discreetly nestled here on the Côte-d'Or: Nuits-Saint-Georges, for example, and the Domaine Romanée-Conti with the most expensive Pinot Noir red wine on our planet.
In the Grand Hôtel La Cloche (full of tradition – it's where Napoleon III once stayed), a few bottles are stored in the cellar of the boutique wine bar, as hotel director Antoine Munoz tells me. The Spanish-born aficionado invites me to a fine smoke with Champagne in the luxurious five-star hotel's enchanting garden – an El Dorado for connoisseurs.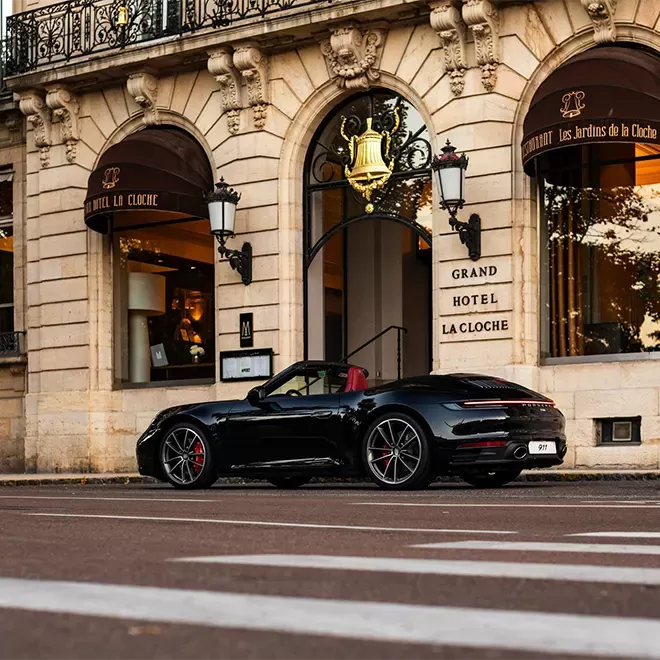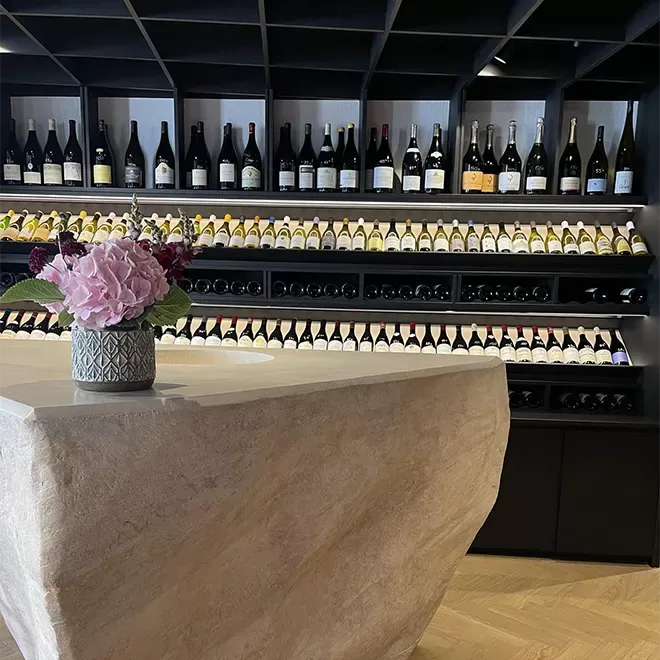 Inside the majestically large Salon Fumoir, we smoke leaning back in avant-garde designer armchairs. Illuminated French art lends a mystical blue glow to the puristic lounge, and we consider our next move. How about a rare Habano Quai d'Orsay from the Bar by La Cloche humidor? Or a brandy Marc de Bourgogne Authentique Jacoulot from the cosmopolitan bar next door, accompanied by an aperitif cigar?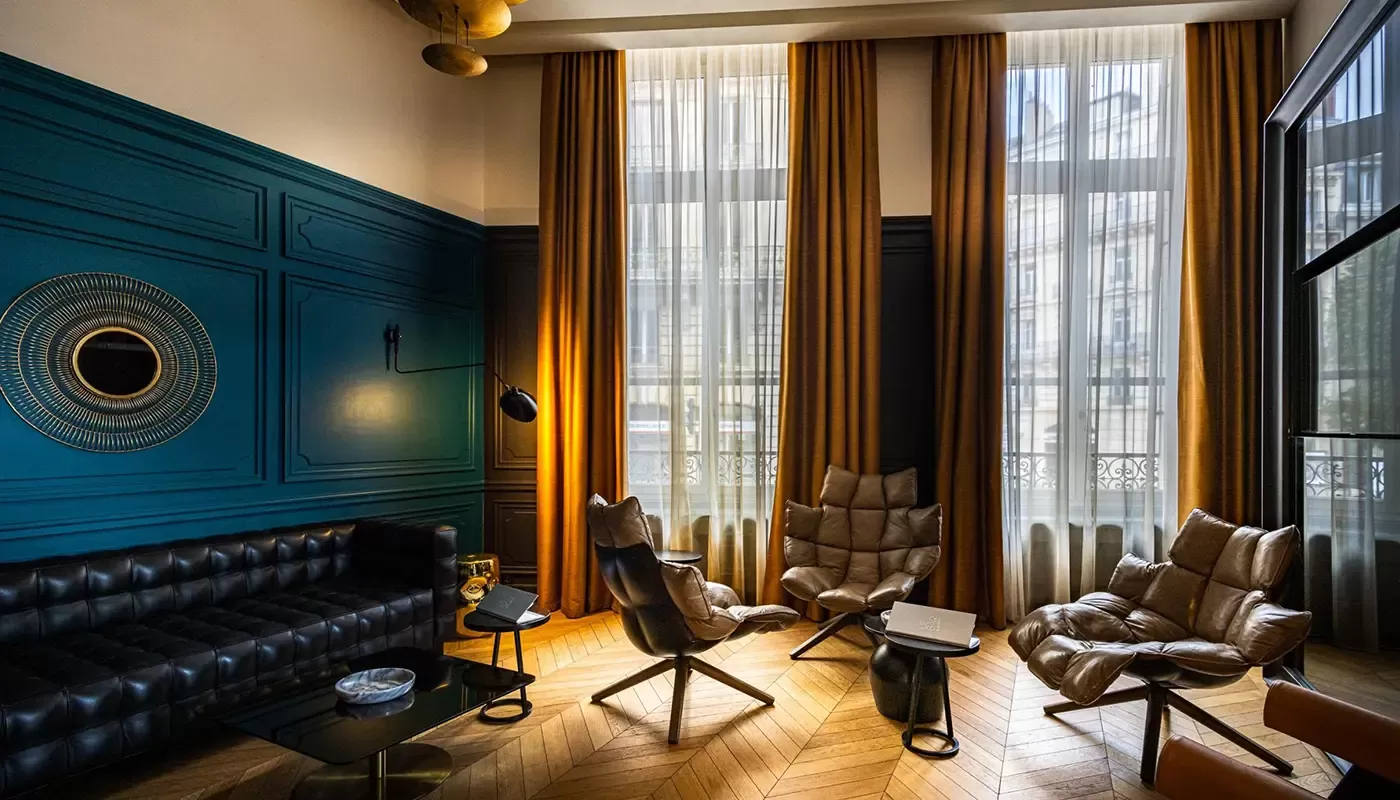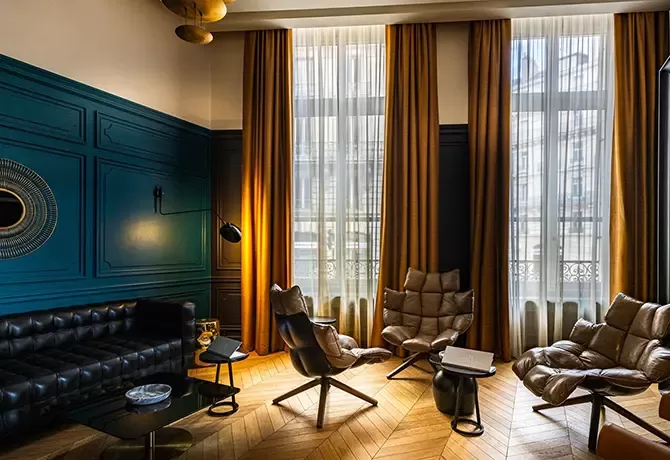 From the hotel, it is just a short walk through the pedestrian zones to the nightlife district at the market halls, where brasseries and bistros warmly welcome cigar smokers on their terraces. As a farewell, I treat myself to a Montecristo Edmundo (about €25) in the courtyard of the cocktail bar Monsieur Moutarde, which I had discovered in the well-stocked tobacco shop La Habanera, accompanied by a slightly smoky, very dry red Burgundy wine, personally recommended to me by the boss as an ideal partner to my Habano.
Travel guide
Tobacco shops
Tabac de l'Horloge
3, Rue de l'Horloge
89000 Auxerre
À La Habane
5 Pt Place Carnot
21200 Beaune
La Habanera
23, rue de Liberté
21000 Dijon
Cigar lounges
Salon Fumoir Grand Hôtel La Cloche
14, Place Darcy
21000 Dijon
Cigar Bar Vertigo
3, rue Devosge
21000 Dijon
Wine tasting
Crémant de Bourgogne

Chablis
Cité des Climats et Vins de Bourgogne

Vézelay
Wine tasting & Cigar

Dijon
International Cité of Gastronomy and Wine
Think you've seen it all? Think again. Our global network of dedicated travel specialists plans one-of-a-kind, tailor-made travel experiences to make every trip your best yet. Find out more about Quintessentially Travel here.