This week, the main London auction houses are opening their doors to the public to showcase all the art works from their upcoming auctions. It's an excellent opportunity to see a diverse selection of truly excellent works of art from the Modern & Contemporary Art category, before they disappear again into private collections around the world. The exhibitions only last for around a week, so make sure to check on their websites for the exact opening times. Below is a handful of some of the top pieces on view.
Girl with Closed Eyes
By Lucien Freud at Christie's Evening Auction
Estimate: £10-15 million
Held in the same collection since 1987 (shortly after it was painted), this intimate portrait of a reclining woman is suffused with a sense of love and reverie. Using thick impasto brushstrokes of mauve, pearlescent white, and warm ochre, Freud captures his muse, Janey Longman, with her eyes closed, lips parted, and her head turned peacefully to one side. Each freckle and wrinkle is recorded with immaculate care as Freud immortalises this transient moment.
Shortly after its completion, Girl with Closed Eyes was included in the landmark 1987-1988 touring exhibition Lucian Freud: Paintings, which travelled from the Hirshhorn Museum and Sculpture Garden, Washington, D.C. to the Musée National d'Art Moderne, Paris, the Hayward Gallery, London, and Berlin's Neue Nationalgalerie. Since then, the painting has frequently been quoted in literature and exhibitions, as a prime example of Freud's mastery as a portrait painter and it is unsurprising why.
Triptych 1986-7
By Francis Bacon at Christie's Evening Auction
Estimate: £35-55 million
Perfectly timed to coincide with the exhibition 'Francis Bacon: Man and Beast' at the Royal Academy just up the road, Triptych 1986-7 is now being offered at Christie's as part of their Evening Auction. Some may have had the chance to see it last year though, at the Centres Georges Pompidou exhibition Bacon: En toutes letters, where it was included. Painted just a few years before his death, it is emblematic of Bacon's musings on solitude and mortality – rendered in his most-celebrated triptych format. Across the three canvases, the artist draws parallels between historic moments of the twentieth-century and his own poignant personal narratives.
You're Going to make me Blush
By Flora Yukhnovich at Christie's Evening Auction
Estimate: £250,000-350,000
Over two metres in height, this painting was included in Yukhnovich's MA degree show at the City and Guilds of London Art School in 2017, and exemplifies her method of reimagining Rococo paintings by transforming them into a crescendo of reverberating abstract marks and pastel colours. This composition is in fact, derived from Jean-Honoré Fragonard's iconic painting The Swing (c. 1767) - one of the most famous Rococo masterpieces on display in London's Wallace Collection, where Yukhnovich is a regular visitor. In the original source image, a flirtatious lady clad in cascading silks, is caught flicking off her shoe for her admirers as she rocks on a swing in a garden (to the shock of the audience at the time). Yukhnovich seizes the heat of the moment through her signature style of abstraction, which one can only describe as utterly sumptuous.
School for Little Witches
By Paula Rego at Christie's Day Auction
Estimate: £280,000-350,000
If you missed Paula Rego's retrospective at Tate Britain last year, you can still see a witty example of her mature works at Christie's over the coming week. Created in 2009, in her distinctive pastel technique, School for Little Witches, like many of her works, is a cathartic act of revenge on a particular figure that tormented her in her childhood – in this case, a teacher. 'I cast nasty people as nasty characters, bullies and witches and so on. I use them in scenarios and take pleasure in their downfall. They can be skewered or hung or shown for the repellent creatures I feel they are. You can be as violent as you like in a picture' – Paula Rego.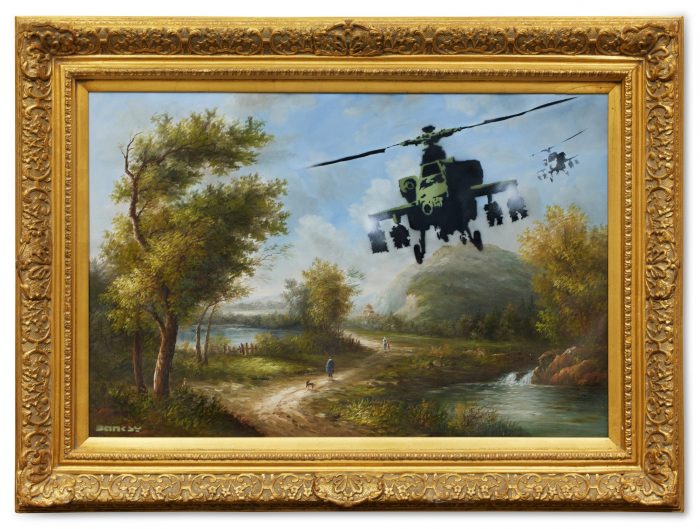 Banksy Vandalised Oil (Choppers)
Vandalised Oil (Choppers)
By Banksy at Sotheby's The Now Auction
Estimate: £2.5-3.5 million
Held in the collection of British pop icon Robbie Williams, Vandalised Oil (Choppers) is emblematic of Banksy's impactful artistic style and his personal, unfaltering anti-war messaging. Using quaint landscapes and Old Master motifs as the basis of his Vandalised Oil series, he masterfully imbues a second lease of life into canvases that many might consider relics of a bygone era. Here, a spray-painted and weaponised helicopter crashes through a serene Claude Lorrain-eque paysage in Banksy's characteristically provocative manner.
As the Crow Flies
By Amoako Boafo at Sotheby's The Now Auction
Estimate: £280,000-350,000
There are several stunning pictures by Amoako Boafo included at the auctions this season, however my personal favourite is this rare self-portrait where the artist presents himself as a reclining nude against a patterned fabric on the floor. Born in Accra, Ghana, Boafo has seen great critical acclaim over the past few years. His tactile process of distributing paint on the canvas creates a pulsating vivacity particularly evident across the surface of his figures' faces and bodies.
In an interview from 2019, Boafo explained his mission as an artist: "I have always been interested in facial expressions… That's one reason I like portraits so much. And then there is a certain gap: When you go to a museum or a big gallery all you see are white figures. You don't see the kind of faces I paint there. I want to do my own small bit to close that gap… that is my main goal: To paint a different kind of portrait."
L'empire des lumieres
By Rene Magritte at Sotheby's Modern & Contemporary Evening Auction
Estimate upon request
The paintings from Magritte's L'empire des lumières 'series' are among the most famous examples of twentieth century art. The juxtaposition of a pale blue sky set against an inky, dark night-time street scene, immediately conjures up an alluringly mysterious atmosphere and imbues these works with a poetic quality. As Magritte himself stated in 1956: 'The landscape suggests night and the skyscape day. This evocation of night and day seems to me to have the power to surprise and delight us. I call this power: poetry'.
Garrowby Hill
By David Hockney at Sotheby's Modern & Contemporary Evening Auction
Estimate: £7.5-10.5 million
Painted in 2017, this composition signals Hockney's return to one of the most celebrated subjects of his prolific career: the ever-changing East Yorkshire landscape. A lavender purple road winds its way down to a vibrant patchwork of apple green and tangerine orange fields, drawing the viewer's eye deep into the hexagonal canvas. The composition is based on Hockney's beloved 1998 painting of the same title that resides in The Museum of Fine Arts, Boston collection. You can't miss this electric painting as you walk through the galleries at Sotheby's… it's bound to rejuvenate any lost sense of the joie de vivre!

Lead image, Flora Yukhnovich You're Going to make me Blush courtesy of Christie's
Image at top, Amoako Boafo As the Crow Flies courtesy of Sotheby's
Middle image, Banksy Vandalised Oil (Choppers) courtesy of Sotheby's
For additional info, please contact your lifestyle manager.