A generous gift that offers something for everyone – no one is upset when they receive a hamper full of food and drinks come holiday season – this beloved gift is very British and always well-received. Below, we uncover a few of our favourites this year in time for Christmas delivery. Shop away.
Honey & Co., House Party Hamper, £250
The ideal gift for any foodie, Honey & Co.'s hamper is designed to feed a crowd. Perfect snacks – roasted nuts, tinned seafood, olives – pair with cookies, crisps, and jam for a varied selection that offers something for everyone. We love the idea of being able to pull this out during an afternoon with some surprise visitors, alongside a great bottle of wine, encouraging conversation around the table and conviviality – encompassing the ideals of what this season should really be about.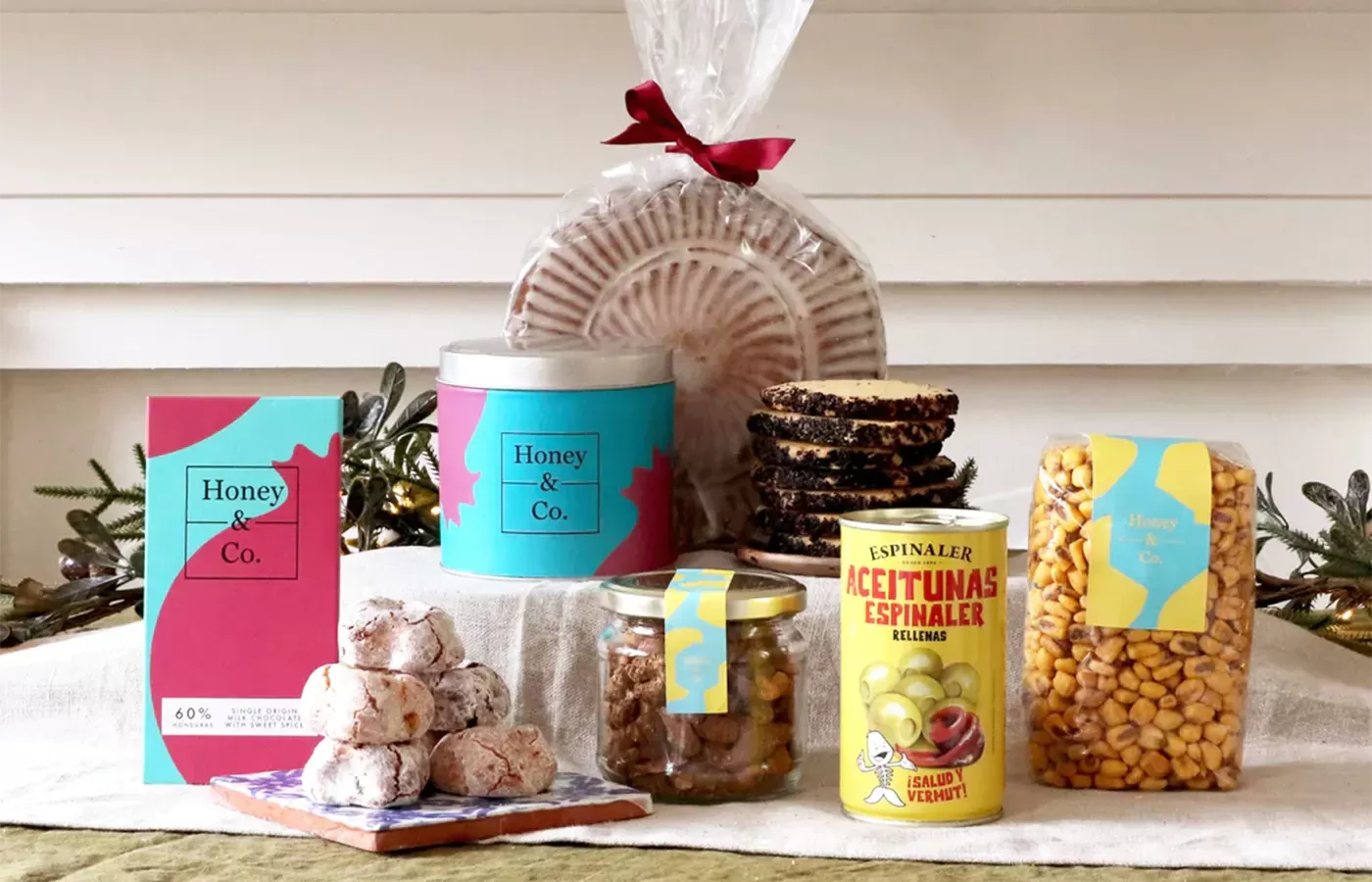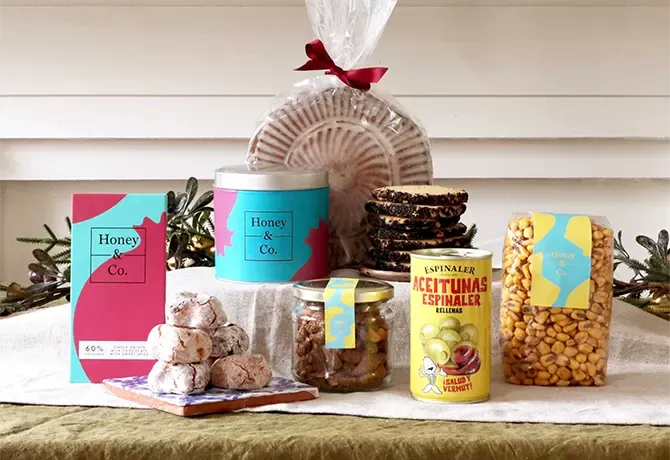 The River Cafe, 2023 Extra Large Gift Box, £1,250
Generous in offering and value, this is the ultimate gift for anyone who loves Italian food. Featuring items exclusive to and created by the River Cafe – think Pietro Romanengo fruit jellies from Genoa, Vin Santo from Capezzana Estate (owned by friends of The River Cafe, the Contini Bonacossi family), and a bottle of its own spiced negroni – everything has a truly special air. Complementing the delicious eats are a selection of homewares inspired by the restaurant's aesthetic. We're especially partial to the tray by Gaetano Pesce, a perfect centrepiece for the coffee table.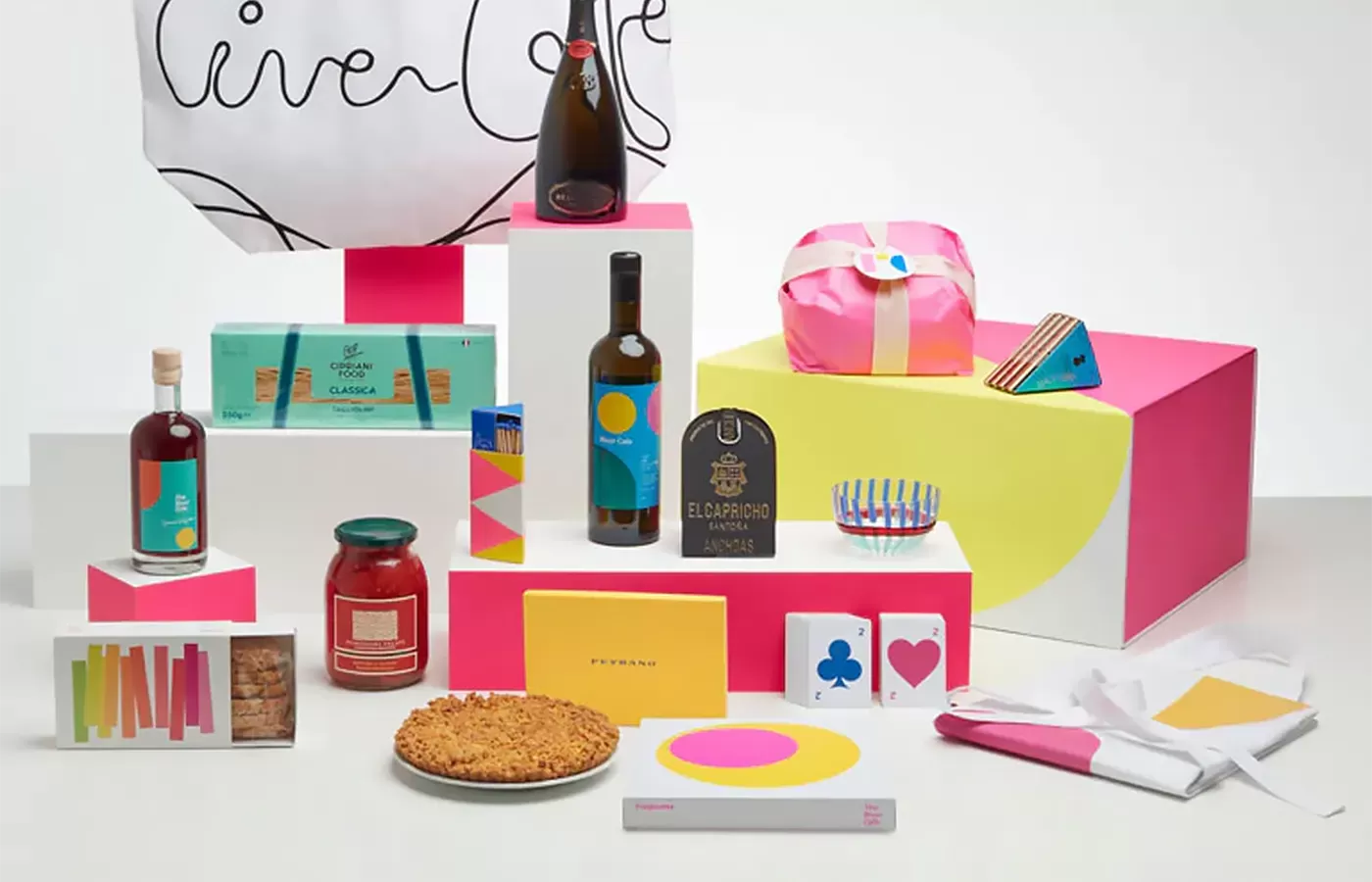 Panzer's, Mediterranean Style Brunch Box, £120
Take over Christmas morning breakfast with this thoughtful hamper, providing everything needed to make a delicious and nutritious brunch. Featuring tons of fresh veg, shakshuka, hummus, mackerel, and more, we love the idea of being able to easily make a healthy breakfast following several days of indulgence. There's enough food to feed four; we recommend adding eggs, Champagne, and fresh-squeezed orange juice to maximise enjoyment.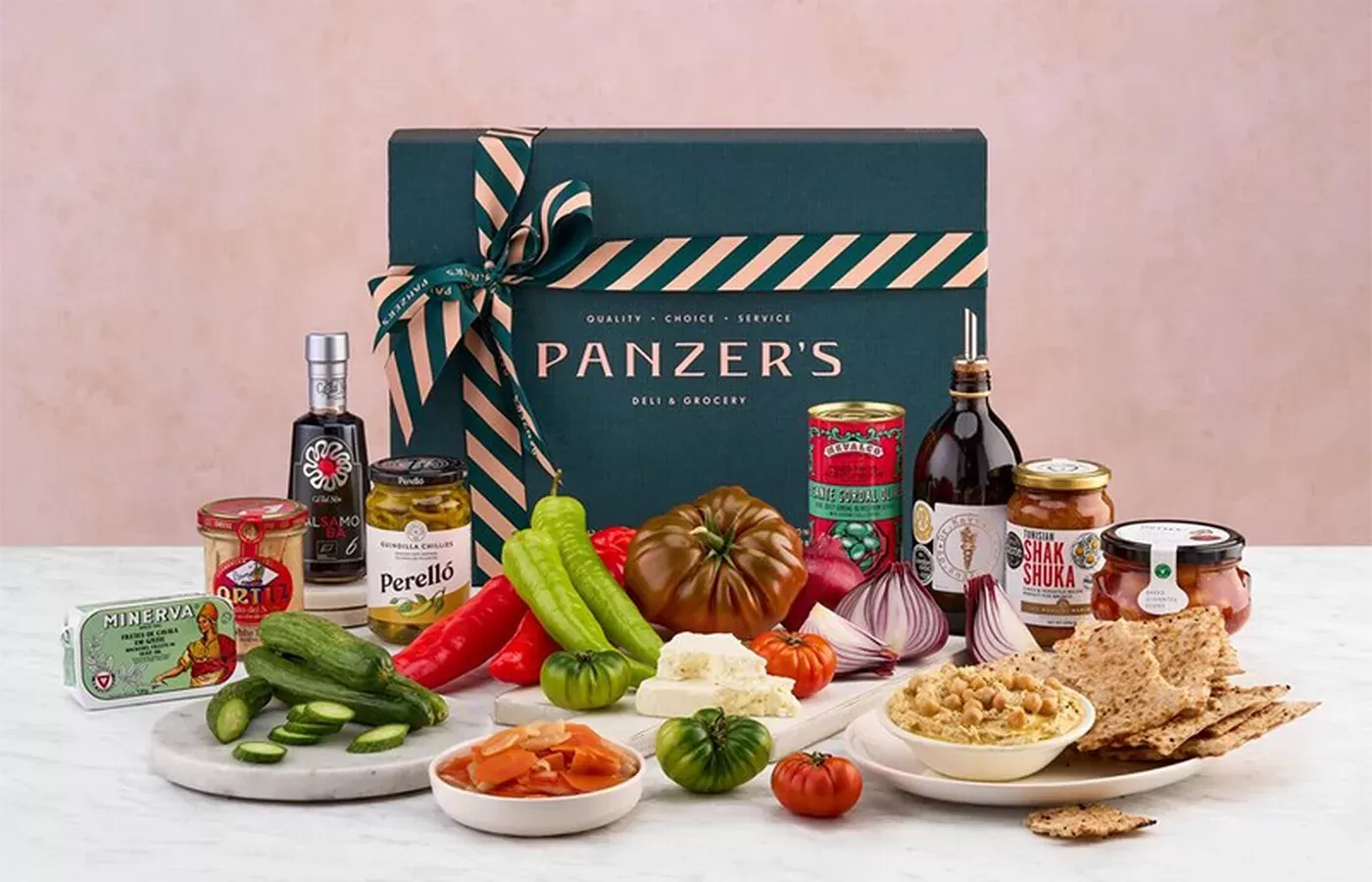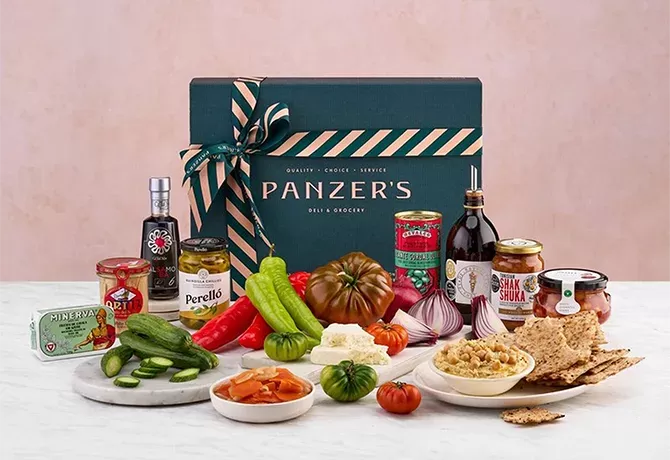 Selfridges, The Christmas Pantry Hamper, £200
We love this 13-piece hamper as a gift in early December so that the contents can be enjoyed throughout the month during breakfast, teatime, and more. It features staples with an indulgent twist, such as spiced orange hot chocolate, festive tea, and mulled wine, as well as season-specific treats like Christmas pudding and Brandy butter. Finished with Selfridges' own Prosecco and wine and beautifully packaged in a wicker basket, this is the gift that keeps on giving.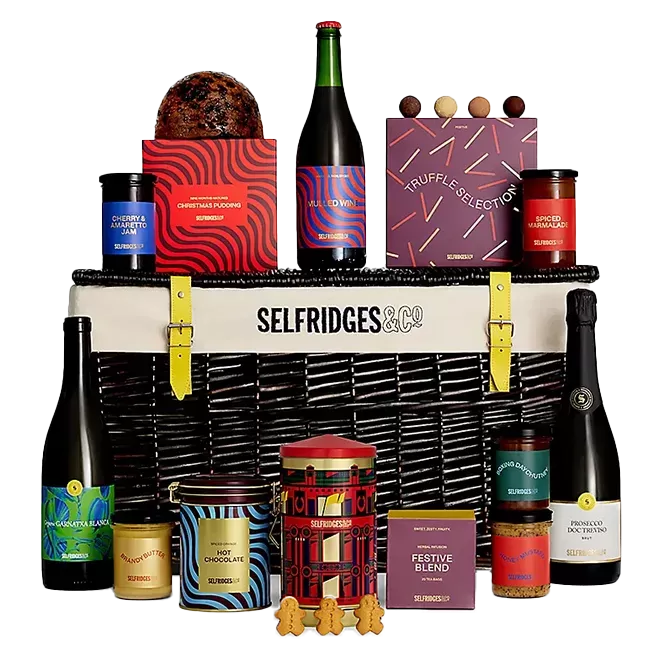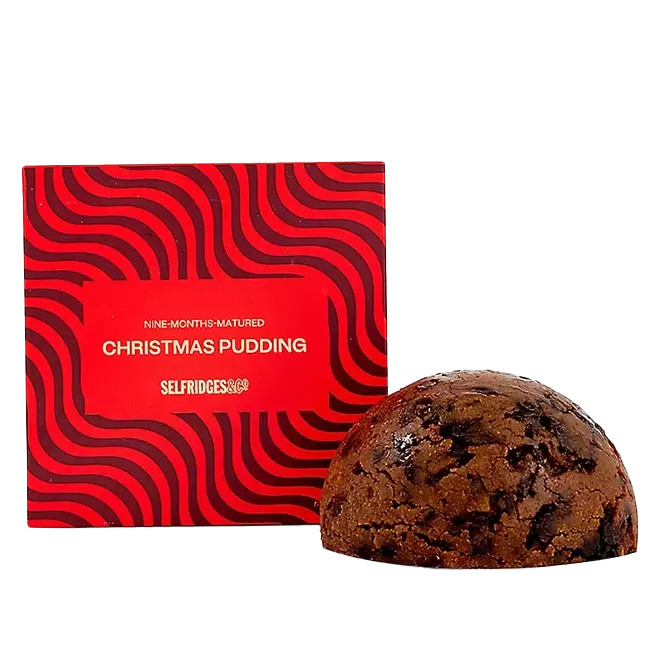 The Newt, Somerset Cheese & Cyder Hamper, £185
Leave it to our favourite weekend escape, The Newt in Somerset, to package a unique hamper that transcends traditional cheese and biscuits. Luxurious and indulgent, this comprehensive package includes artisanal cheese from Somerset paired with Newt-brewed ciders. To top it all off, there are several biscuits and oatcakes – we love the fig and sultana crackers – plus chutney and pickalilli, made by The Newt's own chefs. And, of course, to finish, there are the requisite chocolate coins.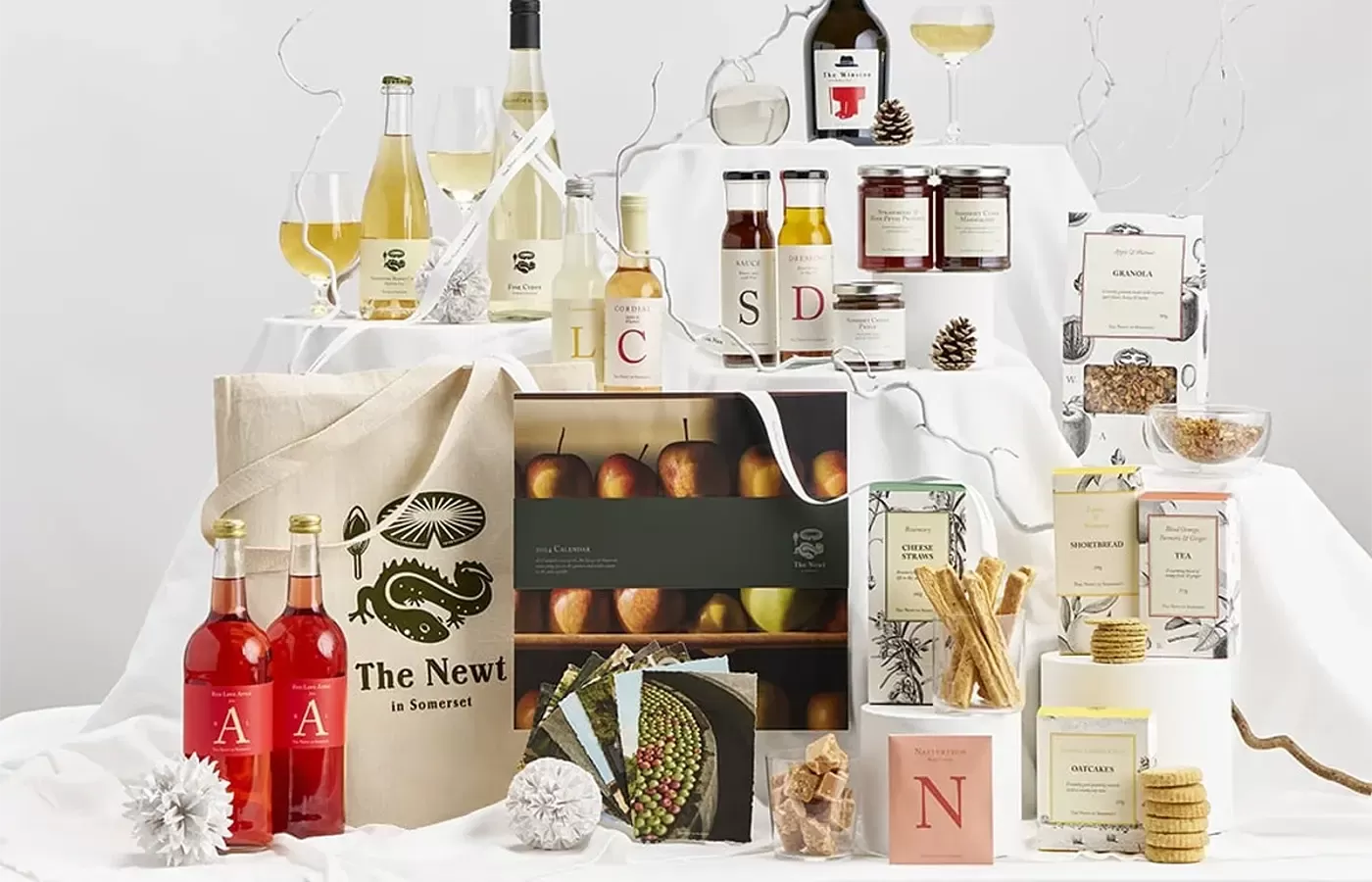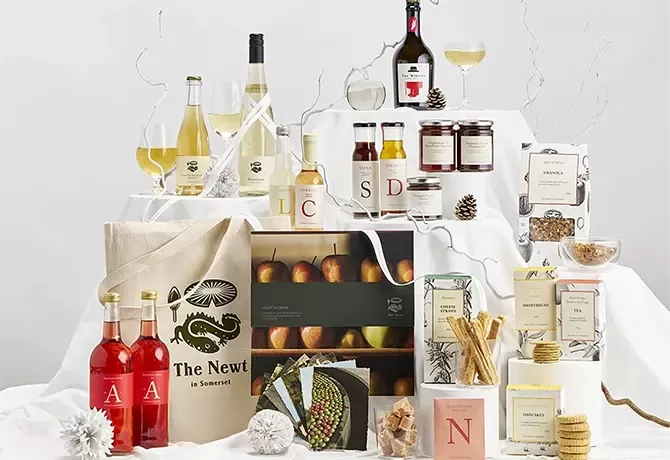 Claridge's, Bond Hamper, £2,000
Featuring everything needed for a luxurious meal, from a tablecloth to coffee mugs, napkins to crackers, Claridge's comprehensive hamper indulges in the best of the hotel's signatures. The selection of treats includes sweet and savoury items, like signature vanilla honey and cornichons, but really, this is a hamper that recreates the Claridge's experience at home. Break out the (included) cocktail shaker and book, open the bottle of gin, and get to work – or more simply, open Richard Brendon's elegant crystal champagne flutes and pour a chilled glass of Marie Antoinette's favourite champagne, the Piper-Heidsieck Rare Millésime, 2008. The holidays are here.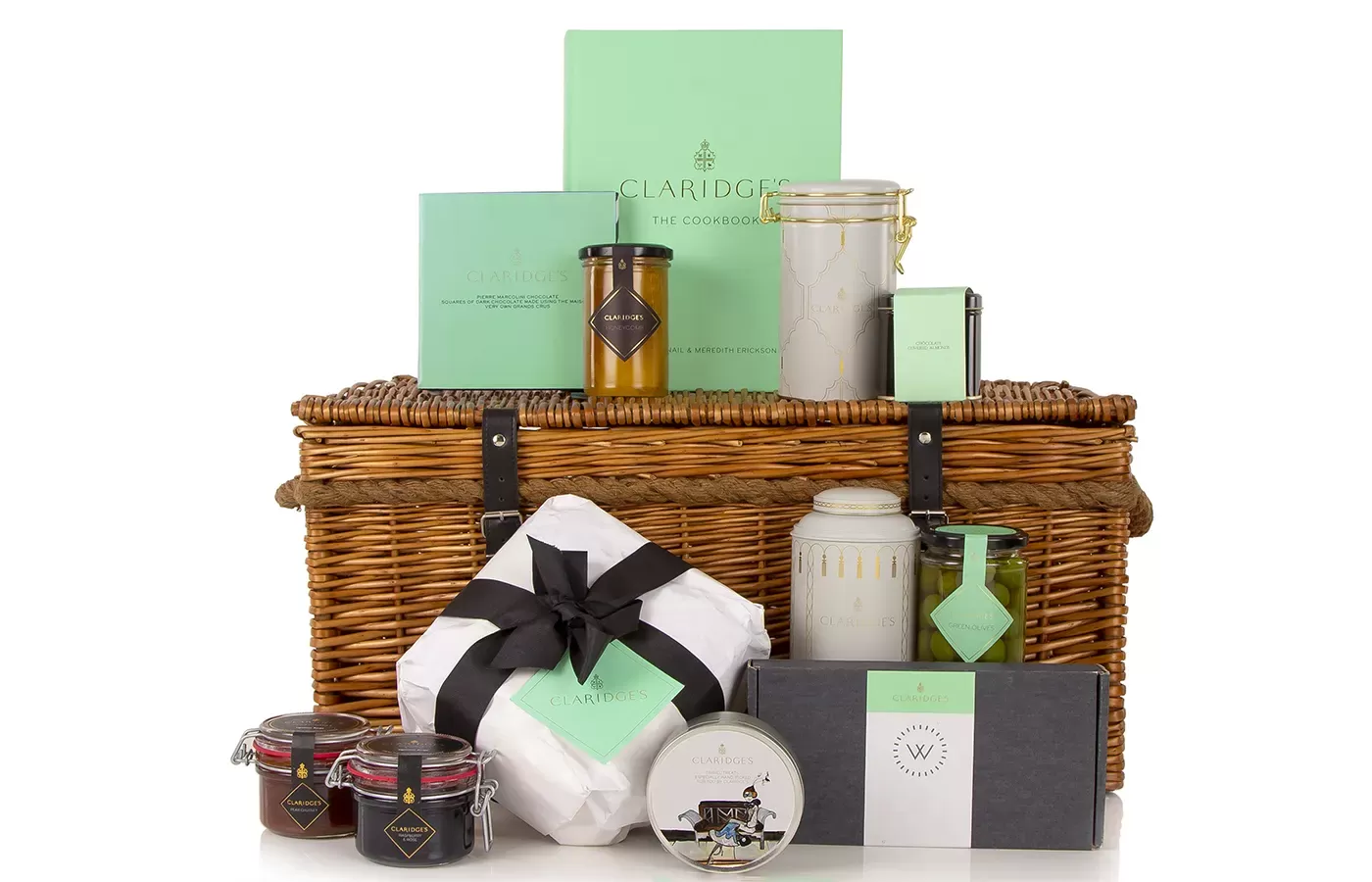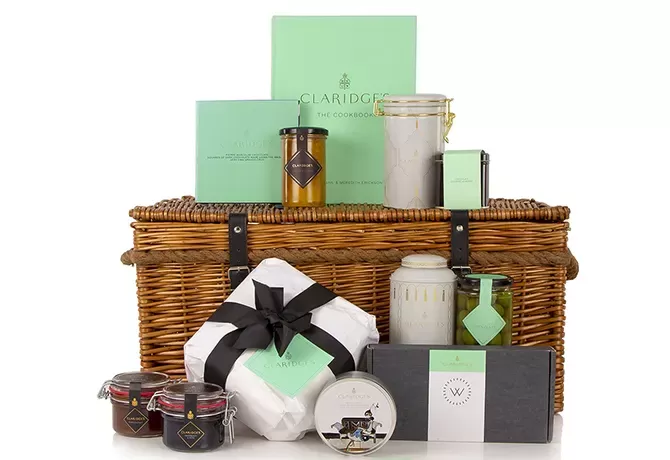 Dishoom, Culinary Hamper, £90
Bring a taste of the UK's beloved Indian chain Dishoom home this holiday season with their new culinary hamper. The vibrant blue hamper box includes Dishoom-branded goods, like a cookbook, incense and tea towel, plus needed items to recreate some of their best dishes. The selection of 12 signature spices forms the base for many of their recipes, so light some incense and get ready to cook!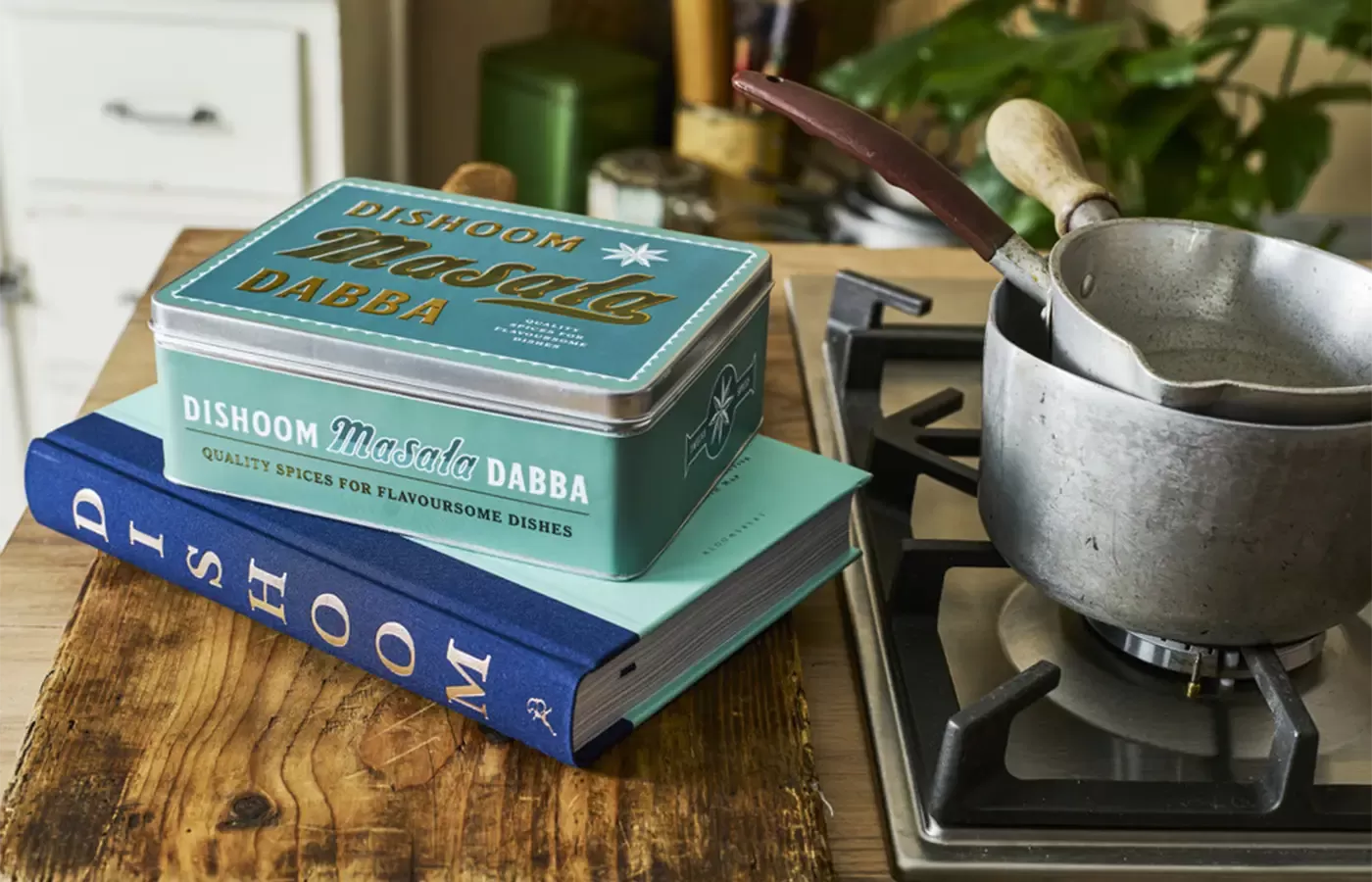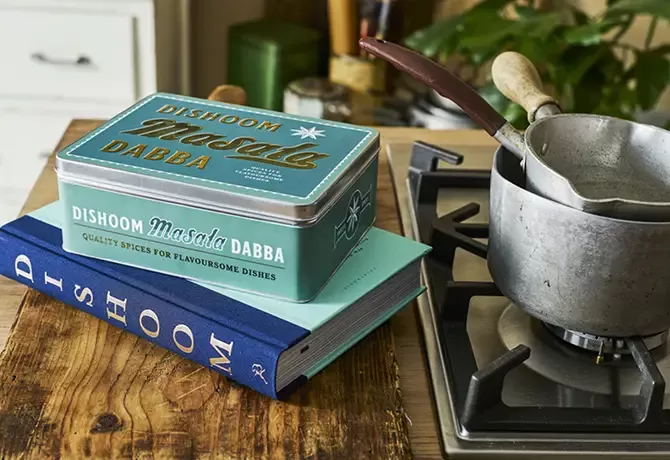 Ottolenghi, Christmas Holiday Hamper, £280
Including 20 Ottolenghi products, this decadent holiday hamper offers fans of the mini-chain an opportunity to enjoy some of its signature goods at home. Panettone, Christmas cake, and Christmas pudding are the perfect finishing touch to the big dinner, whilst spiced nuts and olives offer the ideal snack while cooking. A selection of spices keeps the gift going throughout the new year – add a couple of bottles of Ottolenghi's biodynamic wine to complete the package.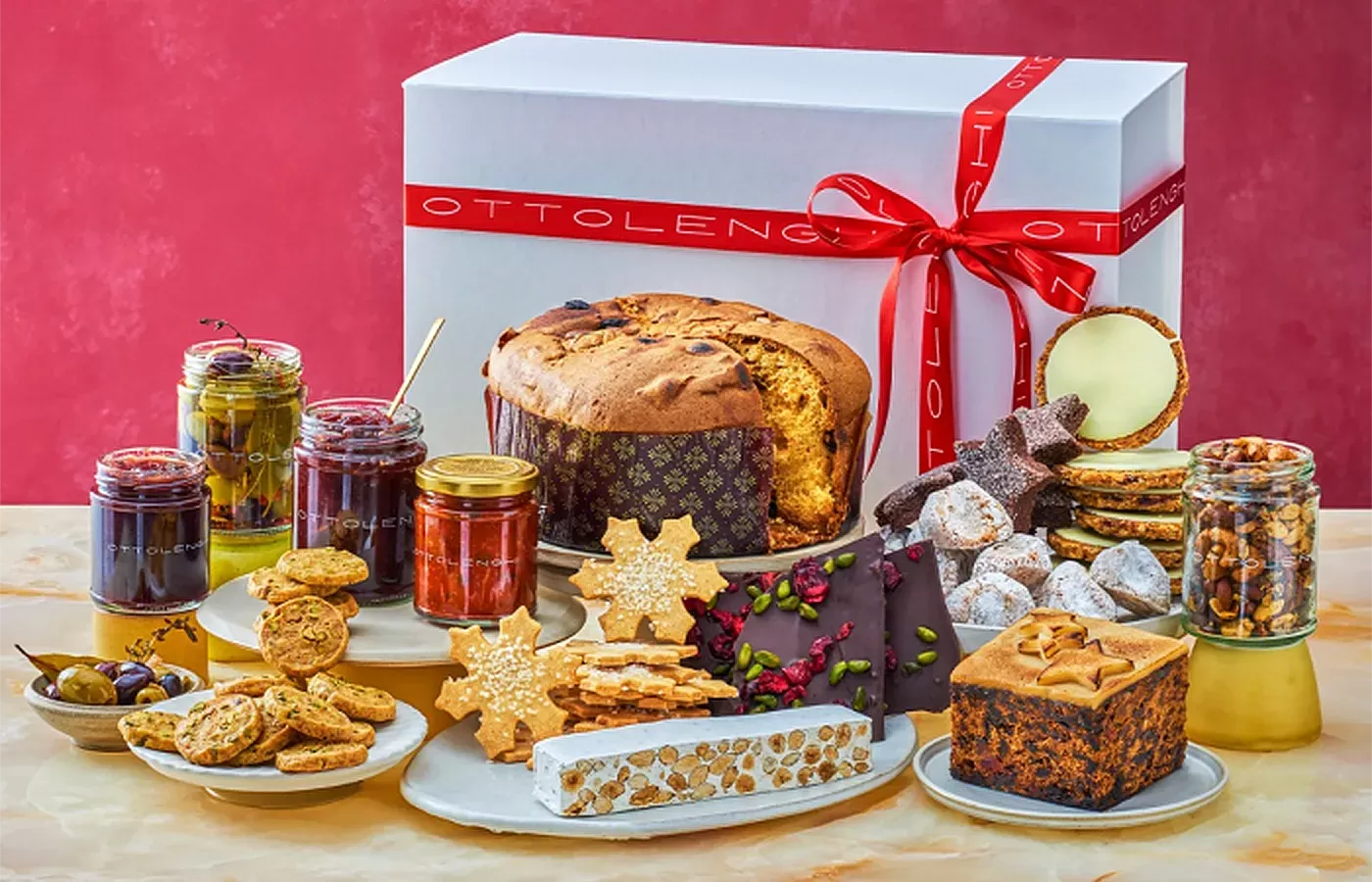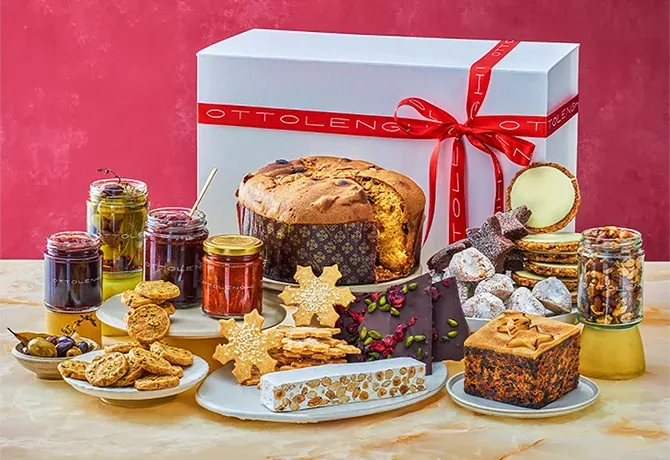 The Knoops Hamper, £110
Known for its customisable chocolate beverages offered in 13 stores across the UK, Knoops' hamper is the perfect gift for any chocolate lover. Featuring everything needed to make the perfect hot chocolate at home, plus its cookbook and a hot chocolate shaker and bowl, this is the warming gift the whole family can enjoy. Experiment by blending the different types of chocolate, adding marshmallows and more for a decadent nightcap throughout the winter months.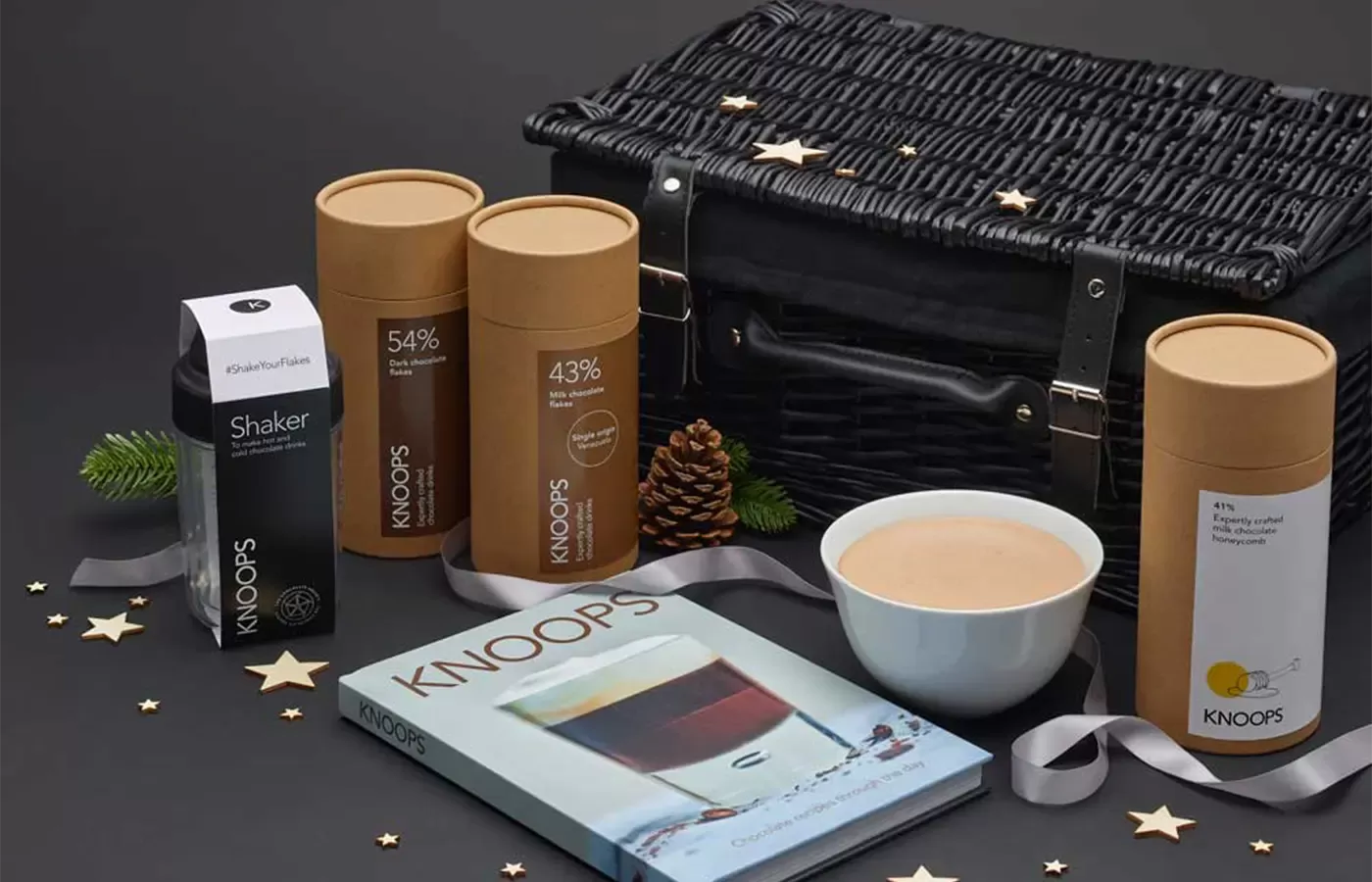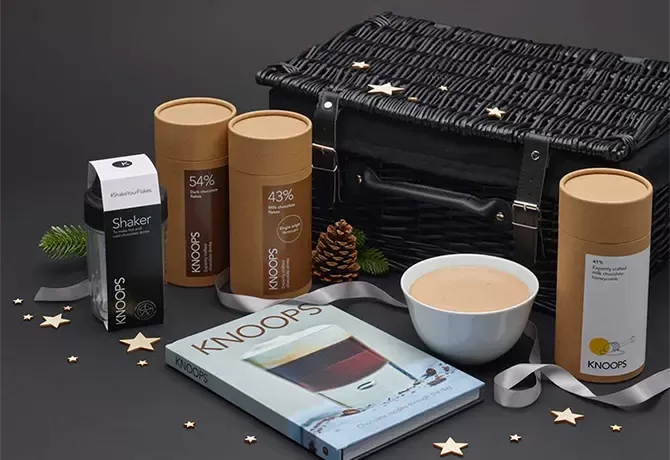 Harrods, The Celebration of Christmas Hamper, £775
Drawing from the Harrods kitchen and the best of its lauded food hall, this hamper includes everything you'd want to nibble on during Christmastime. Signature wine and Champagne, scotch, Christmas cakes and puddings, plus plenty of snacks, will last the season and beyond. The cranberry sauce and chutney are ideal accompaniments to the big meal, finished with chocolate and florentines around the fire with Harrods' exceptional after-dinner coffee.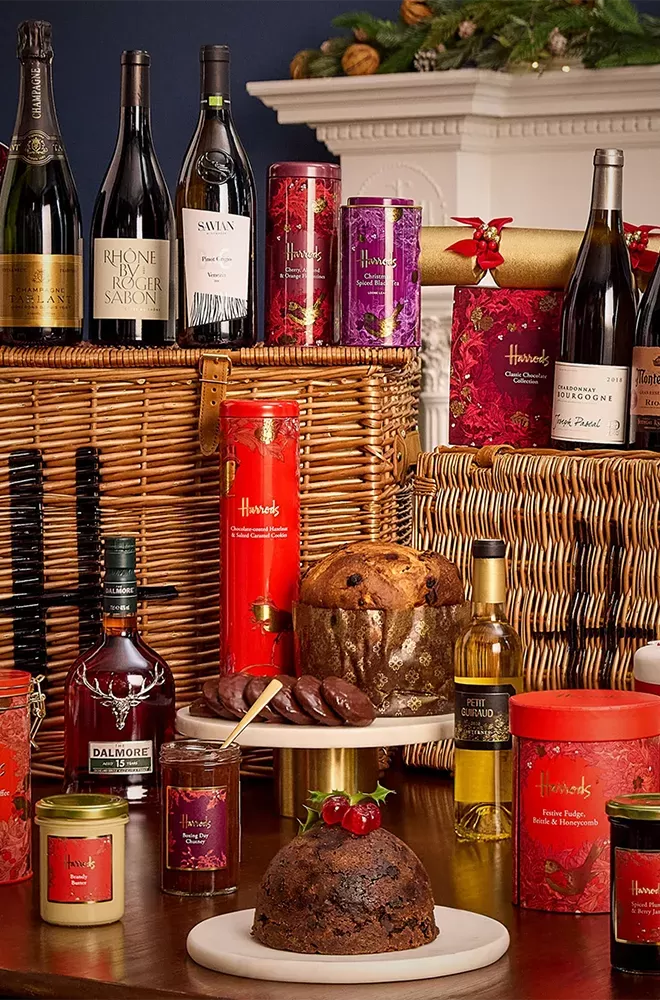 Want to stay up to date with the latest in luxury? As the world's leading luxury concierge service, we spend time securing you access to the best of the best across the world, so you can spend more time doing the things you love. Discover more about membership here.