Summer is undoubtedly the season for florals, and the exhibition Richard Learoyd & Irving Penn: Flowers is right on brand. On view at Hamiltons Gallery in Mayfair until the 10th of September, the show brings together exquisite examples of photographs of flowers by two masters of the subject, celebrating not only their technical finesse but also the splendour of nature. Tucked away next to the Connaught, this charming little gallery is one of the world's longest-standing photography galleries. Founded in 1977, the gallery is comprised of what was formerly a racquets court and music room belonging to the Courtauld family, giving it a distinct and intimate feel.
Upon entering the exhibition, one is struck by the almost chapel-like calm and serenity: dark walls give way to illuminated portraits of flowers. Though born decades apart, Richard Learoyd (b. 1966) and Irving Penn's (1917-2009) works converse in lyrical dialogue and stand as testimony to the success of these two photographers. Learoyd's works are included in the collections of The Getty, Tate, Centre Pompidou, and The Metropolitan Museum of Art – to name a few – while Penn became one of the most renowned photographers of his time, mastering a variety of genres, from fashion photography to still life. To put it into crude monetary terms, some of Penn's photographs have recently sold for hundreds of thousands of pounds at auction, which is still a considerable feat for art of this medium (especially when compared to the extravagant prices paintings, sculptures, and drawings fetch).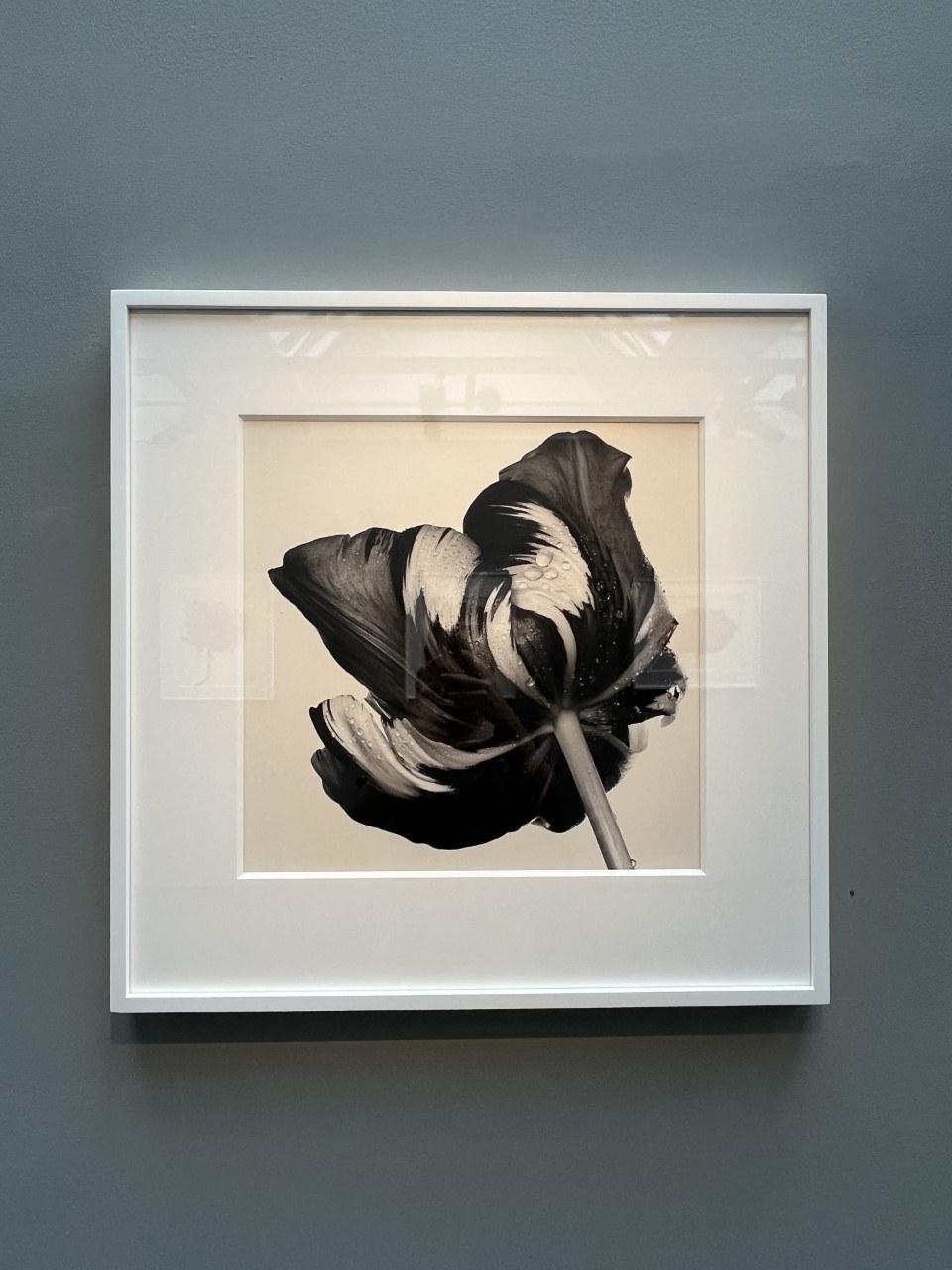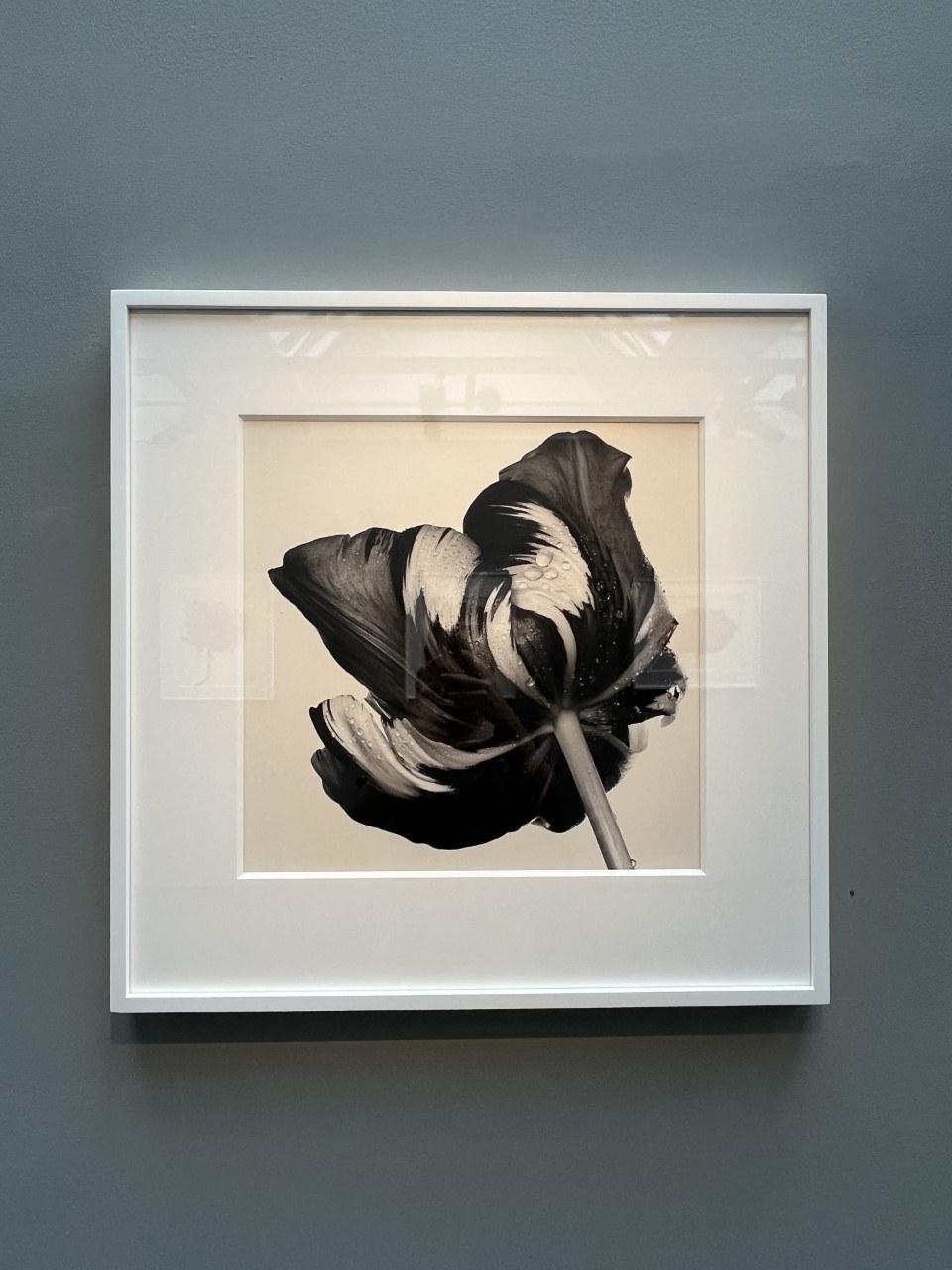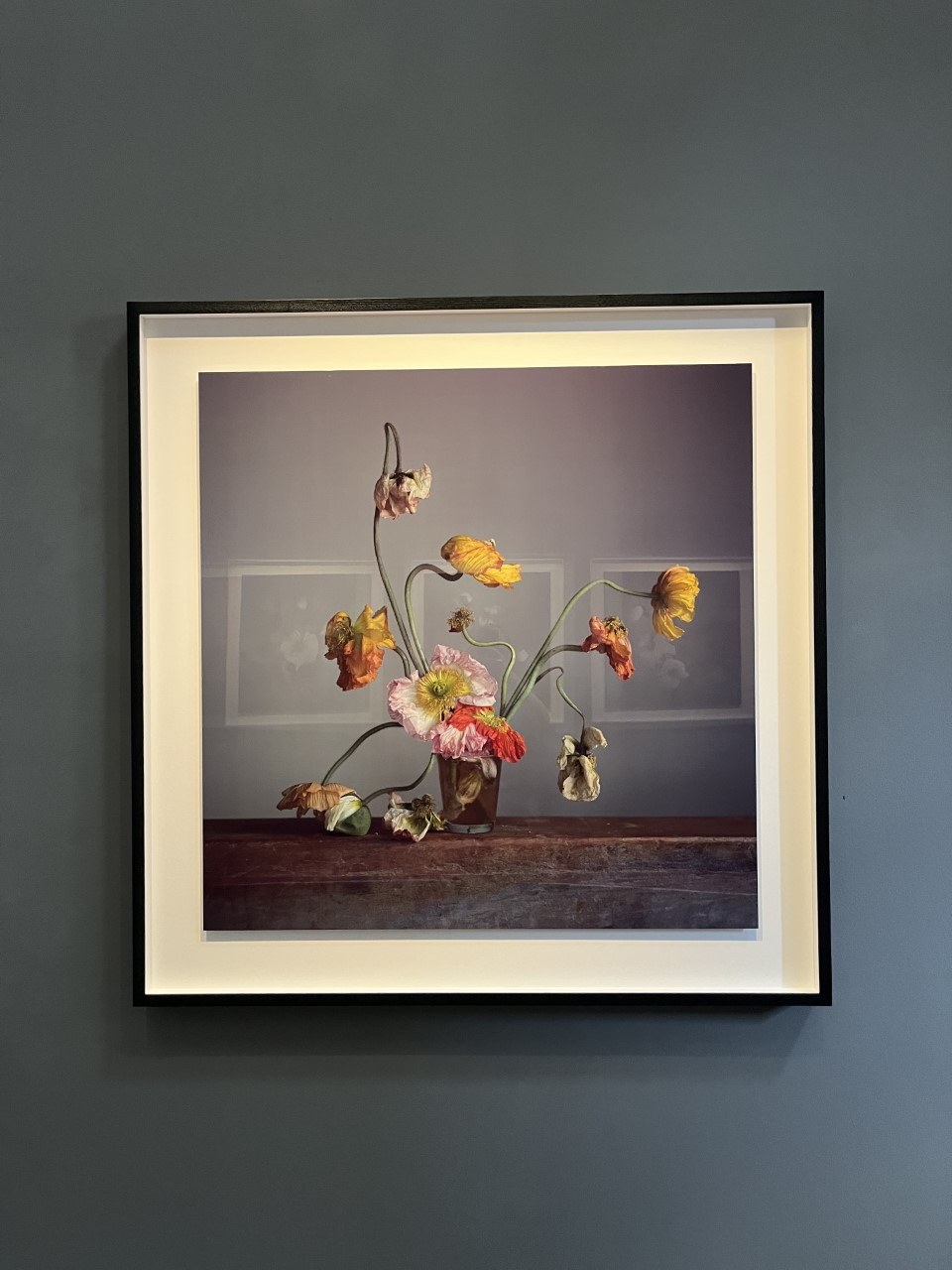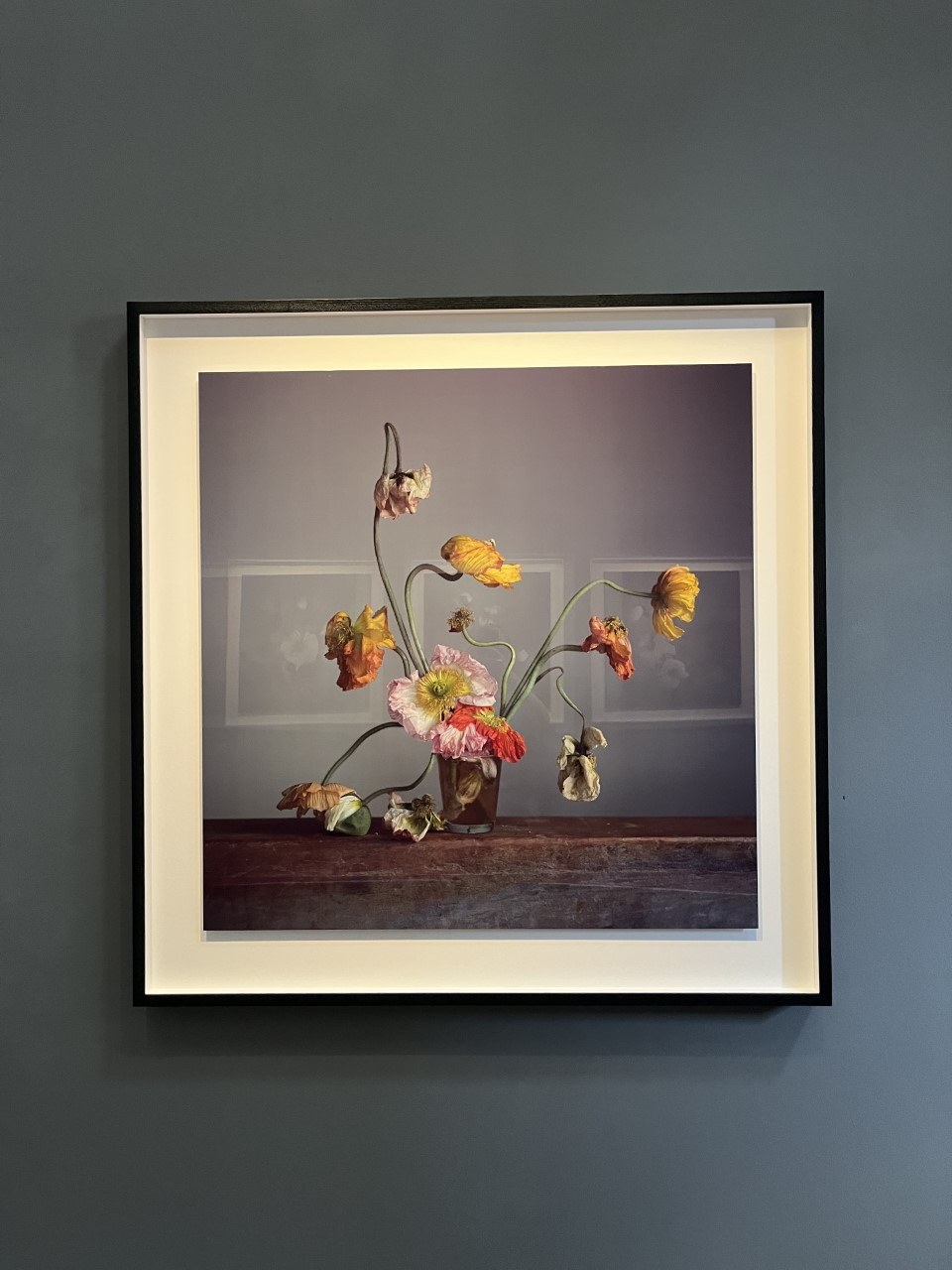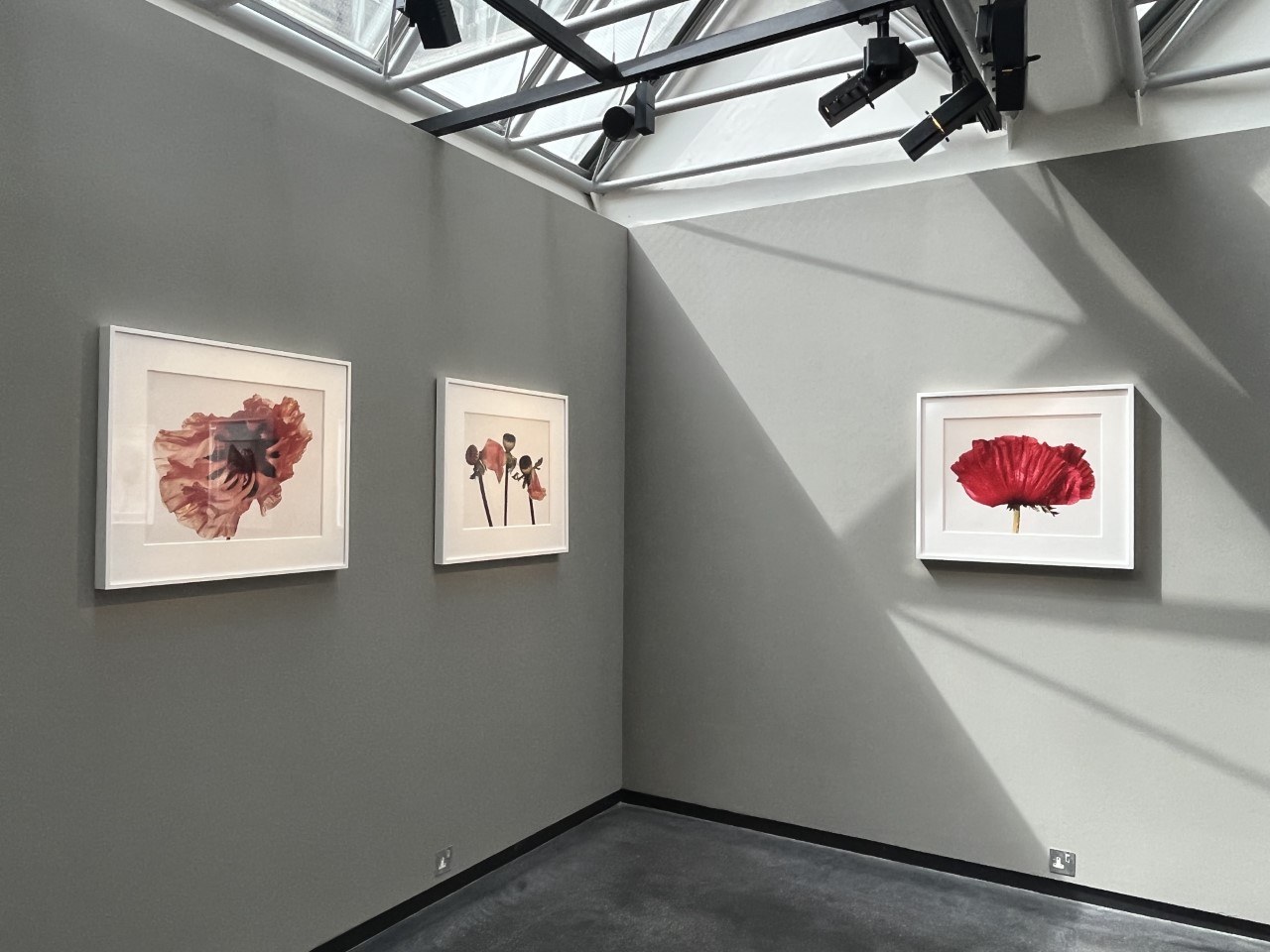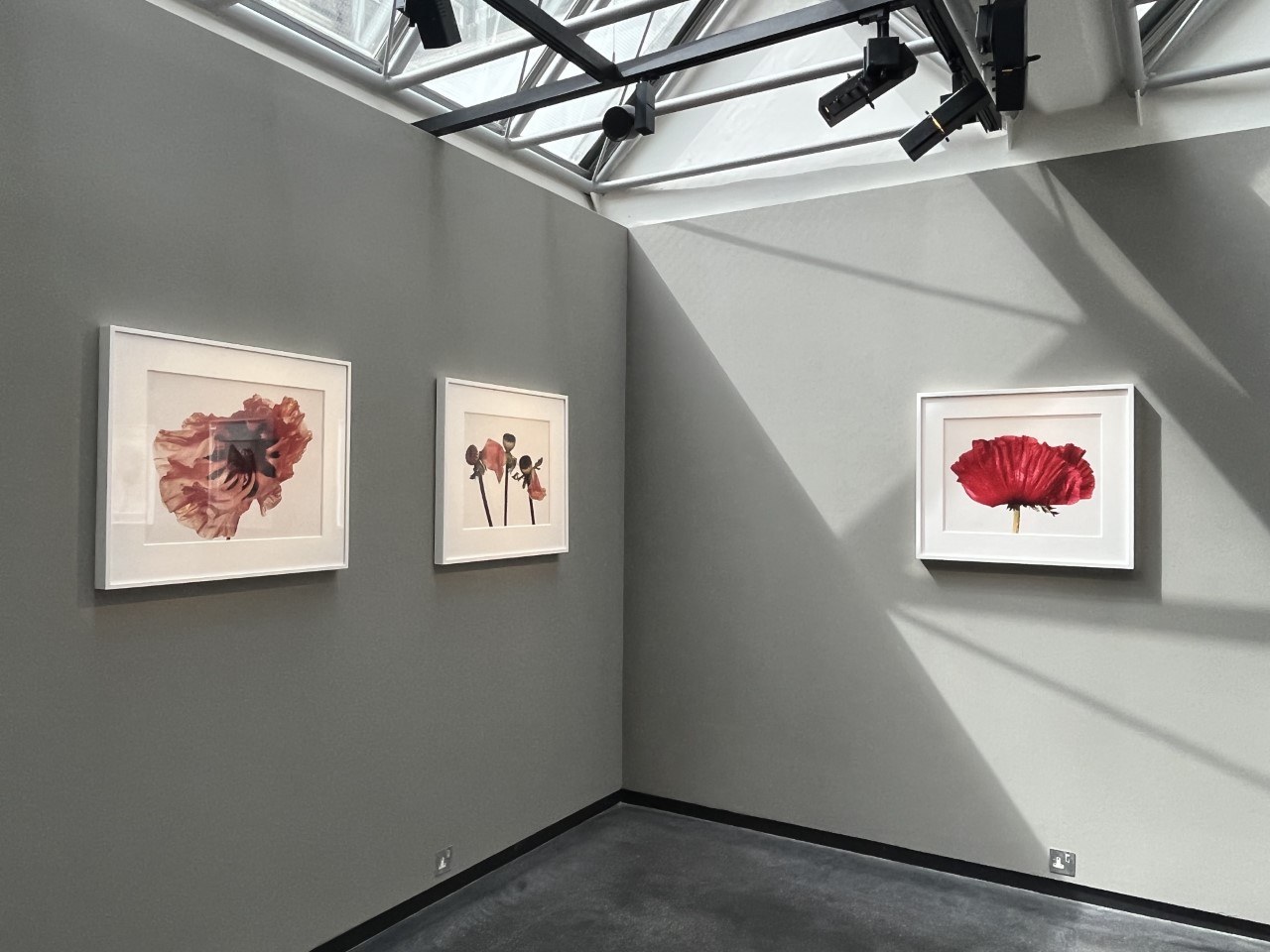 Summer Photography Exhibition – Richard Learoyd & Irving Penn: Flowers
Despite perhaps being best known for his fashion photographs, Irving Penn produced 42 editions of flowers during his lifetime, and these became a well-loved series from his eclectic portfolio. He started photographing flowers as a series in 1967 with a commission by American Vogue to illustrate their Christmas edition with pictures of tulips. This became the first of seven issues of the fashion magazine he would illustrate with different types of plants. He later revisited the motif in the 1990s and early 2000s, using flowers as a metaphor for his older age and the beauty that can be found in the expiring bloom.

Penn's portraits of flora are crisp, detailed, flawless and tantalizing. In one photograph – presented in both colour and black-and-white – the waxy texture of the unfolding tulip petals is punctuated with glistening beads of water. There is something unbelievably elegant about the sumptuous, rising curves of the flower.
Learoyd's oeuvre, on the other hand, provides a contemporary interpretation whilst remaining deeply rooted in the past; both his black-and-white photographs and his works in colour are the result of a traditional process. His colour prints are produced using a custom-built, in-studio camera obscura, and because the prints are not enlarged from negatives, the final images are grainless. The result is exceptionally detailed renditions of flowers that seem to open before us. Typically set against a hazy background, these plants seem timeless yet, fragile: the height of their beauty is intertwined with their inevitable decay.
"For me, my pictures of flowers are an exercise in balance. An arrangement of mass and colour in space. A compositional conundrum of how wrong a picture can be before it tips over the edge of stupidity. Flowers only last a day or two once they are uprooted. These pictures explore the beauty of ageing and decay. They measure the old and the fresh. When I look at them, I measure their success simply on how they feel, how they communicate the fragile nature of life and the inevitability of an end." Richard Learoyd, 2022.
If you happen to be wandering around Mayfair this summer, make sure to pop into Hamiltons Gallery and take a pause to enjoy these rare eternal flowers.


About the author:
Bojana Popovic worked for nearly five years as a Specialist in Post-War & Contemporary Art at Christie's auction house in London, before starting her own consulting service with a strong emphasis on academic expertise and art market knowledge. She holds a Masters from The Courtauld Institute of Art and has worked at TATE Britain, The Serpentine Galleries, and as a Collection Manager for a distinguished private gallery in Zurich and Paris.
For the past year, alongside her consultancy, Bojana has been the key Art Advisor for Quintessentially, providing thought-provoking insights into Post-War and Contemporary Art for our Art Patrons.