Image above, Stone Matters by Elias and Yousef Anastas. Photo by Edmund Sumner.

The first in-person art fair post-pandemic, Art Dubai, takes place this week. Showcasing works from 50 galleries and 31 countries, visitors can expect to experience the best the art world has to offer.
Ahead of her virtual fair tour for Art Patrons, we spoke with Salma Tuqan about Middle Eastern Art. Having spent eight years as the curator of Middle Eastern Contemporary Art and Design at the Victoria and Albert Museum, she is now the Deputy Director of the Delfina Foundation. Sharing her extensive experience and expertise with us, she spotlights a few artists to seek out – old and new – and explains their relevance within Middle Eastern Art History as a whole.
Some exciting things are happening in contemporary Middle Eastern Art, she relates. 'There is a growing community of artists, designers and makers across the region who have been revisiting their local contexts as sites to inform their work, referring to the landscapes and craft traditions that surround them, studying oral histories, embodied knowledge and archives and drawing on readily available human and material resources,' Salma says. Utilising traditional and ancient practices, these artists and creators have been inspired to revisit histories in unique new ways.
'The climate emergency has only stressed the relevance of these sustainable practices which both value traditional, indigenous knowledge, which is in tune with nature, and proposes this as a more sophisticated form of technology than our narrow interpretation,' she relates. 'This return to vernacular know-how, forms and techniques, has been taken up in various ways by creative practitioners including those detailed below.'
Dima Srouji
'Through a research-led process, Dima Srouji's ongoing glass-making project Hollow Forms looks to revive and reactivate this traditional craft – once a booming industry in Palestine – now on the verge of extinction. Within her collections, Srouji investigates issues such as the use of indigenous plant ash in the colouring of glass and its dismissal by the British colonising forces who considered them harmful weeds, as well as human breath as a symbol of freedom, in the face of physical mobility restrictions in Palestine.'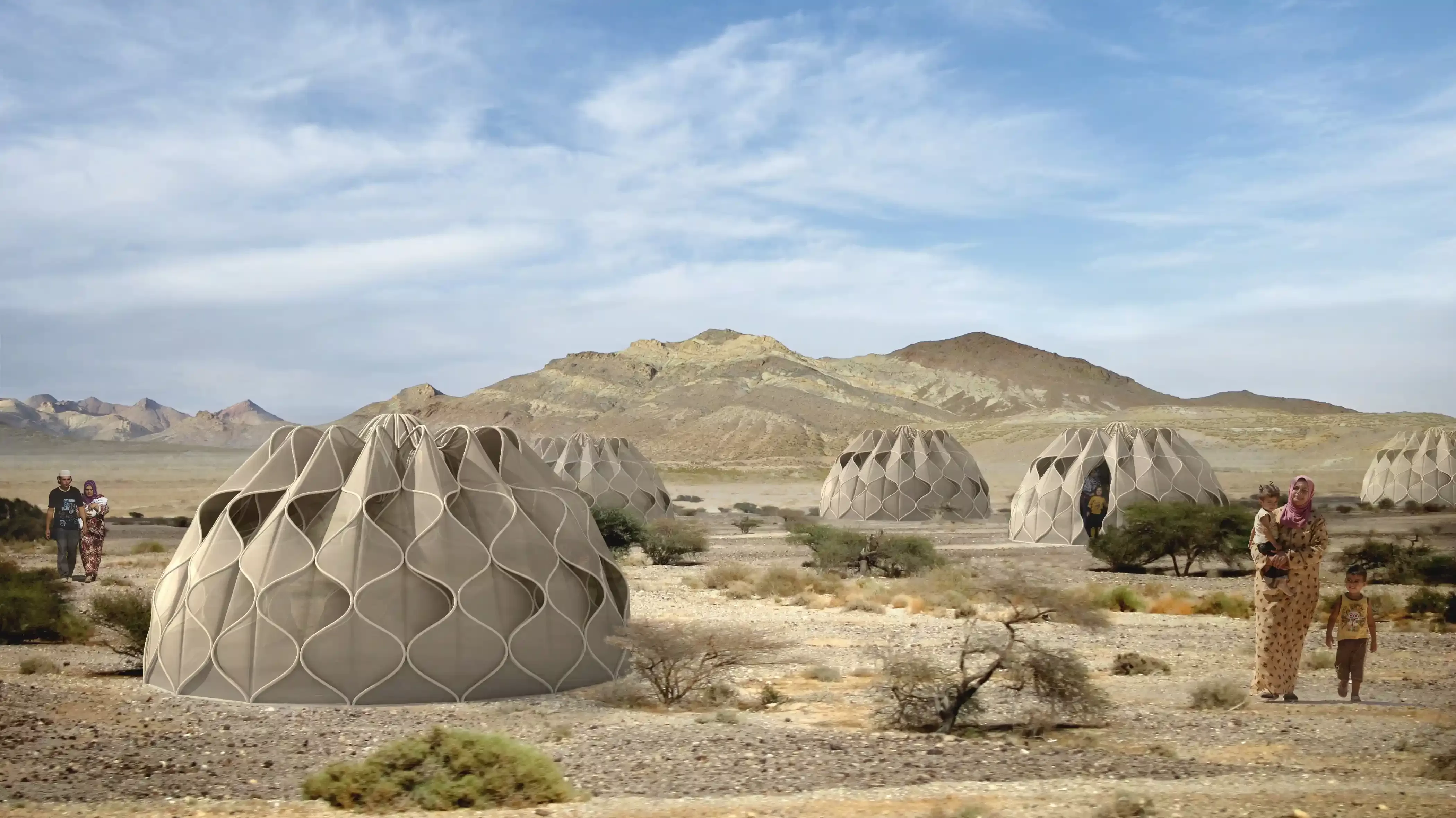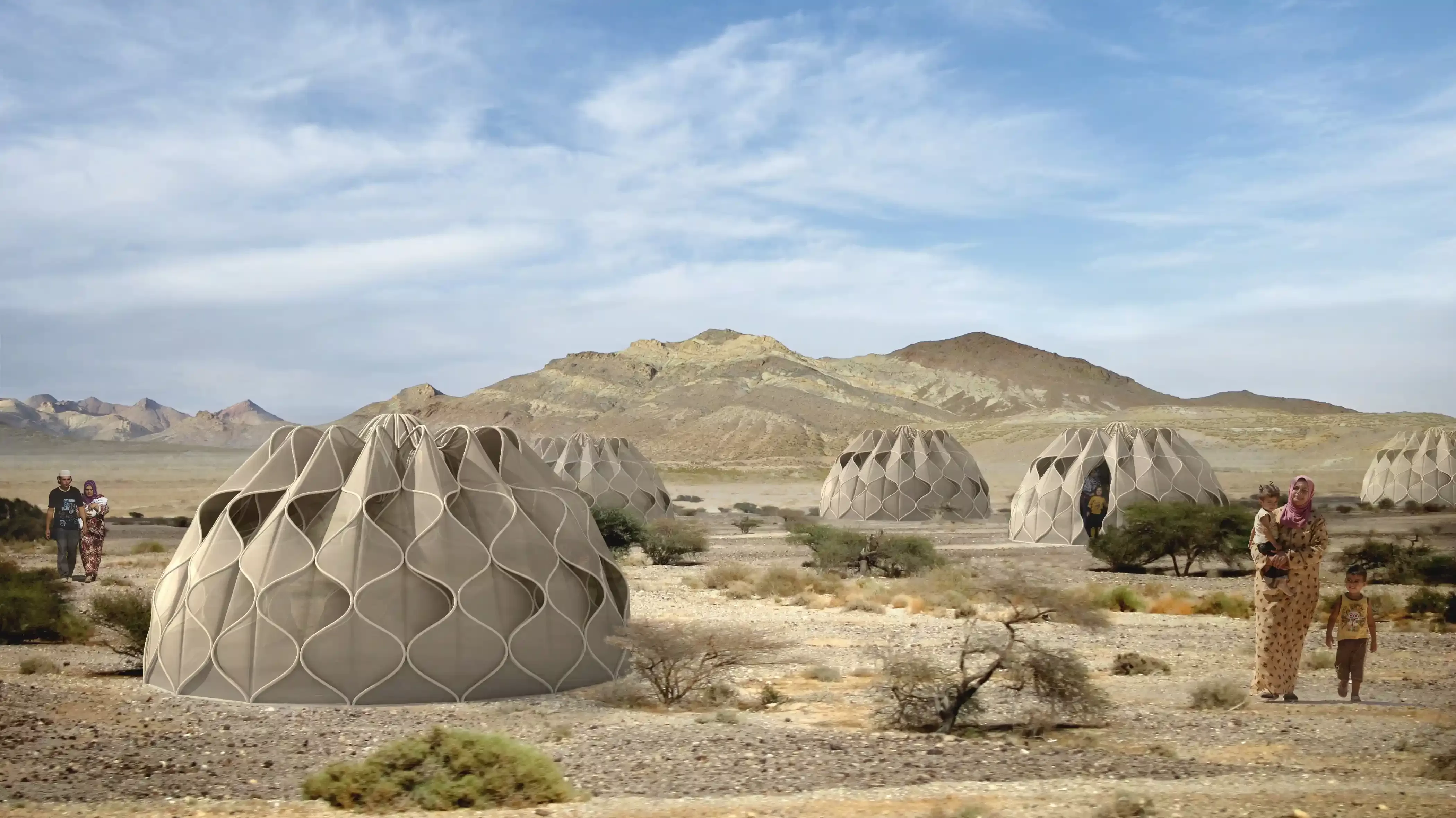 Meeting Points, Abeer Seikaly
Abeer Seikaly
'Abeer Seikaly's project Meeting Points results from years of observing the traditional Bedouin tent-making craftsmanship and the women behind these, whom she calls 'invisible architects'. Incorporating communal techniques and local building materials (wool and goat's hair) with innovative structural systems, Seikaly collaborated with Bedouin women across Jordan to work on a material tent for the country's growing refugee communities – literally weaving a nomadic home.'
Elias and Yousef Anastas
'Palestine suffers a misuse of stone – one of the world's oldest materials of construction. While it was an abundant material used for structural purposes in the past, it is now used predominantly as cladding, and the know-how of stone building is fast disappearing. Stone Matters is an experimentation-based research project led by Elias and Yousef Anastas, which examines the potential of including structural stone within the language of contemporary architecture and combining traditional craftsmanship with innovative construction techniques such as stereotomy. It deliberately desacralises the use of stone, often associated exclusively with noble constructions, to democratise its use as a structural material.
In many ways, this projects pays homage to the philosophy of the great Egyptian architect Hassan Fathy (otherwise known as 'the architect of the poor'), who advocated for the use of ancient design methods and materials and was responsible for the revival of mud building and earth architecture in the 40s.'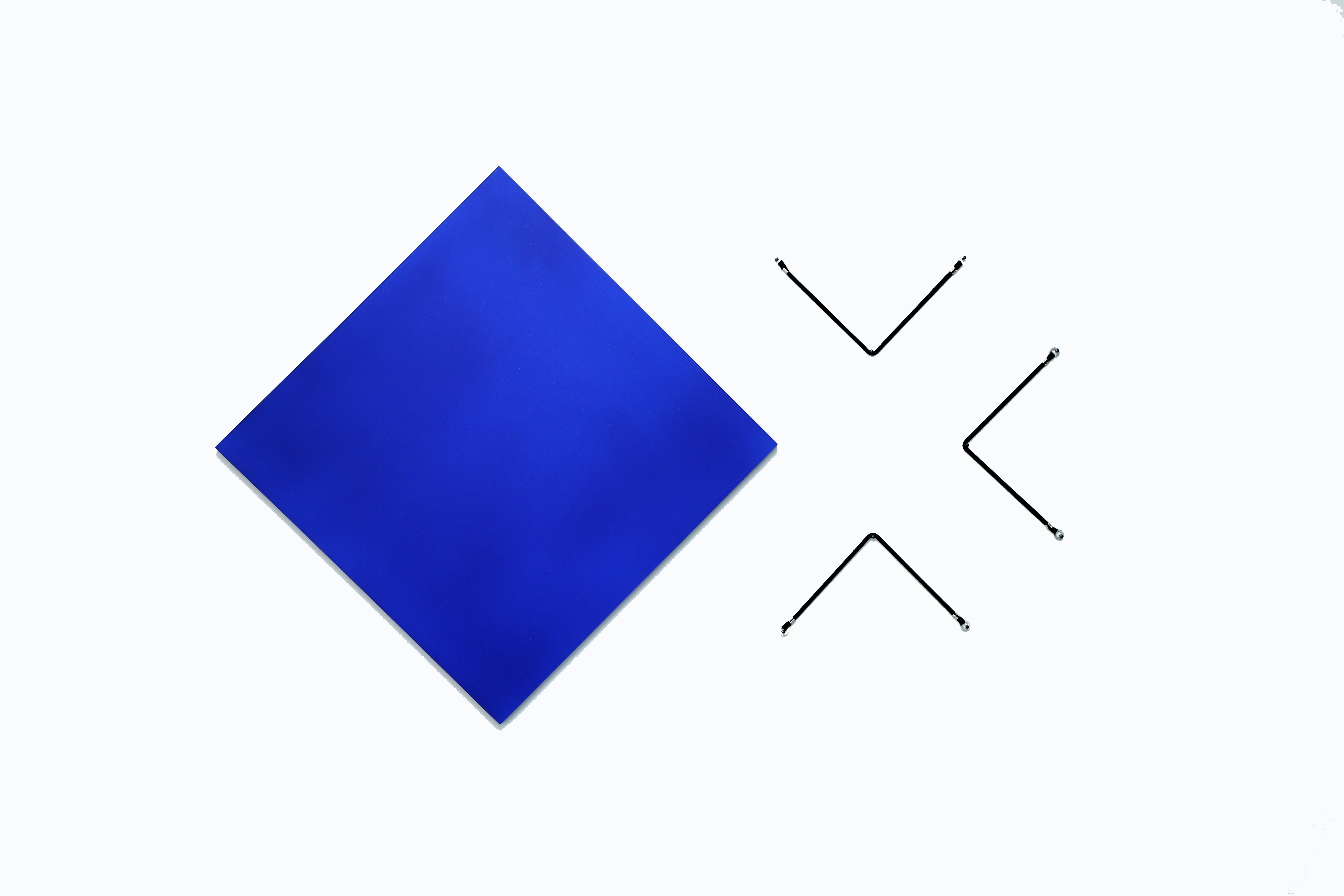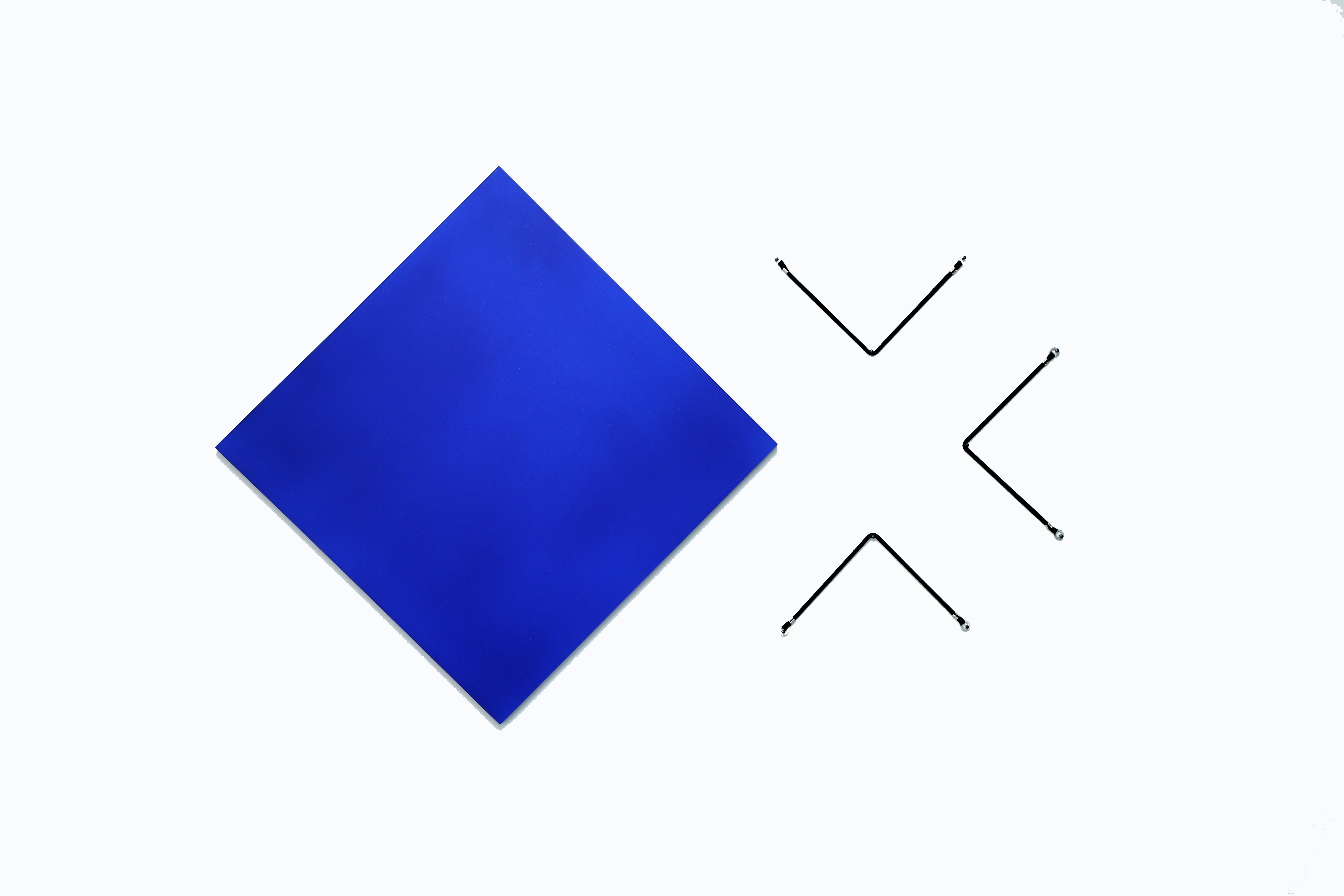 Angles Droits 2016, Mehdi Moutashar
Mehdi Moutashar
'The oldest of this group, Mehdi Moutashar, left for Paris in the late 60s after studying at the Academy of Fine Arts in Baghdad. There, he encountered the work of François Morellet and started to examine Arab-Islamic art.
A brilliant thinker with deep knowledge of Western and Eastern art, philosophy and science, his work lies at the confluence of these two artistic traditions – Western minimalist abstraction and Islamic geometric order. Applying mathematics as the basis for understanding our universe, Mehdi focuses on geometry as the alphabet of measurement, which is central to Islamic art. His practice is concerned with how to imagine and show space in a philosophical approach based around the notion of geometry as the measurement of the earth. In this scenario, walls, ceilings, floors, voids all fall under the same unit and can become a material – with the intention of converting the drawing into a work. His work's depth, given its refined formal simplicity, having pared everything down to the essentials, is quite remarkable. Most days, he can be found working from his studio in Arles!'


Art Patrons are invited to Salma's private tour of Art Dubai on Wednesday 31st March. To enquire about our art programme, please contact us here.