In the Black Fantastic brings together a rich array of works, across all mediums, by eleven contemporary artists. This inspiring exhibition at London's Hayward Gallery explores some of the most imaginative facets of Black culture.
The exhibition centres on the concept of Afrofuturism, a term first coined in 1993 to describe a collective decision to disintegrate and rebuild the derogatory cliché of Africa as a continent of poverty and oppression by imagining an autonomous future ideal with all the possibilities it could offer its people. Though the artists presented in this show are from two generations and different parts of the world, they share a clear message. Curator Ekow Eshun explains: "What these artists are doing is offering other ways of looking and other ways of seeing that grapple with the racialised every day and reach beyond some of the ways that Black people have been confined and constrained by a Western imaginary that offers them, historically, as figures who come out of a cultural tradition that is somehow less sophisticated, less contemporary, less modern, and less present than the Western world."
Entering the show, a vibrant melange of colours, sounds, and textures immediately confront the visitor. It's like stepping into an alternative reality where pulsating patterns ricochet off every surface. Even though Nick Cave's glittering costumed figures (known as Soundsuits) may seem like futuristic manifestations, a deep-rooted feeling of history and heritage remains, particularly in the carved and collaged works dispersed within the space. In actual fact, Soundsuits is very much grounded in recent past events. American artist, Nick Cave, strives to ensure the visibility of the Black male body – a pertinent topic for present times. It is not surprising that he started this series in 1992, in the aftermath of the Rodney King beating in Los Angeles and, more recently, created Soundsuit 9:29 as a homage to George Floyd. Thus, his looming figures take on a new resonance – standing in protest, unmissable in their bold colours and flamboyant patterns.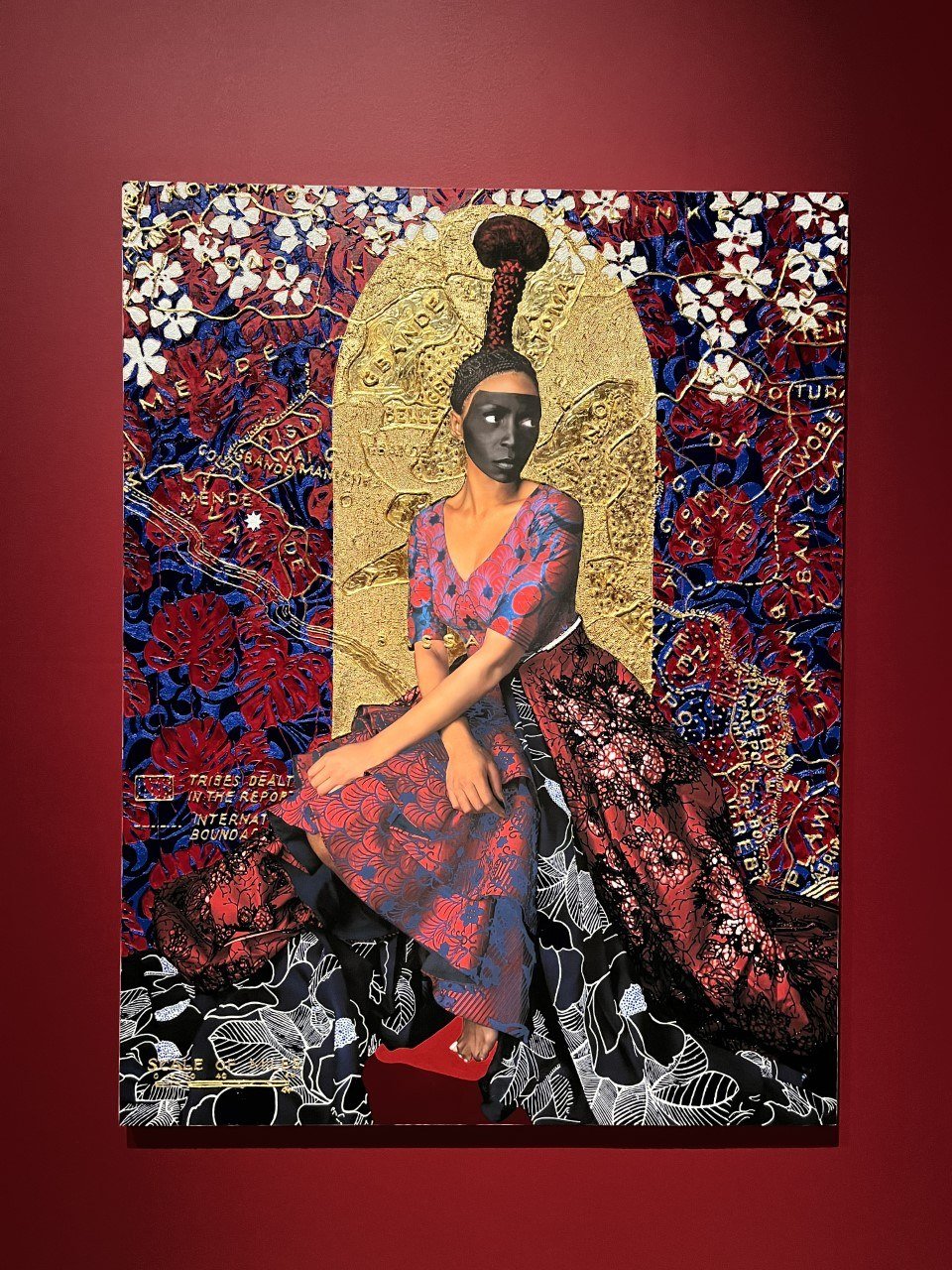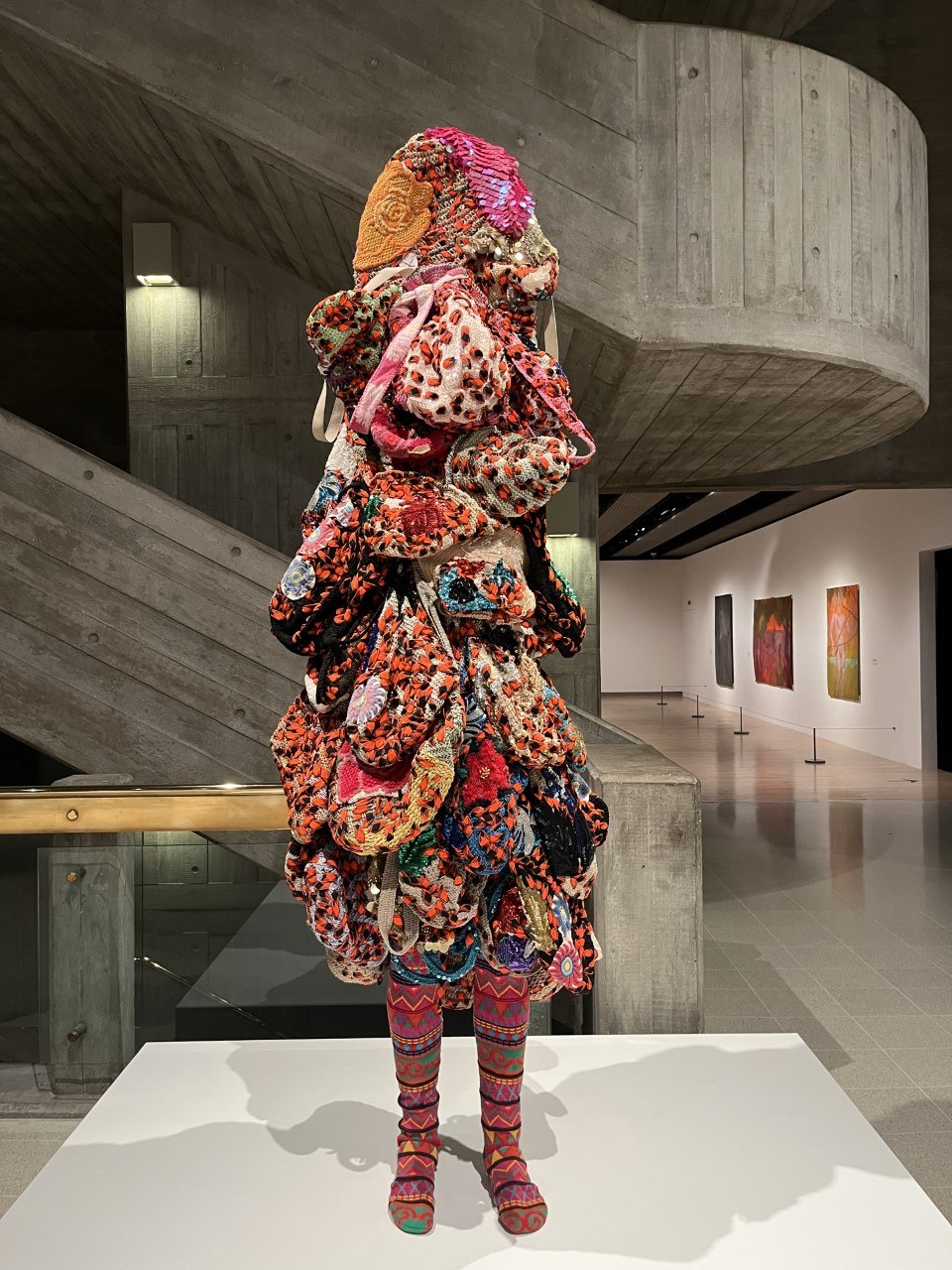 In the Black Fantastic

Another artist who uses the body as the foundation for her works is Lina Iris Viktor, a British-Liberian artist based in New York. Entering a sumptuous crimson room, the deep lustres of black punctuated with luminous 24-karat gold create a sense of immediate reverie. Like religious icons, there is something utterly timeless and commanding about her portraits of black women.
Chris Ofili, on the other hand, reclaims narratives from the Bible or Greek mythology and reinserts them into a new landscape – Trinidad (where he has lived since 2005). In this way, we are led to examine the effects of migration, especially on the development of new cultures and histories.
In contrast, Rashaad Newsome's video piece Build or Destroy samples and reconfigures imagery from pop culture, traditional African sculptures and the Black Queer community. In his own words, this work is "a jumping-off point to discuss ways we can liberate ourselves from systems of oppression and class domination." As the background collapses into flames, a bejewelled performer 'vogues' in the foreground – their lustrous outfit acting like a kaleidoscope offering a glimpse into a world of repetitive psychedelic dance routines.
Throughout, the exhibition is punctuated with quotes from literary figures, including Suzanne Césaire, Octavia Butler, Frantz Fanon, Elizabeth Alexander. Césaire's words perhaps best summarise the exhibition in its entirety (though she wrote it in 1941): "This is the domain of the Strange, the Marvellous, and the Fantastic… Here is the freed image, dazzling and beautiful, with a beauty that could not be more unexpected and overwhelming. Here are the poet, the painter, and the artist, presiding over the metamorphoses and the inversions of the world."
In the Black Fantastic runs from 29 June until 18 September 2022.
To learn more about Quintessentially's Art programme or Bojana, please contact your lifestyle manager.