Technology can set you free. Or at least ensure a more efficient workout. That's the promise behind the growing trend for start-up-inspired health solutions, utilising data, social media and app developments to make us all fitter, happier and more productive.
The roots of much of this can be traced back to the Covid-19 pandemic and subsequent global lockdowns. People were forced to reassess their exercise routines, resulting in a boom in home-use tech that ranged from online classes such as Joe Wicks' daily YouTube workouts to Peloton's interactive cycling products.
As the lockdowns have eased, we have witnessed a considerable change in work-life balance, with less commuting and hybrid home-office roles becoming the norm: technology has pivoted to reflect this. Home fitness start-up Mirror (founded by Brynn Putnam, a former dancer with the New York City Ballet) has been one of the many success stories. Its key product, a wall-mounted machine that streams fitness classes, was bought for $500 million in 2020 by activewear brand Lululemon.
Going beyond the home, moveable tech has seen a spike, led by the US market. This has evolved from early pacesetters such as Nike, whose Nike+ Running app continues to lead the field, augmented by other integrated smartphone apps such as Nike Run Club and Nike Training Club.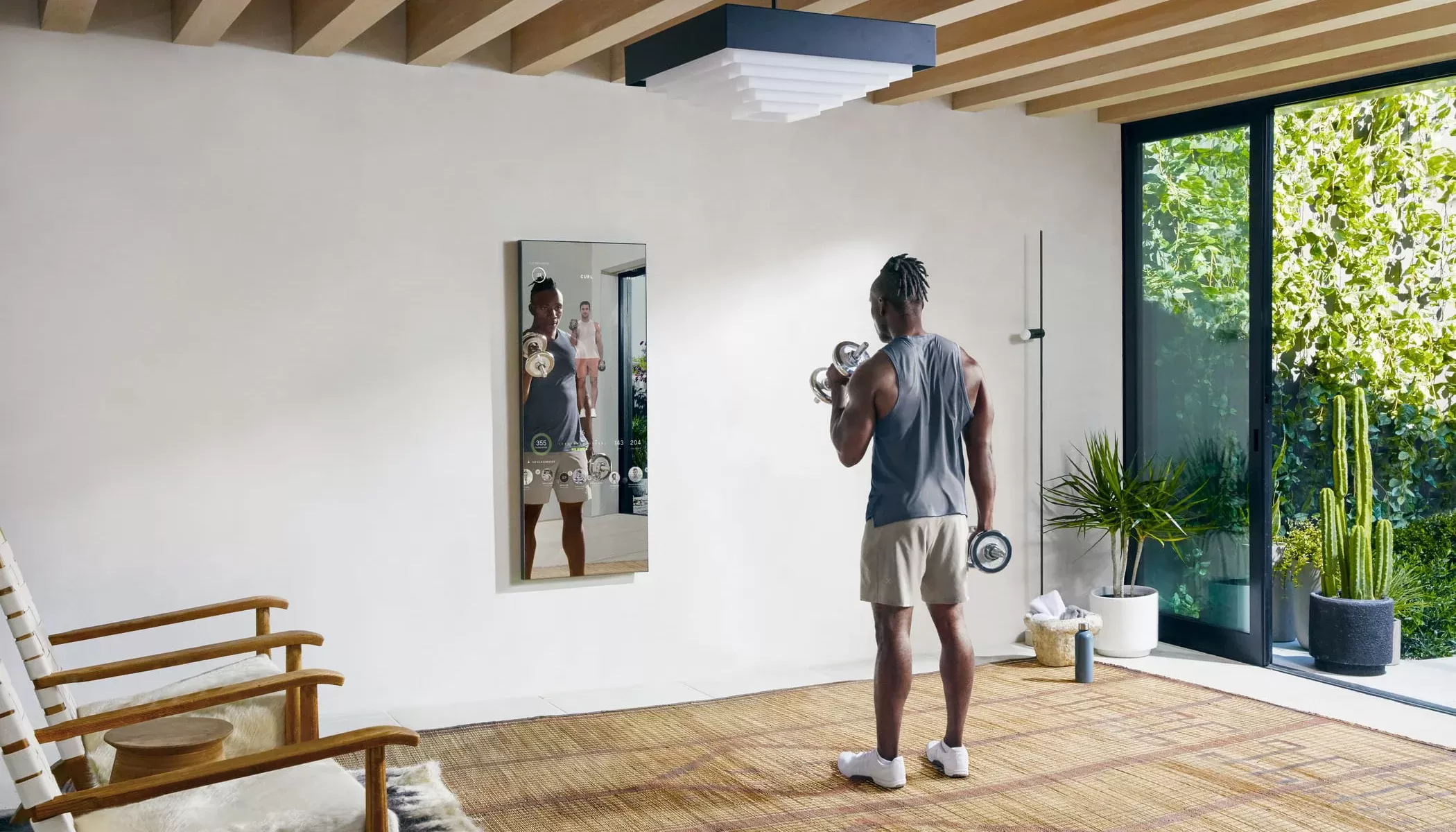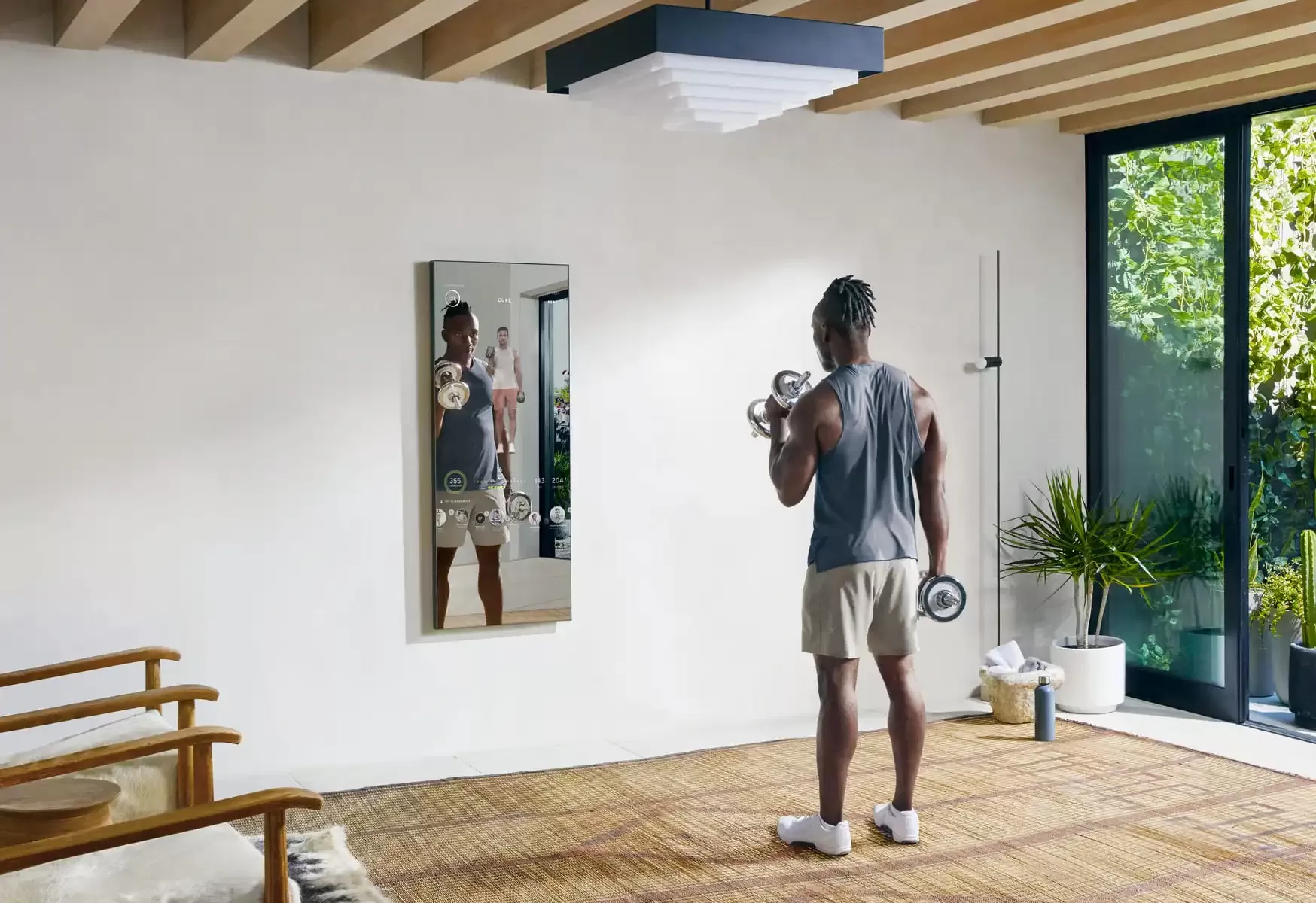 Mirror: a wall-mounted machine that streams fitness classes.
Recently added to this mix, Nike Mind Sets is a holistic programme across app, email, website and social media that seeks to join the dots between physical and mental health. As it put its, the focus is 'on how you feel, not how you achieve,' with members able to access everything from its Audio Guided Walk & Run series to TRAINED podcast episodes covering burnout and wellbeing. Similarly, Technogym's Myellness app considers the whole picture of your gym, home and work life.
Also making waves in this space is WHOOP, a wearable tech company offering personalised digital health and fitness coaching, emphasising improving the daily cycle of sleep, exercise and recovery.
Of course, the collection of personal data that this new tech allows not only helps the user (in achieving and improving whatever 'persona bests' they set) but also means the tech companies can continue to improve their offering. 'The feedback loop of data – and what we can do with that – is key,' says Richard Lamb-Hughes, a wellness marketing/brand specialist based in Cape Town.
'Wearable tech unlocks this so that I can understand my data, and that helps me understand the science behind how my body should move – so I'm the best-equipped person to go to the next level. It means we all now have access to that professional kit that used to be behind locked doors in research labs and sports universities like Loughborough.' Lamb-Hughes cites American neuroscientist Andrew B Huberman, whose Huberman Lab podcast helps translate scientific advancements into everyday life. 'We're now working out better how our body works physiologically.'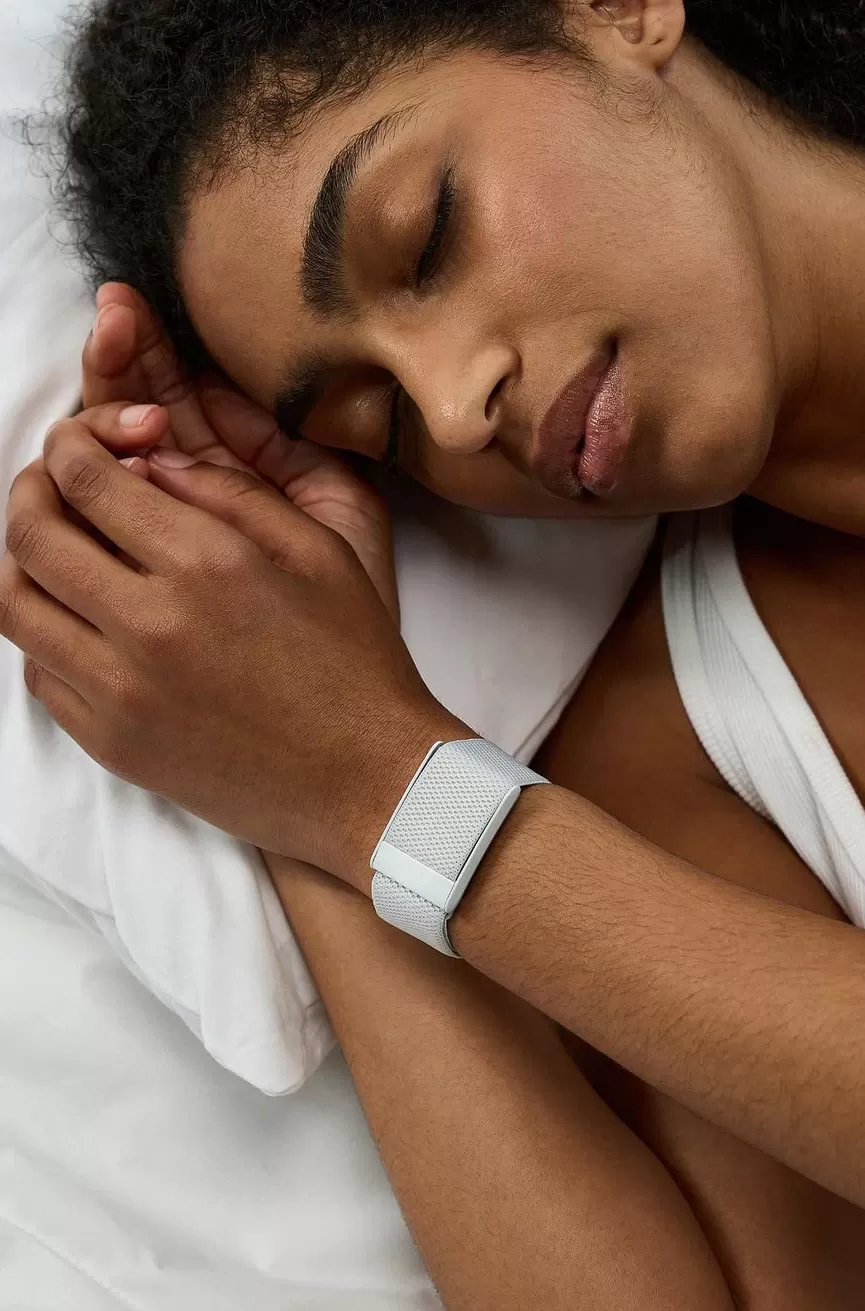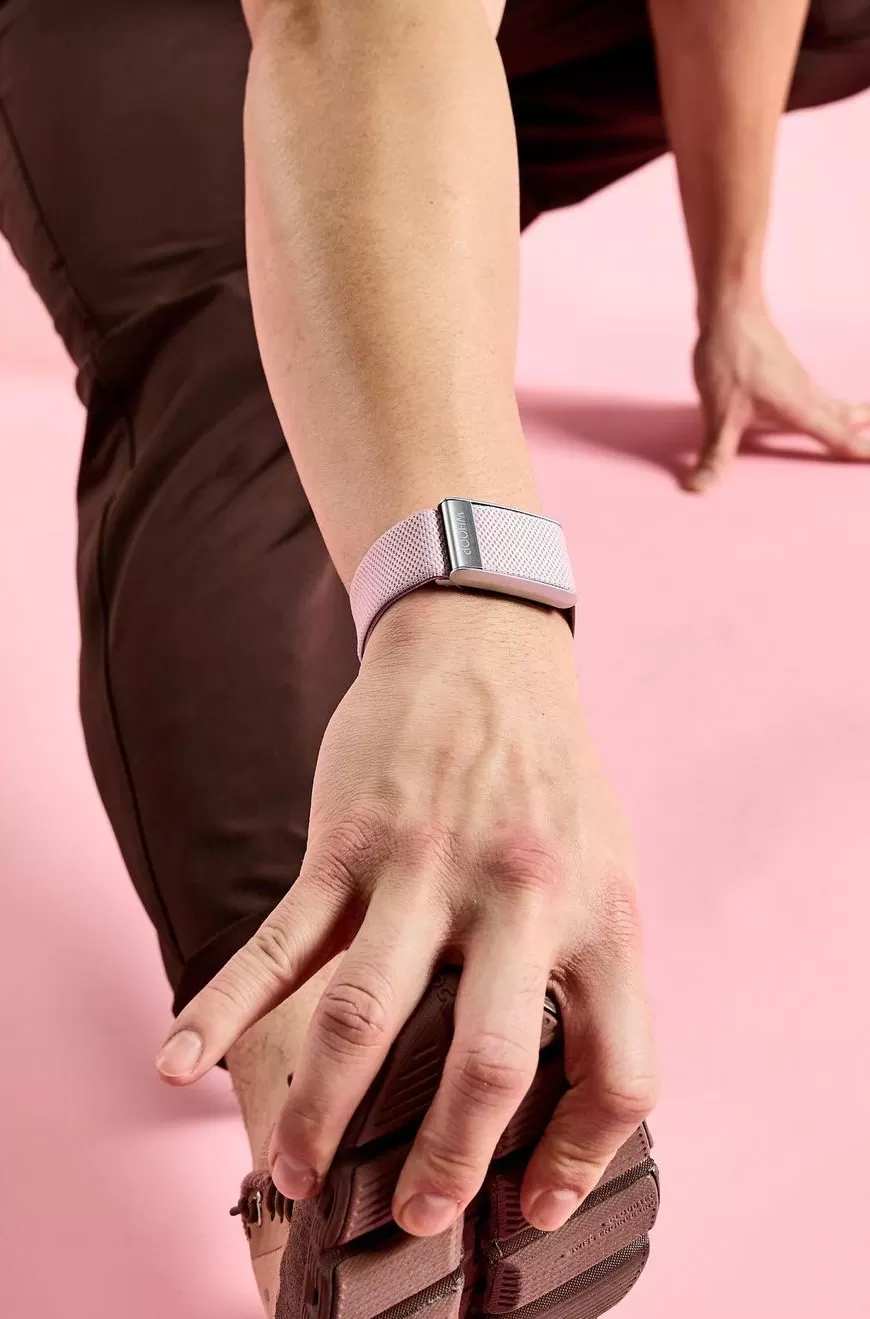 WHOOP offers wearable fitness trackers WHOOP, a wearable tech company offering personalised digital health and fitness coaching that improves sleep, exercise and recovery.
This can be empowering and has helped develop key research areas, including dealing with and treating burnout and the challenges of ageing. As we get older, we often find it hard to come to terms with not having the muscle mass that we used to have – and this is particularly exacerbated by those who have maintained their workout regimes, and so feel 'fitter, happier, more productive' even when their body is trying to tell them to ease down.
Lamb-Hughes notes that Australia, particularly, is trending on fitness programmes for older adults, where a wealth of cutting-edge, AI-based fitness tech is emerging, including A.I.FIT. These enable a highly personalised training plan that can track your movements via motion capture technology and give you real-time feedback – getting the ultimate routine tailored for you. This offers the older customer a virtuous circle – by improving technique, you can prolong your fitness 'life', thus reducing the chance of injury.
Much of the focus is on strength training, monitoring how the body moves and prompting those tiny adjustments that can make all the difference. For instance, if you look at a simple bicep curl – it's not just the lifting/flexing of the arm as it moves upwards but also the timing of the downward movement that can often be the cause of injury as we get older, from the jarring effect of releasing control too early.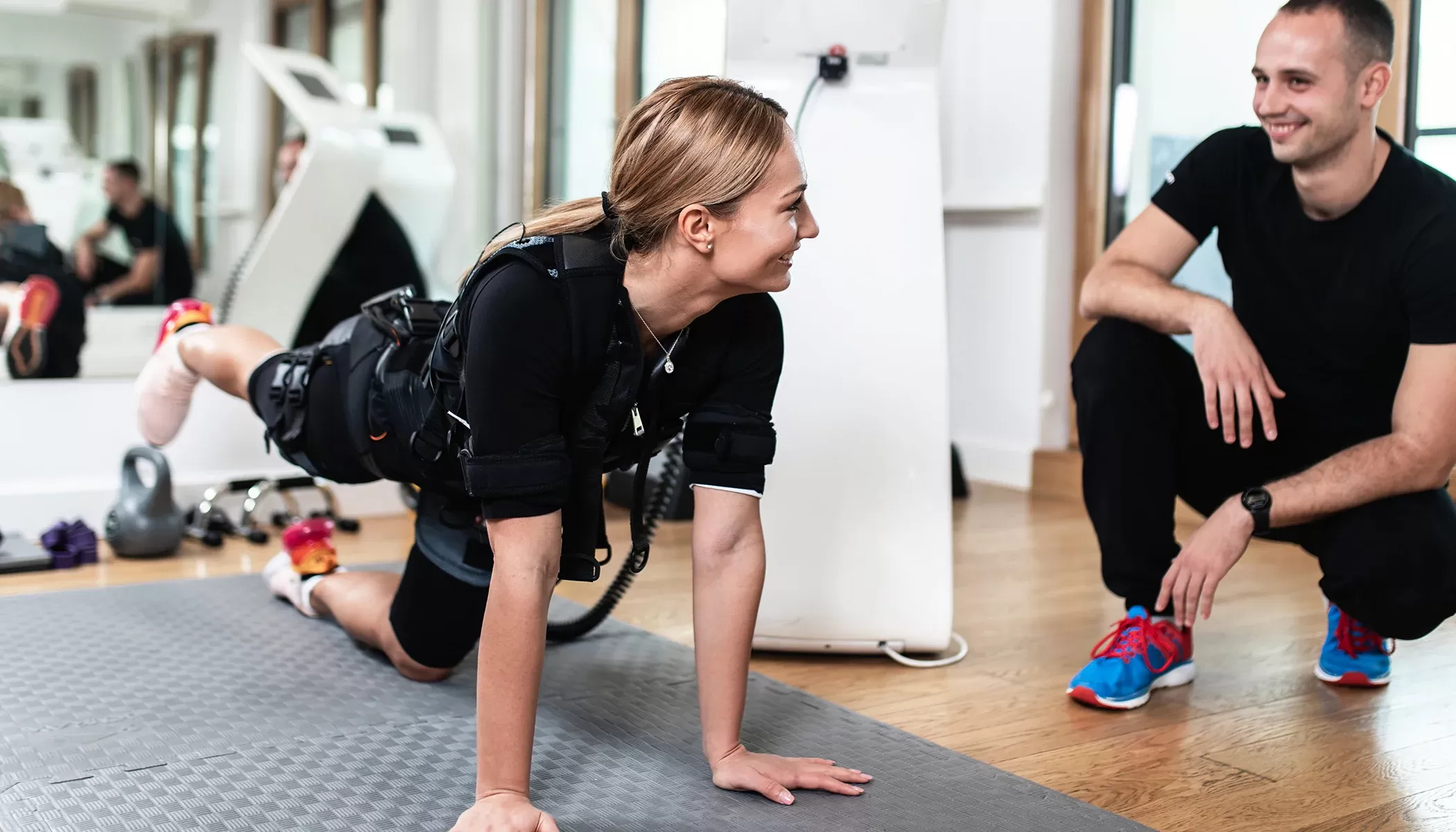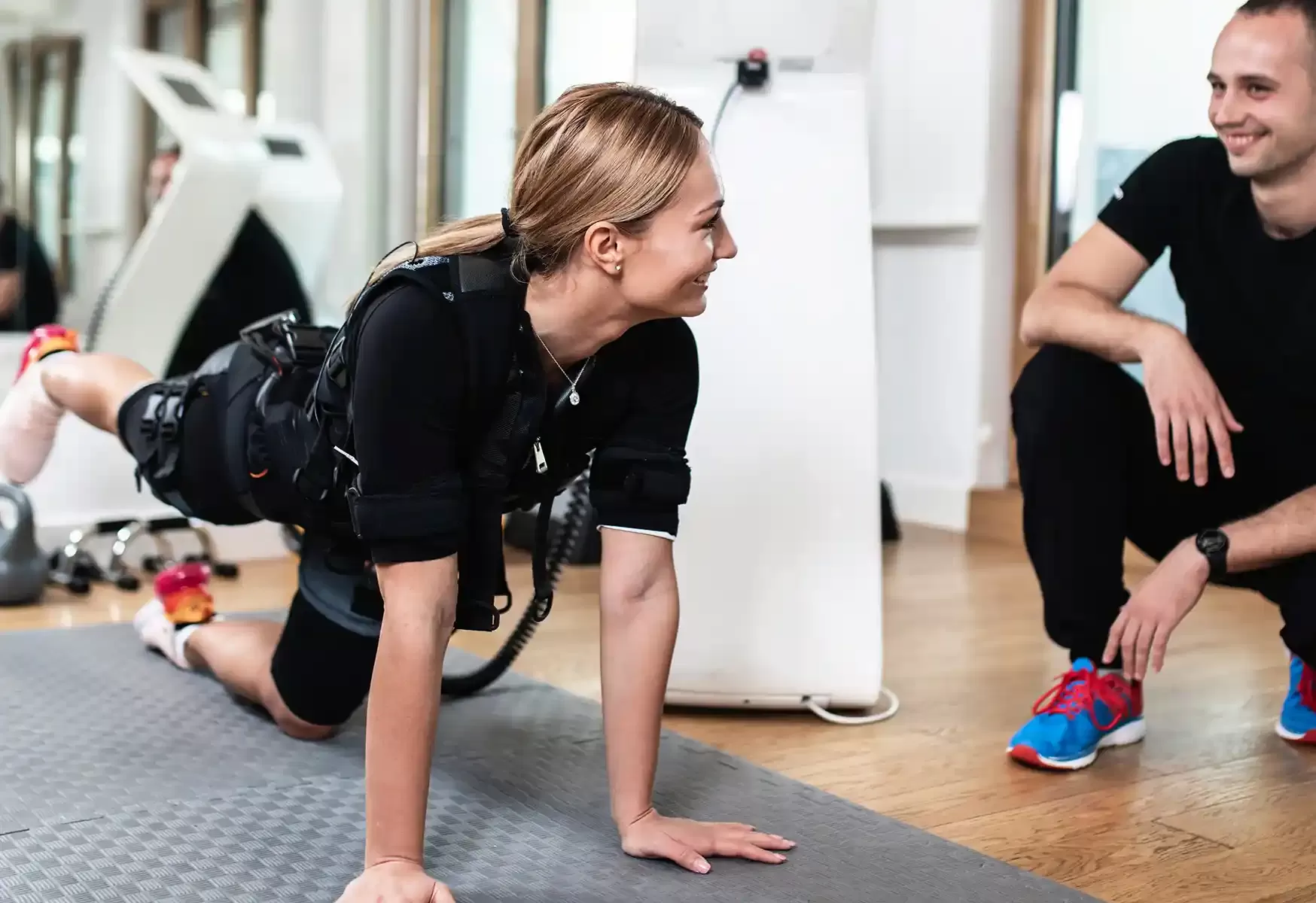 EMS allows you to work out faster and with less strain on the joints.
The latest trend – and one that has seen gyms wrestle back some control from the wearable tech arena – is in EMS (electro-muscle stimulation). This works by mimicking the action of the central nervous system, sending signals to the muscles to contract in much the way the brain does during exercise, but delivered instead via electrodes placed on the skin. These electrical impulses can reach deep into the muscle fibres that are hard to activate through conventional training, allowing users to work out faster and with less strain on the joints.
It's a technique that professional athletes use to enable their bodies to recover more quickly. It is now being rolled out through companies such as the UK-based Feel Electric, which has launched a series of fitness studios (gyms to you and me) utilising EMS. They currently have locations in Harrogate, Leeds, Sheffield, York, Wilmslow and London – with more openings in the M25 area soon.
The key selling point is offering short, efficient, low-impact 20-minute workouts for today's busy, time-poor lifestyles, providing results equivalent to 90–120 minutes in a conventional gym. As well as the chance to tone up, lose weight, gain muscle and reduce the appearance of cellulite, the process allows for quicker recovery, repairing and strengthening muscles throughout the body, in and around joints, and improving mobility overall. As such, it also offers opportunities in the gap between physio and rehab for all ages.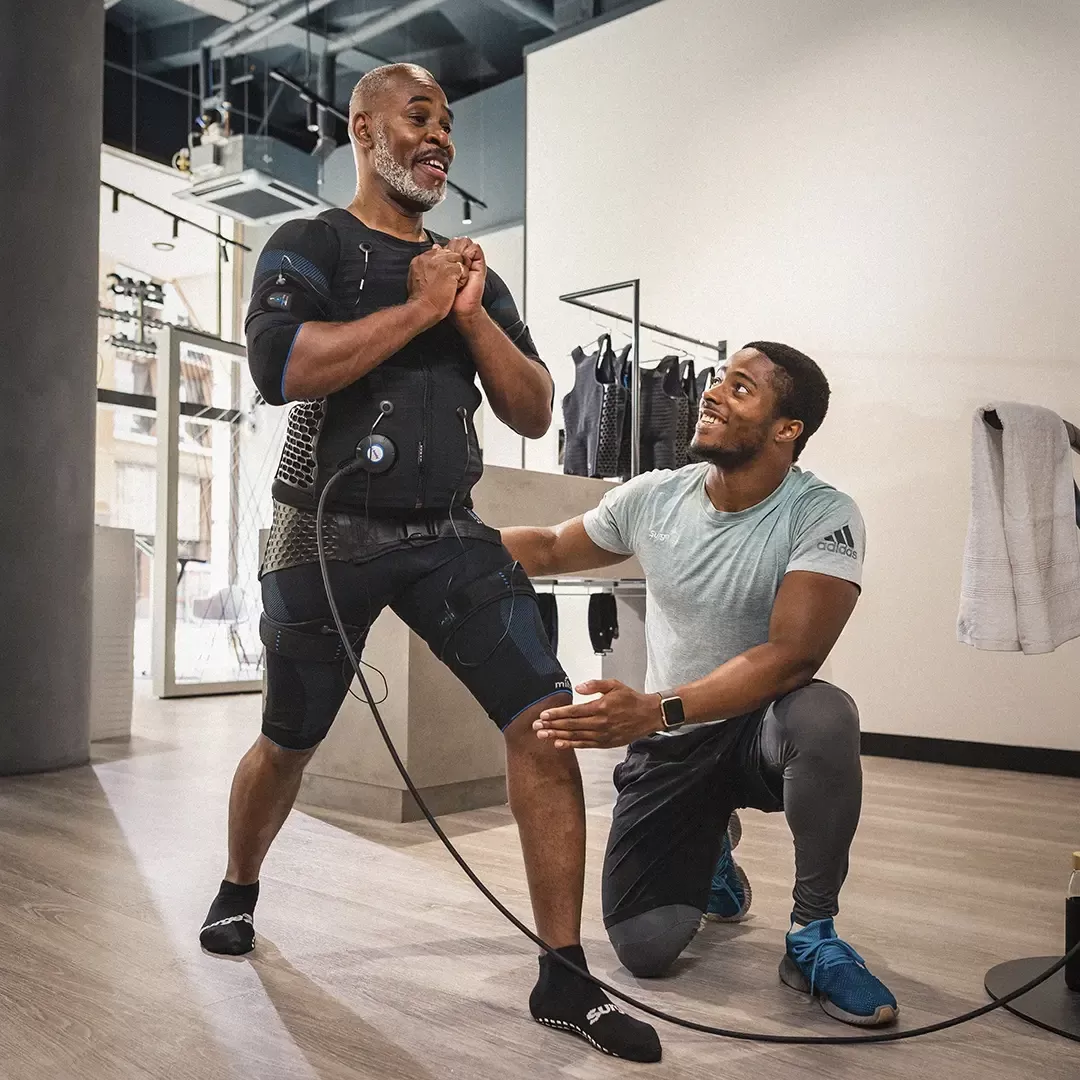 Surge Fitness also uses EMS technology in its full-body workouts.
'It's the science behind the tech in all these cases that is interesting,' says Lamb-Hughes, 'and that's the bit people often miss.' This is something Fast Company journalist Rina Raphael touches on in her book The Gospel of Wellness: Gyms, Gurus, Goop, and the False Promise of Self-Care, which details how the self-care movement as a whole is built around offering women, in particular, the chance to take back control. As the title suggests, it deals with the less reputable solutions on the market alongside the medically endorsed ones such as EMT.
'There's a bit of smoke and mirrors – of course, all new fitness tech promises you that it's the solution,' says Lamb-Hughes. 'But more intelligent equipment means it can learn more each time you use it and improve your workout. For me, it's about optimisation – of sleep, nutrition, movement, natural light – and tech gives me feedback across all those elements to achieve a healthy balance. Technology is advancing in every fitness vertical – from strength training and high-intensity workouts to exercise for weight loss and fitness programmes for older adults. The data feedback loop is the key to improvement and encouragement to keep going. And as they say – if you didn't track it, you didn't do it!'
Quintessentially ensures you only experience the best – including access and invites to the world's most exclusive wellness clubs, spas, and gyms. Contact your lifestyle manager to discover your benefits or click here to find out more about membership.