"My painting is not violent; it's life that is violent. I have endured physical violence, I have even had my teeth broken. Sexuality, human emotion, everyday life, personal humiliation (you only have to watch television) ― violence is part of human nature."
– Francis Bacon
Initially scheduled for early 2021, this long-awaited exhibition curated by art historian and writer Michael Peppiatt has finally opened its doors at the Royal Academy in London.
Michael Peppiatt met Francis Bacon in June 1963 in London's Soho, initially to request an interview for a student magazine he was editing. It was there that they embarked on a friendship and a no-holds-barred conversation that would continue until Bacon's death three decades years later. Over the years, Peppiatt joined Bacon's intimate circle of friends, alongside Lucian Freud and Sonia Orwell (to name a few) and frequently visited the artist's studio where they discussed painting into the early hours.
Reading any of Peppiatt's books on Francis Bacon (such as Francis Bacon In Your Blood: A Memoire), it is inherently clear that the writer not only admired the painter as a personal mentor but also witnessed the life and practice of one of the most famous artists of our time unfold. The exhibition Francis Bacon: Man and Beast exposes the relationships, loves and losses, traumas and fears that inspired the bodies of works that Bacon produced during his prolific career. Told through the eyes of this close friend, the exhibition is raw and emotionally charged yet full of veneration. It brings together a broad range of works that show Bacon's mastery at capturing the inner torments of his sitters by exposing the untamed 'beasts' within all of us.
Francis Bacon grew up on a farm in Ireland where his father was a racehorse trainer. Years later, the artist spoke of how informative his early experiences of animals were - he saw them live, hunt, procreate and die. These inevitably led him to perceive life differently and draw parallels between humans and wild animals. "He saw human beings more clearly by looking at animals. Animals were less camouflaged than humans. He liked to get right through to the primal instinct – without the veneer of so-called civilisation" (Peppiatt).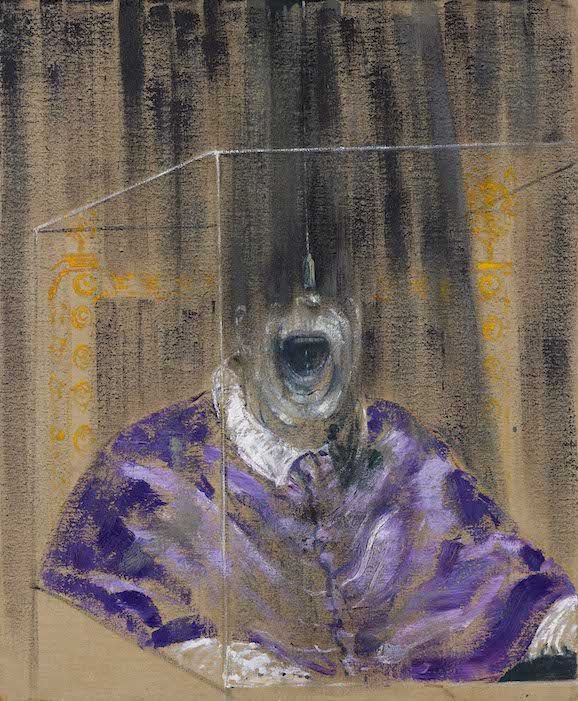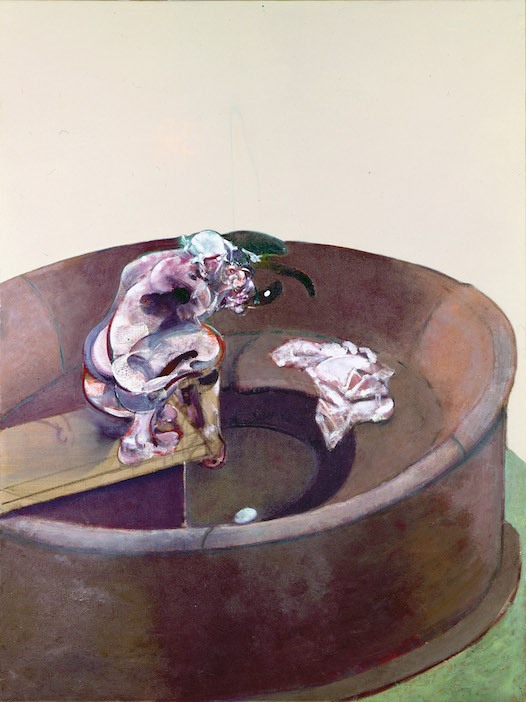 Image 1 | Image 2 (Credits below.)
Undoubtedly, living through two World Wars and hearing of the horrors of the Holocaust published in newspapers in the late 1940s profoundly solidified his perception of humans as capable of being ruthless beasts. In this exhibition, we see three vast bullfight paintings united together for the first time since their inception. Still, a Nazi flag identifies the mob as something more sinister in the background, making us re-evaluate the entire scene. Similarly, the triptych of the monstrous, contorted Furies (Ancient Greek goddesses who drove criminals mad by exposing them to their own guilt and fear) take on a more modern role, as they are presented going about everyday life, sometimes dressed in tweed and with an umbrella in hand.
Francis Bacon is an artist whose life story is just as remarkable and enticing as many of his paintings. This exhibition indeed charts its chapters by bringing together well-known masterpieces alongside rarely-seen gems from international collections. Each essential series of his career is represented – from his screaming Popes inspired by Velázquez to his intimate portraits of lover George Dyer – all brought together under the theme of 'Man and Beast'. The bestial, the violent, the caged raw emotions lashing out are all exposed through the aggressive smears of paint and the tortured expressions of Bacon's sitters. But, perhaps most poignantly, through the wide-ranging subject matters, the artist's own tormented state of mind is brought to light. To put it bluntly, it's an unmissable show.

Please contact your lifestyle manager to book a tour of the exhibition.

Lead image:
Francis Bacon, Study for Chimpanzee, 1957
Oil and pastel on canvas, 152.4 x 117 cm
Peggy Guggenheim Collection, Venice
Solomon R. Guggenheim Foundation, New York
Photo: David Heald (NYC)
© The Estate of Francis Bacon. All rights reserved. DACS 2021
Image at top:
Francis Bacon, Study for Bullfight No. 1, 1969
Oil on canvas, 198 x 147.5cm
Private collection
© The Estate of Francis Bacon. All rights reserved, DACS/Artimage 2021. Photo: Prudence Cuming Associates Ltd
Image 1, above:
Francis Bacon, Head VI, 1949
Oil on canvas, 91.4 x 76.2 cm
Arts Council Collection, Southbank Centre, London
© The Estate of Francis Bacon. All rights reserved, DACS/Artimage 2021. Photo: Prudence Cuming Associates Ltd
Image 2, above:
Francis Bacon, Portrait of George Dyer Crouching, 1966
Oil on canvas, 198 x 147 cm
Private collection
© The Estate of Francis Bacon. All rights reserved, DACS/Artimage 2021. Photo: Prudence Cuming Associates Ltd