It's challenging to do something original in London. The UK capital is home to hundreds of restaurants and bars claiming to be the biggest this or the first to do that, so it's refreshing when something genuinely unique comes along. As such, all eyes are on The Aubrey, as it launches its innovative cocktail omakase today at the posher-than-posh Mandarin Oriental Hyde Park.
Omakase is a Japanese term that loosely translates as 'I'll leave it up to you' and – in London, anyway – is usually the reserve of sushi restaurants. To order omakase means to be entirely without choice and to leave your dining fate in the hands of the chef – or, at The Aubrey, in the hands of a well-versed Bar Director.
Carefully billed as 'the UK's first by-appointment-only cocktail omakase', The Aubrey offers a six-cocktail experience where each drink is utterly personalised to you. The wording is crucial: by all means, it is the first 'by-appointment-only' cocktail omakase, but it is not the country's first; that title belongs to Machiya's £40-a-head version in Covent Garden that launched a few years ago. However, the experience at The Aubrey is an intimate showcase of rare Japanese spirits; and as such, it is deserving of all the superlatives thrown at it.
Just six guests are welcomed per two-hour 'appointment', which must be booked in advance at 7:30pm, Wednesday through Friday. We were among the first to experience it, so come Wednesday evening, we swish back The Aubrey's velvet curtain and head for a small, smart room concealed behind a bookcase. From the framed portraits of geishas to displayed sake and spirits, it quickly becomes apparent that this is a no-expenses-spared odyssey into the world of Japanese cocktails. And our captain? Bar Director Pietro Rizzo is the person to whom you want to entrust your drinking decisions.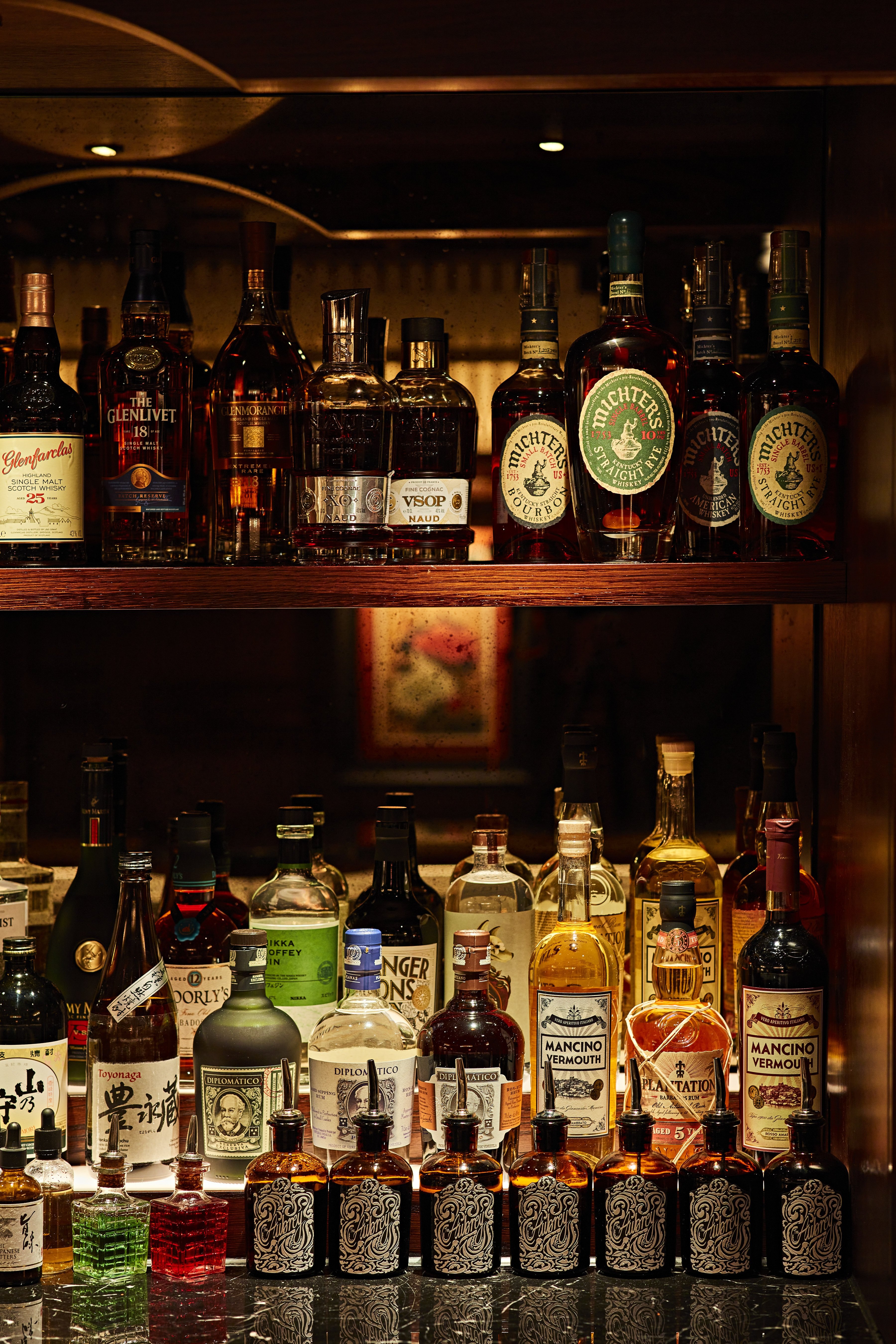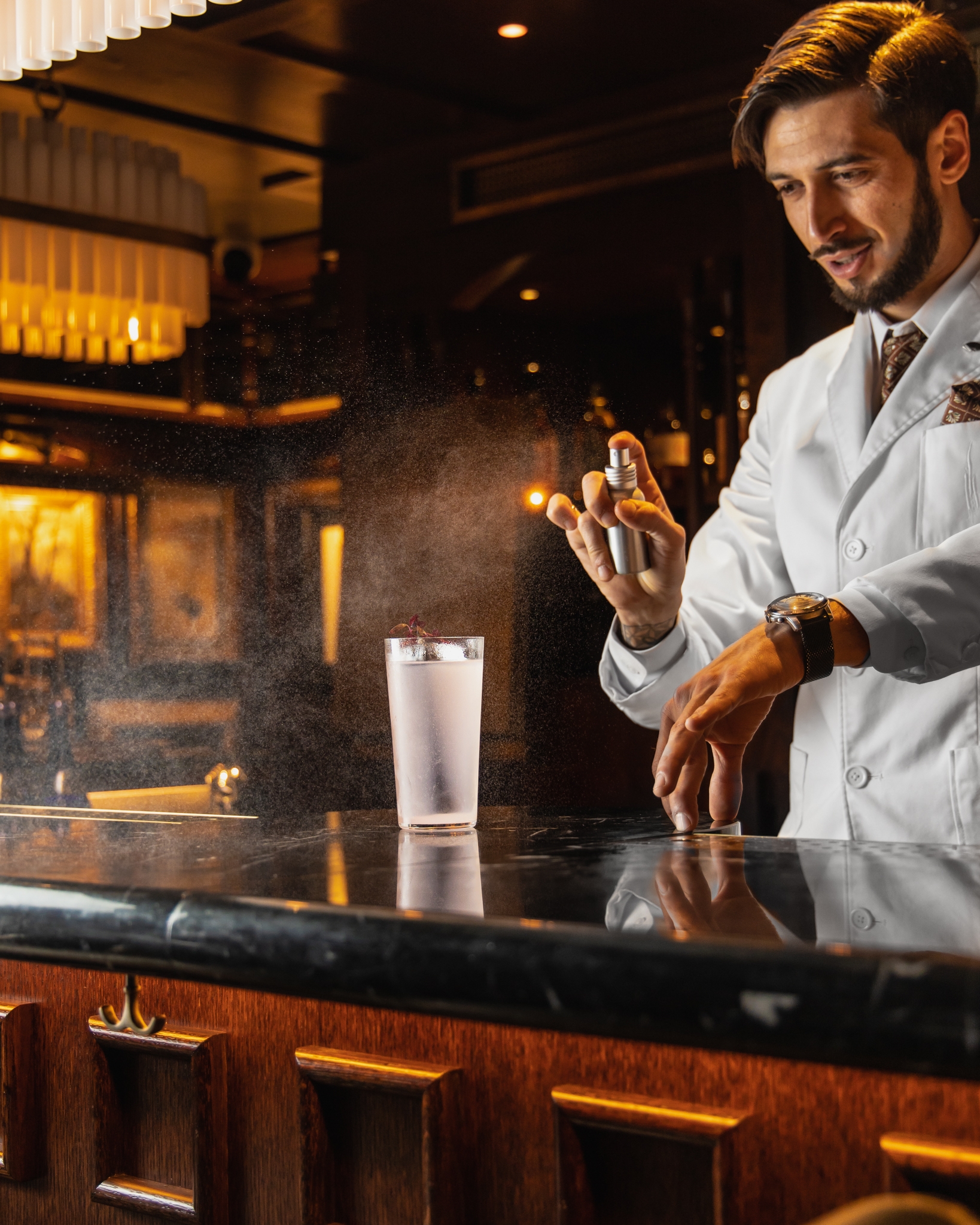 Bar details at The Aubrey | Bar Director Pietro Rizzo by Steven Joyce
Rizzo has been at the helm of countless high-end bars (such as Chelsea speakeasy Barts and the Mr Fogg's collection) and has recently turned his attention to the art of Japanese bartending – despite being a Tuscan-born Italian. In person, he moves like a sorcerer behind the black marble bar, sending streams of sake from one shaker to another in a perfect arc and causing double-spouted teapots to spurt out plumes of cacao-and-coffee flavoured aromas. The entire room becomes filled with wisps of smoke at one point as he blowtorches a whisky barrel to flavour a few coupes.
'This is something we build together,' says Rizzo, as he hands over a sample of freshly clarified Bloody Mary for us to try before starting our next drink. 'We want to create a corner of pleasure where we can focus 100% on our guests.'
In typical omakase style, there's no set menu. Cocktails move with the seasons and are tailored to guests' tastes, with each drink showcasing the artisanship inherent to the Japanese bartending style. Rizzo talks us through each of the Japanese liquors on offer – 'this is shochu; would you prefer one that's floral, toasted or savoury?' – and carefully monitors each guest's reaction to ensure their next drink is something they'll love.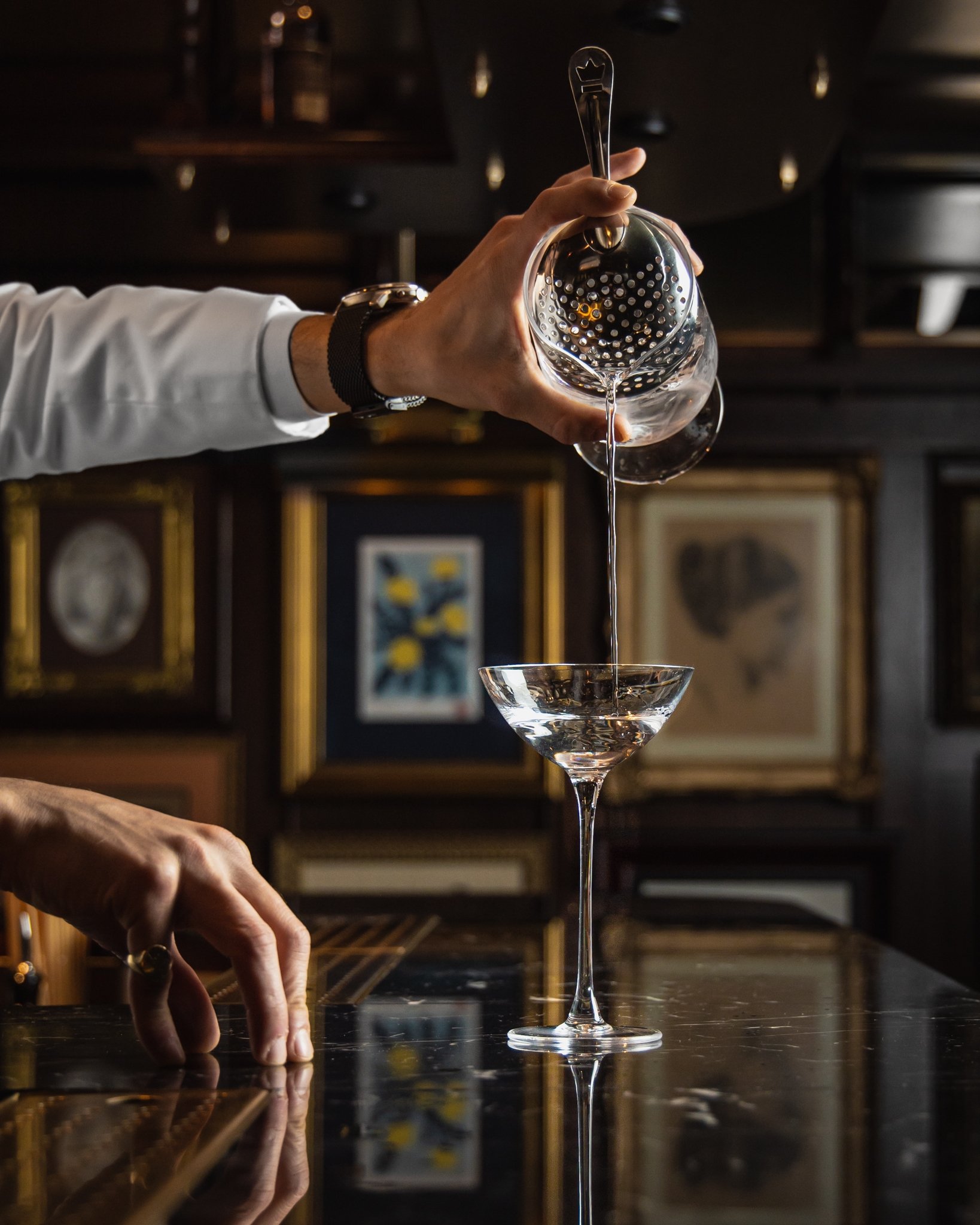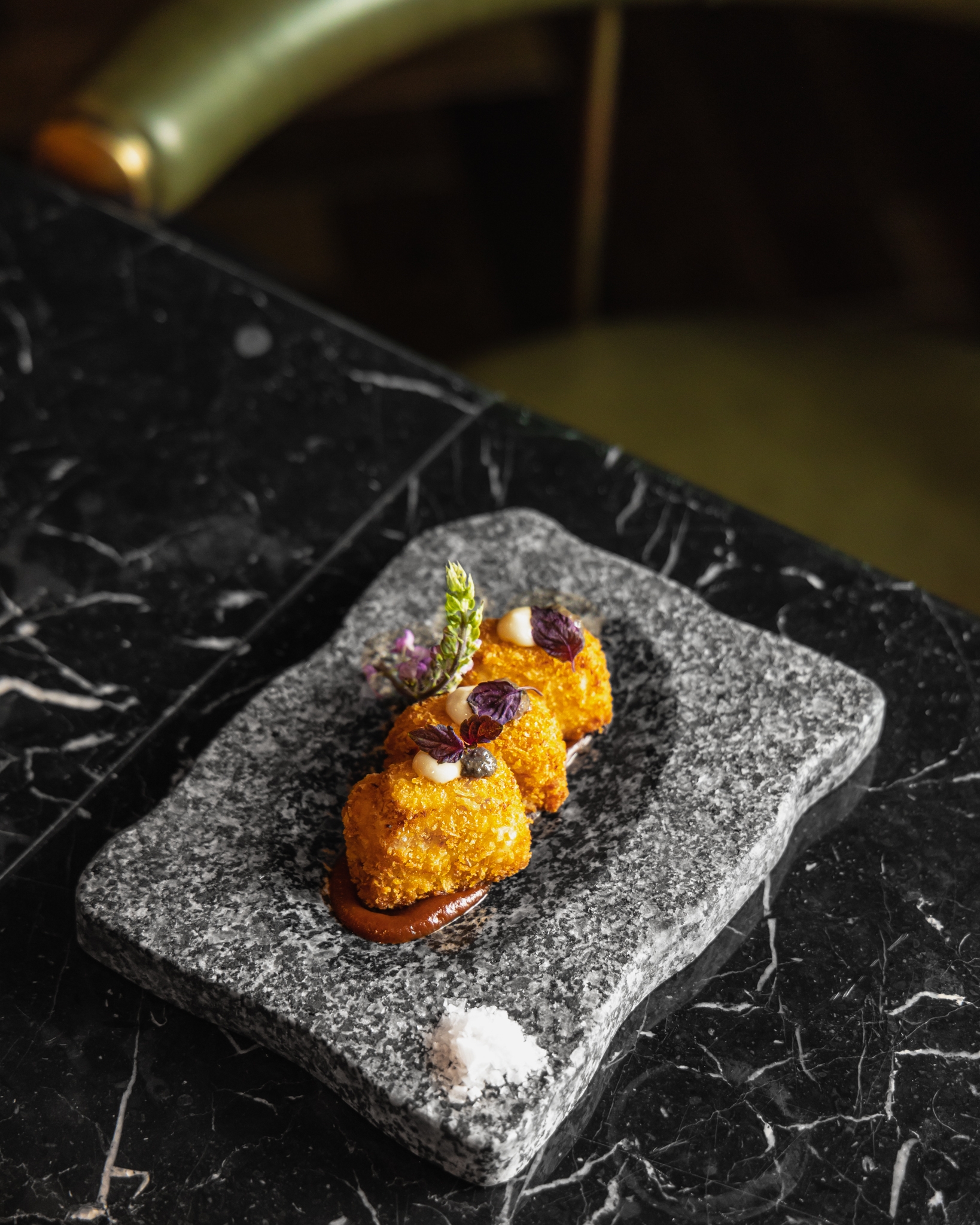 Images by Steven Joyce
During our visit, we begin with Aubrey-banded champagne mingled with cherry blossom vermouth and spritzed with lemon aromas. We then journey through shochu – a liquor distilled from either rice or sweet potato; ours is served simply with soda and topped with a yuzu flower, sake – which joins tomato liqueur and salt water in an intensely savoury take on a martini; and umeshu – a sweet plum liqueur that's mixed with Japanese rum and whisky in a smoke-filled glass. The small group size allows Rizzo to create an entirely bespoke experience for each person, culminating in his parting gift: a bottle of your favourite drink of the night that he shakes, wax seals and stamps with an ornate 'A'.
As we sit and sip, a selection of small plates from The Aubrey periodically wing their way into the room. However, it's a sign of the cocktails' calibre when dishes like ponzu-spiked oysters, mousse-soft sashimi, and wagyu maki are little more than – admittedly, delicious – background noise.
There are a few minor snags; the bar lights are a bit too 'in-your-face' bright, and you'll likely get lost looking for the loos. However, these are mere blips when considering the overwhelming attention to detail and the fact that, when it's all over, The Aubrey's sake soaking Karaage chicken is just steps away…
… Or you could head for home, armed with a bespoke bottle of your new favourite drink. But what that will be? We'll leave that up to you.
For more information, please contact your lifestyle manager. The experience launches 30th June.