Defined by a distinctly bohemian aesthetic that is simultaneously very French and very global, Caravane is a luxury homewares brand that exemplifies the patinated look we love. Spotlighting natural materials and traditional artisan craft, each collection is infinitely livable whilst being elevated and beautiful. Very much what we'd consider the perfect summer look, we're keen to implement the Caravane feel across our own homes, especially right now. Véronique Piedeleu, who bought the business in 2011 with her husband, Jack-Eric, fills us in on the brand ethos and how we can create a bit of the Caravane magic in our own homes.
The Caravane aesthetic is so distinct and encapsulates that perfectly undone look. How can this be executed throughout the home?
Caravane creations are born naturally — it is often the talent of the craftsman that guides the aesthetic. Extreme care is taken to identify the most beautiful, simple, authentic and natural materials. The simplicity of our designs makes them timeless by nature. They never go out of fashion as they are inspired by and based on traditional craftsmanship: tapestry, weaving, ironwork.
So my top tip for achieving the Caravane aesthetic throughout your home is to never fall for trends — stay true to yourself and collect quality pieces that hold meaning to you!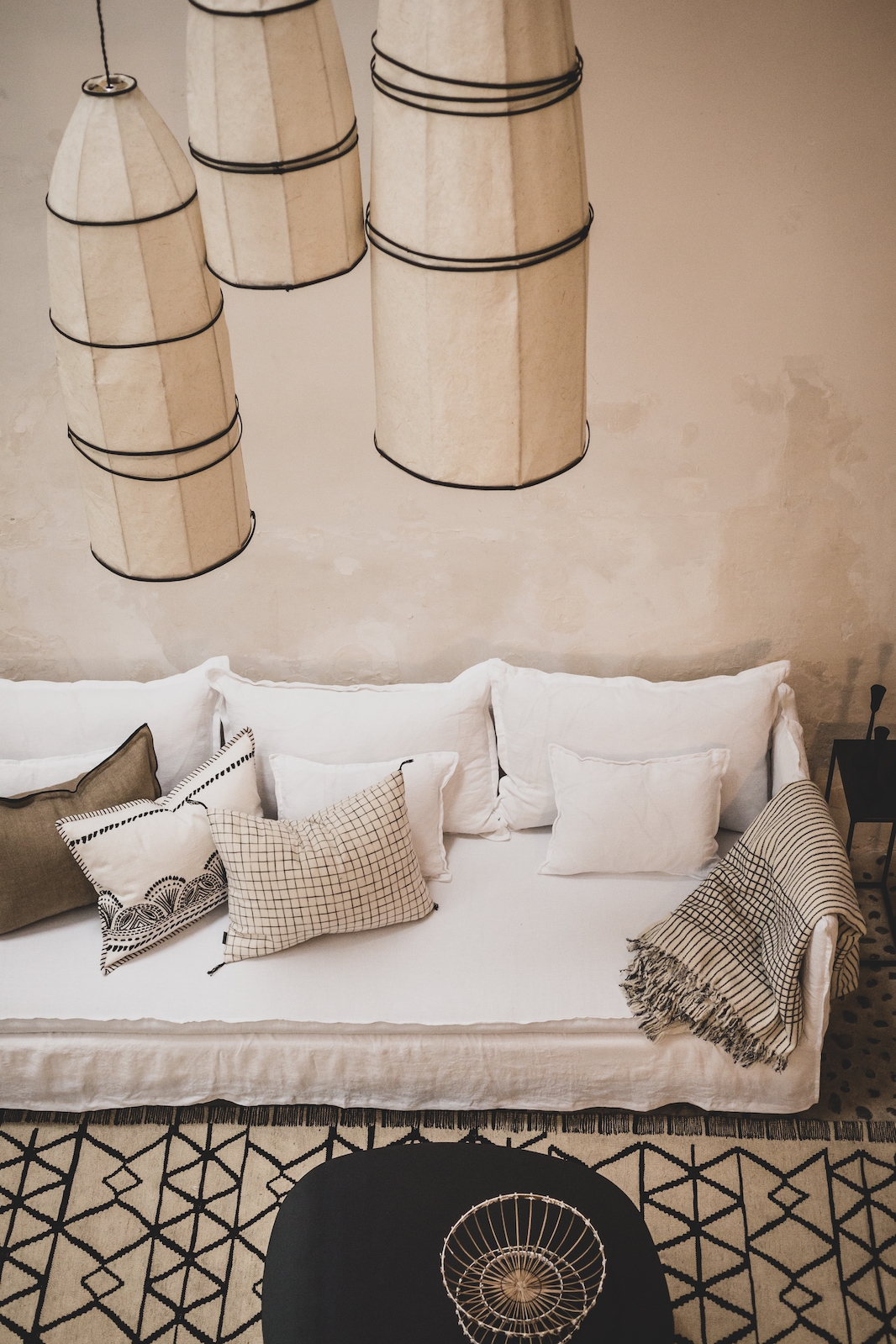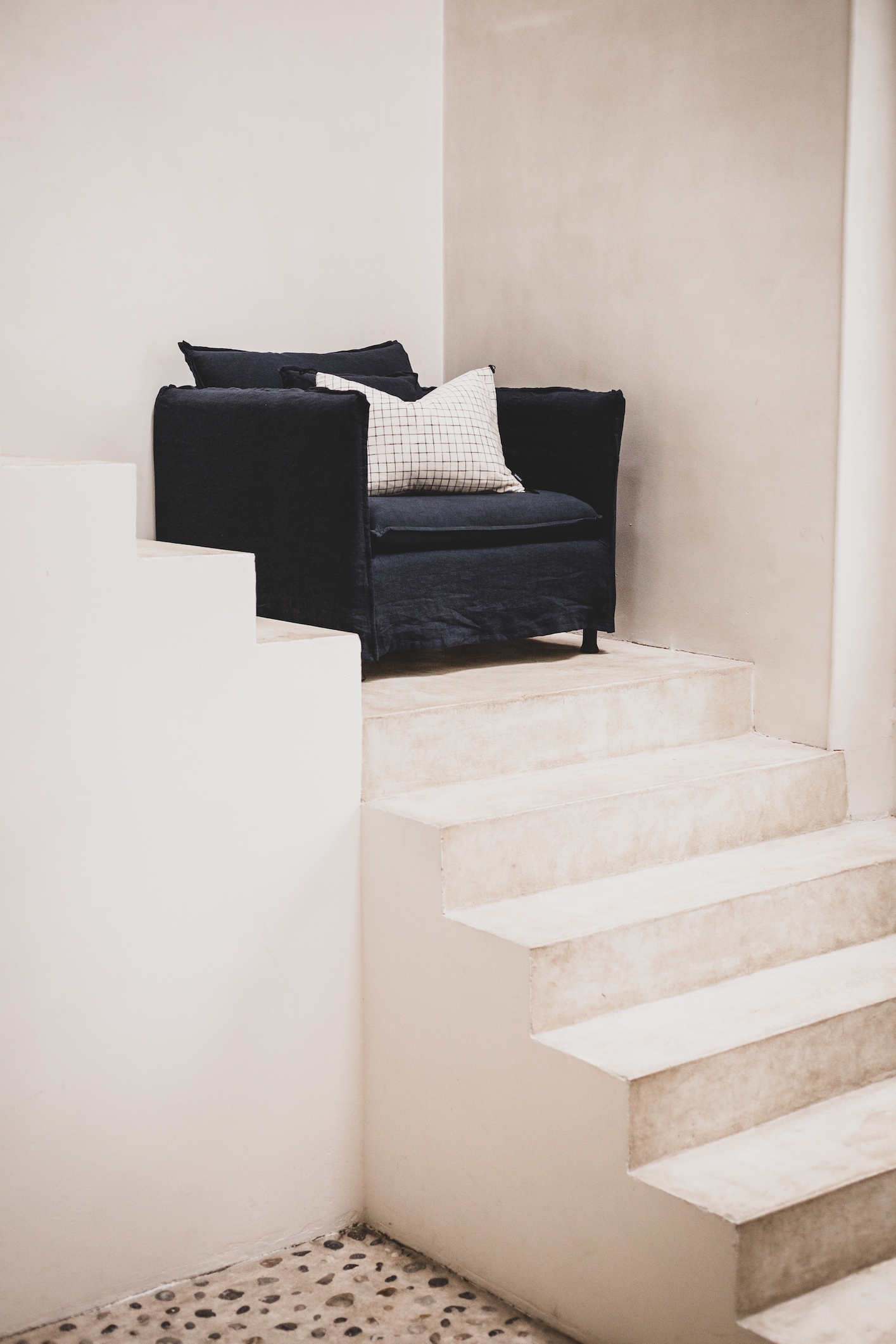 Caravane
We love the way Caravane creates a feeling of escape... Without doing a complete overhaul, what are some small ways to implement that feeling in our homes?
Mix various creative sources and embrace a bold approach when playing with colour, textiles and objects from all over the globe.
Although each collection nods to travel and certain places in the world, it also feels distinctly French. Do you consciously incorporate your own heritage and background into the various pieces?
My grandparents were antique dealers, and I've always been fascinated by antique furniture, fabrics, and collecting various objects from my travels. This heritage definitely inspires me. We create intuitively as we meet artisans and discover their know-how from each of the four corners of the world. Still, we also always seek a form of simplicity and elegance, which is essentially Parisian chic. Caravane is the meeting of these two worlds.
What is your own home like?
Throughout our home, we love to play with texture, colour and pattern — in every room, there are ethnic textiles, vivid pieces of artwork, treasured antiques and of course, a mix of timeless sofas and furniture from Caravane!
How did the current collection, inspired by Holi, come about?
The Holi collection is a tribute to the Indian Festival of Colours and is designed for a bright and beaming interior. The collection comprises iconic sofas, a signature armchair, enveloping headboard and bed skirt, and our latest offering, the Love Seat, designed for lovers. The Holi pieces are available in an irresistible palette of 60 washed linen shades, each with unrivalled richness.
Caravane really is a lifestyle brand. How do you plan to expand in the future? Would you ever open hotels or restaurants?
We would love to. However, our focus currently is the online capsule collection launching in September; then, in 2022, we have lots of exciting collaborations launching! We are certainly open — who knows what the future holds for Caravane.

To implement design changes or improvements throughout your home, please contact your lifestyle manager or Quintessentially Estates.