The Cavallino restaurant in Maranello, Modena, is something of an Italian institution. Founded in 1950 by the legendary Enzo Ferrari, it was initially a canteen, changing room and training centre for his workforce, housed within a small farmhouse opposite Ferrari's Maranello factory. Having repurposed the building to run it as a restaurant open to the public, Enzo Ferrari would frequently meet staff, clients and close friends there, using his own private room from where he also liked to watch the Grand Prix.
Recently transformed by the architect India Mahdavi and another Modena legend, the acclaimed chef Massimo Bottura, the newly relaunched Cavallino draws on the venue's rich history and traditions whilst offering something genuinely modern and forward-thinking.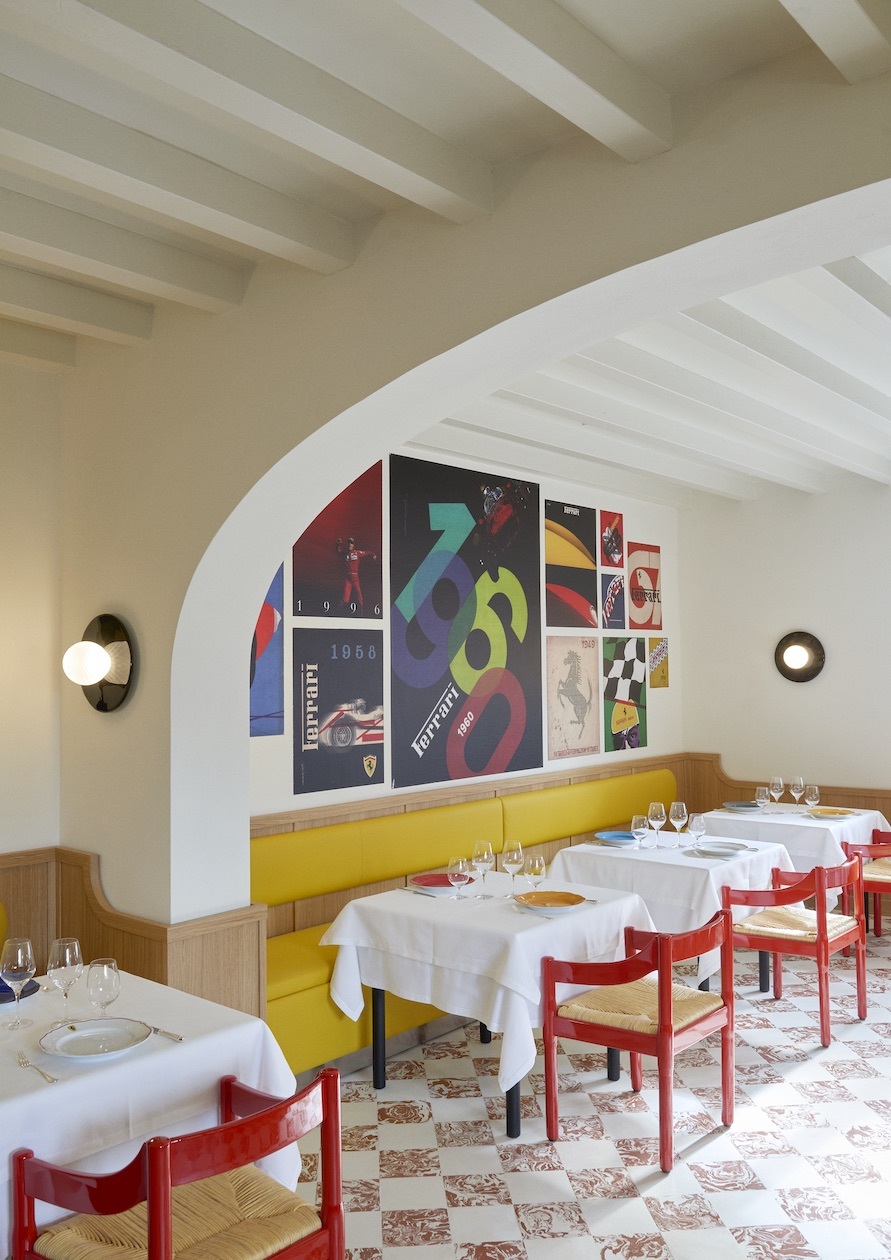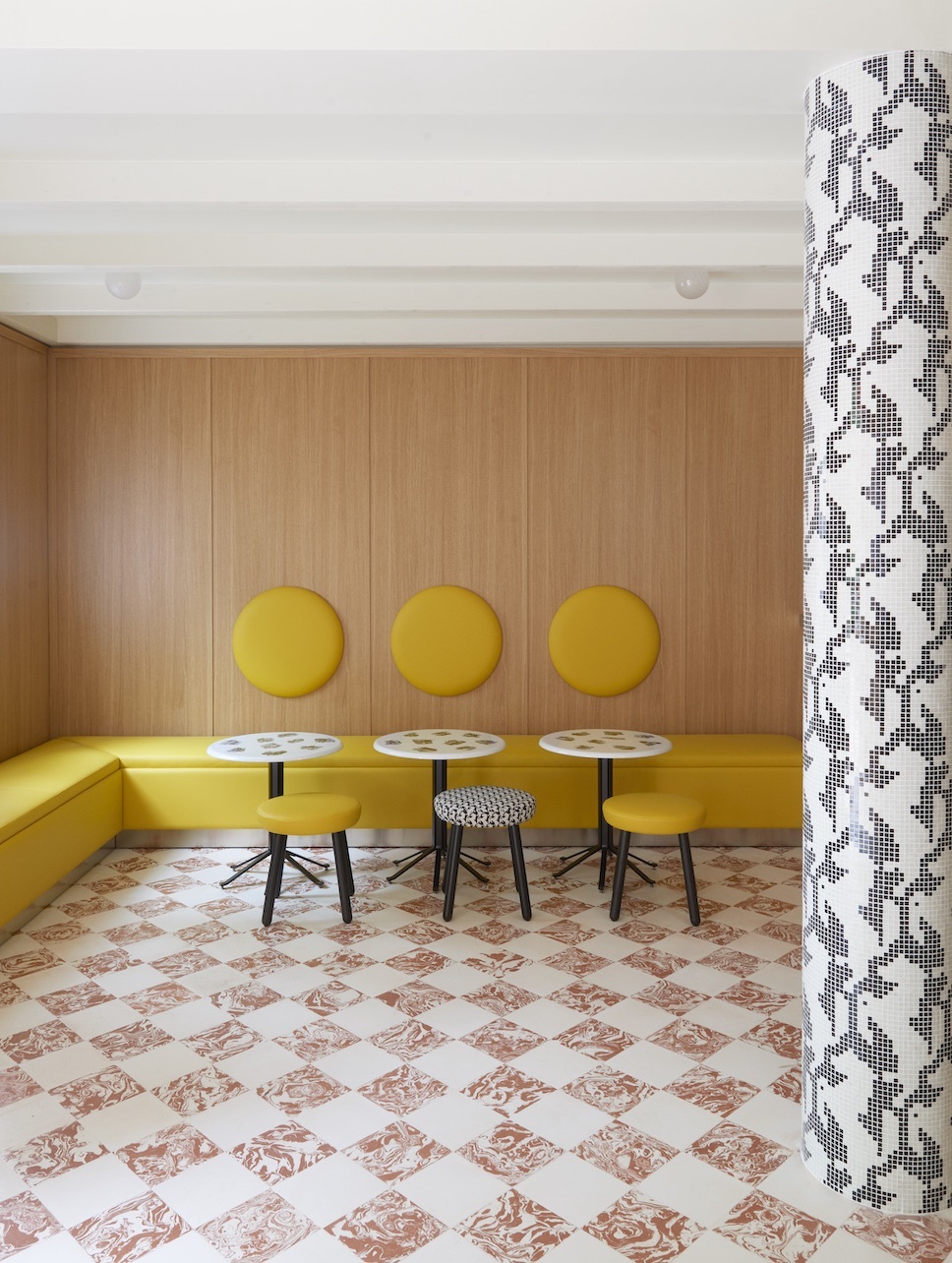 Main dining room, with reproductions of Ferrari yearbooks on the wall | Custom-made furniture and pillar with Prancing Horse logo
'It is the Cavallino of all time, a trattoria for those who love the tradition of the future as Enzo Ferrari used to,' Bottura tells us. Born and raised in Modena, Bottura is often described as the best chef in the world. Having founded the nearby Osteria Francescana, a three-Michelin-starred restaurant that has been named amongst the top five at the World's 50 Best Restaurants Awards every year since 2010, expectations were high when his name was first associated with Cavallino. Specialising in local Emilia cuisine, which is famed for its homely, hearty style, Bottura has elevated traditional dishes to new, more refined heights – making him the perfect match when it comes to respecting the authenticity and integrity of this hallowed site whilst updating it for a 21st-century clientele.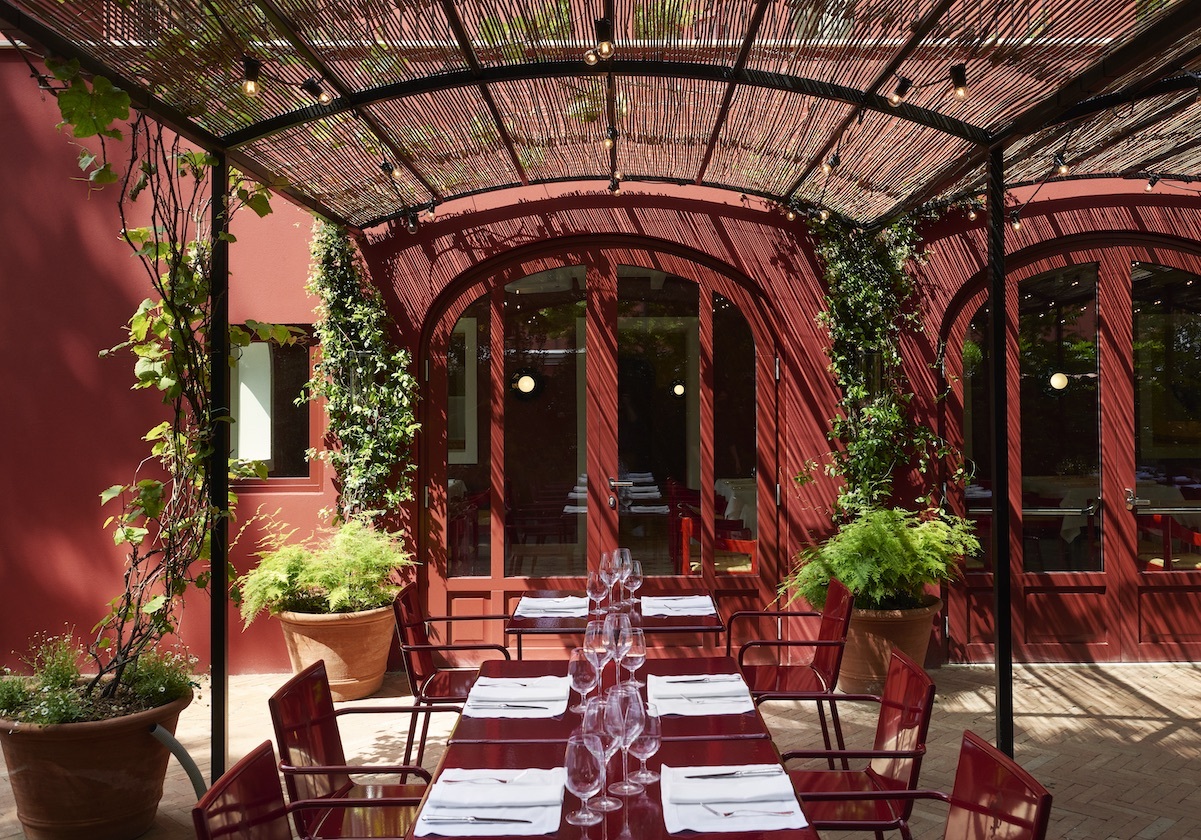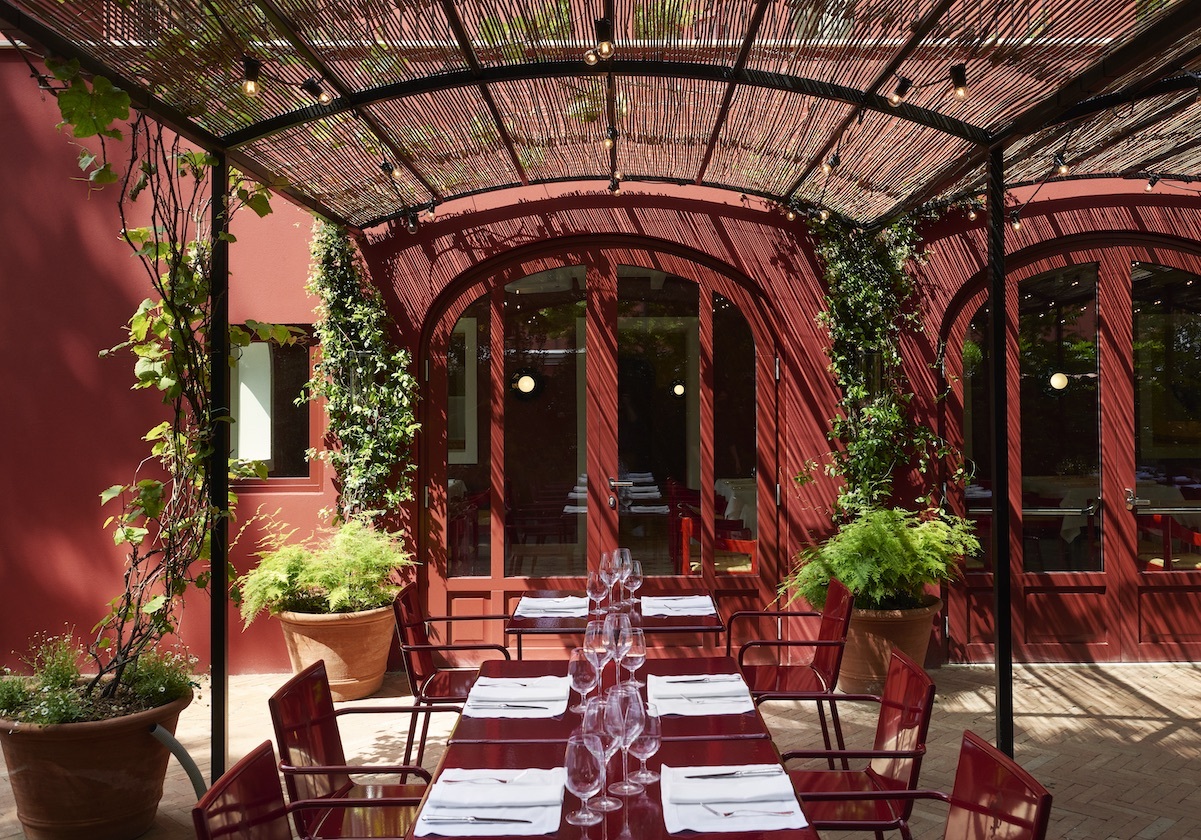 Custom chairs and tables under the pergola
'We will welcome anyone who wants to discover the culinary excellence of this wonderful land,' adds Bottura, who relished the task of interpreting Ferrari's reputation for passion, excellence, cutting-edge technology and craftsmanship through his approach to cooking. It helps that he is also a passionate fan of the region's automotive history – something of a prerequisite for anyone from Modena.
As a historical landmark for the area, the trattoria has been updated with a sensitive eye on its unique story – Mahdavi and Bottura worked hard to preserve Ferrari's emotions, successes, and history within its original walls whilst remaining true to its founder's pioneering spirit. The master chef describes this approach as 'tradition in evolution'. Just as importantly, the restaurant remains committed to its original vision of hospitality – aiming to offer everyone the possibility of 'being part of the Ferrari universe' – to breathe in the same atmosphere and the same ideals' that Enzo Ferrari stood for.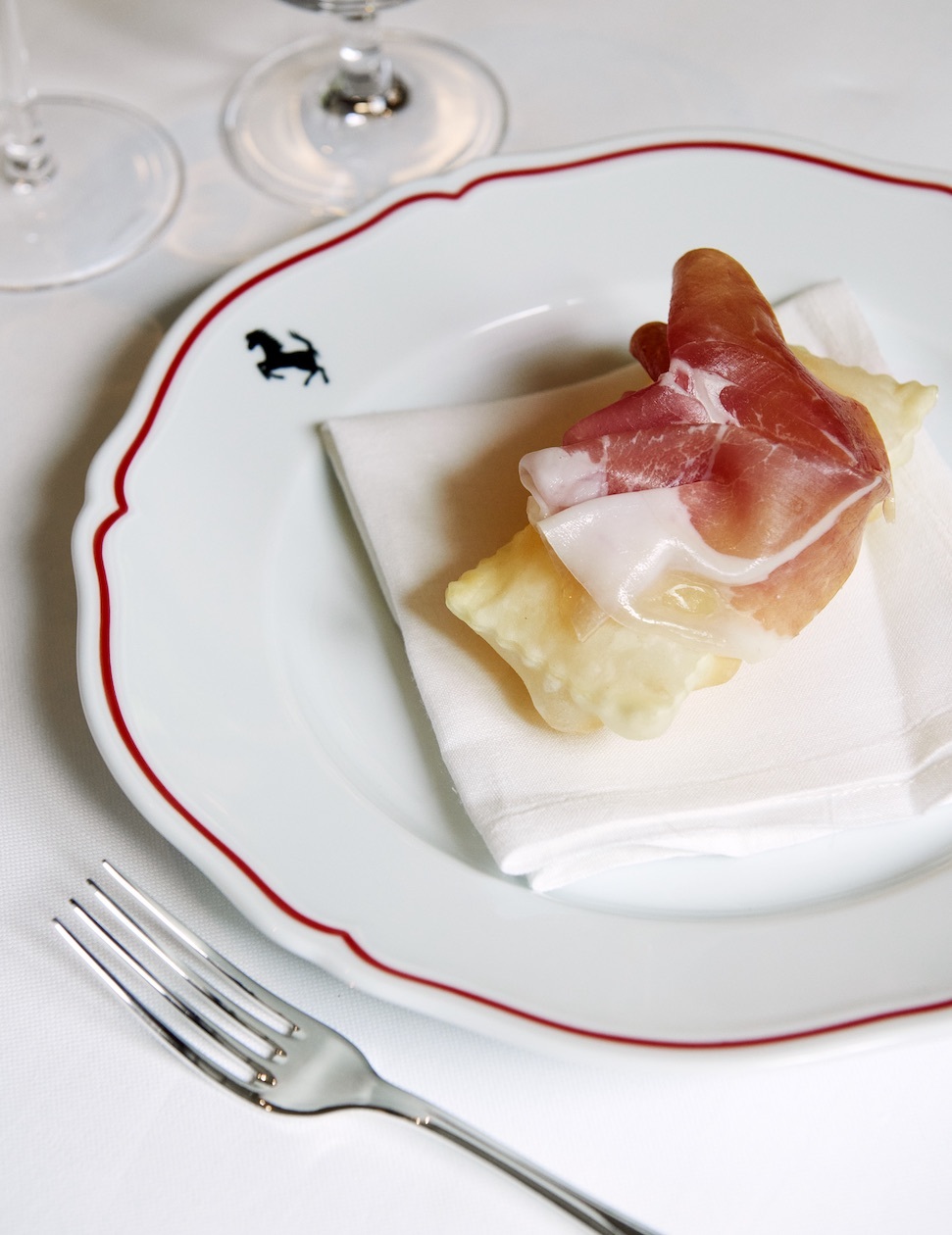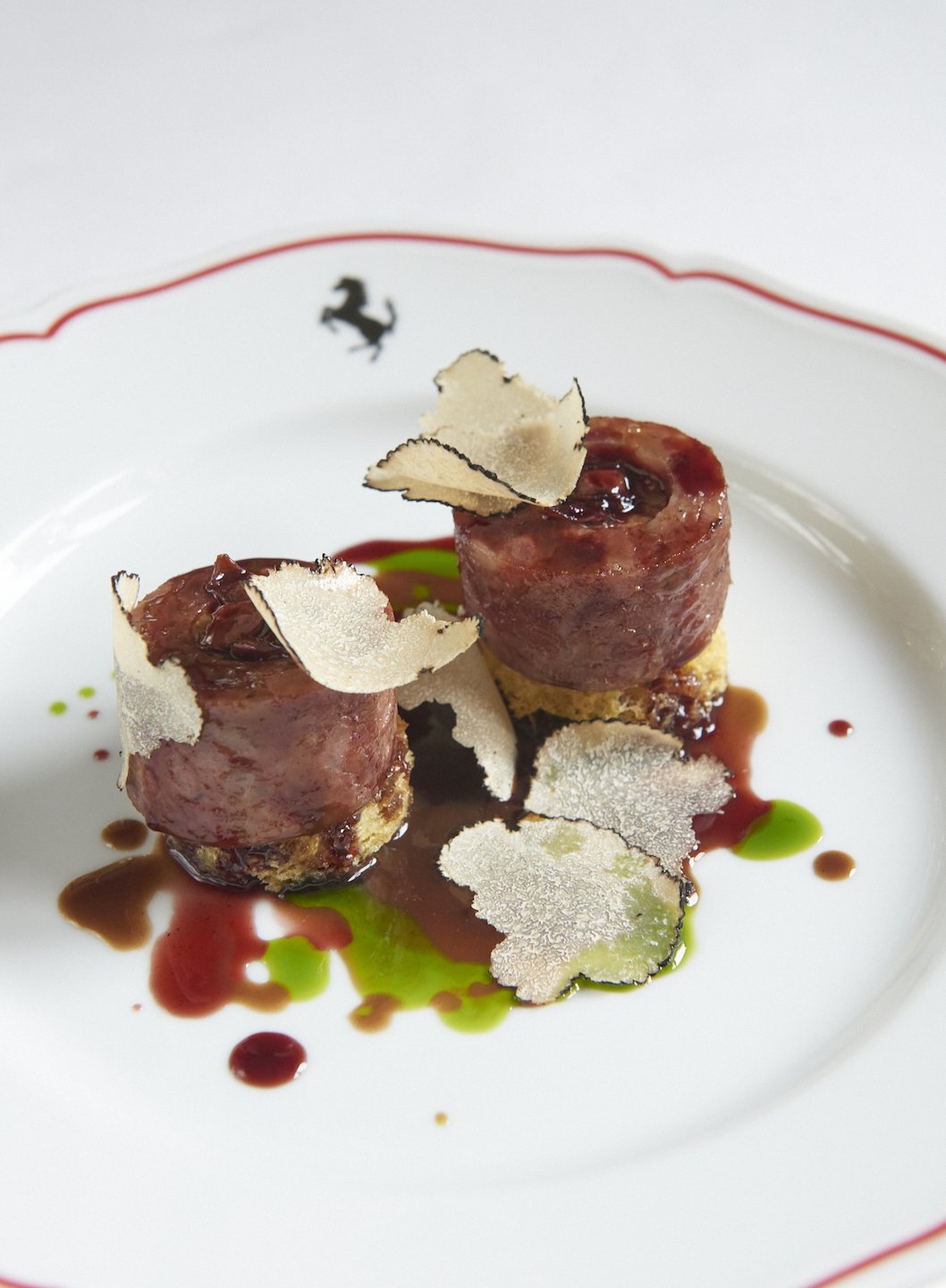 Gnocco frito with Emilian cured meats | Cotechino alla Rossini, crowned with a mineral truffle and Modena black cherry
The Modenese take pride in their sense of belonging, friendliness, and hospitality, which is felt in every room, dish, and detail of this immersive culinary project. 'It's good, healthy cooking, with a story behind every dish; it's cooking you can't say no to,' Bottura explains. But don't be fooled by his natural modesty: this is also cuisine at another level, overseen by a team including Modenese Chef Riccardo Forapani (who trained for 13 years at the Osteria Francescana), Luis Diaz, named the title of best young Maître d'Italia in 2016, and sommelier Silvia Campolucci. Menu highlights include the Cotechino alla Rossini, with a mineral truffle and Modena black cherry sauce; the delicate and crisp gnocco fritto, served with a selection of Emilian cured meats; and the classic tortellini, cooked in capon broth and served in a Parmigiano Reggiano cream, which is specially prepared by hand according to the traditions passed down by the rezdore – aka grandmothers from Modena.
For an extraordinary experience, try the Enzo Room on the ground floor, with its poplar wood panelling. Here, you can imagine Ferrari's founder himself, in his favourite spot, sitting in front of the fireplace, watching the races.

For further information or to plan a visit to Cavallino, please contact your lifestyle manager.