Maintaining healthy locks isn't always easy, especially after the holiday season when your scalp and strands have been exposed to high levels of UV rays, pollution, sweat, and heat. Bring your lacklustre locks back to life with these in-salon treatments and the products to use at home. From a new and innovative heat styler that actually improves the condition of your hair while styling (yes, really!) to botox for the hair, we asked some of the world's best hair experts on how to maintain a healthy, smooth and glossy mane…
The treatments to try...
K18

This biotech hair treatment has been over a decade in the making – if you're looking to repair damaged locks, look no further. The patented molecular breakthrough is clinically proven to reverse hair damage by up to 91% in one salon treatment. Each time we heat style, colour or chemically treat our hair, it weakens and breaks down the keratin bonds, causing loss of elasticity, frizz, dry- and dull-ness.
'You can either have K18 as a pre-service which is a mist applied to damp hair pre-colour to make the hair strong enough to withstand damaging effects of the treatment or as a mask applied after shampoo that builds the bond chains and closes the cuticle,' says Belle Cannan, Co-Founder of the luxurious Salon Sloane and ambassador for Hair Rituels by Sisley. Unlike conditioners that just coat hair strands or bonding treatments that act as temporary glues to broken bonds, the revolutionary K18Peptide™ has been created at just the right size and makeup to fit in and reconnect broken keratin chains at the inner-most layers of the hair. The result? Smooth, bouncy, soft and luscious virgin-like locks.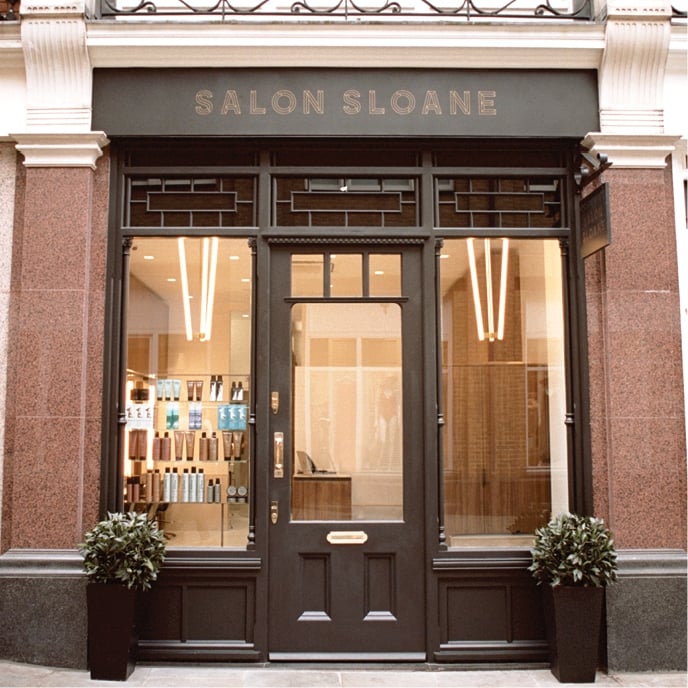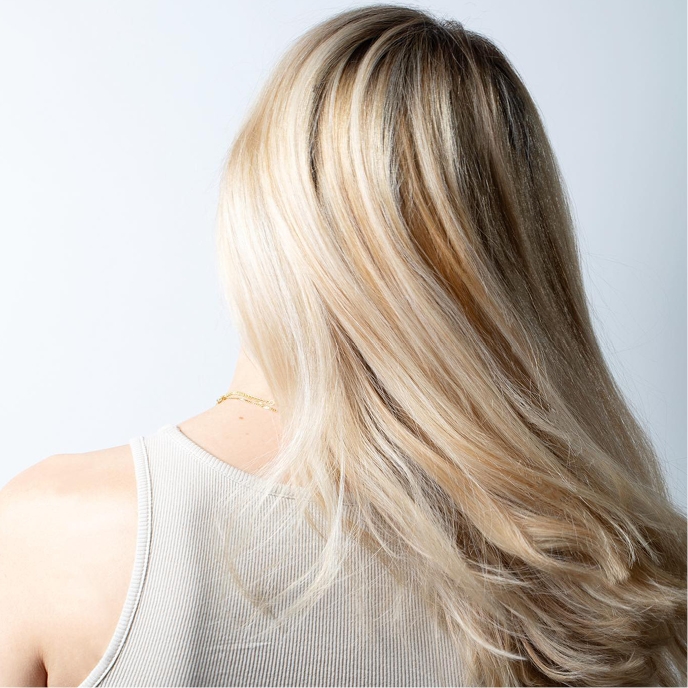 Credit: Salon Sloane
Hair Botox
You've heard of botox for the skin that smoothes out your complexion and adds a youthful, plump glow – and now you can give the same effect to your hair with Hair Botox. Turn back the clock on your locks with this super nourishing, shine-boosting non-invasive hair treatment that provides intense restoration and healing, giving your hair that glossy, glass effect for up to four months without compromising on body and movement.
'This treatment is packed with hair-loving ingredients that don't weigh the hair down, such as Hyaluronic Acid, Shea Butter, Tanin Plus and Pracaxi Oil, which all rebuild the hair structure and seal the cuticles for brilliant moisture,' says Ondine Cowley, Founder of Hair Botox in the UK and Artistic Director at Gielly Green. 'If you have frizzy, fine or curly hair, it's a great alternative to keratin treatments which can actually be more damaging due to the use of high heat and chemicals. Hair Botox, on the other hand, is applied with a shampoo and massaged in from root to tip, and washed out after an hour.'
OLAPLEX Broad Spectrum Chelating Treatment
If you're a fan of the cult favourite products from OLAPLEX, you'll be excited to hear that they're launching a new professional chelating treatment (available from mid-September). Chelation is a process to remove mineral buildup from the hair and scalp, to allow hair products to become effective again. For those that love to use styling products and receive chemical treatments, this treatment is for you – remove product buildup, oil, hard water minerals, pollutants and more without stripping moisture or essential proteins from locks.
'Stylists from around the world requested a treatment like this to give a deeper clean, paired with our patented bond-building technology, to strengthen and repair hair. Plus, it provides a runway for more vibrant colour, lightening and optimal results for chemical services,' says JuE Wong, CEO at OLAPLEX. It's just as good as their original hair-rescuing treatment – in as little as 15 minutes, your head and hair will feel lighter, cleaner, softer and more manageable.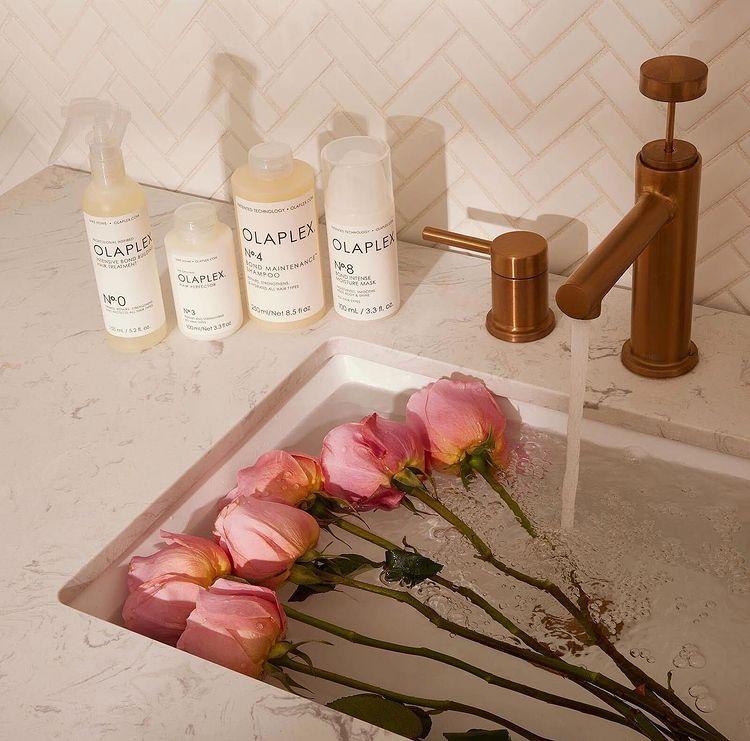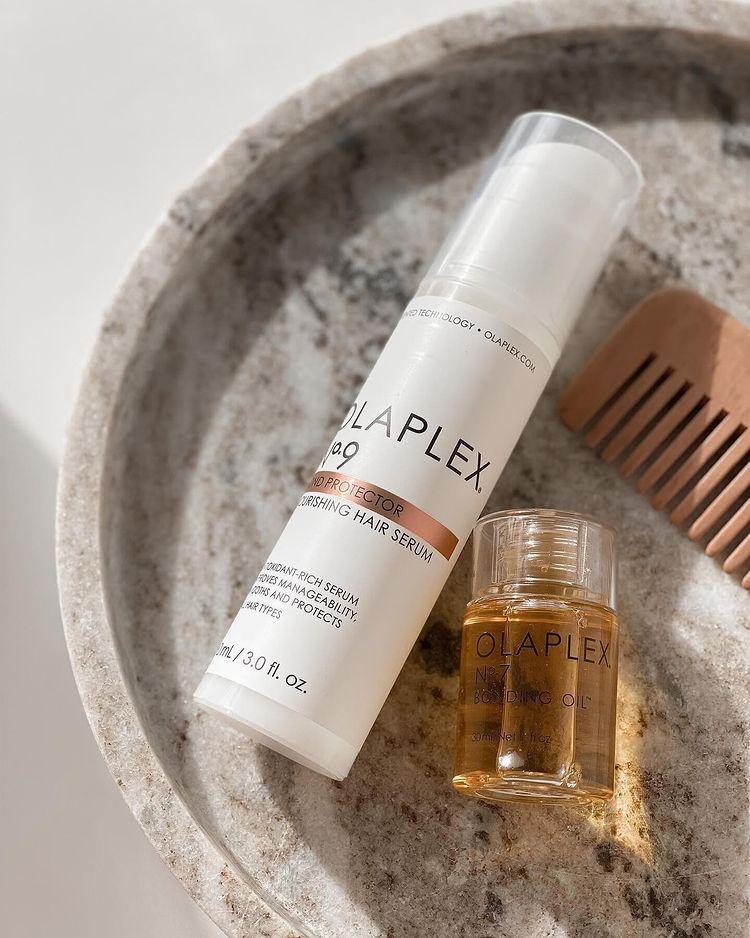 Credit: @Olaplex
Lumielina Bioprogramming Albage 27D Platinum
This is a world's first: the only hair lightener that won't damage your hair, so you can go blonde without the bleach. Forget the damaging agents and toners that leave your locks feeling frazzled and dry – hailing from Japan, Lumielina has created the revolutionary Bioprogramming, a unique technology that not only gives you incredible, natural colour – but restores and conditions the hair while doing so. 'Having a hair colour that doesn't damage your hair strands is a real game changer,' says Andrea Henty, Co-Founder of BOMANE salon in Los Angeles. 'Your hair will feel like silk afterwards and the tone of Albage lifts to the most beautiful, natural blonde. You still get the best results without the downside,' says Henty.
Philip Kingsley Hair Repair Spa Treatment
Great hair starts with your scalp. And at Philip Kingsley, their Hair Repair Spa Treatment starts there; a consultation with one of their expert trichologists examines the hair and scalp and determines your goals and concerns. From looking at scalp conditions such as dandruff or oiliness to discussing your current hair routine. Their holistic treatment continues with an indulgent and bespoke routine of a scalp mask, the brand's cult Elasticised to boost moisture, elasticity and shine, followed by a steam, relaxing scalp massage and a blow dry. To maintain your new regime, you'll leave their clinic with restored, glossy locks and a detailed at-home care plan.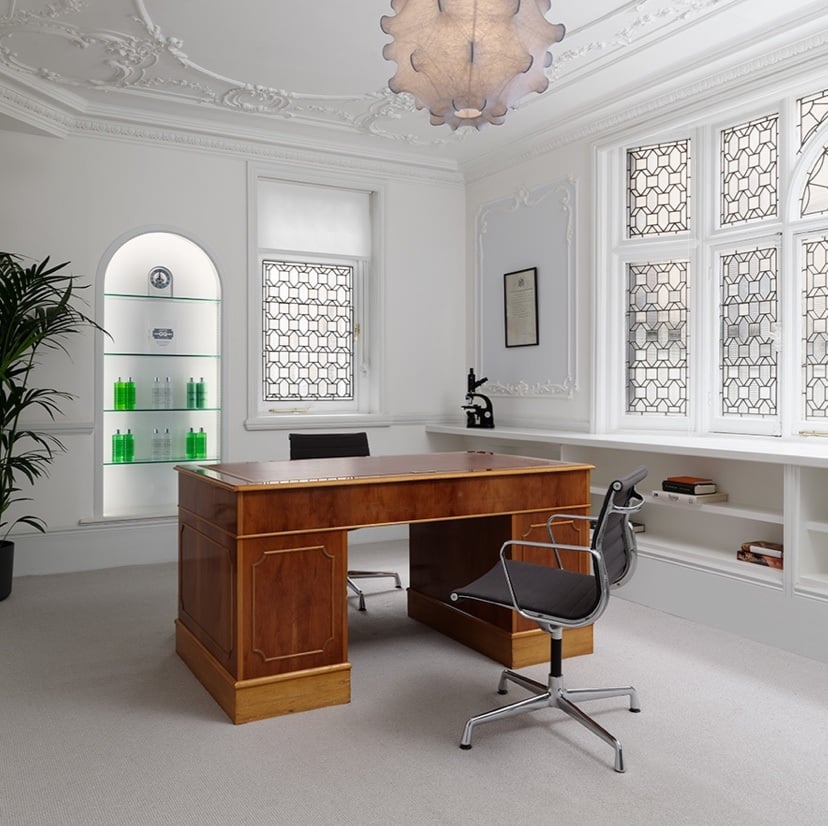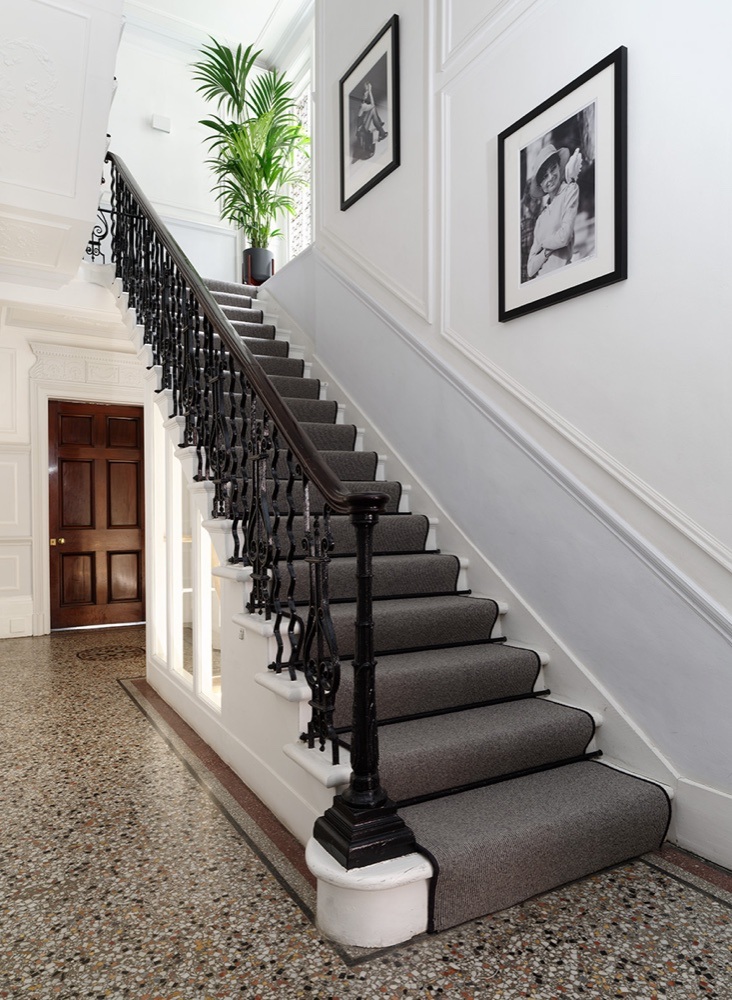 Credit: Philipkinglsey.com
The products to use at home...
Sam McKnight Deeper Love Intense Conditioning Mask
Legendary hairstylist Sam McKnight is adding his impressive hair styling range with care products. Our favourite? The intensely hydrating and nourishing treatment mask that transforms brings dry and dull locks back to life. It's packed full of strengthening and repairing ingredients, including RepHair, a ceramide-like molecule that reinforces the hair fibres, and Crodabond, which seals damaged hair cuticles and seals split ends. Plus, the scent is a bespoke blend of fine fragrances created by luxury perfumer Lyn Harris, the nose behind much-loved British fragrance brand Miller Harris.
Vegamour GRO Revitalizing Shampoo
If you're looking for a new shampoo to revive damaged locks and bring back body, softness and shine, look no further than Vegamour's GRO Revitalising Shampoo. It's formulated with their unique photo-actives blend of Karmatin™, a microencapsulated vegan b-silk™ protein, wild harvested marula and baobab oils to leave you with thicker, fuller and longer-looking hair. Unlike traditional keratin, this patented blend remains attached to your strands even after rinsing, allowing it to repair and protect your locks long after shampooing. It's safe for colour-treated hair, packed with toxin-free ingredients and scented with a fresh bergamot blend. For best results (we're talking a big, beautiful and bouncy swish), pair it with their GRO Revitalising Conditioner.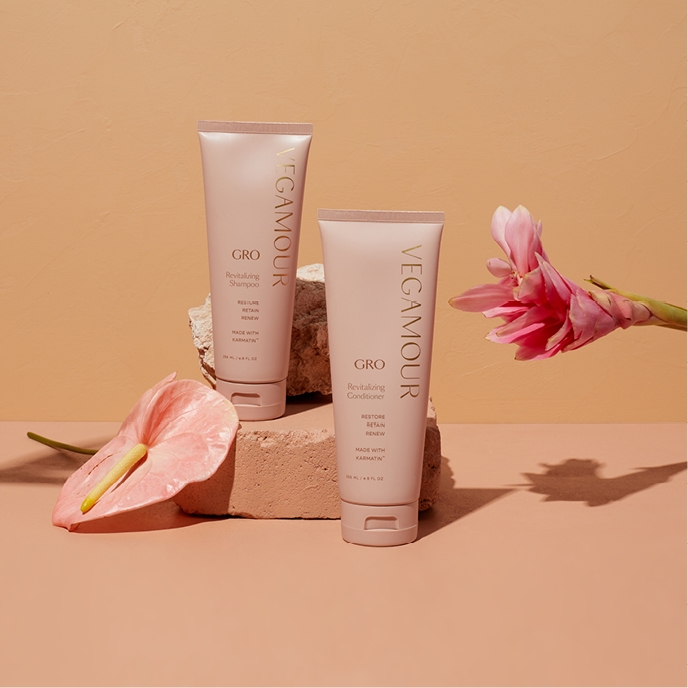 Credit: Vegamour.com
Lumielina Bioprogramming Hairbeauron
Love the glass hair look? It sounds too good to be true – but the Bioprogramming devices actually heal and add shine to the hair while they heat style. Created by the masterminds behind Albage, mentioned above, this innovative tool gives long-lasting curls and gloss without damage. 'I only use these devices on my clients,' says Henty. 'My clients demand the best, and being able to style your hair with heat and have it actually improve the condition of your hair is priceless.' The Hairbeauron Curl (available in Long or Short, depending on your hair length) adds shine and moisture to your hair while you style (yes, you can even clamp the hair for 30 seconds at 360 F, and it won't burn), and the more you use the tool, the smoother and silkier your hair will get. You'll find the same gloss-giving effects with their Hairbeauron Straight and hair-drying Repronizer.
Dr Barbara Sturm Scalp Serum
For those concerned with scalp health – whether dry, flakey or irritated, Dr Barbara Sturm's Scalp Serum revitalises and boosts overall scalp health. It's infused with Hyaluronic Acid to hydrate deeply, Algin and Papaya Extract to restore the scalp's moisture balance, Purslane to protect the skin against irritation and environmental damage and a special ingredient from the Indian Kino Tree that acts as an intensive anti-ageing treatment for the scalp. Use it in your hair ritual by giving yourself a scalp massage to stimulate hair growth and re-nourish your scalp.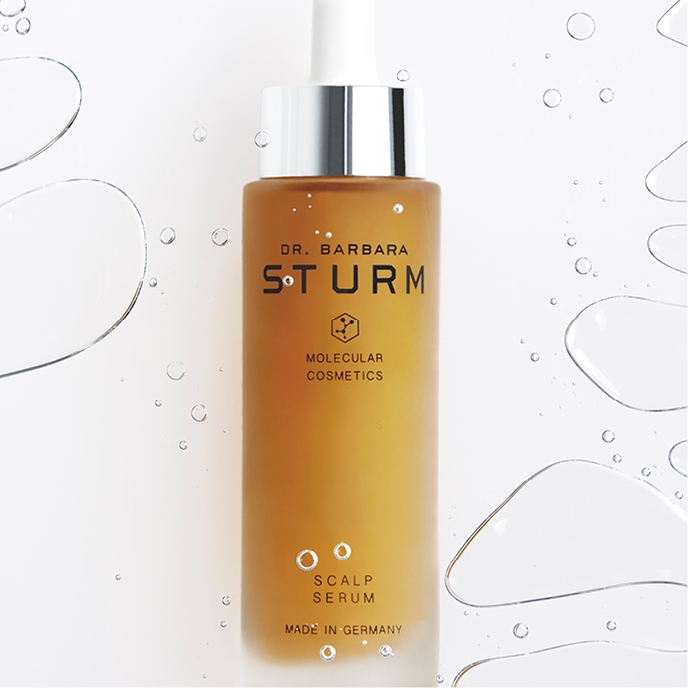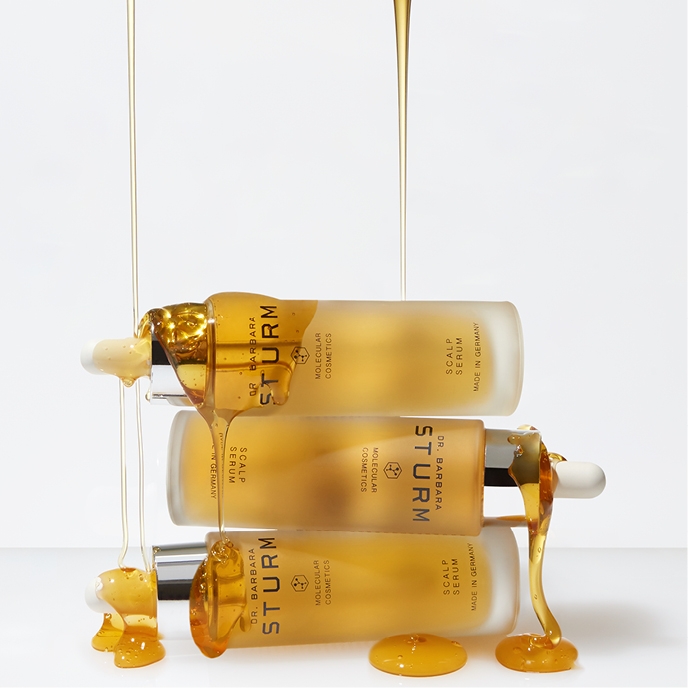 Dr Barbara Sturm Scalp Serum
OLIVEREWILSON Hair Microneedler
If over-styling, chemical treatments and colouring has caused hair loss, OLIVEREWILSON's Hair Microneedler is here to help. Using the same technology as skin microneedlers, this nifty tool stimulates and strengthens hair follicles to minimise hair loss, and increase blood circulation and collagen production in the scalp. For best results, combine it with a hair growth serum (Monpure's Follicle Boost Hair Density Serum does not disappoint) to see incredible results.
Gisou Honey Infused Hair Oil
No hair regime is complete without a luxurious hair oil, and this one adds that finishing touch for healthy-looking locks. Founded by content creator Negin Mirsalehi (who always gives us the most hair envy), the oil's core ingredient, honey, is harvested from her family's bee garden. As a natural humectant, honey maintains the hair's moisture balance and smooths hair follicles, adding shine to lacklustre locks. Use this multi-tasking oil as a pre-styling or finishing product, or for a deeper, intensive hair treatment, use it as an overnight treatment – once rinsed out, you're left with super soft and bouncy hair.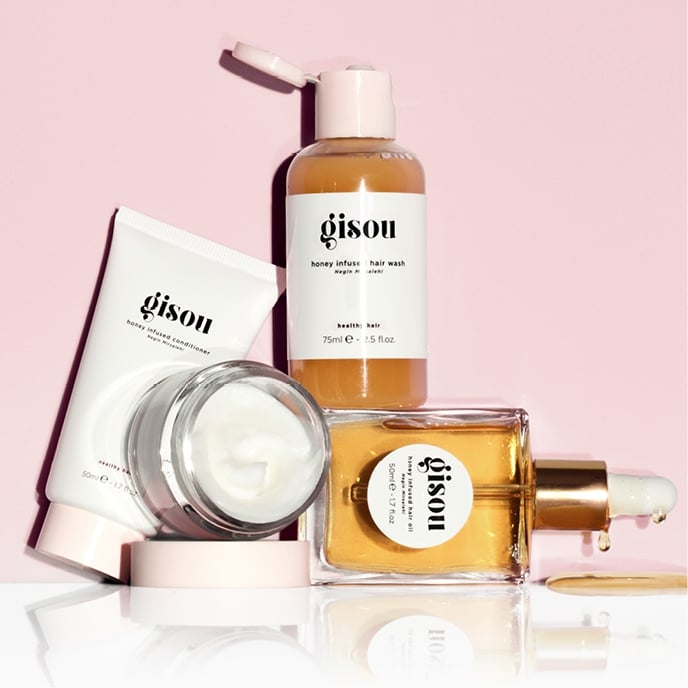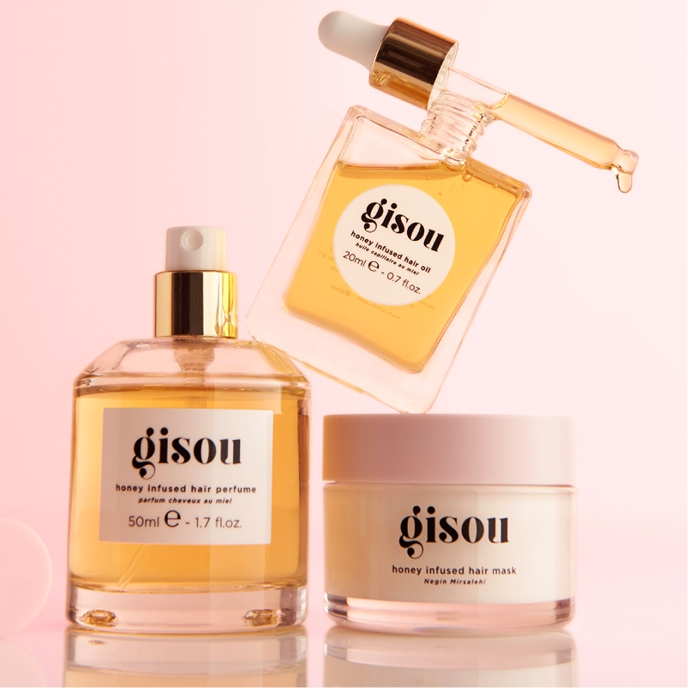 Gisou Honey Infused Hair Oil
Imagine breezing into one of the world's most exclusive salons for a complimentary treatment. Or sitting down for a consultation with industry-leading practitioners and experts. You'll feel your best inside and out with a Quintessentially membership – find out more here.