Menopause is inevitable. But while all women go through this stage in their life, it's surprising how little it's talked about: what it means, the symptoms of transition and its impact. While there are over 43 symptoms that can occur, from changes in mood to lack of sleep, one of the significant transitions that women experience and struggle with is their skin. We delve deep into how menopause affects the complexion, what you can do to combat these symptoms and some recommended products to help get your glow back.
What are menopause and perimenopause?
It's commonly known as 'second puberty,' 'The Change,' or – as we prefer – 'The Second Spring' in China; technically, menopause is defined as the end of menstruation when a period hasn't occurred in 12 consecutive months. It's a process that happens due to a decline in the female reproductive hormones (oestrogen, progesterone and testosterone). The former two drop quickly, whereas the latter decreases more slowly, causing an imbalance that triggers many unwelcome symptoms, some of which affect the skin.
Perimenopause is the transition period leading up to menopause, where similar symptoms of dry and itchy skin, hot flushes, acne and rosacea can all flare up.
What exactly happens to our hormones?
Our primary female hormone, oestrogen, is the main player in soft, plump and luminous skin. It increases our natural hyaluronic acid production and hydration levels, giving us silkier hair and smoother skin. During perimenopause and menopause, the skin might feel more dry and dull due to the drop in collagen and elastin production, resulting in more fine lines and wrinkles. Plus, as the skin's natural cell turnover slows down and the skin barrier becomes weaker, dry skin and itchiness can occur, and there's a higher risk of sun damage.
Progesterone (also known as the PMS hormone) is at its peak during reproductive years. It's the hormone that creates the perfect home for an egg to grow and increases collagen and elastin production. The downside? It can increase oiliness in the skin, causing breakouts and rosacea. When we have low levels of progesterone and a slower decline of testosterone (the primary male hormone essential for contributing to women's libido and development of new blood cells), we might experience brittle skin, hair loss, hot flushes, vaginal dryness and night sweats.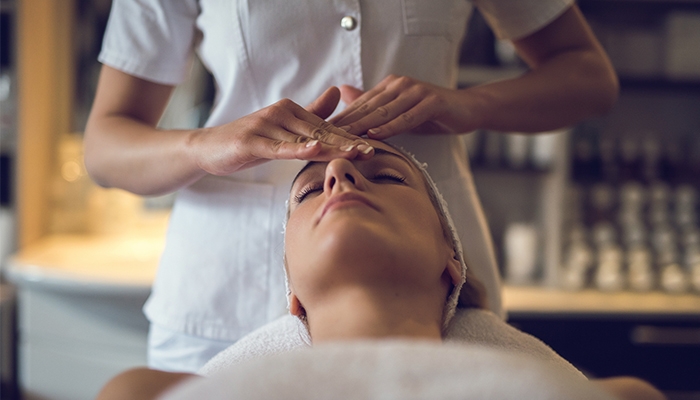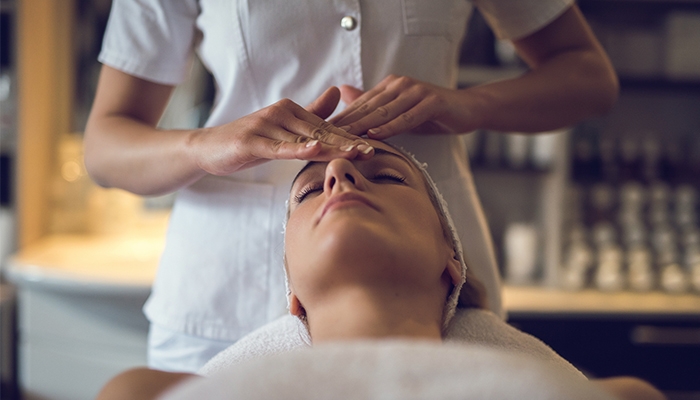 Facial treatment
A London facialist's three top skin tips for menopausal skin are...
Menopause and perimenopause can be daunting experiences when it comes to dealing with the myriad of symptoms. However, in recent years, we've seen more beauty brands and in-clinic treatments that cater to the needs of 50-plus skin. We asked Kate Kerr, one of London's top clinical facialists, how to approach healthy skin if you're going through menopause.
Have regular facials
It might sound obvious, but regular facials will help prevent and alleviate skin-related symptoms of menopause. 'I recommend a facial targeted for menopausal skin, like my Clinical Perimenopause & Menopause Facial,' says Kerr. 'This facial minimises the impact of hormonal changes by stimulating the skin while addressing any symptoms already there, such as acne, fine lines, dryness and hyperpigmentation.' Look for facials that intend to activate collagen and elastin production, soften fine lines and wrinkles, regulate oil production, repair cell damage, and, most importantly, increase the skin's natural hydration levels.
Consider aesthetic treatments
'Advanced treatments might be necessary to improve skin damage and support the skin's natural ageing process, but it can also treat hyperpigmentation, acne and rosacea – all of which are common symptoms of menopause,' advises Kerr. Some to consider include microneedling, a process that tricks the skin into repairing itself – in turn, evening skin texture, reducing pore size and reducing acne scars. For those who experience a duller complexion with crepe-y skin, Venus Radio Frequency delivers energy deep within the skin via multipolar radio frequency and pulsed electromagnetic fields to tighten and lift the skin.
Have regular mole checks
'Thanks to a decrease in both progesterone and oestrogen, there's a higher risk of developing skin concerns, so a mole check is never to go amiss,' says Kerr. 'When checking your moles, look for the signs of early melanoma, and always consult a medical professional to have mole mapping carried out if you notice anything suspicious.'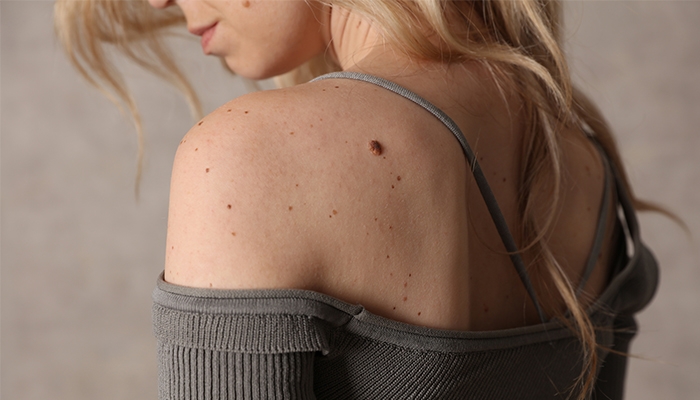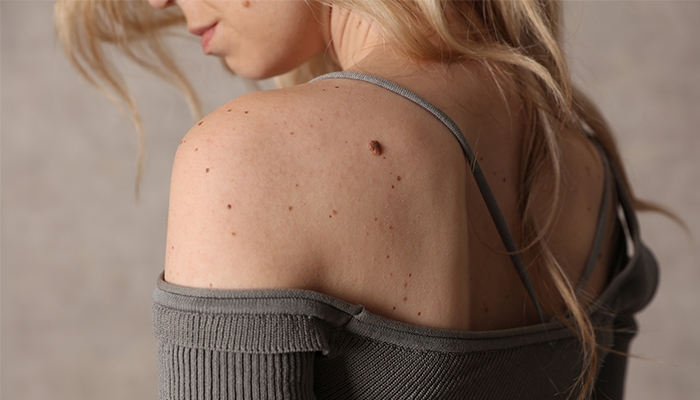 Have regular mole checks
Your menopause skincare and wellness survival kit
Chanel Le Lift Pro Concentré Contours
Increase the skin's natural hydration levels with this silky serum from Chanel. Fortified by a blend of powerful active ingredients, this tightening serum not only provides an immediate lifting effect, but the infusion of two forms of hyaluronic acid helps with long-lasting hydration. Designed for facial massage, when used with their Le Lift Pro Massaging Tool (which has the perfect shape to define facial contours), you're left with plumper, resculpted and softer skin.
Launching October 14th 2022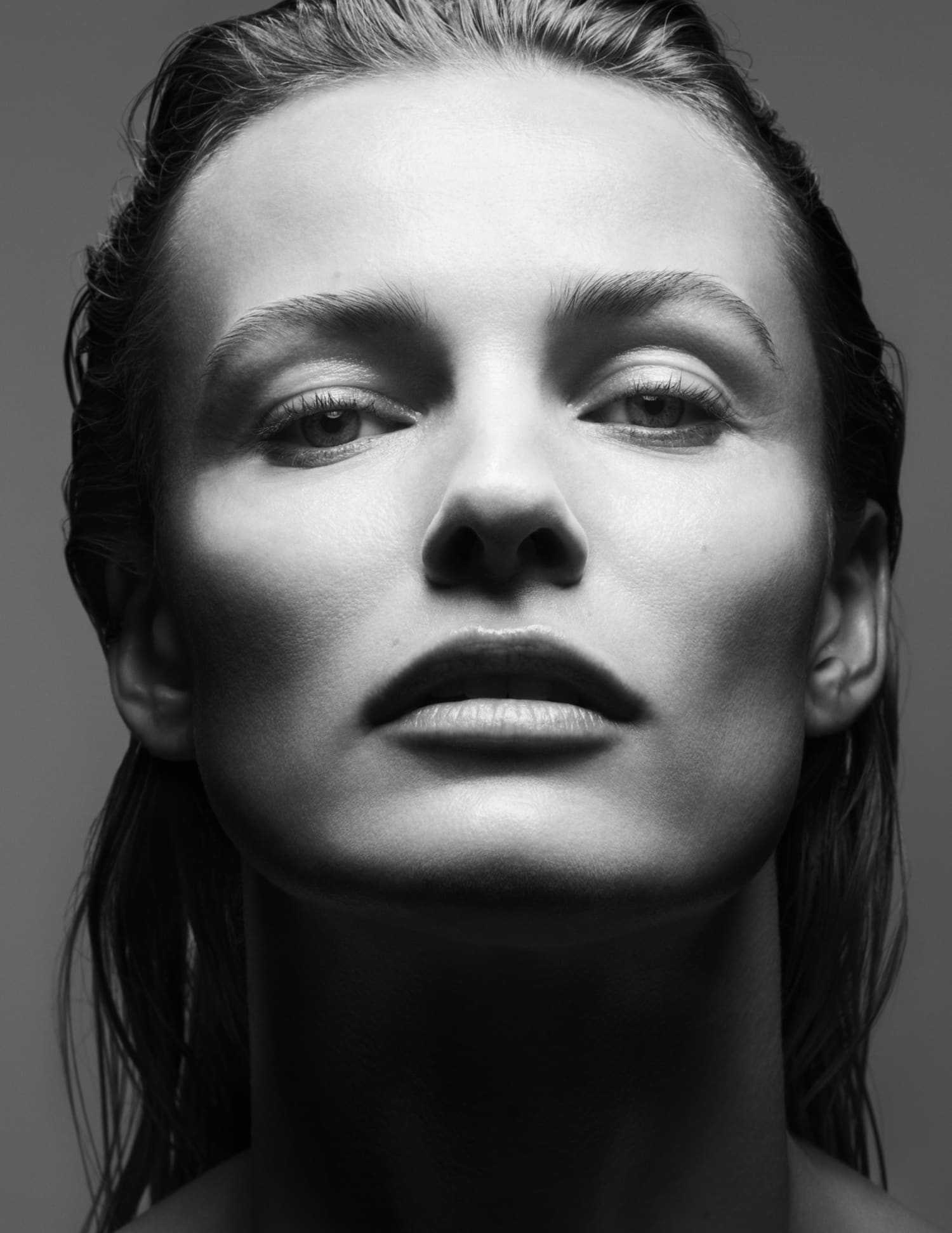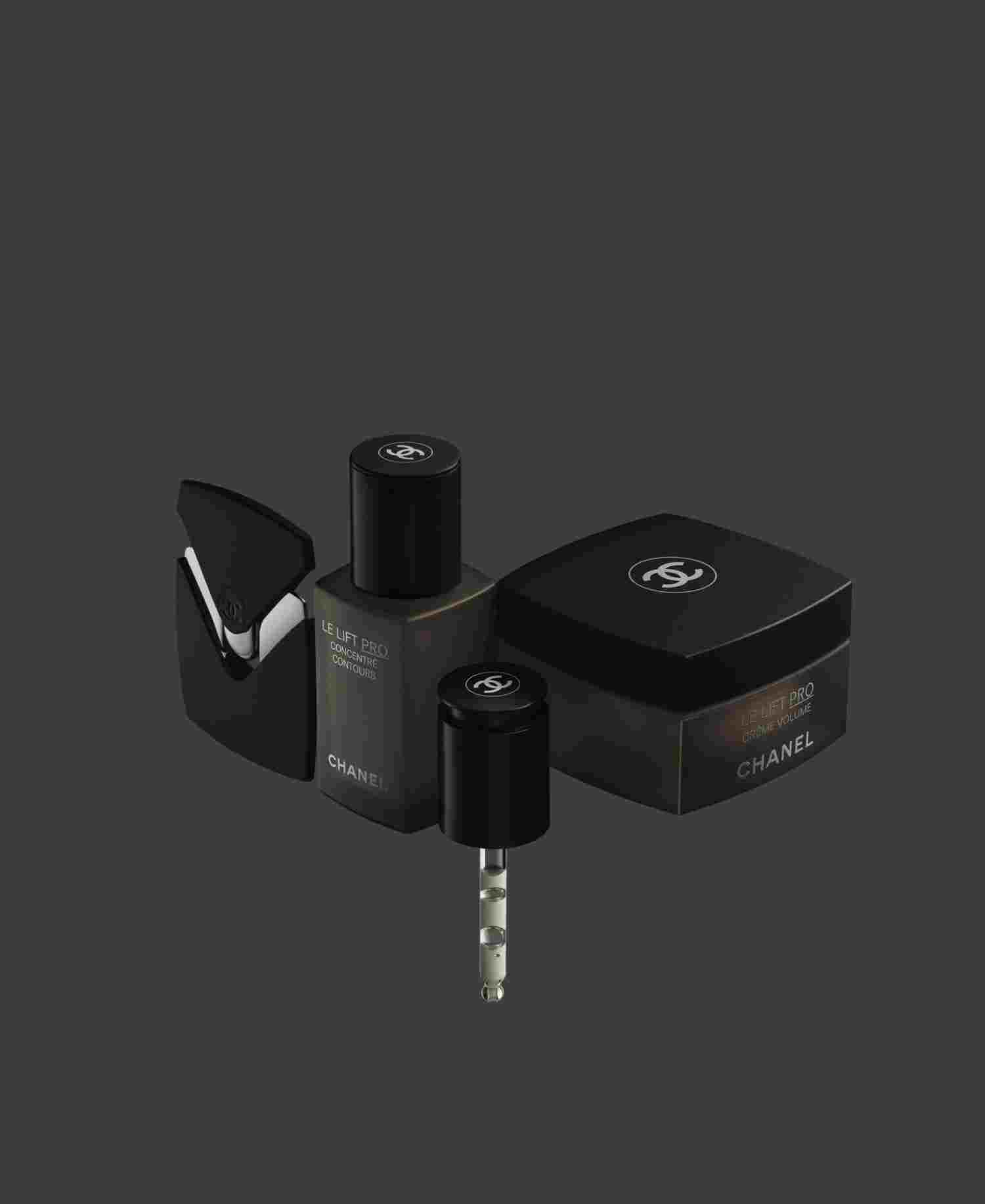 Chanel Le Lift Pro Concentré Contours. Credit: Chanel
MPowder Peri-Boost
For those experiencing their first bout of symptoms in their perimenopause stage, this all-natural and vegan supplement powder will help alleviate some of these effects, from haywire hormones to skin losing its spring. It features a complete vitamin complex and incredible ingredients, including organic flax seeds to metabolise oestrogen, ginger to aid with digestion and regulate blood sugar, organic figs to promote bone health and energy levels, and Dracobelle Nu™ – a unique beauty booster that's been clinically proven to optimise moisture, enhance elasticity and maintain skin's density.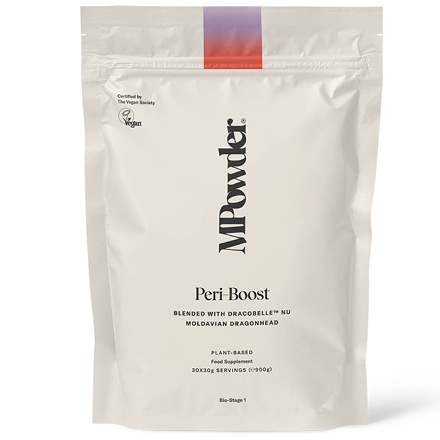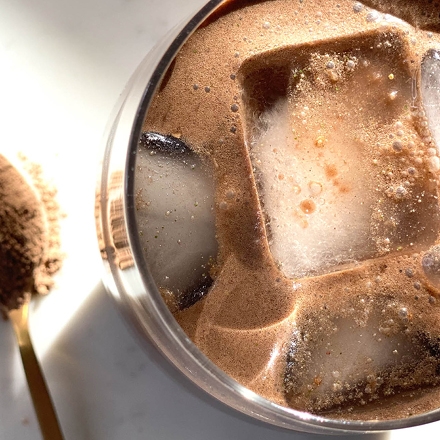 MPowder Peri-Boost. Credit Mpowder
Medik8 Ultimate Recovery Bio-Cellulose Mask
A personal favourite of Kate Kerr, who recommends this to her 50-plus clients, this cooling, hydrating and calming mask is a skin saviour for dry and irritated skin. It's enriched with hyaluronic acid to boost moisture and Zinc PCA, a moisturising molecule that leaves skin smoother and softer, reducing sebum levels to repair sore and dry skin. Plus, these masks are great for soothing your skin during downtime if you've had any of the above aesthetic treatments. The bio-cellulose material creates an impenetrable veil to lock in the super serum, giving incredible skin results.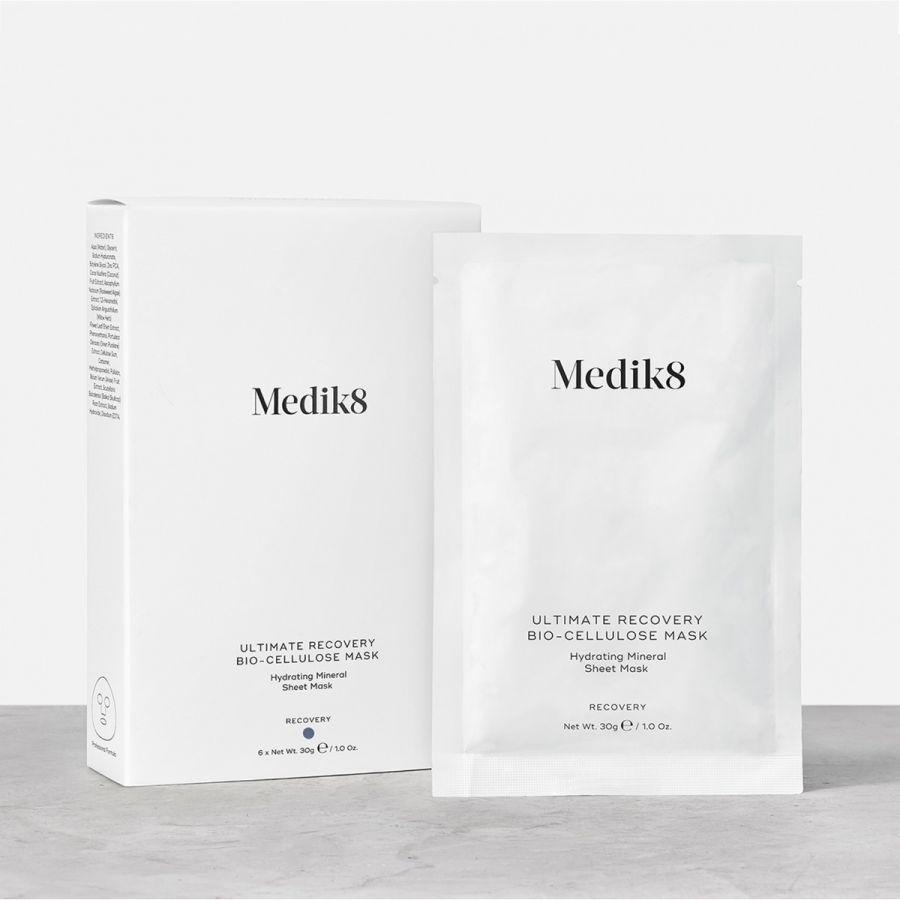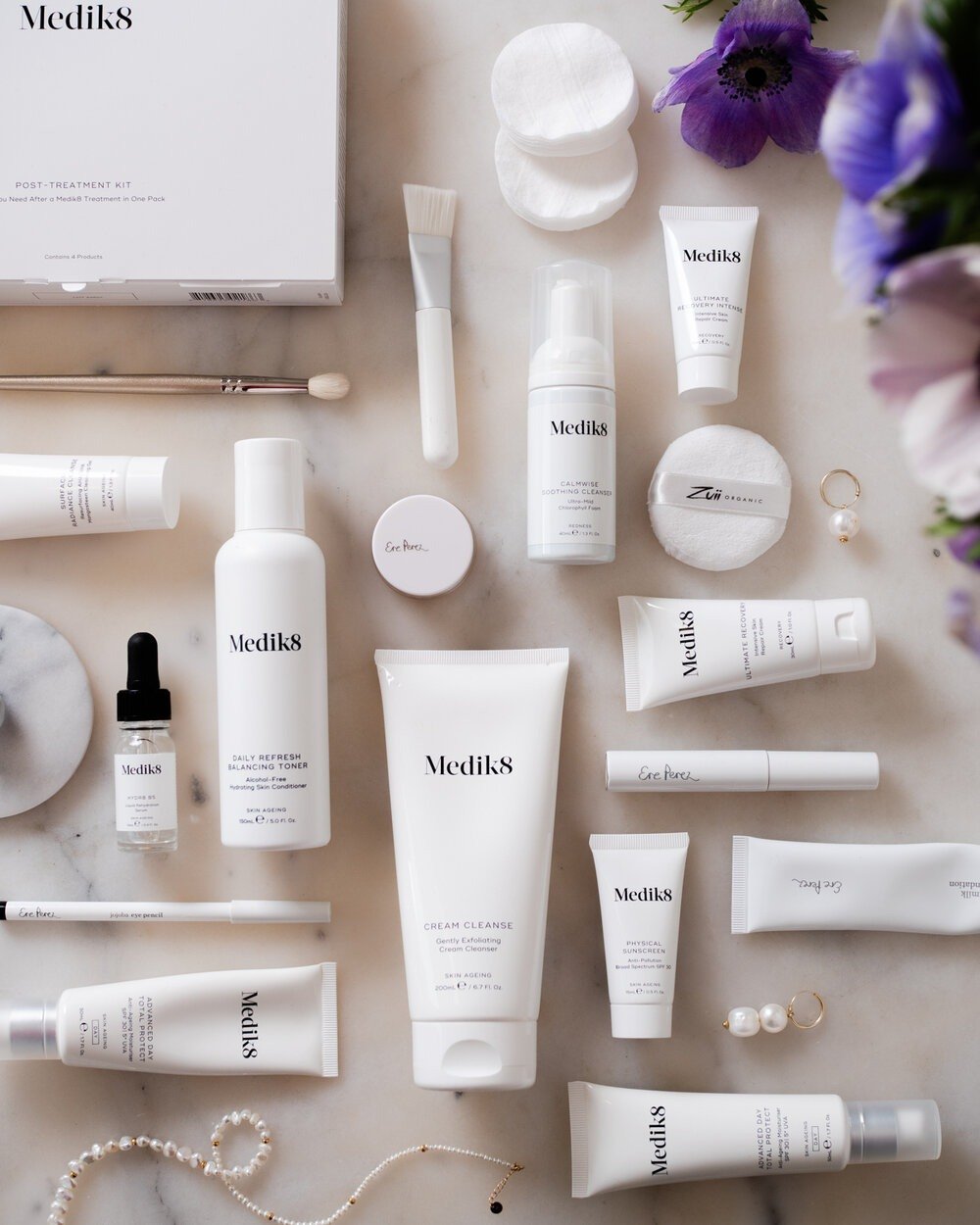 Medik8 Ultimate Recovery Bio-Cellulose Mask. Credit Medik8
La Roche-Posay Toleriane Ultra 8 Soothing Spray
A calming face mist by your bedside could be the saviour you need for alleviating symptoms of night sweats and hot flushes. A quick spritz of this French pharmacy cult favourite instantly soothes and refreshes the skin with its hypoallergenic formula of thermal spring water, glycerin and allantoin. Each ingredient has anti-inflammatory properties to comfort the skin while providing intense hydration. A top tip? Keep it in the fridge during the day for an extra cool mist.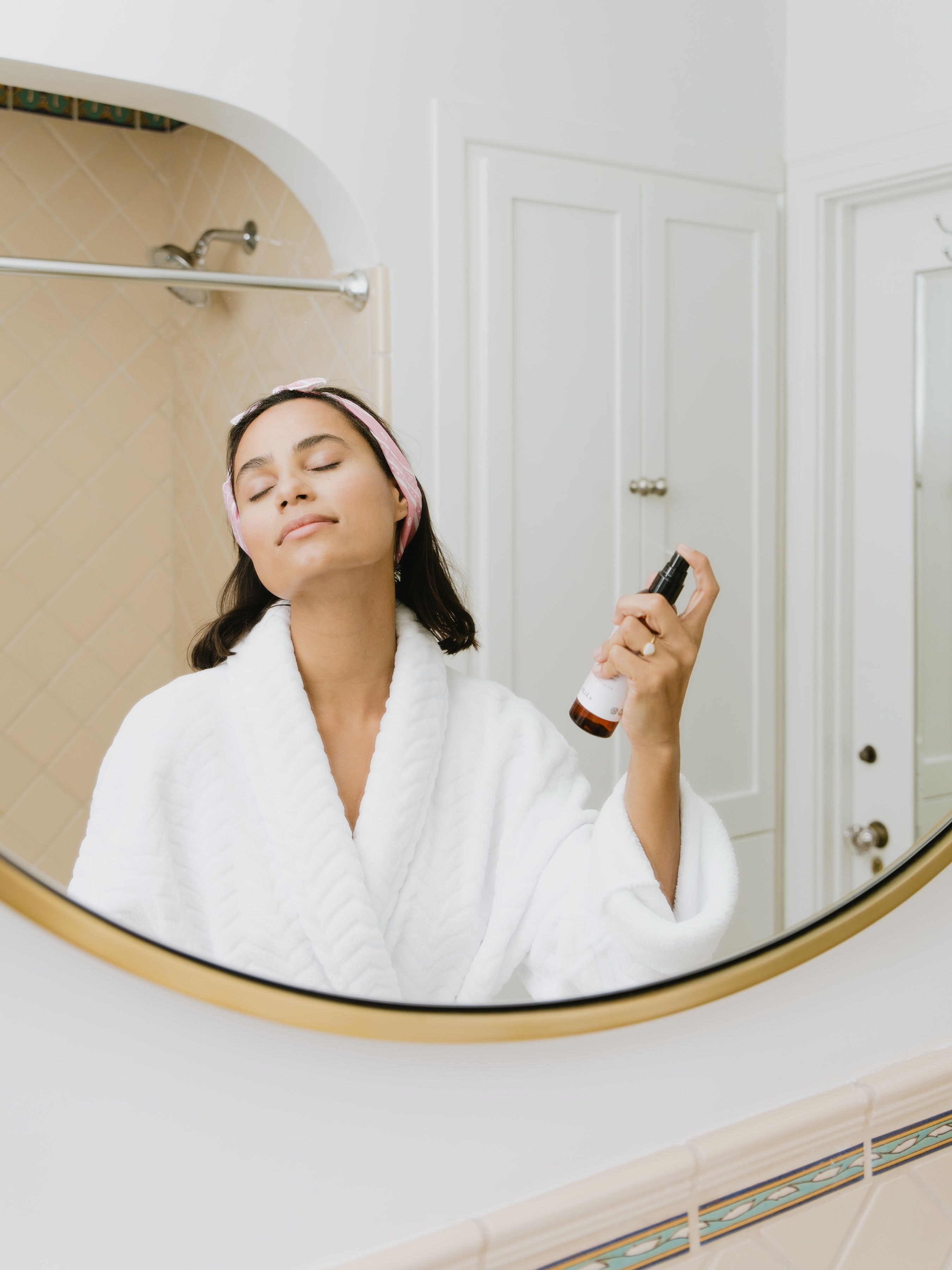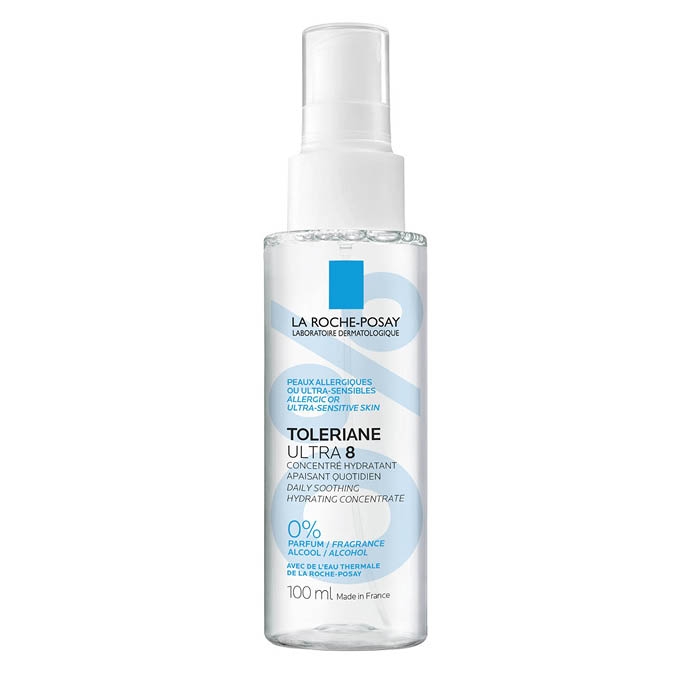 La Roche-Posay Toleriane Ultra 8 Soothing Spray. Credit: Caroline Hirons
U Beauty The Super Body Hydrator
Using a special technology that carries mega-hydrating ingredients (a complex blend of moisturising humectants, barrier-boosting emollients and skin-strengthening peptides) to dry and distressed skin, this lightweight yet nourishing body lotion transforms dull and cracked limbs to youthful glory. What's unique about this body cream is that it doesn't just smooth and soften the skin's surface; it drenches the skin beyond the surface layer to deeper layers of the epidermis, so you're left with healthier and more hydrated skin from within.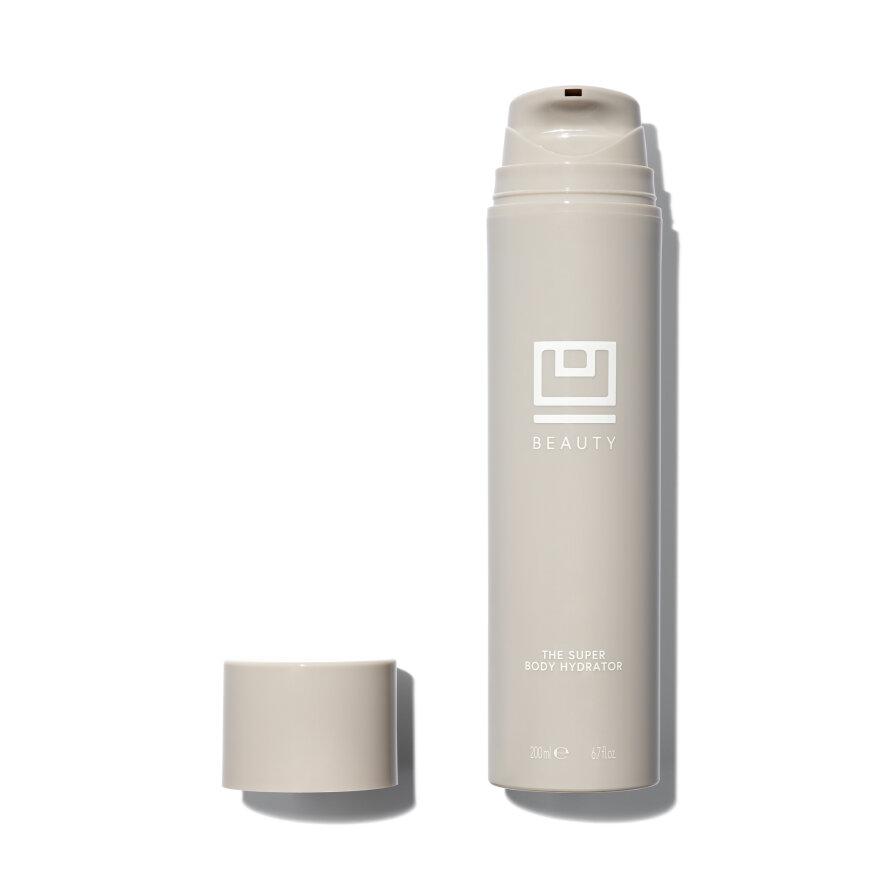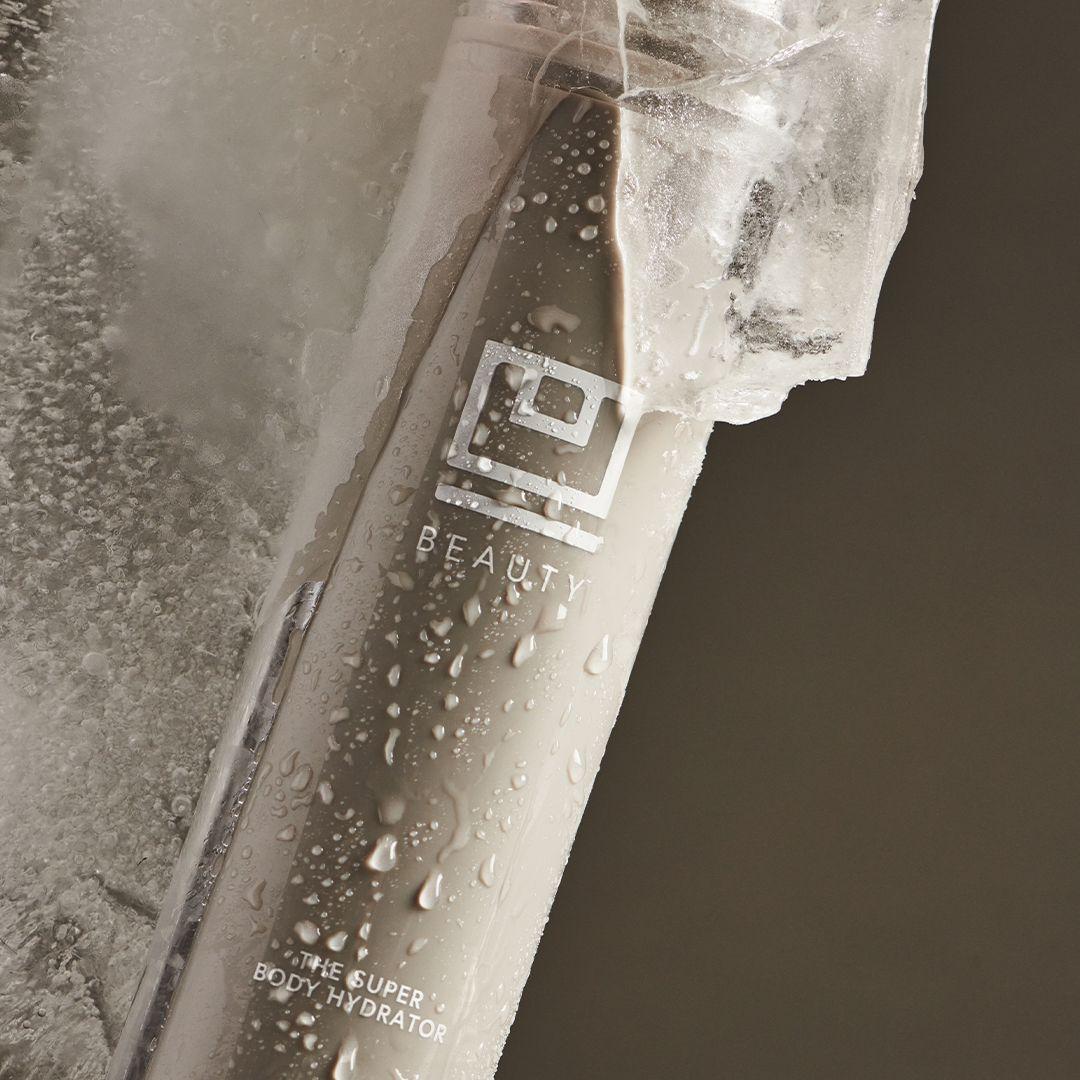 U Beauty The Super Body Hydrator. Credit: Theu Beauty
Dr Barbara Sturm Menopause Skin Set
For the complete luxurious menopause skin regime, look no further than Dr Barbara Sturm's six-piece comprehensive skincare set that has everything you need to look after yourself from tip to toe. It includes six of her incredible products that will help to boost depleted moisture levels, soothe irritation and prevent the onset of hyperpigmentation: Calming Serum heroes purslane to reduce visible signs of irritation and rebalance dry or itchy skin, Super Anti-Aging Face Cream has a plumping effect on wrinkles thanks to hyaluronic acid and meadow knotweed extract, Sun Drops SPF50 provides protection for your skin that's more susceptible to damage from UV rays due to a weakened skin barrier, Hyaluronic Face Mist gives an immediate boost of moisture and relief for hot flushes, V Wash has a blend of pre and probiotics to support microflora in the intimate area and alleviate symptoms of vaginal dryness, and finally, the Skin Super Anti-Aging Supplements are packed full of anti-ageing ingredients such as zinc, selenium, purslane, Q10 and glutathione to promote a healthier complexion.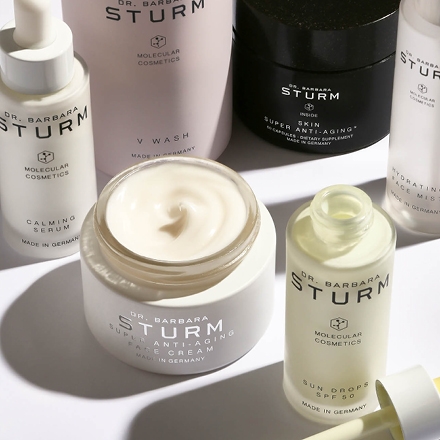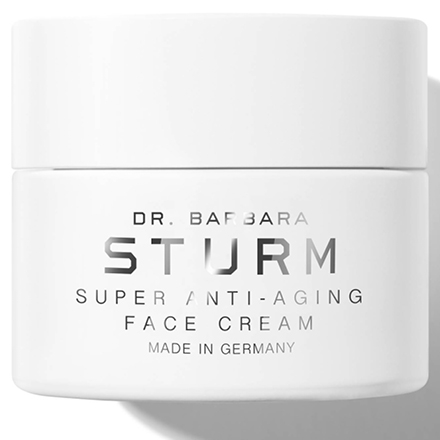 Menopause Skin Set Dr.Barbara Sturm. Credit: Drsturm
For more information, please contact your lifestyle manager and our personal shopping team.