Even if you can't or won't take the long route to Cuba, you will find happiness in the Canary Islands. Las Palmas, the capital of Gran Canaria, truly resembles Havana's most beautiful dimensions.
Just half an hour from the old town, surrounded by majestic royal palm trees, a historic hotel gem beckons. The Santa Catalina, in the style of a magnificent Caribbean building, is unique in Europe. Built in 1890 under British direction, it was designed by local artist Néstor de la Torre with expressive Art Nouveau interiors. To this day, cigar connoisseurs around the world consider it an Eldorado.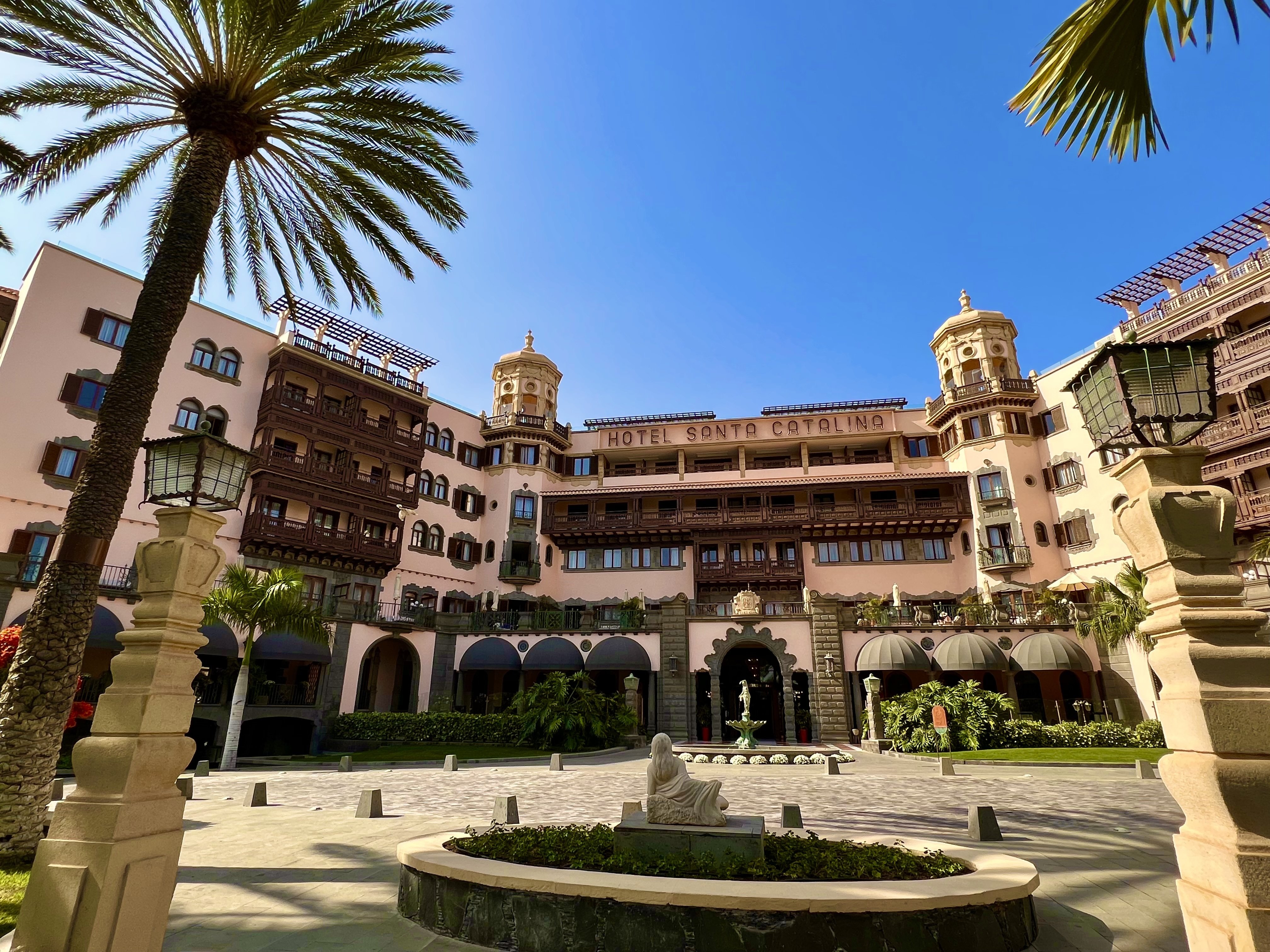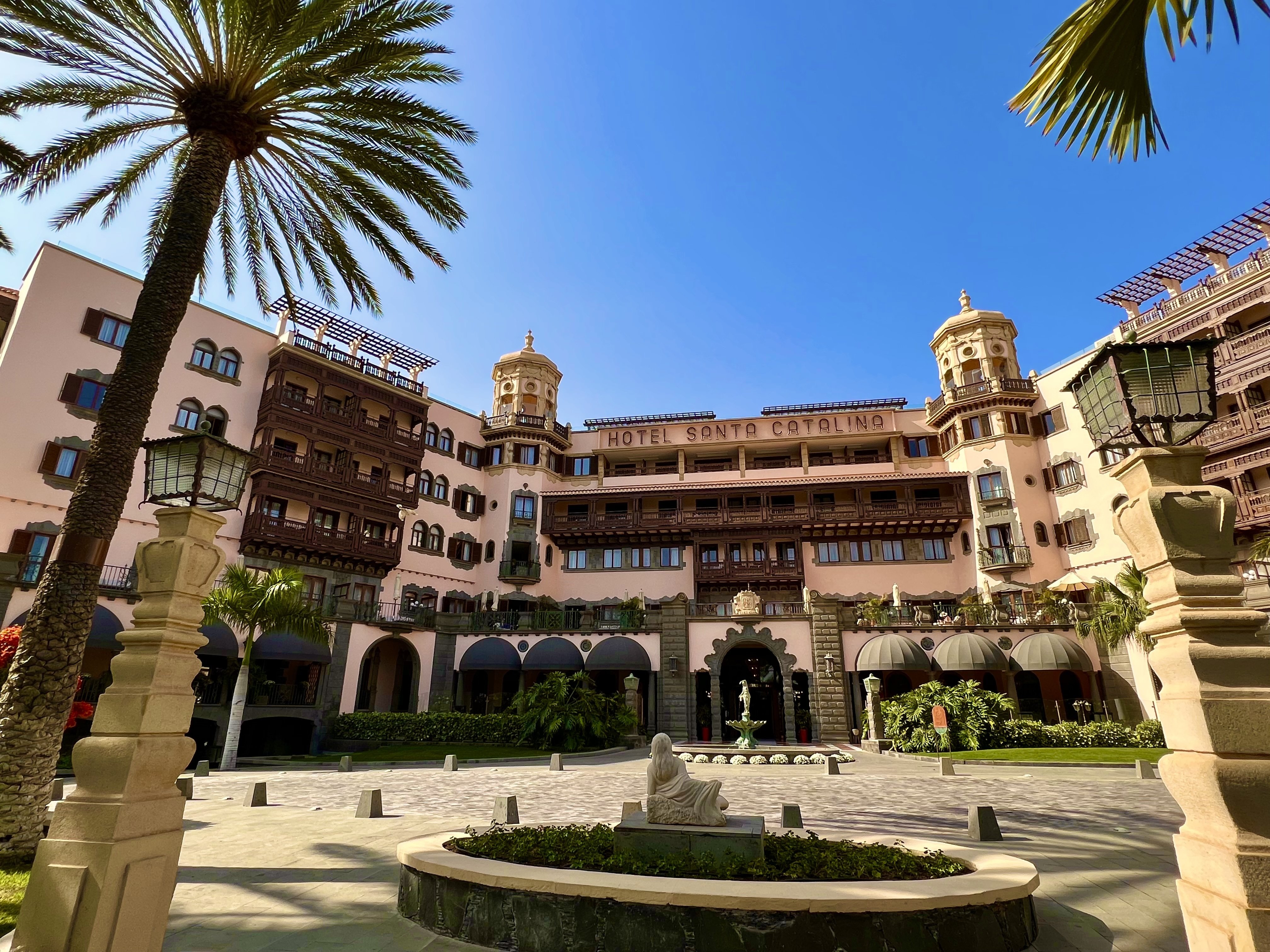 Hotel Santa Catalina
It is thus no surprise that none other than Winston Churchill passionately smoked his long brown ones here in the magnificent salon beneath Murano crystal chandeliers. The illustrious list of famous guests also includes American film legends such as Gregory Peck and Ava Gardner.
An elegant welcoming
In Gran Canaria's most traditional hotel, today's aficionados sit between the colonial porticos in the elegant patio bar Doramas and enjoy the atmosphere. Overlooking the lush tropical garden, we have elected to go with a 'Romeo y Julieta Wide Churchill' this evening.
The luxury hotel's decorative facade and carved wooden balconies evoke nostalgic Cuban feelings. Who doesn't dream of a sundowner cigar on a private cigar balcony lounge that is part of a room with a sea view? Taking in the panorama of Las Palmas port and the historic centre's silhouette in all its colours is one of the high points of our trip.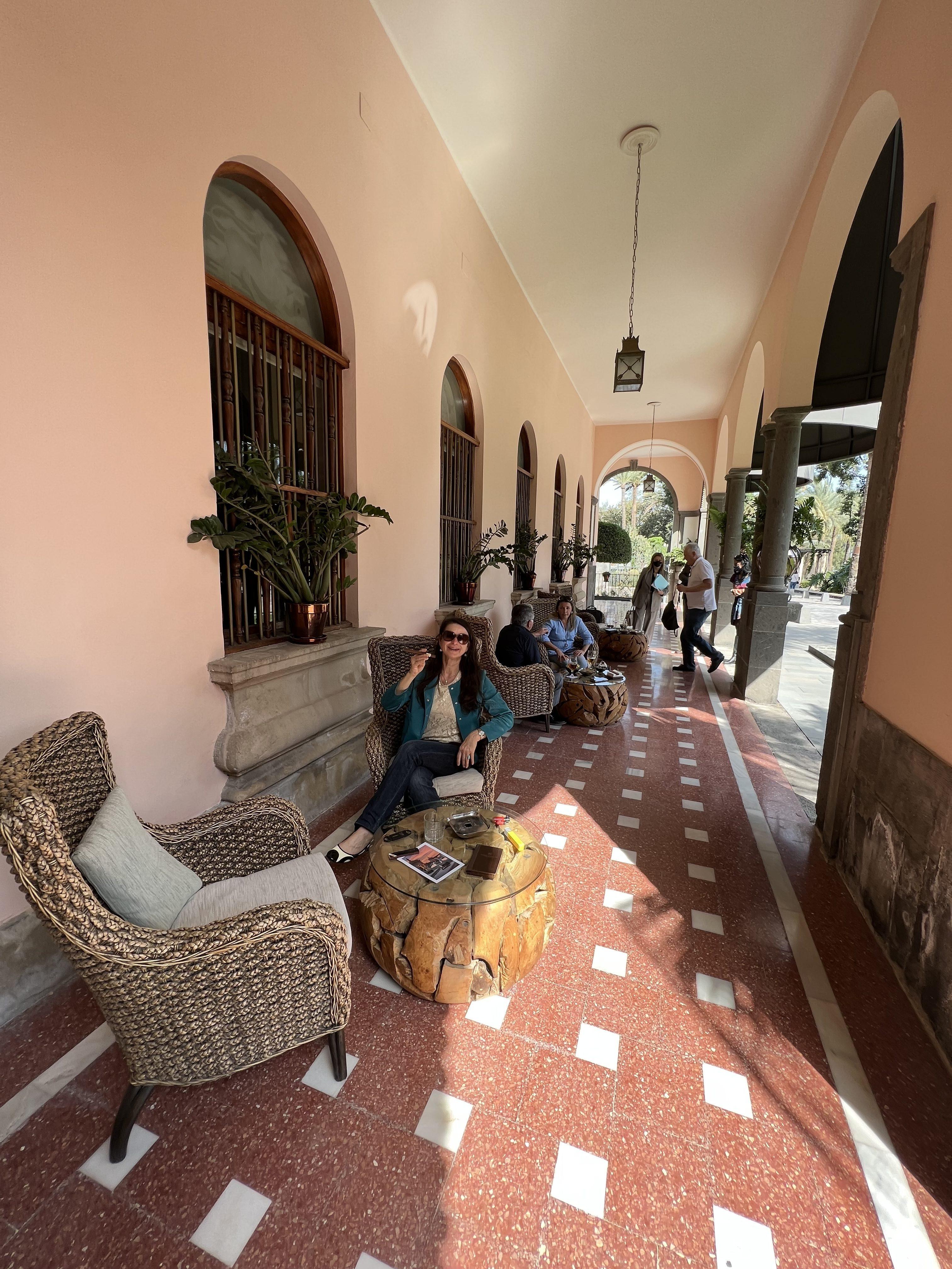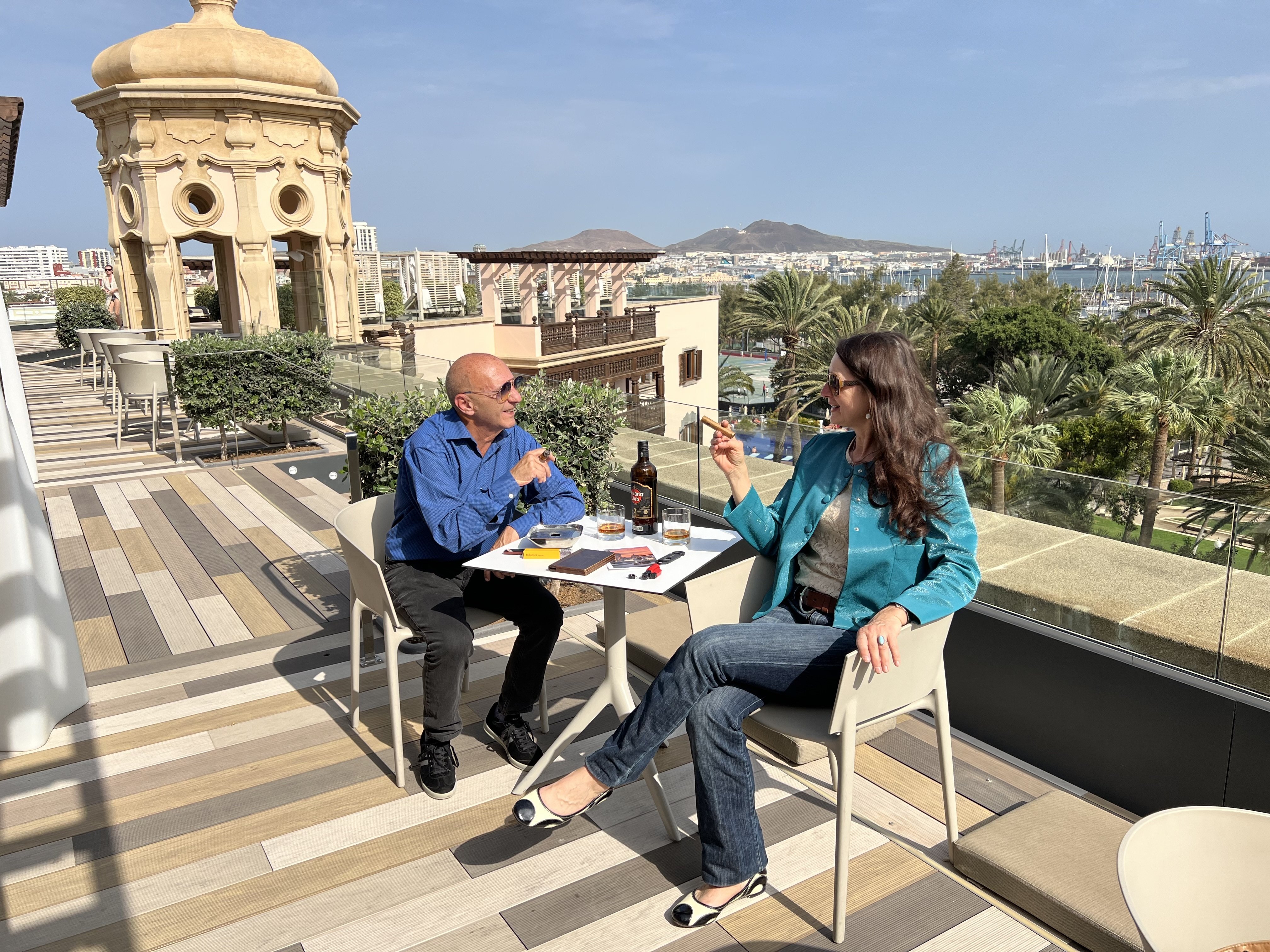 Hotel Santa Catalina patio & roof terrace
An exquisite dinner in the hotel restaurant, Bodeguita del Medio – named after Hemingway's legendary bar in Havana – leaves us utterly convinced: here on Gran Canaria, you will experience a Cuban revival appealing to all the senses and delighting gourmets.
In addition, the Santa Catalina Royal Hideaway Hotel, part of the Spanish Barceló Group, sits close to the sea. We decided to stay there because it has several trump cards for tobacco connoisseurs. On the exclusive roof terrace, designed with a romantic pavilion in the neoclassical confectionary style, aficionados are pleasantly surprised by a wonderful refuge. One early evening, we meet a group of cheerful seniors in smart tuxedos.
They introduce themselves as members of the Gran Canaria Cigar Club. A cardiologist among them certifies that smoking in moderation gives more pleasure than risk, and his friend Dario regales a story of being a young businessman and greeting Arnold Schwarzenegger with a cigar at a sports event.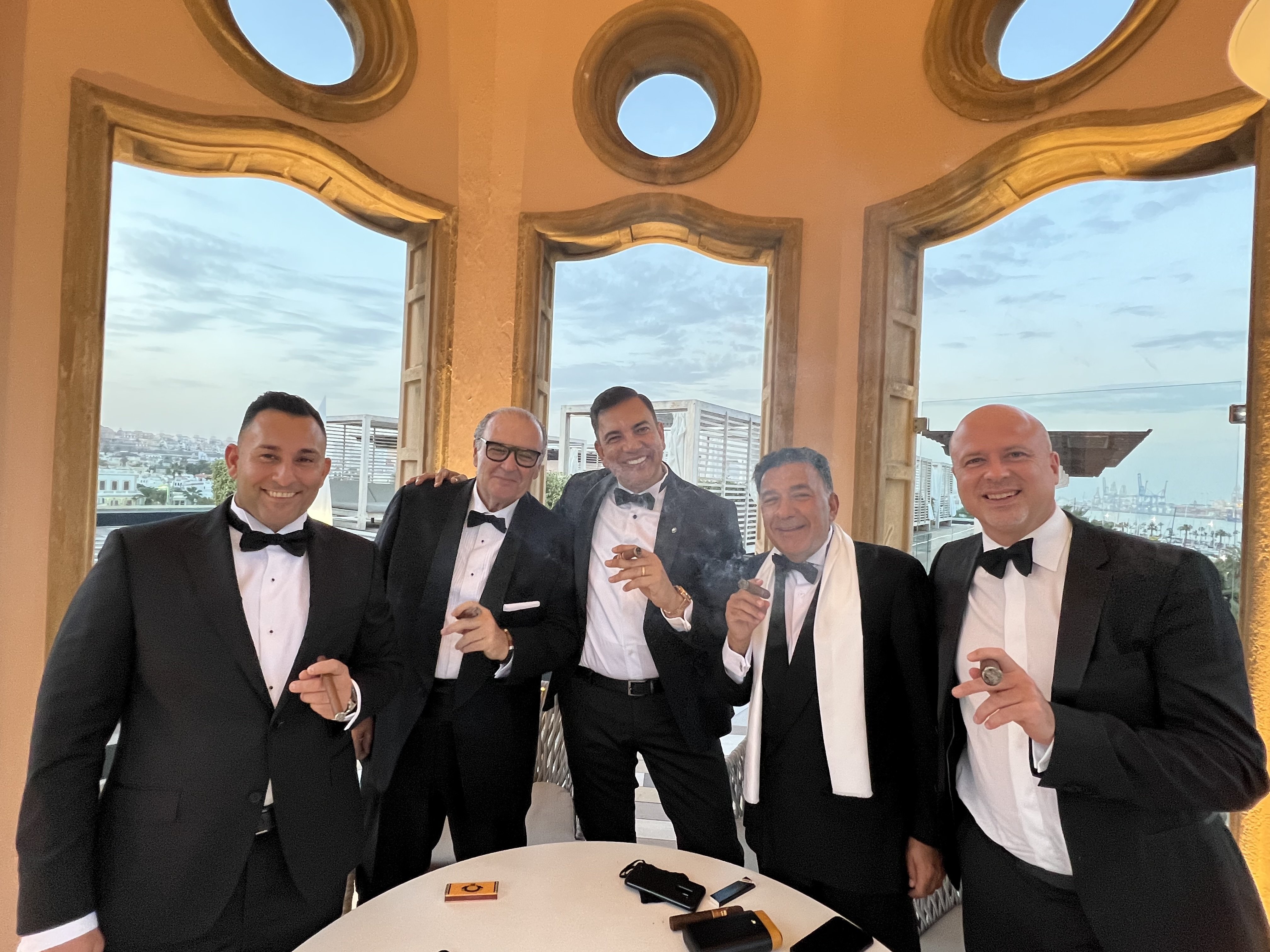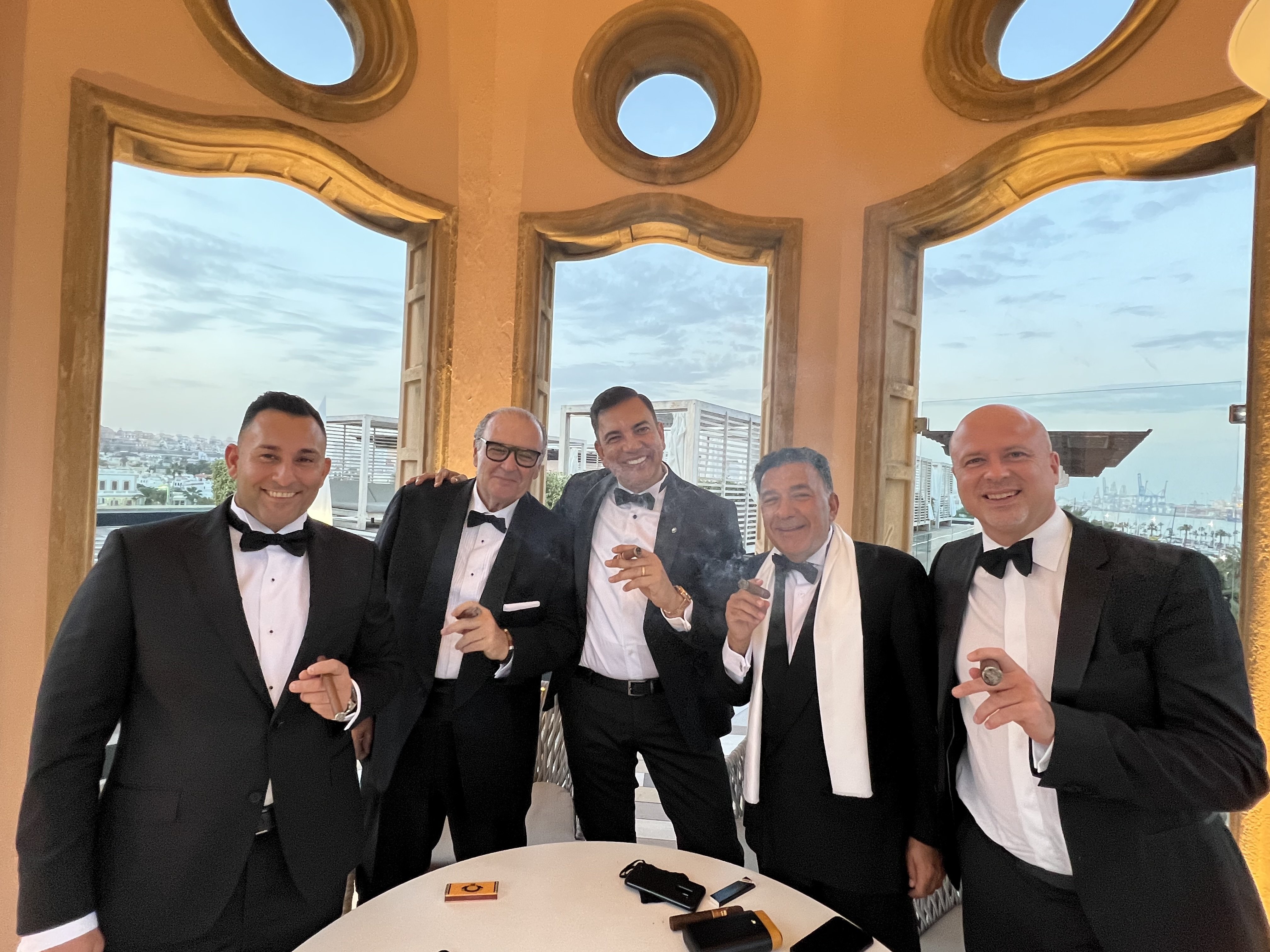 Gran Canaria Cigar Club
Anil Partap Harjani, President of the Aficionado Club, proudly shows us his list of over a hundred cigars tested. As manager of the NH Las Palmas hotel chain, he travels worldwide and doesn't mince his words when declaring the Santa Catalina one of his current favourite cigar lounges. "It already received the 2019 award as Europe's Best Historic Hotel", he says.
Spanish filming of a Cuban thriller
The Netflix Cuba-themed thriller The Mother – starring Jennifer López – is currently being filmed in Las Palmas. The reason for choosing Gran Canaria as the location for the 'Cuban' film is apparent; the Caribbean island's eclectic architecture, a mix of elements through the centuries, can just as well be found in Gran Canaria immaculately restored in a rich panoply of the most beautiful colours.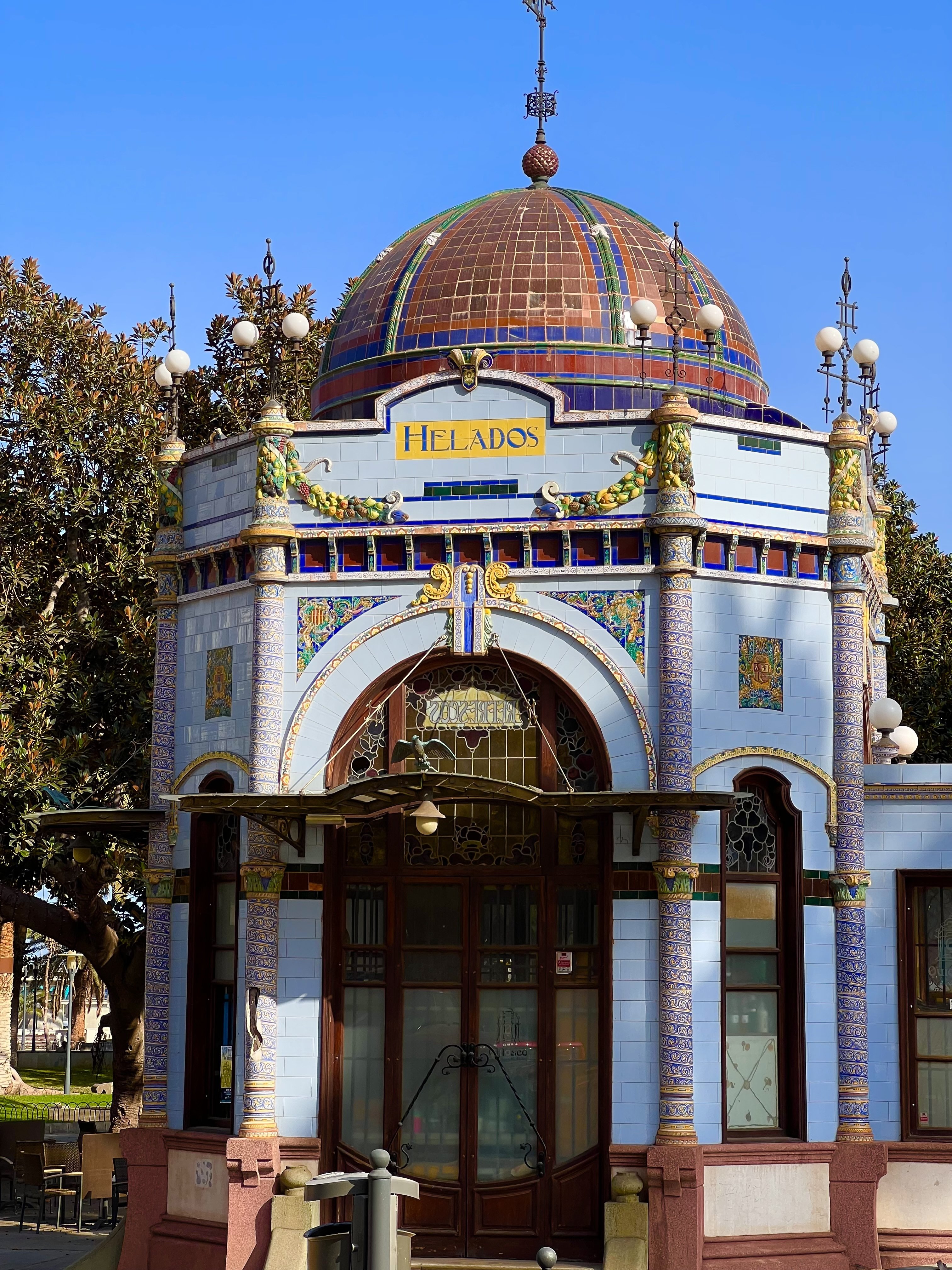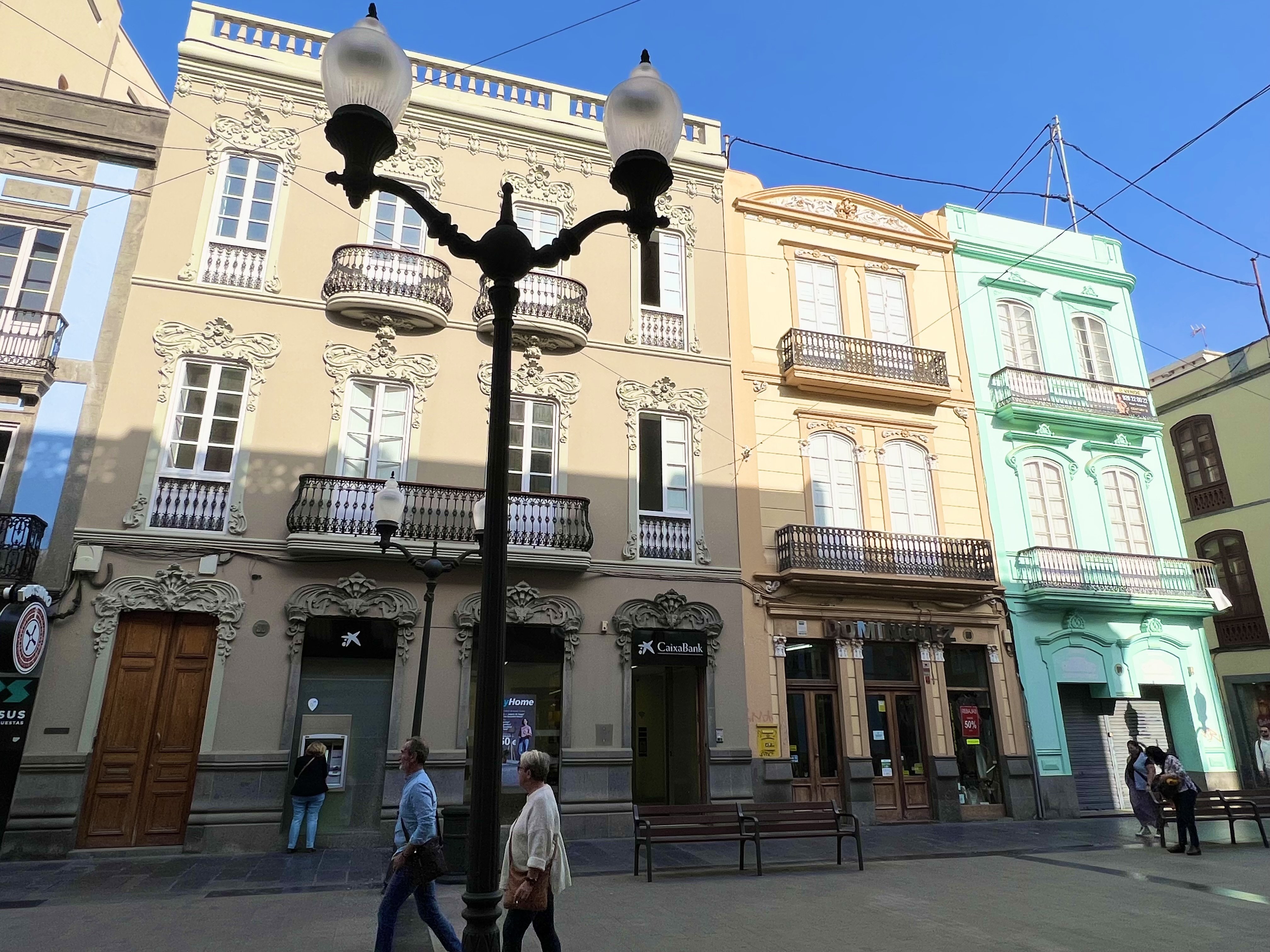 Gran Canaria
In La Vegueta, the Cuban quarter, sabre-crooked streets run to the sea just like in Old Havana and the cathedral. The historical squares and houses with pretty patios reflect Caribbean nostalgia. Don't forget to visit the Columbus Museum, located in a venerable old colonial house where the man who 'discovered' America lived during his extended stay in Gran Canaria.
Mixing old with new
In contrast, we visit the cosmopolitan district of Triana, where a stylish promenade with magnificent neoclassical buildings and elegant Art Nouveau houses invites you to stroll.
Anyone walking the boulevard along the harbour – once one of the largest in the world with New York – will come across a sign announcing the Varadero Maritime Club in memoriam Cuba. In the marine district of Muelle Deportivo, I meet Ruth, a lady from Cuba who runs the beautiful Barlovento cocktail bar. "We have one of the largest Cuban communities in Spain here", she explains. "Hence the references to Cuba everywhere. Many of my compatriots have their roots in the Canary Islands. During the 19th century, they emigrated from the poorest backgrounds to gain some prosperity in the Cuban tobacco and sugar industry".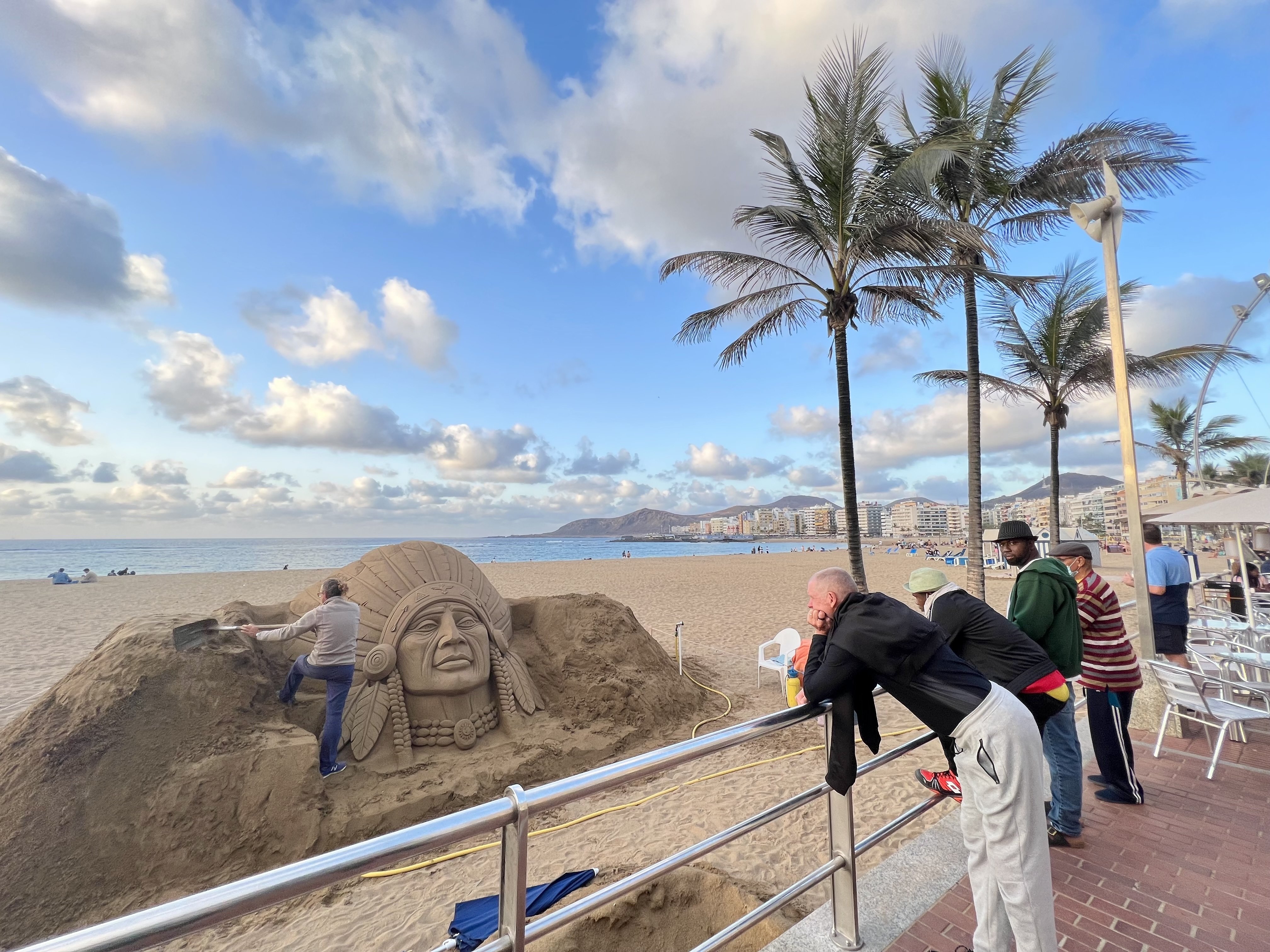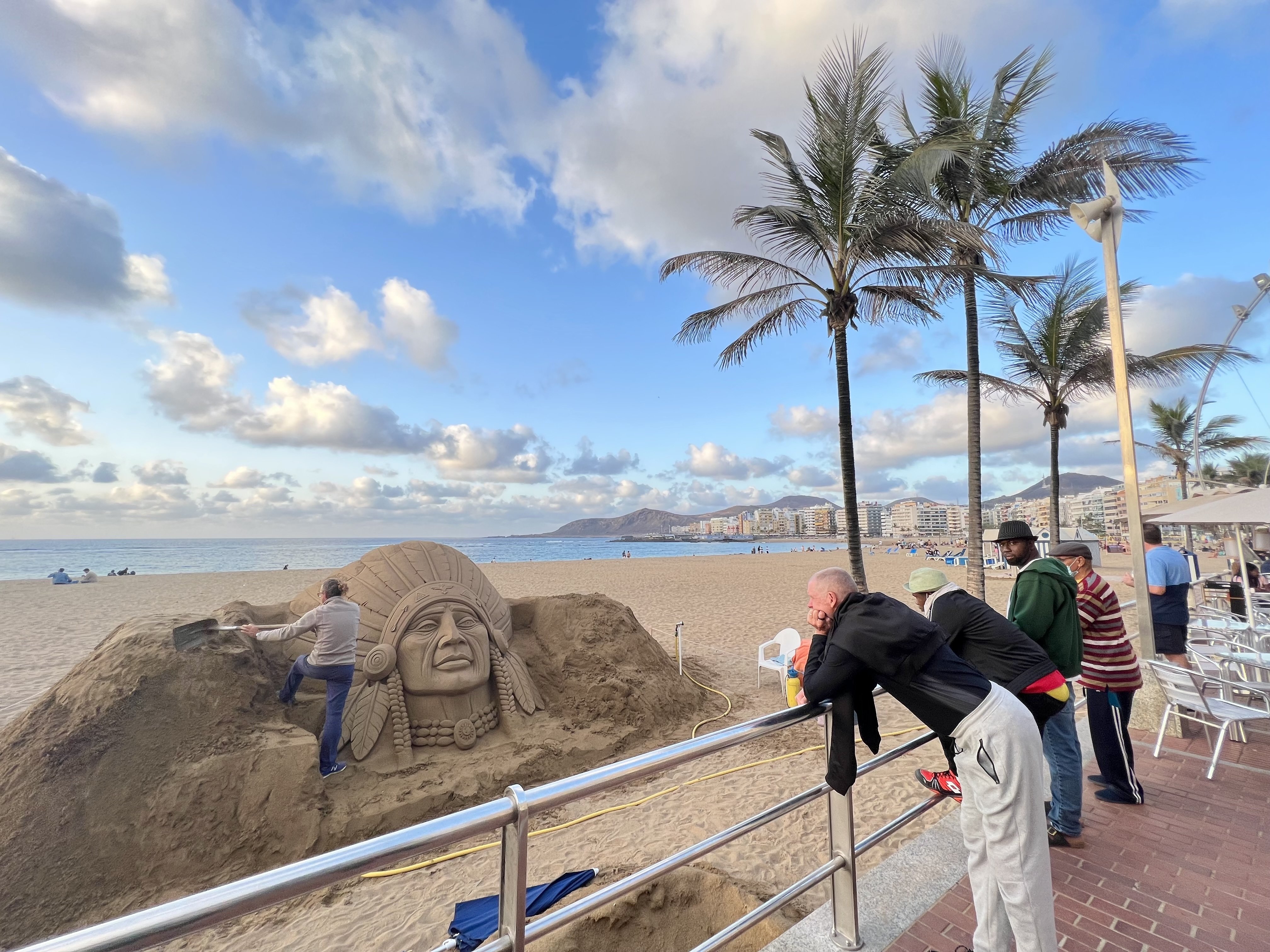 Las Palmas
Cigars & sunbathing
On a small peninsula, we find the former fishing district of La Isleta with many small shops and pubs. The most beautiful tobacco shop in Las Palmas can also be found here. Visiting El Rincón del Fumador, you can combine shopping for cigars with sunbathing and swimming on the city beach of Las Canteras. A boardwalk lining the beach for more than one kilometre is just the ticket for fulfilling the most beautiful holiday dreams. On the horizon, you can see the vast container port and get a great view of the Castillo de la Luz, Gran Canaria's oldest fortress.
Young owner Olivia Padrón welcomes me to El Rincón del Fumador, the only Habanos Specialist in the Canary Islands. Her charismatic father, known as Don Jesús, comes to the shop every day even as a pensioner: "We are the only family here in the province of the capital Las Palmas with a pure tobacco shop", he proudly says.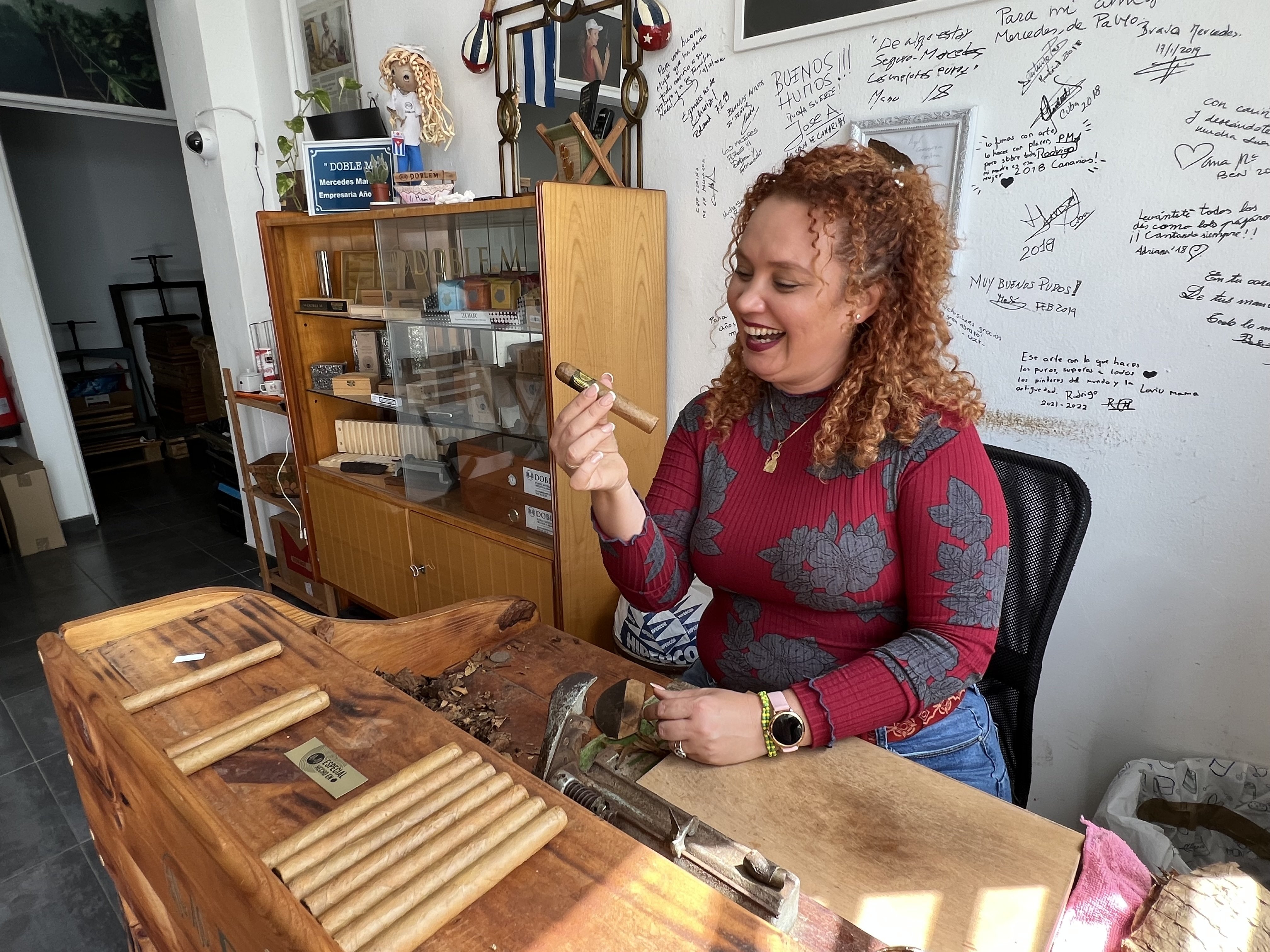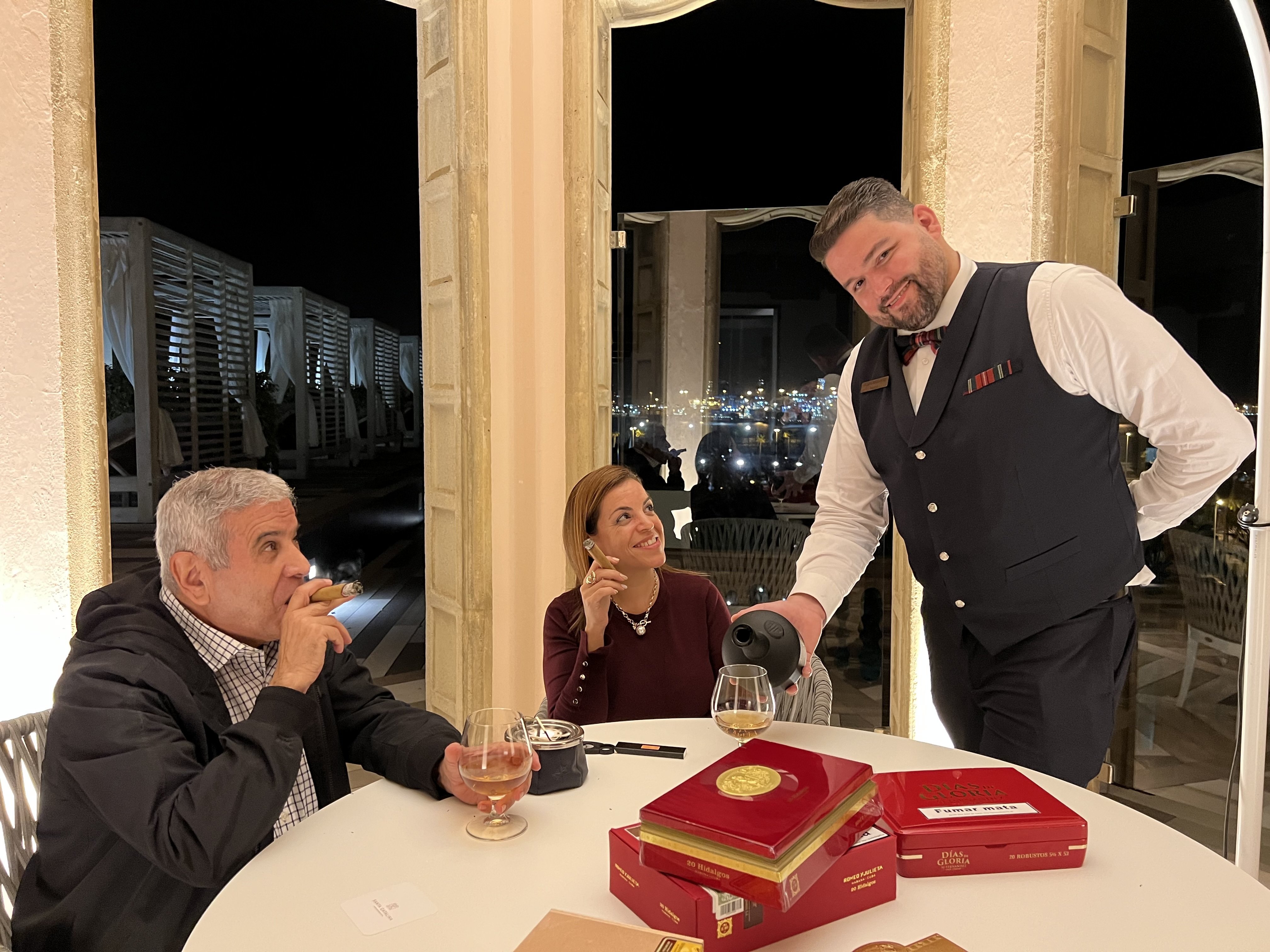 Mercedes Martinez | Olivia Padrón & Don Jesús
The Padrón family does not just sell Habanos but also top brands from Nicaragua, such as Dias de Gloria Robusto by AJ Fernandez, as well as hand-rolled cigars made in the Canary Islands. The names of the scooters (in Spanish: "artesanos maestros") are usually kept secret. Don Jesús is happy to sell their top products with their banderole: "Our Puros Canarios got their name after a war cry from the Guanches, the original natives of the Canary Islands".
Later in the day, we visit a lathe operator who moved to Gran Canaria from Cuba around 20 years ago. You can find out everything about their Doble M brand in Mercedes Martinez's fine little workshop (book in advance by phone!) – hand-rolled with Cuban tobacco "Piloto Cubano". If you like, you can even roll your own puro here. "In return, a photo for my website is enough", says Mercedes, who completed her training at the famous Cuban manufacturer La Corona. "And, of course, a signature on the wall behind my roller table – just like in the 'Bodeguita del Medio' in Havana, where Ernest Hemingway spent his days". To say goodbye, she recommends a brandy-flavoured cigar.
Text and photos by Gabriela Greess
Travel Guide
TOBACCO SHOP
El Rincón del Fumador
Calle Albareda, 23 - 5008 Las Palmas de Gran Canaria

CIGAR LOUNGES
Patio Bar Doramas & Rooftop terrace Santa Catalina
C. Leon y Castillo, 227 - 35005 Las Palmas de Gran Canaria
Restaurante El Caseron del Cortijo & Cigar Lounge

Camino del Golf, 1 - 35218 Telde, Las Palmas de Gran Canaria
INSIDER TIP
DOBLE M – roll your own cigar
Calle Voluntad 16 - 35012 Las Palmas de Gran Canaria

HOTEL
Santa Catalina - A Royal Hideaway Hotel
C Leon Y Castillo 227 35005 Las Palmas de Gran Canaria