Winter has always been a time for togetherness. However, after so long spent apart, there is an even greater desire to spend quality time with friends, family and loved ones this holiday season. One thing we've particularly missed is decking our halls and then filling them with those that we love – so this year, we're going all in. To make sure our at-home entertaining hits the merry-making mark, we've asked experts how to wow your guests – from opulent decorations to exquisite food and drink.
How to decorate
Decorating and the holiday season often go hand in hand, and one of the best ways to create an elegant environment is to use festive foliage like pine and holly. 'There are tons of different types of beautiful pine – some with feathery, light needles, some darker, and some lighter', says Sage Flowers florist and co-founder Iona Matheson. 'Layering these – perhaps with a few hellebores here or a couple of hypericum there – will look super beautiful.'
Lighting is also crucial to creating a cosy atmosphere – but instead of leaning on fairy lights, Gael Boglione (co-founder of Petersham Nurseries) opts for candles. 'Simply lighting a few candles gives a twinkly effect that immediately makes you feel festive', she says. To further increase the opulence, she suggests placing a few elegant candelabras on the table. 'We use girandole candelabras – their draped crystal trim reflects light so beautifully.'
Another way to elevate your table is to scatter festive bites on top of the tablecloth in an artistic way, says Petersham Nurseries' Director of Horticulture, Amanda Brame. 'Pomegranates, nuts and figs or scattered across the table on mini piles of moss give a more natural feel to the table.'
What to drink
A glass of fizz is practically a pre-requisite during the holidays – especially when celebrating time with loved ones. 'Start with a bang, especially if you are serving starters', says Dimple Athavia, winemaker and owner of artisanal drinks retailer, All Things Drinks. She recommends a Lallier 2016 Vintage Champagne, which has 'a brilliant golden hue, rich aromas of citrus fruit, yellow fruit, almond and subtle spices'.
'I'd drink champagne all day if my budget allowed it', remarks sommelier Honey Spencer. Still, she mixes up wines when entertaining, opting for light reds that allow the flavours of your catering to sing. 'I like to wander off the beaten track – French varieties such as Mondeuse and Gamay work beautifully, as does the Spanish Rufete', she says.
With dessert, it may seem counter-intuitive to serve a sweet wine, but, as Elvira Dmitrieva (CEO of Independent Wine) asserts, 'sugar tends to bring out the acidity and drown out the fruity flavours in most dry wines. A good rule of thumb is to serve something just as sweet as your dessert.' She recommends an Italian passito – like Decanter's Wine of the Year, Siddùra Nùali Passito. It's a 'sweet wine with powerful aromas of mango, acacia honey, pineapple and caramel. As the grapes are picked early, there's plenty of zingy acid to cut through the stickiest of puddings'.

An edible spread
What to cook
One of the easiest ways to take the stress out of catering for a group is to keep things simple and focus instead on the quality of your ingredients – and, of course, presenting it beautifully. Olivia Vachon, Events Director at Eataly, recommends creating a charcuterie board that can act as an edible centrepiece. 'Make sure that all cured meats and cheeses are room temperature because it will enrich the flavour', she says. 'Don't be afraid to mix and match your products: pair a soft blue cheese next to a hard Parmigiano Reggiano cheese, or a salami picante with a soft mortadella to create contrast and interest.'
On the sweet side of things, chef Bettina Campolucci Bordi recommends creating small, easy-to-make dishes that you can make in advance. 'The best way to cater for a group is by planning ahead', she says. 'What can you make in advance? Is it a desert that can sit and wait in the fridge? Is it components of a dish that can be prepared individually and put together when guests arrive? Don't over complicate and have fun in the process'. Her recipe for chocolate amaretto mousses (below) is just the ticket – simple, sophisticated, and satisfying.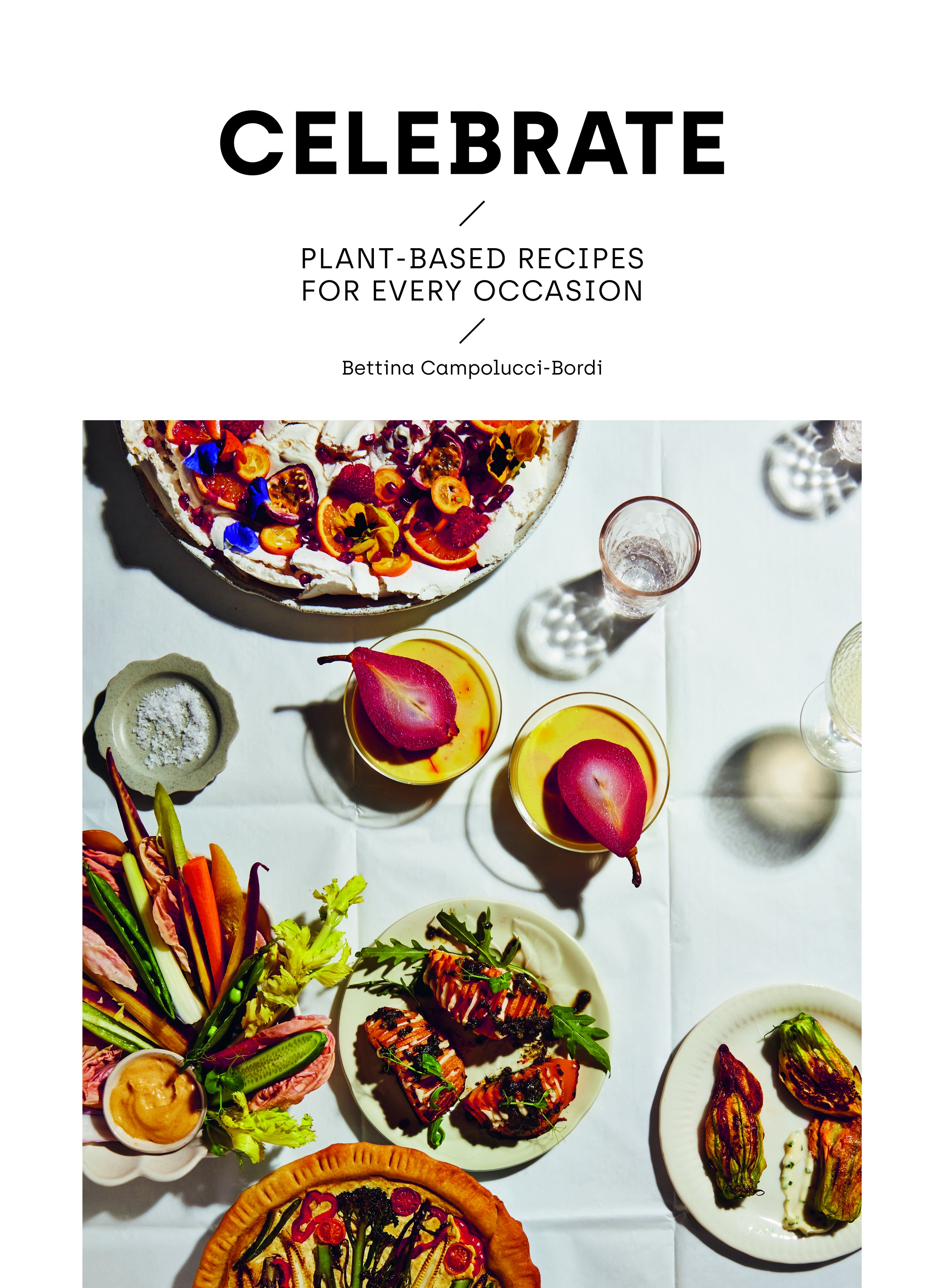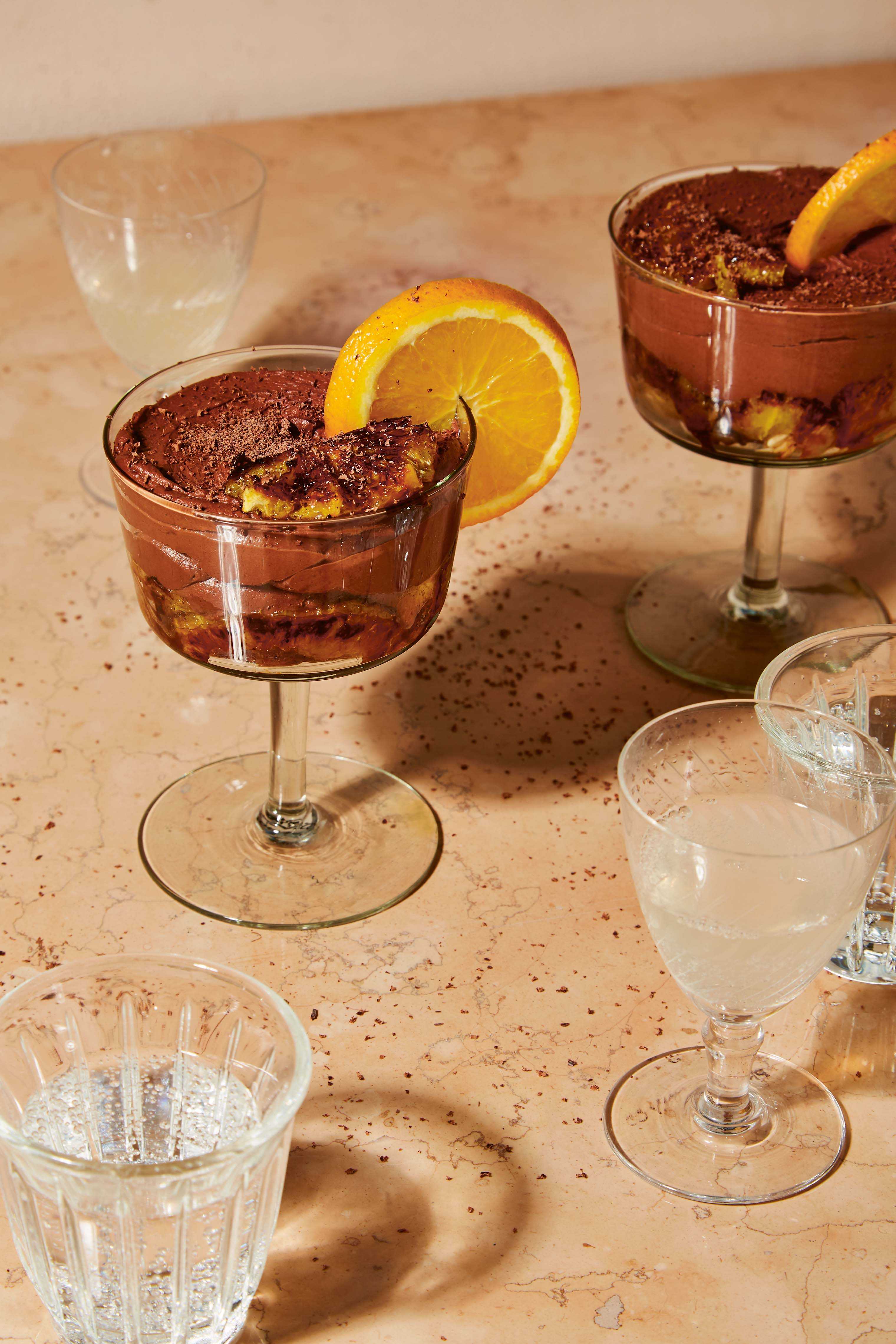 Chocolate Amaretto Mousse
Chocolate Amaretto Mousse
Ingredients:
320 ml (11 fl oz cups) good-quality coconut cream or refrigerated full-fat tinned coconut milk
3 tablespoons runny peanut or almond butter
3 tablespoons cacao powder
2–3 tablespoons maple syrup
2 tablespoons Amaretto
zest of 1 orange
For the caramelised oranges:
3 oranges, peeled and cut into slices
1 teaspoon of coconut oil
½ vanilla pod (bean), split and the seeds scraped out, or ½ teaspoon vanilla extract or paste
To serve:
grated dark chocolate, with at least 70% cocoa solids
4 slices of orange (optional)
Method:
Add the coconut cream and all the other ingredients to a bowl. Use an electric hand-held whisk to mix everything together until fluffy (be careful not to overblend).
To make the caramelised oranges, heat the coconut oil in a small to medium saucepan and fry the orange slices before finishing off with the vanilla.
To serve, add a couple of caramelised orange slices to the bottom of each serving glass and spoon in the mousse. Top with grated chocolate and an orange slice (if using).
Refrigerate before serving or eat immediately.
Recipe credit: Celebrate: Plant-Based Recipes for Every Occasion by Bettina Campolucci Bordi (Hardie Grant, £20)
Photography: Louise Hagger